The tan dog harness is the trend that will never die
The tan dog harness has become super popular in the summer of 2021! First your friend's dogs had it and now everyone on social media is sporting one. Before you know it, you will find yourself wanting a tan dog harness for your fur baby as well!
Dog harnesses come in different styles, types, and colors but if you are looking for something simple yet elegant, the tan dog harness or brown dog harness would be your best choice.
The great thing about the color is that it is classic, can be worn during all seasons and will never go out of style!
Are you ready to purchase the best harness for your dog? Shop for the best tan dog harness now.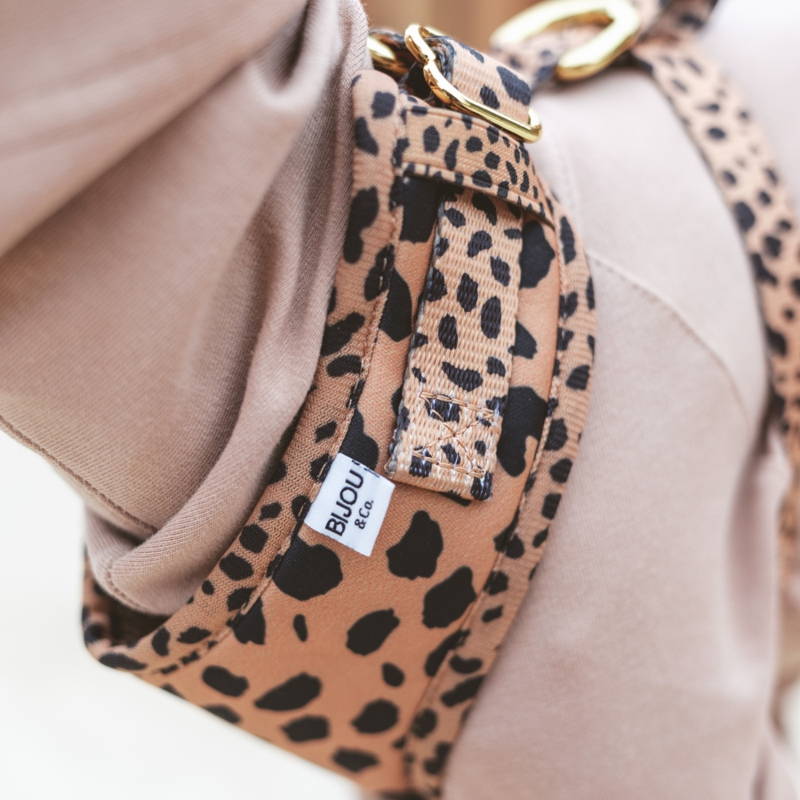 Why is tan a popular color ?
Tan can be described as a paler, sophisticated shade of brown. The word "tan" comes from "tannum" (oak bark) which was used for tanning leather. There are several variations of the color tan.
Tan is a warm neutral color that matches a variety of dog coat colors.
When looked at, the color tan creates a sense of relief and security because of its subdued and humble nature.
Since it is a neutral shade, a tan dog harness, including a brown dog harness and beige dog harness can be worn all year round.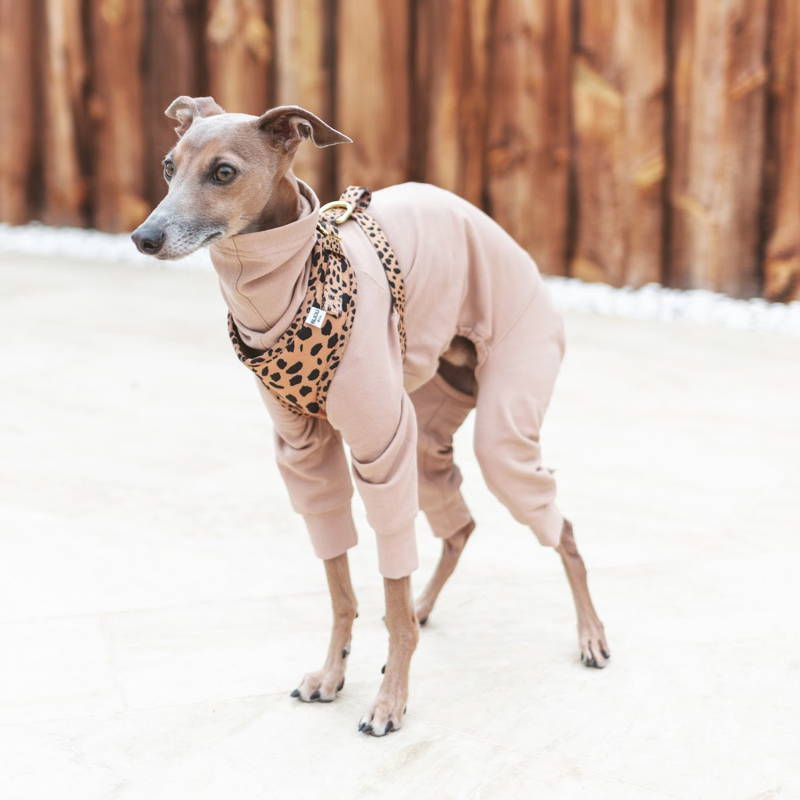 Will a tan dog harness suit my dog ?
If your dog has a white, black, or grey coat, he or she could pull off almost any color including a tan dog harness. If your dog has a lighter brown coat then a darker tan or brown dog harness would be suitable.
Dogs with darker brown coats could wear a lighter tan harness.
If you are wondering whether a tan dog harness will suit your dog color or not, try using a tan or brown colored bandana next to your dog's neck to see if it matches or not.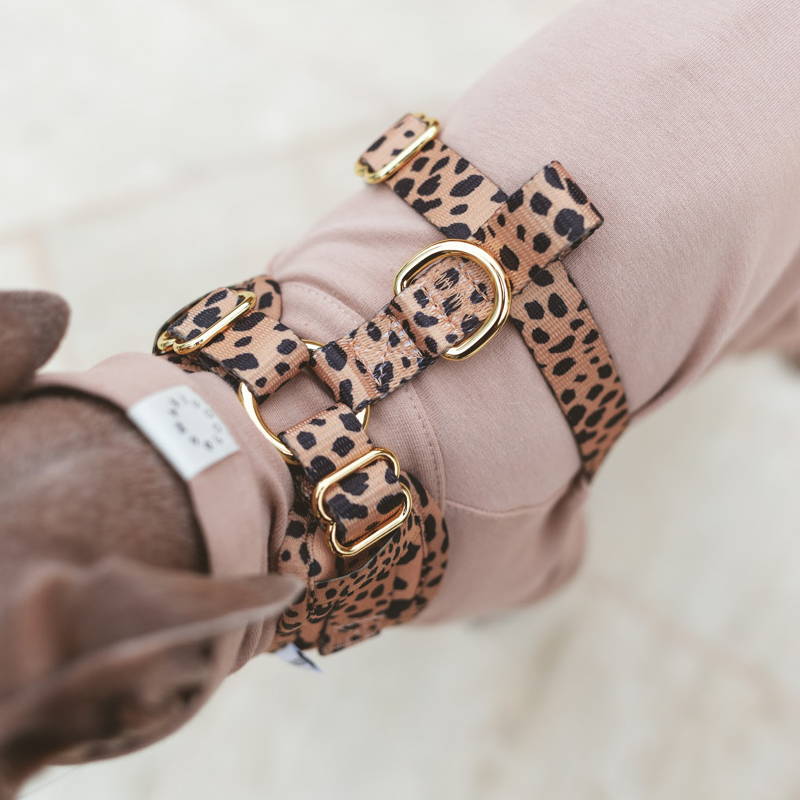 A dog collar isn't of much use if your dog isn't well-behaved and often tries to wriggle, pull and jump out of it. Therefore for dogs who are not perfect on the leash, considering a harness would be a better option.
Listed below are some advantages of harnesses:
- They're a good way of training puppies who haven't learnt to walk by themselves. This also protects them from getting hurt and stuck in the leash.
- Harnesses enable you to control your dog better, especially in crowded and busy places.
- For strong and large dogs, harnesses are easier on the arms and back.
- In the case of very small dogs, they reduce the amount of strain on the dog's neck and back.
- Harnesses often discourage pulling because even if the dog pulls on it, he doesn't really move forward, but only gets redirected. As a result, the dog gives up pulling as it does not result in a reward.
- When your dog needs help standing after lying down or sitting, a harness is more effective in pulling him up gently and without causing any discomfort.
- And finally, harnesses are a good solution for dogs which try to escape by wriggling out of their collar.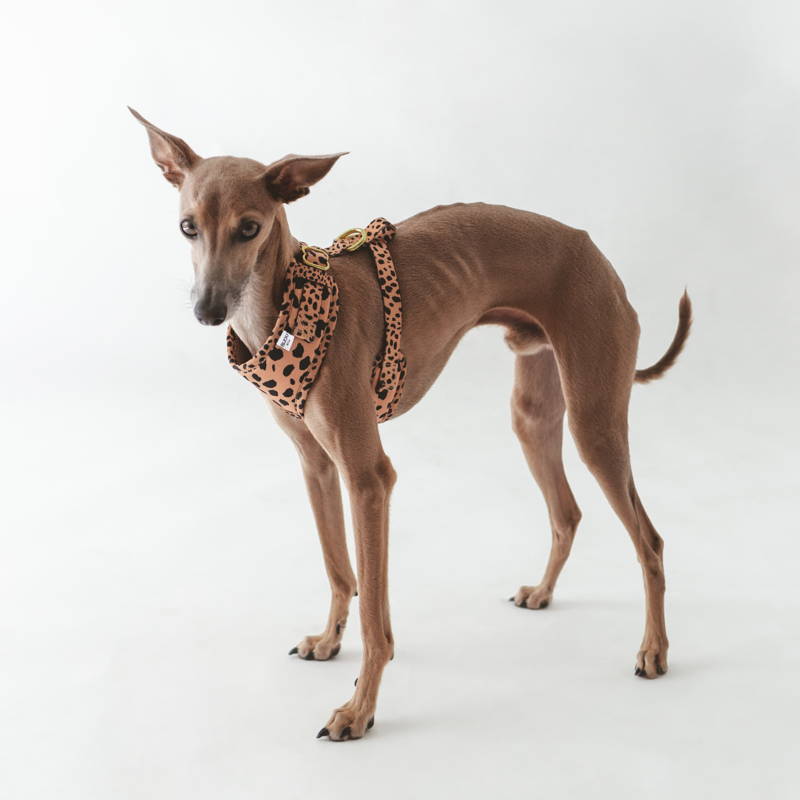 Why choose the Bijou and Co. tan harness ?
There are plenty of harnesses in the market, but at Bijoy & Co. we have harnesses that not only look good but feel great as well! Our "Born This Way" harness is comfortable and superlight. Why not choose a stylish harness for your dog?
It has fully adjustable chest and neck straps for extra comfort, features four point lock buckles and is finished with golden hardware. The tan dog harness also comes in different sizes from XXS to XL.
Go ahead and choose the best tan harness for your dog and show it off on your social media pages!