Follow us at @bijouandcoboutique
Dachshunds are a special breed of dogs. Their extra long body and short legs make them look cute, thus giving them the nickname "sausage dogs". However, their cuteness comes with a price. Doxie's bodies are prone to back injuries especially during strenuous exercise. These dogs are energetic, curious, and chase after small animals.
This is the reason why Doxie owners choose to use a harness over the collar. It might be confusing to choose the best harness for Dachshunds but once you have more information, choosing the correct harness shouldn't be a problem.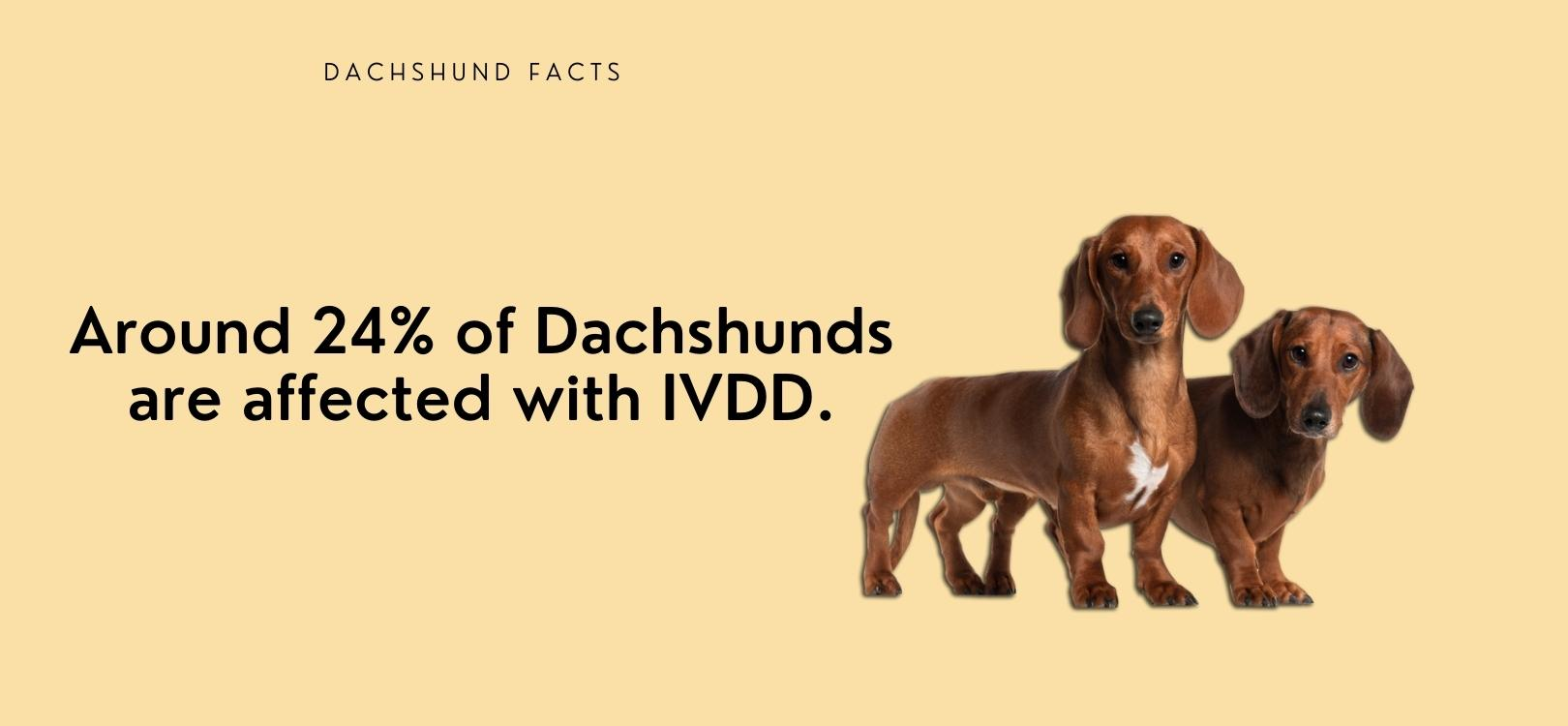 Should you choose a Harness or Collar for Your Dachshund?
In simple words, yes, Dachshunds need a harness to support them. Read on to find out more.
Though collars work great for most dogs, dwarf breeds like Dachshunds, Corgis, Basset Hounds, Pekingese, Beagles and French bulldogs, have short and curved legs. This makes them predisposed to Intervertebral Disc Disease (IVDD) which is a disease that causes herniated discs, paralysis, and extreme pain.
Around 24% of Dachshunds are affected with IVDD. It can go undetected for many years until a disc bursts. When that happens, dachshunds feel extreme pain, stiff limbs, and sometimes even paralysis.
Doxies usually develop IVDD symptoms between 4 and 6 years. But there is no way of predicting which dog is at risk and when the condition will develop. If your dog is very tiny, choose a mini Dachshund harness that fits well.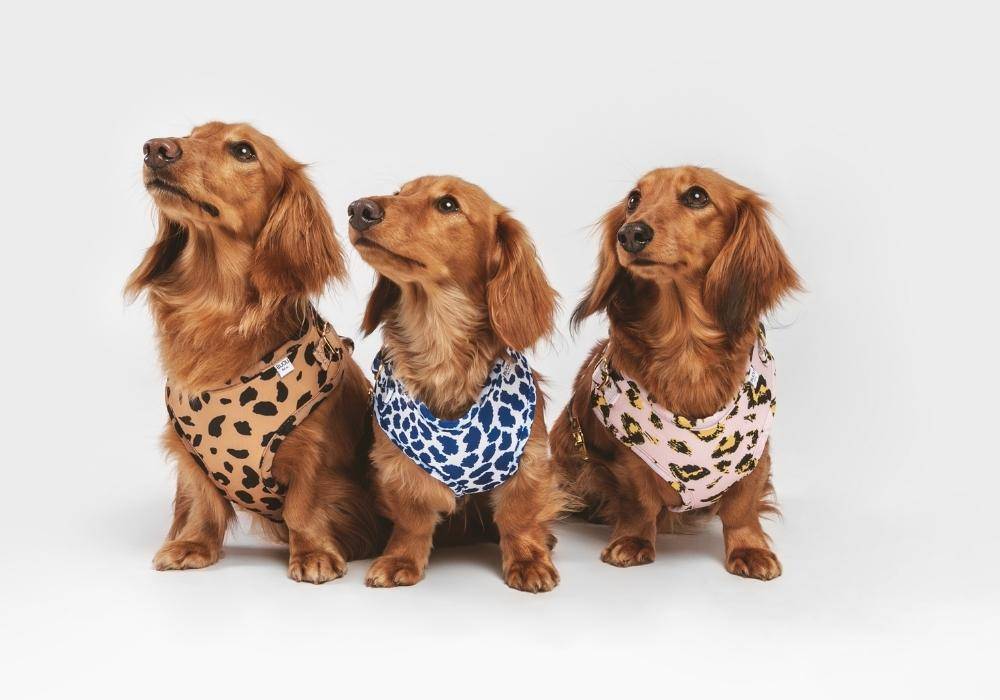 Why you Should Use a Harness for Dachshunds
You might ask yourself the question, "Are harnesses good for Dachshunds?"
Most veterinarians recommend that you use a harness for your Dachshund for the following reasons:
- Harnesses spread pressure across the whole body instead of only on the neck and back
- Dachshund dog harnesses
gives you more control when you are out on a walk
- Harnesses
are much safer than collars and it reduces the chances of your Doxie from escaping
- You can use a Dachshund harness
in a car to keep your dog on the seat
- When they are off the leash
and begin to run, it is easier to grab your Dachshund if they're wearing a harness
Key Elements to Consider when Choosing a Harness for your Dachshund

Here are some points that you should keep in mind when using a Doxie dog harness:
Dachshunds need a comfortable harness
Doxies have comparatively large chests and many harnesses that you find in the market are not really designed to suit them. This can rub on the shoulders and armpits and be uncomfortable.
Dachshunds need extra padding, especially on their chest, belly and back because they often suffer from musculoskeletal issues. Look for a padded harness that is adjustable.
DACHSHUNDS NEED An Escape proof harness
Miniature Doxies often escape from you. It's very easy for them to slip out of collars and harnesses if it is not fitted well. Look for a Doxie dog harness that is comfortable but secure so that your Doxie can't escape.
DACHSHUNDS NEED A harness with No Pressure
Harnesses cause pressure on the chest and this reduces stress on the neck. Do not lift your Dachshund with the harness handle as it can cause an injury.
Also pay attention to a harness that reaches a miniature Doxie's throat as this could be a choking hazard.
DACHSHUNDS NEED A Stylish harness
Consider investing in a Dachshund harness that is functional as well as stylish? The perfect harness is bound to turn eyes at the dog park. Dress your Doxie in a cute harness and show him or her off to your friends!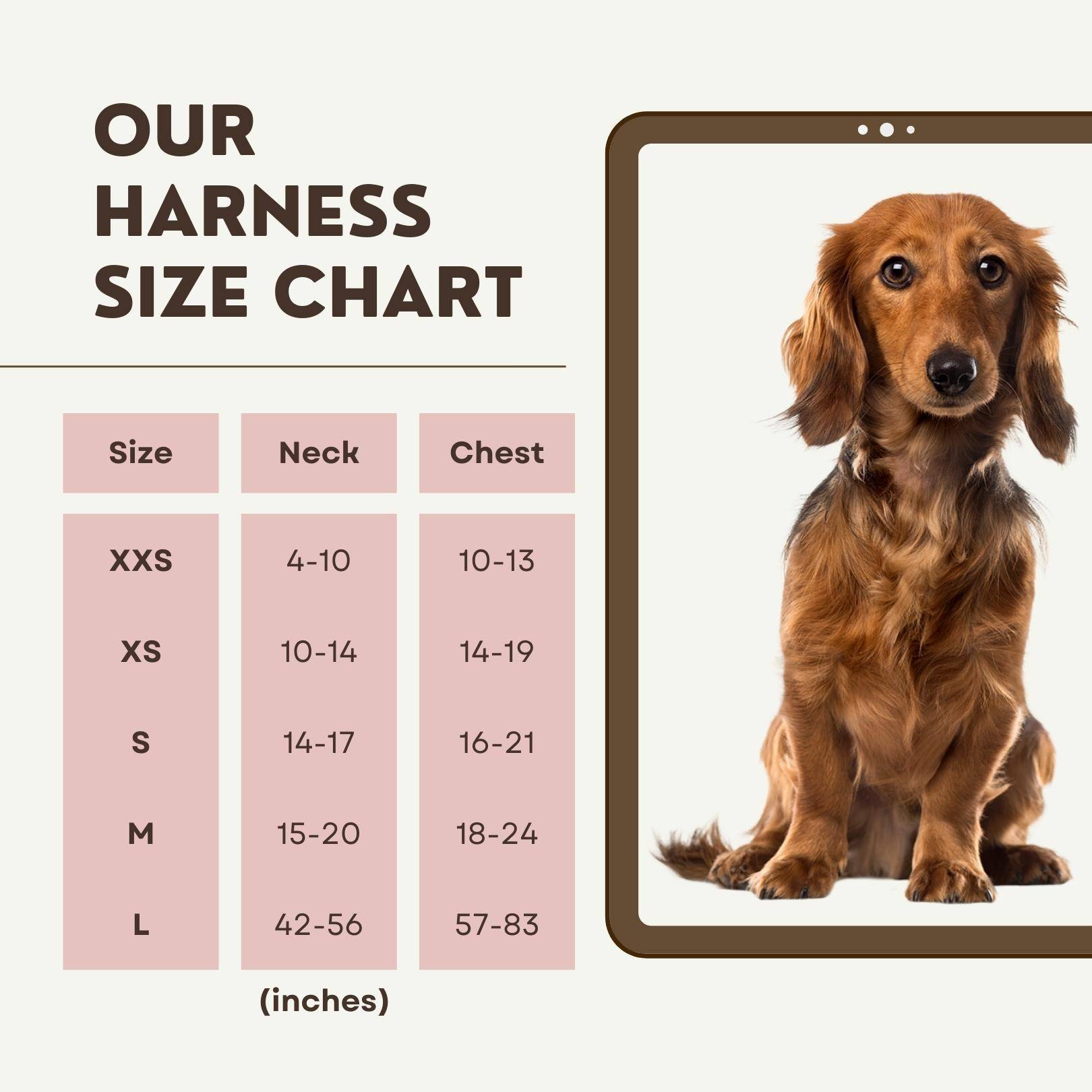 What Size Harness Should You Get for a dachshund?
In order to choose the correct size you need to properly measure your Dachshund. A harness which is loose is a safety concern and at the same time one that is too tight will make it hard for your Doxie to breathe when he or she is active.

The thumb rule for a well-fitted harness is that you should be able to insert not more than two fingers under the straps or fabric. Use a measuring tape to measure your Doxie's chest. If you are wondering how to measure a Dachshund for a harness, here are the steps for an accurate measurement.

- First measure the chest by placing the tape around the back of the Dachshund while your dog is standing upright. Measure the widest part of the chest
- Next measure around the neck where you would place a collar


Alternatively, you can use a string to measure around the chest and neck and place it a long ruler

Keep in mind that for small dogs, there is a difference of 1 inch in size. Since Dachshunds are so tiny, even an inch can make a huge difference.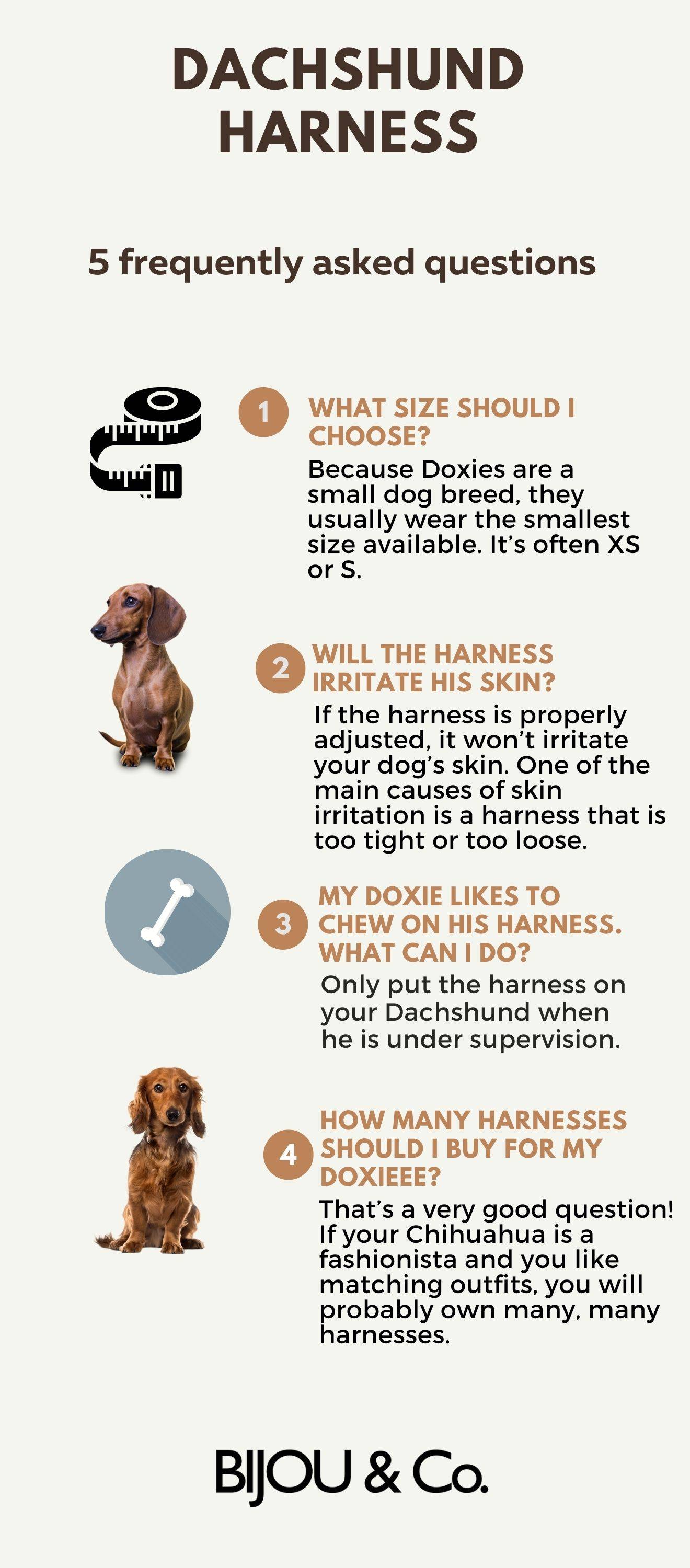 How to Put a Harness on a Dachshund?
Different harnesses are put on in different ways. Let's take a look at some ways of putting on a dog harness on your Dachshund.
First stand or sit behind your dog and put your Dachshund in a standing or seated position.
Insert your Dachshund's head through the harness and make sure that the harness is positioned in a way so that the D-ring is at the back.
Next put your dog's leg through the first hole in the harness. Buckle the harness on your Dachsund and make sure that the other leg is in the corresponding leg.
Loosen the strap if the buckle does close.
For step-in dog harnesses place the harness flat on the ground so that you see two triangles.
Ensure that the buckles are on top of the D-rings. Holding your Dachshund from behind, place the front to paws in the two triangles. Pick up the two ends of the harness and clip it at the back.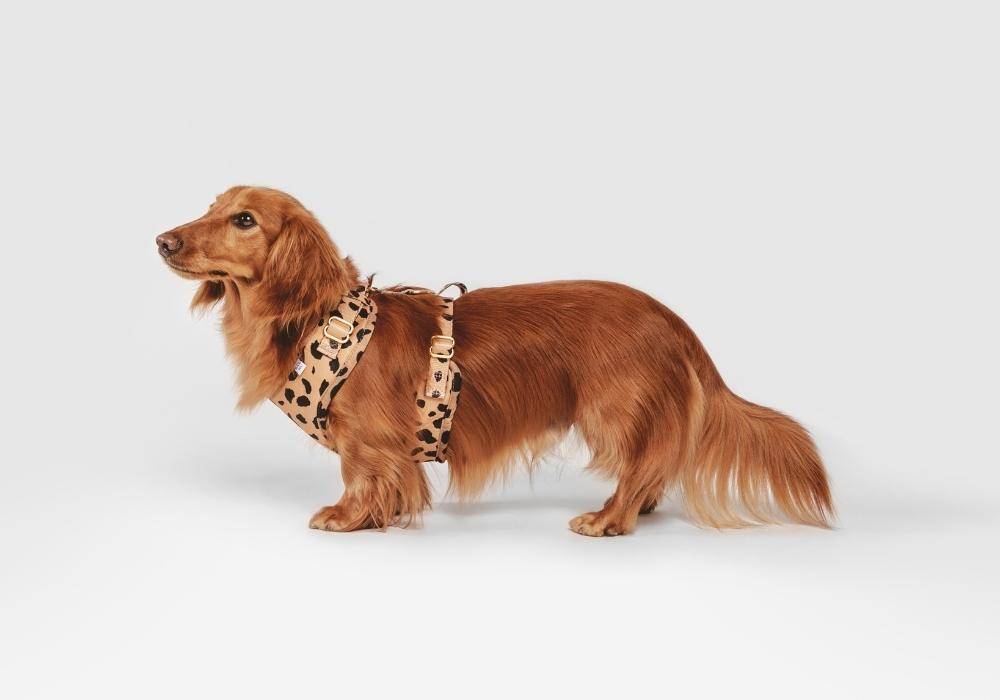 Different Types of Harnesses for Dachshund
There are different types of harnesses that you can choose from but the most basic ones are listed below.
Walking dog harness for dachshunds
This Dachshund harness is a strap based design and has a quick-release plastic buckle. These are light and minimally added. It's good for a quick walk but not everyday use.
Vest dog harness FOR DACHSHUNDS
Vest harnesses are the most popular types of harnesses for Weiner dogs. It has a simple design and has a single button for closing. They are usually made of polyester or nylon and are breathable. Vest harnesses for Dachshunds are easy to put on and takeoff. They can be worn all day long.
Car dog harness FOR DACHSHUNDS
Since Dachshunds are so tiny and active; you cannot leave them unattended in your car. Car harnesses are usually made with strong nylon and metal hardware so that you can attach your Dachshund to a seat or a seatbelt.
dog Harness lead FOR DACHSHUNDS
A harness lead has an all-encompassing design. It has a cord that can be used as a leash and the overall design allows it to be used as a harness as well. It is impossible for dogs to escape but these harnesses are best avoided for Dachshunds because they are fragile and the cord can hurt them.
Hiking dog harness FOR DACHSHUNDS
Dachshunds are great hiking buddies and if you use a hiking harness, it will be comfortable all day long. Hiking harnesses may come with a handle and are generally padded for comfort.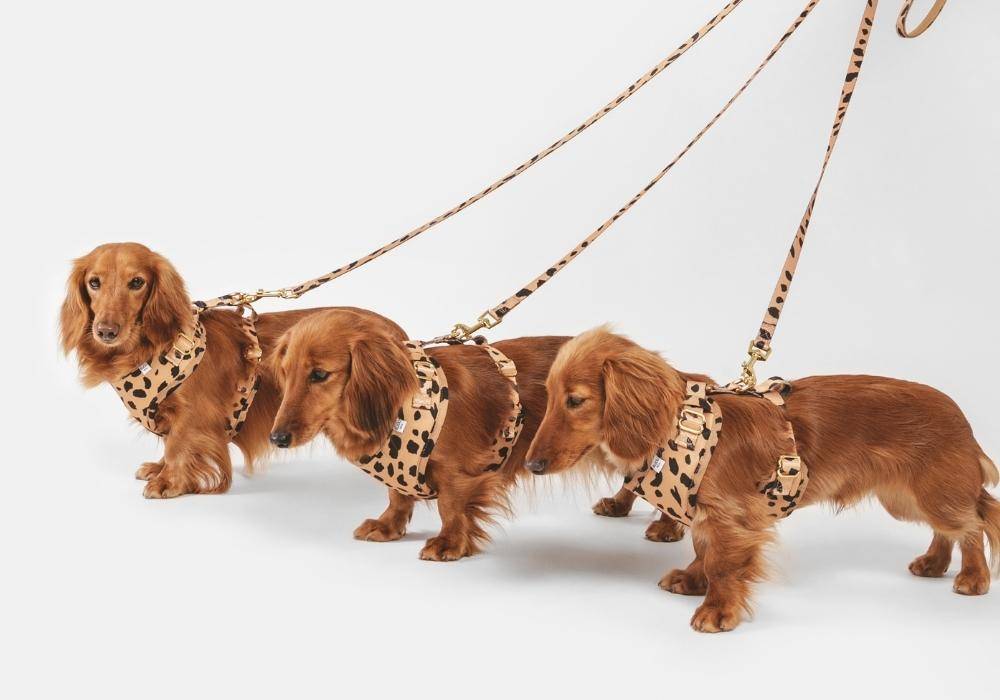 Can Dachshunds Run When Wearing a Harness?
In short, the answer is yes!
Dachshunds were bred to be hunters and they love to chase small critters and if you do not use a harness, your little Doxie may just run away from you. This is why using a harness for your Dachshund is a great idea.
Allow him or her to run and play but at the same time keep them close to prevent him or her from escaping.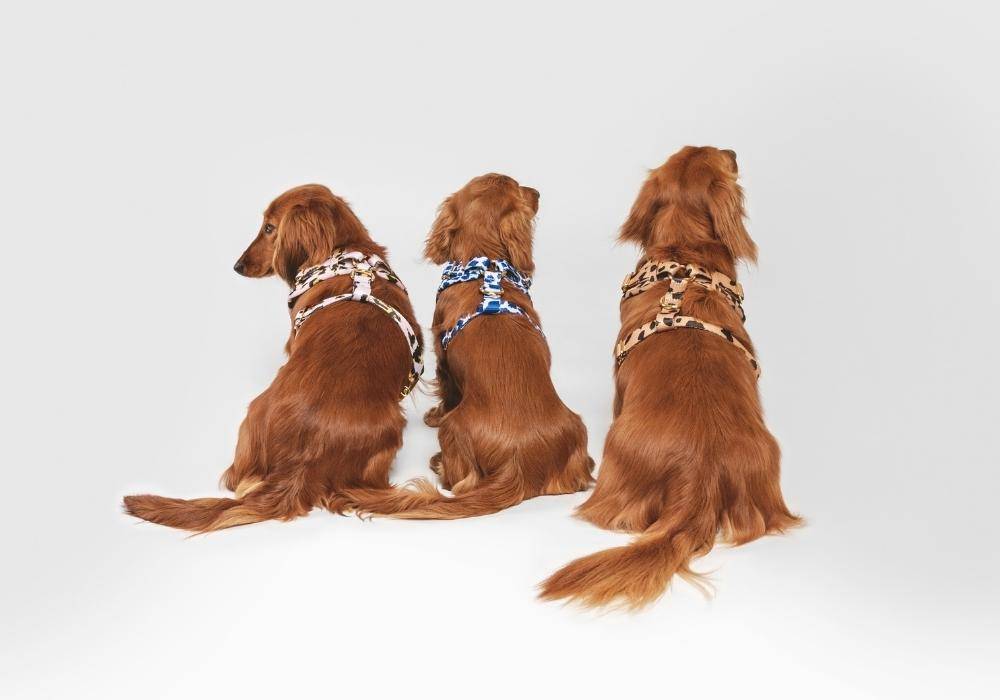 Drawbacks of Harnesses for Dachshunds
Everything has its pros and cons and that includes using a harness for your Dachshund. Dachshund harnesses can save them from neck and back problems, but that does not mean that it is suitable for every dog. Some of the reasons why owners prefer to stick to callers are because of the following.
- Some dogs do not feel comfortable in a harness for long periods of time
- Some owners find it hard to put on a harness to the dog
- Collars can be used for identification. It's a good idea to use the harness over the nametag or collar
If you feel that a harness would be a good fit for your Dachshund and are ready to purchase a harness for your Dachshund, check out the different harnesses that we offer at Bijou & Co. and choose one that is most suitable for your dog. We have some of the best harnesses for Dachshunds and other dogs that are stylish yet comfortable.
what size harness for mini dachshunds?
A miniature Dachshund who is less than 11 pounds will need a different harness than a standard Dachshund who weighs between 16 and 32 pounds. The best way to determine the correct size harness for your Dachshund is to measure them.
are harnesses good for dachshunds?
There is a lot of debate on whether or not harnesses are good for Dachshunds. The biggest concern is that Dachshunds have long backs and short legs, which puts them at risk for injuries if they are not restrained properly.
Harnesses can help to evenly distribute the weight of the dachshund and prevent them from pulling too hard on their leash, which can put strain on their back.
Additionally, harnesses can provide extra support for Dachshunds who are recovering from surgery or suffering from back problems. While harnesses are not a cure-all, they can be a helpful tool in preventing injuries in dachshunds.
how to measure a dachshund for a harness?
Measuring your Dachshund for a harness is an important step in ensuring a comfortable and well-fitting piece of equipment. The first thing you'll need to do is take some basic measurements of your Dachshund's chest and neck.
To measure the chest, start at the base of the neck and wrap the tape measure around to just behind the front leg. For the neck, start at the base of the skull and wrap the tape measure around to just behind the ears.
Once you have these measurements, you can use them to select a Dachshund harness that is appropriately sized for your pet. When fitting the harness, be sure to adjust it so that it is snug but not too tight. You should be able to fit two fingers between the harness and your dachshund's body.
how to put a harness on a dachshund?
To put a harness on a Dachshund, first hold the dog close to your body and slip the harness over its head. Then, fasten the buckle around the dachshund's chest. Finally, adjust the straps so that the harness fits snugly but not too tightly. With a little practice, putting on a dachshund harness will become second nature. And your dachshund will be all the safer for it.
is a collar or harness better for a dachshund?
Harnesses distribute the Dachshund's weight more evenly than collar, which can be helpful if your dog is prone to back problems.