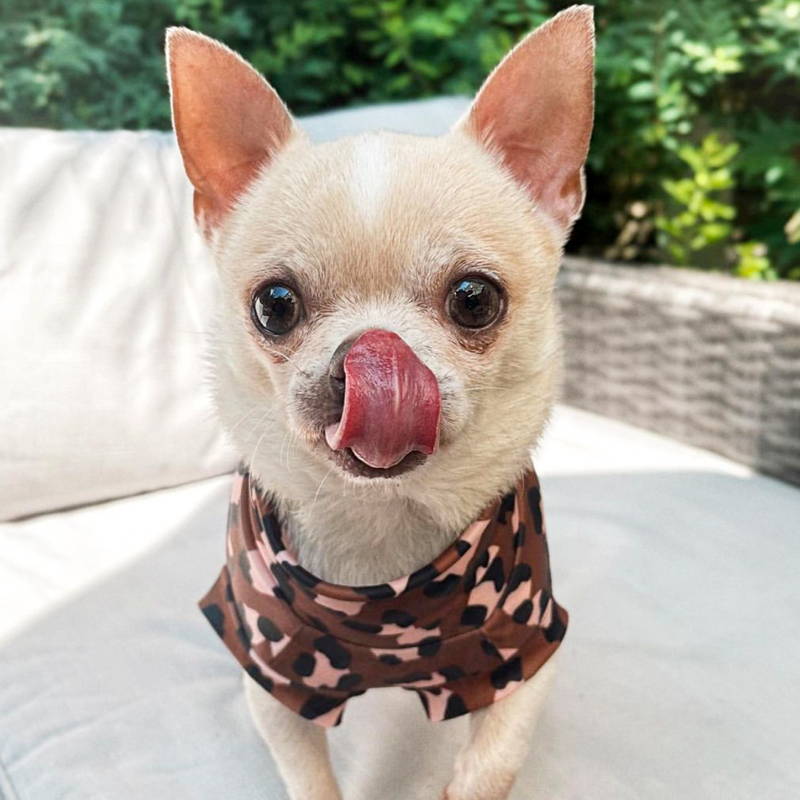 Despite their diminutive size, Chihuahuas have a pedigree that includes some of the toughest canine breeds of all time. Their lineage runs back through the ancient empire of the Aztecs, all the way to the first wild dogs that entered the American continent more than 13,000 years ago.

Weighing in at between 2 and 4 pounds, Chihuahuas are the world's smallest dogs. Being small can have its advantages; but it can also have its disadvantages, mostly associated with metabolism and physiology.
Small animals have high rates of metabolism and a side effect of this is that they can often exhibit bouts of shaking.
Chihuahuas are no exception, and one of the most common questions Chihuahua owners get asked is "why do Chihuahuas shake so much?"
So let's have a look at some of the perfectly straightforward answers to this question, and dispel a few of the myths around why these cute, sassy little bundles of Mexican energy are inclined to shiver.
Chihuahuas might have a reputation as being nervous, slightly shaky dogs but they only tremble when they have a good reason to.
These might include:
Excess Energy
A naturally high metabolism
Cold weather
Excitement
Stress
An injury or medical condition
It is important to know the different reasons why Chihuahuas shake. Mostly it is part of their natural behaviour. However occasionally, it may be due to some underlying medical conditions or even an injury.
So let's take a closer look at these.
The Chihuahua's extra high metabolism means that they have an abundance of energy to burn off.
A person who has had too much coffee or has been made to sit through a long boring meeting, feels the need to burn off some energy, don't they? Well, Chihuahuas have that energy to burn all the time!
So giving your Chihuahua an opportunity to burn off excess energy by running about and playing, will most likely stop the shivering.
A high rate of metabolism makes it more difficult for an animal to regulate its body temperature.
So even though your Chihuahua might be well fed and well looked after, they may still feel that it is cold even though you may not think that it is.
Shivering is a natural mechanism to help warm an animal's body when it is feeling cold. So your Chihuahua's shivers are just another physiological adaptation to counteract the effects of a fast metabolism.
Chihuahuas can be short- or long-haired. But regardless of the length of their coat, Chihuahuas are still extremely sensitive to cold weather.
It stands to reason, really, doesn't it? Chihuahuas were bred in the hot climates of Mexico, so if you live in a far-flung country where it is cold and frosty, then it is quite understandable that your Chihuahua might feel chilly.
For Chihuahuas, an outside temperature lower than 40 degrees Fahrenheit feels freezing and is likely to make them shiver.
An easy way to overcome this is to wrap them in a blanket or a mini sweater, to help them keep nice and toasty warm, and also to look really cute into the bargain!
Once your chihuahua is kitted out with some warm clothes it will quite happily run around in the snow with you, chasing snowballs and jumping all over you as you roll about making snow angels.
Like all dogs, Chihuahuas will soon forget the discomfort of their surroundings if they're being stimulated and played with in a way that makes them happy.
Dogs love excitement. They love to play and they love to be in situations that stimulate their natural responses, such as being in a pack and chasing after things as if they were still in the wild.
Most dogs will shake in anticipation of getting a treat, or waiting for you to throw a ball or a stick for them. It's just part of the joy that they feel when they doing stuff with you and making you happy.
After all, a dog's entire life is dedicated to making the leader of its pack - in this case, that is you - happy.
Chihuahuas take this excitement to a new level.
Most dogs are happy with just wagging their tails. Chihuahuas on the other hand, will jump around, shiver, shake, bow down on their front legs, and turn around and around with a joyful look on their little faces, in anticipation of the pleasure that they are about to receive.
Chihuahuas aren't intimidated easily. They are also well tempered, sociable dogs.
A properly-trained Chihuahua can be as calm, self-assured and well- behaved as any other dog breed.
So when a Chihuahua is shivering or shaking, they appear to have become nervous. This is a common misconception and often leads to people asking themselves; "why is my Chihuahua shaking?"
Chihuahuas that have not been socialized from a young age can easily become stressed when they are around other dogs, and this can lead to them starting to tremble, thus giving rise to the myth that they are a nervous breed.
Just like any dog, a Chihuahua should be calm and collected when it is around other dogs. It should be used to playing and socialising with other dogs.
And it should be able to stand up for itself when things get real.
That doesn't mean that you have to turn your Chihuahua into a pit bull! But dogs are pack animals. They respect authority and they like being in a group.
Chihuahuas are no different when it comes to these things, and your little Mexican dynamo should be quite at home playing about with the big dogs.
An Injury or Medical Condition
As with all animals, shivering and distress are common signs that they aren't well.
So it's possible that there may be underlying medical conditions which could cause your Chihuahua to shake and tremble.
Generalized trauma, poisoning, kidney disease, an injury or an allergy are all conditions that could cause your Chihuahua (or any animal for that matter) to shake and tremble.
Of course, animals can't tell you what is wrong with them, so if you are unduly worried about your Chihuahua's trembling, get your local vet to give him or her a checkup.
It will most likely be Chihuahua's natural tendency to shiver rather than some abnormal medical condition.
If, however, your Chihuahua isn't normally the trembly type and for some reason it has begun to shiver and shake, you should check for other symptoms such as vomiting, diarrhoea, limping, or some other type of distress.
If these symptoms are present then it would be a good time to take your Chihuahua for a visit to his or her favourite local vet.
Not Shivering, Just Cool!
Chihuahuas are not, after all, particularly nervous dogs. They simply have a set of charisterics that mean shivering is just a part of their natural makeup. For Chihuahua lovers, their tendency to shake, shiver and tremble actually adds to their cuteness.
So next time you are at the dog park, and your Chihuahua is charging around, having fun and leading the pack, if another dog owner asks "why do chihuahuas shake so much?" you can say: "It's because they are cool!"