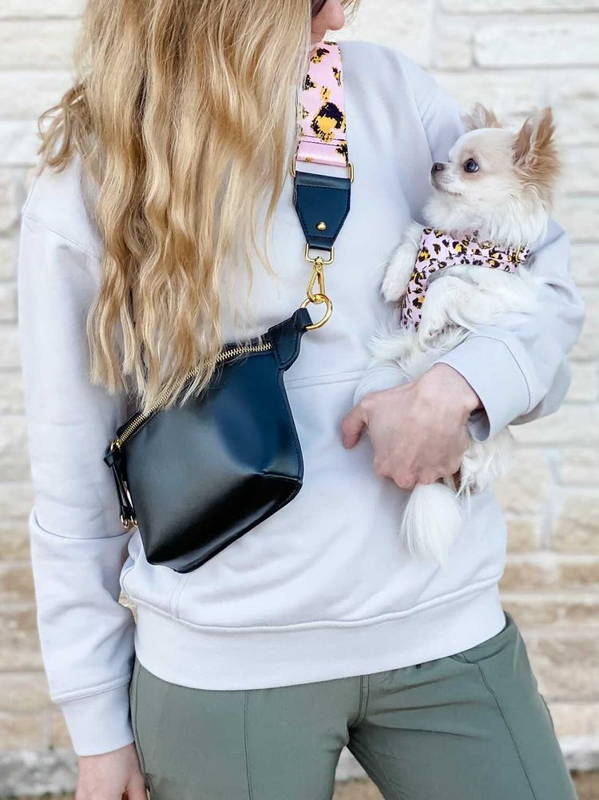 It is a well known fact that Chihuahuas are the world's smallest breed of dog.
And like any dog breed, there are certain size guidelines set out by kennel associations denoting how much an average-sized and healthy Chihuahua should weigh?
In this article we will examine the weights that are considered to be optimum for your Chihuahua. This will help give you an understanding of the ideal weight for a healthy Chi and how to ensure that their diet and exercise regimes keeps them in tip top condition.
And if, by chance, you are in the market for some doggy bling for your little Mexican mate, it will also help you to choose the correct sizes so your Chi looks "en fleek."
The size and weight guidelines for Chihuahuas fall into two different categories.
There is the expected size, which is set down in the rules of the breed's overseers, usually a kennel club. And then there is the weight of each Chihuahua as an individual mutt.
It is actually quite important to make the distinction between the two, as many pet Chihuahuas will possibly not fall within the expected weight range of their breed's standard.
How Much Does a Full Grown Chihuahua Weigh?
The standard weight for a Chihuahua is set down by most major kennel clubs. These are the standards for various kennel clubs from around the world.
A Chihuahua shall not exceed 6 lbs (2.72 kg)
The maximum weight for a Chihuahua is 6 lb (2.72 kg) with 2-4 lb (1-2 kg) being the optimum weight.
Fédération Cynologique Internationale
The world's largest organisation for overseeing canine pedigrees states that the correct weight for a Chihuahua is 3.3-6.61 lbs (1.5-3 kg).
Chihuahuas must weigh between 3.96 and 5.95 lbs (1.8-2.7 kg) to be recognised as pedigree dogs.
Having some idea about your Chihuahua's final weight will help you make good decisions when it comes to buying accessories such as dog beds, crates, collars, harnesses and leashes, and, of course, cute clothes.
The breeder who supplies your Chihuahua puppy will be able to answer such questions as "how much does a newborn Chihuahua weigh?" And there are plenty of online resources which will show you the ideal growth rate of your Chihuahua.
However, as a general overview, let's take a look at some of the average weights that you can expect of your Chihuahua during the first year of its life.
- Birth to 2 weeks old. Like all puppies, Chihuahuas emerge into the world completely dependent on their mothers. For the first few weeks, they will spend 90% of their time asleep or nursing.
With an average birth weight of just 2 1/2 to 5 1/2 ounces, newborn Chihuahua pups will easily fit into the palm of your hand.
But they will grow rapidly, and during the first couple of weeks they will double in size by adding up to 10% to their body weight every day.
- Eleven to fifteen weeks old. A Chihuahua pup will often experience a growth spurt through these weeks.
Just like a teenager suddenly shooting up, they will put on a considerable amount of weight in a short time.
- Three months old. By the end of this period, your Chihuahua pup will have reached about 30% of his or her adult weight.
- Six to nine months old. Through these months, a Chihuahua puppy's growth rate begins to slow down.
- By the time they are nine months old, most Chihuahuas will have reached their adult height of between 5.9 and 9.1 inches.
They'll still have a bit of filling out to do, but they shouldn't gain any significant amount of weight after this point.
- Ten to twelve months. And just like that, your cute, bumbly, legs-too-big Chihuahua puppy has grown into an adult.
Another factor that is important when considering your Chihuahua's optimum weight is how high they are.
Although no listed height is registered with any major kennel club breed standard, a six pound Chihuahua should generally be 6 to 9 inches tall.
A Chihuahuas height is measured from its withers (the top of the shoulders) to the floor.
As you would expect, a smaller Chihuahua will have a lower optimum weight, and, of course, taller specimens will be heavier.
How Much Does a Teacup Chihuahua Weigh?
While we're on the subject of Chihuahua weight, Teacup Chihuahuas really are the world's smallest dog. They may weigh less than 5 lb as an adult.
Sadly, this diminutive size can give rise to some serious health issues, including heart disease, bone fracturing, and hydrocephalus (fluid on the brain).
A standard sized Chihuahua will generally have a long lifespan. But the health problems suffered by Teacup Chihuahuas mean that they may live much shorter lives.
While it places an upper limit on size for Chihuahuas, organizations such as the American Kennel Club do not have a lower limit when it comes to size.
So a teacup Chihuahua is still considered to be a purebred example of the breed.
Why Do Chihuahuas Range in Size?
Pedigree dogs fit into particular breed standards. These are used to establish reliable bloodlines which consistently produce the desired size and other physical attributes of the breed.
The best pups from a litter, with ideal confirmation including size, may often be kept for future breeding to enable certainty to be retained in the breeding program when it comes to size.
If a breeder considers introducing a Chihuahua from outside their gene pool into their breeding program, they will do a lot of research to ensure that physical traits, including weight, have been recorded for three to five previous generations.
Private or Hobby Breeders
Private breeders, on the other hand, may have litters that are not so meticulously planned.
An oversized dam or an undersized sire can be responsible for many generations of Chihuahuas that do not conform to the breed standard for weight.
Some hobby breeders may also select bloodlines that are taller and heavier to avoid some of the problems (bone weakness, delicate health, being stepped on) associated with smaller Chihuahuas.
At What Age is A Chihuahua Fully Grown?
As we have seen, Chihuahuas will reach their full adult height and most of their adult weight after about nine months.
From there on, a significant weight gain could be due to them being overfed, or possibly having underlying health problems.
An old trick to get some idea of how big your puppy will become when they're an adult is to have a look at their paws.
If their feet look like they're too big for the rest of their body when they are pups, it generally means that they will become a generously proportioned adult dog.
Dogs are just like kids, really. Sometimes they have big clumsy paddle feet and it takes them a few years to grow into them.
All breeds of dog are susceptible to obesity and the health issues that accompany this.
That is why it is extremely important to pay attention to your Chihuahuas nutrition and make sure that they get plenty of exercise.
An overweight Chihuahua will suffer from mobility issues and possibly such canine conditions as diabetes, weak knees or arthritis.
Just like people, if your Chihuahua has got a bit chubby, a few less calories and a bit more activity will soon get your Mexican amigo back to the correct weight and looking perfect in their new clothes and doggy bling.