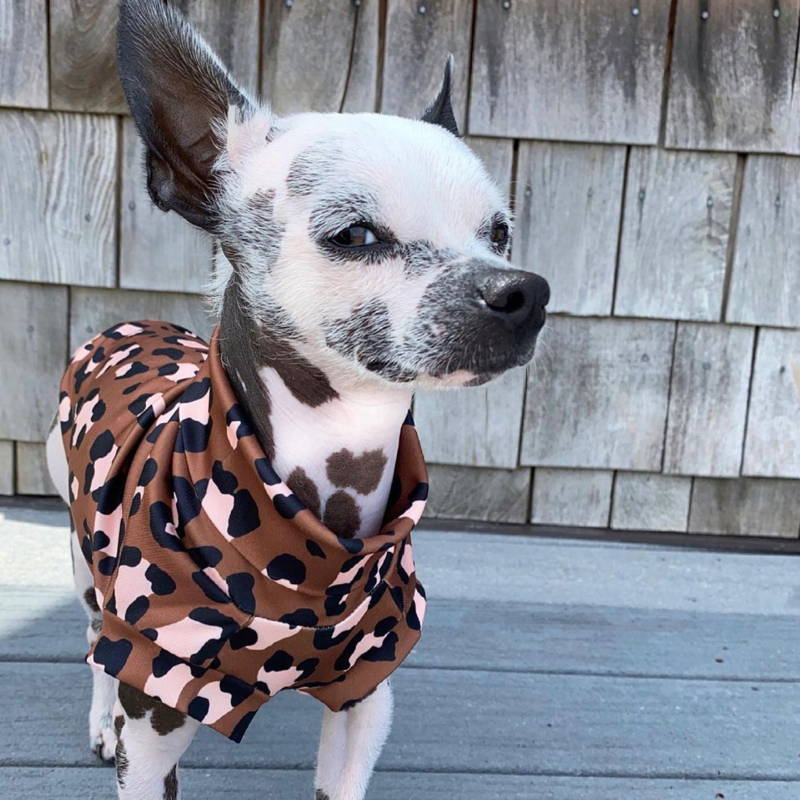 Chihuahuas are a popular breed of dog, but are they hypoallergenic enough for people with pet allergies?
Allergy to pets. It's quite a common thing, really.
According to the American College of Allergy, Asthma and Immunology, around 10% of the American population is allergic to dogs.
That means that roughly 32 million Americans are likely to flare up when they are around pooches.
An easy way for pet owners to avoid an allergic reaction to dogs is to have a breed that is said to be hypoallergenic.
So let's take a look at what all these big words mean, and how it relates to your cute little Chihuahua.
What, Exactly, Does "Hypoallergenic" Mean?
The term hypoallergenic was first coined by the cosmetic industry. It means that a product may cause fewer allergic reactions than others.
It doesn't necessarily mean that a product is "allergy proof"or even gentler on your skin. It just means that it is less likely to cause you to have an allergic reaction.
As time went on, the phrase hypoallergenic was applied to all manner of things, including clothes, food, household cleaning products...and even dogs.
Of course the big question here is: are Chihuahuas hypoallergenic dogs? Are they likely to make you sneeze and sniffle? Let's find out.
Are Chihuahuas Hypoallergenic Dogs?
Ok...we had better start off with the less than good news. Chihuahuas are not considered to be hypoallergenic dogs. Like most breeds, they shed hair and this is just a natural part of their physiology
But before you throw up your hands in despair, there is still plenty of good allergy-related news about these sassy little Mexican dogs.
While Chihuahuas are not considered to be hypoallergenic breed, they are considered to be relatively moderate shedders.
And besides, as we shall see, it's not actually a dog's hair that causes allergic reactions anyway.
An allergic reaction to an animal is, in effect, a type of hay fever.
Its scientific name is allergic rhinitis and it affects around 600 million people worldwide.
Allergic rhinitis is an inflammation inside the nasal passages caused by a person's immune system overreacting to allergens contained in the air.
The symptoms of allergic rhinitis include:
Sneezing and a stuffed up or runny nose.
Nasal congestion which causes facial pain.
Wheezing, shortness of breath, chest tightness, and coughing.
Itchy red and watery eyes.
Blotchy skin, rashes, and hives.
A hypoallergenic dog is one that is less likely to cause this sort of allergic reaction in its owner or in the people that it comes in contact with.
For people who have allergies to animals, especially dogs, the first thing that they will think about is dog hair. And while hair is a contributor to dog allergies, the biggest trigger is a substance called dander.
Dander is composed of microscopic flecks of skin shed by all creatures, including humans. It is shed by cats, dogs, rodents, birds and other animals with fur or feathers.
These tiny flakes of skin are what cause reactions in people who are allergic to these specific triggers.
Dander is carried about by an animal's hair. So having a dog that doesn't shed too much is an important consideration when people are choosing an animal that doesn't set off their allergies?
Do Chihuahuas Shed a Lot of Hair?
Most dogs are seasonal shaders. They typically shed their winter coats in Springtime, and again in Fall.
Chihuahuas usually shed all year round, but the heaviest shedding season for them is Springtime.
All dogs require grooming. And your little Mexican mutt is no exception.
The answer to the question "are long-haired Chihuahuas hypoallergenic or am I better to choose a short-haired Chihuahua" may seem obvious. You would assume that a short-haired Chihuahua would shed less hair, and therefore produce less dander.
But as it turns out, there is very little difference between the two. However, the amount of grooming required does vary slightly between the long- and short-haired varieties.
Long-haired Chihuahuas require regular brushing to remove dead hair and debris from their coats.
Short haired Chihuahuas require occasional brushing and grooming. You can get away with just wiping down their coat with a soft cloth.
All Chihuahuas need a bath at least once a month. Bath time is a great opportunity to check that their coat is in good condition, and keep tabs on their eyes and their ears.
It's also a good opportunity to make sure their nails are nicely trimmed.
There's nothing like a bit of pet pampering to keep your Mexican mutt in tip top condition!