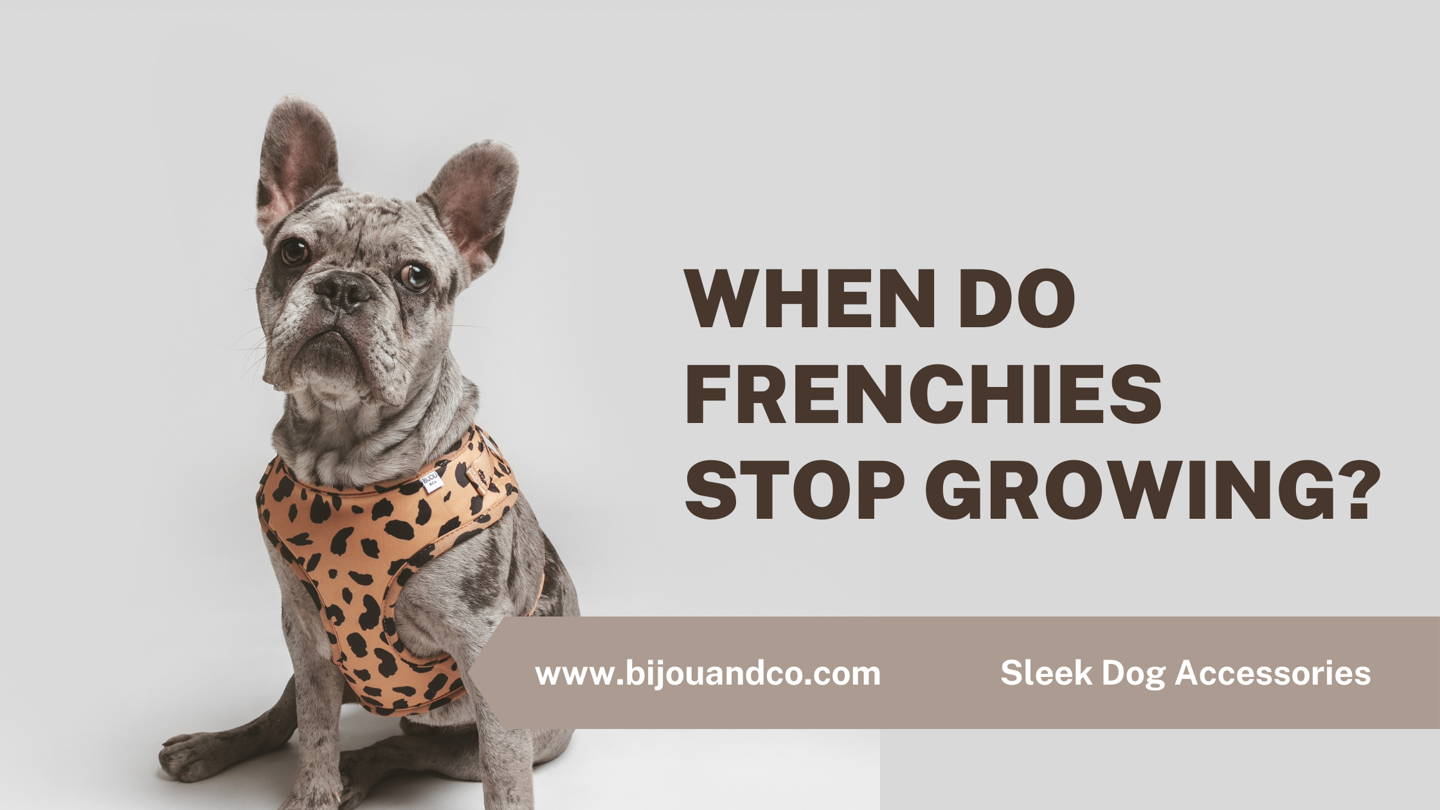 Are you wondering when your Frenchie will stop growing? Contrary to popular belief, French bulldogs do not necessarily reach their full adult size at one year old.
In fact, most Frenchies continue growing until they are around 18 months old. What are the stages of French Bulldogs growth? How big will they get? Is there a différence between male Frenchies and females? This post will answer all your questions about your Frenchie's growth.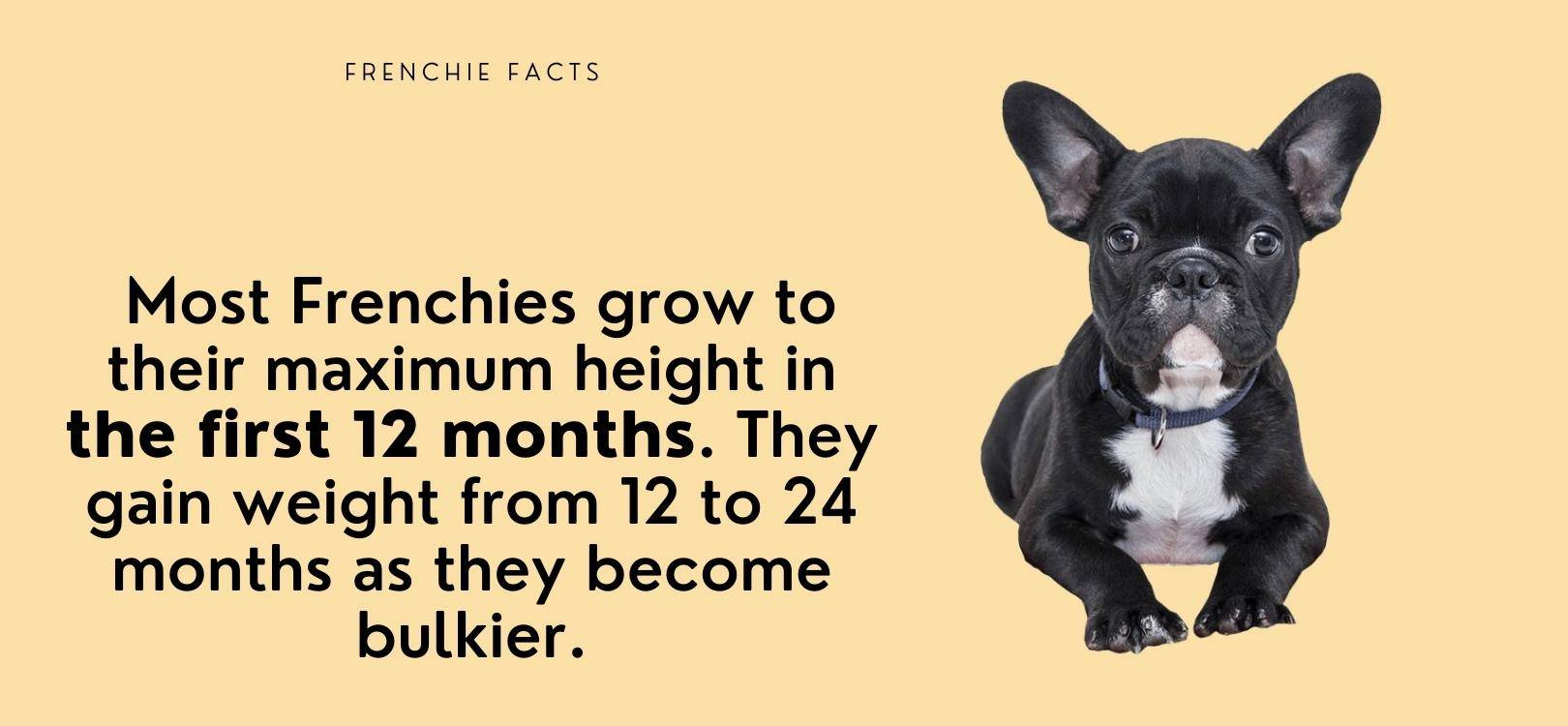 When are french bulldogs full grown?
A French bulldog puppy isn't small for long. Most of them grow to their maximum height in the first 12 months. They gain weight from 12 to 24 months as they become bulkier. Their growth rate depends on various factors such as diet, genetics and overall health.
There are also factors that can hinder their growth such as having an underlying health condition, not having a nutritious diet or having small parents. All French Bulldogs grow to be different sizes. Some are much larger than the average whilst others turn out to be smaller. The weight of your French bulldog should be roughly around the average weight of their parents since genetics too plays a role in their growth.
Shop our neutral dog accessories
french bulldogs grow chart (average)
French Bulldogs are a popular breed of dog, known for their squat bodies and large, bat-like ears. While they may look like they're fully grown at just a few months old, French Bulldogs actually continue to grow until they're around two years old.
To ensure that your French Bulldog is growing at a healthy rate, it's important to keep track of their weight and height using a growth chart.
These charts are available from your veterinarian or online, and can help you to identify any potential problems early on.
By monitoring your French Bulldog's growth, you can ensure that they stay healthy and happy for many years to come.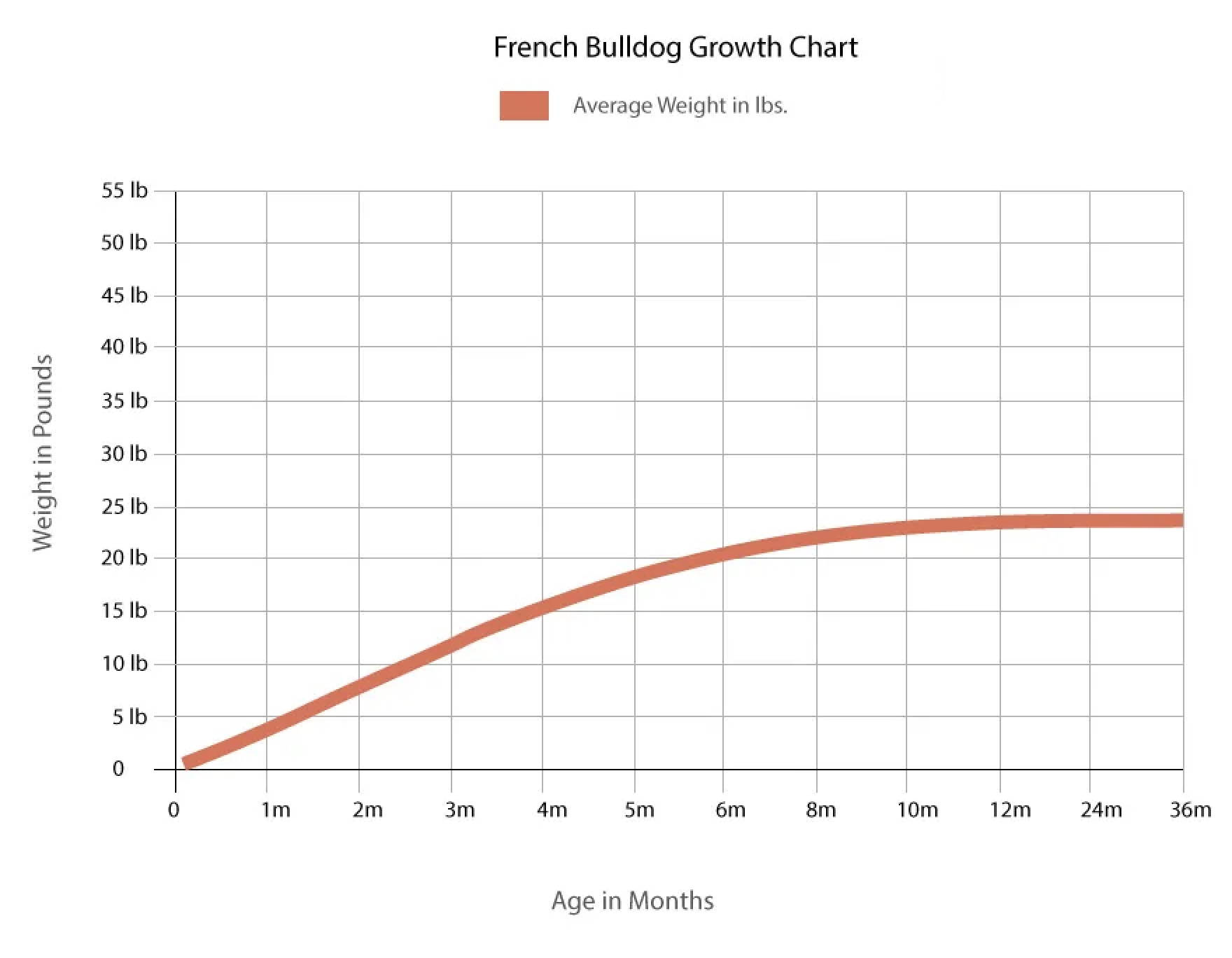 Shop our pink leopard dog accessories
Male french bulldogs growth chart
While many people assume that all French Bulldogs are the same size, there is actually a significant difference between the height and weight of male and female French Bulldogs. Male French Bulldogs typically weigh between 20 and 28 pounds, while females usually weigh between 16 and 24 pounds.
When it comes to height, male French Bulldogs typically stand between 12 and 13 inches tall at the shoulder, while females usually measure between 11 and 12 inches. In terms of length, male Frenchies typically measure between 14 and 15 inches from the tip of the nose to the base of the tail, while females usually measure between 13 and 14 inches.
While these differences may seem small, they can actually make a big difference in the appearance of your Frenchie. Male French Bulldogs tend to have broader shoulders and chests, while females tend to be slightly longer in body. These physical differences can help you to determine the gender of your french bulldog, even if they are not yet old enough to be spayed or neutered.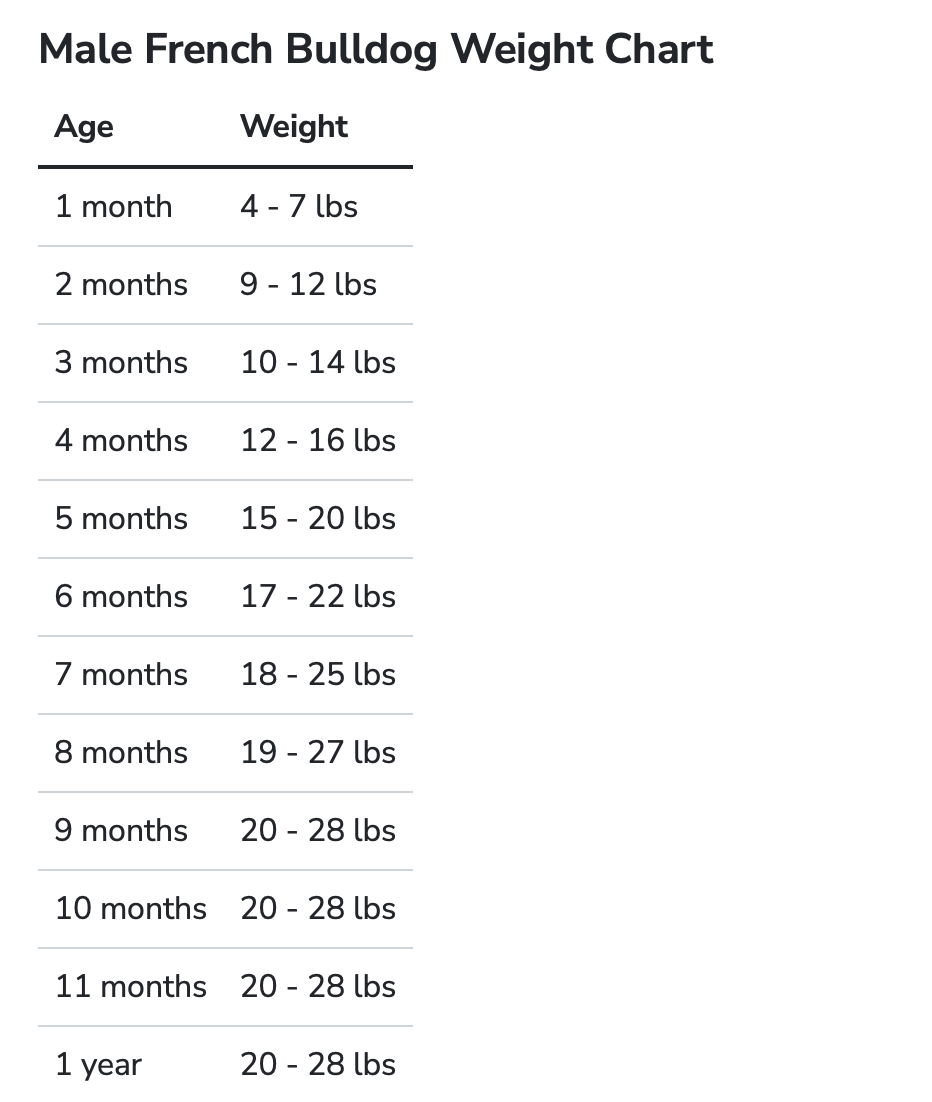 feMale french bulldogs growth chart
Males Frenchies tend to be on the larger end of this spectrum, while females are typically smaller. This difference in size is due to a phenomenon known as sexual dimorphism, which is when males and females of a species exhibit different physical characteristics.
In French Bulldogs, sexual dimorphism manifests itself in size, with females tending to be about 10% smaller than males. While this may not seem like much, it can make a big difference in the overall appearance of the dog. In general, male French Bulldogs have a more muscular build, while females are more slender.
This difference is also evident in the dog's head, with males having wider skulls and shorter muzzles. Overall, Frenchies of both genders make great companion pets. However, those looking for a smaller dog may want to opt for a female French Bulldog.
Shop our tan leopard dog accessories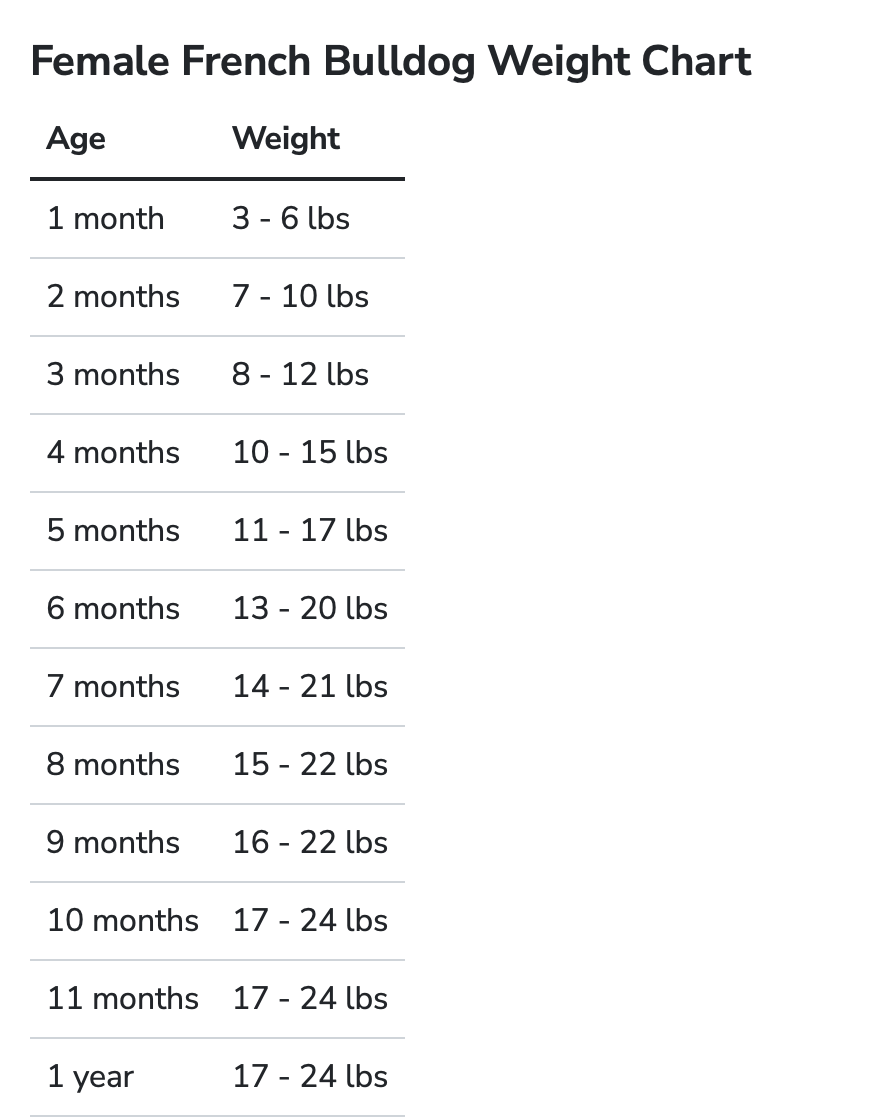 french bulldogs puppy growth chart
French Bulldog puppies grow quickly during their first few months of life. They will double their birth weight by about two weeks old.
At six weeks old, they will be about half their adult weight. If Frenchies reach full size around 12 to 18 months old, they may continue to fill out and musculate until they are two years old.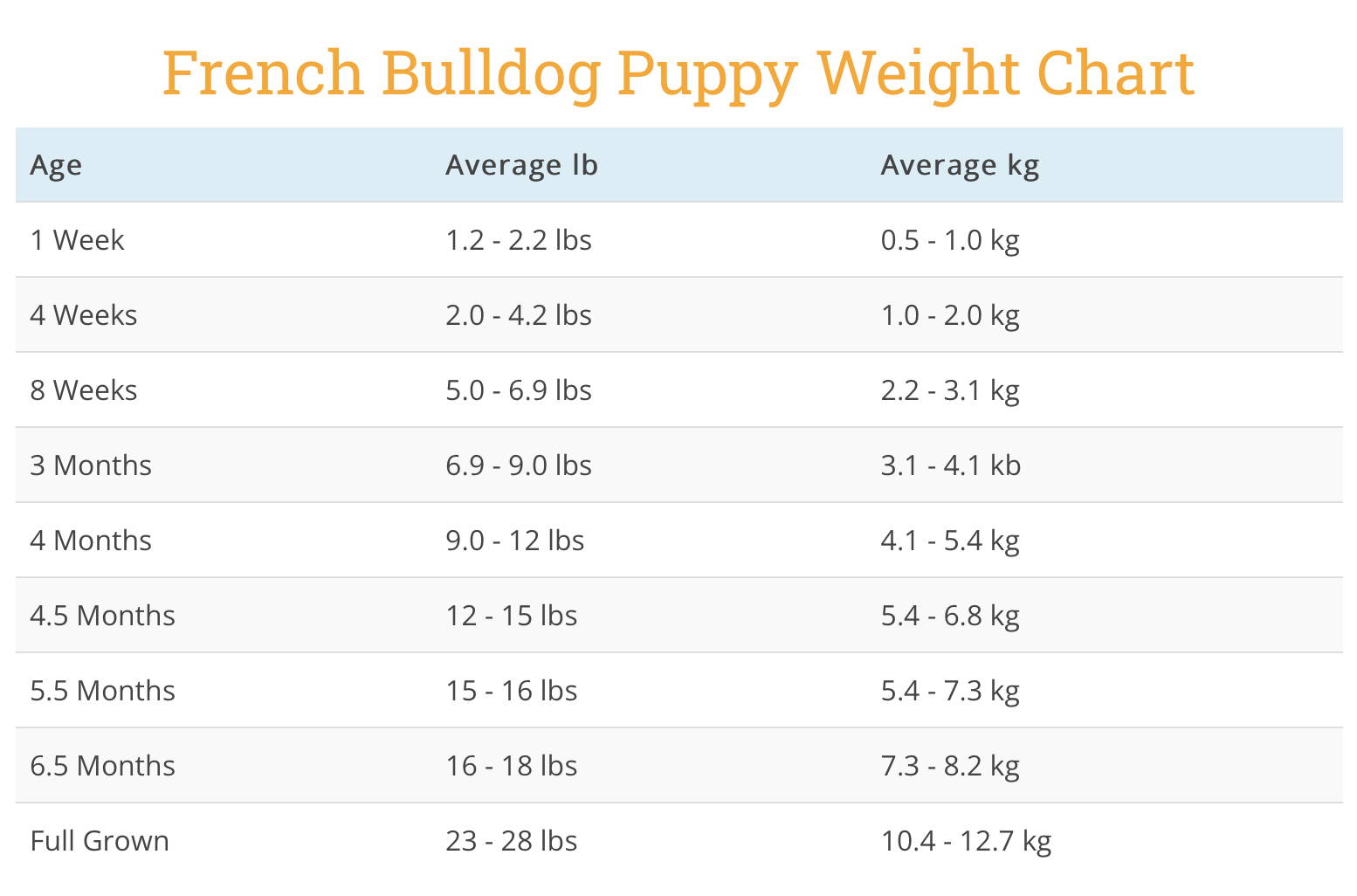 french bulldogs body measurements
French bulldogs are a small breed of dog, typically weighing between 16 and 28 pounds and standing 12 to 16 inches tall at the shoulder.
However, there is considerable variation in size within the breed, with some Frenchies weighing as little as 10 pounds and others topping the scales at 30 pounds or more. When it comes to height, Frenchies typically measure between 12 and 16 inches tall at the shoulder, though some may be taller or shorter.
French bulldogs also tend to be relatively short in length, measuring between 11 and 13 inches from the base of the neck to the base of the tail. While they may be small in stature, Frenchies are frequently described as big dogs in small bodies, thanks to their muscular build and stocky frame.
French Bulldogs Head Size
French Bulldogs are what is known as a brachycephalic breed. This essentially means that they have large broadheads, short snouts, and muzzles that look almost flat.
It is this facial trait, along with their huge dark eyes, that make French Bulldogs look so cute and almost human-like.
A French Bulldog's head must be measured from the jawline around the top of the skull. On average, a Frenchie's head should be around 13 to 18.5 inches (33-47cm).
French Bulldogs Back Length

Generally speaking, a French Bulldog will measure around 10 to 11 inches (25-28cm) along its backline, from its withers to the tip of its cute and stubby tail. This, will, of course, vary a little bit as Frenchies, just like humans, come in all shapes and sizes.
French Bulldogs Height
French Bulldogs are classed as a small breed of dog. They generally achieve a height at the withers (shoulders) of between 11 to 13 inches (27-33cm).
French Bulldogs Neck Size
The neck of a French bulldog is where it's ancestry is at its most obvious. Just like its British ancestors, French Bulldogs have short, thick necks.
The average neck circumference for a Frenchie is around 14 inches (35cm). This gives them a collar size ranging from 12 to 16 inches (30-40cm). However, you should be aware that collars are not the best restraints to use on your French Bulldo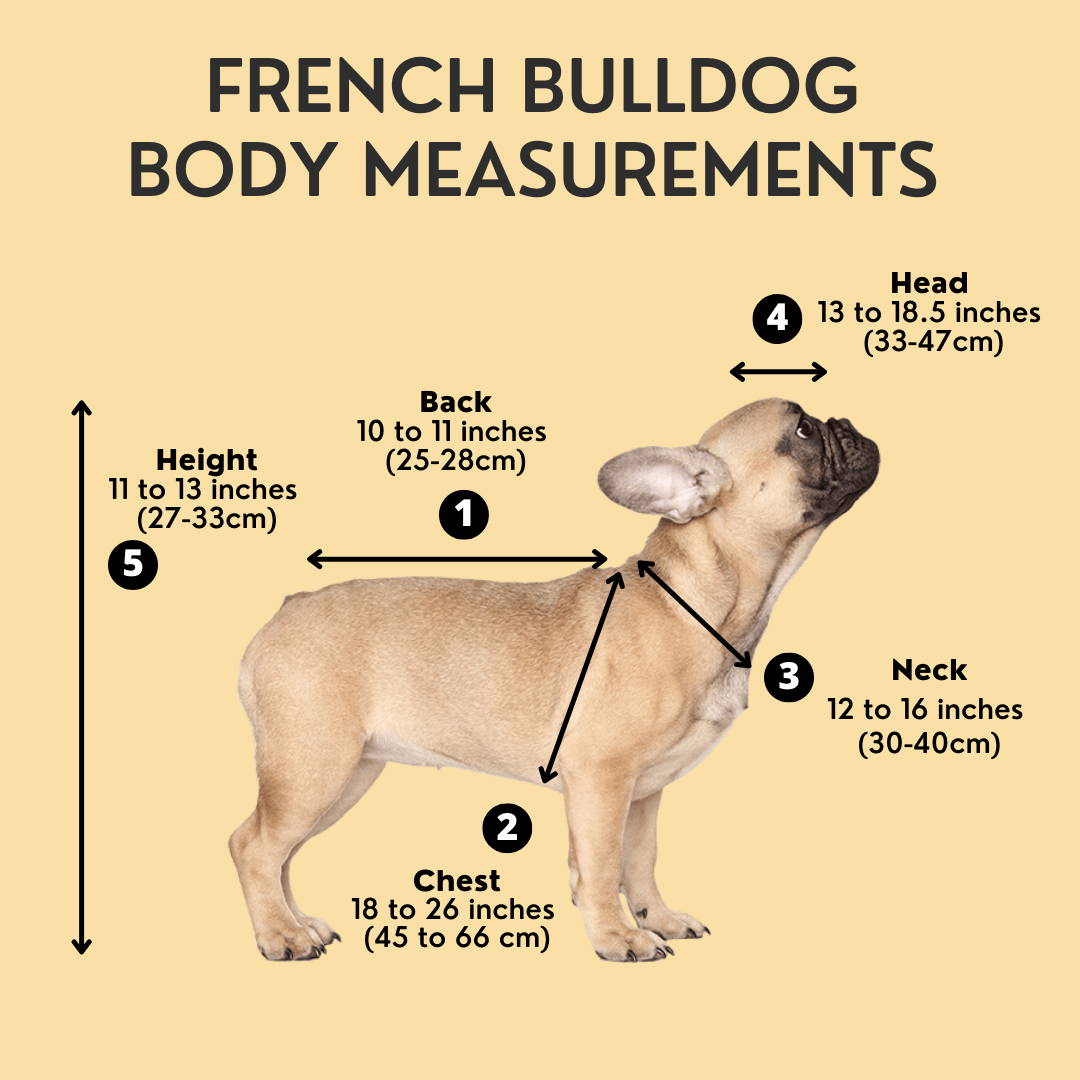 the Stages Of French Bulldog growth
French Bulldogs are born small, weighing only about 0.5-1 pound. They grow quickly in their first few weeks of life, tripling their weight by 3 weeks old.
Their eyes usually open around 10 days old, and they start to teeth around 3-4 weeks old. Puppies Frenchies begin to walk at around 3 weeks old, but are not fully coordinated until 4-5 weeks old.
By 6 weeks old, French Bulldog puppies are typically eating solid food and begin to look like miniature versions of their adult selves.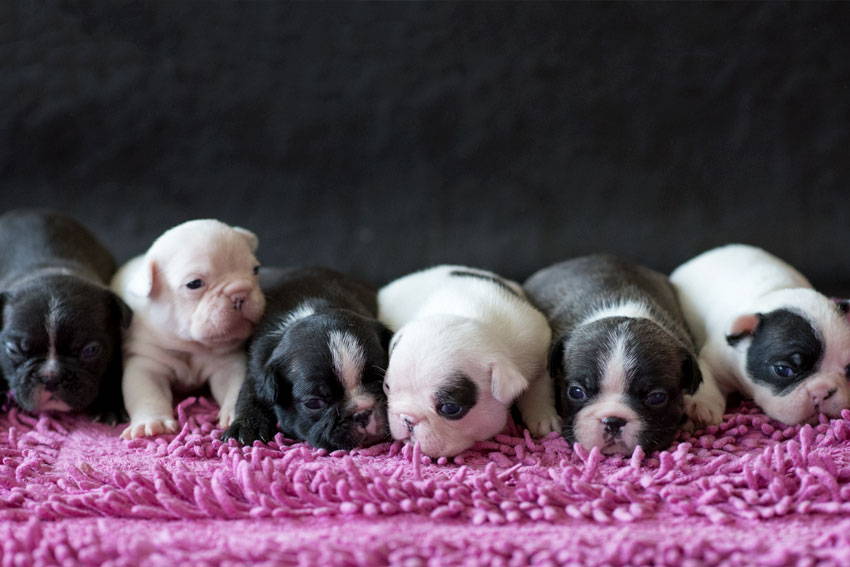 During the third week, French Bulldogs will typically double their birth weight. By the fourth week, they will usually triple their birth weight. French Bulldogs continue to grow rapidly until they are about four months old, at which point their growth slows down.
A French Bulldog grows rapidly during the first four weeks of life. The average weight at birth is about 10 ounces, and by four weeks old, most Frenchies will have more than tripled in size, weighing in at around 3 pounds.
During this time, their bones and muscles are growing rapidly, and they will begin to explore their surroundings more. Around seven weeks old, French Bulldogs will reach their full adult size, though they may continue to fill out and gain muscle mass until they are around 12 months old.
While they may look like fully grown adults, Frenchies at this age are still puppies and need plenty of exercise, socialization, and proper nutrition to ensure they grow into healthy, well-rounded dogs.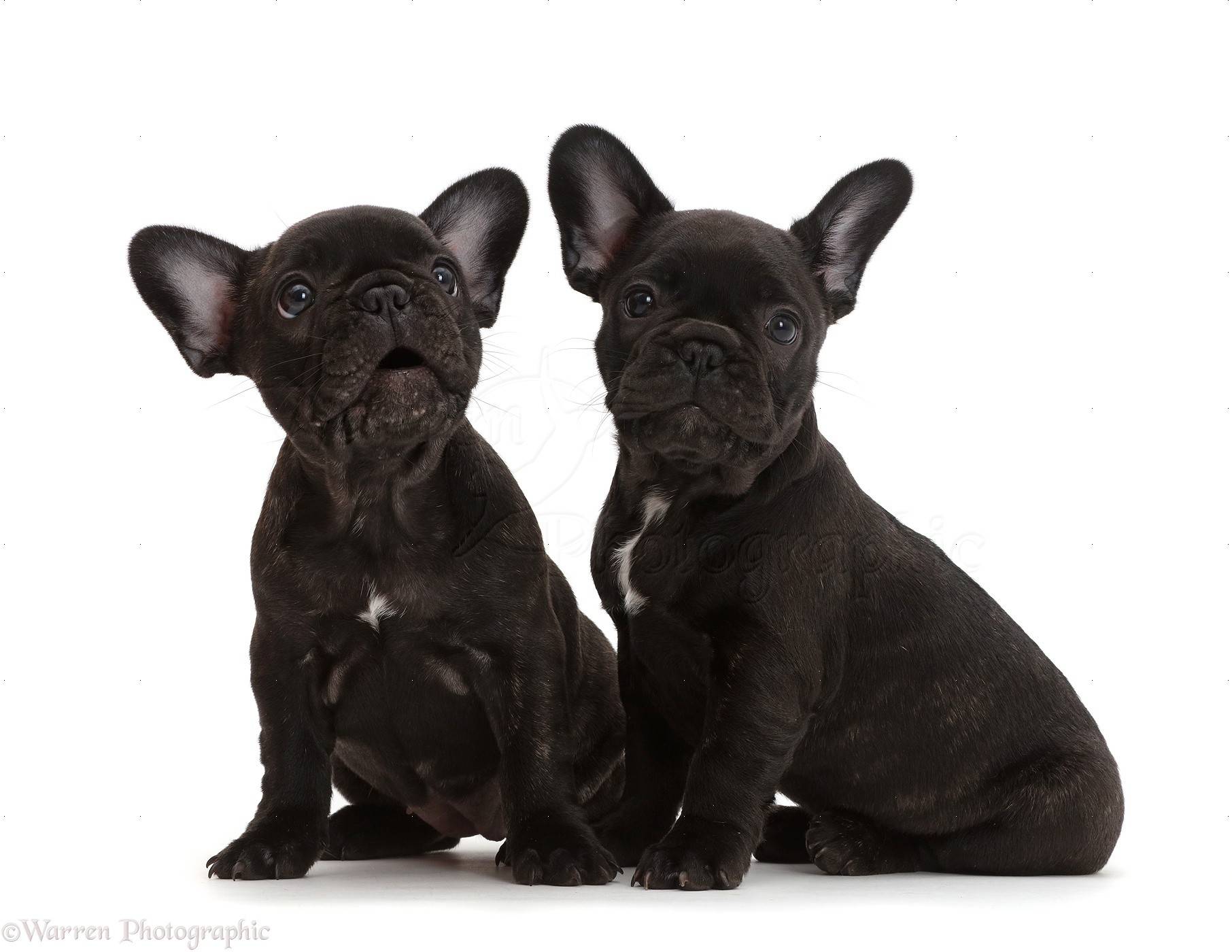 At two months old, French Bulldogs typically weigh between 8 and 12 pounds. They will continue to grow at a steady pace until they reach three months old, when they will usually be between 12 and 16 pounds.
During this time, French Bulldogs will also begin to lose their baby teeth and their adult teeth will start to come in. While Frenchies can be full-grown by three months old, they may still fill out a bit more until they reach six months or even a year old.
Because of this, it is important to monitor their diet and exercise during this time to make sure they are getting everything they need to grow healthy and strong.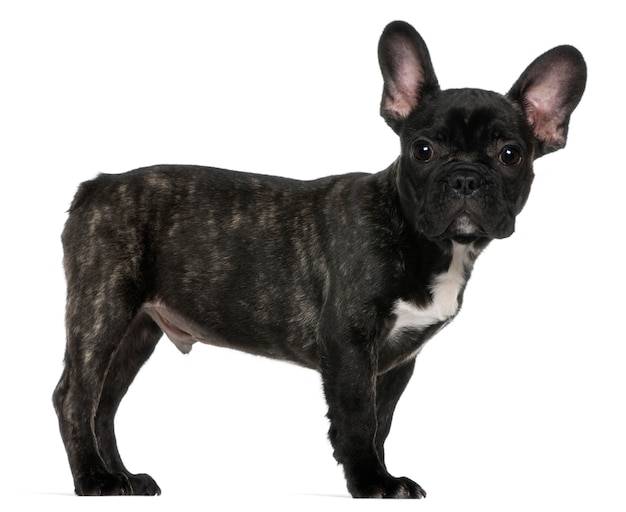 French Bulldogs typically gain weight steadily from 3 to 4 months old. At this age, they should weigh between 13 and 20 pounds. French Bulldogs will also continue to grow in height during this time period, adding another inch or two.
French Bulldogs will also start to develop adult teeth during this time period. Frenchies typically have all of their adult teeth by 6 months old, and they may also start to show some signs of sexual maturity at this age, though they will not be fully sexually mature until they are around 1 year old.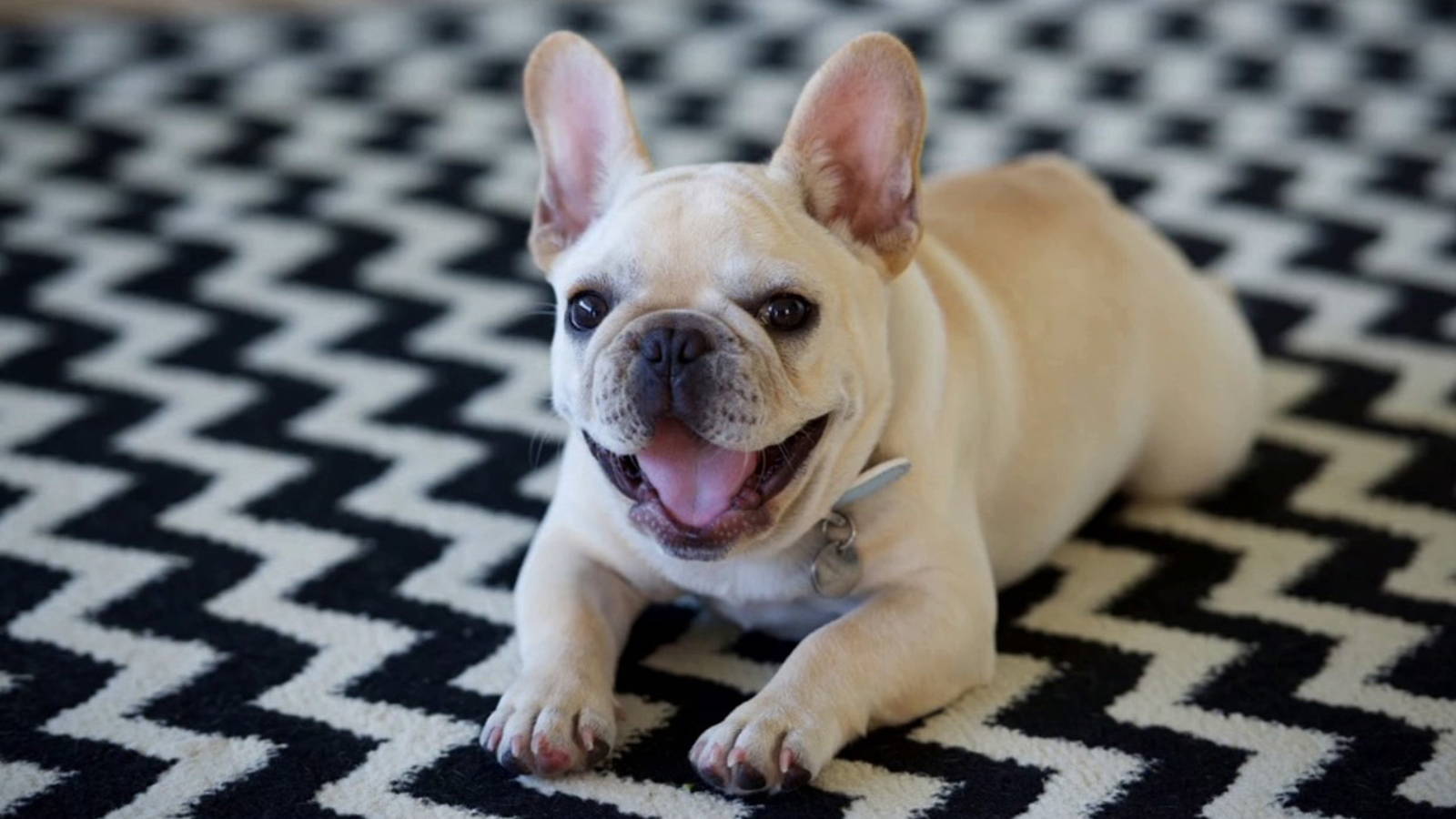 French bulldog growth from 4 months to 6 months old is an important process for their overall development. It is during this time that the Frenchie begins to put on weight and develop muscle mass. Additionally, French Bulldogs at this age also start to develop their coat and pigmentation.
French Bulldogs typically reach their full adult size by around 6-9 months old, so this growth period is essential for their development into a healthy adult dog. After 6 months old, Frenchies will still continue to fill out and mature, but the rate of growth will slow down significantly.
At six months old, your French Bulldog will have finally reached his full adult size. He will, however, still have some growing to do in terms of muscle development and weight gain.
During this time, it is important to continue providing him with a high-quality diet that is rich in proteins and essential nutrients. You may also want to consider enrolling him in a puppy training class, as this will help to socialize him and provide mental stimulation.
With proper care and nutrition, your French Bulldog will continue to grow and develop into a happy and healthy adult.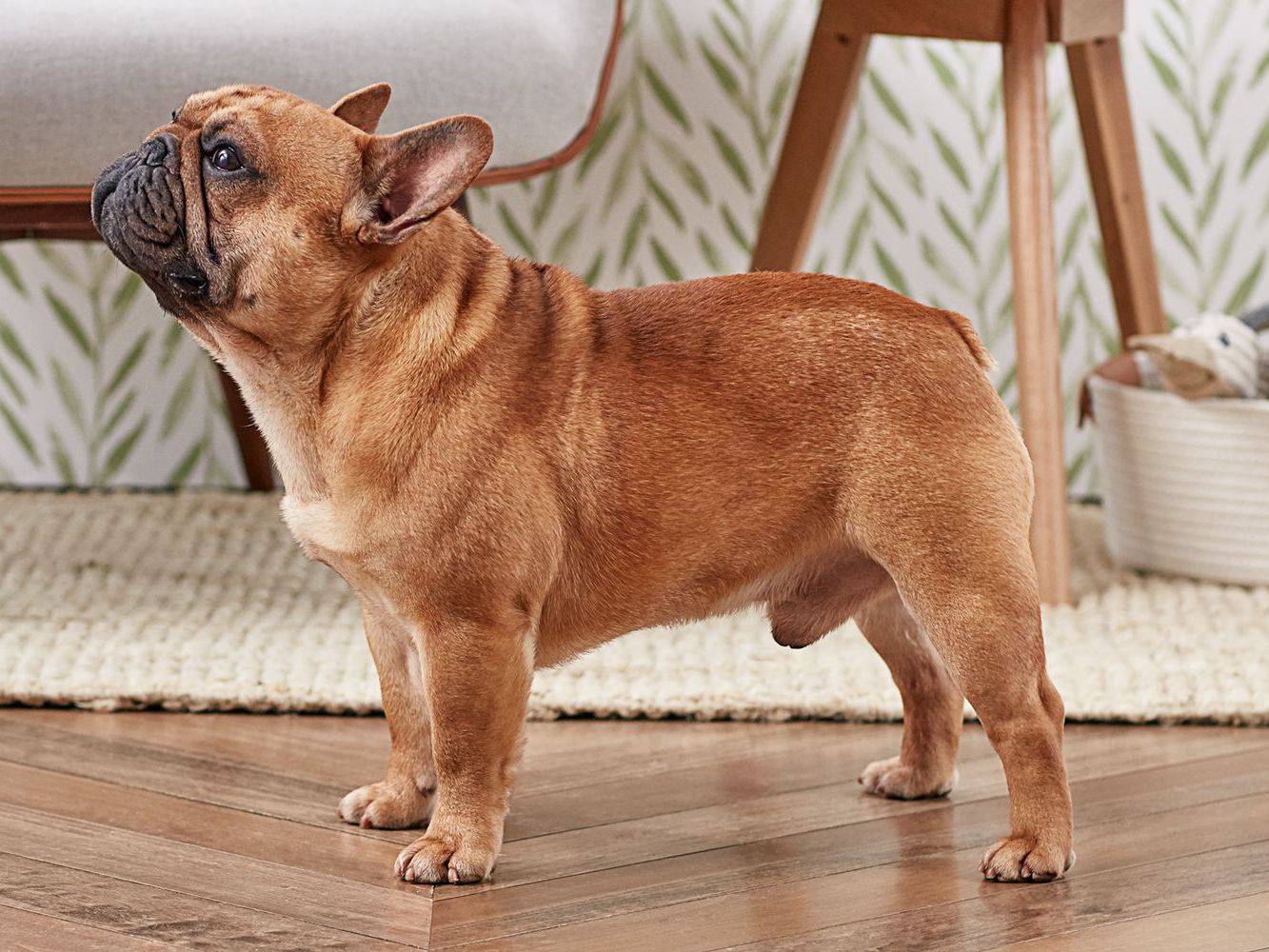 french bulldog growth faqs
When is a French Bulldog full grown?
French Bulldogs typically reach their full adult size by 12 months of age, though they may continue to fill out and develop muscle tone for another 6-12 months.
What affects my French bulldogs size?
There are a few factors that can affect a French Bulldog's size. One is the amount of food they eat. A French Bulldog who eats more will usually be larger than one who eats less.
Another factor is the amount of exercise they get. A Frenchie who gets lots of exercise will usually be leaner and thus appear smaller than one who doesn't get as much exercise.
Finally, genes can play a role in a French Bulldog's size. Some Frenchies are simply born with genes that make them smaller or larger than average.
Shop our blue leopard dog accessories
can i predict how big my frenchie will be?
Unfortunately, there is no foolproof way to do so. However, there are a few factors that can give you a general idea of how big your French Bulldog will be.
First, take a look at the size of your Frenchie's parents.
If they are on the larger side, it's likely that your Frenchie will be as well. Second, consider the weight and height of your French Bulldog at different stages of development.
Generally speaking, male French Bulldogs tend to be larger than females. With all of these factors in mind, you should have a better idea of how big your French Bulldog will be as an adult.
does neutering affect my french bulldogs growth?
Neutering does not seem to have any significant effect on the growth of French Bulldogs. Some studies have even suggested that neutering may slightly increase growth rate.
However, the changes are not large enough to be considered clinically significant. The main reason for this is that neutering only removes the testicles, which produce a small amount of testosterone (the hormone responsible for muscle growth).
Therefore, neutering is unlikely to have a noticeable impact on your French Bulldog's growth. However, it is important to note that every dog is different and some may experience more pronounced effects than others.