French bulldogs are popular dogs known for being sleek and excellent city dogs. They are playful and intelligent and are known for their adaptability. They have a short nose, wrinkly face and muscular build and can be pretty mischievous at times. They look like miniature versions of the Bulldog with erect bat ears. One of the most asked questions is, "When do Frenchies stop growing?"
When Do Frenchies Stop Growing?
A French bulldog puppy isn't small in size for long. Most of them grow to their maximum height in the first 12 months. They gain weight from 12 to 24 months as they become bulkier. Their growth rate depends on various factors such as diet, genetics and overall health.
There are also factors that can hinder their growth such as having an underlying health condition, not having a nutritious diet or having small parents. All bulldogs grow to be different sizes. Some are much larger than the average whilst others turn out to be smaller. The weight of your French bulldog should be roughly around the average weight of their parents since genetics too plays a role in their growth.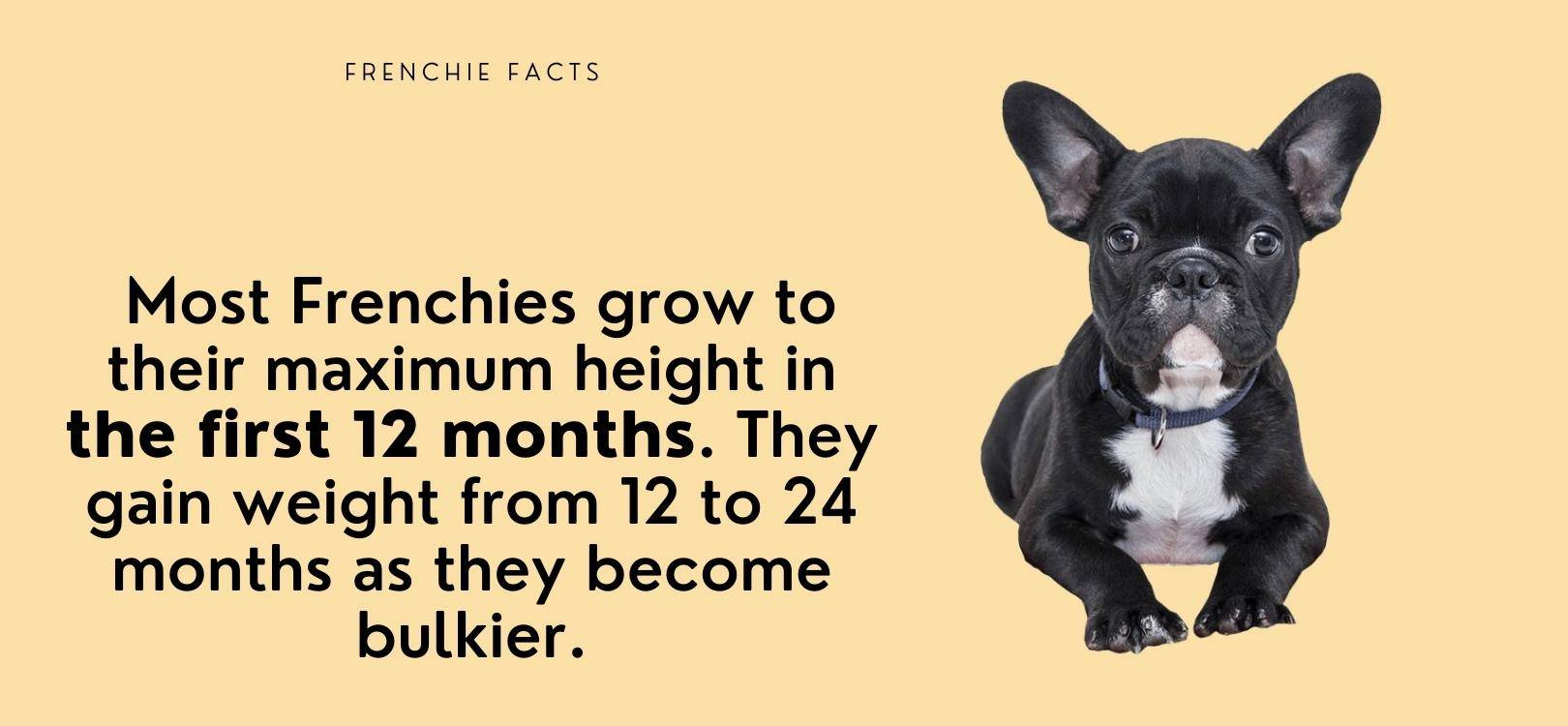 Factors that affect the Growth of French Bulldogs
Here are some factors that can affect the growth of French bulldogs.
LACK OF NUTRIENTS IN THE DIET
It is possible that a lack of nutrients in your puppy's diet may inhibit their growth. Their body won't develop well and they won't grow. Regular food meant for dogs or puppies should be alright for them.
A worm infection such as hookworms or ringworms can easily affect a French bulldog's growth. Worms are very common especially among puppies and can be difficult to spot. They steal calories from the gut therefore preventing your pet from receiving nutrients.
This is something which is beyond our control and depends on how big or small the parents are. If they're similar to their parents' size, there is nothing to worry about.
Any underlying health issues, before they do any damage, should be detected. Therefore it is essential to get them regularly checked up by a veterinarian to know what kind of health state they're in.

French Bulldog GROWTH, THE GUIDE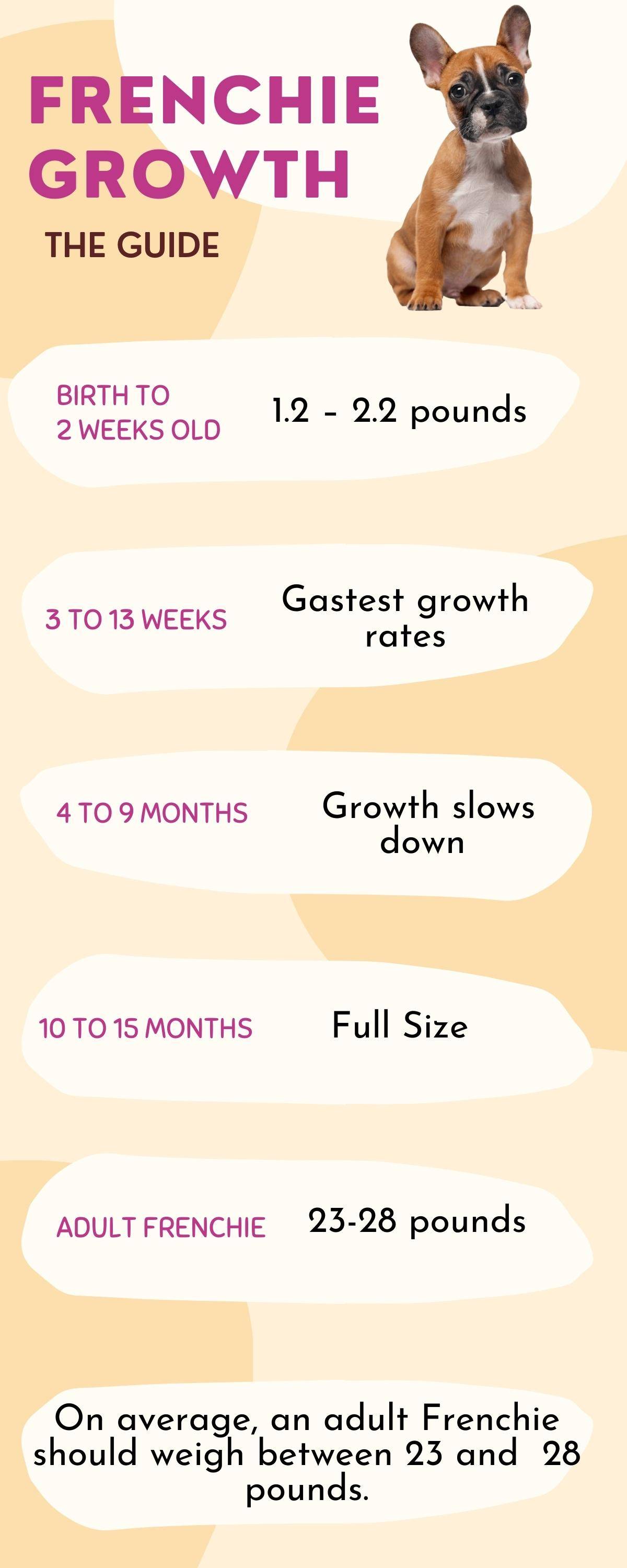 Generally French Bulldogs will reach their maximum weight at around eight to twelve months of age and maximum height around nine to twelve months of age. They can also be considered full grown at 12 to 14 months. Any further growth beyond that point could be attributed to the development of muscle. Between 9 and 15 months, they will slowly begin to fill out.
According to the American Kennel Club, the standard size of a French bulldog should be 28 pounds in weight and between 11 and 13 inches in height. Female Frenchies generally weigh between 17 and 24 pounds and male French bulldogs weigh between 20 and 28 pounds. Both males and females are between 11 and 13 inches tall and are muscular and heavy-boned.
How Much Bigger Will My French Bulldog Grow?
Since French bulldogs are on the shorter side, they will reach their full height between 9 and 12 months of age. From the age of 3 months up to a year, they will barely increase in height.
For a good estimate regarding your particular dog, contact your dog's breeder. They will be able to provide you with information regarding your Frenchie's parents and genetics.
A good tip to keep in mind when watching your French bulldog's growth is to look at their paws. If the paws look oversized compared to the legs and the body, you know that your dog is still growing.
foods that to Encourage the Growth of a French Bulldog
The first few months of a French Bulldog's upbringing is important since it is at this stage that the mother's role comes to a close. The pup now starts its own life and the owner takes over as the most important person in their life. To start with, a healthy diet comprising of the following must be maintained:
Fat helps Frenchies grow
French Bulldogs when they're puppies generally need about 8% fat and 5% fat when they're fully grown. Flaxseed and chicken fat are considered good sources of fat along with canola oil.

Protein helps Frenchies grow
Main sources of protein would include chicken, fish, beef and lamb. The optimum amount of protein recommended is 22% for puppies and 18% for fully grown french bulldogs.

Carbohydrates help Frenchies grow
Ideally their diet should include a low level of carbs in order to ensure a healthy blood sugar level.

It is always advisable to have a variety in their diet since if they don't like something, they need not be forced to eat as there are other options. The food provided to your pet during their life plays a big role in their health and longevity.
A French Bulldog's weight would also therefore depend on their food habits. In some cases they are ahead of the average weight and end up being a good weight. Typically the males are heavier than the females.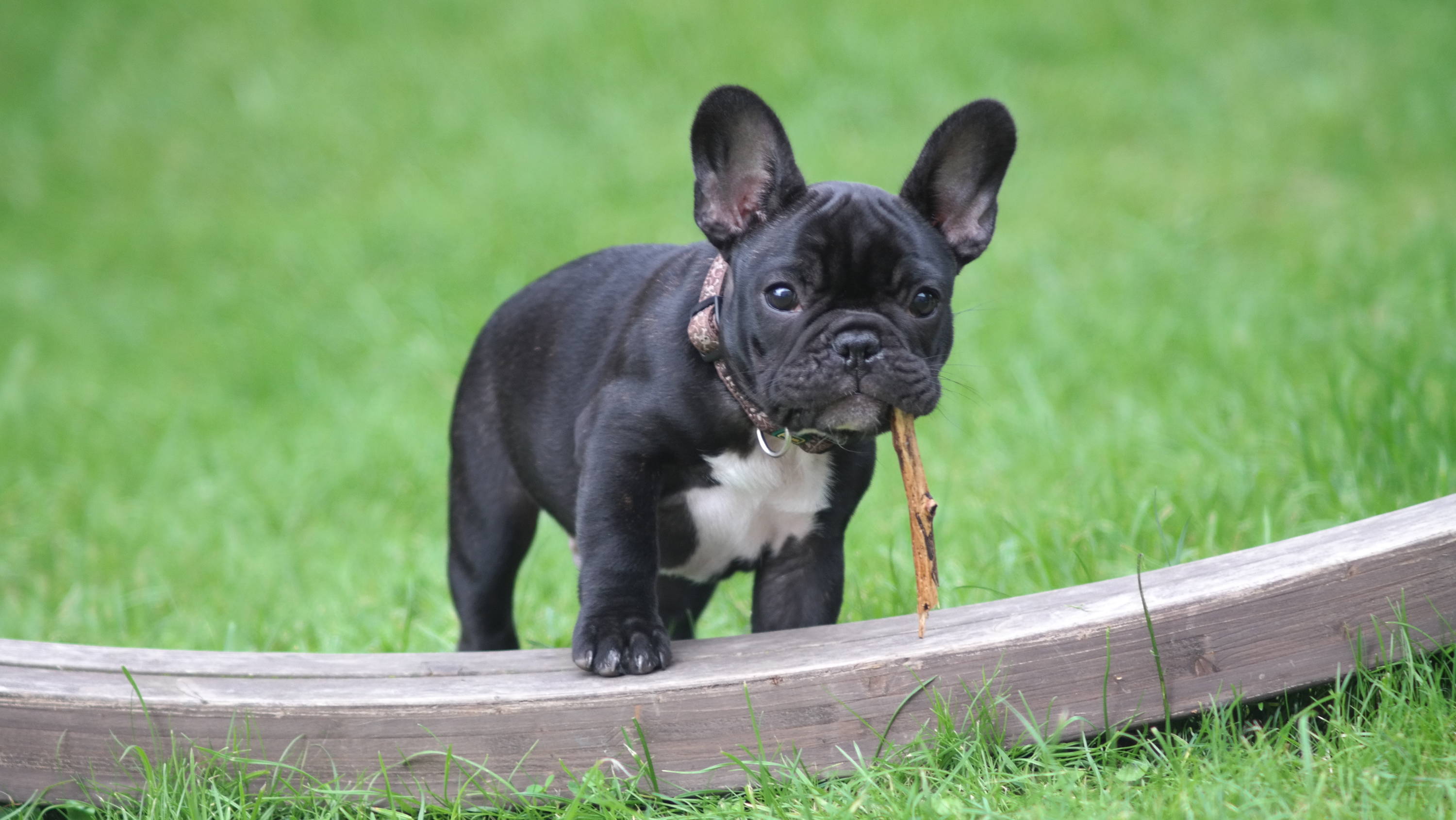 Why You Should Keep a Track of Your Frenchie's Growth
As a pet owner, there is nothing more that you would want for your French bulldog, other than a happy and healthy life. Keeping a track of their growth is one of them! Since Frenchie's are purebreds, they are more susceptible to genetic problems.
They can easily get different diseases and infections like eye problems, ear problems, skin infections, diarrhea, spinal injury, respiratory issues and so on. Another problem that French bulldogs face is obesity. Obesity can lead to high blood pressure, heart disease, and type 2 diabetes to name a few.
This is why keeping a track of their growth and monitoring it to make sure that they are fit and healthy is very important. As long as your French bulldog is in keeping with their growth charts and keeping up with the doctor's visits, you should have nothing to worry about!