These days, urban living is becoming more and more popular. So with lots of people moving into inner city apartments and small urban spaces, it comes as no surprise that smaller breeds of dog are also becoming more popular.
Sure, it's fine to own a big dog if you have a large backyard, or live in the country, or even if you live in a city with plenty of parks and open spaces.
But if you are living the tiny home lifestyle, or make your home in the urban chic of an apartment downtown, a more diminutive dog just might be the ideal pet for you.
And if you are looking for a big dog attitude in a small dog body, a French Bulldog might just be the perfect pet for you.
So let's take a look at just how big a French Bulldog will get, a some of the things that you will need to consider if you intend to become the owner of one of these cute, intelligent, friendly, and easy-going dogs.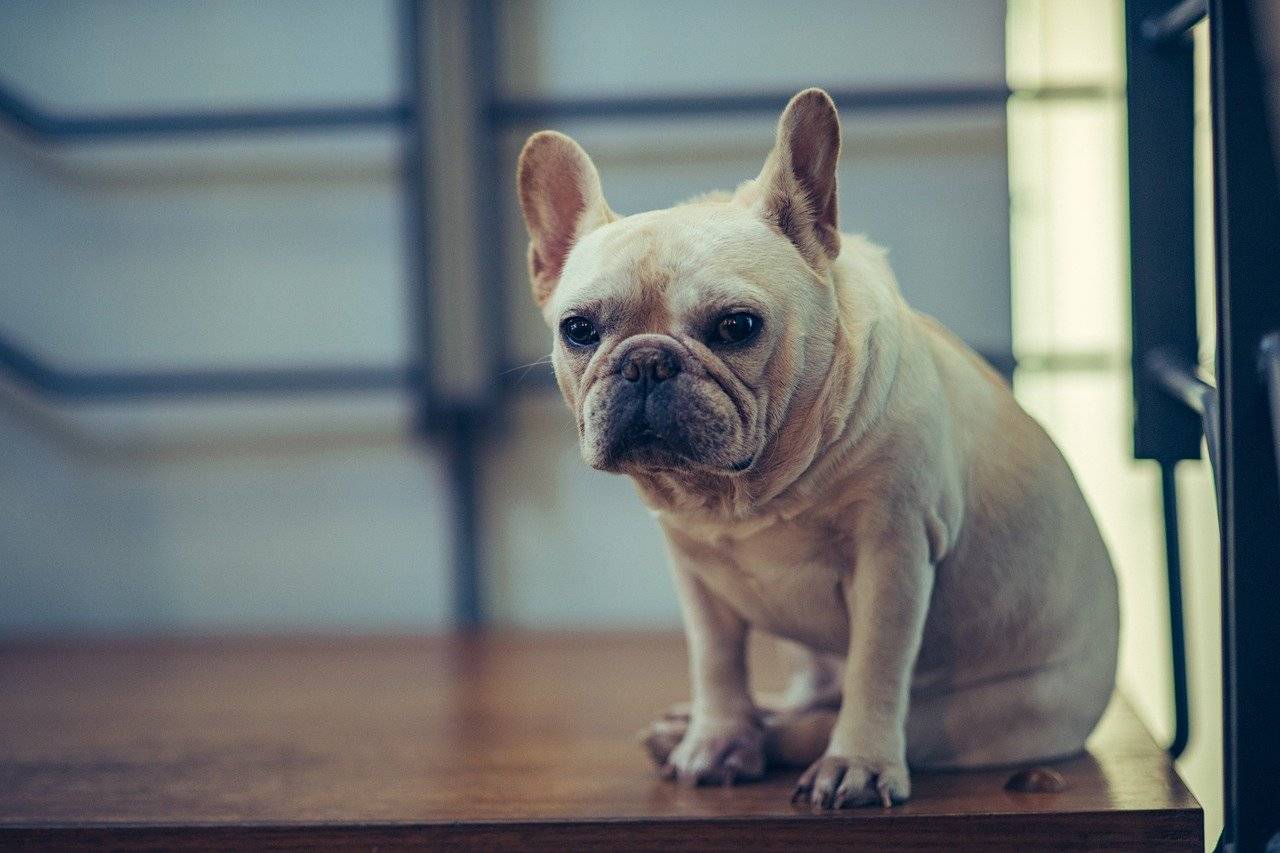 frenchies became smaller with breeding
French Bulldogs trace their ancestry back to the original breed of bulldog: the famous British Bulldog. These stocky and brave dogs had been used for centuries as sporting dogs for hunting and catching animals.
They had also been a prominent breed in the darker side of the dog world...dog fighting.
However, not all bulldogs wer being bred for violence. By the time bloodsports such as dog fighting were outlawed in Britain in the 1830s, Bulldogs had been bred for non-sporting reasons for almost half a century.
Because many bulldog owners lived in small tenements in huge British cities, breeders began crossing them with smaller breeds in order to reduce their size.
By the middle of the 19th century, the Toy Bulldog had become common in England. These dogs weighed around 16 to 25 pounds (7.3-11.3 kg), considerably less than the hefty dogs that they were descended from.
English Toy Bulldogs which were taken to Paris, in France, with English lace-makers in the 1800s. Here they were crossed with local French "ratter" breeds (dogs used to catch vermin) to produce the stocky, compact dogs we see today.
These dogs were given the name Bouledogue Français, a contraction of the French words boule (ball) and dogue (Mastiff). They became highly sound-after among the fashionable classes, and among the writers, artists and designers of Paris.
The artist Toulouse-Lautrec was a lover of this new breed and they feature in several of his well-known paintings.
So How Big Do French Bulldogs Get?
As we have discussed, size can be an important factor when choosing a dog. And when you pick up your cute little bundle of French Bulldog puppy cuteness, one of the first things you need to consider is just how big will he or she get?
As a matter of fact, French Bulldogs will be quite happy living in the smallest townhouse or out on the biggest farm, so whatever size they end up as, they will still be happy and make great companions.
But let's check out a few of the usual dimensions of these diminutive dogs.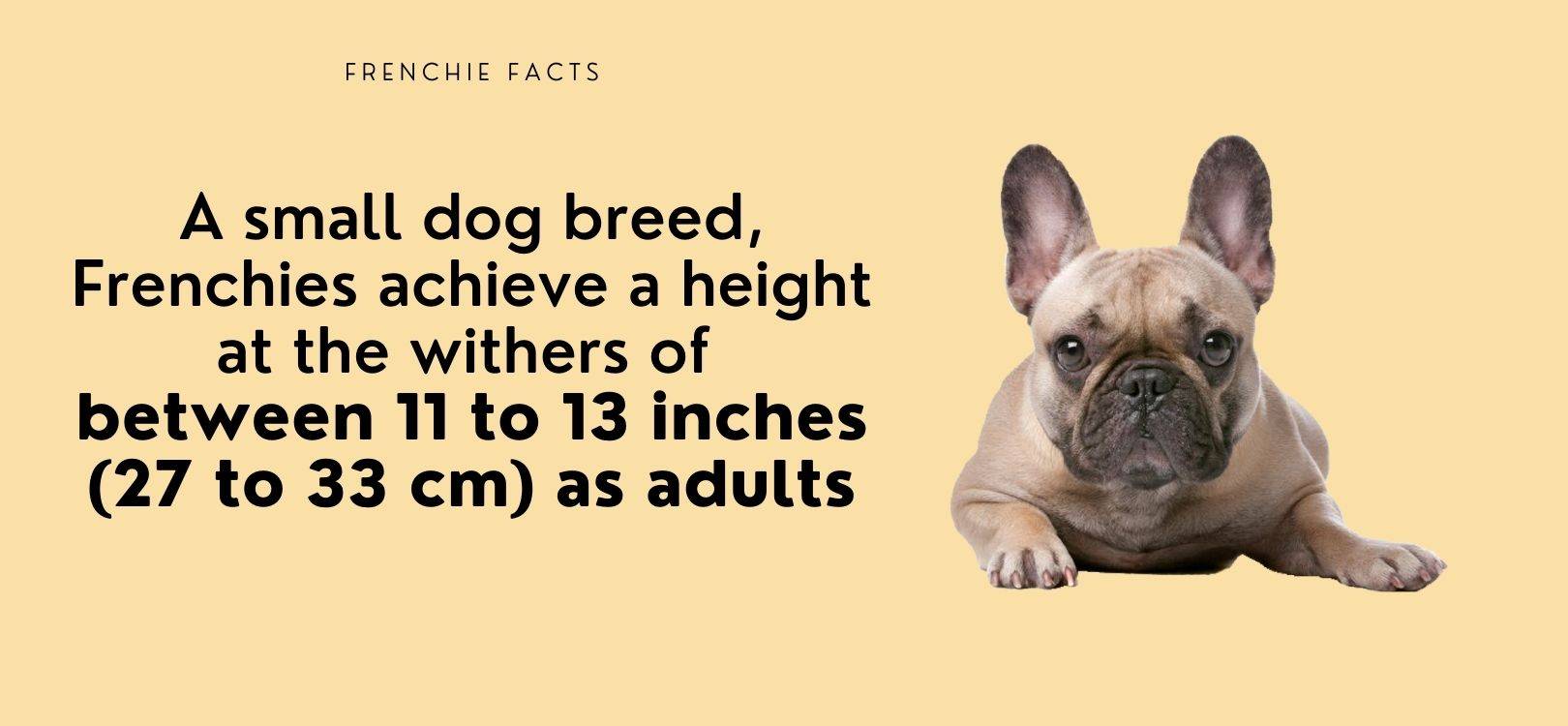 French Bulldogs are classed as a small breed of dog. They generally achieve a height at the withers (shoulders) of between 11 to 13 inches (27-33cm).
french bulldogs neck size
The neck of a French bulldog is where it's ancestry is at its most obvious. Just like its British ancestors, French Bulldogs have short, thick necks.
The average neck circumference for a Frenchy is around 14 inches (35cm). This gives them a collar size ranging from 12 to 16 inches (30-40cm). However, you should be aware that collars are not the best restraints to use on your French Bulldog.
Check out our post about the best harness for a French bulldog to find out why this is the case.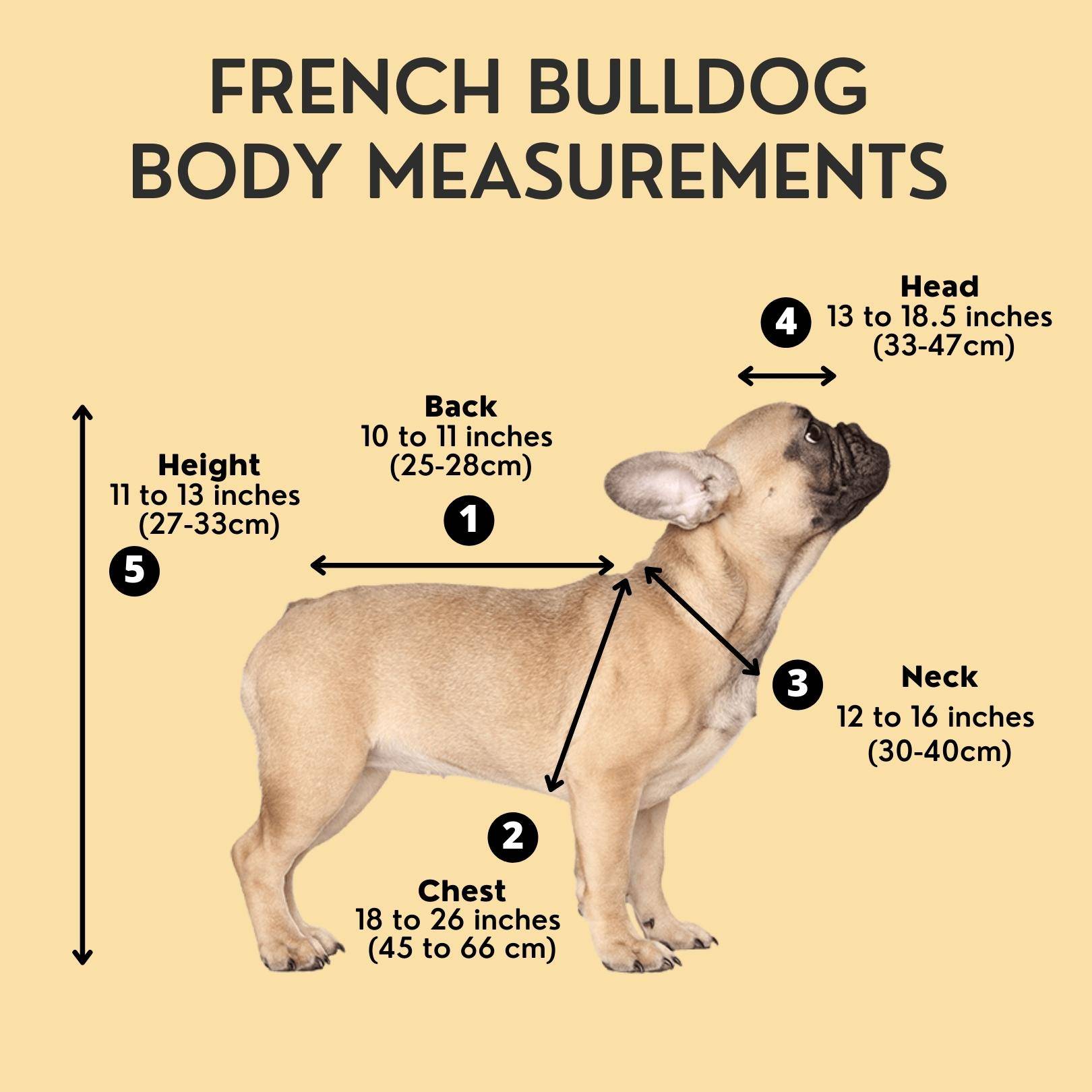 french bulldogs head size
French Bulldogs are what is known as a brachycephalic breed. This essentially means that they have large broadheads, short snouts, and muzzles that look almost flat.
It is this facial trait, along with their huge dark eyes, that make French Bulldogs look so cute and almost human-like.
A French Bulldog's head must be measured from the jawline around the top of the skull. On average, a Frenchie's head should be around 13 to 18.5 inches (33-47cm).
french bulldogs back length
Generally speaking, a French Bulldog will measure around 10 to 11 inches (25-28cm) along its backline, from its withers to the tip of its cute and stubby tail. This, will, of course, vary a little bit as Frenchies, just like humans, come in all shapes and sizes.
french bulldogs tend to become too big
Like all dogs, French Bulldogs are susceptible to becoming overweight.
Brachycephalic dogs sometimes have breathing issues and this may prevent them form getting as much exercise as they need in order to stay in shape.
But with a bit of careful management, you can keep your Frenchie looking trim and healthy.
Make sure you and your dog get plenty of exercise. It will do you both good!
Your veterinarian will be able to recommend the best food to satisfy your French Bulldog and how much you will need to feed her or him.
Let's face it… Frenchies are darn cute. So it can be hard to resist giving them a tidbit or two at dinner time. But human food is generally bad for dogs and those little snacks in between meals are the biggest cause of extra kilos. So resist the temptation to feed your Frenchie off the table.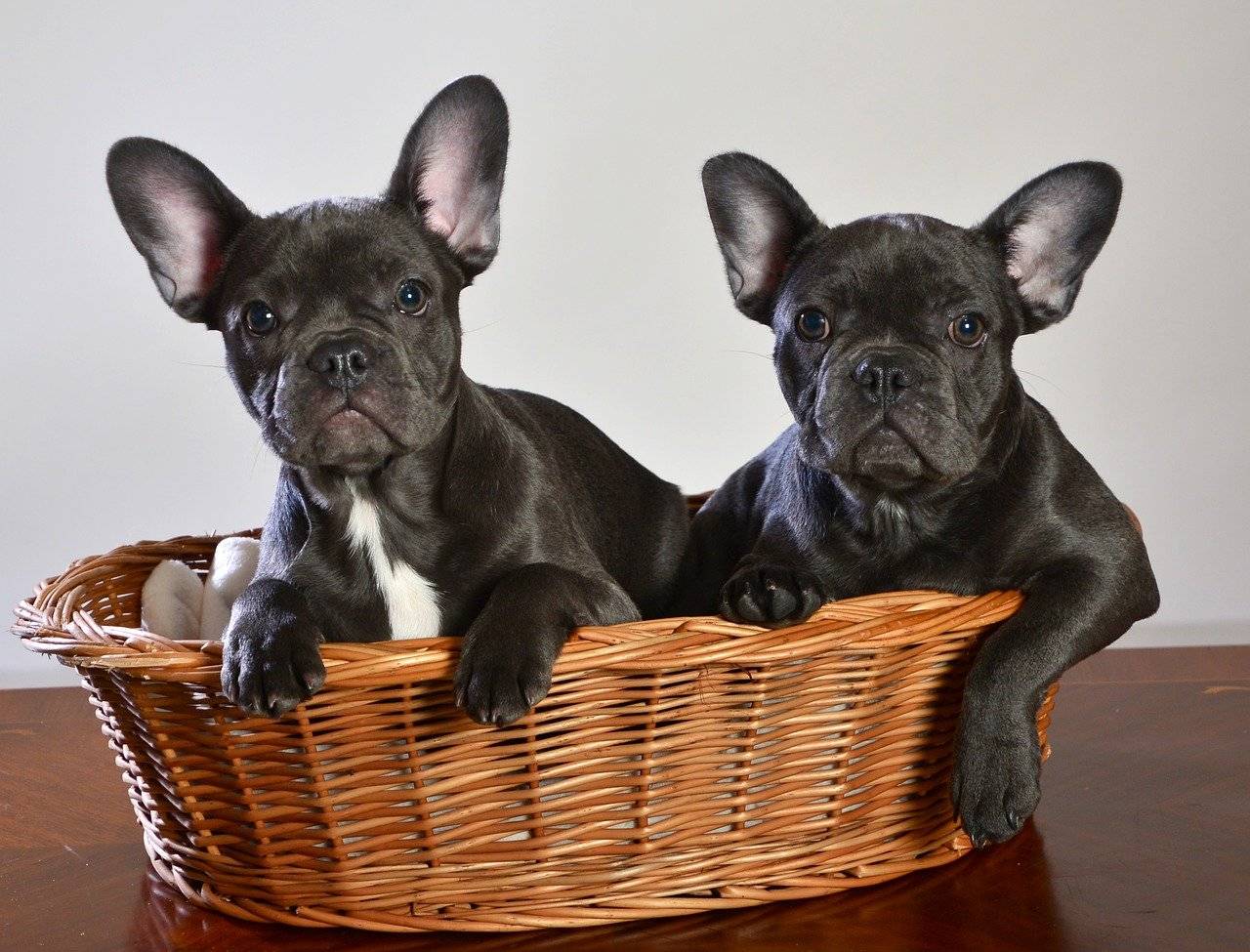 have you heard of the mini french bulldog?
Although French Bulldogs generally comply to the various breeding standards applied by such organizations as the American Kennel Club, there is a sub breed called mini French Bulldogs.
Mini French Bulldogs are not a unique breed of their own. They are just a group of the regular French Bulldog breed that have been selectively bred to become as small as possible.
Generally speaking, miniature versions of a breed cannot participate in dog shows. Nor are they usually allowed to be bred into reputable bloodlines.
They may also have inherent health problems created by crossbreeding dogs with poor genetics based solely on their size.
Miniature dogs of any breed can be prone to diseases and illnesses, often due to the fact that they have been bred from the runts of litters. In the real world, these puppies would normally be discarded by their mothers, but breeders will sometimes nurse these sickly small pups back to health and then use them for breeding at a later date.
So if you are considering a French Bulldog as a pet, stick to the regular bloodlines and regular sized dogs.