I'm sure by now you've seen hordes of French Bulldogs taking over your Instagram feed, and for good reason. They're absolutely adorable! But aside from their irresistibly cute faces, what else do you know about these fascinating creatures?
Here are 22 little-known facts about French Bulldogs that will make you love them even more. Who knows, maybe you'll even be inspired to get one of your own! 😉
Take a look at these 22 fascinating facts about French Bulldogs.
French Bulldog fact #1 - they shed quite a lot
This is definitely the first and most interesting French bulldog fact. Hair is shed by all dogs. It's a natural occurrence that all dog owners are familiar with. In reality, almost every animal on the planet, including humans, sheds hair in some form or another. As a result, it is impossible to prevent a dog from shedding its hair.
While French Bulldogs aren't classified as hypoallergenic dogs, their shedding is typically manageable. Of course, Frenchies are all diverse, just like people, and some will shed more hair than others. The quantity of shedding a French bulldog performs is determined by a multitude of factors like your Frenchie's age, the weather, and genetics.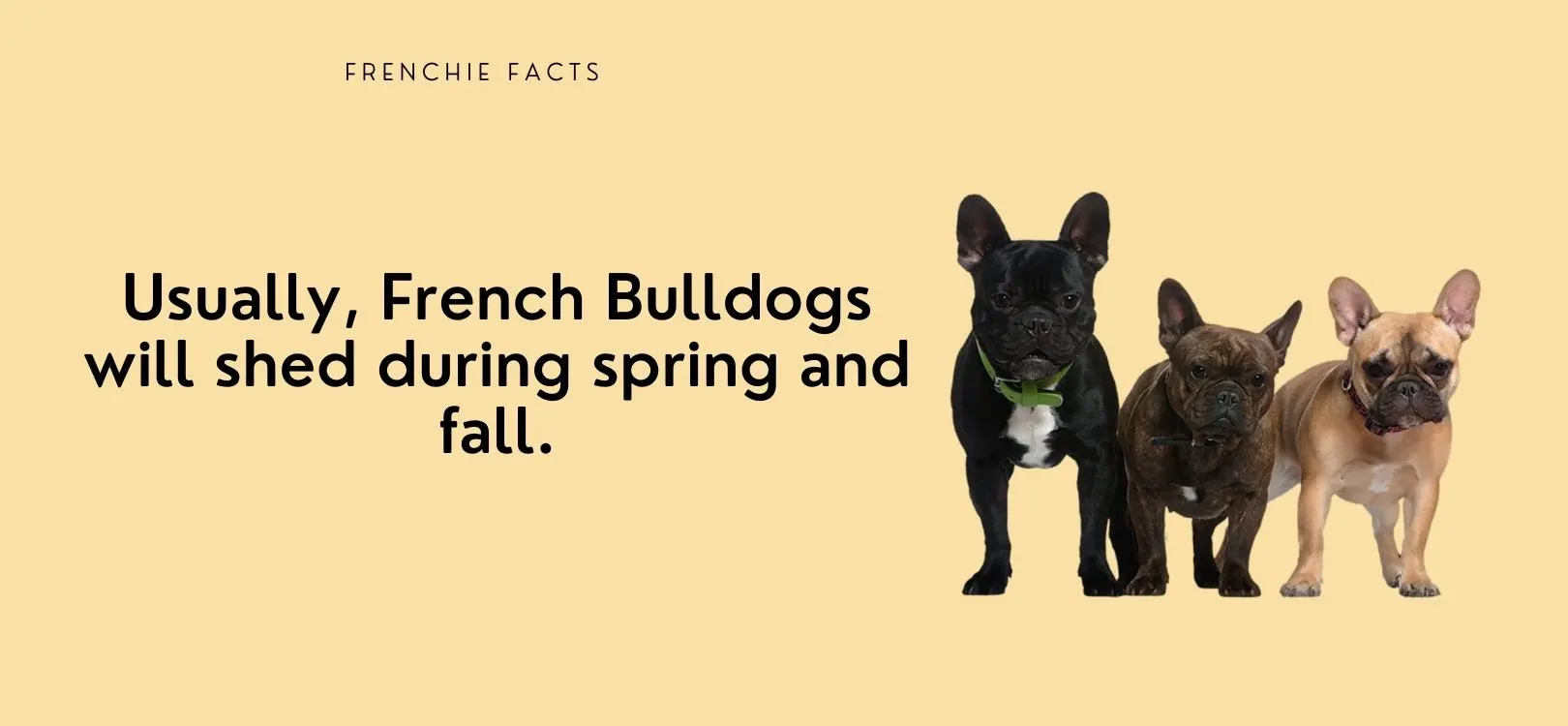 FRENCH BULLDOG FACT #2 - a harness is better
Amongst all the facts about French Bulldogs, this is the most concerning. The French Bulldog is a brachycephalic breed. This name describes dogs with shorter snouts. Bulldogs, Boston Terriers, Boxers, Pugs, and Shih Tzus are all brachycephalic breeds. Their nose and head structure puts them at risk for brachycephalic airway syndrome.
Using a harness instead of a collar relieves strain on your Frenchie's neck and distributes it throughout its body. A good harness should be padded, adjustable, and put the least pressure on the neck. it is best to get your Frenchie used to a harness when they are just puppies. Be consistent and reward your Frenchie for their cooperation and they will soon get used to it.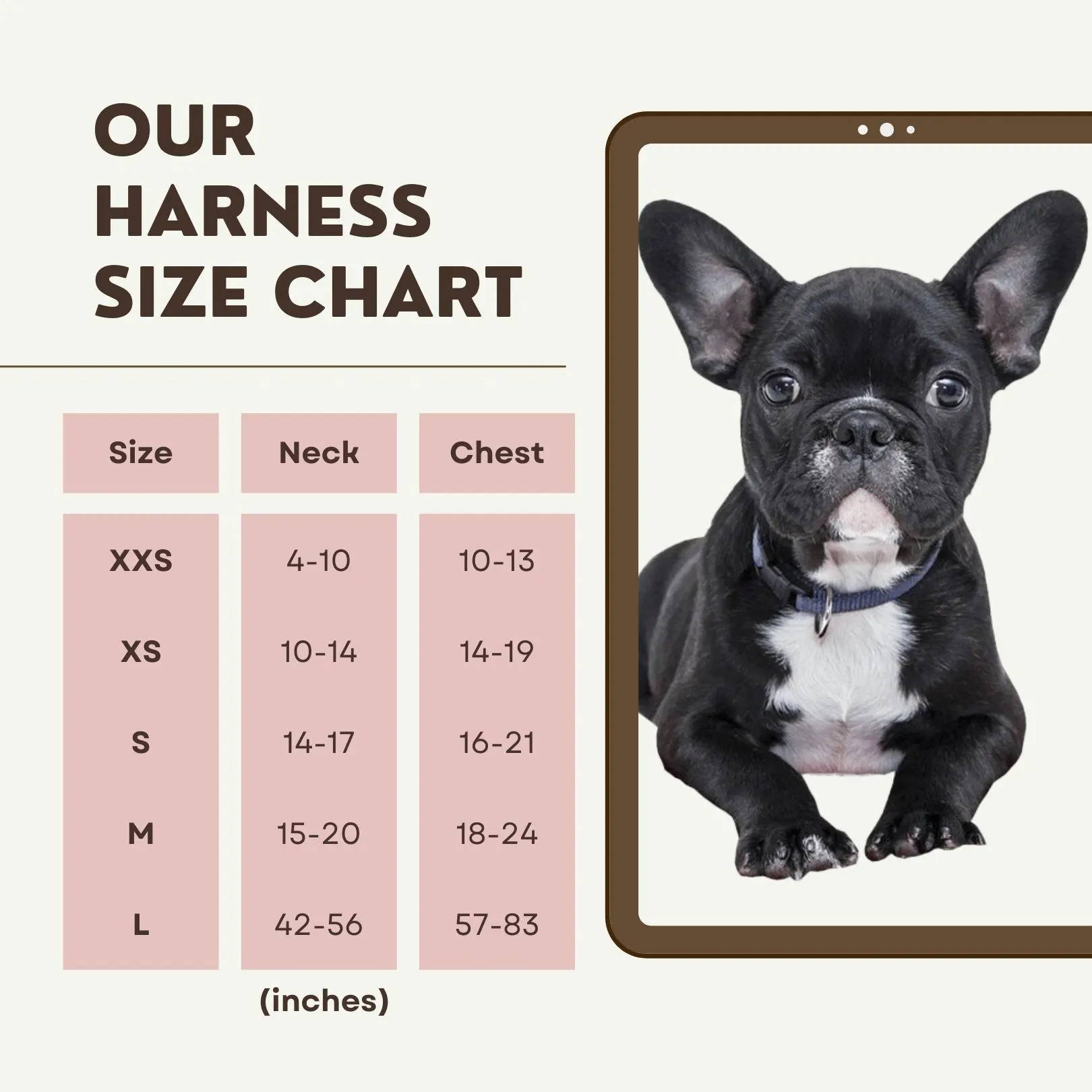 FRENCH BULLDOG FACT #3 - they have a rather short lifespan
Many factors come into play when determining a dog's typical lifespan, including breeding, lifestyle, health issues, and nutrition. The average lifespan of a dog is roughly 14 years.
However, owners of French Bulldogs are well aware that their pets are not particularly long-lived. The average lifespan of a French Bulldog is between 9 and 12 years. Even if French Bulldogs don't live as long as other breeds, they'll pack a lot of life into those years.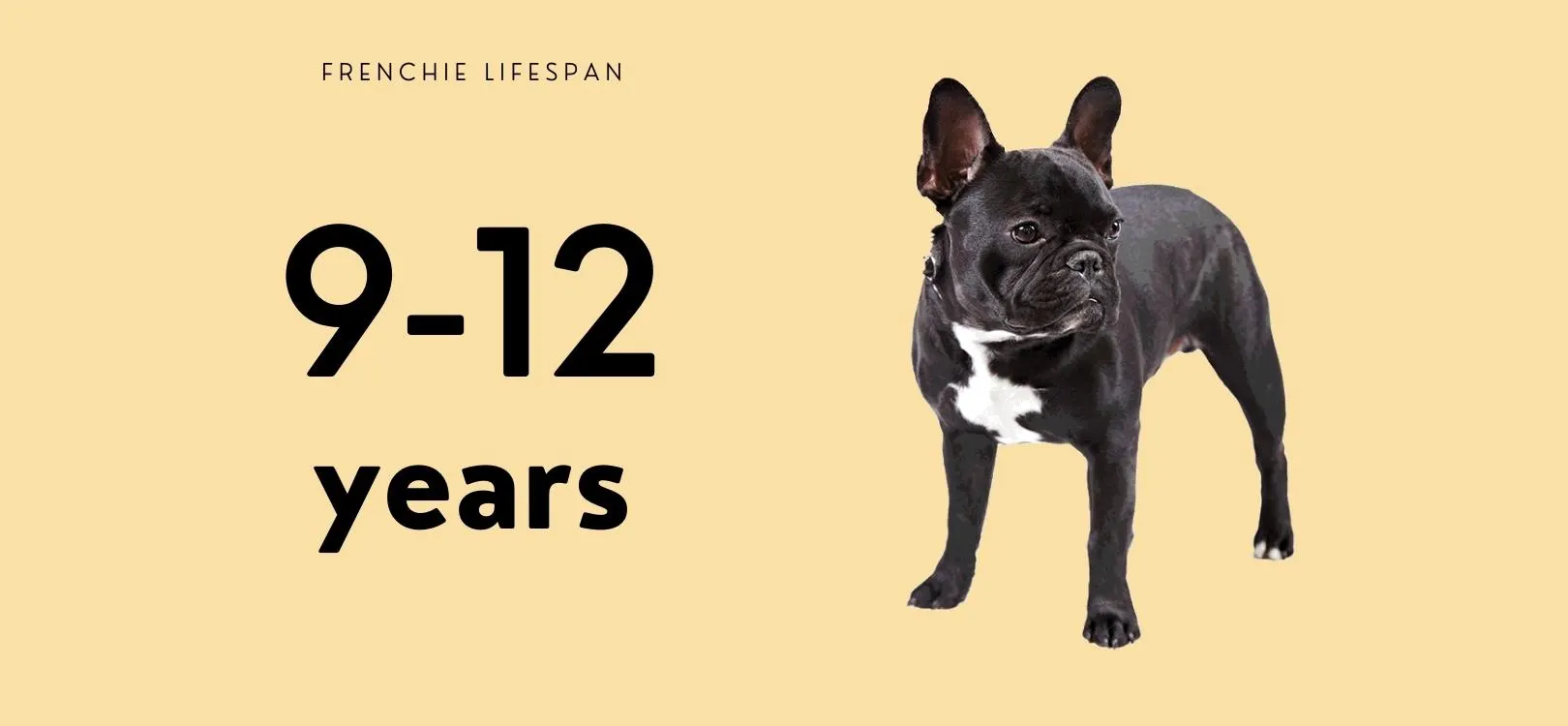 FRENCH BULLDOG FACT #4 - They get big
When picking a dog, size matters. French Bulldogs are a small dog breed as well as a brachycephalic breed.
The head of a French Bulldog is measured from the chin to the brow and should measure between 13 and 18.5 inches (33-47cm).
Their shoulders height ranges from 11 to 13 inches (27-33cm).
A French Bulldog's backline measures 10-11 inches (25-28cm) from the shoulders to the tip of its tail.
The neck of a French bulldog shows its heritage the most. French Bulldogs have thick necks, like their British predecessors.
A Frenchy's typical neck circumference is 14 inches (35cm). Their collar size ranges from 12 to 16 inches (30-40cm).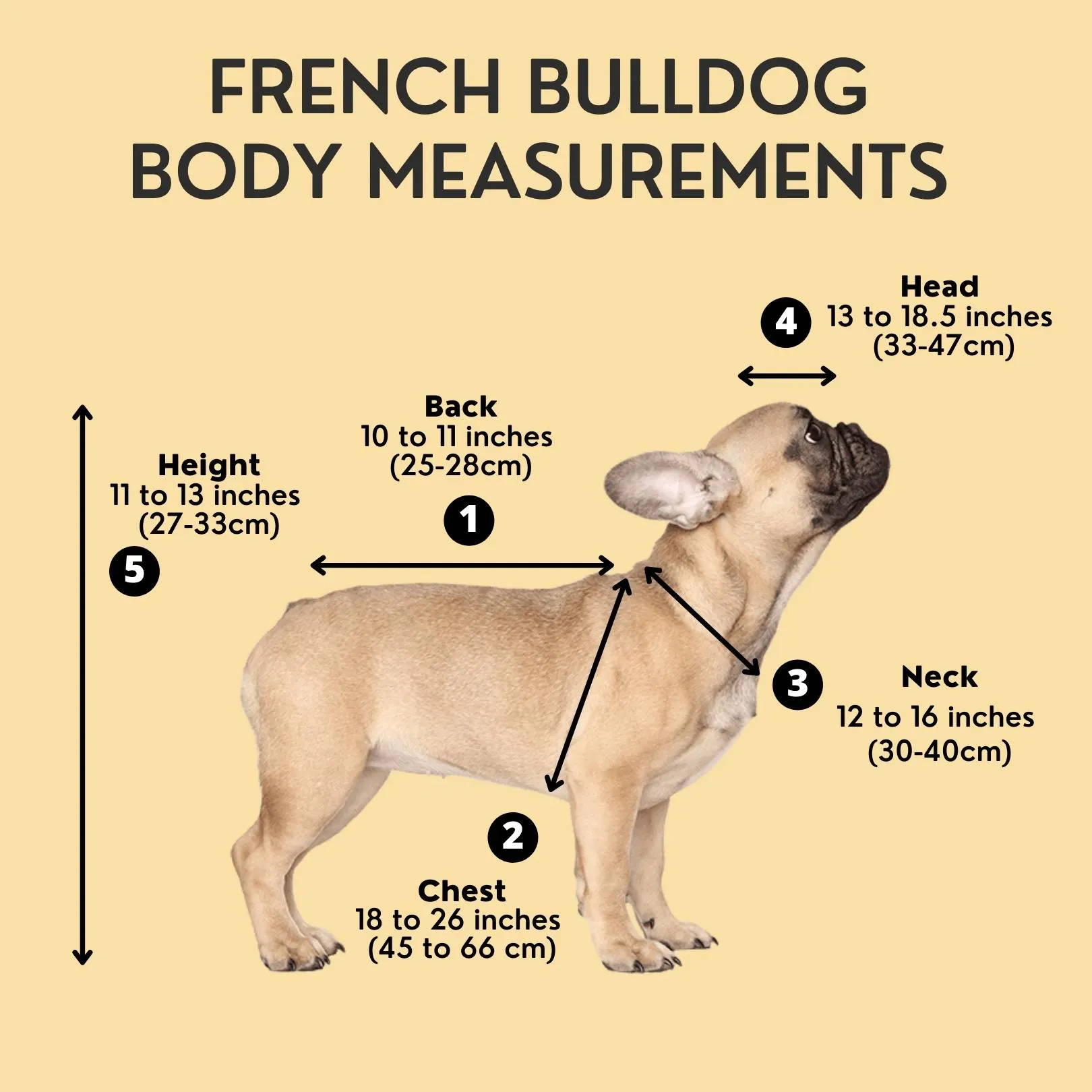 FRENCH BULLDOG FACT #5 - they are not Hypoallergenic
Hypoallergenic means "unlikely to trigger an allergic response". If you are wondering whether French bulldogs are hypoallergenic or not, the answer is no. Despite their short hair, Frenchies shed a lot, which can be problematic for allergy sufferers.
An allergic reaction to a dog, cat, or any other animal is essentially hay fever. This response is called allergic rhinitis which is an inflammation of the nasal passages caused by the immune system responding to allergens in the environment.
Keep in mind that no dog breed is 100% hypoallergenic. The first thing that comes to mind for those with animal allergies, especially dog allergies, is dog fur. While hair does play a role in allergy responses, dander which is the tiny dead skin flakes is the main culprit. When a dog shakes, rolls, and plays, dander-containing hair is discharged into the surrounding environment.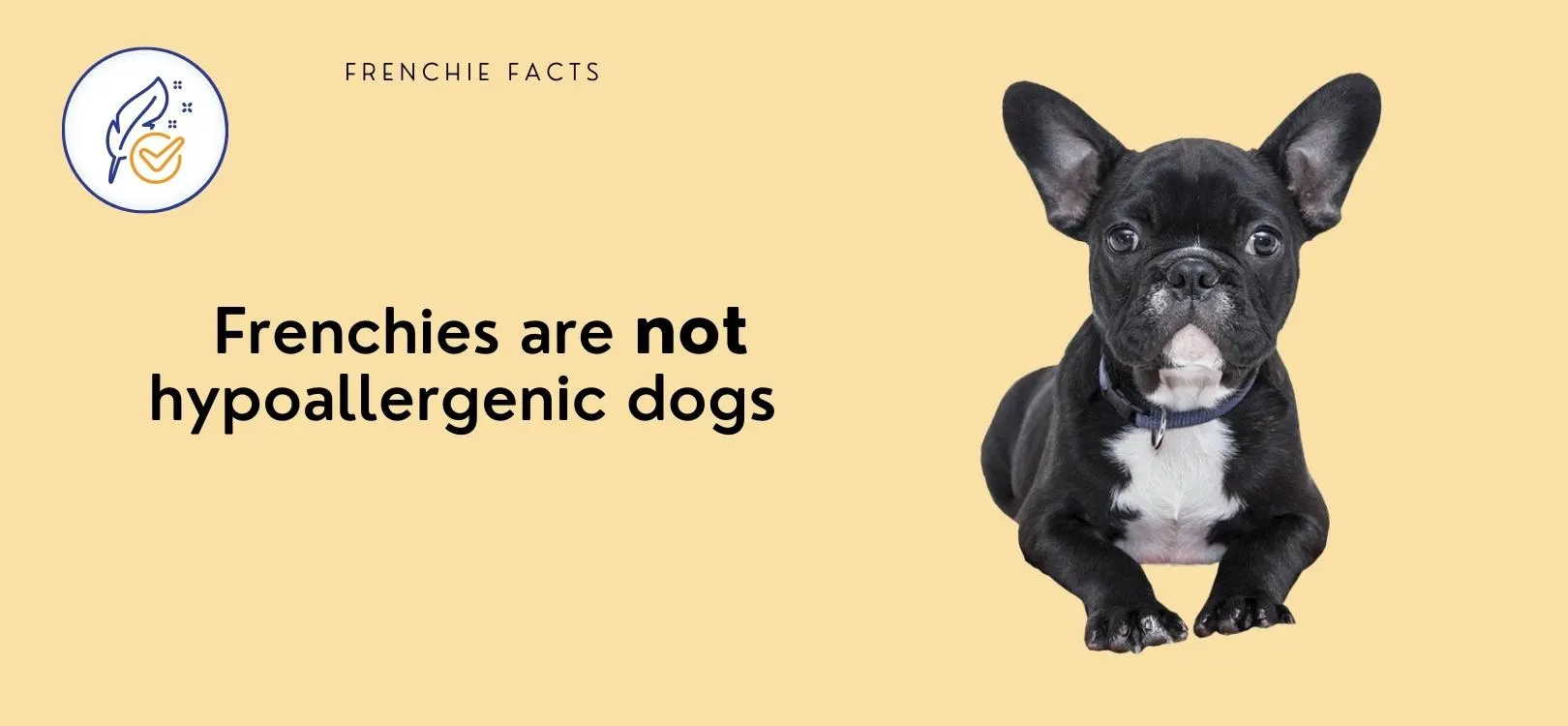 FRENCH BULLDOG FACT #6 - they are pretty smart
Selective breeding has developed each breed's intellect. French Bulldogs were created for friendship and to please their humans. Frenchies are often wrongly considered unintelligent because they are slow to learn or obey directions. However, they are not unintelligent, they are merely stubborn.
Many owners will agree that French bulldogs are quite intelligent. Because French Bulldogs are tough and determined, their intelligence is sometimes misunderstood. Most French Bulldogs are quite adaptable.
They are excellent at reading human emotions and adapting their behavior to their owner's mood. Some French Bulldogs can also learn sign language. Positive reinforcement is a great method to bring out the best in your Frenchie.
Shop our tan leopard dog accessories
FRENCH BULLDOG FACT #7 - they stop growing at 2 years old
A French Bulldog puppydoes not remain small for a long time. They reach their greatest height in the first year. They bulk up from 12 to 24 months and their development rate is affected by nutrition, genetics, and general health.
The American Kennel Club specifies a French bulldog should present a weight of 28 pounds and a height of 11 to 13 inches. Female Frenchies should weigh 17-24 pounds and male French bulldogs 20-28 pounds. Both males and females are heavy-boned and muscular.
An underlying health problem, poor nutrition, or having tiny parents might all limit their growth. Some Frenchies are bigger than usual, while others are smaller. Because heredity plays a factor in their growth, your French bulldog's weight should be around that of their parents.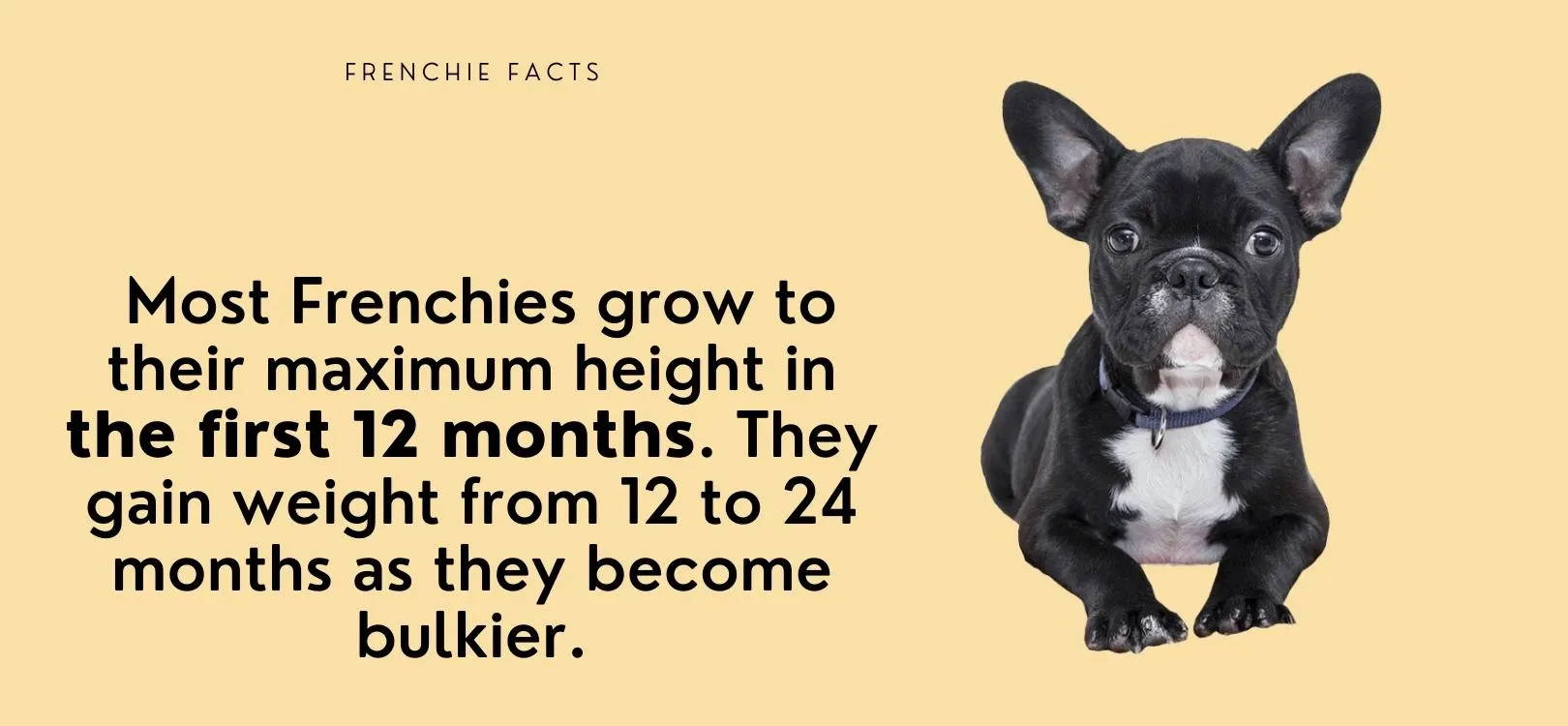 FRENCH BULLDOG FACT #8 - they Drool
Fun fact about French Bulldogs, they drool a lot. Drooling is natural for Frenchies. This occurs when they are overheated and is caused by the form of their jaw and the arrangement of their lips. Snouts are shorter and broader than other dogs.
Lips covered by numerous creases on their snouts, or jaw prognathism occurs when the lower jaw protrudes ahead of the upper jaw.
Aside from their facial anatomy, drool helps Frenchies chew and digest food. If your French Bulldog puppy seems to be drooling more than usual, they may be teething.
Aside from excitement and anxiety, other causes of drooling in Frenchies include oral injuries and mouth diseases. Contact your vet if your French Bulldog is drooling excessively or if the drooling is severe and abrupt. It might be simple overexertion or stress, or something more serious.
Shop our neutral dog accessories
FRENCHIE FACT #9 - they originate from the 19th century
Another cool fact about French Bulldogs is their origin. If you consider why French bulldogs were bred, you will discover an intriguing and fascinating history. The origins of the French bulldog may be traced back to the 18th century English bulldog, which did not resemble current bulldogs.
Bulldogs of 18th century England were powerful and athletic, and they were used for bull-baiting. As a result, they were given the nickname "bulldog."
After bull baiting was prohibited, breeders sought to develop a toy version of the bulldog, and Frenchies were born. Even early variants of the French bulldog do not resemble current French bulldogs. They only developed their snub noses, bat ears, and forehead wrinkles later on in France.
When French bulldogs were developed, they were bred only for company and the pleasure of keeping a pet. French bulldogs were popular among workmen in France throughout the nineteenth century. French Bulldogs have been bred for friendship since then.
Shop our blue leopard dog accessories
FRENCH BULLDOG FACT #10 - they need a medium sized crate
Choosing the appropriate size crate for your Frenchie is critical since it will help them feel protected and at ease. The crate should not be too small, nor should it be overly large. They should have enough lake room to turn around and comfortably sit.
Start by determining your Frenchie's height and length. To determine the length, measure from the tip of the snout to the base of the tail. To determine the height, measure from the paws to the ears.
It's a good idea not to overspend on the crate because your French Bulldog will grow quickly. However, after your Frenchie has reached full size, you may get a more expensive and higher-quality crate that will endure for a longer period of time. Alternatively, get a resizable and flexible crate that fits your budget and meets your French Bulldog's demands.
FRENCH BULLDOG FACT #11 - their tails are not docked
A frequently asked issue among French Bulldog owners is whether their Frenchie are born with tails or if they are chopped off for cosmetic reasons. The tails of French bulldogs are not clipped or docked. They are born without lengthy tails that are more common in most dog breeds and instead have short stumpy tails.
Screw-shaped tails are found on some French Bulldogs. Some have a little slant to them. Others, on the other hand, are quite short and straight. Many years of selective breeding have resulted in a stumpy tail.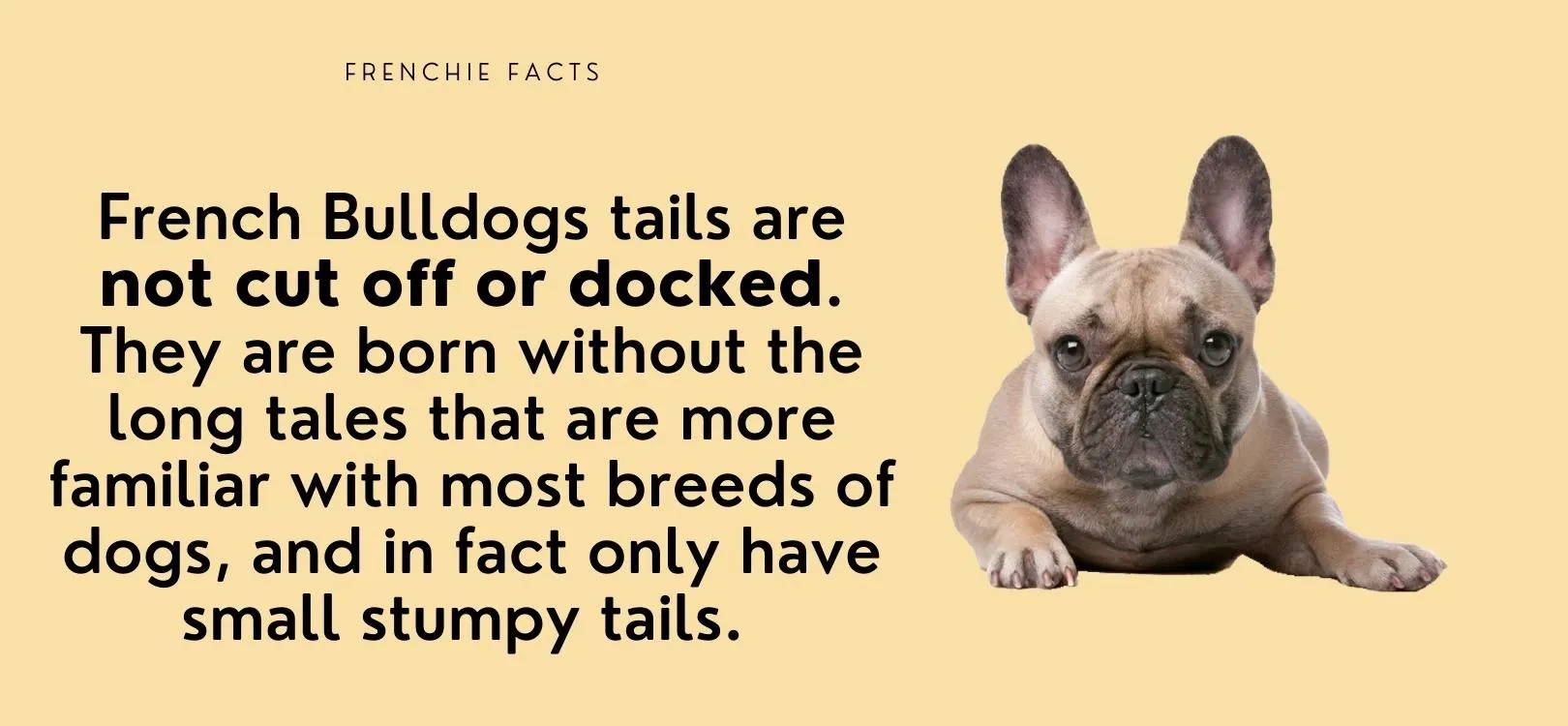 FRENCH BULLDOG FACT #12 - they have a bunch of health issues
The French Bulldog is the healthiest bulldog breed. Many things influence your French Bulldog's health, including pedigree, breeding, lifestyle, and diet. Breathing difficulties are a common health issue in French Bulldogs. This is called brachycephaly.
Due to irregularities in the airways, Frenchies typically dislike long periods of activity and struggle to cool down in the heat.
Aside from brachycephaly, French Bulldogs are prone to ear infections, diarrhea, conjunctivitis, long nails on their feet, and dermatitis.
Despite this worrisome list of potential health issues, most French bulldogs live long and healthy lives if they are properly cared for.
FRENCH BULLDOG FACT #13 - they love bananas
If you are wondering whether Frenchies can eat bananas or not, the answer is, yes, they can. Bananas are a great source of nourishment for Frenchies. Vitamin C, potassium, Vitamin B6, magnesium, biotin, and fiber. Bananas are a delightful and economical way for French Bulldogs to receive their trace elements.
Bananas are loaded with vitamins and minerals that help keep your Frenchie's system running smoothly and are a delightful and economical way for French Bulldogs to receive their trace elements.
However, bananas are high in calories and should be provided to your French Bulldog in moderation. Bananas are also loaded with sugar and too much sugar might cause GI troubles and even diabetes.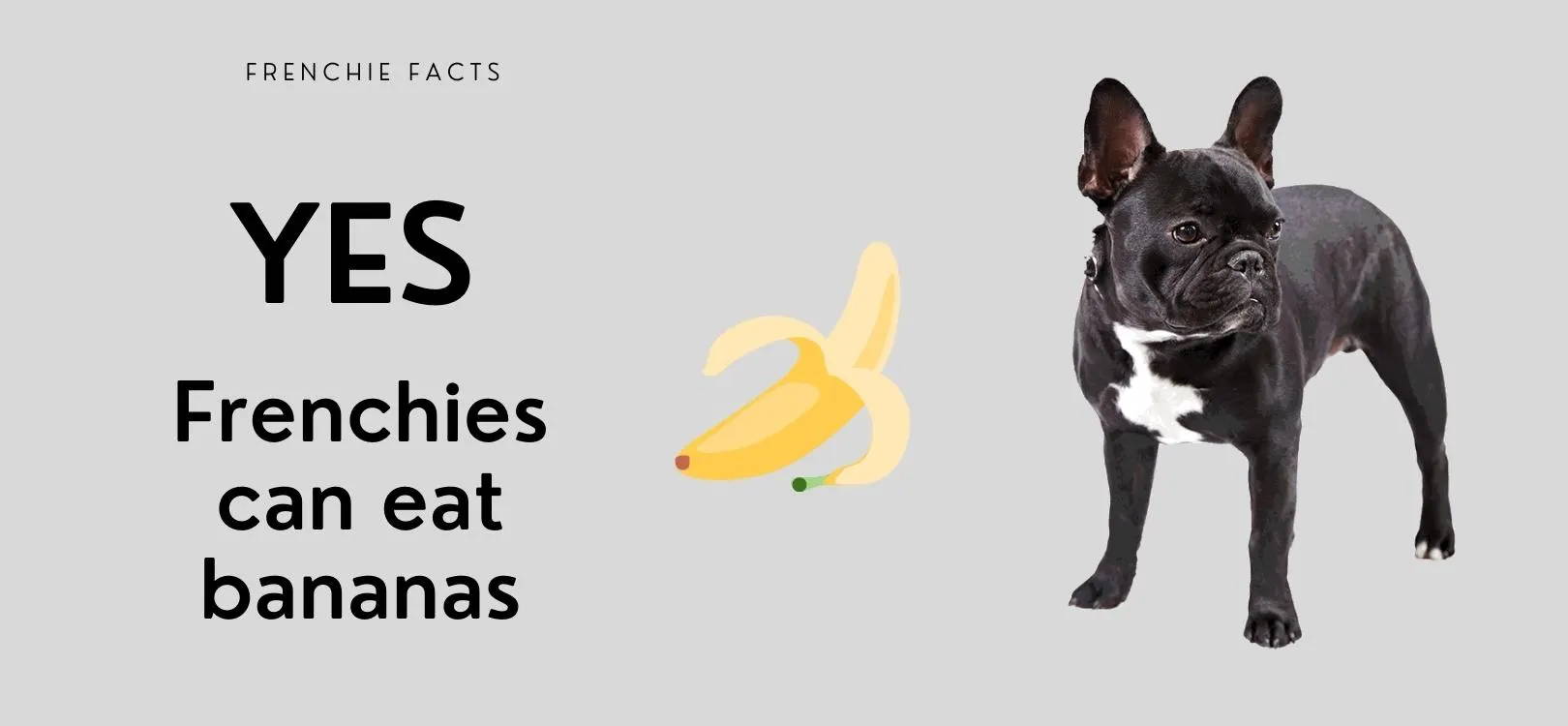 FRENCH BULLDOG FACT #14 - they are not barkers...
When French Bulldogs are aroused, delighted, or alert, they will bark, although they are not excessive barkers. A French Bulldog's bark is unique and frequently humorous. They, like many other little breeds, do not constantly bark.
As a result, when they begin barking, owners are aware that they have something to communicate. Because each Frenchie is unique, you may not get a precise answer on how frequently they bark.
Although the breed as a general isn't known for barking, they are dogs, and dogs do bark every now and again!
FRENCH BULLDOG FACT #15 - but they fart a lot
A few Frenchie farts are hilarious, but too much gas can make your French Bulldog uncomfortable to be around. Bulldogs are gassy, but don't worry because these nasty farts are usually harmless.
Your Frenchie's food is the main cause of gassiness. There are various types of dog food available, but not all have the proper ingredients for your French Bulldog.
Carbohydrates in processed and commercial meals might induce gas. Carbohydrates, particularly fermentable foods like beans and broccoli, cause significant flatulence in French bulldogs.
Food allergies in dogs are as common as in people. They can't digest high-fiber foods like wheat, causing flatulence. Their lactose intolerance to milk or cheese may cause diarrhea as well as gas.
A few simple steps, such as feeding your Frenchie the right foods and avoiding those that cause gas, will significantly reduce the amount of farting.
FRENCH BULLDOG FACT #16 - They are the most popular dog breed
The love of French Bulldogs has moved from Northern England's lace industry to Parisian salons and then over the Atlantic to Americans' homes and flats.
Small-home owners appreciate the French Bulldog's loyalty to them, their friends, and other animals.
These days, folks working from home may rest certain that their Frenchie will not disturb them during work hours and will entertain and soothe them during breaks.
French bulldogs are ideal city dogs since they can live happily in limited quarters. They are quiet and adore their human companions. Frenchies are very beloved because they were raised to be companions and they will continue to be popular.
Shop our tan leopard dog accessories
FRENCH BULLDOG FACT #17 - they come from england
The French Bulldog's origin is indisputably derived from the English bulldog. Many think the English bulldog was bred smaller and shipped to France, where it developed into the French bulldog.
After the Industrial Revolution, several toy English bulldogs were sent to France, allegedly by English lace workers. The historic Bulldog was not the modern Bulldog. The Bulldog of 150-200 years ago was a powerful, athletic dog capable of "bull-baiting."
Those with upright ears, despised in England, were welcomed by French toy English Bulldog owners. Other breeds, such as Terriers and Pugs, may have influenced the French bulldog's genes.
FRENCH BULLDOG FACT #18 - they love Strawberries
Strawberries are a terrific fruit with lots of vitamins, but they should be eaten in moderation. Their sugar content may cause gastrointestinal issues if ingested in excess. Strawberries are a delightful and healthy fruit for your Frenchie.
Giving your Frenchie strawberries is good for him in many ways. Fresh fruit slows down aging, boosts the immune system, and aids in weight reduction. Strawberries can whiten your Frenchie's teeth. Vitamins C, B6, B1, and K are abundant in them. Fiber helps digestion, while Omega-3 is good for coat health.
Always consult your vet before changing your Frenchie's diet. Because strawberries may irritate some medical conditions in dogs, always check your vet regarding serving sizes.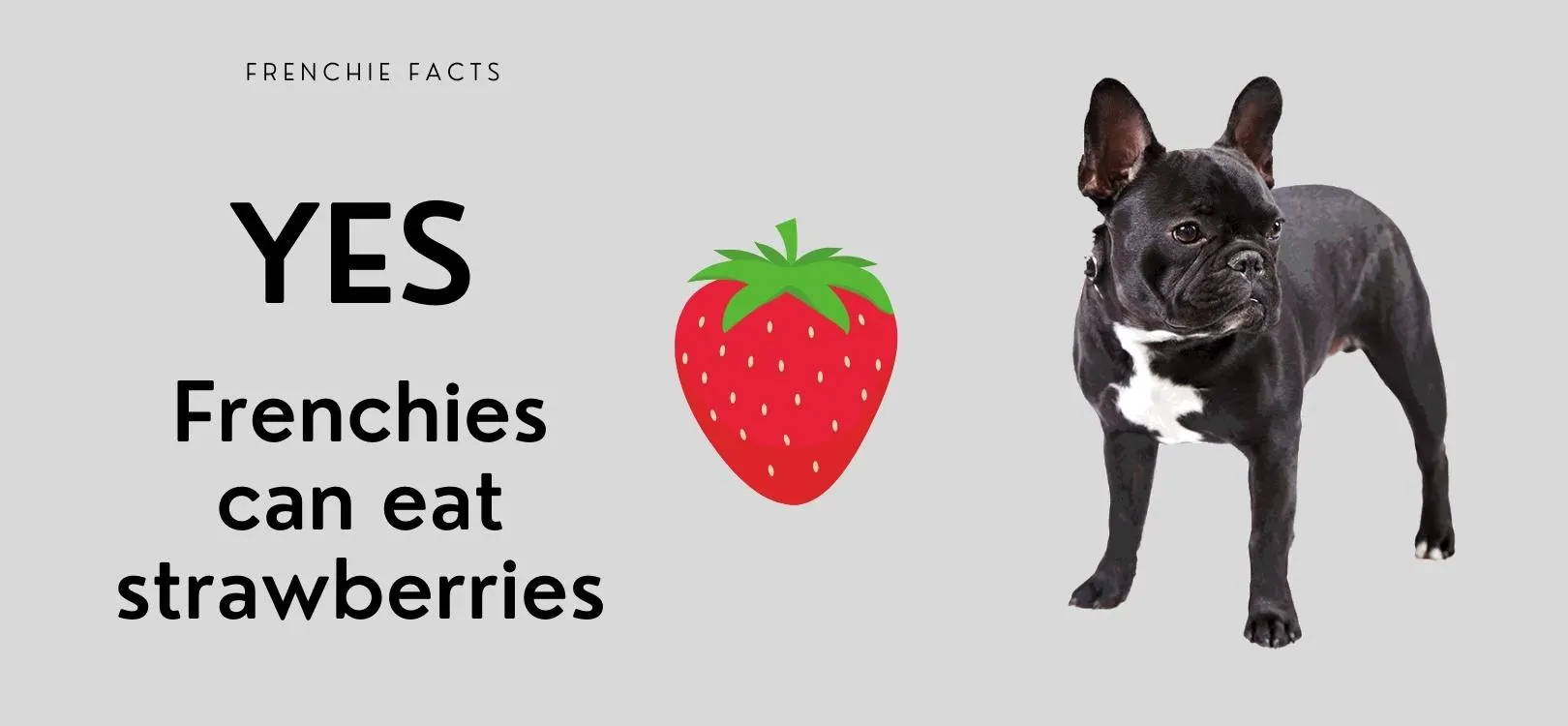 FRENCH BULLDOG FACT #19 -they love apples
While your Frenchie may not seem like a wild dog, their instincts and physiology are identical to those of their ancestors. Many people are surprised to find that dogs aren't carnivores. Dogs are omnivores, meaning they can eat both animals and plants.
Wild wolves consume anything from dead animals and carrion to berries, plants, herbs, and roots that they chew on and dig out.
Apples are ideal for French Bulldogs. They include vitamin C, pectin, and soluble fiber. But watch out for pips and apple cores, which can be choking hazards for your Frenchie, especially if they are young.
FRENCH BULLDOG FACT #20 - they need clothing
Some individuals think that the French Bulldog does not need clothes. But, much like us, Frenchies need clothes for several reasons. One purpose is weather protection.
Some dogs have thick coats, while others have only one coat and need extra warmth. Overheating and hypothermia are common in dogs with single-layered coats, such as French Bulldogs.
So clothe your French Bulldog correctly. Proper clothing is required to keep your Frenchie healthy and happy. They need to be dressed in the winter. As a brachycephalic breed, they are prone to cold. They can also be used to make them look cute!
Shop our pink leopard dog accessories
FRENCH BULLDOG FACT #21 - they have separation anxiety
French Bulldogs are lovely, adapt well to new environments, and love to sit on your lap.
Whereas some dogs can be left alone for lengthy periods of time, French bulldogs need to be with their pack, whether that be other dogs or people.
Experts suggest avoiding leaving a French bulldog alone for more than 5-6 hours at a time. Keep in mind that Frenchies can be stubborn and have separation anxiety. This is due to their profound devotion to their people, which is lovely but can be tough to leave alone.
If your Frenchie is disruptive or destructive, it may be a sign of separation anxiety. To address separation anxiety, and train your Frenchie to stay alone, allow them to stay without you for short periods and then increase this time.
Remember to keep your pet busy with toys and reward them for good behavior with positive reinforcement.
FRENCH BULLDOG FACT #22 - they are high maintenance
French Bulldogs are considered one of the most high-maintenance dogs for two reasons. The first is temperament, the second is health. Its appeal and versatility make it a popular pet dog. These dogs long for no alone time and like to be with their owners at all times, demanding time and energy from you. Like many brachycephalic breeds, French Bulldogs suffer nasal and respiratory difficulties. The French bulldog is also considerably more expensive than other dog breeds in terms of vet visits.
Spine, heart, joint, and eye problems are prevalent. Regular grooming, bathing, feeding, and nail cutting are required for French Bulldogs to maintain optimum maintenance and upkeep.
With adequate knowledge about the breed of French Bulldogs, you will be more equipped to take care of your fur baby!