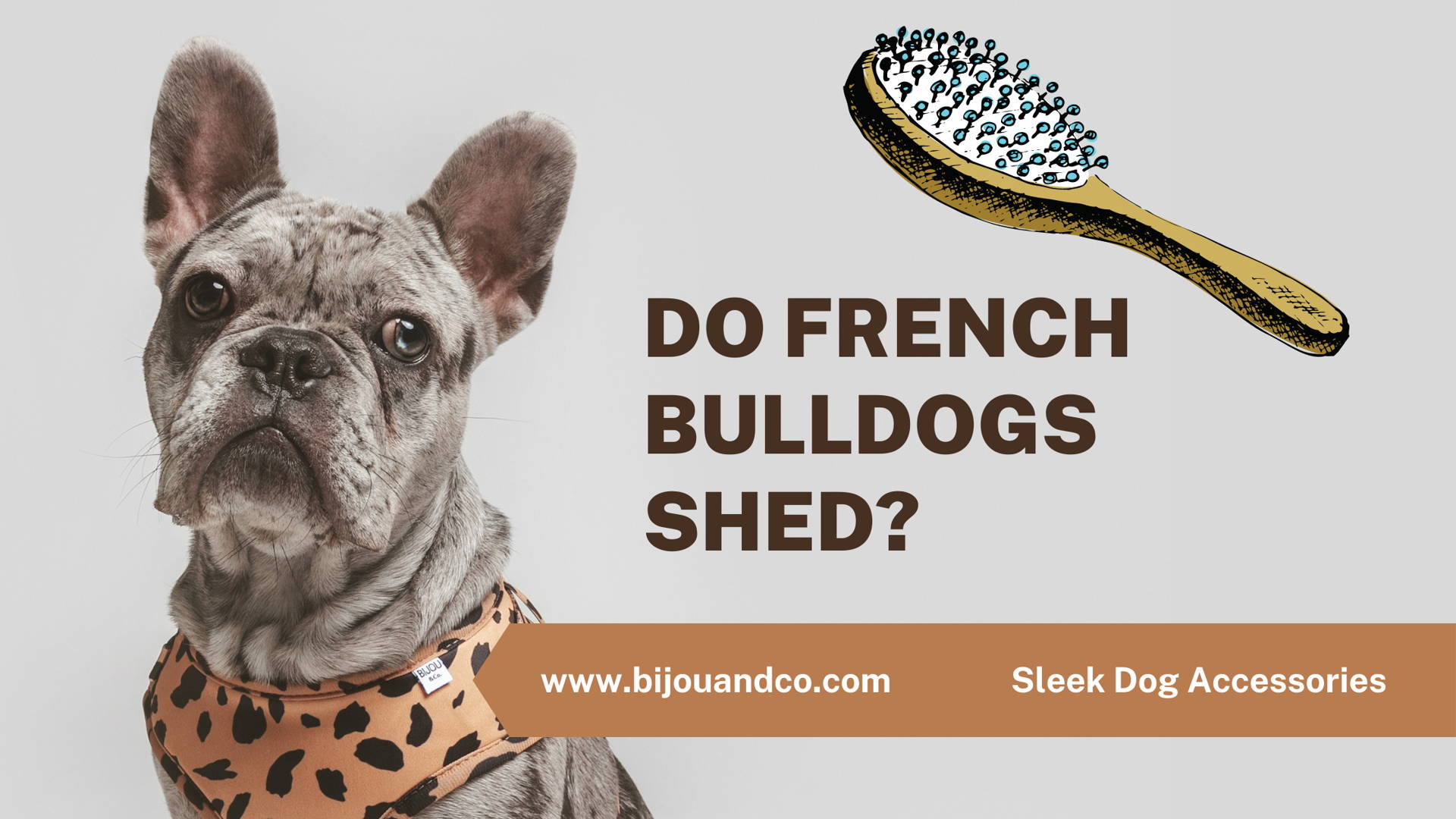 If you're a dog owner, then you know that shedding is just a part of life. But does the same hold true for French Bulldogs? Turns out, the answer is a little complicated. In this post, we'll take a look at how much French Bulldogs shed and what you can do to minimize the amount of hair in your home. Stay tuned!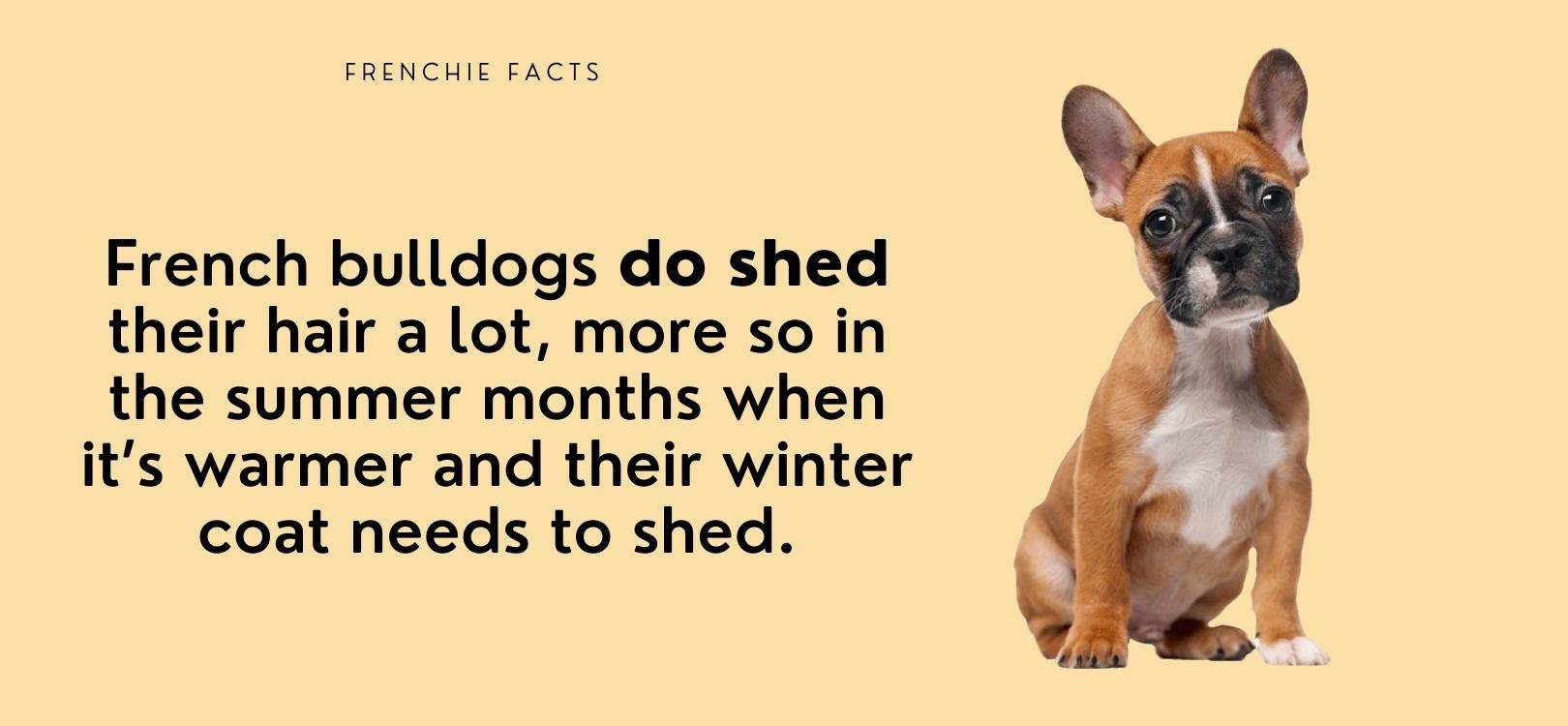 All dogs shed their hair, and French Bulldogs are no exception. Shedding is a natural process and something that all dog owners are used to. As a matter of fact, pretty much every animal on the planet, including humans, sheds hair to some extent.
It is impossible, therefore, to prevent a Frenchie from shedding its hair. And while French Bulldogs aren't classed as a hypoallergenic breed, their shedding is usually quite easy to manage.
Of course, just like people, Frenchies are all different, and some will shed more hair than others.
A number of factors come into play to determine the amount of shedding a French bulldog does.
what affects french bulldogs shedding?
age influences frenchie shedding
Young French Bulldogs go through a "puppy shedding" phase, where they lose their puppy coats at around four to six months of age.
Being relatively petite, though, means that the puppy bouncing around on your furniture and wrecking your best shoes, doesn't have a great deal of fur to shed, so keeping on top of it is easy.
Older Frenchies, on the other hand, will shed more hair simply because they are "bigger." But regardless of a French bulldog's age, they are still relatively small dogs, so they have less surface area to shed hair than bigger breeds.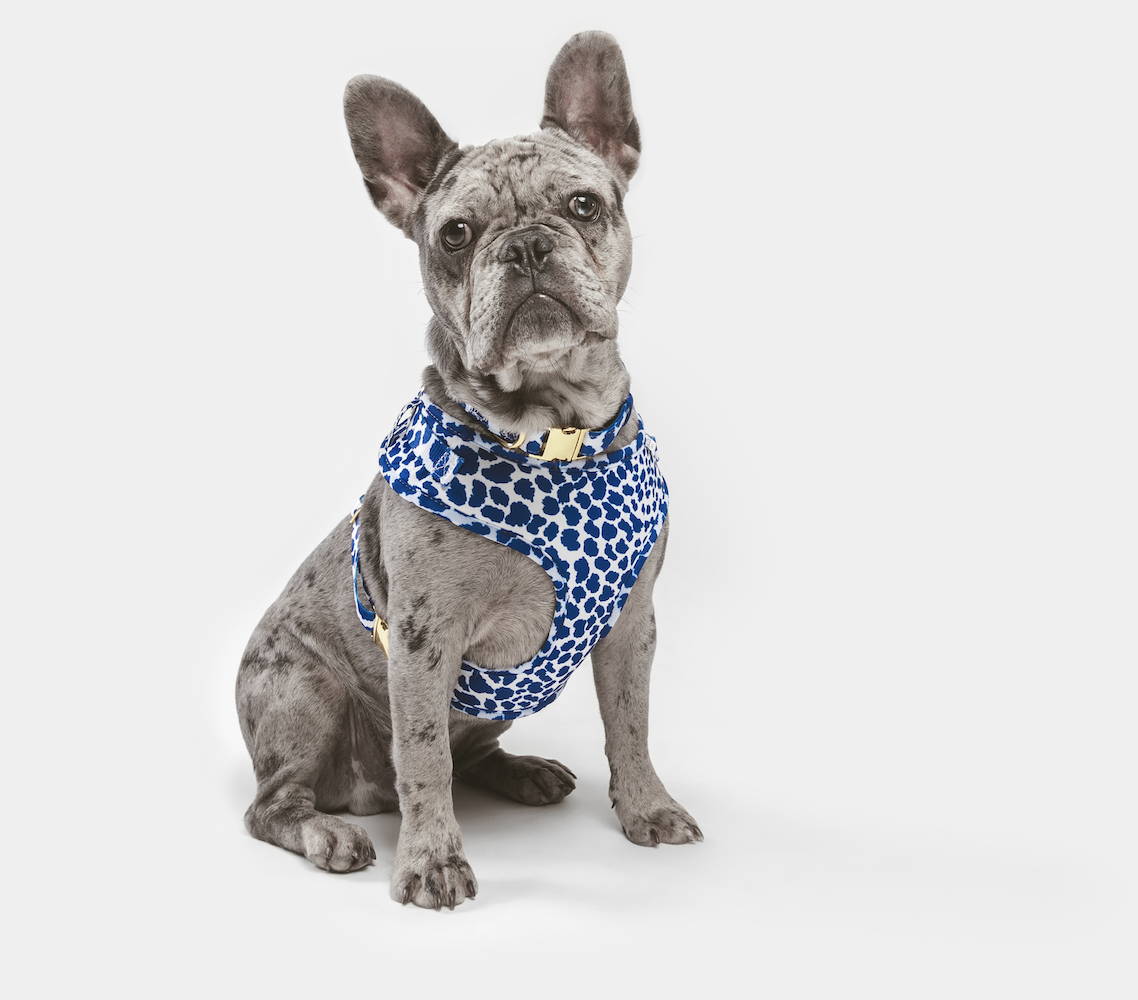 seasons affect french bulldog shedding
For French Bulldogs, there are generally two seasons in which they shed the most hair.
In summer, Frenchies shed their undercoat in order to keep themselves cooler on those hot sunshiny days when they are out having fun with you.
When winter rolls around, their coat grows thicker in order to keep them nice and toasty warm when it's bitterly cold outside. This extra fur means that there is more to shed. Your French Bulldog is also likely to spend more time indoors during winter, so their excess hair will collect inside your home rather than out in the great outdoors.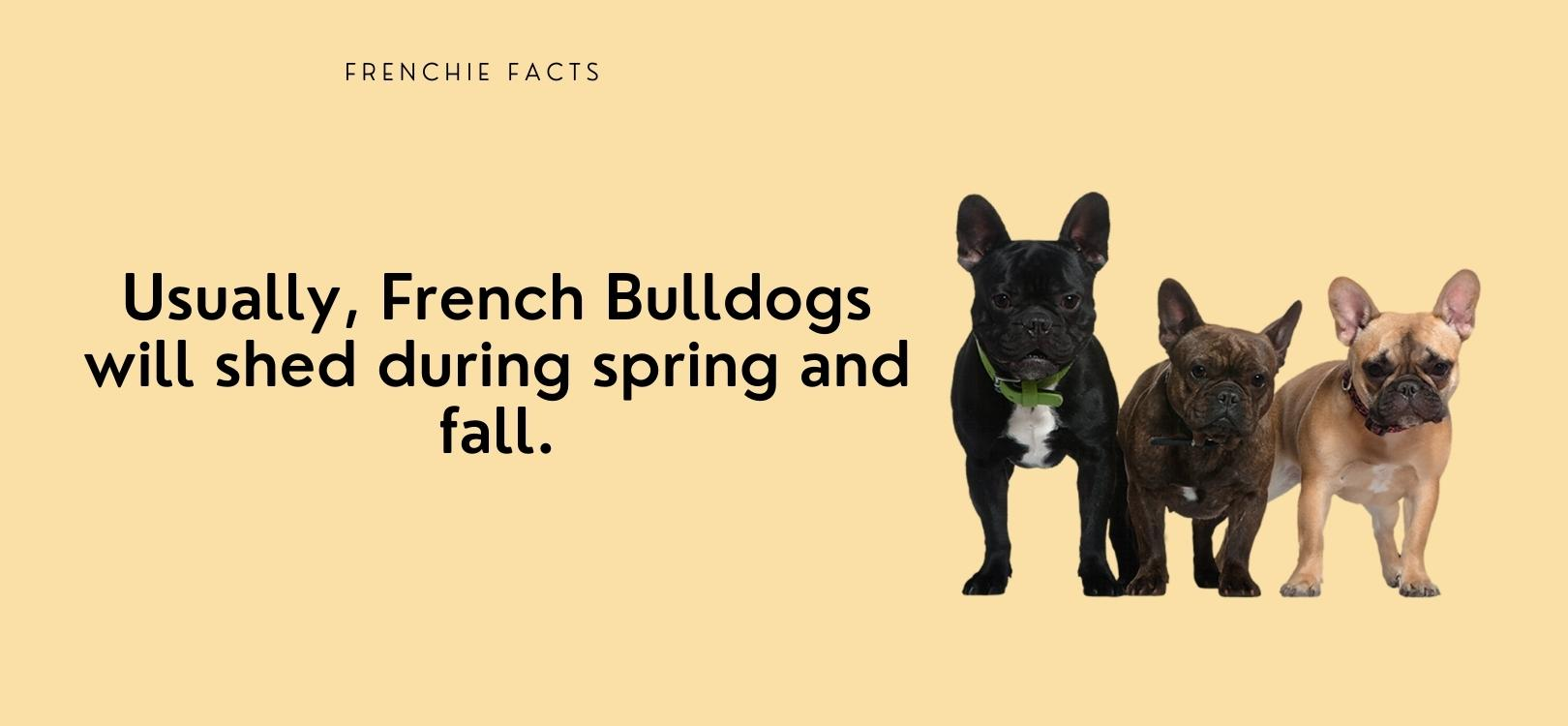 diet influence frenchie shedding
A balanced diet is important for all pets. The phrase "we are what we eat" applies just as much to your French bulldog as it does to you.
So the healthier your Frenchie's diet is, the healthier they will be, and the healthier their coat will become.
A balanced diet will provide all the vitamins and nutrients your Frenchy needs to maintain healthy hair follicles, and hair that doesn't become brittle and break off.
Foods that are rich in omega-3 fatty acids, such as fish, are especially good for promoting healthy hair growth.
And, of course, access to plenty of water goes hand in hand with a balanced, healthy diet. Long story short, the better the diet, the less your French Bulldog will shed their hair.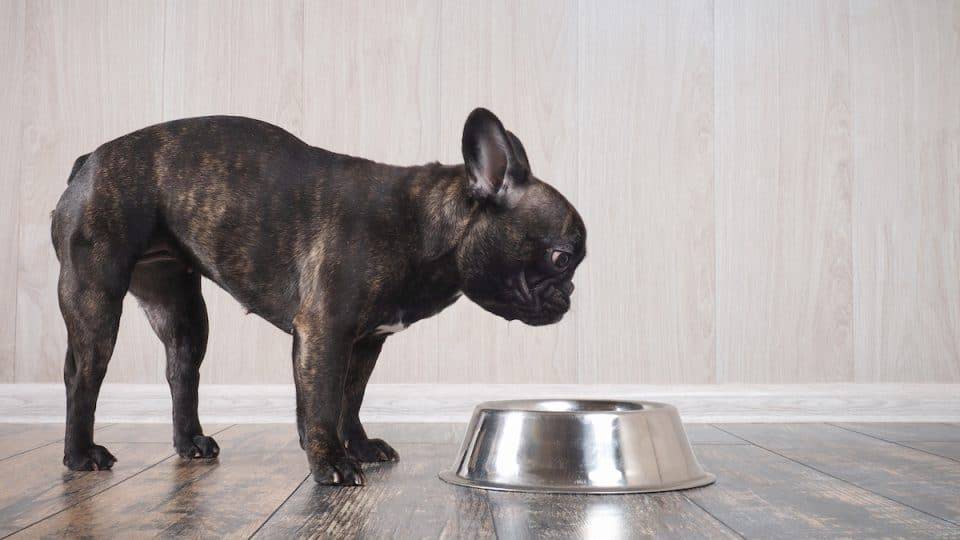 breeding is also a shedding factor
Breeding is one of the prime factors in how much your French bulldog will shed.
Geneticists have identified a specific gene, called the MC5R-gene, which can impact the amount of shedding a dog will do. The gene influences the hair follicle glands that produce an oily, waxy substance called sebum.
Sebum keeps a dog's hair flexible, assists in temperature regulation, and helps to repel water.
There are two variants of this gene: the A-variant and the B-varient. Of these, the A-variant causes less hair shedding. French Bulldog breeders can use this information to select for bloodlines that are less prone to shedding.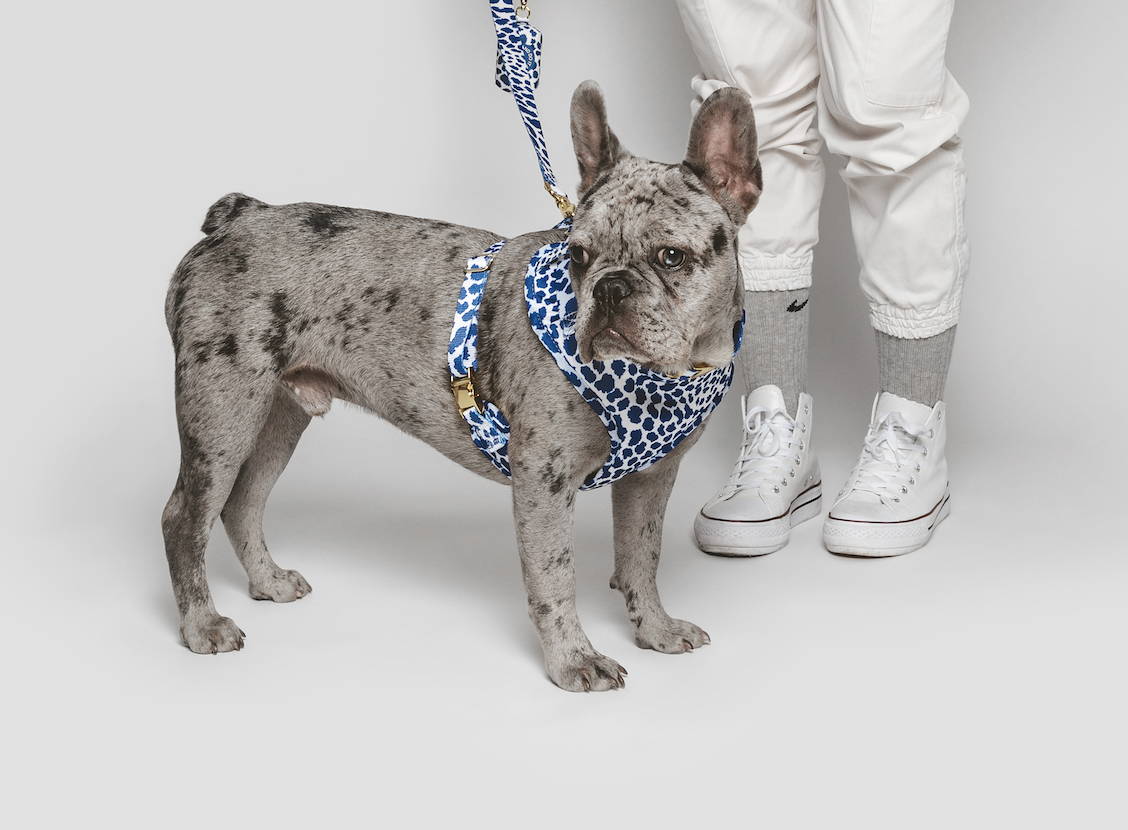 How Can I manage My Frenchie's Shedding?
While you can't stop your French bulldog from shedding its hair, there are several steps that you can take in order to make this natural process more manageable.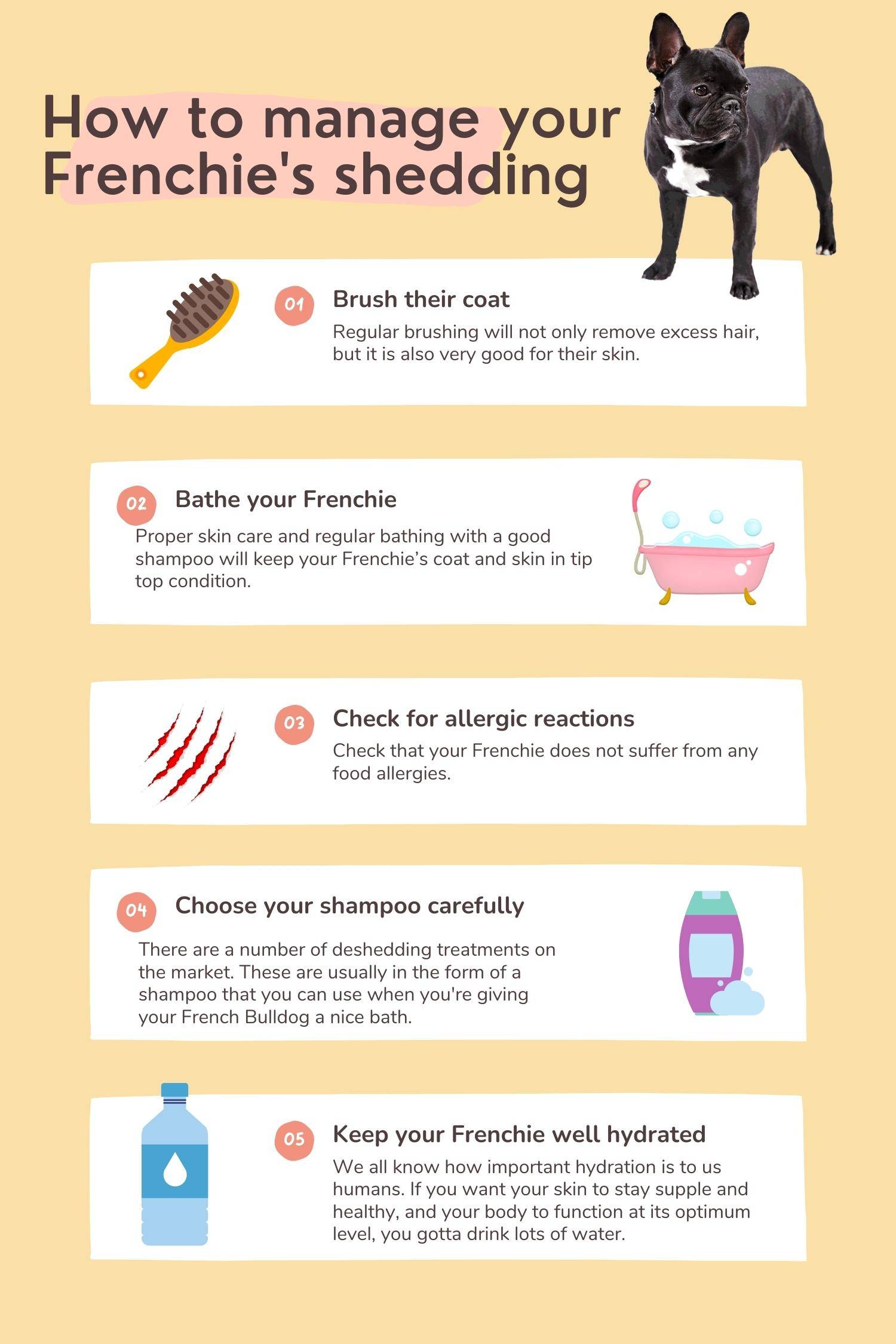 Brush your frenchie regularly
Regular brushing will not only remove excess hair, but it is also very good for their skin. Most dogs love a good brushing session anyway! For brushing your French Bulldog, these are some of the things you should consider:
- Bristle brushes are a perfect choice for all coat types. For short-haired French Bulldogs, the best choice is a stiff brush.
- Use a brushing tool such as a "Furminator", which has short metal teeth that will comb out excess hair before it can be shed.
- A rubber curry comb is also a good choice for Frenchies. Curry combs help remove dander (dead skin) and old hair. You will also find that your bijoux French amis will love a good brushing with a rubber comb. For them, its like a massage at a doggie spa...ooh la la!
bathe your frenchie regularly
Proper skin care and regular bathing with a good shampoo will keep your Frenchie's coat and skin in tip top condition.
The bathing will remove any loose hair that has already been shed, and the massaging effect of your fingers will stimulate the hair follicle glands to produce more of that hair-conditioning sebum.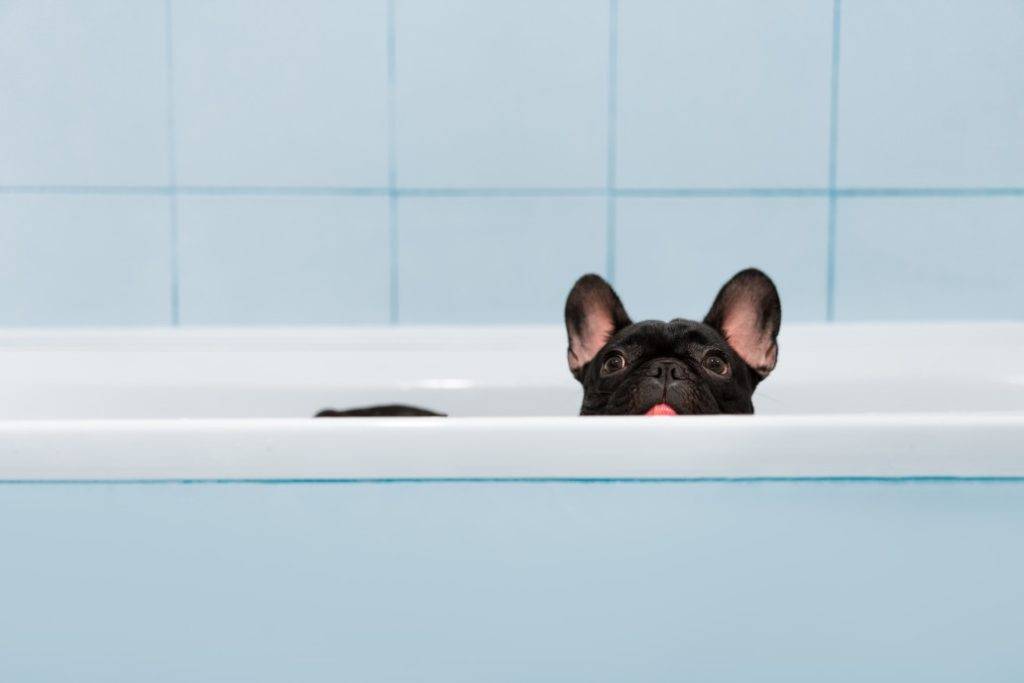 CHECK FOR ALLERGIC REACTIONS
Check that your Frenchie does not suffer from any food allergies. You can do this by trying different combinations of food and observing any changes in their skin, or the condition of their coat, that may result from them being allergic to certain types of food.
CHOOSE YOUR DOG SHAMPOO CAREFULLY
There are a number of deshedding treatments on the market. These are usually in the form of a shampoo that you can use when you're giving your French Bulldog a nice bath.
You should, however, check with your veterinarian before using preparations such as this. They will be able to give you specific advice about the best deshedding treatment for your little French buddy.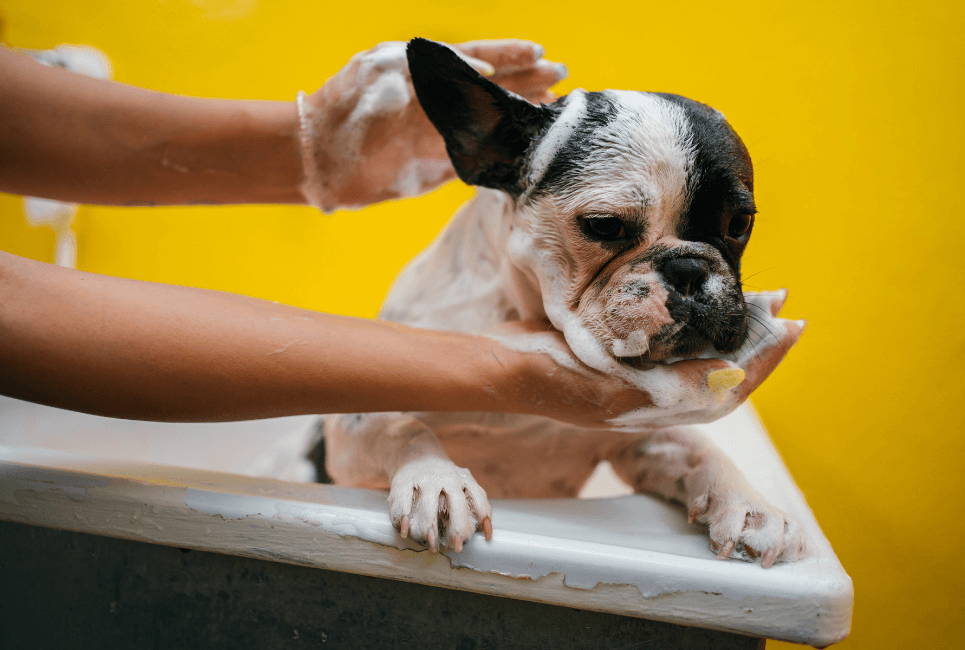 A WELL HYDRATED FRENCHE WILL SHED LESS HAIR
We all know how important hydration is to us humans. If you want your skin to stay supple and healthy, and your body to function at its optimum level, you gotta drink lots of water.
It's the same for your French Bulldog. Ensure that they have access to fresh water at all times. By making sure your Frenchie consumes plenty of water, and doesn't become dehydrated, you will ensure that their coat stays healthy and less prone to shedding.
As well as putting water beside their feed bowl, you should also put some beside their bed, and perhaps outside as well. That way, they always have access to water whatever they are around the house.
but why does my frenchie still shed so much??
If your French Bulldog is showing signs of excess shedding, there may be some underlying health reasons why this is so. These could include:
- Allergies
- Sunburn
- Infection
- Stress
So if you are concerned that your Frenchie may be shedding more than is normal, take them to see your veterinarian. Dogs love visits to the vet anyway, so you can treat them to a checkup and a nice walk afterwards.
french bulldog shedding faqs
why is my frenchie shedding so much?
Yes, French Bulldogs do shed. They are not considered a hypoallergenic breed, so if you're looking for a dog that doesn't shed, a French Bulldog is not the right breed for you. However, their shedding is relatively minimal compared to other breeds and with proper grooming, you can keep their shedding under control.
how often do french bulldogs shed?
French Bulldogs typically shed twice a year, in the spring and fall. During these shedding periods, it's important to brush your French Bulldog regularly to help reduce the amount of hair that ends up on your furniture and clothing.