While some dogs can be left alone for long periods of time, French bulldogs are more of a "pack dog" that needs to be with the rest of their group, either with other dogs or people. Therefore, experts advise that a French bulldogs should not be left alone for longer than 5 or 6 hours at a stretch.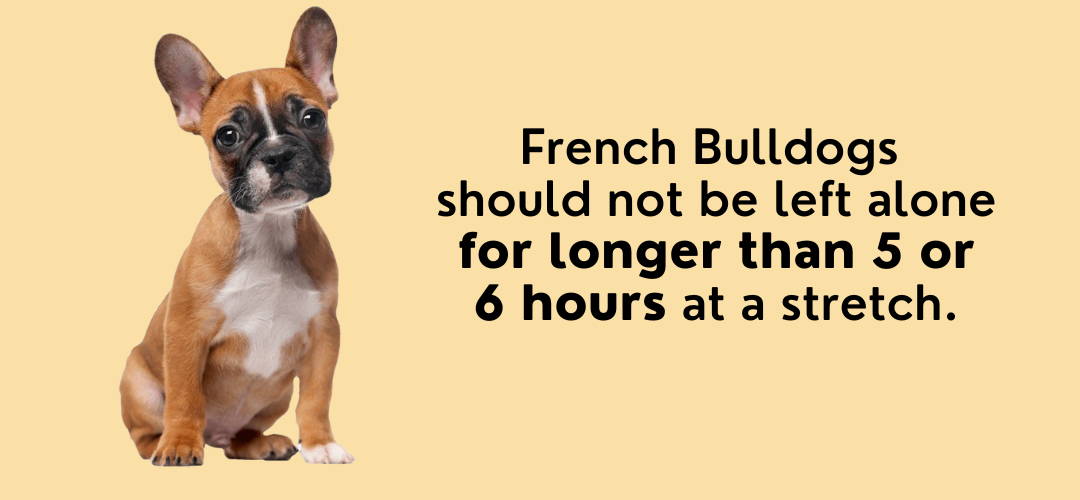 Symptoms of separation anxiety in French Bulldogs
Keep in mind, though, that Frenchies may be obstinate and have a higher level of separation anxiety than other dog breeds. This is primarily due to their deep attachment with their people, which is wonderful, but it can make leaving them alone difficult.
If you notice destructive or devastating behavior in your Frenchie, it might mean that he or she has a high level of separation anxiety.
Symptoms of French Bulldog separation anxiety include:
Symptom 1: peeing and pooping in the house
One of the most common signs of separation anxiety in French Bulldogs is urination and defecation when the Frenchie is left alone. This is usually due to the French Bulldog's heightened sense of anxiety and fear, which can lead to a loss of bowel control.
In some cases, the Frenchie may also consume their own feces out of boredom or frustration. While this behavior may seem gross or unsanitary, it is important to remember that it is a symptom of a larger problem.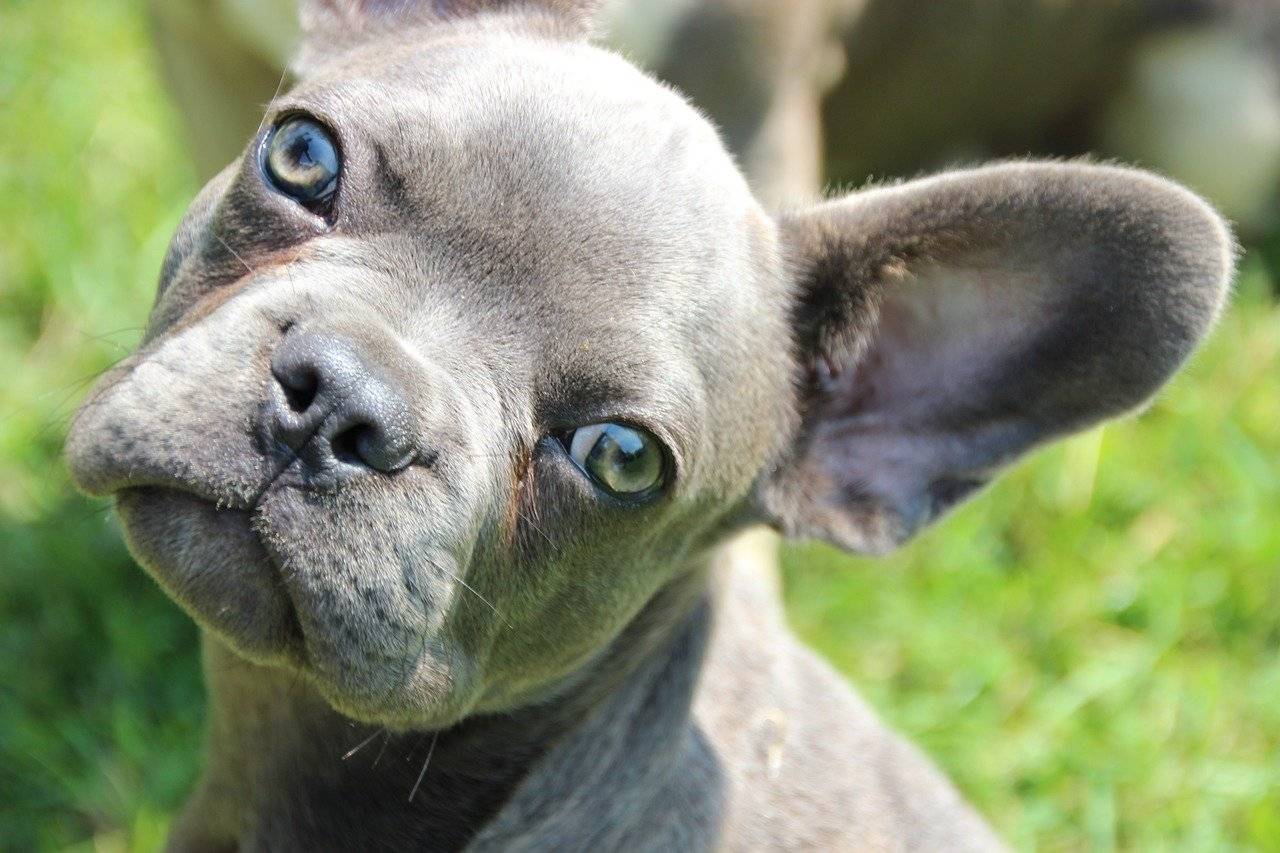 Symptom 2: Barking and howling
It's normal for French Bulldogs to bark when they're left alone. But if the barking continues for more than a few minutes, it may be a sign of separation anxiety. This behavior is a result of their strong attachment to their guardians. French bulldogs crave companionship and become anxious when separated from the people they love.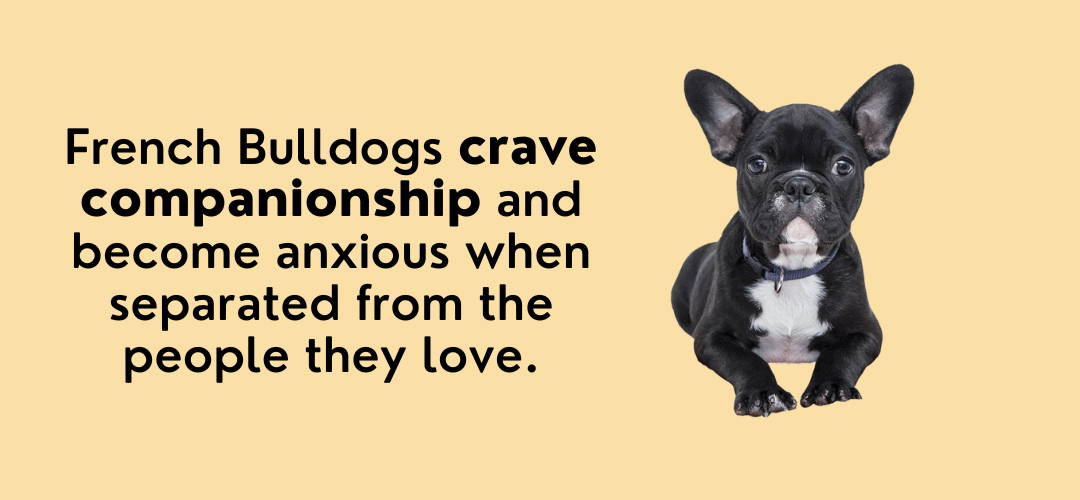 Symptom 3: Pacing, panting and drooling
French bulldogs are prone to separation anxiety, and one of the most common symptoms is panting and drooling. When a French Bulldog is left alone, they may start to bark excessively, pace back and forth, or destroy furniture.
This behavior is often caused by a lack of socialization early in life. French bulldogs who are not properly socialized may become anxious when they are away from their owner.
Panting and drooling are often the Frenchie's way of trying to self-soothe and calm down. In some cases, medication may be necessary to help the dog cope with separation anxiety.
Symptom 4: Chewing and destructive behavior
French Bulldogs are also known for their tendency to chew and show destructive behaviour when they experience separation anxiety. This chewing can cause damage to your belongings and furniture, and it can also be dangerous for your Frenchie if they ingest something that they're not supposed to.
If you think that your French Bulldog is experiencing separation anxiety, it's important to talk to your veterinarian about the best way to deal with it.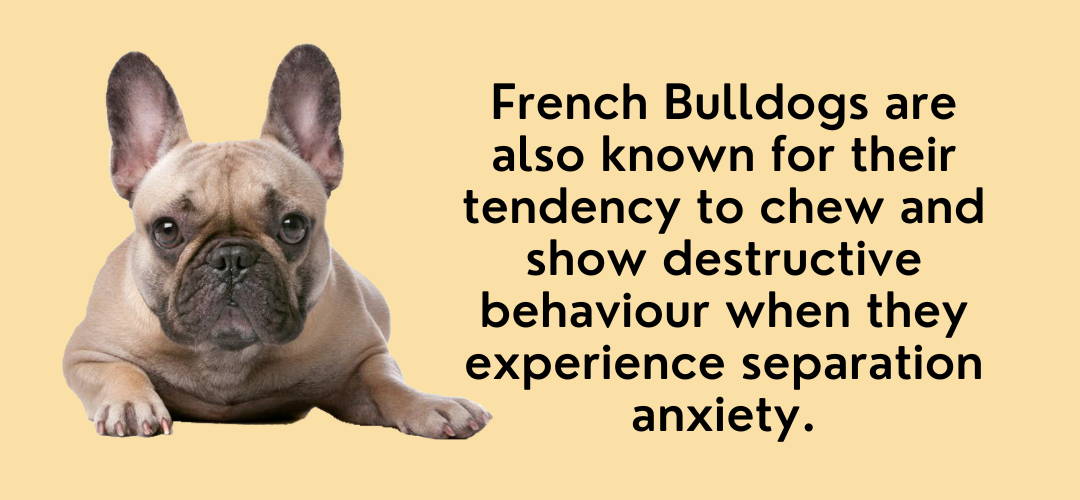 Symptom 5: Escape attempts
When French Bulldogs experience separation anxiety, they may try to escape from their home or yard in order to find their owner. This can be dangerous for Frenchies, as they are at risk of being hit by a car or getting lost.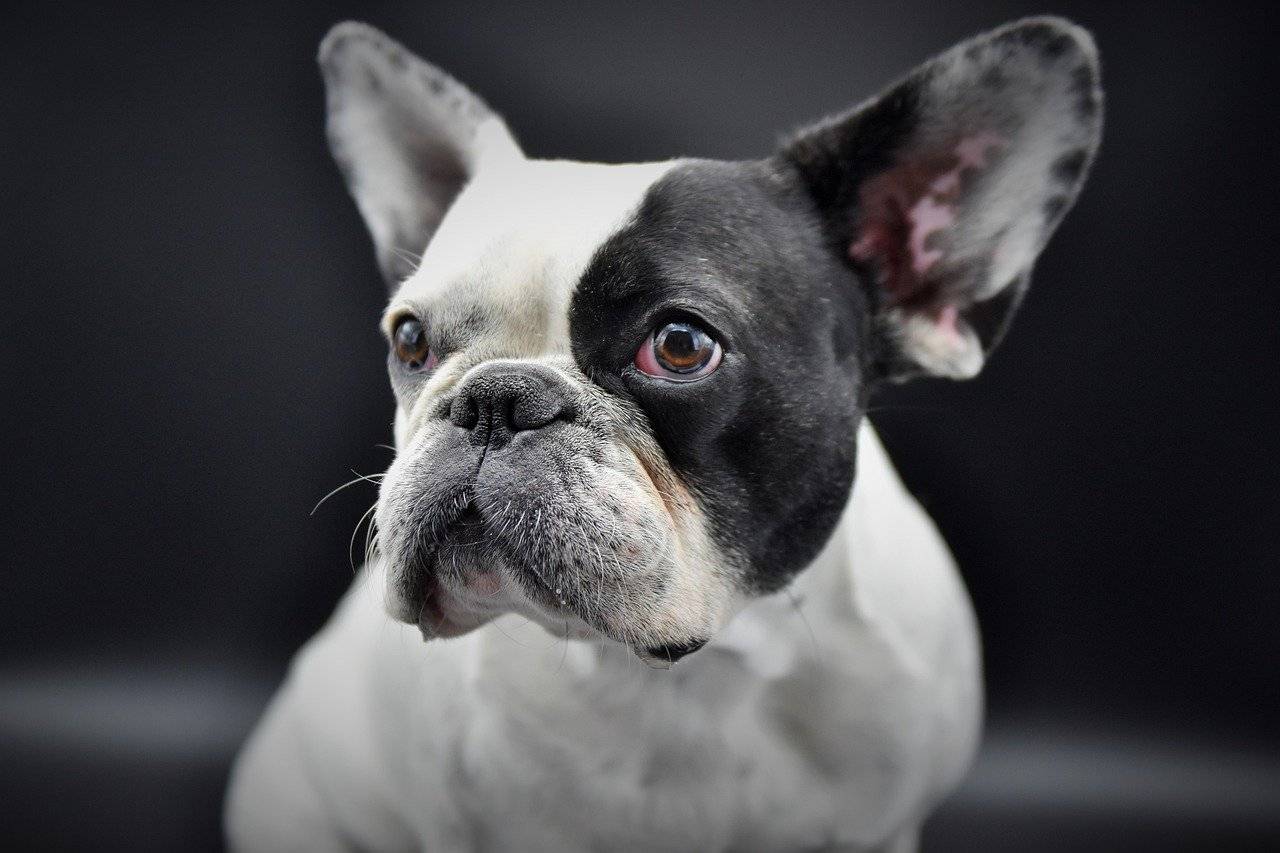 Can Frenchies be Left Home Alone?
A loyal Frenchie owner would never want to be apart from their French Bulldog for an extended period of time. However, in our fast-paced life, keeping our Frenchies with us all of the time is unrealistic.
If you go out to work all day or need to leave your home for a few hours, you will have no option but to leave your Frenchie at home.
Separation anxiety is common in French Bulldogs when they are left alone at home. Simple methods can assist to calm their tension when they are alone.
Separation anxiety is an illness and you need to look for ways to calm your pet. Fortunately, there are a number of things you can do to assist your nervous Frenchie to relax and stay happy at home.
How to Address your frenchie's Separation Anxiety?
1 - Maintain a relaxed routine
When you leave for the day and return home, too much enthusiasm might worsen your Frenchie's uneasiness. Although it may not always be possible, performing a calm routine before leaving and a calm routine when you return could help your Frenchie cope with their anxieties.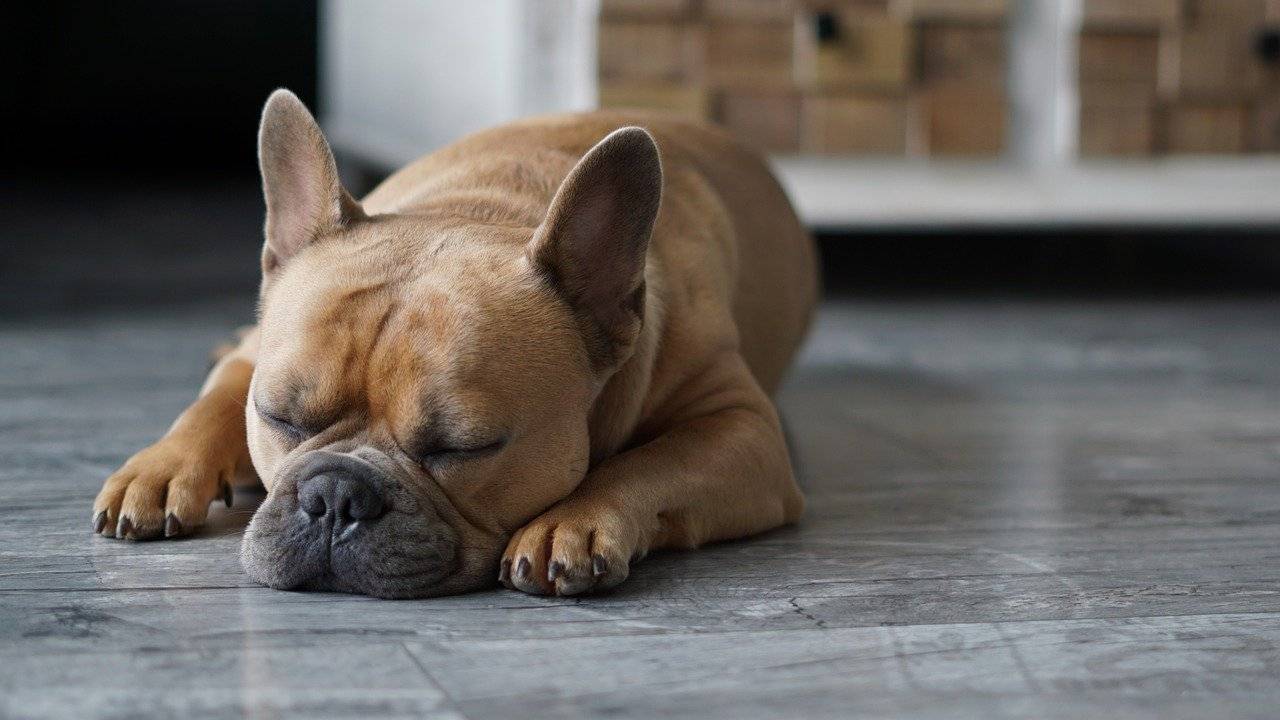 2 - Use toys and puzzles that are interactive
Puzzle toys are a terrific method to keep your Frenchie occupied for a long time while also providing intellectual stimulation. Separation anxiety and boredom in dogs can be alleviated with puzzle toys. Your French Bulldog may spend several hours alone with puzzle toys if they don't require monitoring.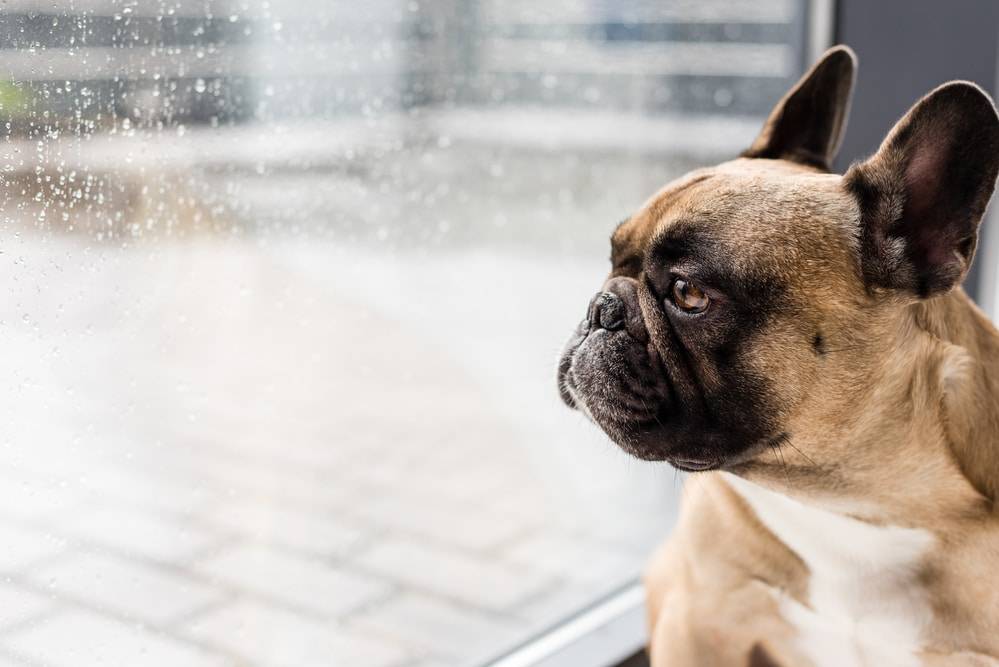 A safety cue is something you can do or say every time you leave the house to let your French Bulldog know you'll be returning.
Your Frenchie will begin to connect these indications to your brief absences. If you must go for a few hours and your dog knows you will return, he or she will not grow concerned. Music or a safe dog toy might be used as a safety cue.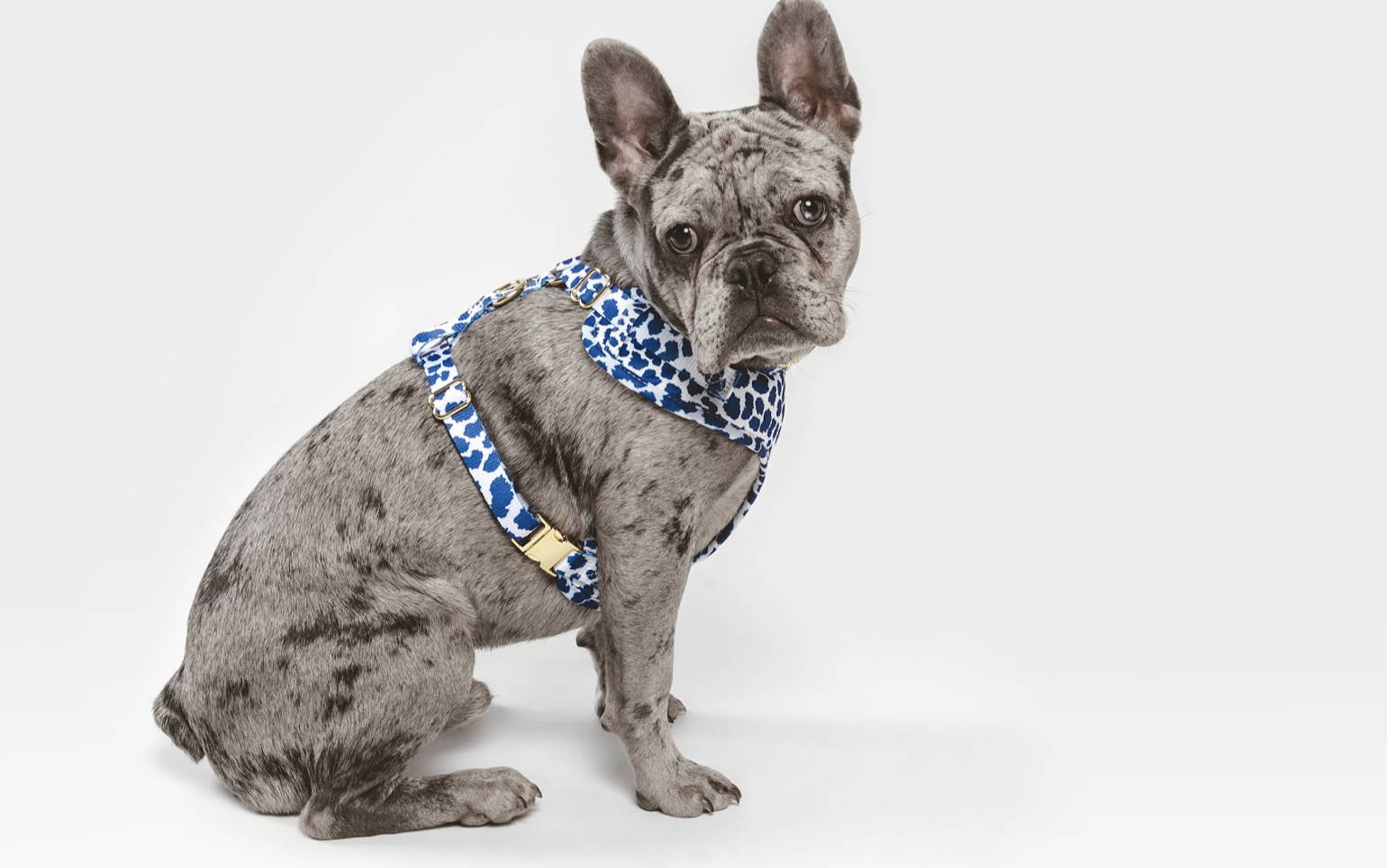 4 - Your dog should be fully trained
When it comes to leaving your Frenchie alone at home, preparation is important. Allowing them some time alone to begin the instruction is a good place to start. If your Frenchie follows you around everywhere, ask them to stay in one spot while you go somewhere else for a bit. If your French Bulldog is okay with it, try leaving the house for a short while and then returning.

If you're ready to leave the house and your Frenchie starts to panic, try to ignore it until they become used to it. When you get home, don't greet your Frenchie with a warm greeting at the door.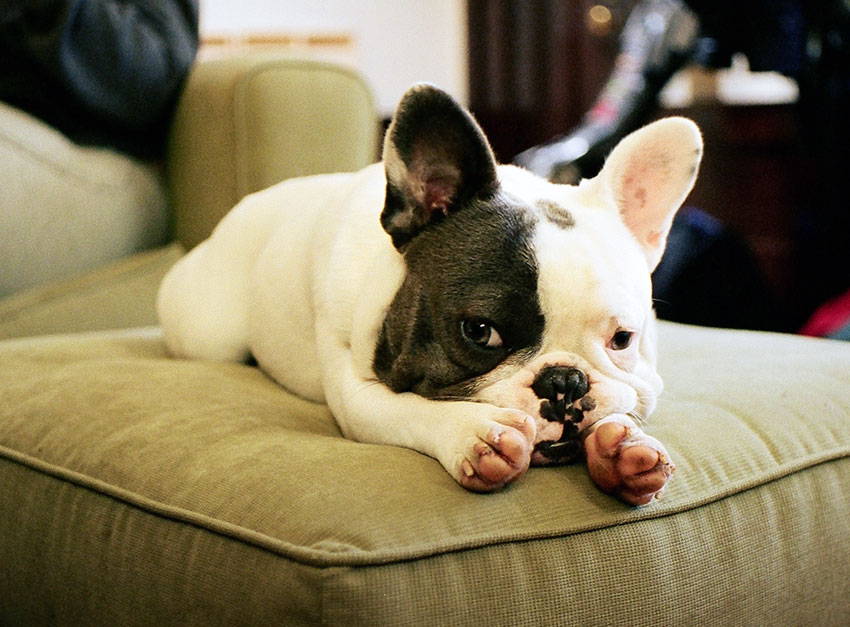 5 - Use positive reinforcement
When you leave the house, part of the reason why Frenchies are so upset is because they know they will be separated from you and your devotion. For instance, according to some sources, your Frenchie may believe you will never return. To counteract the notion that leaving the house is a bad thing, save a special treat or a beloved toy for when you leave. Teach children that being alone at home is alright, and praise them for good conduct.

By following all the right methods, you can train your Frenchie to cope with separation anxiety. Once your French Bulldogs knows that you are not leaving him for good, he or she will get used to the idea of staying alone, without any issues! Always remember to be kind and patient with your Frenchie. All training is a learning process.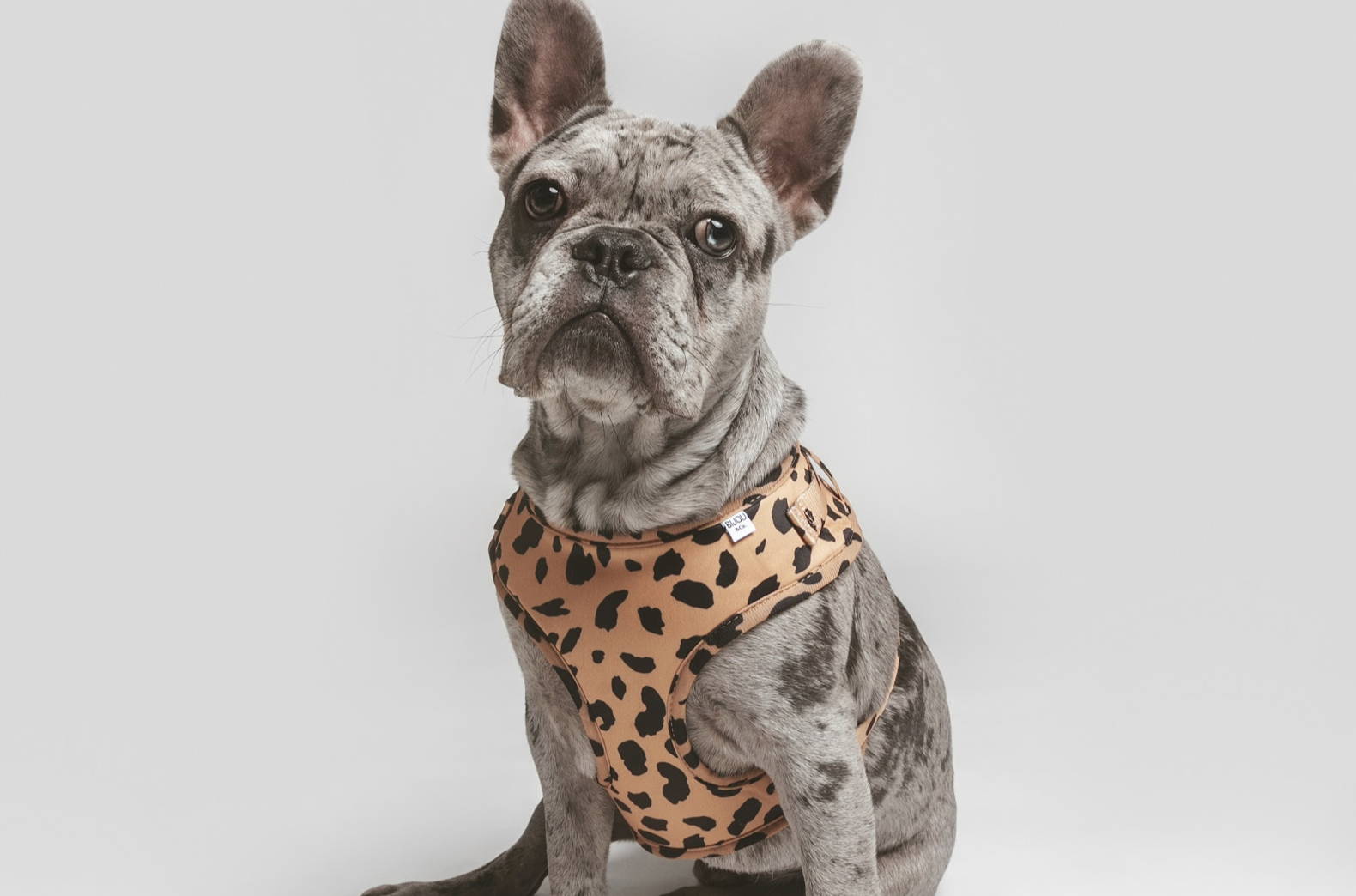 Frenchies separation anxiety faqs
do french bulldogs have separation anxiety?
YES. Like many other Bulldogs, French Bulldogs are prone to separation anxiety. This condition is characterized by excessive clinginess, whining, barking, and destructive behavior when left alone.
Can french bulldogs be left alone?
YES. Some French bulldogs do fine when left alone, while others become anxious and destructive. The best way to determine whether your Frenchie can handle being alone is to gradually leave them alone for short periods of time, gradually increasing the length of time as they get used to it.
how to stop separation anxiety in french bulldogs?
First, make sure that you provide your French Bulldog with plenty of opportunities for socialization. This means taking them for walks, to the dog park, and even to puppy class. It's also important to give them plenty of attention when you're home - play with them, pet them, and let them sleep in your bed if they want to. You should also create a safe space for them - this could be a crate or a specific spot in the house where they feel comfortable and secure. Finally, don't make any big changes in your routine - sudden changes can increase anxiety levels.