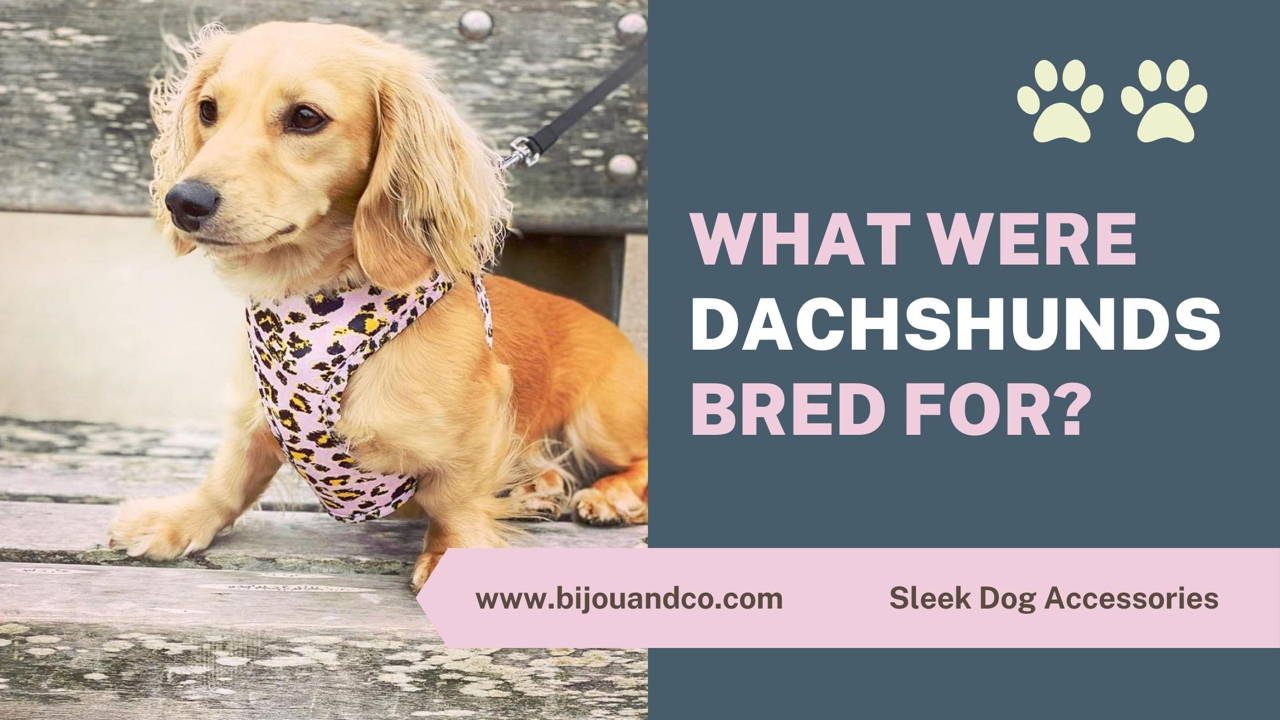 Dachshunds were originally bred to hunt badgers that is why they were referred to as badger dogs. In fact, the name Dachshund translates to 'badger dog' in English from the German words 'dachs' and 'hund'.
Interestingly, most modern Germans call them Teckel or Dackel and people in the UK and US call them Daxy and Doxy respectively.
What Were Dachshund Dogs Bred For?
The Dachshund initially was bred to be the fiercest badger hunters. But apart from badgers, they could also track and hunt other animals like foxes and rabbits.
They specialized in hunting badgers though. They would accompany hunters until they spotted a badger in the wild and in case the prey would climb back into their burrow to hide, these Dachshunds would be sent into these underground burrows.
They are also known to hunt in packs and enter from different entrances in order to trap the badger. And since they are fearless in nature, they always fight their way to the animal and eventually drag them out.
What are Dachshunds Good At?
Other than hunting badgers, let's take a look at what Dachshunds are great at accomplishing.
Tracking Wounded Game
Blood tracking wild game is another function that Dachshunds have performed for many generations. Dachshunds have short legs that are close to the ground, and they are great at following a scent line. They can also differentiate between different scents and will not get lost or distracted in the wild.
When a deer is hit, a Dachshund can follow its blood trail and locate the wounded animal. At times a hunter finds it difficult to locate blood on the ground, but Dachshunds are great at doing so!
Hunting Other Animals - What Were Miniature Dachshunds Bred For?
Dachshunds come in two different sizes. Standard Dachshunds were bred to hunt badgers but if you're wondering what miniature Dachshunds were bred for, they were bred for hunting groundhogs.
Sometimes both large and small Dachshunds are used together in a team to catch prey. This breed of dogs can also track squirrels during the day, and possums and raccoons at night.
Physical Characteristics of a Dachshund
Breeding a dog is not as simple as it appears. When Dachshunds were initially bred, breeders had to keep particular attributes or features in mind that they desired in their progeny.
It might take years and years for a whole new breed of dogs to emerge. Let us look at some of the qualities of Dachshunds that breeders carefully sought.
Head and body - Dachshunds required a long body that could swiftly enter badgers' tunnels underground. The Dachshund's skin was purposefully made loose so that it would not rip when it was in the tunnel. A Dachshund's chest was intentionally made deep so that their lungs could develop deeper and provide them greater energy when hunting.
Legs - Dachshunds need short and stubby legs that also make it easy for them to go underground. The front paws of a Dachshund are quite large and paddle-shaped and this allows them to dig quickly and efficiently.
Tail - The tail of a Dachshund was made curly so that it was visible among tall grass and so that it could be pulled out easily in case it got stuck in a tunnel.
Claws and teeth - A Dachshund also has sharp claws and teeth so that they could catch prey and sting them for a few moments.
Coat - Dachshunds have a well-developed coat so that they can withstand harsh climate conditions. The Dachshund has mainly three different coat types. Some Dachshunds have smooth coats, whereas others have long coats and yet others can have wiry coats. Dachshunds with longer coats were generally bred for colder climates, whereas wire coat Dachshunds were bred to hunt in rough and thorny terrain.
Aside from having the appropriate physical form, Dachshunds were developed with the temperament necessary to hunt. The dogs were developed for their deep bark, but they are also quite clever and hardy, on top of being extremely hardworking. They are brave and always prepared to battle if the situation calls for it.
In modern times, the Dachshund is mostly bred for companionship rather than for hunting. They are normally quite docile and may be well-trained if given enough time and effort.