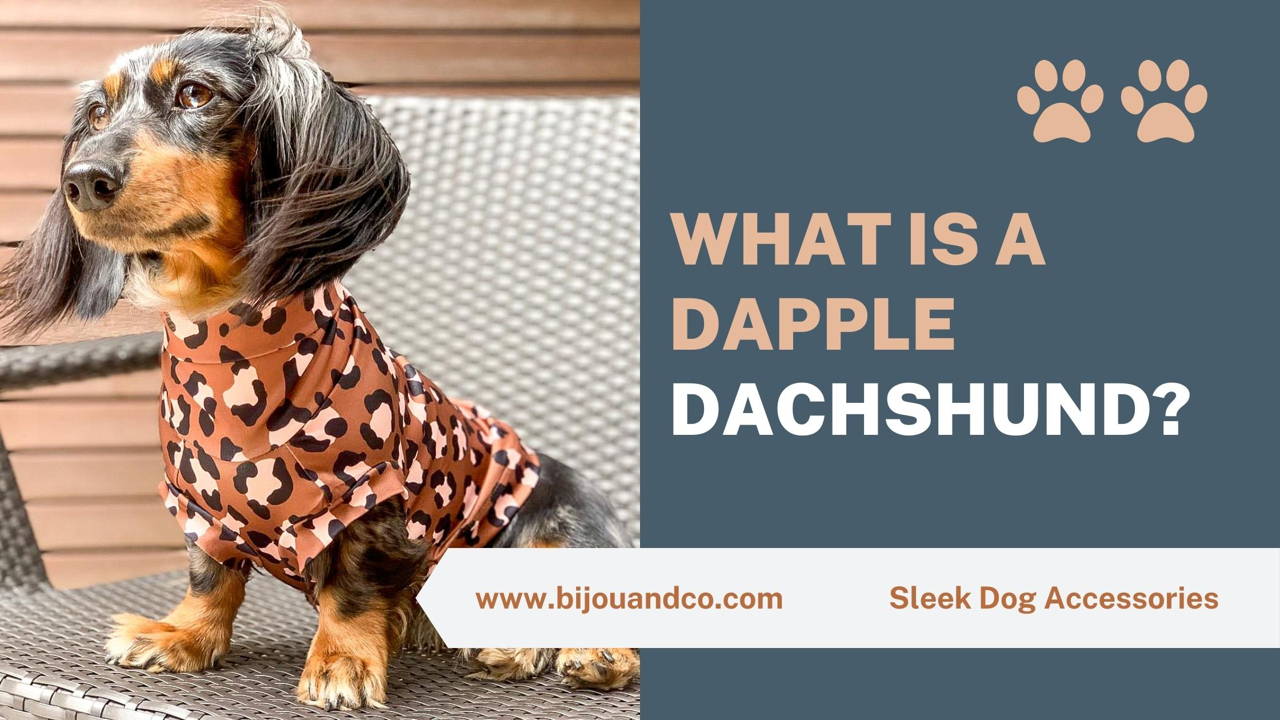 Find out about the different colour combinations that Dachshunds come in and what to look for when you are choosing a Dapple Dachshund.
Dachshunds come in all shapes sizes and colours.
There are Standard Dachshunds, Mini Dachshunds, Long-haired Dachshunds and even tiny Dachshunds called Doxies.
Dachshunds make incredibly good pets. They are tenacious, faithful, stubborn, comical and intelligent. However, some types of Dachshund, especially Dapple Dachshunds, can be prone to health problems and congenital defects.
So if you are wondering "what is a dapple Dachshund?", we have put together some useful information about this strain of dashie, and what to look out for if you are considering one as a pet.
What is a Dapple Dachshund Anyway?
A dapple Dachshund is the name given to a dashie with a certain type of coat colouration. Dapple puppies are the result of cross-breeding a Dachshund with a solid coat colour and a Dachshund with dapple or piebald markings on its coat.
The markings on the coat of a Dapple Dachshund are quite striking. Depending on the dog's ancestry, it's colour could be anything from red, cream or black, to all manner of combinations such as chocolate and cream, black and tan, chocolate and tan, or even brown and blue.
The amount of dappling that will appear on a Dapple dashie's coat will depend on what the dog's base colour is. Sometimes the dappling can be quite bold and striking. On other Dachshunds it can be quite subtle.
The patterns on a Dapple Dachshund's coat are the result of a gene called the Merle Gene. This is the same gene that gives Australian Collies, Blue Heelers and Shelties their unique colour patterns.
The merle gene creates patches of mottled colour on a dog's coat, along with blue or odd-coloured eyes and different skin pigmentation. It is also, however, a recessive gene and dapple dashies can be prone to certain health issues, which can include impaired vision or deformities such as missing ears or poorly-formed eyes.
What is a Double Dapple Dachshund?
The offspring of mating two Dapple Dachshunds together are known as Double Dapple Dachshunds. That's quite an alliteration, isn't it?
Intelligent and sensitive
Like all Dachshunds, Double Dapple dashies are comical, intelligent and faithful. They can be destructive when they get bored, and tiresomely stubborn and disobedient when they want to be.
But unlike the Standard Dachshund, Double Dapple Dachshunds can be sensitive. Their feelings can easily be hurt, causing them to sulk or become disconnected from you.
So when you are training your little dappled dashie friend, it is important to avoid harsh words or overly physical training methods. A better option is to use positive reinforcement, such as treats, for good behaviour, and to ignore incorrect behaviour.
Dashies are remarkably quick learners and your Double Dapple Dachshund will soon pick up on the difference between things you like them to do, and those that you don't like.
On the other hand, your sassy little sausage dogue may just choose to ignore you for the sake of it...just for fun!
How About a Dapple Piebald Dachshund?
As well as different coat and size combinations, Dachshunds come in an array of varying colour combinations. As we have seen, dashies can be dappled, double dappled, and even piebald. So what is a Dapple Piebald Dachshund?
A Dapple Piebald Dachshund has a coat that is a solid one- or two-colour base with large patches of white. The word "piebald" itself isn't a colour: it is just a type of coat pattern. It is the same type of coat pattern that can also be seen on some bull terriers, boxers and collies.
A dapple piebald dashie may have a head that is black and tan and a body that is white, flecked with black: a combination known as "ticking." They can be short- or long-haired, and can be standard or miniature dogs.
Dapple Piebald Dachshunds have white or partly white toenails, and always have brown or dark eyes. They never have blue eyes as this is a characteristic only found in Double Dapple Dachshunds.
Because the gene that results in a Dachshund having a dapple piebald appearance is also a recessive gene, these dashies can be susceptible to the health problems.
While the piebald colouration is not, in itself, a negative health condition, piebald dogs of any breed can have a higher risk of poor eyesight and congenital hearing defects.
Like all dashies, Dapple Piebald Dachshunds are at risk from a condition called Intervertebral Disc Disease (IVDD) due to their long bodies.
So if you are thinking about choosing a Dapple Piebald Dachshund, make sure you use a reputable breeder who can supply comprehensive information about the puppy's pedigree and any health problems that have occurred in its lineage.
Whatever Their Colour, Dashies are Cute.
If you are looking for a placid, quiet, angelic dog that won't get up to mischief, then perhaps a Dachshund isn't quite the right fir for you.
On the other hand, if you want a family pet that is adventurous, entertaining and loyal, will occasionally break the rules and give you plenty of laughs, a dashie might be the perfect choice.
And although Dapple Dachshunds may be susceptible to certain health conditions, their spirit and cuteness will more than make up for this.