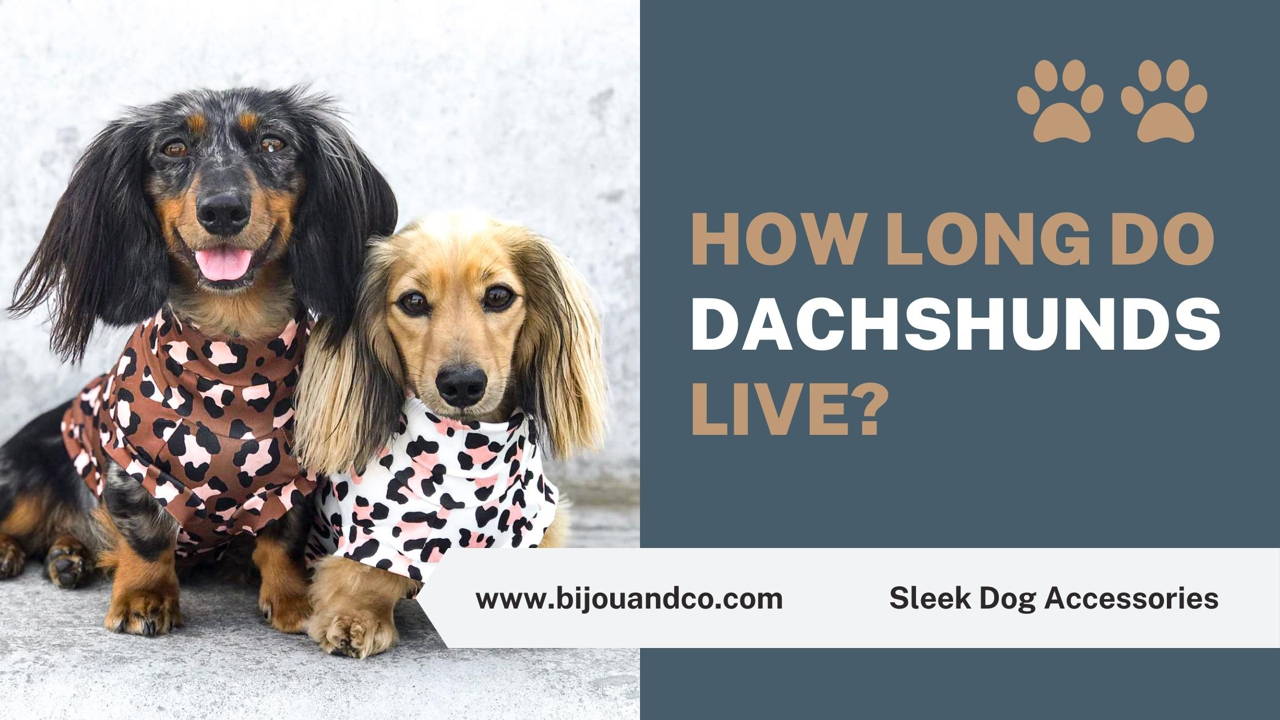 Dachshunds are adorable and loveable little dogs that you can carry almost anywhere. You may be wondering how long Dachshunds live or what their life expectancy is when compared to other dogs.
On average, the lifespan of a Standard Dachshund is between 12 and 14 years. Dachshunds are considered to be among the breed of dogs that lives the longest.
They are tiny dogs and like other small breeds such as Chihuahuas, Shih Tzus, and Pomeranians, Dachshunds live long because of their size. However, there are Dachshunds that have even lived up to 18 to 20 years.
What Affects a Dachshund's Lifespan?
While genetics does play a role, there are other causes that may affect the lifespan of your dog.
These reasons are mostly health-related and factors that cause deaths in Dachshunds are old age, heart problems, cancer, diabetes, kidney failure, gastrointestinal issues, cerebral, vascular issues, neurological, and musculoskeletal problems.
Is There a Difference in Lifespan Between Males and Females?
It has been noticed that in general, female dogs live longer than male dogs for around six months more. It should be noted that spayed female dogs have a much higher lifespan than both male and female Dachshunds.
However, when it came to neutered males, the intact Dachshund lives longer than ones that are neutered, unlike in the case of spayed female Dachshunds.
Of the different breeds of Dachshunds, the wire-haired Dachshund has the least risk of diseases, whereas the smooth-haired Dachshund has the highest risk of invertible disc disease. As opposed to popular belief Dachshunds don't have problems due to their long back, it is actually their short legs that give them back problems.
How Long to Mini Dachshunds Live?
A miniature Dachshund or a mini Dachshund is exactly the same as a Standard Dachshund but they are shorter and weigh less.
Mini Dachshunds grow 5 to 6 inches and weigh merely 11 pounds. Miniature Dachshunds generally live longer than Standard Dachshunds and they can live between 12 and 16 years.
This is because they have fewer chances of having issues with their backs. Mini Dachshunds are one of those breeds that live the longest among all dogs.
How to Increase the Lifespan of Your Dachshund?
To maximize the lifespan of a Dachshund, there are certain steps that you can follow. Some of these are listed below.
Get your dog to exercise
Getting daily exercise will help to keep your Dachshund healthy. Exercise will help to keep your dog at an optimum level and it will allow him or her to increase strength in the masses. Most dogs love getting exercise, Dachshunds included, but too much exercise could cause problems with bone development and their joints as well. Start with five minutes of exercise a day outside and then slowly increase the timing by a few minutes each day.
Take care of your dog's teeth
Gingivitis can affect a dog's teeth just like it can affect humans. Gingivitis can affect a dog's internal organs by spreading through the bloodstream. Create a dental routine, keep up the hygiene and make sure that you get regular visits with your vet.
Feed your dog well
Giving your dog healthy food and all the necessary nutrients will help him or her to lead a good life, and this can lead to a lengthier lifespan. It is best to avoid processed food that has plenty of chemical preservatives, additives, or dyes.
Encourage your dog to socialize
Allowing your dog to socialize from a young age will give them exposure and make them more confident for later on in life. This reduces the fear factor for later on as it gives them more experience in different situations.
Choose a good breed
Before you adopt a puppy, ask the breeder questions and try to take a look at their genetics. Certain evaluations and exams can be done to make sure that a puppy is healthy. If you know the medical history of a dog, you can take care of any problems as soon as you are aware of them.
Taking precautions and giving your Dachshund a good life will allow your fur baby to have a good, long life. Make sure that all your medical appoints up to date and you won't have to worry about a thing!