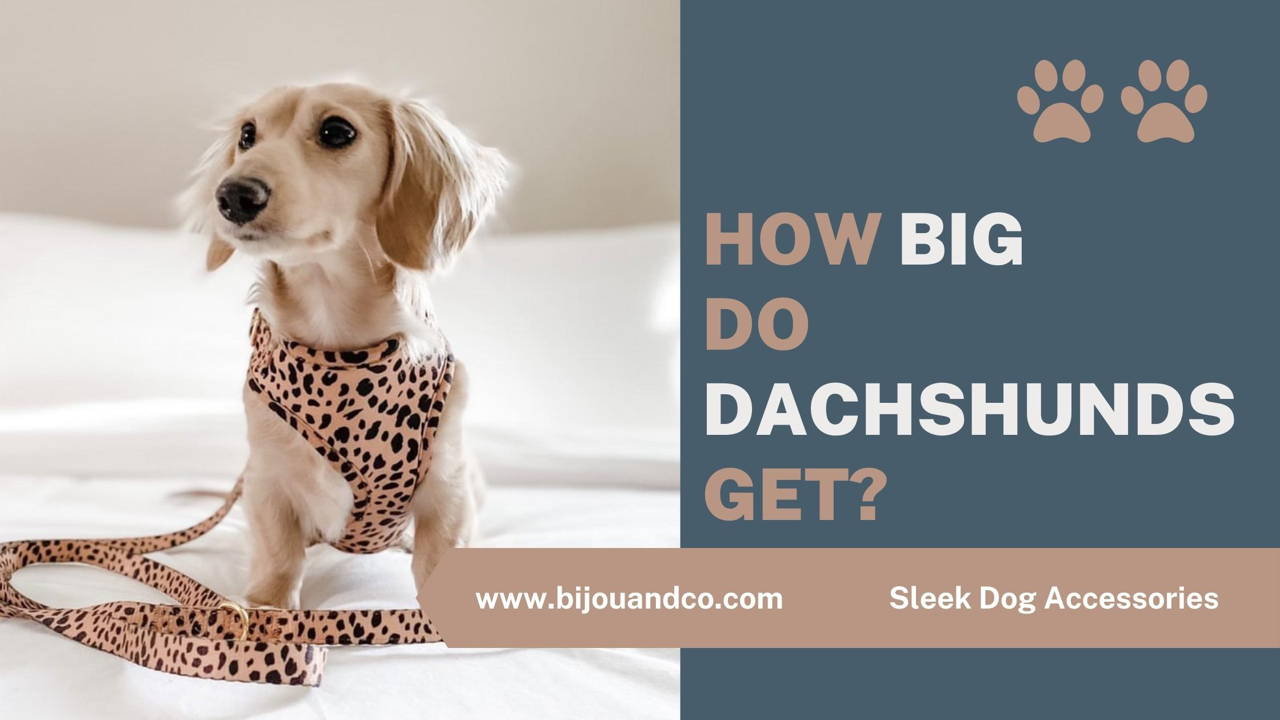 Discover how big your cute Dachshund puppy will be when it is fully grown and how different types of Dachshund will grow up to be different sizes.
Queen Victoria loved Dachshunds. According to her, "nothing will turn a man's home into a castle more quickly and effectively than a Dachshund."
Small in stature but big in adorability, Dachshunds - or "Dashies" as their owners like to call them - are one of the world's most popular dog breeds: ranked at number 12 on the American Kennel Club's popularity chart.
And although dashies are small dogs, they make up for their diminutive size with large amounts of spirit, courage and personality. So how big do Dachshunds get? Let's find out.
Feisty, Stubborn and Adorable!
The American writer E.B. White (author of Stuart Little and Charlotte's Web) wrote of his Dachshund, Fred, that "I would rather train a striped zebra to balance an Indian club than induce my dachshund to heed my slightest command. He even disobeys me when I instruct him in something he wants to do."
The tenacity and stubbornness of Dashies is a direct result of their ancestry as hunting dogs. The reason your Dachshund likes to savage its toys to death, and bark at strangers comes from its inherent instinct to hunt.
Dachshunds were bred to be hunters. The breed's name means "badger dog" in German and the original purpose of these feisty little dogs was to haunt badgers by chasing them into their underground lairs.
A typical Dachshund has a long body with short, stubby and very powerful legs. Its front paws are large and paddle-shaped, perfect for digging out the badgers, and its loose skin meant that it wouldn't tear or abrade while they were squeezing through tight burrows.
The hunter instinct remains
Although most dashies these days don't encounter badgers, their instinct for the chase, for defending themselves, and for making a good job of chewing things up still remains. Their tenacity for not backing down or giving up while hunting, gives them that stubborn streak that dashie owners know so well today.
All Dachshund owners can tell stories about how their dashie will chase balls, birds and small animals with great determination and ferocity. They have an extremely loud bark for a little dog, and training them not to bark can be a difficult job.
In New Zealand, for example, the owner of a Dachshund called Axl Rose (great name) reported that she "trained him not to bark as a puppy by squirting him with water from a spray bottle and putting him outside if he continued to bark."
This approach seems to be a strategy that is often used by dashie owners, and starting young seems to be the best way to teach Dachshunds not to bark. By the way, Axl Rose the Dashie has his own Instagram, Facebook and TikTok accounts if you'd like to check him out.
Smallish but full of life
On average, a Dachshund will live for 12 to 16 years. Dashies come in three sizes recognized by most kennel organisations:
Standard Dachshunds average 7.5 kilogrammes (16lb) to 14.5 kilogrammes (32lb) in weight.
Miniature Dachshunds typically weight less than 5.5 kilogrammes (12lb).
Kaninchen Dachshunds weigh in at a miniscule 3.5 to 5 kilogrammes (8-12lb). The word kaninchen, incidentally, means "rabbit" in German, a reference to the tiny size of these Dachshunds.
How Big Do Miniature Dachshunds Get?
According to the official American Kennel Club breed standard for Dachshunds, an adult dashie should stand "between eight and nine inches tall." Miniature Dachshunds, on the other hand are required to be "around five to six inches tall."
Small but perfectly formed
Both size categories for Dachshunds are for the same breed, that is to say, the sizing of dashies is just a description: they aren't separate breeds. In fact it is common for miniature Dachshund parents to produce puppies that grow up to be bigger than they are.
Established breeders can predict what size the puppies produced by certain parents will be, so if you are in the market for a miniature Dachshund, make sure that you choose a breeder that has a substantial amount of data about their dogs' lineage.
Remember, however, that most kennel club registrations are based on the size of the puppies, and maybe your dashie will, for some reason, grow up to be bigger and heavier than you expected. But that shouldn't really matter...your Dachshund is going to be a super cute, super cool sausage dog whatever size it turns out to be!
How Big Do Miniature Dachshund Puppies Get?
When choosing a dog breed, people will often want to make a selection based on their lifestyle and the size of their homes. For this reason, the question "how big do miniature Dachshund puppies get?" is an important one.
All puppies grow up quickly and if you need to make sure your choice of dog is a suitable one for your lifestyle, the rate at which they grow can be a deciding factor.
Dachshunds will generally be fully-grown before their first birthday. Miniature dashies will reach their adult weight and height by the age of eight months.
An average miniature dashie will typically double their birth weight by the time they are one week old. You can make an approximate guess at your miniature Dachshund's adult weight by taking their weight at six weeks and doubling it...then doubling the result.
Loyal, Goofy and Loveable
Dachshunds are people dogs. They will love and defend their human to the bitter end and are great adventure buddies.
Clint Eastwood, Kirsten Dunst, David Bowie, Adele and Jack Black are all Dashie owners. So is "Miss Goodie" all the way out there in New Zealand. She loves her dashie Axl Rose...and you'll love your sausage dog too!