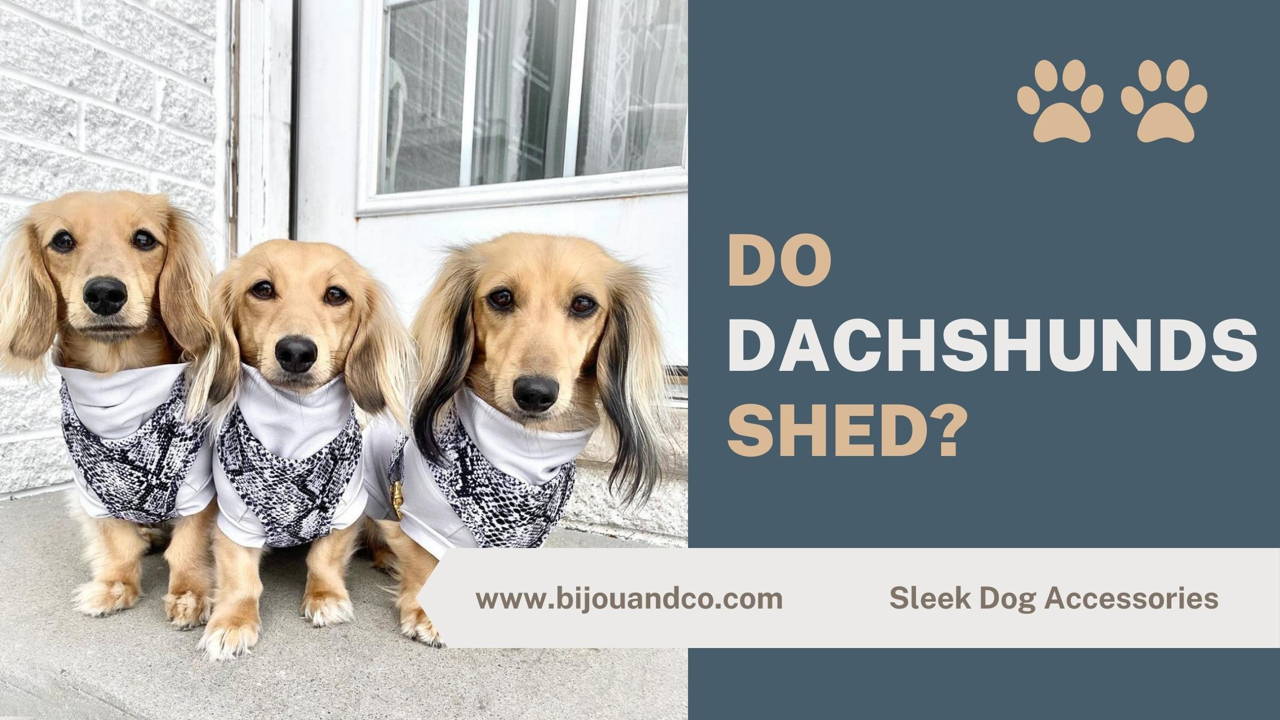 One of the most asked questions especially if you have allergies is, "Do Dachshunds shed?" The simple answer is, yes, Dachshunds do shed. However, how much they shed depends on their type of coat, their health, how you groom them, and other factors.
Before we get to the details, let's take a look at how Dachshunds shed, the different problems associated with it, and what you can do to combat this problem.
How Much Do Dachshunds Shed?
There are three different types of Dachshunds and they all shed differently. To understand how much each one sheds let's take a look at the three different coats.
Smooth/Short Coat
The smooth coat Dachshund sheds its fur each day and does not shed all at once. You will not notice how much hair your Dachshund actually sheds until you clean your home.
Smooth coat Dachshunds have thin and tiny hair and a lesser undercoat compared to the long-haired Dachshunds.
Long-haired Coat
Long-haired Dachshunds have a thick undercoat and this helps them to stay warm in winter. This type of Dachshund is said to shed the most among Dachshunds, but this is less when you compare it with other dogs.
Long-haired Dachshunds have a double coat and they shed twice- once during the spring and once in the autumn. Since these Dachshunds have longer hair, you will find their hair clumped up on your carpets or your sofa.
Wire-haired Coat
The wire-haired Dachshund also has a double coat and the undercoat is fluffy whereas the outer coat is wiry. Like long-haired Dachshunds, wire-haired Dachshunds too shed twice a year.
Usually, wire-haired Dachshund coats are removed by a groomer so you will not find that much hair around your home. However, keep in mind that wire-haired Dachshunds can be of two varieties. The wire-haired Dachshund with a thicker coat needs stripping, whereas the wire-haired Dachshunds with thinner coats do not need stripping and typically shed less.
Problems Associated with Shedding
There are two main problems associated with shedding.
Allergic reactions - Some people may be allergic to dogs, and dander that gets stuck on hair, saliva, urine, and feces cause allergic reactions in humans. Since Dachshunds are not hypoallergenic dogs, the hair that they shed can cause an allergic reaction.
Cleaning up - Even though having a fur baby at home is lovely, each time that you have to clean up after your dog can be troublesome. It can be time-consuming and annoying and you may not always have the time to do a deep clean. It is also expensive because you'd have to invest in cleaning products and a special pet vacuum cleaner to keep your home looking spotless.
How to Deal with Shedding?
You will not be able to stop your Dachshund from shedding completely but you can take certain steps to control this. Take a look at some of the tips listed below:
Feed your Dachshund well
Keeping your Dachshund's nutrition up-to-date and feeding them the correct foods will keep their coat in good condition and be healthier. This prevents too much hair from falling out. Consider adding coconut oil, flaxseed, and fish oil to your Dachshund's diet.
Groom your Dachshund
You need to brush your dog to get rid of dead hair. Brushing the hair allows the natural oils to come to the surface and this nourishes your dog's hair. Follow a regular grooming routine and take them to a professional if needed.
Keep in mind the weather
The weather and season may have an effect on how much your Dachshund sheds as well. During the summer months, your dog will not need much warmth and this makes them shed more. However, if your dog is indoors most of the year, this may not make a very big difference.
Various factors
Other factors like how much you allow your dog on your couch or bed, may make a difference. If you are able to keep your pet off your furniture and allow them to spend more time in their own bed, you will notice that they shed more on their own bed. This makes cleaning up easier.
The bottom line is that all dogs shed their hair. Some shed less, whereas others shed more! By taking the necessary precautions, and regularly cleaning up, you can keep your Dachshund and your home looking great, while at the same time reducing allergic reactions.