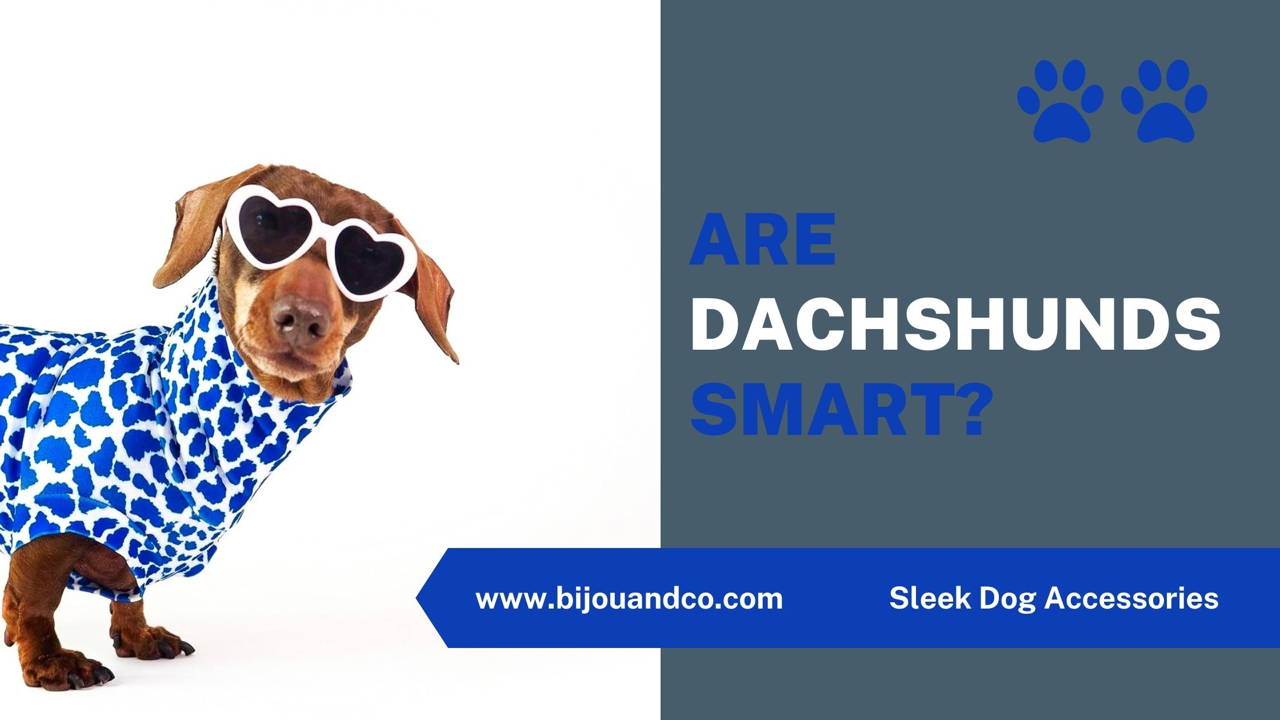 If you own a Dachshund or are considering purchasing one, you may be wondering, "Are Dachshunds smart?" Because not all canines are born equal, different breeds of dogs have varying levels of intellect. However, intellect can vary between dogs within the same breed. Read on to find out more about where Dachshunds rank in terms of intelligence.

How Smart Are Dachshunds?
Dachshunds ranked 92 out of 138 on Stanley Coren's list. Coren was a canine researcher and psychologist who studied the intelligence and behaviour of dogs. Dachshunds ranked low on the list mainly due to their stubborn nature, however, Coren said that they fall into the working or obedient intelligence category.
But, Dachshunds are thought to have a high level of innate intelligence. A further point of contention was that Dachshund owners claimed that their dogs were extremely clever and excellent communicators with people. Dachshunds are capable of communicating with their human owners, even to the point of telling them what they want!
What Intelligence Does a Dachshund Possess?
Though Coren categorized Dachshunds under the category of the working or obedient category, other types of intelligence are adaptive and instinctive intelligence. These are very important types of intelligence, however, they are more difficult to measure.
Let's take a look at the different types of intelligence that Dachshunds have.
The Hunter Intelligence
Dachshunds are known for their hunting skills and they have high instinctive intelligence which is a really special skill that they were bred with. Dogs have different instinctive intelligence depending on what they were bred for.
For instance, Dobermans have an instinctive intelligence to guard and protect, whereas Corgis have the instinctive intelligence for herding. Since Dachshunds were bred to be badger hunters, they have the instinctive intelligence to be able to track badgers down, and hunt them out from their burrows.
Adaptive Intelligence
Dachshunds also have adaptive intelligence which refers to the ability for a dog to learn by itself. Adaptive intelligence, unlike instinctive intelligence, can vary between dogs within the same breed. Dachshunds can understand a huge vocabulary and can communicate well with their owners. They have the ability to learn from different situations.
Are Mini Dachshunds Smart?
Because of their small stature, Mini Dachshunds are extremely popular with their owners. They are highly intelligent, much like Standard Dachshunds, and have excellent adaptable and perceptive abilities. Training them, on the other hand, might be challenging due to their stubbornness and intellect, which permits them to flee or evade training.
How Do You Know If Your Dachshund is Smart?
There are different ways to check if your dog is smart or not. Here are some simple ways:
- They are able to recall your orders with ease.
- They enjoy getting away (which shows that they are more intelligent than they appear).
- Your Dachshund is adept at deciphering puzzles.
- It is possible for them to comprehend when you are angry.
- They have the ability to immediately capture your attention.
- Your dog is aware of when you are leaving.
- They are capable of learning new skills.
How You Can Make Your Dachshund Smarter
The offspring of mating two Dapple Dachshunds together are known as Double Dapple Dachshunds. That's quite an alliteration, isn't it?
Dachshunds have adaptive intelligence, which means you may continue to train them in order to make them wiser. Listed below are several simple methods for accomplishing this.
- Allow your Dachshund to mingle with other dogs from an early age. The exposure to a variety of environments and events will aid in the development of their cognitive abilities and intellect.
- Provide them with plenty of positive reinforcement and treats to keep them motivated.
- Start teaching your Dachshund from the time they are a puppy, and you will see an improvement in their brain power as well as an increase in their ability to adjust to training.
- Teach your pet new tricks and commands as regularly as possible to keep him or her entertained. This will make it easier for them to pick up new skills.
- Expose your Dachshund on a regular basis to entertaining puzzles and hurdles.
Dachshunds love to bond with their owners and look forward to solving puzzles each day. They are attention seekers so prepare yourself to spend plenty of time with your pet. The more time you dedicate to them, the more they will learn and you will notice how smart they really are!