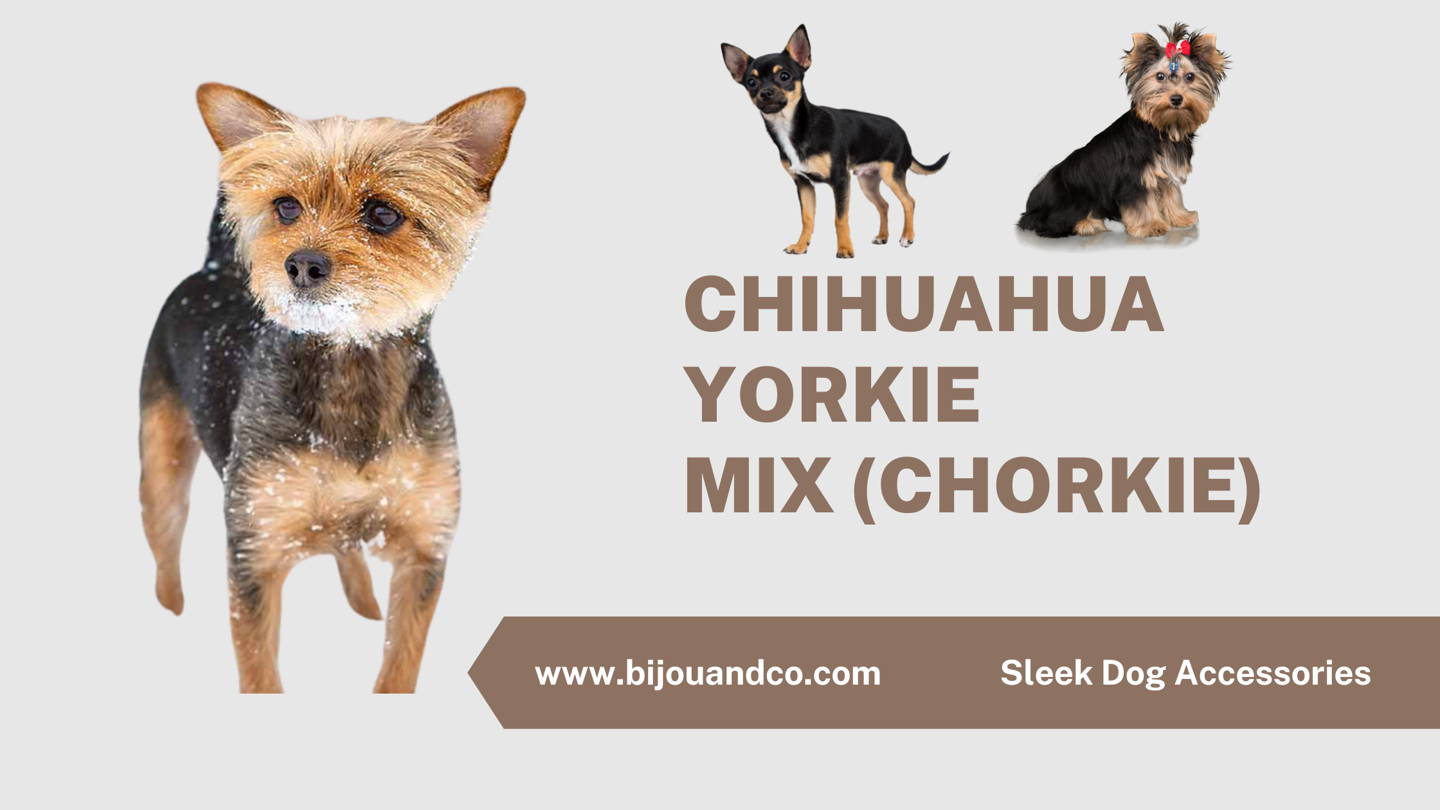 The Chorkie is a crossbreed between the Chihuahua and the Yorkshire Terrier. Though they are small in size, Chihuahua Yorkshire Terrier Mixes are big on personality. They are alert and active, and they enjoy being around people.
Yorkies Chihuahua Mixes are also relatively easy to train. However, they can be rather vocal and may bark excessively if not properly trained. As with any small breed of dog, Chorkies are prone to certain health problems, such as patellar luxation and tracheal collapse.
Yorkie Chihuahua Mix (Chorkie Dog) quick facts:
Name: Yorkie Chihuahua Mix


Nicknames: Chorkie, Yorkiechi, Chiyorkie, Yorkie-chi, Yorkchi, York-chi, Chiorkie, and York Chi.

Dog breed group: Mixed breed

Colors: brown, white, silver, blue, and black.

Suitable for: adults or families with older kids

Temperament: like being the only pet of the house, experience separation anxiety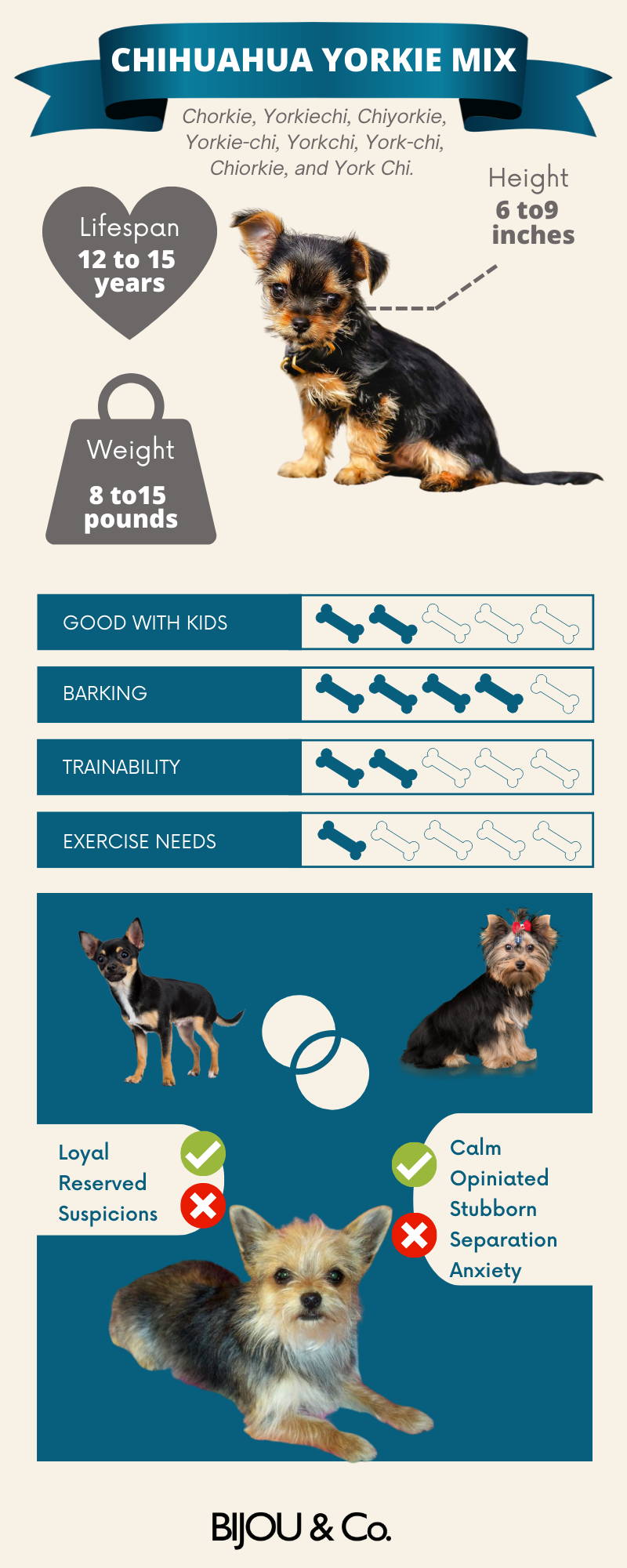 The origins of the Yorkie Chihuahua Mix
The Chihuahua Yorkie Mix, also known as the Chorkie Dog, is a hybrid dog breed that is created by breeding a Chihuahua and a Yorkie.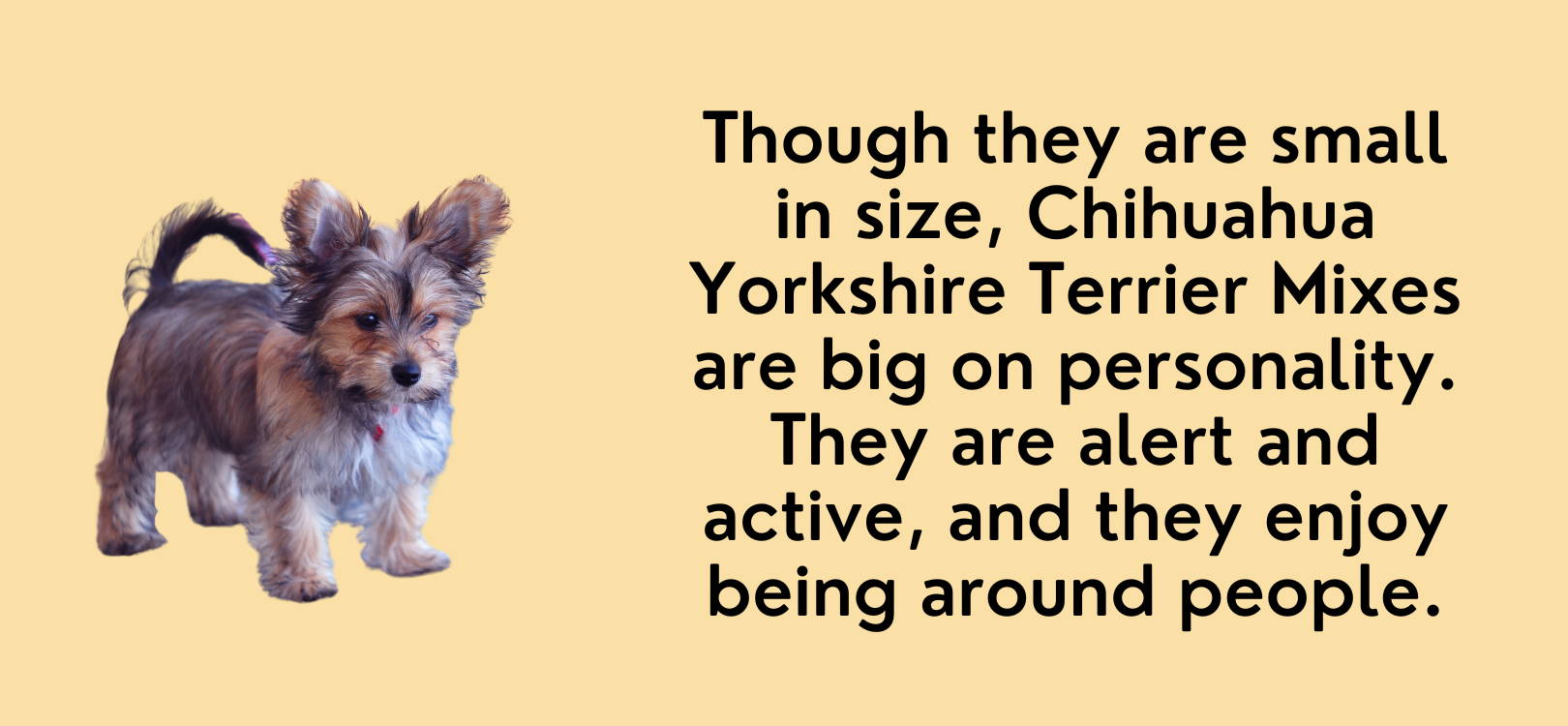 The Chihuahua is a popular breed of dog, known for its small size and big personality. But where did this breed come from? While the exact origins of the Chihuahua are still unknown, there are several theories about its history. One theory suggests that the Chihuahua is a descendant of the Techichi, a small dog that was once native to Mexico.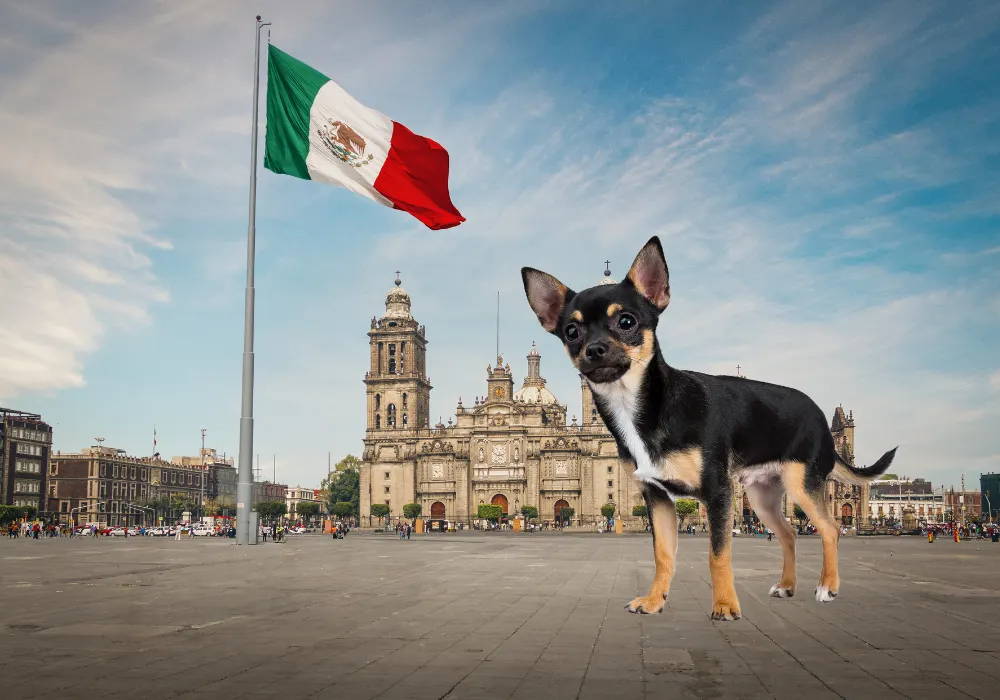 The Yorkshire Terrier is a popular small dog originally from Yorkshire in England. The breed is believed to have been developed from a cross between the Welsh and Scottish terriers, with the addition of some Chihuahua blood. The resulting mix was a small, spirited dog with a long, silky coat that was particularly well-suited to ratting.
Yorkshire Terriers were brought to America in the 1870s, where they quickly became popular as pets and show dogs. Today, they are one of the most popular breeds in the United States.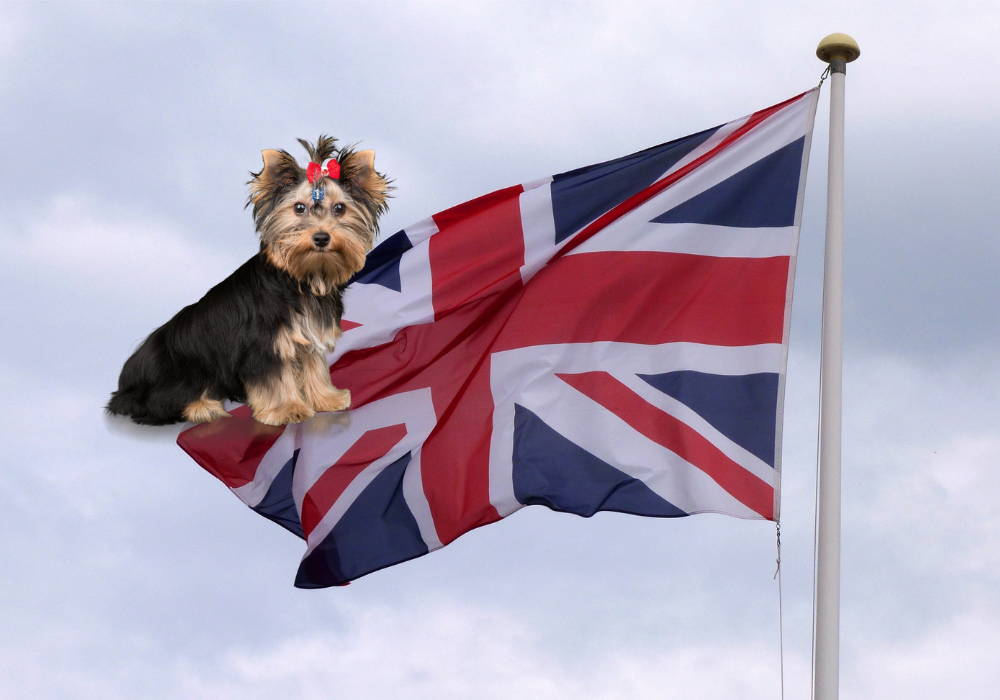 The Chorkie (Yorkie Chihuahua Mix)
The Chorkie is a hybrid dog breed that is created by mixing a Chihuahua and a Yorkie. This crossbreed first became popular in the United States in the late 1990s. While this breed is not recognized by the American Kennel Club (AKC), it is becoming increasingly popular among dog lovers.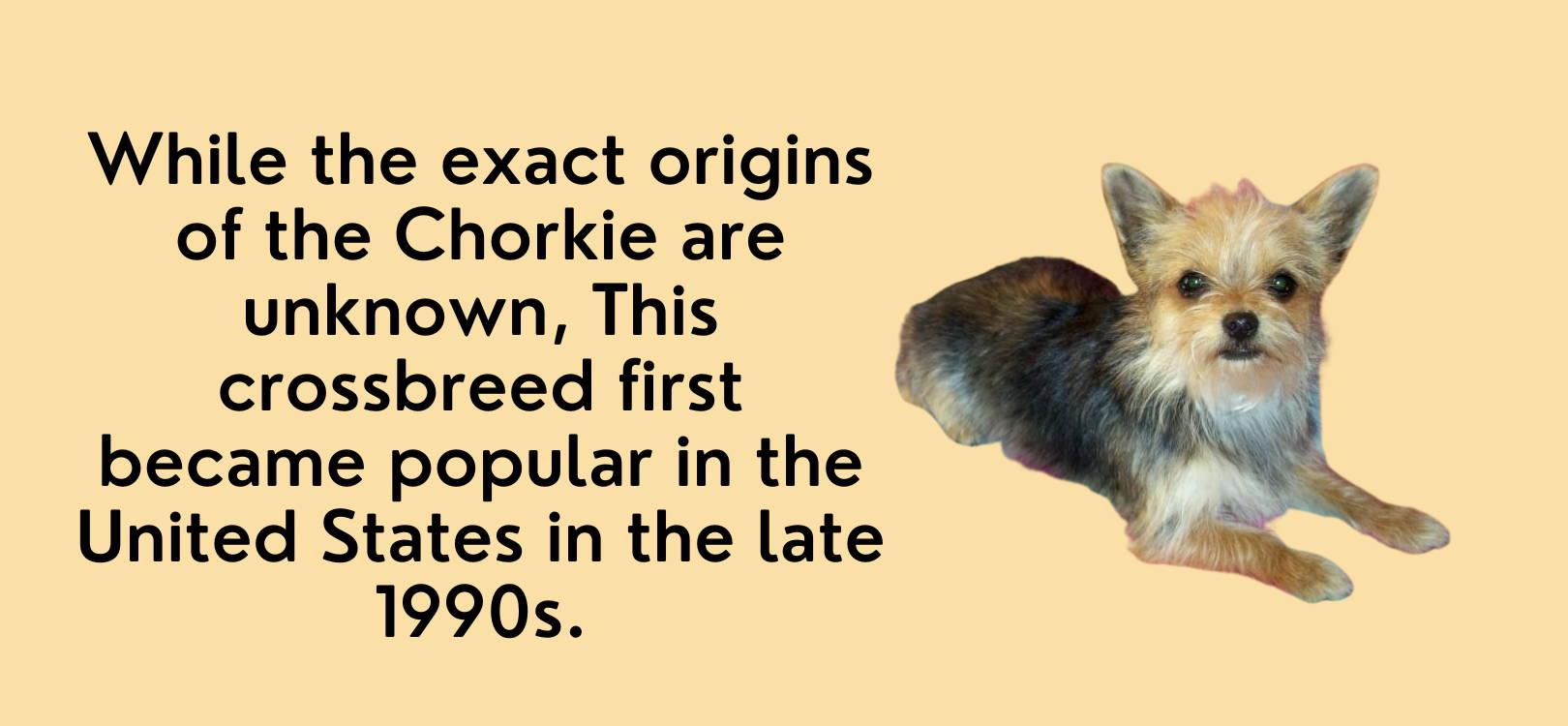 What Does a Yorkie Chihuahua Mix look like?
The Yorkie Chihuahua mix, also known as the Chorkie dog, is a small and sprightly dog that combines the best of both worlds. As a cross between a Yorkshire Terrier and a Chihuahua, the Chorkie inherits many of the same characteristics from both breeds.
Chorkies are typically small in stature, with an average height of around 9-10 inches.
Chihuahua Yorkies' coat is usually silky and smooth and can be either long or short depending on the individual dog.
The most common coat colors are black, brown, and white, but Chorkies can also come in more unusual color combinations such as blue and tan or red and white.
Like their Yorkshire Terrier ancestors, Chorkie dogs are very energetic and lively dogs that enjoy plenty of playtime. They are also intelligent and quick to learn new tricks, making them great pets for families with older children. If you're looking for a fun-loving and social companion, then the Yorkie Chihuahua Mix may be the perfect breed for you!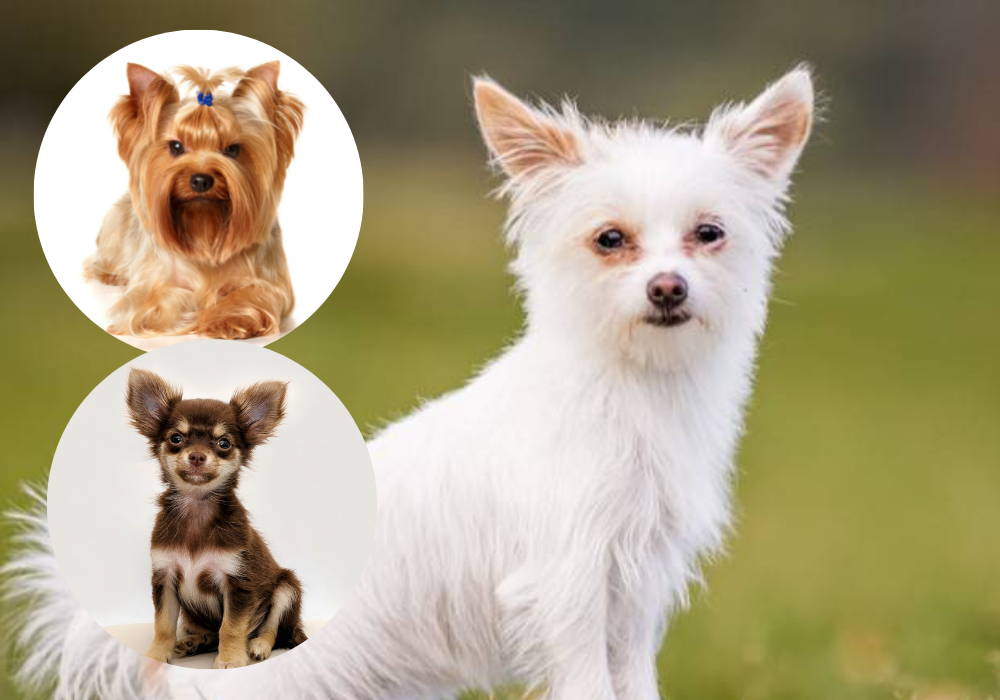 What is the temperament of a Chihuahua Yorkie Mix dog?
Chorkie dogs tend to be less energetic than purebred Chihuahuas and Yorkshire terriers. They are also less likely to bark excessively or become aggressive.
As a result, Chorkie dogs make good companion animals for people who want a small, quiet dog. However, Chihuahua Yorkies Mixes can be difficult to potty train and may not do well in homes with young children.
Yorkie Chihuahua Mixes can be very loyal and affectionate dogs, but they can also be quite stubborn and independent.
They are intelligent dogs who are quick to learn new tricks, but they can also be manipulative and persuasive when they want something.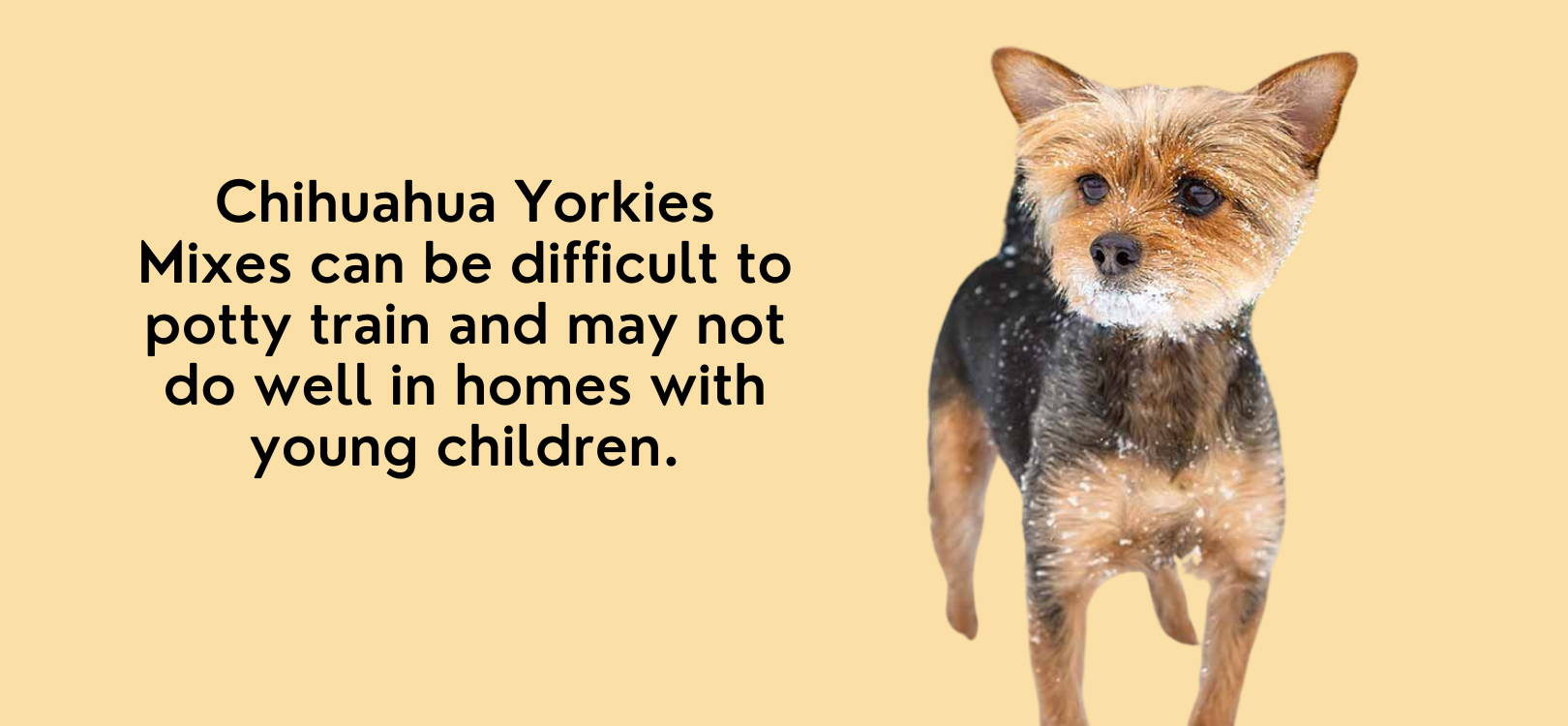 Do Chorkie dogs Get Along with Other Pets?
Chihuahua Yorkie Mixes are usually good-natured and playful, and they typically get along well with other pets. However, like all dogs, Chorkie dogs can sometimes be territorial and may bark or nip at other animals if they feel threatened. It's important to socialize Yorkie Chihuahua Mixes from a young age so that they learn to interact calmly and respectfully with other animals.
While they can make great companions for other dogs, it's important to introduce Chorkie dogs slowly and carefully. Chihuahua Yorkshire Mixes that are not properly socialized may be shy or fearful around other dogs, which could lead to aggression or bullying.
To prevent this, start by exposing your Chorkie dog to other dogs in short bursts. Let them sniff and explore each other while on leash, gradually increasing the amount of time they spend together. With patience and positive reinforcement, you can help your Chihuahua Yorkie Mix develop into a confident and well-rounded canine companion.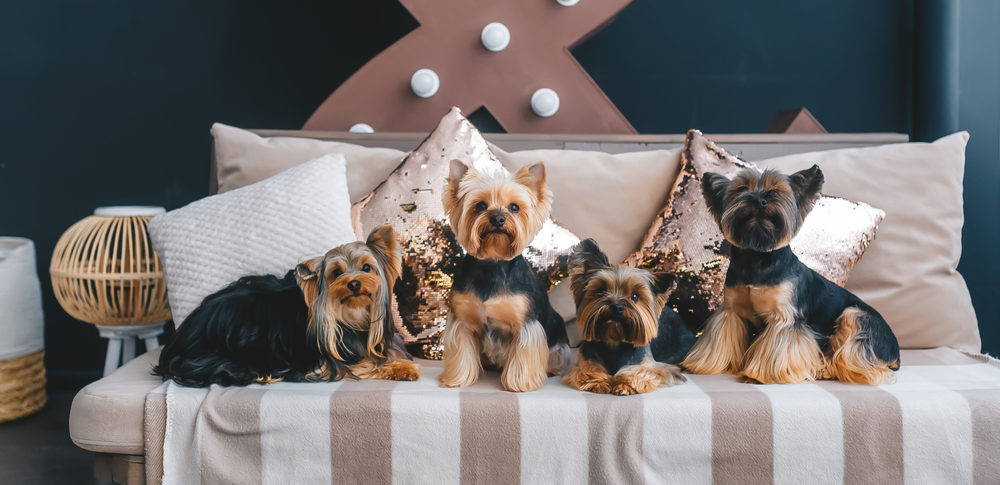 Do Yorkie Chihuahua Mixes Shed?
One of the questions potential dog owners often ask is whether Chorkie dogs shed. Unfortunately, there is no simple answer to this question. While Chihuahua Yorshire Mixes may not shed as much as some other breeds, they are not considered to be non-shedding dogs. This means that you will likely find some hair around your home, especially during shedding season. However, there are a few things you can do to minimize shedding.
Regular brushing of your Chorkie dog will help to remove loose hair before it has a chance to fall out on its own. In addition, using a quality shampoo and conditioner can help to reduce shedding and keep your Chorkie's coat healthy and strong.
Chihuahuas are not hypoallergenic dogs. Yorkies are not hypoallergenic dogs. Therefore, Yorkie Chihuahuas Mixes are not hypoallergenic dogs.
This is because they inherit the non-hypoallergenic genes from both their Chihuahua and Yorkie parents. As a result, Chorkie dogs often cause allergic reactions in people who are sensitive to pet dander. If you have allergies and are considering getting a Yorkshire Chihuahua Mixes, it is important to consult with an allergy specialist first to determine if this breed is right for you.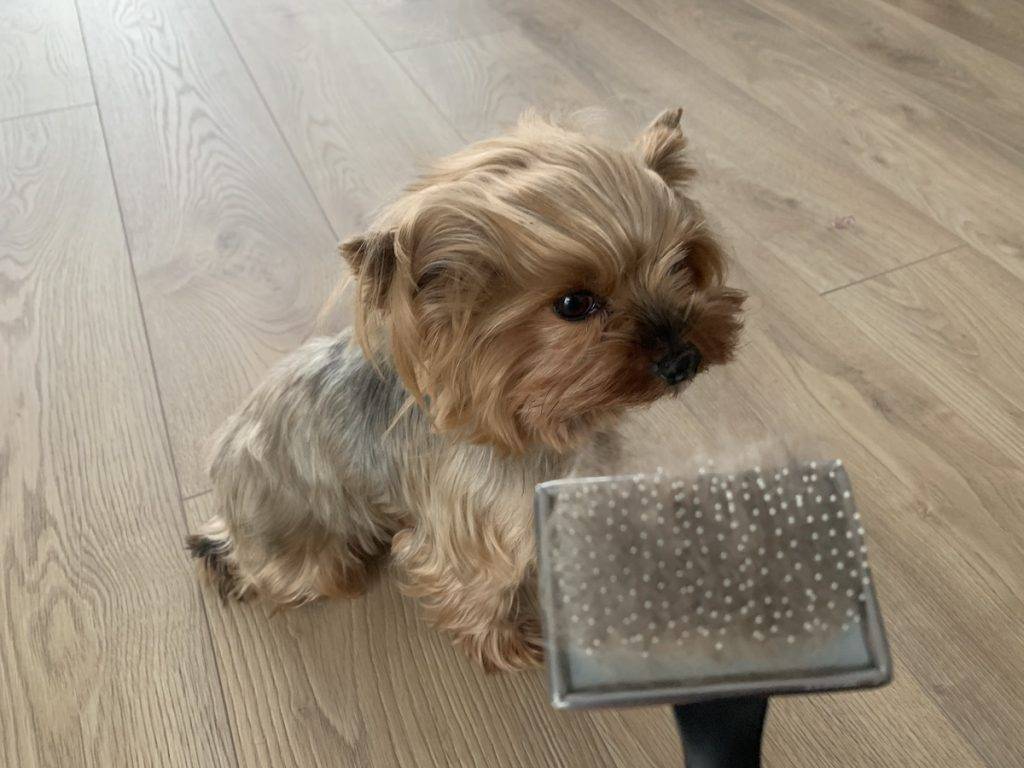 Male Chorkies versus Female Chorkies
Though they share many similarities with their parent breeds, there are some key differences between male and female Chihuahua Yorkie Mixes. For one, male Chorkies tend to be larger than females, with an average height of 9-10 inches compared to 8-9 inches.
Male Chorkies also tend to have a more rugged appearance, with a thicker coat and longer snout. In terms of temperament, male Chorkie dogs are often more independent and assertive than their female counterparts. They are also more likely to mark their territory with urine and to be aggressive towards other dogs.
Finally, males Chihuahua Yorkie Mixes have a higher energy level than females and require more exercise. If you're considering adding a Chorkie dog to your family, it's important to be aware of these differences so you can choose the gender that best fits your lifestyle.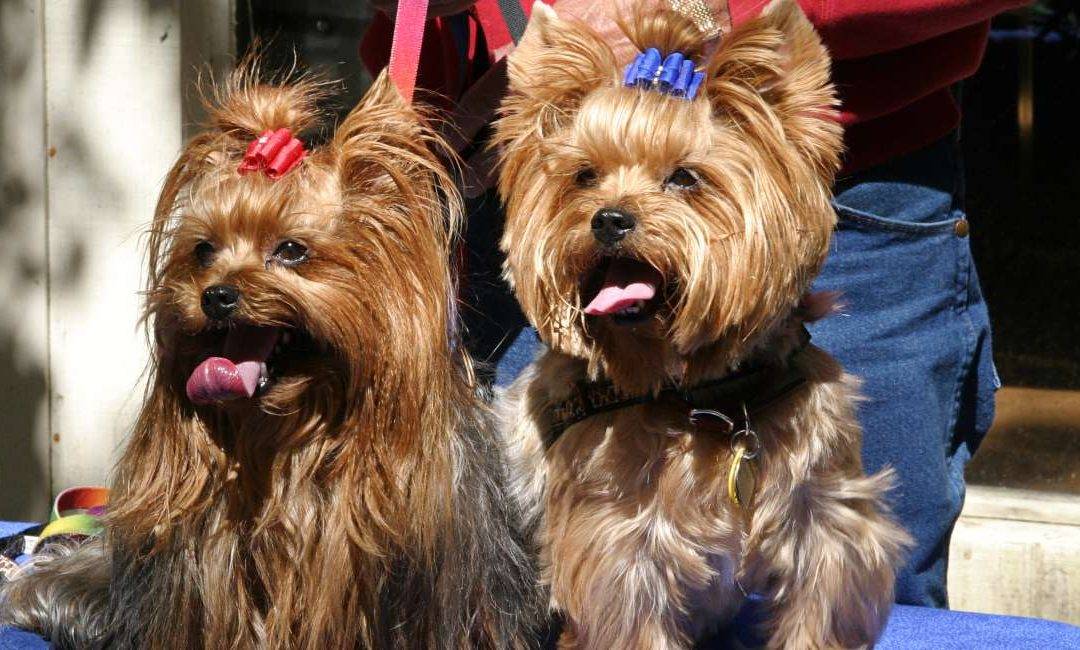 Health concerns for a Yorkie Chihuahua Mix
Though they are typically healthy, there are some health concerns that owners of Chihuahua Yorkie Mixes should be aware of. One potential issue is patellar luxation, which occurs when the kneecap slips out of place. This can be painful for the Chorkie dog and may require surgery to correct.
Another concern for Chorkies is tracheal collapse, which is common in small breeds like the Chihuahua. This condition occurs when the cartilage surrounding the trachea weakens, causing the airway to collapse. While tracheal collapse can usually be managed with medication, in severe cases it may require surgery.
Overall, Yorkie Chihuahua Mixes are generally healthy dogs, but potential owners should be aware of these potential health concerns.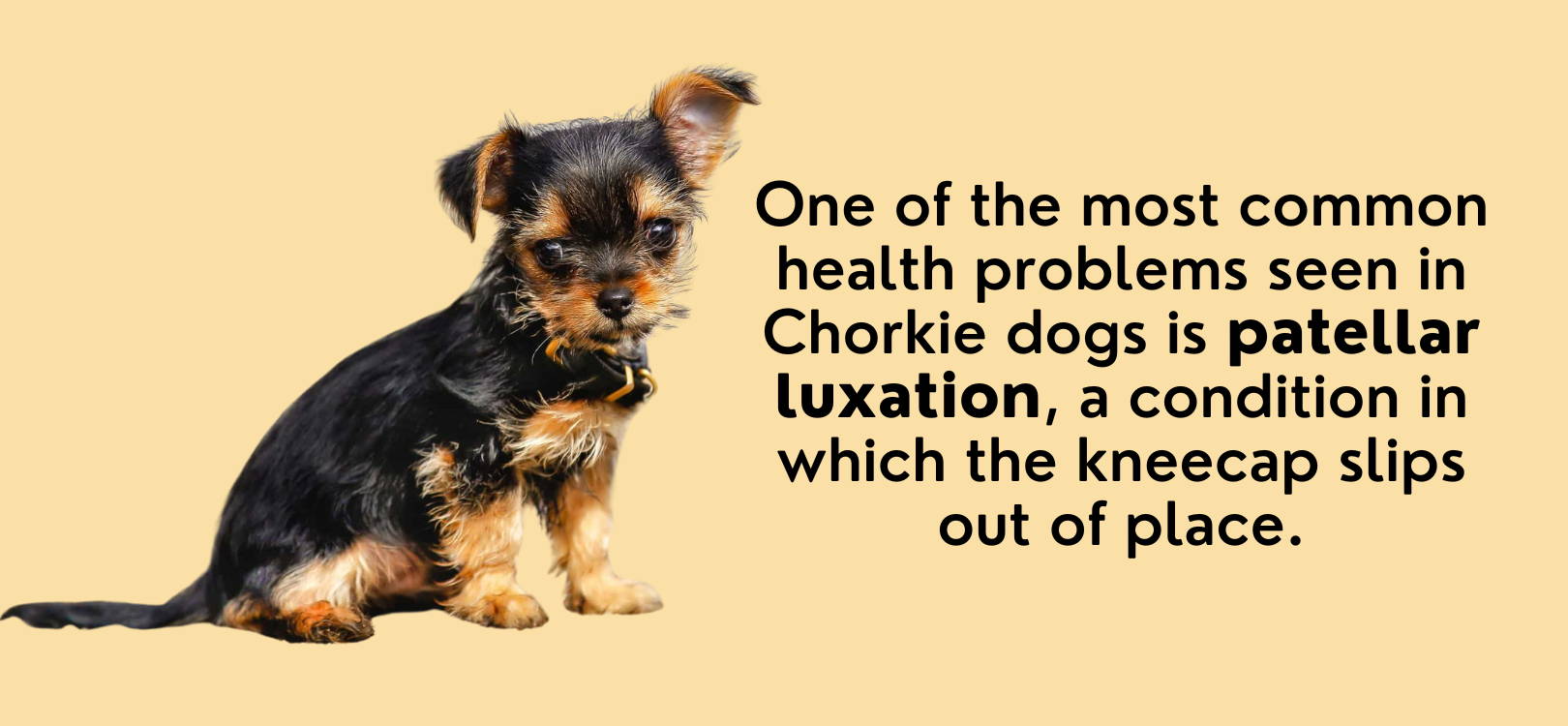 How to care for a Chihuahua Yorkie Mix?
When it comes to Yorkie Chihuahua Mixes, or "Chorkies," there are a few things you need to keep in mind in terms of care.
First, these pups require regular grooming, especially since they tend to have long, silky hair. You'll need to brush them regularly and perhaps even take them to a professional groomer on occasion.
Secondly, Chorkies need plenty of exercise - they're high-energy dogs that love to play. Be sure to give them plenty of time to run around and burn off energy every day.
Third, training is important for all dogs, but it's especially important for Chorkies as they can be quite willful. Be patient and consistent with your training, and you'll hopefully end up with a well-behaved pup.
Lastly, don't forget about feeding! Chorkie dog are prone to overeating, so it's important to measure out their food and give them only as much as they need. With a little bit of care, your Chorkie will be happy and healthy!
Chorkie dogs are relatively low-maintenance when it comes to grooming, but their coat does require some special care. Here are a few tips for keeping your Chorkie's coat healthy and looking its best:
- Brush your Chihuahua Yorkie Mix's coat regularly with a soft-bristled brush. This will help to remove any dirt or debris that may be trapped in the fur.
- Give your Chorkie a bath every few weeks using a mild shampoo. Be sure to rinse the coat thoroughly to remove all traces of soap.
- Take your Chorkie dog to see a groomer every few months for a professional trimming. This will help to keep the coat looking neat and tidy.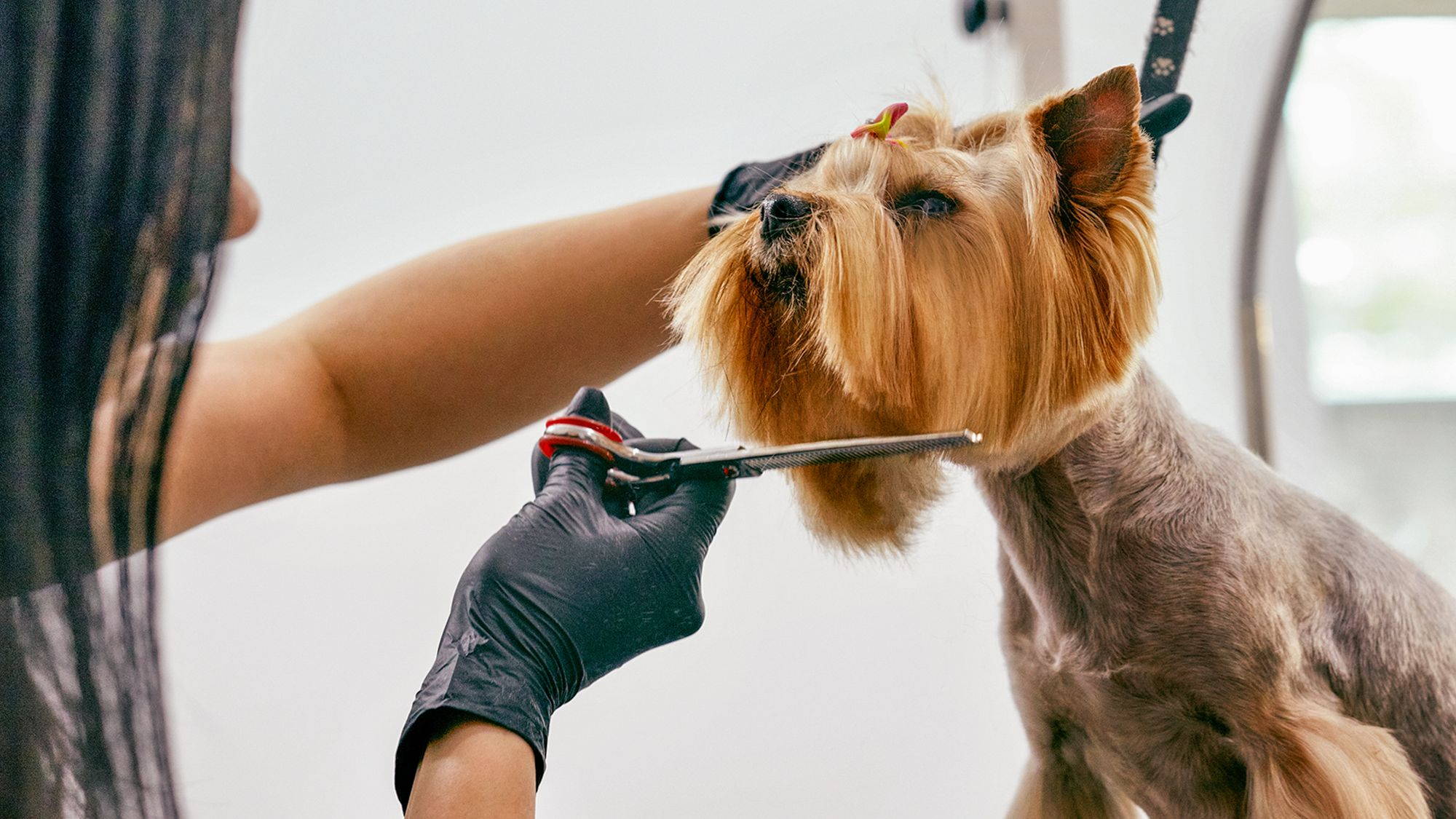 One important part of grooming for a Chihuahua Yorkie Mix is cleaning the ears. Here's how to do it:
- First, gather the supplies you'll need: a dog-safe ear cleaner, cotton balls, and a soft towel.
- Next, lift your Chorkie's earflap and squirt a small amount of ear cleaner into the ear canal. Gently massage the base of the ear for 30 seconds to loosen any dirt or debris.
- Then, use the cotton ball to wipe away the cleaner and any debris. - Finally, dry your Yorkie Chihuahua Mix's ear with a soft towel. Repeat this process weekly or as needed to keep your Chorkie's ears clean and healthy.
Like all dogs, Chorkies dogs need to have their teeth brushed regularly to prevent tartar buildup and gum disease.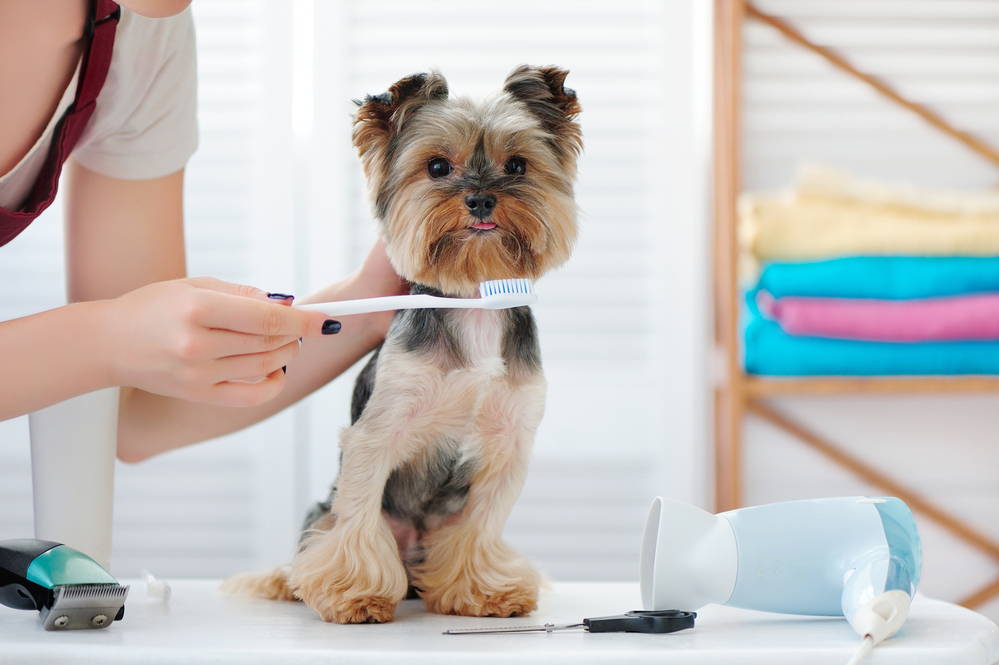 Chihuahua Yorkshire dogs usually have fast-growing nails that will need to be trimmed on a regular basis.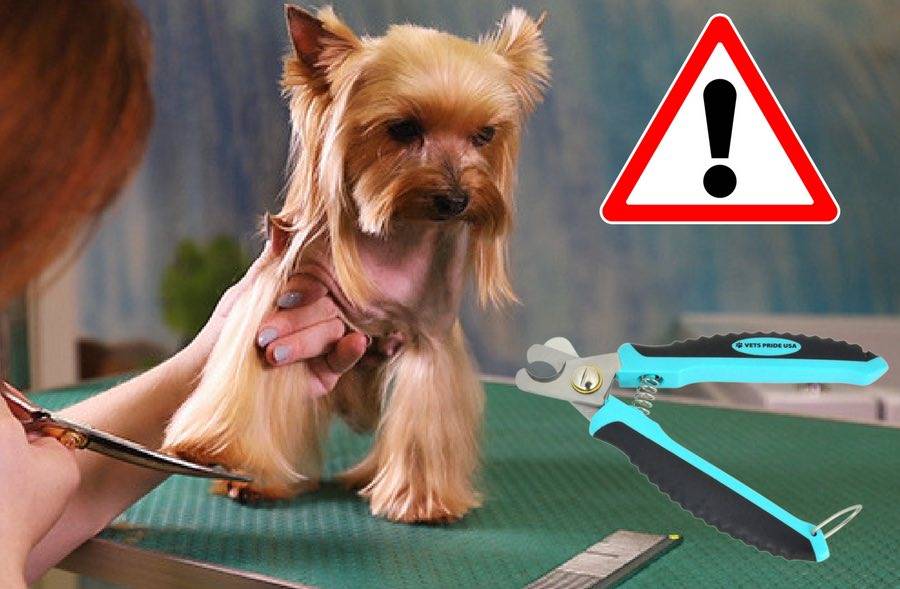 Chorkie dogs are generally intelligent and eager to please, making them relatively easy to train. However, they can also be stubborn and headstrong, so it's important to use positive reinforcement methods when training your Chihuahua Yorkie Mix. Here are some tips to help you get started:
- Start with basic obedience commands such as sit, stay, come, and down. Be consistent with your commands and use positive reinforcement - praise or treats - when your Chorkie obeys.
- Crate training can be helpful in teaching your Yorkie Chihuahua Mix to both stay in one place and not to bark excessively. Start by crate training for short periods of time and gradually increase the amount of time your Chorkie dog spends in the crate.
- Exercise is important for all dogs, but especially for high-energy breeds like Chorkies. A tired dog is a good dog, so make sure to provide plenty of opportunities for your Chihuahua Yorkshire Mix to run, play, and burn off energy.
With patience and consistency, you can successfully train your Chihuahua Yorkie Mix to be a well-behaved companion.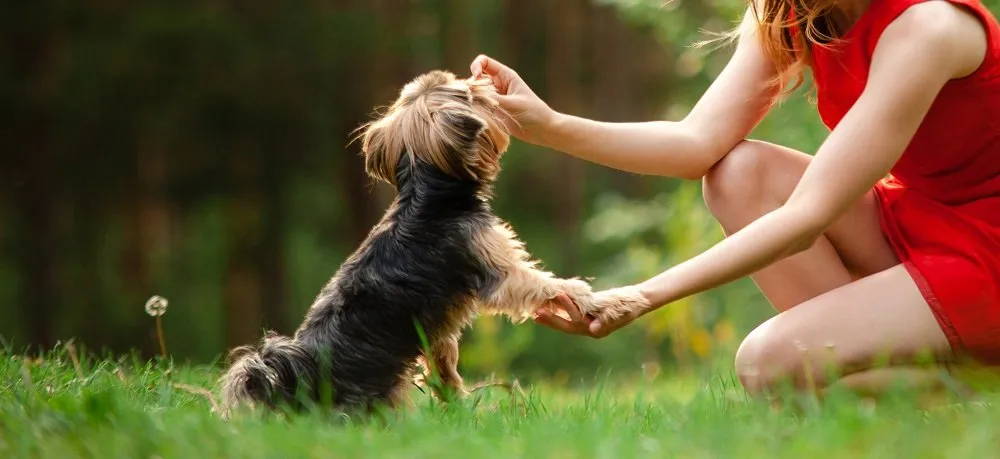 In general, Chihuahua Yorkie Mixes should consume between 20 and 30 calories per pound of body weight each day. To ensure that your Chorkie dog gets all of the nutrients he needs, feed him a high-quality dog food that is specifically designed for small breeds. You can also supplement his diet with occasional treats, but be sure to avoid feeding him table scraps, as this can lead to obesity and other health problems. With proper nutrition and care, your Chorkie dog will enjoy a long, happy life.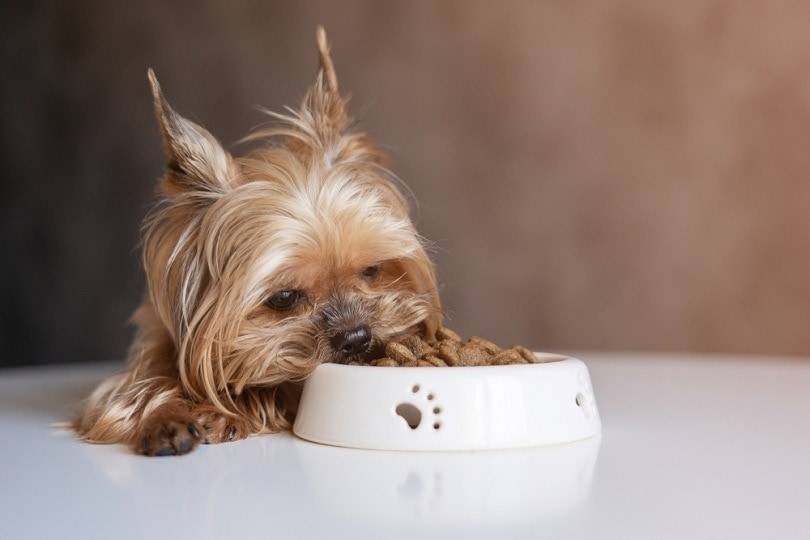 Chorkie dogs need some exercise to stay healthy and happy. Here are some tips on how to exercise your Chihuahua Yorkie Mix:
- Take your Chorkie for a walk or run every day. This will help to keep their muscles and bones strong, and it will also give them a chance to socialize with other dogs and people.
- Make sure to visit the dog park or doggy daycare regularly. Yorkie Chihuahua Mixes love to play, and they'll burn off a lot of energy running around with their friends.
- Play fetch or catch with your Chorkie dog in the backyard. This is a great way to wear them out without having to go too far from home.
By getting plenty of exercise, your Chorkie will stay healthy and happy for years to come.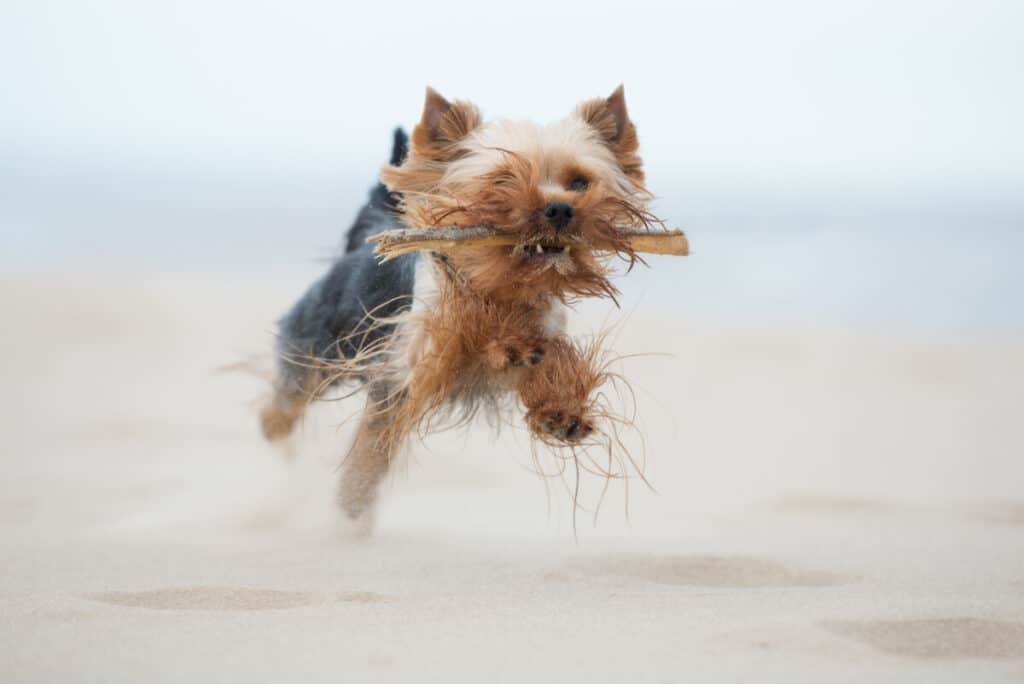 The Chorkie is the right dog for you if:
You want an affectionate lap dog

You live in an apartment or small house

Your don't have another dog
The Chorkie is NOT the right dog for you if:
You have young children or toddlers

You don't want a dog that barks

You don't have time or patience to train a dog
Is the Chorkie dog right for you?
Chorkies are perfect for apartment living
The Chihuahua Yorkie Mix is a popular choice for couples with a low activity level. Chorkies are small and compact, making them perfect for apartments or other small spaces. They are also low-maintenance, requiring only a few minutes of exercise each day. In addition, Chorkie dogs are affectionate and loving, and they bond closely with their owners. As a result, they make excellent companion dogs. If you are looking for a small dog with a big personality, then the Yorkie Chihuahua Mix is the perfect breed for you.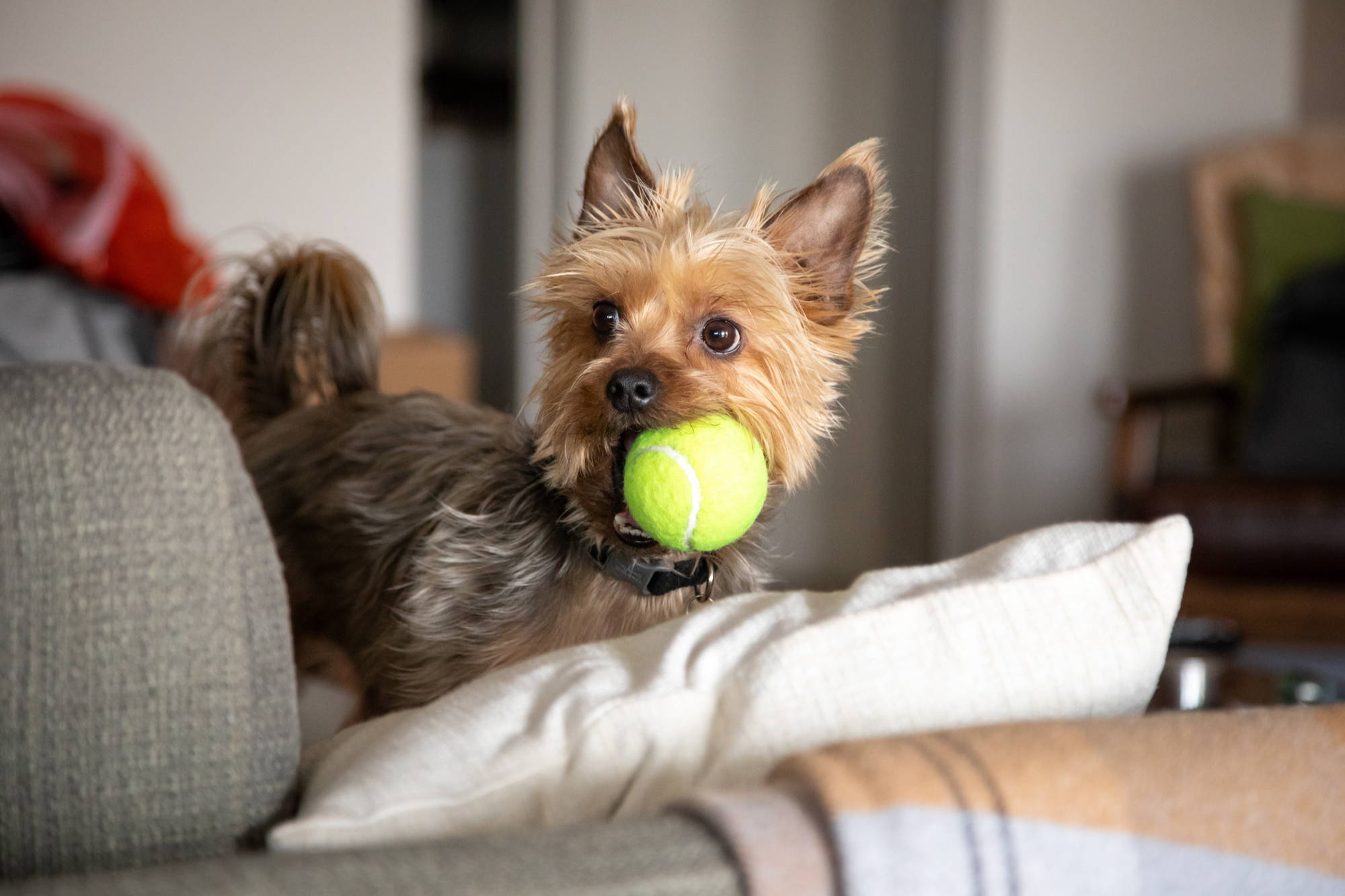 Chorkies are not great with young children
For families with young children or toddlers, a small dog like a Chihuahua Yorkie mix may not be the best choice. Chorkies can be easily injured by rough handling, and their high energy levels can make them difficult to control. In addition, Chorkie dogs are often wary of strangers, which can make them aggressive towards new family members or visitors. If you're looking for a small dog that would be a better fit for a family with young children or toddlers, consider breeds such as the Cavalier King Charles spaniel or the Pug.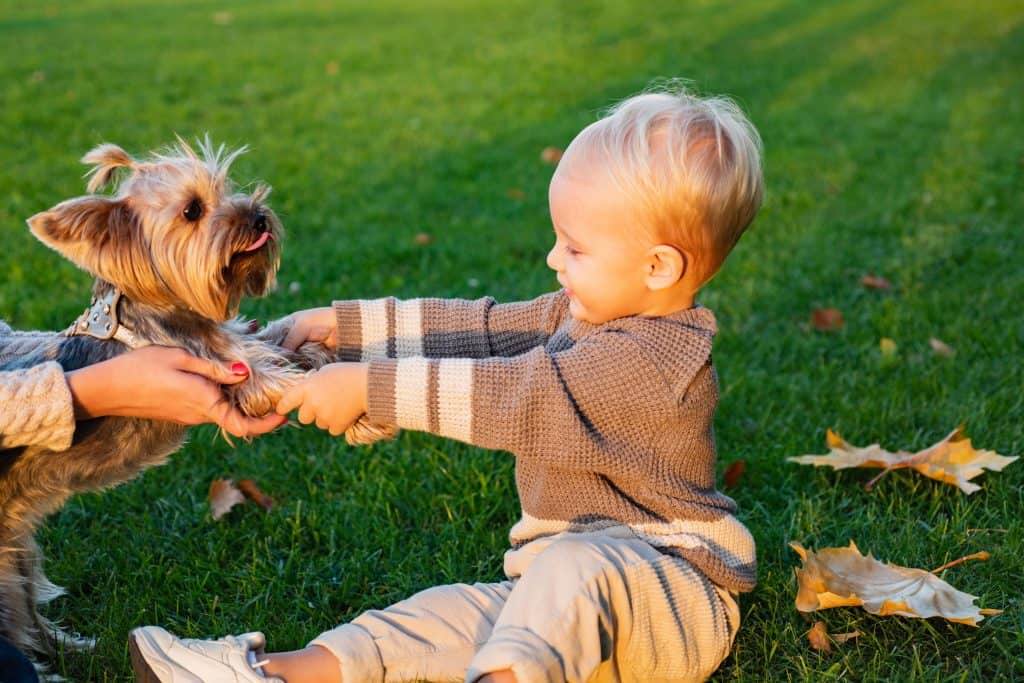 Chihuahua Yorkie Mix FAQs
What is a Chihuahua Yorkie Mix called?
A Chihuahua Yorkie Mix is typically called a Chorkie, but he can also be called a Yorkiechi, a Chiyorkie, a Yorkie-chi, a Yorkchi, a York-chi, a Chiorkie, and a York Chi.
What does a Chihuahua Yorkie Mix look like?
Chorkies usually have the Yorkie's small size and erect ears, but they can also have the longer snout of the Chihuahua. They often have a smooth, short coat that is black and brown or black and tan in color.
How long do Chihuahua Yorkie Mixes live?
The average lifespan of a Chihuahua Yorkie Mix is 10-15 years.