Why do Chihuahuas Shake? (and When to Worry About It)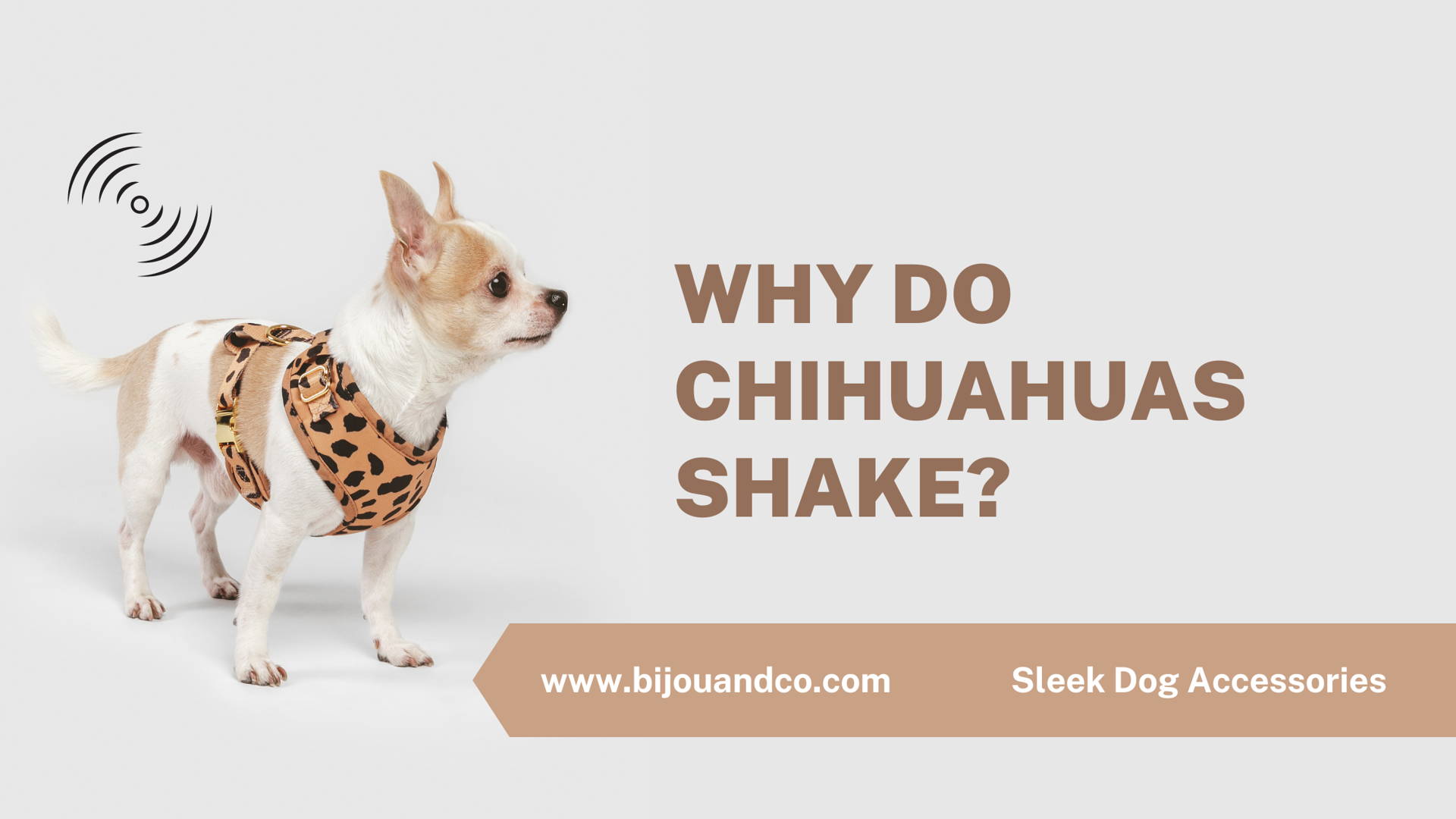 Many people do find themselves wondering "why do Chihuahuas dogs shake all the time?" which often leads to the belief that they are just nervous, though that's not necessarily true.
Many Chihuahua owners find themselves worrying about their fur baby's well-being when they begin to shake seemingly uncontrollably for no apparent reason. We're going to explore the myths and facts surrounding this question to help you better understand the potential cause of shaking in Chihuahuas.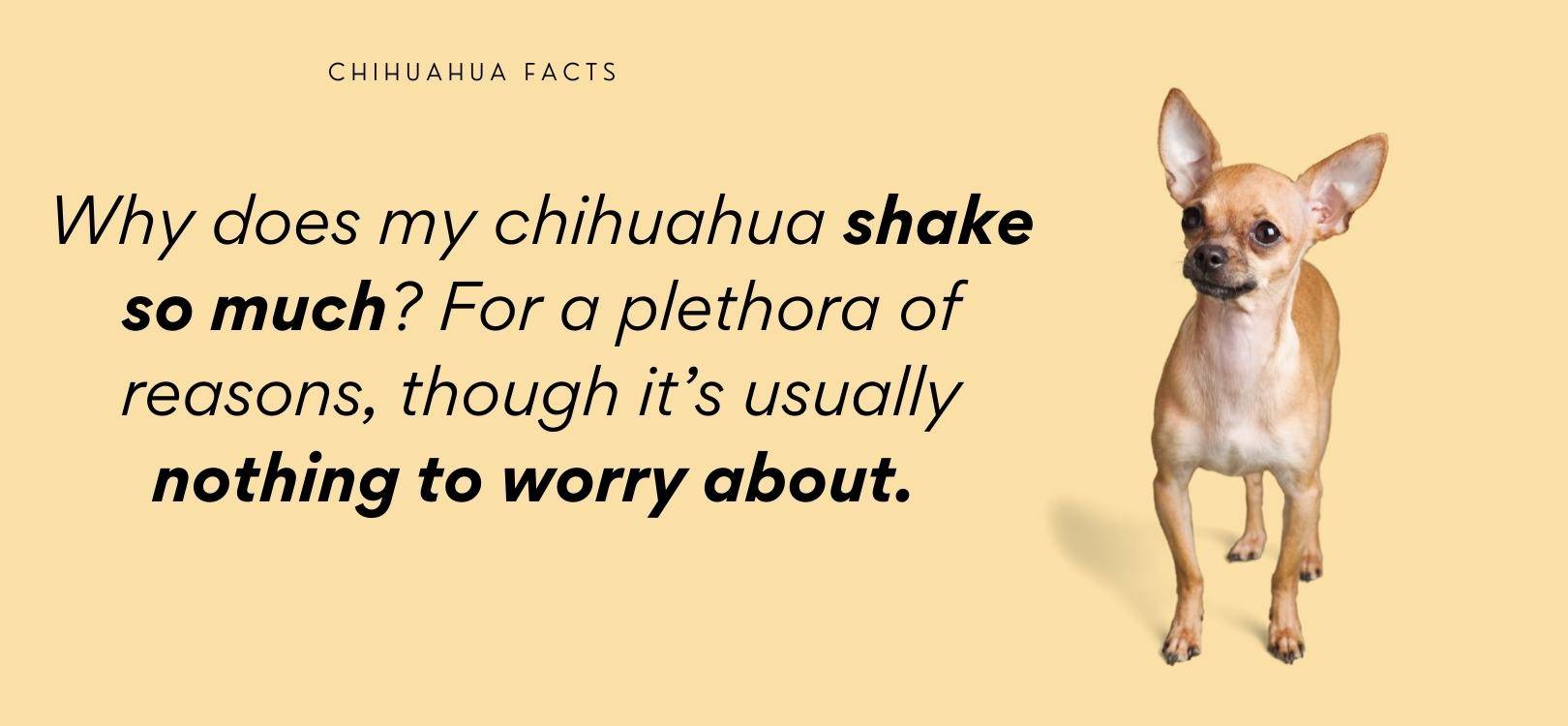 Why Is My Chihuahua Shaking?
Many of you wonder: "why does my chihuahua shake"? Chihuahuas are naturally sociable, but optimistically cautious creatures anyway because their tiny bodies make them easy targets for predators.
Therefore, a lot of people mistake a Chihuahua shaking with nerves, but that is often not the case, especially in safe, secure environments. But WHY do Chihuahuas shake so much? Here are some of the main reasons your Chihuahua might be shaking:
- Your Chihuahua has excess energy
- Your Chihuahua has a naturally high metabolism

- Your Chihuahua is cold

- Your Chihuahua is excited

- Your Chihuahua is stressed

- Chihuahua's Previous experiences

- Your Chihuahua suffers from an injury or medical condition

It is important to know the different reasons why you might see a Chihuahua tremble. Mostly, it is part of their natural behavior. However, occasionally, it may be due to an underlying medical condition or even an injury. Below we go into a little bit more detail as to how each of the above reasons may cause a Chihuahua to shake.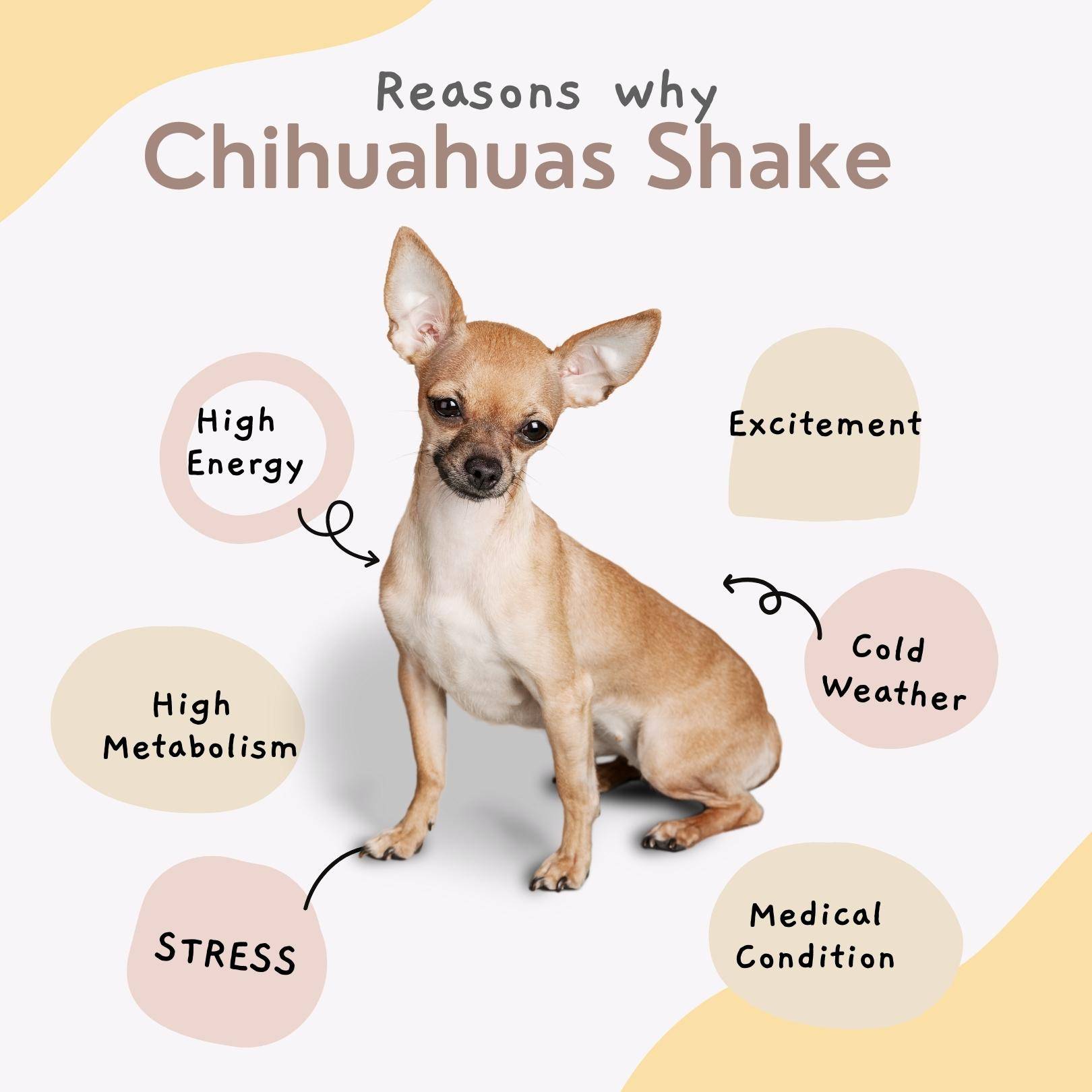 Other Causes to Chihuahua Tremors
Chihuahuas might shake for several reasons.
They struggle with temperature regulation
A high rate of metabolism makes it more difficult for a Chihuahua to regulate its body temperature, as well as causing excessive amounts of energy to be created that will then need to be burned off (much like humans drinking too much coffee).
Even though your Chihuahua might be well fed and well looked after, they may still feel that it is cold even though you may not think that it is. Keep in mind that many Chihuahuas have short coats, meaning they're not as well insulated as some other breeds.
Shivering is a natural mechanism to help warm an animal's body when it is feeling cold. So your Chihuahua's shivers are just another physiological adaptation to counteract one of the side effects of a fast metabolism.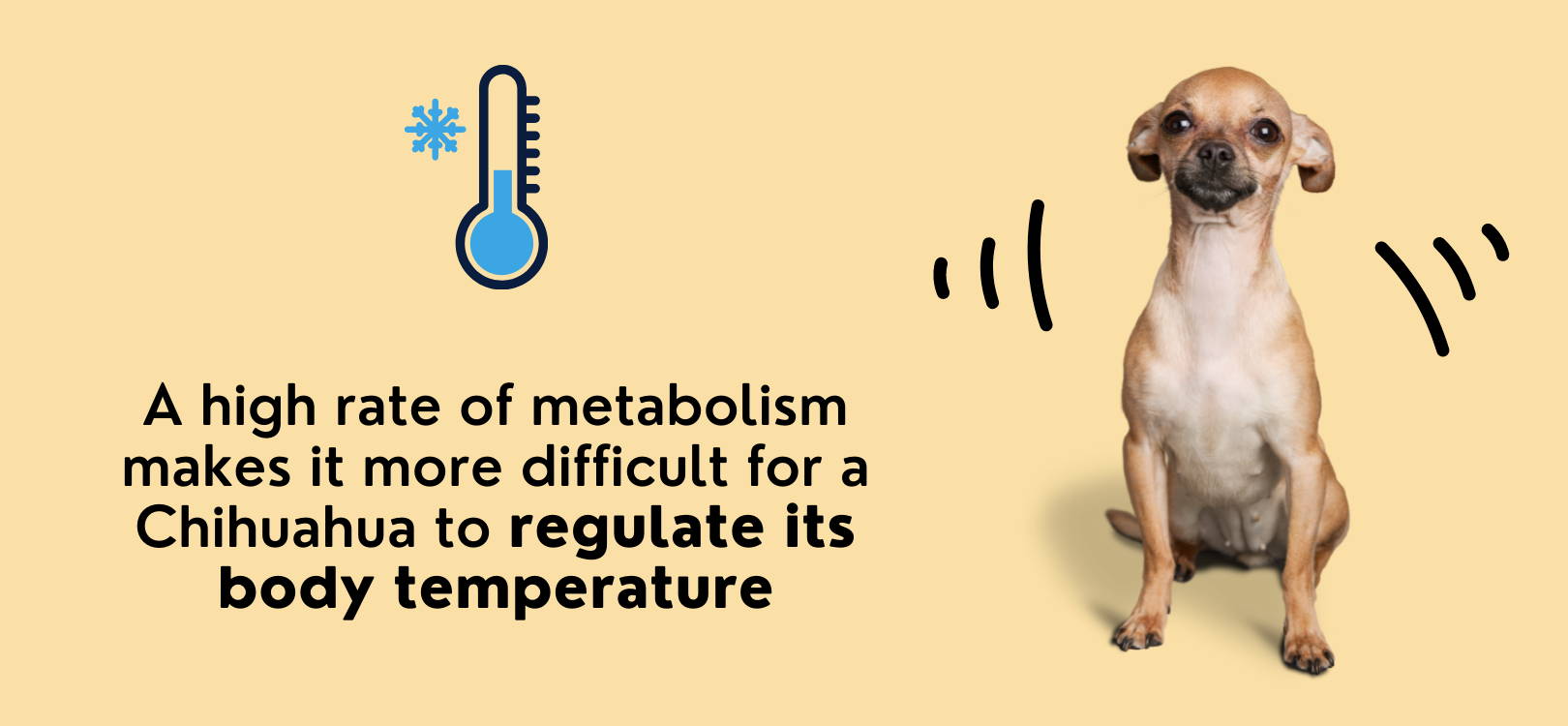 As we mentioned previously, a high metabolism can cause a lot of energy to accumulate with nowhere to go unless you keep your Chihuahua well exercised. If they do begin to accumulate too much energy, it can manifest as the entire body shaking as well as hyperactive behavior (or "zoomies").
Giving your Chihuahua an opportunity to burn off excess energy by running about and playing will most likely stop the shivering.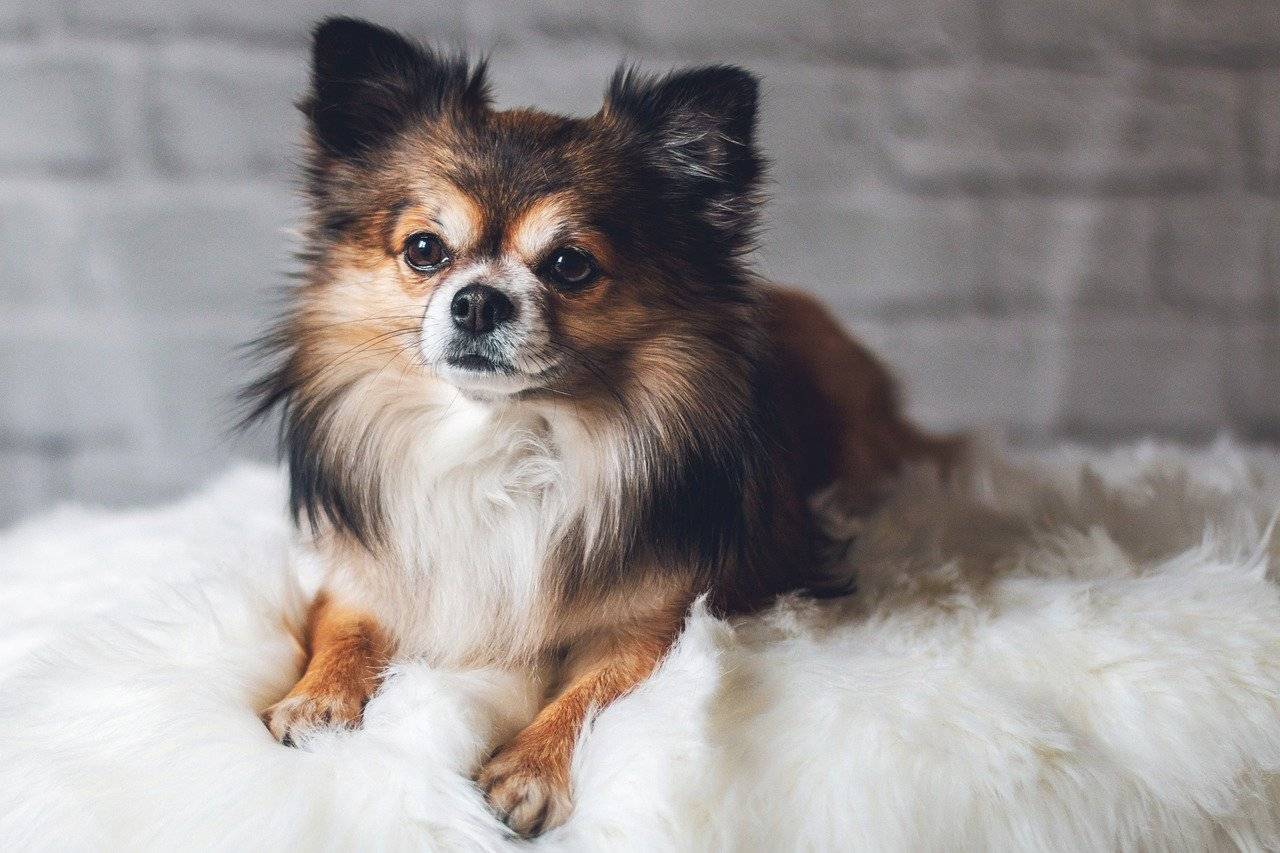 They are sensitive to cold
Chihuahuas can be short or long-haired. But regardless of the length of their coat, Chihuahuas can also be significantly more susceptible to feeling the effects of cold weather in general.
It stands to reason, really, doesn't it? Chihuahuas were bred in the hot climates of Mexico, so if you live in a far-flung country where it is cold and frosty, then it is quite understandable that your Chihuahua might feel chilly. For Chihuahuas, an outside temperature lower than 40 degrees Fahrenheit can feel uncomfortably cold and is likely to make them shiver.
This means any Chihuahua owner should purchase a good-quality coat to help them maintain a comfortable body temperature. Once your chihuahua is kitted out with some warm clothes it will quite happily run around in the snow with you, chasing snowballs and jumping all over you as you roll about making snow angels.
Like all dogs, Chihuahuas will soon forget the discomfort of their surroundings if they're being stimulated and played with. Especially because running around and playing is a proven way to raise the core body temperature and keep your Chihuahua warmer.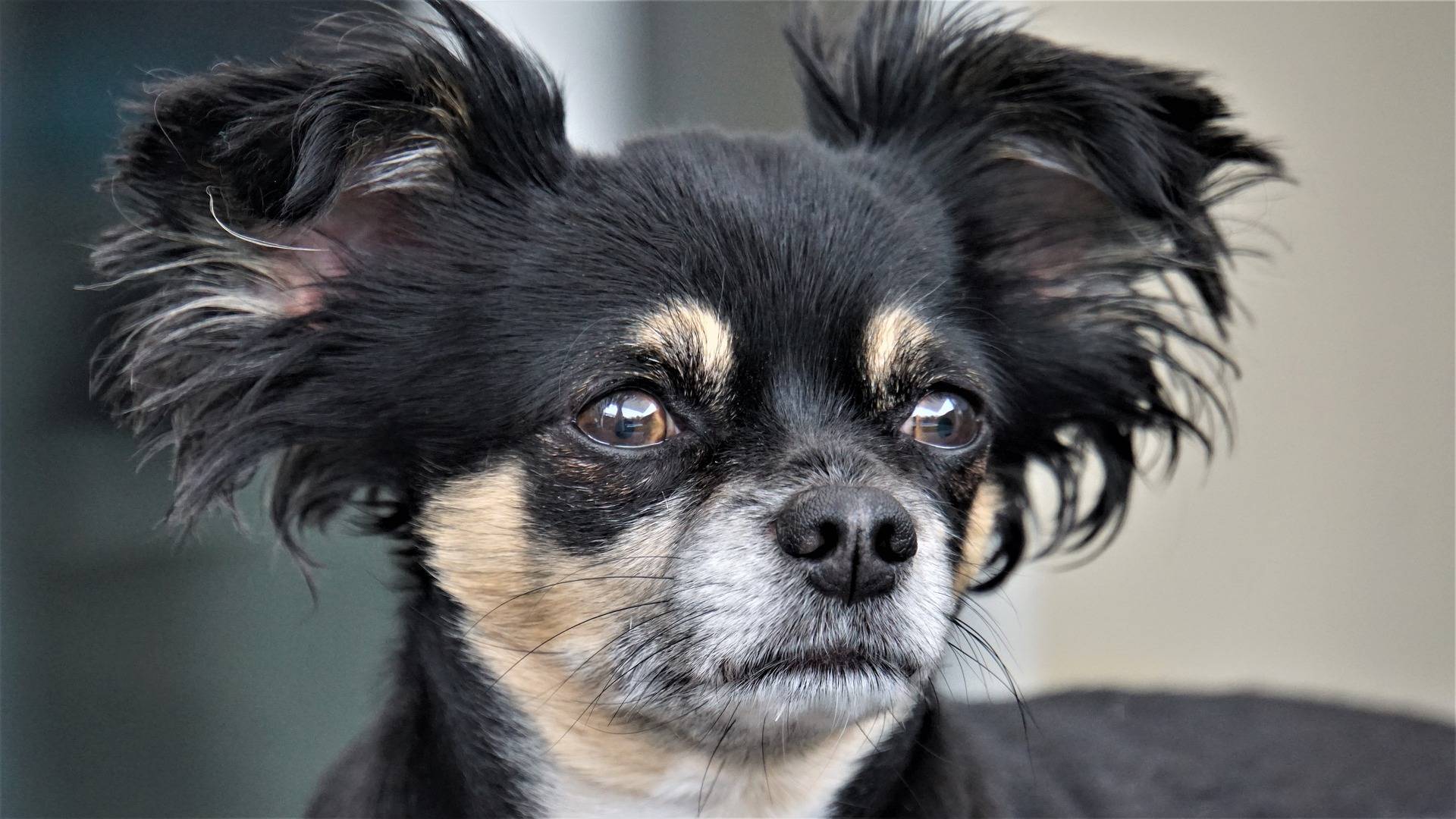 Chihuahuas love excitement. They love to play and they love to be in situations that stimulate their natural responses, such as being in a pack and chasing after things as if they were still in the wild.
Most dogs will shake in anticipation of getting a treat or waiting for you to throw a ball or a stick for them and Chihuahuas are no different. It's just part of the joy that they feel when they do fun activities with you. After all, a dog's entire life is dedicated to making the leader of its pack - in this case, that is you - happy.
Chihuahuas take this excitement to a new level. Most dogs are happy with just wagging their tails. Chihuahuas, on the other hand, will jump around, tremble, bow down on their front legs, and spin in circles with a joyful look on their little faces, in anticipation of the inevitable fun that they are about to have.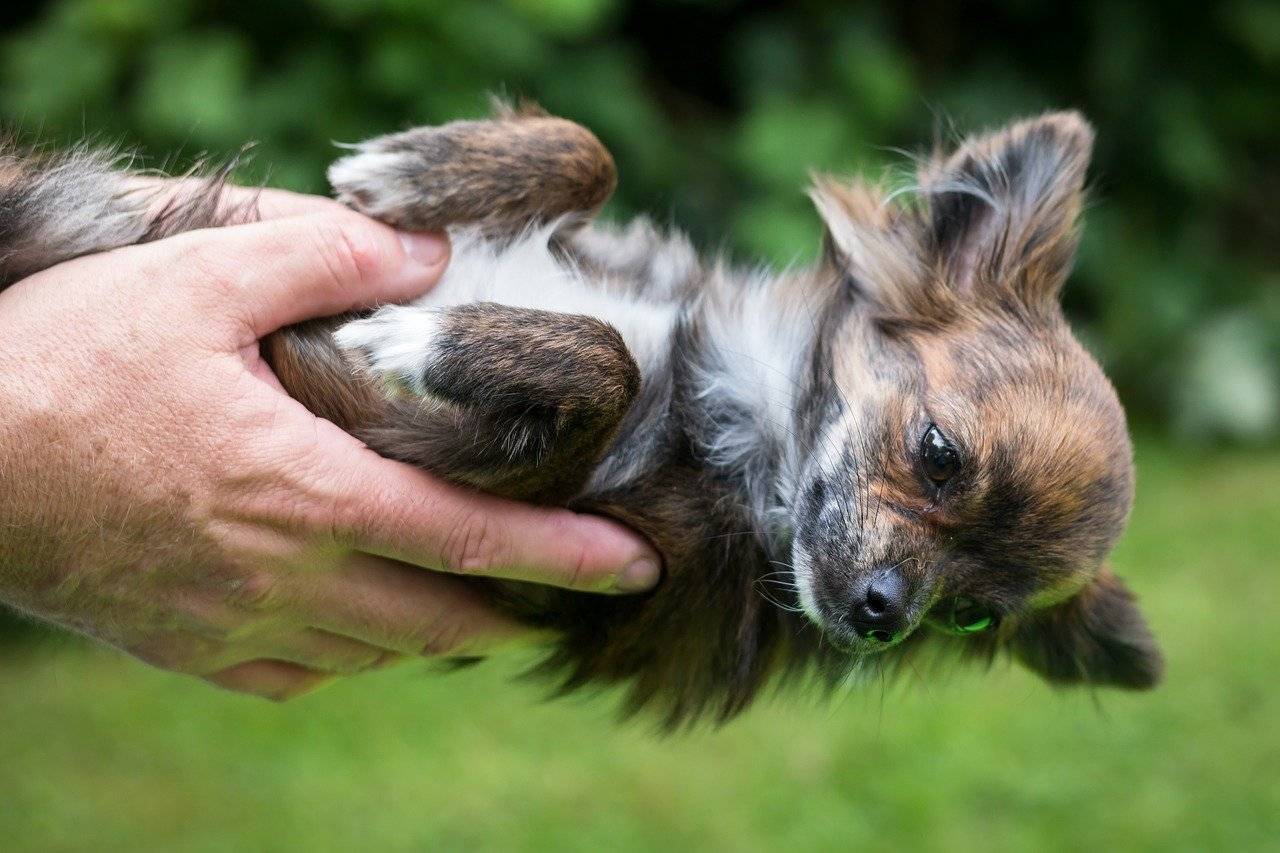 Chihuahuas aren't intimidated easily. They are generally well-tempered, sociable dogs willing to take on pretty much anything that the world has to offer. A properly-trained Chihuahua can be as calm, self-assured, and well-behaved as any other breed.
Many people ask themselves; "why is my Chihuahua shaking?", assuming it must be due to excessive stress. But whilst there are in fact a variety of reasons for a Chihuahua shaking that are not connected to stress in any way, stress is always going to be a possibility as shivering is a natural reaction to high-stress situations.
Chihuahuas that have not been socialized from a young age can easily become stressed when they are around other dogs, and this can lead to them starting to tremble, thus giving rise to the myth that they are a nervous breed. Just like any dog, a Chihuahua should be calm and collected when it is around other dogs. It should be used to playing and socializing with other dogs, hence socialization is stressed so much from an early age.
Chihuahuas respect authority and like being in a group, so if your Chihuahua is shaking when surrounded by others, this could be a sign that socialization training may be needed to help soothe their nerves. Chihuahuas are no different when it comes to these things, and your little Mexican dynamo should be quite at home playing about with the big dogs.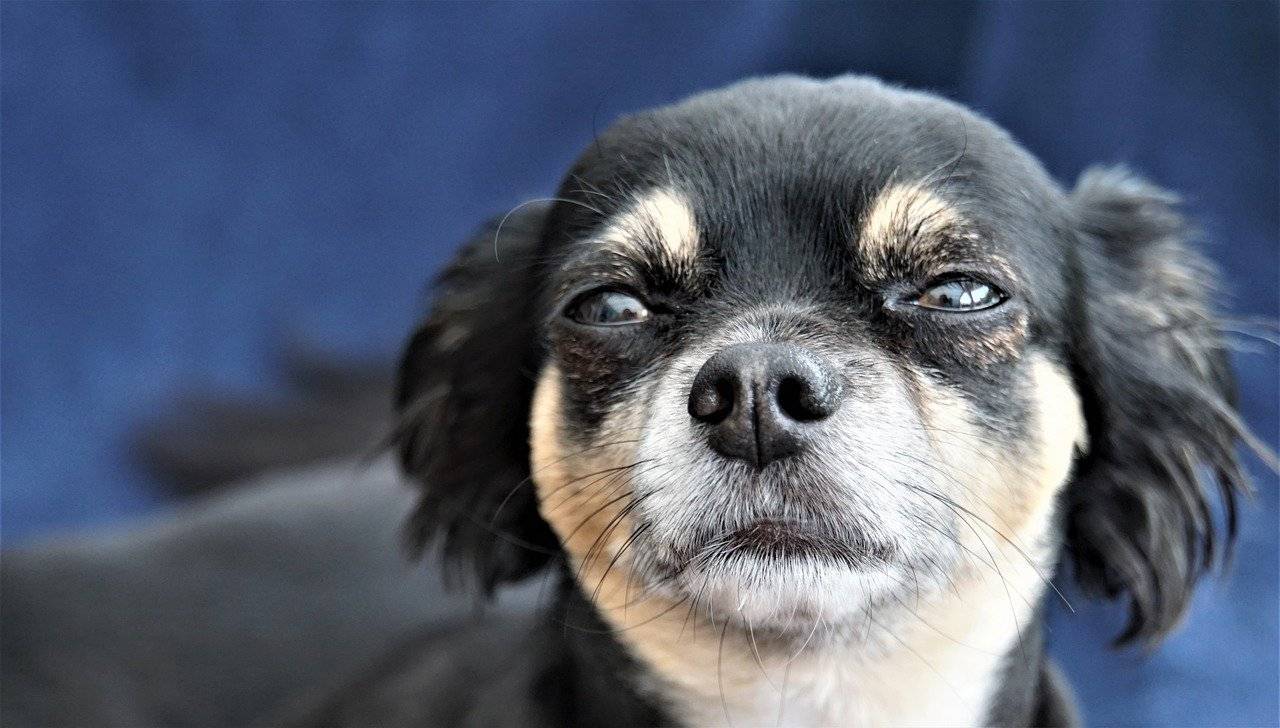 As with all animals, shivering and distress are common signs that they're not well. Therefore, it's possible that there may be underlying medical conditions in Chihuahuas that could be the reason that you see them shaking uncontrollably. If your Chihuahua is shaking more than usual, it may be worth getting them looked at. Especially if the Chihuahua is shaking and acting weird compared to their usual day-to-day behavior.
Generalized trauma, poisoning, kidney disease, injury, or allergies are all conditions that could cause your Chihuahua (or any animal for that matter) to shake and tremble. Of course, Chihuahuas can't tell you what is wrong with them, so if you are worried about your Chihuahua's trembling and unable to make out the cause for it, get your local vet to give them an assessment.
It will most likely be caused by the Chihuahua's natural tendency to shiver rather than some abnormal medical condition. If, however, your Chihuahua isn't normally the trembly type and for some reason, it has begun to shiver and shake, you should check for other symptoms such as vomiting, diarrhea, limping, or some other type of distress. If these symptoms are present then it would be a good time to take your Chihuahua for a visit to his or her favorite local vet.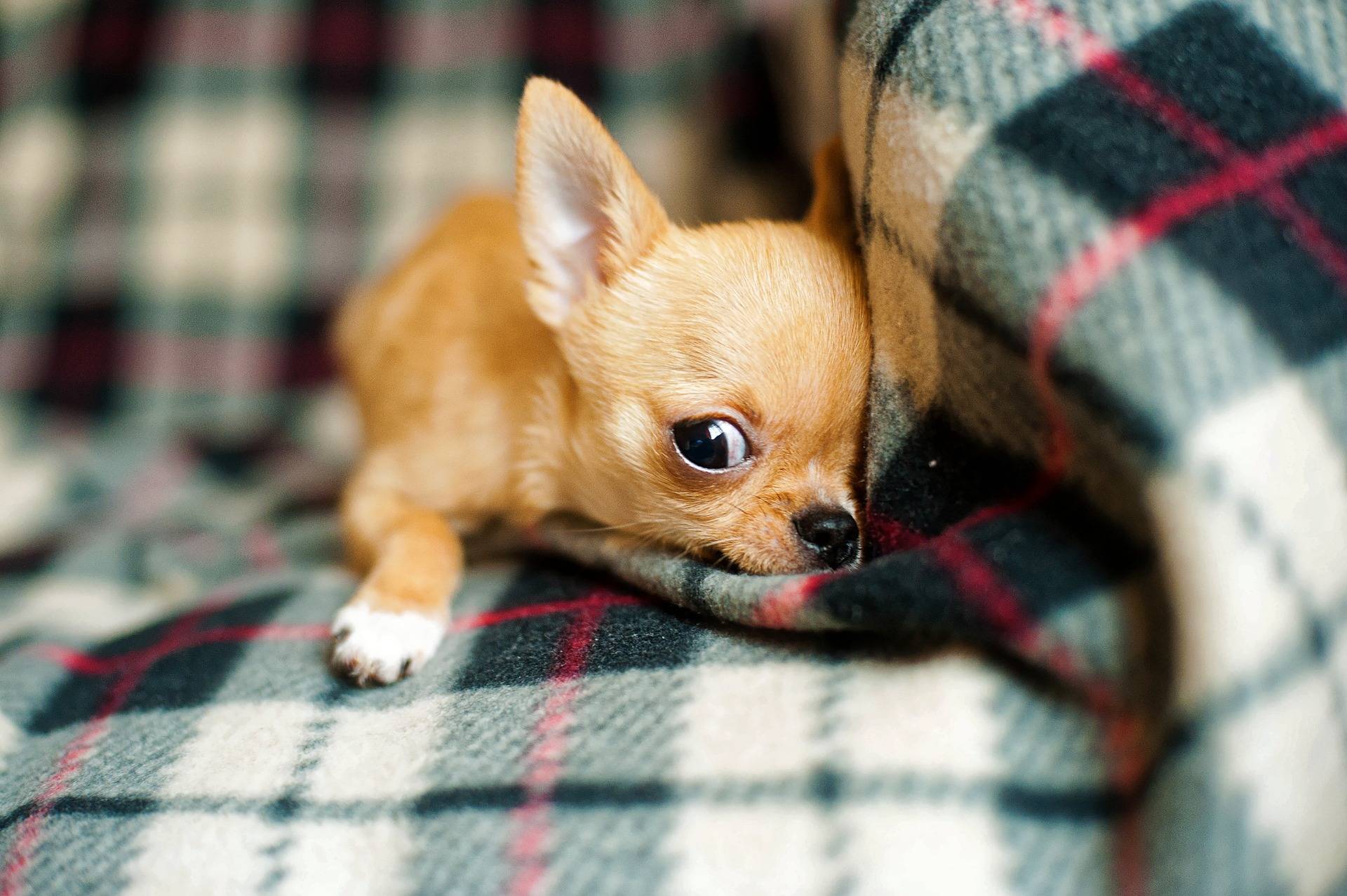 How to make a Chihuahua stop shaking
More concerned owners will naturally ask "how do I stop my Chihuahua from shaking?" If your Chihuahua shaking is seemingly constant, you may want to seek professional advice. But a few things you could try to see if they help include:
- Warming them up (they could simply be cold)
- Trying to create a calm and secure environment for them to wind down (this may be giving them a crate or purchasing a covered dog bed for anxiety)

- Reducing the number of treats you give them which could be fueling the buildup of excess energy in their system.

If these potential solutions don't seem to provide any kind of relief from the shivering and shaking of your Chihuahua, don't be afraid to contact your vet for some professional advice.
So, is it normal for Chihuahuas to shake?
Generally speaking, yes, it is normal for Chihuahuas to shake. But Chihuahuas are not, after all, particularly nervous dogs. They simply have a set of characteristics that mean shivering is just a part of their natural makeup.
For Chihuahua lovers, their tendency to shake, shiver and tremble actually add to their cuteness. So next time you are at the dog park, and your Chihuahua is charging around, having fun, and leading the pack, you can rest assured their shaking is not likely to be the result of fear or nervousness, but perhaps one of the many other causes listed above.
Why do Chihuahuas shiver?
There's a variety of reasons that a Chihuahua might start shivering or shaking. The top reasons include excess energy, difficulty regulating temperature, reacting to cold weather due to having a thin coat, excitement, anxiety, or stress.
It could even be a mix of reasons. Additionally, there is the possibility that it could be caused by injury or an underlying condition that needs to be addressed by your vet. If you're ever unsure or worried about it, don't hesitate to seek professional advice.
Why do Chihuahuas vibrate?
The vibration of a Chihuahua is actually the same as when they shiver and shake, though with some Chihuahuas the shivering movements can manifest as faster or smaller movements that make them seem as though they are vibrating instead.
It is usually due to excess energy buildup caused by their fast metabolism. However, vibration does share the same reasons as shaking.
Why do Chihuahuas shake when they sleep?
There is every possibility that your Chihuahua might be feeling a little chilly as their core body temperature drops during sleep.
Chihuahuas are already relatively sensitive to the cold and can shiver in response to lower temperatures quite easily. Though it is still possible that there is pent-up energy in the body causing them to shiver, or even an underlying health condition.
Why do Chihuahuas shake so much?
Well, there are a few reasons. One explanation is that Chihuahuas tend to have high metabolisms, causing them to burn off energy quickly. This can lead to shaking as a means of releasing excess energy. Another possibility is that Chihuahuas are prone to anxiety and nervousness, which can manifest in trembling.