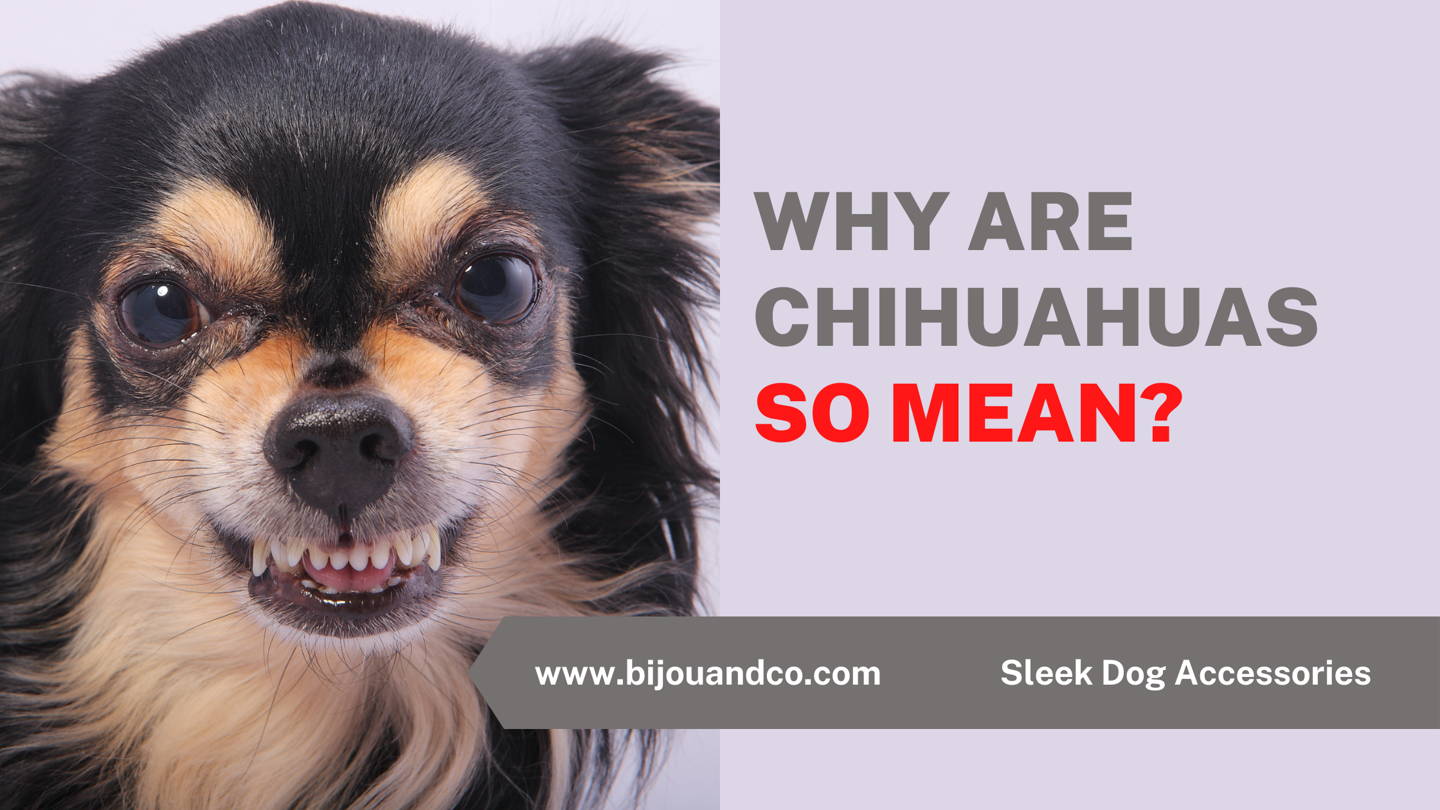 A truly dangerous Chihuahua is rare to come by. However, Chihuahuas have developed a bit of a reputation for being a bit mean at times or even aggressive.
That being said, just how aggressive are Chihuahuas and why have they developed this unfriendly reputation? We're going to take a deep dive into the Chihuahua's personality to explain the many reasons your Chihuahua might have for displaying aggressive behavior.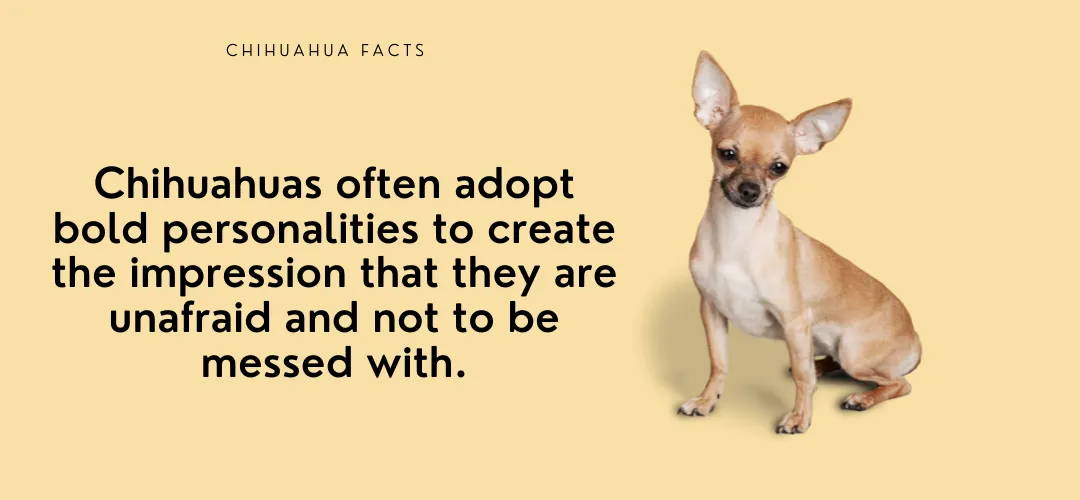 Why are Chihuahuas so mean?
There's actually a surprisingly long list of reasons for a Chihuahua to show mean or aggressive behavior either towards their owners, strangers, or other dogs.
It can be difficult to pinpoint exactly which of these applies to your Chihuahua, but through a process of elimination, you can work through the list to help you better understand your dog and help them adapt. This will reduce the supposed need for them to feel that Chihuahuas need to act aggressively towards others.
To help you figure out what could be causing your Chihuahua's aggression, here are the main reasons a Chihuahua might be mean.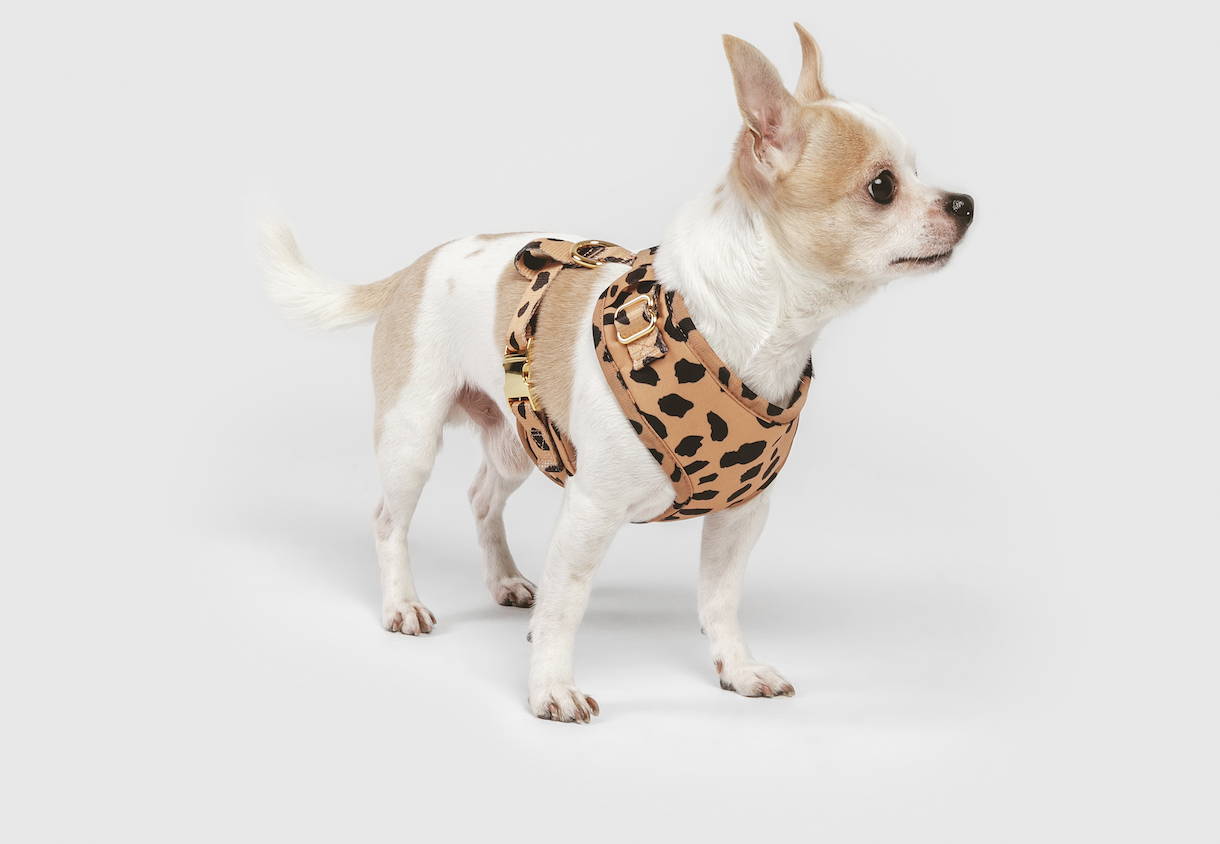 Chihuahuas are mean because they are territorial
Chihuahuas are actually highly territorial, with a strong instinct to protect their home from invasion. If your Chihuahua feels that somebody or something is encroaching on their space, they may feel the need to lash out to prevent further advancement. This is often triggered by the arrival of strange new people and their pets.
Signs of territorial behavior in Chihuahuas
Severe territorial behavior can lead to a Chihuahua attempting to attack the person or animal they are feeling threatened by. You'll usually find that Chihuahuas that are aggressive as part of a territorial display will only show said aggression when they're at home, and are less likely to act out when out on a walk.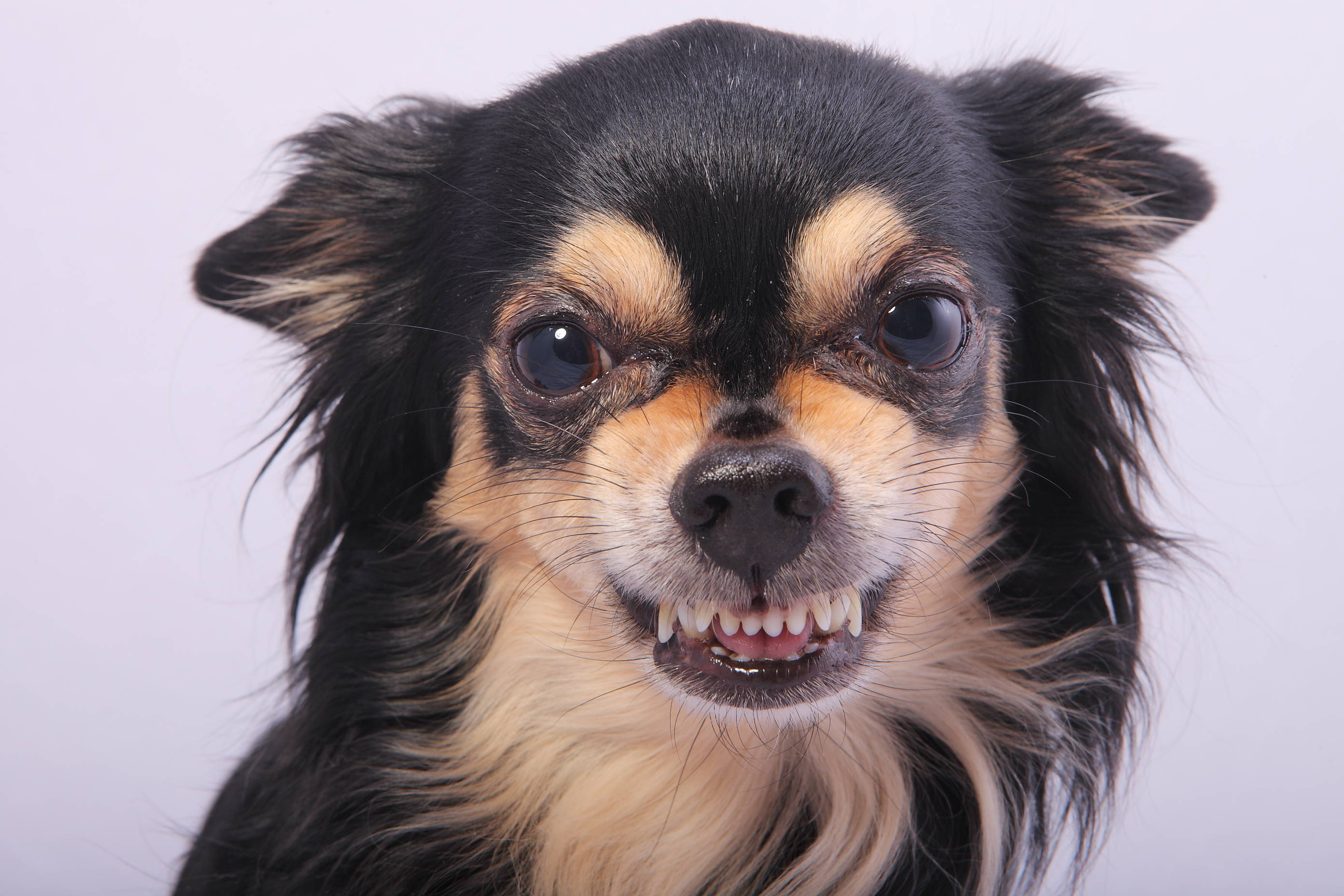 Chihuahuas are mean because they are protective
Like most dogs, Chihuahuas are protective of their pack, which includes their owners and siblings. It may be that your Chihuahua is being fiercely protective of you to a fault. This type of aggression is usually seen only when the owner is being approached by a person or animal that the Chihuahua is unfamiliar with.
Signs of protective behavior in Chihuahuas
A particularly mean Chihuahua might snap at the approaching person, however, generally speaking, this type of protectiveness manifests as barking and snarling as opposed to actually attacking. It is only if the Chihuahua feels that they have no other option and that their owner or fellow dog is in significant danger that they will put themselves at risk to protect them. This is also behavior that can be helped with proper socialization.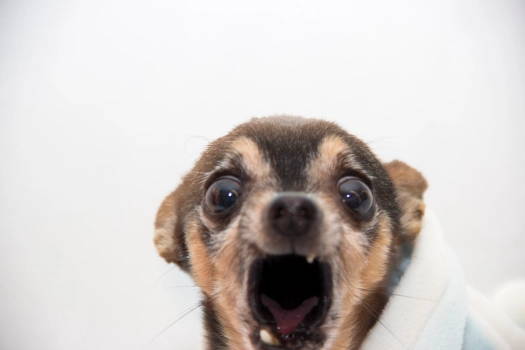 Chihuahuas are mean because they need to be socialized
An antisocial Chihuahua will generally exhibit the above traits including territorial displays, defensive displays, as well as a general uneasiness around other dogs even when they don't have anyone to protect. Chihuahuas are naturally conscious creatures when left to their own devices. This is because without a pack they are left feeling vulnerable, which can put them on edge around other animals.
Signs of antisocial behavior in Chihuahuas
Antisocial behavior is more evident when you see your Chihuahua acting up around others when it is unaware of your presence. You may notice your Chihuahua giving other dogs sideways glances as they approach, appearing jumpy when surrounding animals or humans move quickly, snarling, or even standing with its head low and ears down when surrounded by others.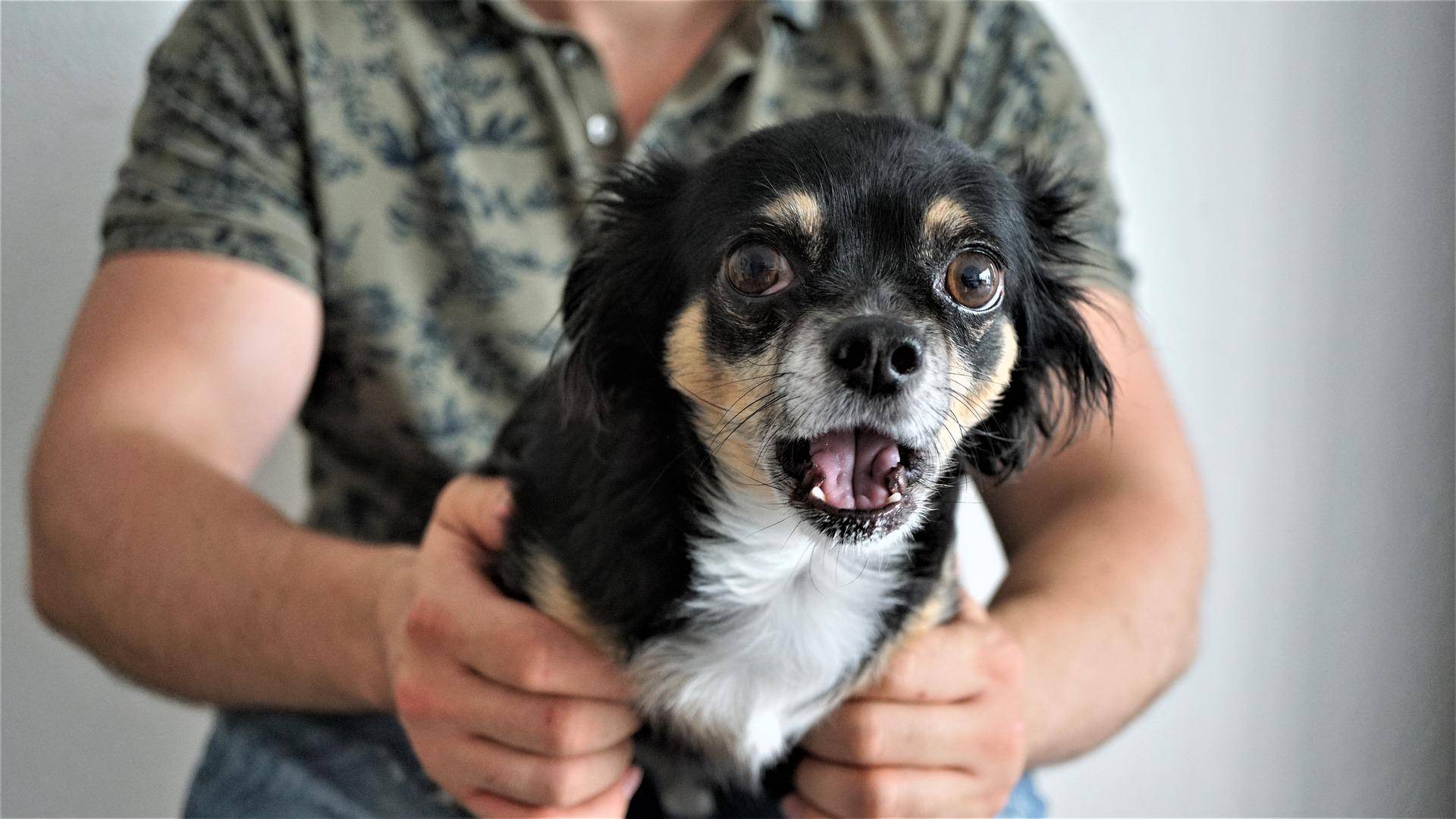 Chihuahuas are mean because they have "Small Dog Syndrome"
There is something known as "Small Dog Syndrome", which is just a cute way of saying naturally defensive. As we've previously mentioned, small dogs are naturally vulnerable, weak, and fragile. Chihuahuas are the smallest breed of dog, making them the most vulnerable canines going.
As a result, Chihuahuas often adopt bold personalities to create the impression that they are unafraid and not to be messed with, this can be through barking, snarling, chasing, and confronting others before they get the chance to properly approach.
Signs of "Small Dog Syndrome" (SDS) in Chihuahuas
As well as being aggressive, Chihuahuas with Small Dog Syndrome can also be extremely stubborn. This means you could find yourself struggling when it comes to training them out of their bad behavior, as they often become stubborn and argumentative. Additionally, Chihuahuas with SDS may constantly seek to be at the front of the pack when walking, refuse to walk on a leash, or even play the pity card and beg for food using those big round eyes and high pitched whines to get what they want.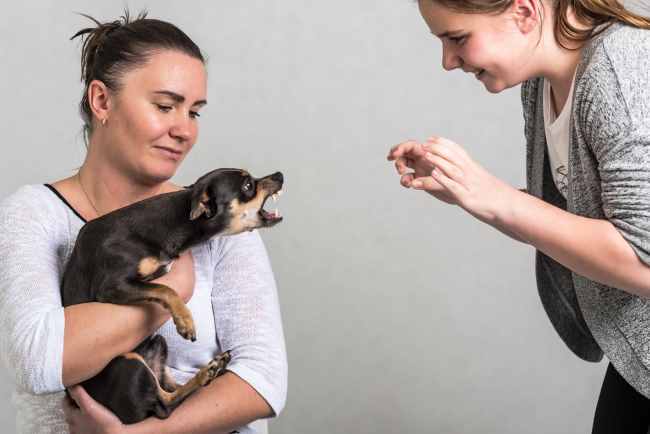 Chihuahuas are mean because they are stressed or anxious
There's an old idiom that says "corner a dog in a dead-end street, and it will turn and bite." A Chihuahua's physical vulnerability often feeds into its anxiety in high-stress situations. You should consider that "high stress" means something very different to a dog whose eyes come to just above a person's ankles. For example, taking a Chihuahua to a busy party may cause significant stress as it is under constant threat of being trampled.
Signs of stress or anxiety in Chihuahuas
Chihuahuas have a genetic predisposition to shaking, so it may be that your little buddy shakes even when calm. But if you see them looking noticeably panicked (wide eyes, flat ears, shaking), then you should consider removing them from the situation because they lash out.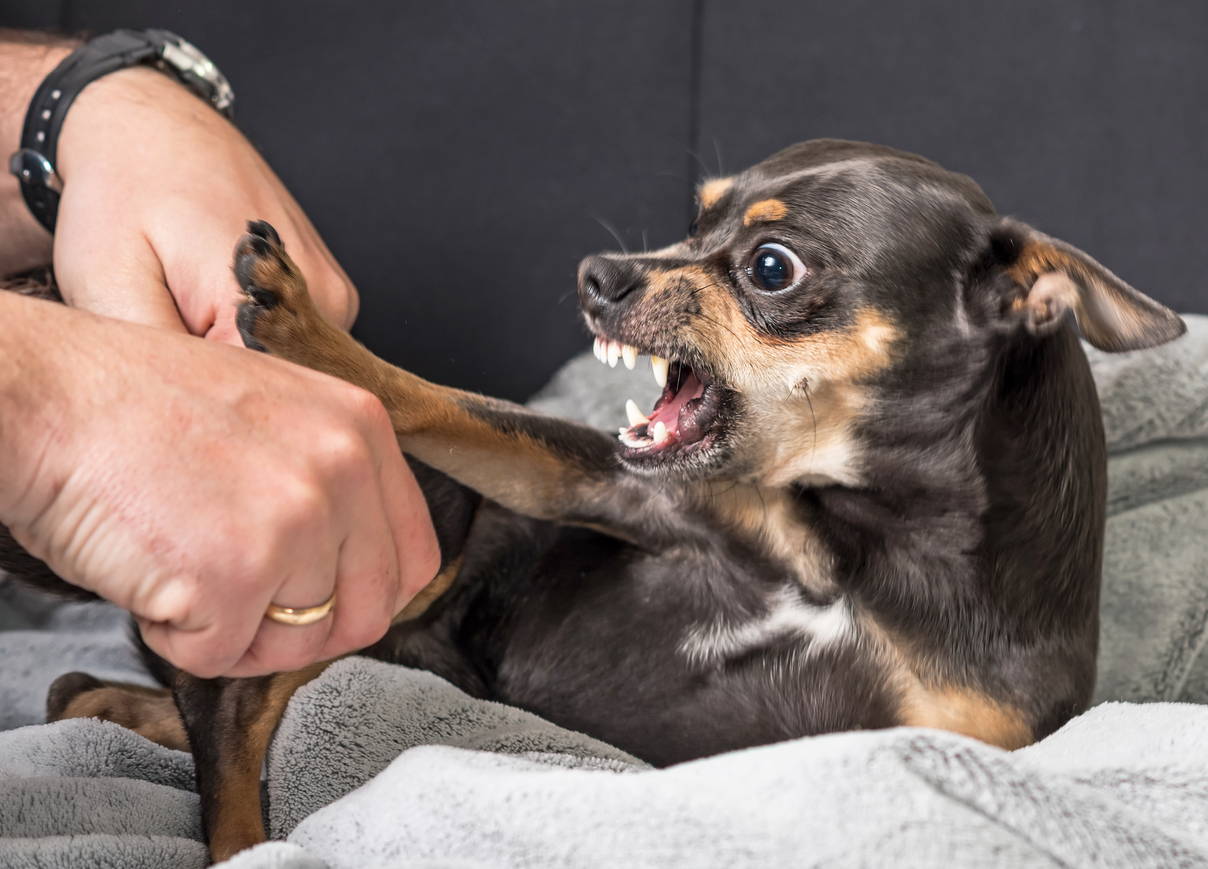 Chihuahuas are mean because they might have past experience trauma
This links with stress and anxiety, however a Chihuahua that has been rescued from a bad home environment is more likely to become aggressive at unexpected times when it is triggered by a particular sound, movement, smell, or event that reminds it of its previous experience. A rescued Chihuahua does not always result in a vicious Chihuahua, though they do have a significantly higher chance of reacting unpredictably in any situation.
Signs of trauma in Chihuahuas
Where a territorial Chihuahua might bark at newcomers, or a protective Chihuahua might snarl at unfamiliar faces getting too close to its family, a traumatized Chihuahua might show additional signs that could lead to an unfortunate outburst. If they are shaking, or showing visible signs of stress in a normal, calm situation it could be that something in the room has triggered a negative response.

Additionally, you might even find that certain things YOU do as their owner triggers them to get on the defensive and potentially attack. You must take a lot of extra care to ensure you're reading your rescue Chihuahua's body language when you're still getting to know them.
Chihuahuas are mean because they can attack reflexively when startled
It may simply be a case of the Chihuahua in question responding instinctively to being startled. Say for example a person busts into the room unannounced with the Chihuahua nearby, there is a chance the Chihuahua might attack when caught off guard. This is especially true if they were sleeping at the time of the intrusion. Sadly a single event like that can be enough to brand a Chihuahua as vicious, even if it was a one-time occurrence.
Chihuahuas are mean because they can be unnerved by unfamiliarity
Sometimes a Chihuahua can just be nervous when its routine gets changed. This could be when moving house or when a new pet or human is introduced to the household. The same behavior is observed in cats as well. With this, it is simply a matter of giving them time to adjust and using positive reinforcement to encourage acceptance of their new routine and/or surroundings.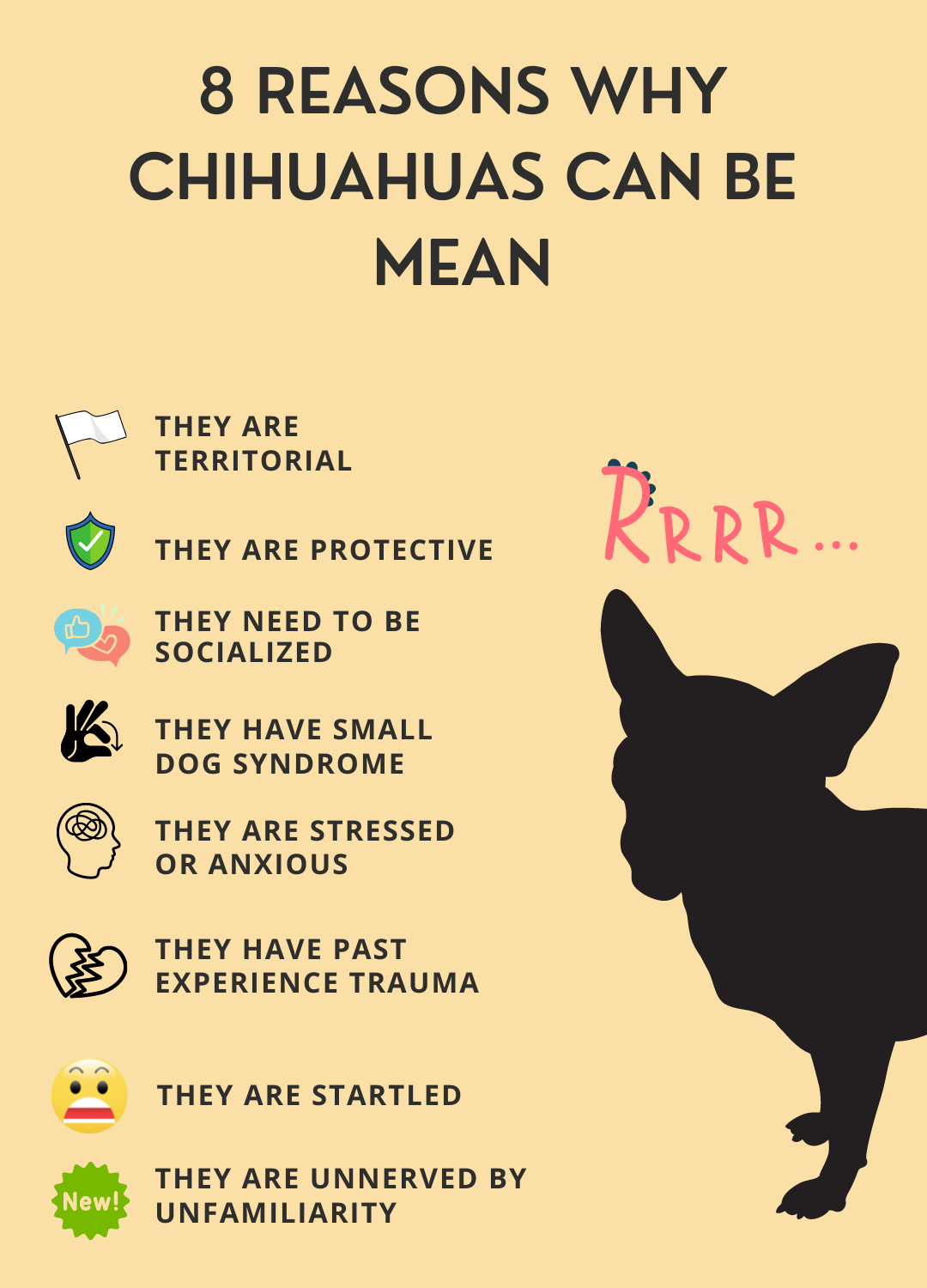 Why are Chihuahuas so aggressive to other dogs?
Chihuahuas are naturally defensive because their small stature and weak frame make them extremely vulnerable to large predators. Chihuahuas would be easily dominated in the wild by a larger dog, and so they instinctively make a show of having a bold, and fearless personality so as to deter larger animals from approaching them.
How to introduce Chihuahuas to other dogs
It is possible to train a Chihuahua out of this behavior with proper socialization. Figuring out how to socialize your Chihuahua should be prioritized at the earliest possible age - ideally, once they have been fully vaccinated. The more time your Chihuahua spends around new and strange dogs and people, the calmer they will be in response to unfamiliar faces once they reach adulthood.
Try not to be too delicate around them when socializing as the Chihuahua in question could become sensitive to sudden movements and sounds if they are only accustomed to quiet spaces and slow, deliberate movement. Simply introduce them to others as you would any day, with no special treatment. A few ideas for socializing your Chihuahua with others include:

Take your Chihuahua to puppy obedience classes
Puppy obedience classes are specifically designed for you to learn the best way of ensuring your Chihuahua responds to you when it matters. Puppy obedience classes don't only ensure better behavior on a daily basis, but they also give your Chihuahua some much-needed socialization with other dogs in a controlled setting with the support of a canine training professional.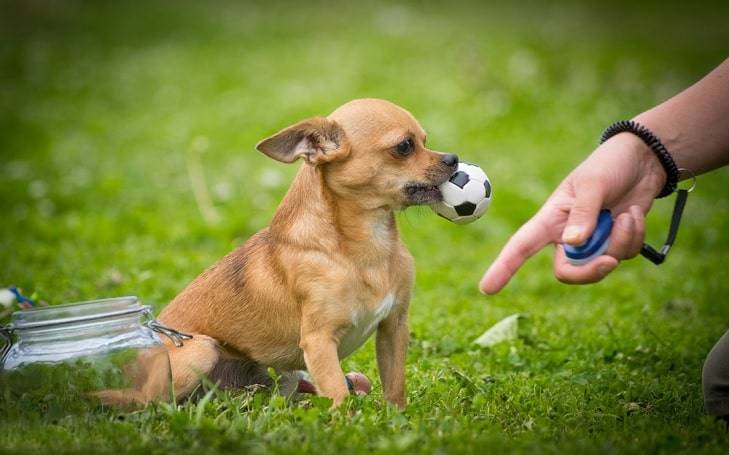 Take your Chihuahua to puppy training classes
You can also have dog training classes for things such as agility, swimming, therapy, behavior, tracking, and many more that all give a potentially mean Chihuahua the chance to get to know their fellow canines. If you're nervous about having an aggressive Chihuahua, these controlled environments can be the perfect way to set your mind at ease.
Take your Chihuahua to doggy daycare
Doggy daycare is a more relaxed approach to socializing seeing as the dogs are not being regimented allowing them to relax and follow their instincts more easily. However, it's also worth noting that doggy daycare would mean your Chihuahua being looked after by someone other than yourself, so you will be operating on faith that they will behave in your absence.
Take your Chihuahua to playdates with other dog owners
Now, with a playdate, it can be both relaxed and controlled. By this, we mean that on a playdate you will know the dog your Chihuahua is with and you will know the owner of that dog. This means you will be there to watch your Chihuahua's behavior whilst they are playing as well as being able to explain your situation to the other dog owner. There is a lot of understanding between owners at a playdate that can make it much less stressful both for you and your Chihuahua.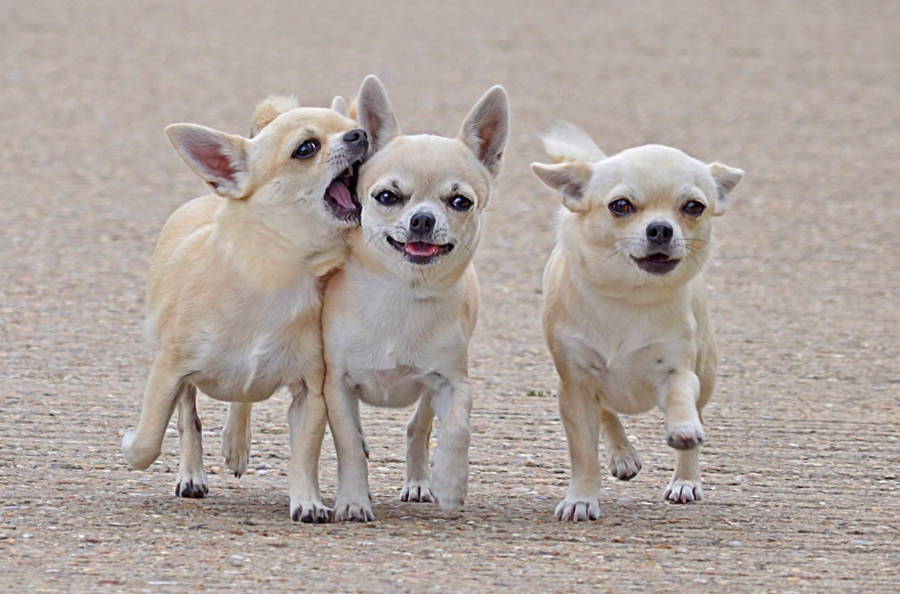 Take your Chihuahua to the dog park
This is another relaxed situation in terms of every dog being free to run around as it pleases. You can also keep your Chihuahua on it's leash and control its movement if you're unsure of letting them roam free. However, at the dog park, there is no guarantee that another dog won't approach too quickly and potentially scare your pup into reacting. The dog park is well worth using for socialization, however, as it is the most frequent social environment your dog is likely to visit.
Take your Chihuahua to shows and events
Dog shows and events are both fantastic for allowing your Chihuahua to meet plenty of other dogs. Generally speaking, they will meet a lot of well-behaved dogs, the behavior of which your Chihuahua is likely to pick up on and potentially mimic. However, dog shows can be extremely busy, and for such a tiny dog there is a chance they could become overwhelmed by the number of people, dogs, and noise, so just watch your Chi closely for signs of stress or anxiety.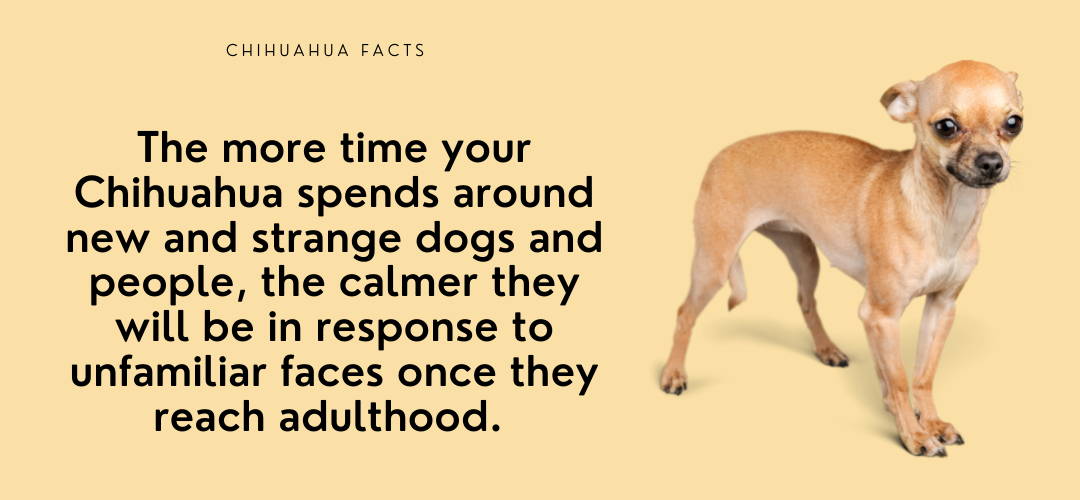 Signs of an aggressive Chihuahua
No Chihuahua is born vicious. A lot of it is learned behavior or unchecked natural instinct. It can be learned as part of a traumatic upbringing which can force aggressive behavior that they may not have otherwise been exhibited such as forced mating in a puppy mill or dogfighting. Even something as simple as a Chihuahua growling has the potential to escalate quickly if you're unable to catch the signs early.
Alternatively, a vicious Chihuahua may develop its behavior naturally by being allowed to act extremely defensively or in some cases offensively towards other people or dogs under the guise that they are not capable of causing any real harm, therefore it's not a problem. This is wrong. Any and all aggressive behavior should be nipped in the bud as soon as possible through careful training and behavior monitoring. The signs of an antagonistic Chihuahua include:
Chihuahua gives a hard stare/side-Eye
The hard, unblinking stare from a Chihuahua often means they are feeling tense and see you as a potential threat. They don't want to take their eyes off you just in case you do something they don't like. The same goes for any time you notice your Chihuahua appearing stiff and still in the body whilst giving you the side-eye.
The body stillness is them preparing themselves to potentially fend off an attack or make a motion to deter whoever or whatever is approaching. If you notice this type of behavior, it is better to back away and lower yourself to their level. You should then let the Chihuahua come to you in its own time.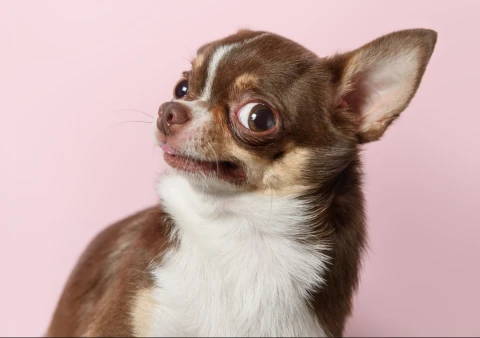 Chihuahua is snarling/baring teeth/grimacing
The next step up from the hard stare is for the Chihuahua to start showing its teeth as a warning sign for you to back off. It's the canine equivalent of showing someone that you have a weapon to prevent them from getting any closer. If you have a rescue Chihuahua that has lost its teeth along the way, you might find that they are especially nervous with new people, as their primary form of self-defense has been taken away from them.
Chihuahua is growling/barking
If a Chihuahua feels its previous threats have gone unnoticed, it will begin to make noise to verbally let whoever, or whatever, is approaching know that they are not welcome. This is the last warning a Chihuahua will give before it starts to prepare for a physical altercation. You should heed this warning and give them some space to recoup and come to terms with the situation before trying again (more slowly).
Chihuahua shows flattened ears and a lowered head
The lowered head is a defensive posture, meaning your Chihuahua is anticipating a fight. The flattened ears when combined with the lowered head represent feelings of aggression. A Chihuahua will flatten its ears to its head when it fights in order to protect them as the ears are soft and vulnerable and will often be the first thing to get injured due to scratching or biting.
When a Chihuahua feels it has no other choice, there is a possibility that it may choose to attack in self-defense. If your Chihuahua looks as though it intends to lunge, signified by tightening muscles around the legs and a shift in their stance as if ready to pounce, you should remove them from the situation immediately.
They should never be given the opportunity to attack or be made to feel like it is the only option. They may not be big, but Chihuahuas have extremely sharp teeth and are still capable of doing damage if they want to.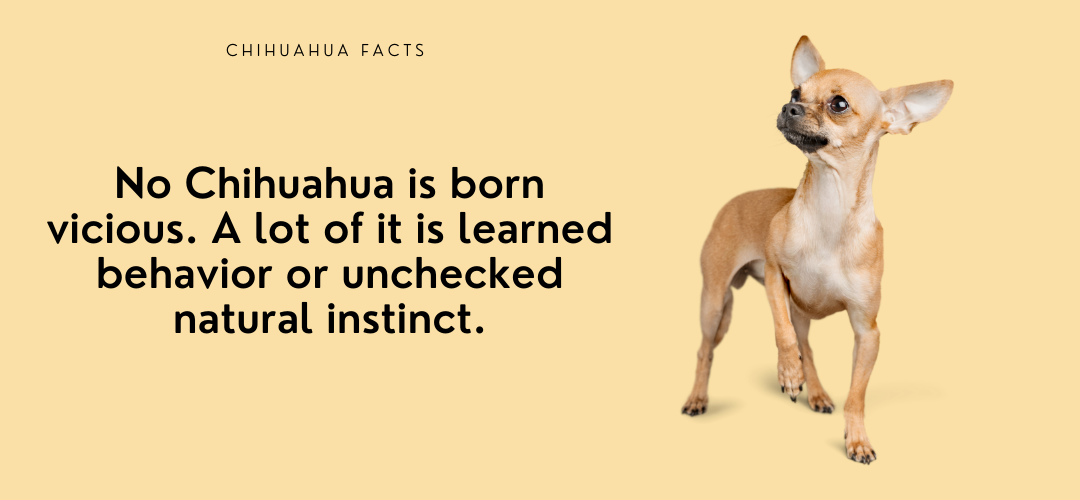 How to tame an aggressive Chihuahua
Knowing how to train a Chihuahua not to be aggressive depends on a number of factors individual to the dog. It may be that you need to learn how to show a Chihuahua dominance in order for them to accept you as the alpha, or it may be that they require retraining or reconditioning to help them adapt to their surroundings more easily. An important thing to note is that learning how to make a Chihuahua less aggressive takes time, patience, and perseverance. The top techniques for taming an aggressive Chihuahua include:
Socializing your Chihuahua
It's well worth putting a heavy focus on proper socializing whilst your Chihuahua is still young. An antisocial Chihuahua can be a mean Chihuahua if its defensive instincts have a chance to kick in. You need to teach them that there is nothing to be afraid of in their daily life. Use puppy classes, play dates, ad dog parks to encourage interaction and allow them to get to know their fellow animals on a more relaxed level.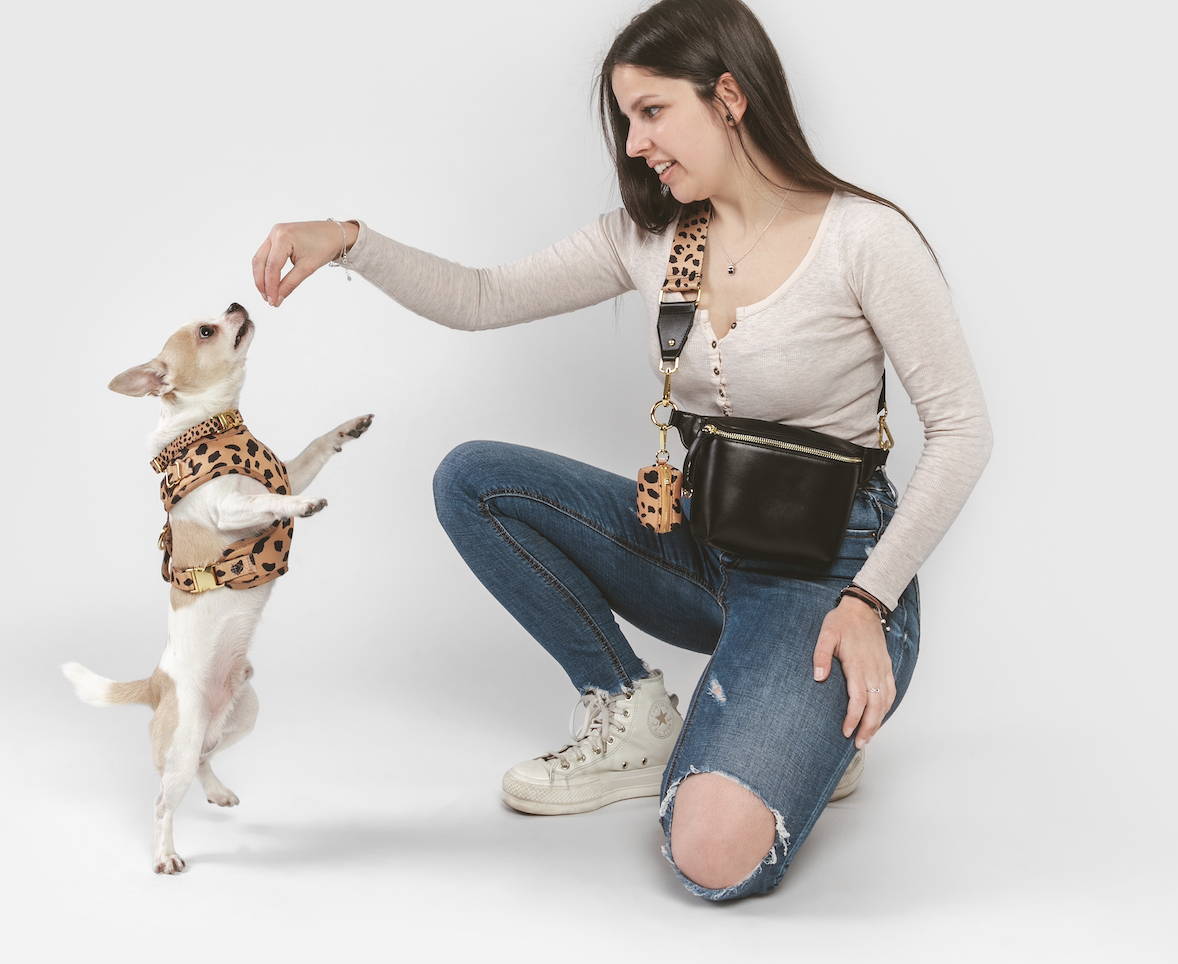 Teaching an aggressive Chihuahua who the Alpha is
This is something that comes with proper training. A Chihuahua should instinctually learn who the leader of the pack of by the way you teach it. You should always ensure they know your significance in their life, this can be done with eye contact, being the first to walk through the door, eating your own food separately from theirs (you should not share food from your plate), and remaining calm when they enter a room to show them that you will give them attention on your terms.
Give calming treats or sprays to your Chihuahua
There are a variety of calming dog treats and sprays on the market designed to alleviate stress and anxiety. This could be particularly helpful with rescue dogs that may have a nervous disposition as a result of their past. Or even for a generally nervous pup that has a hard time settling down.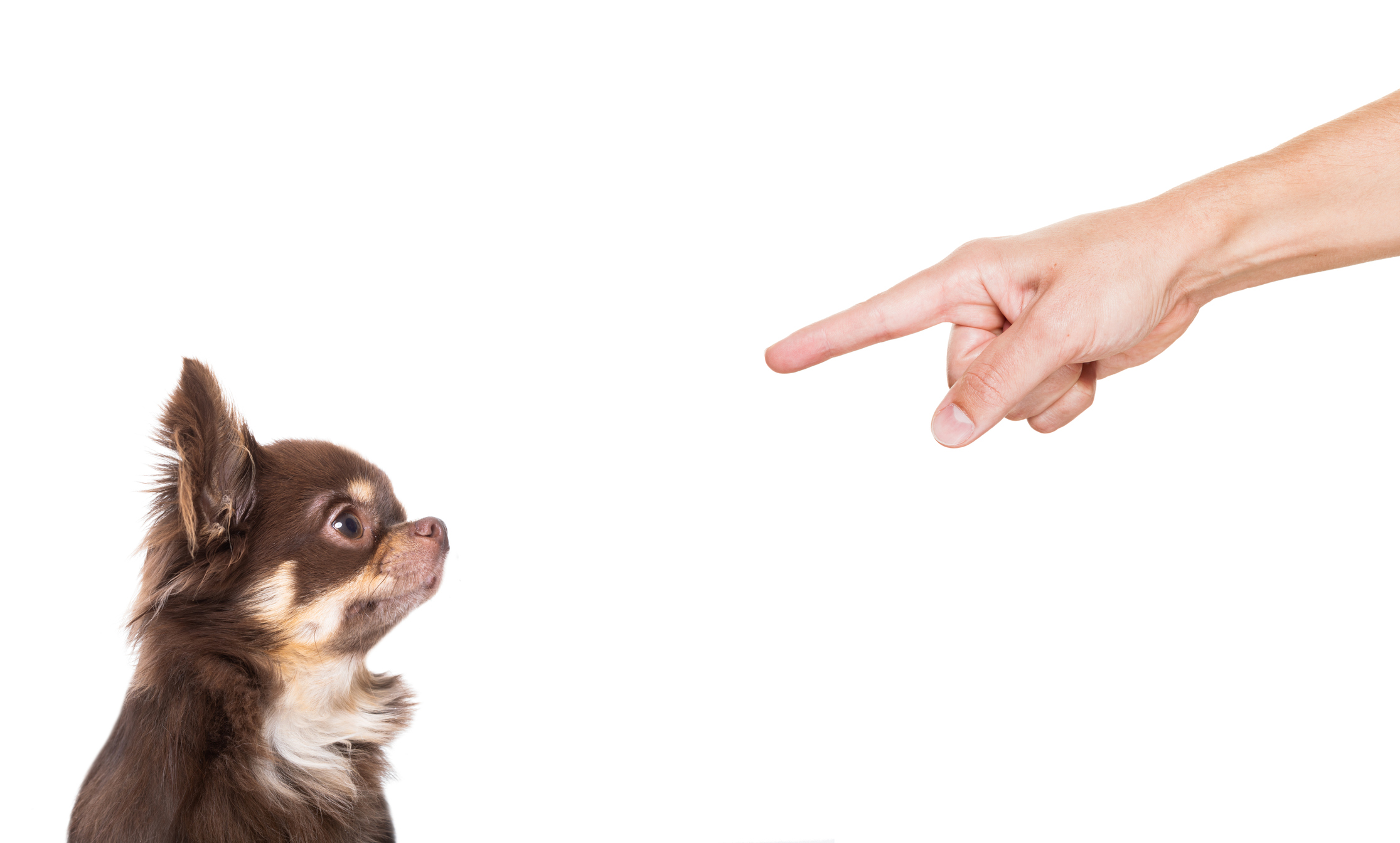 Positive reinforcement training for your Chihuahua
Positive reinforcement is the best technique for training most dogs as it teaches them that good behavior reaps a positive reward as opposed to bad or incorrect behavior resulting in punishment. If you are having a hard time getting your Chihuahua to curb bad habits, you could try rewarding them every time they choose not to react negatively to something. Chihuahuas are intelligent dogs and will quickly catch on that when they're calm, they get treats and will begin to adjust their behavior accordingly.
Be patient with your Chihuahua
Sometimes, it's a case of using multiple of the techniques listed above and applying a little bit of extra patience if your Chihuahua is having a particularly hard time adapting. Especially in the case of rescue dogs. Sometimes what's wrong with Chihuahuas with a mean streak goes back to their personal history (which you may or may not know). If you have a rescue from a difficult past they might require a little bit of extra TLC when adjusting to a new home and environment.
Can you have a truly dangerous Chihuahua?
Not really. Many inexperienced Chihuahua owners often look for the answer to the question "how to make my Chihuahua less aggressive?" But it really just comes down to keeping them secure, and teaching them that there is nothing to fear.
The argument of nature vs nurture calls into question whether or not a Chihuahua is naturally aggressive or if the behavior is learned. On the nature side of the argument, it is natural instinct for any animal to want to defend itself, and when that animal is small, delicate, and significantly weaker than all other animals of its kind that instinct will be stronger.
Chihuahuas are often born with an innate urge to appear bigger and more formidable than they are in order to deter predators. For that reason, they do tend to have a little fire in their bellies that other breeds might not. But it can easily be doused if they feel safe.
Though Chihuahuas may be naturally defensive and protective, not all have the natural urge to get their backs up at every opportunity. It is possible for a Chihuahua to learn aggressive behavior from its surroundings. This could be a rescue Chihuahua that has grown up in an abusive environment or puppy mill. Alternatively, it could be one that doesn't get along with its fellow household pets.
Pets are like children in that they will bully one another when you're not around. So if you have a larger dog alongside a Chihuahua, be sure to secretly monitor them as much as you can, to begin with, and look out for any signs of submissive or fearful behavior around the larger dog as it could be that they are being dominated.
Take Care of Your Chihuahua
The Chihuahua temperament is a cautious one, but if you are able to train them correctly and enable them to become comfortable with their surroundings, they are actually extremely sweet, highly affectionate, and loyal dogs. Chihuahuas also develop extremely strong bonds with their owners, hence their long history as a companion breed.
Once you understand what makes a Chihuahua tick, it's simply a case of understanding your own Chihuahua and adapting to calm them down and preferably train them to react with kindness. When you do that, you all but guarantee that your Chihuahua will live a calm and happy life.
Are Chihauhuas aggressive?
Not necessarily. However, Chihuahuas, much like Jack Russels and other small breeds, have been known to have what is nicknamed "small dog syndrome".
This is a small dog's natural instinct to act big and tough as a form of self-defense to deter larger animals from approaching them. This could include snapping at other dogs or strangers, barking, and snarling. It is often left unchecked due to the minimal threat a small dog is thought to be, however it should be corrected with careful training as quickly as possible to avoid having an aggressive Chihuahua.
Why is my Chihuahua so mean?
Chihuahuas all have their own unique personalities and experiences that shape the way they behave. If you're finding that your Chihuahua is mean, it could be caused by anything from stress or anxiety to improper training, protectiveness, trauma, or a harsh personality trait that needs to be conditioned. Taking the time to figure out the trigger for this behavior can save you and your Chihuahua a lot of stress in the future.
Is Chihuahua aggression towards owners common?
No. In fact, Chihuahuas are usually more aggressive to strangers or other dogs as opposed to their own families. However, it is possible that a Chihuahua that has undergone past trauma might be triggered by certain behaviors that cause them to act out in a vicious, or aggressive way. This is something that can be worked through with careful training and patience.
Are Chihuahuas more aggressive than Pitbulls?
A study actually found that small breeds such as Chihuahuas can have a propensity to display more aggressive behavior than pit bulls. Though we feel that it is important to note - Pit bulls are not genetically aggressive dogs. Their breed history revolves around the use of pit bulls for dogfighting, which led to their vicious reputation. However, with proper training and care, a pit bull is as gentle as any other dog.
Are Chihuahuas good guard dogs?
It is important to mark the distinction between guard dogs and watchdogs here. Chihuahuas would not make good guard dogs because they are too small to be able to launch an effective attack if needed. Therefore the protective element of the guard dog roll would not be possible. However, their natural territorial instincts would make them quite good watchdogs with the right training. This is because watchdogs are simply needed to alert their owners to the presence of someone or something, as opposed to physically protecting them against a threat.
Why are Chihuahuas so angry?
Generally speaking, Chihuahuas are not angry unless given a reason to me. Most Chihuahua behavior problems stem from their defensiveness as they are constantly cautious and on the watch for any potential threats. If you notice an angry Chihuahua, be sure to treat it with the same respect and caution as your would a large dog. They may not be able to cause as much damage, but that does not mean their boundaries should be dismissed.