Why Are Chihuahuas So Clingy? Can I Teach Them To Be More Independent?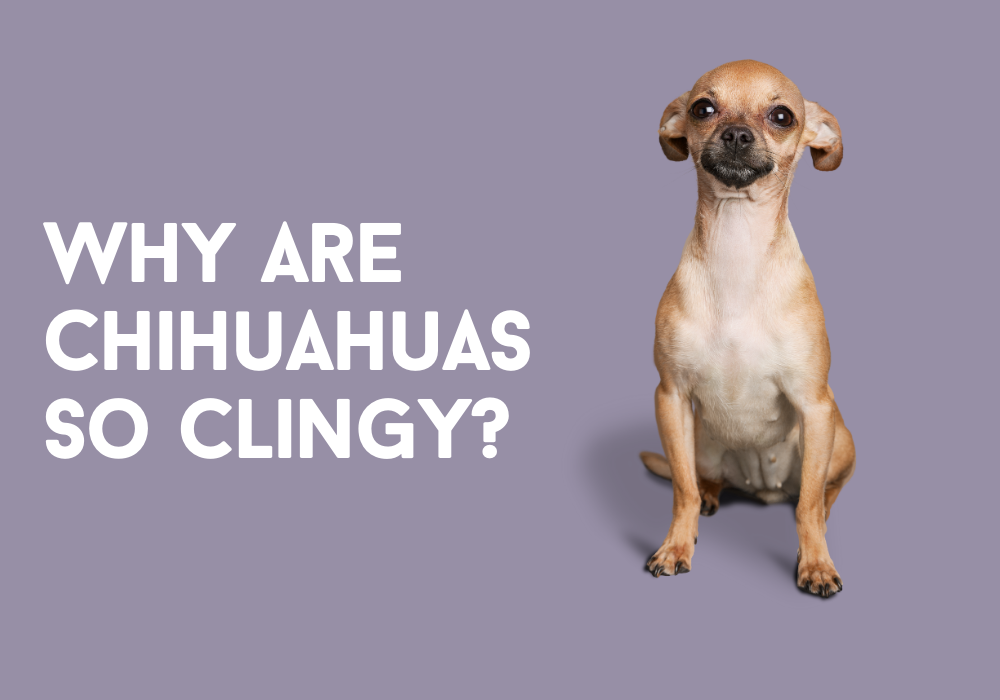 Do you ever feel like your Chihuahua dog has an unending need for attention? If so, don't worry - you're far from alone! As one of the smallest and most affectionate dog breeds around, Chihuahuas are known for their clinginess and dependence on their owners.
But fear not – while it may be tricky to teach them how to be more independent, it can certainly be done with just a bit of patience and consistency. Read on to learn why Chihuahuas crave companionship so much and how you can help them become a little less clingy!
Chihuahuas may be small lapdogs, but they have a big need for attention. It's important to give them 20-30 minutes of exercise and playtime every day to keep their high energy levels in check. Neglecting to give them attention can lead to clingy behavior and excessive whining.
Plus, Chihuahuas are prone to separation anxiety, so it's not recommended to leave them alone for extended periods of time. If you have a busy lifestyle or work full-time, a Chihuahua may not be the best fit for you.
Why is Chihuahua clinginess a problem?
Chihuahuas tend to be affectionate and enjoy being around people all the time. While some may display independence, most prefer staying close to their owners. Whether this is viewed as a concern or normal behavior is entirely up to you.
Some signs that your Chihuahua's clingy behavior has become a more serious issue include:
- Your Chihuahua suffers from severe separation anxiety, which means you can't leave the house, not even for a few minutes.
- To avoid any aggression towards guests, it's necessary to restrain your Chi upon their arrival.
- For safety reasons, it's best not to hug or cuddle with other family members around your Chihuahua to avoid any possible attacks.
- If you leave the room, head to the bathroom, or step away for a moment, your Chihuahua may begin to bark and scratch at the door.
- Your Chihuahua has separation anxiety even if there is always someone else in the house with them.
Clinginess can disrupt your life in various ways, from restricting guests in your home to incurring extra costs for dog care.
Additionally, it can escalate to become a destructive obsession, making it necessary to address and eliminate the issue at the first signs of trouble.
If left unmanaged, it can even make you feel unsafe around your partner when your Chihuahua turns possessive and aggressive.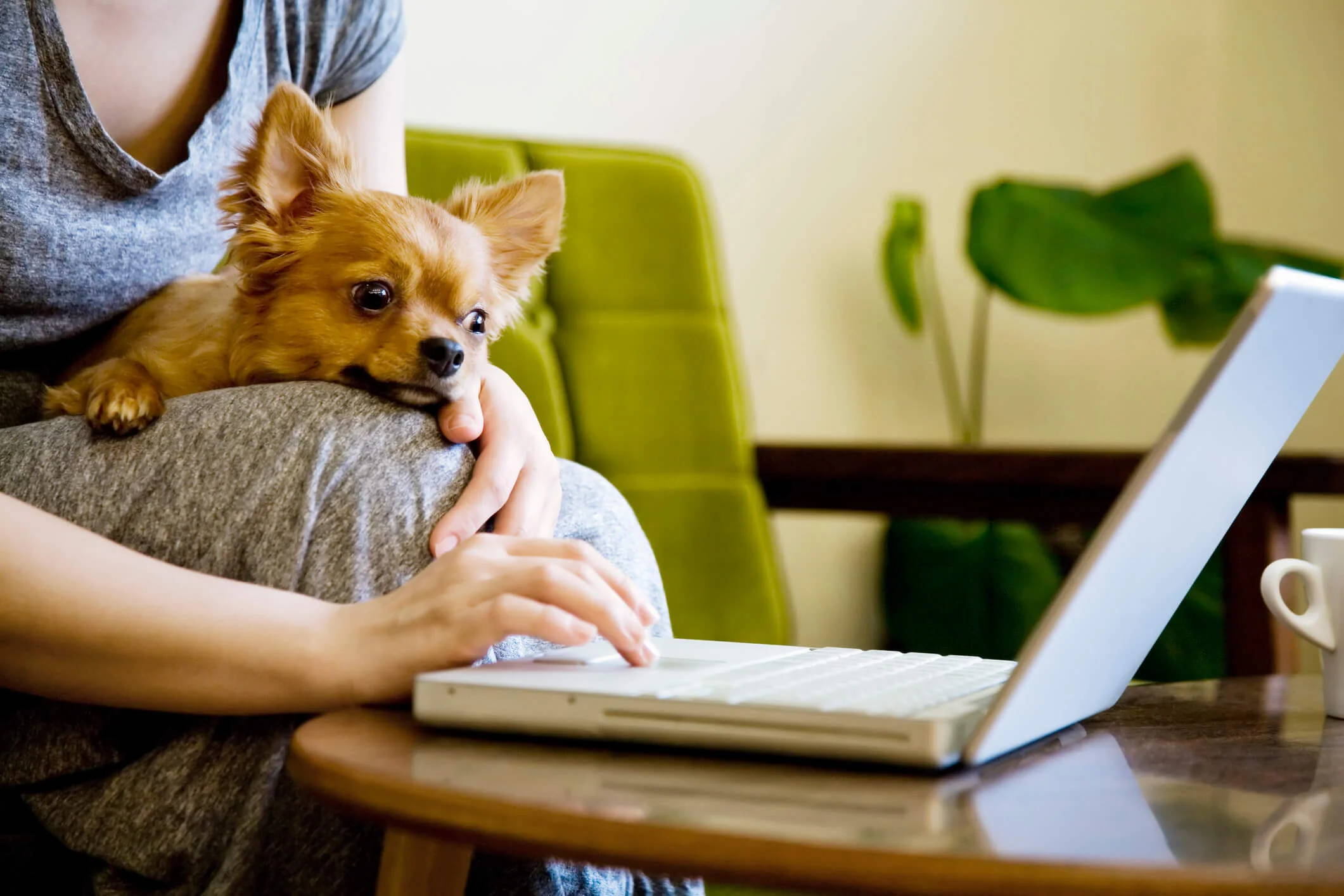 Reasons why your Chihuahua might be clingy
Chihuahuas can exhibit clinginess and neediness for various reasons. Here are some of the most prevalent causes.
1. They have separation anxiety
Clinginess in Chihuahuas may be attributed to their fear of being left alone, also known as separation anxiety. When left alone, Chihuahyas may exhibit behaviors such as excessive barking, biting, crying, and even destroying furniture.
While it can be frustrating for owners, it is vital to understand that separation anxiety is not necessarily caused by poor training or behavioral issues. Rather, it stems from the Chihuahua's deep attachment to their owners.
2. They lack socialization
Chihuahuas are known for their clinginess, and it's not just because they want your love and attention. The root cause of their clinginess is often socialization, or the lack thereof.
When a Chihuahua is not exposed to a variety of people, places, dogs, and situations early on in life, they can develop serious attachment issues.
This can manifest in behaviors such as excessive barking, jumping, and even aggression toward strangers.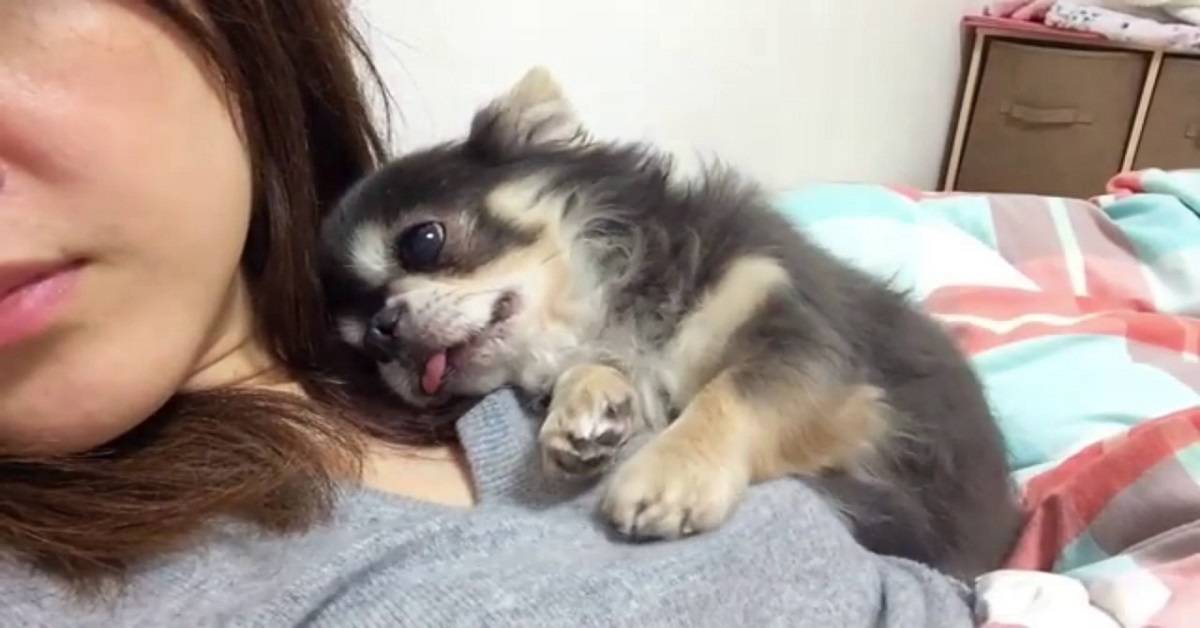 In the case of Chihuahuas, their clinginess can be attributed to their fear of abandonment. These little pups may appear cute and cuddly, but the underlying reason behind their constant need to be by our side can be a serious issue.
It's important to provide proper training and support to help them overcome this fear and build confidence. As owners, we must show our Chihuahuas that they are loved and that we will always be there for them. It's our responsibility to ensure they feel safe and secure in their home.
4. They have small Dog Syndrome
Small dog syndrome can cause Chihuahuas to become incredibly clingy to their owners. This condition is characterized by overcompensation for their small stature by exhibiting overly aggressive or possessive behavior.
Chihuahuas can become territorial, barking at strangers, and even biting to protect themselves and their owners. They may also become incredibly attached to their owners, to the point of following them around the house or becoming anxious or destructive when left alone.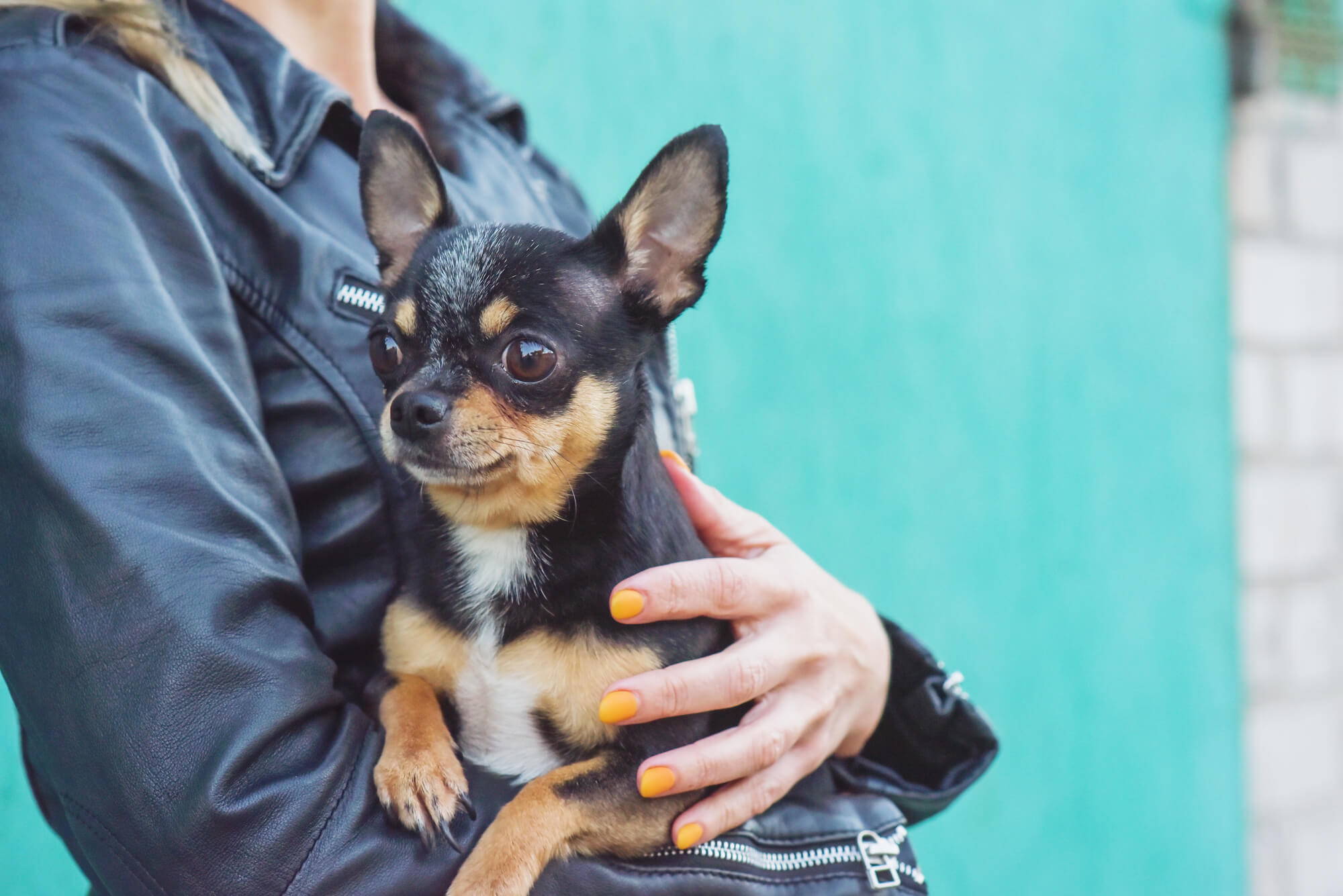 As our Chihuahuas age, it is important to recognize and address any changes in their behavior. Age-related issues like vision and hearing loss, as well as cognitive decline, can cause fear and anxiety in our senior Chihuahuas.
If you notice that your Chihuahua is running into things or seems lost, it is critical to have them evaluated by a veterinarian. These symptoms could be indicative of vision loss or cognitive dysfunction.
6. You have a new routine
Chihuahuas thrive on routine, so switching up your schedule can be unsettling for them. Whether it's a new job, gym routine, or relationship, they may feel anxious or clingy due to the sudden changes.
Dogs are perceptive creatures and can sense when something is different, so a shake-up in your everyday routine might be the reason why your Chihuahua is craving more time and attention from you.
Chihuahuas are highly intelligent pups who require physical and mental stimulation to prevent boredom. Without adequate exercise and mental challenges, they may become clingy or destructive.
To keep your Chihuahua engaged, make sure to take them on daily walks and offer plenty of toys for mental stimulation.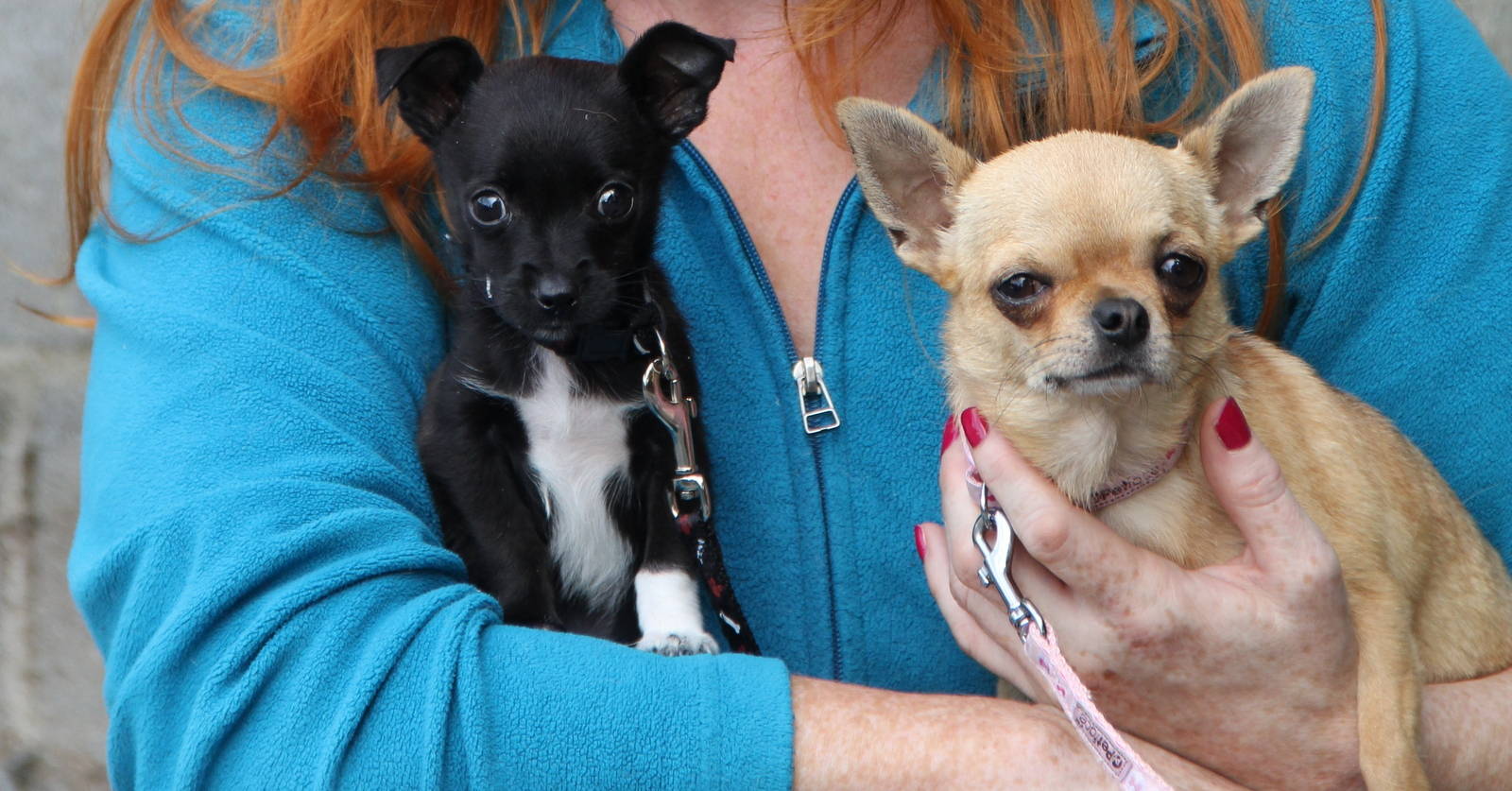 8. You might be encouraging their neediness
Chihuahuas often become overly needy due to human encouragement. If you find yourself constantly petting or picking up your Chi, you might unintentionally be contributing to their clinginess.
While some Chihuahua parents don't mind their pet's neediness, others may struggle with it. For tips on how to deal with a needy Chihuahua, see the following section.
How to train my Chihuahua to be less needy?
Having a Chihuahua that constantly sticks by your side is adorable, but it can become overwhelming. If your Chihuahua friend seems anxious and always underfoot, you may be wondering how to assist them to feel at ease.
Encouraging your Chihuahua's independence and self-confidence through simple techniques can help them become less clingy. Fortunately, some things can be done to achieve this.
1. Teach them rules and boundaries
Establishing rules and boundaries with your Chihuahua right from the start is essential for their understanding of what is expected of them, providing them with a sense of security.
As loving pet owners, we often tend to indulge them, allowing them to sleep in our beds or follow us everywhere we go. However, in the long run, this can have negative effects on their behavior, leading to issues such as separation anxiety.
To prevent this, it's necessary to set some ground rules, such as giving them their own bed or crate next to yours, providing them with their own space, and spending some time away from them each day.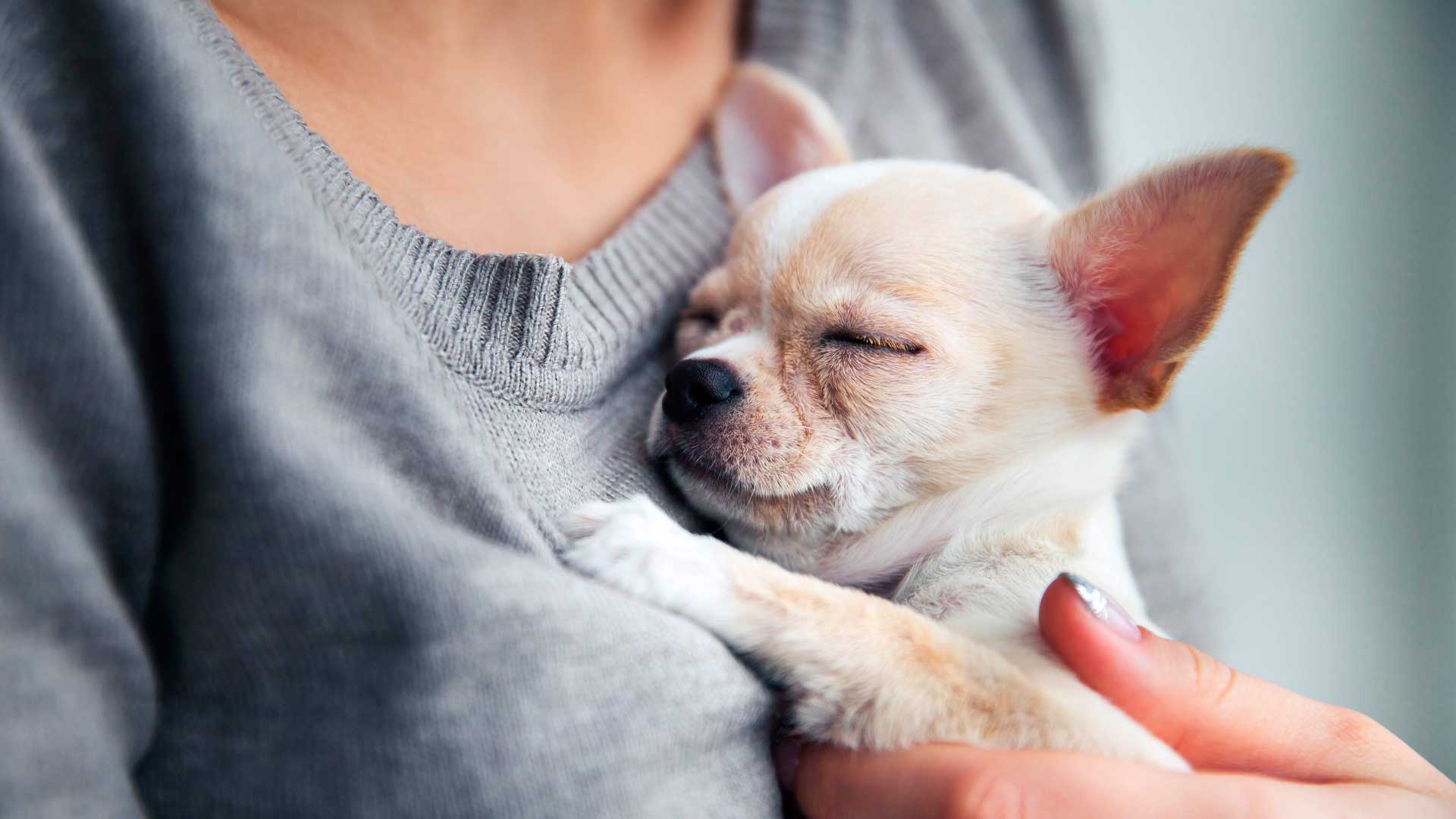 2. Get them to exercise more
If you're dealing with a Chihuahua that constantly demands your attention and affection, know that exercise can be a powerful tool to help combat this behavior. Experts recommend at least 30 minutes of exercise a day, but this can be broken up into shorter sessions or one longer one.

By providing your pup with ample opportunities to run, play, and explore their surroundings, you can help them expend their energy and prevent them from feeling so needy.
3. Help them be more independent
As a responsible pet owner, it's important to make sure your Chihuahua gets the attention they need to thrive. One way to achieve this is by providing opportunities for independent play.
While it can be tempting to constantly interact with your Chihuahua, it's important for their development to explore and play on their own. By investing in some engaging toys or puzzles, you can encourage your Chihuahua to spend some quality solo playtime.
This will not only boost their confidence and independence but also provide mental stimulation that is essential to their overall well-being.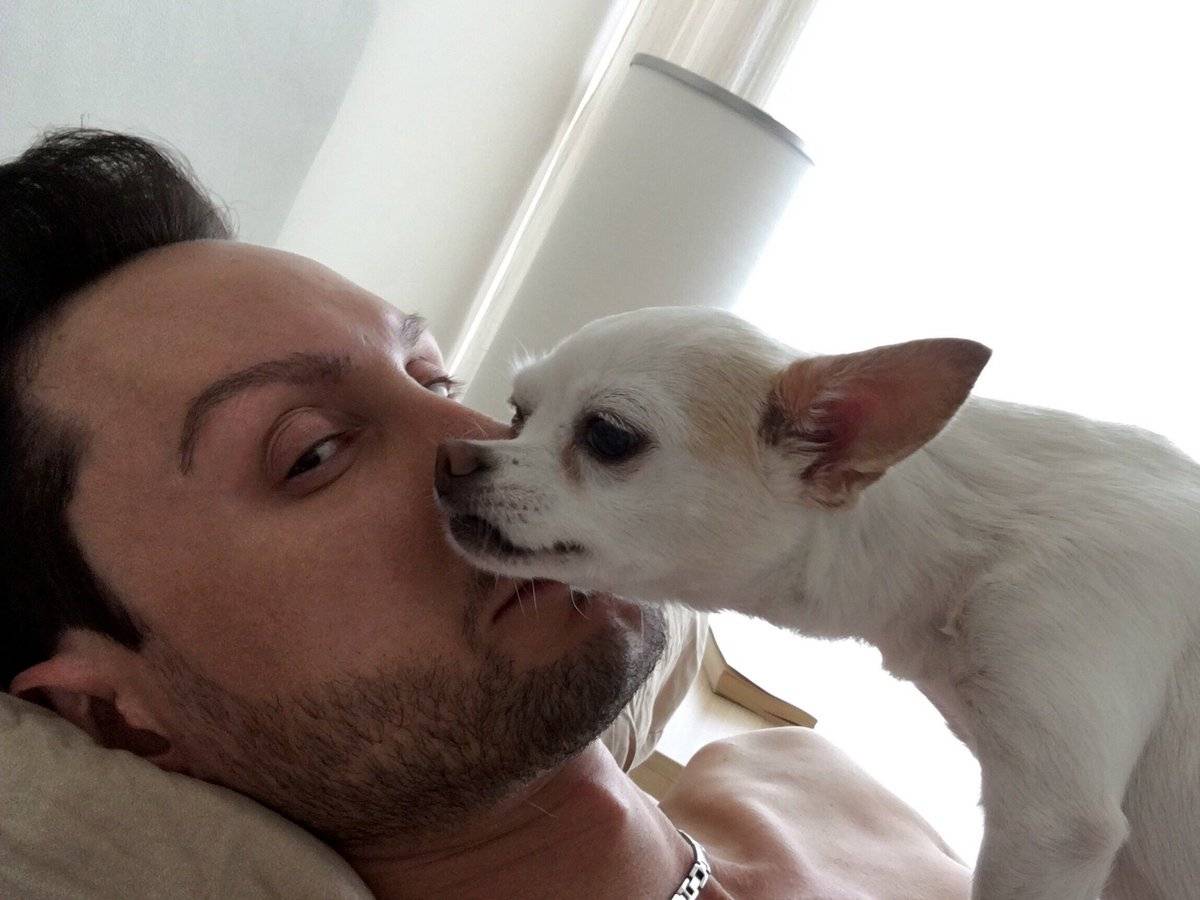 4. Give them a safe space
Being a responsible Chihuahua owner requires a lot of work and commitment. One of the most important things that you need to ensure is that your Chihuahua has a safe and comfortable place to relax and sleep.
Making the right choice for their resting spot can make all the difference to their overall well-being. Consider options such as a covered crate or wire playpen with a door, along with a cozy dog bed and comfortable blankets.
This will not only provide them with a comfortable space but also help them feel secure and protected.
Proper socialization is crucial for your Chihuahua's well-being. Ensuring your Chihuahua friend has regular interactions with other dogs and people can greatly reduce these behaviors. Take your Chihuahua to dog parks, doggy daycare, or join pack walks to expose them to new environments and help build their confidence.
Playdates with other pups can also provide positive socialization experiences. Don't underestimate the importance of socialization for your Chihuahua's emotional health - it can make all the difference in their overall behavior and happiness.
6. Make entering and exiting your home a seamless experience.
As a pet parent, it's our natural instinct to want to cuddle and shower our pets with affection every time we leave the house. However, with our Chihuahuas, this may not necessarily be the best approach.
When we repeatedly give them petting and kisses before leaving, we inadvertently draw their attention to what's about to happen next, which is being left alone.
Practice leaving the house without saying goodbye to your Chihuahua for a few minutes at a time, slowly increasing the duration as they become accustomed to it.
This will help to create a calm and confident Chihuahua who doesn't fear being alone or feel overly dependent on their owner's presence.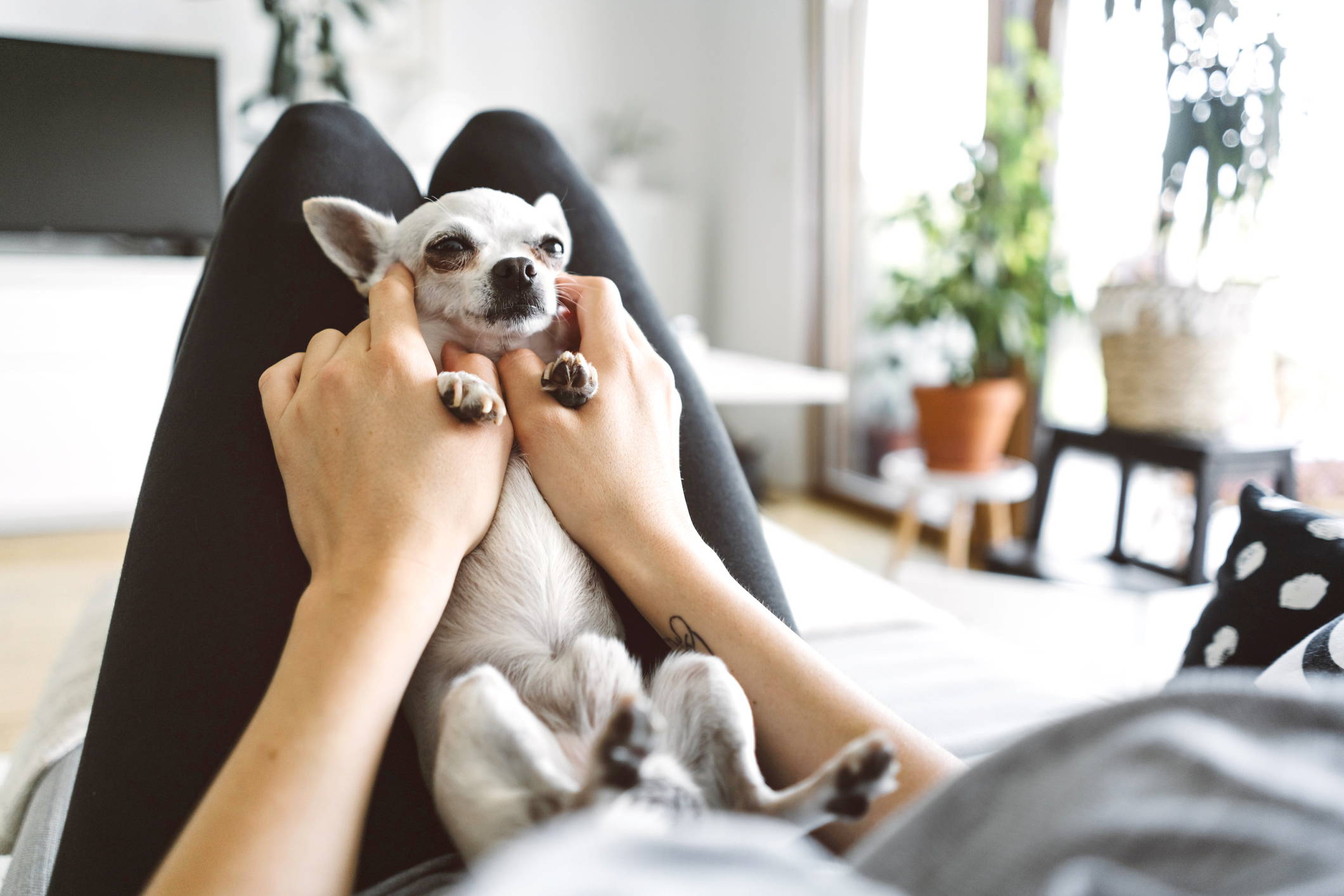 7. Do not reinforce clingy behavior
If you have a clingy Chihuahua, it's important to understand that this behavior is often learned. You may be unconsciously rewarding your furry companion for seeking your attention constantly, which only reinforces clinginess.
To break this cycle, it's crucial to act bored around them. Stop petting them every time they demand it and only touch them when they come to you. Additionally, avoid giving them snacks without having them work for them.
If you ignore your Chi completely, they should eventually learn to entertain themselves without relying on your constant attention.
It may take some time, but this is a healthy way to break the clingy behavior once and for all.

Chihuahua Clinginess FAQs
Chihuahua always wants to be held: why and what to do?
Chihuahuas can become dependent on their owners for comfort and security. This is why they may often seek attention and want to be held all the time. To help them break this behavior, it's important to give them a safe space and provide regular stimulation that keeps them entertained.
Chihuahuas: are they naturally clingy?
Yes, Chihuahuas are naturally clingy and needy. They often develop an intense bond with their owners and may become anxious or upset when they're left alone.
Why is my Chihuahua suddenly following me everywhere?
Your Chihuahua may suddenly become clingy if they sense a change in your behavior or if there is something new and unfamiliar around them. They may be trying to seek comfort and safety from you during stressful times.