Getting a puppy of any size, shape or breed is exciting, rewarding, and always a fun occasion. Chihuahua puppies are cute, cuddly, and comical as they cavort around your house on new wobbly legs, exploring the world around them for the first time.
But with a dog as small as a Chihuahua many owners find themselves wondering "when do Chihuahuas stop growing?" That's what we are here to find out. With the help of growth charts and breed facts we will break down the growth pattern of a Chihuahua and when you might expect your Chihuahua to reach full size.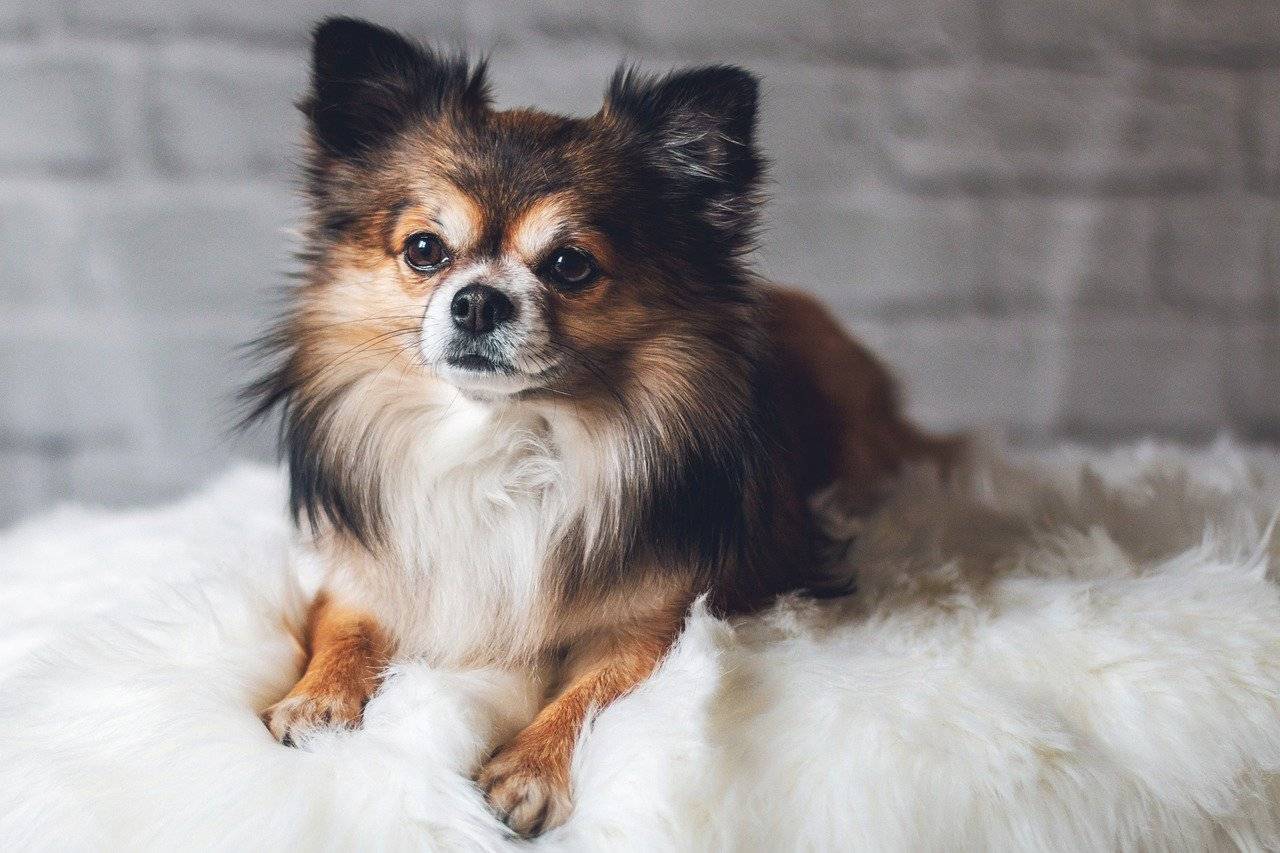 When Do Chihuahuas Reach Full Size?
Like all babies, Chihuahua puppies grow very quickly. These tiny little puppies may only measure a couple of inches when born, but in a matter of weeks they will quickly approach their full adult size. In fact, the standard growth chart of the weight of Chihuahuas has them reaching their full adult weight by 28 weeks (about 6 and a half months), though further skeletal and cognitive development can happen beyond this age up to 8-12 months.
Because of their small stature, Chihuahuas grow to their full adult height well before they reach a year old, unlike larger breeds which can take up to 2 years to fully develop.
Additional Chihuahua Growth Patterns to Consider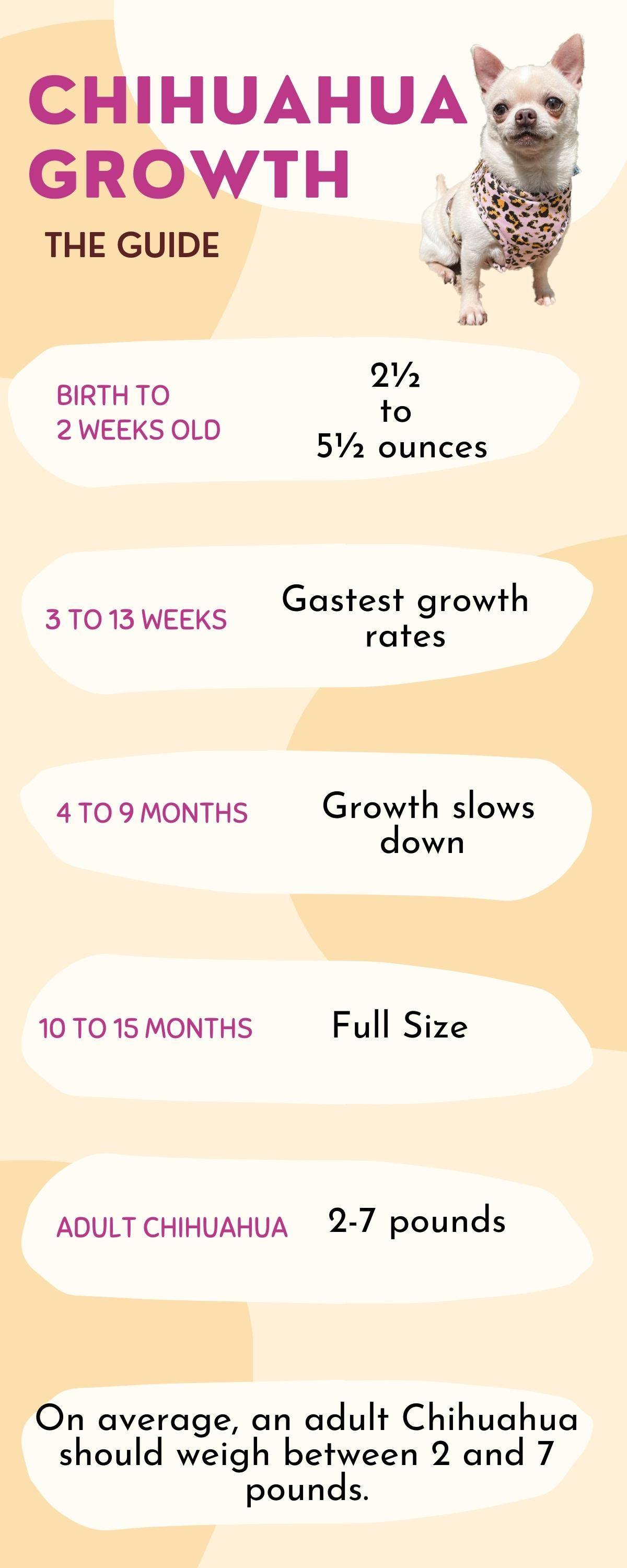 All dogs, including Chihuahuas, have not only physical growth but cognitive growth to go through in their first couple of years, learning how to socialize and behave in an acceptable manner as domesticated pets.
Emotional maturity in Chihuahuas often takes longer to develop than their physical size. It is highly important that Chihuahua owners focus on the correct training during the early socialization stage to avoid behavioral problems.
The Benefits of Knowing Your Chihuahua's Growth Pattern
By understanding the full growth pattern of your Chihuahua, you can ensure that their growth is monitored accurately, preventing overweight or underweight puppies. To do this, you will need to have some idea about the growth stages of your Chihuahua, and when they will reach their full height and weight.
If the Chihuahuas growth and weight gain does not remain consistent, it could lead to potential health problems later down the road. All Chihuahuas should grow at a steady pace that can be easily tracked throughout the first 28 weeks (about 6 and a half months) of their life.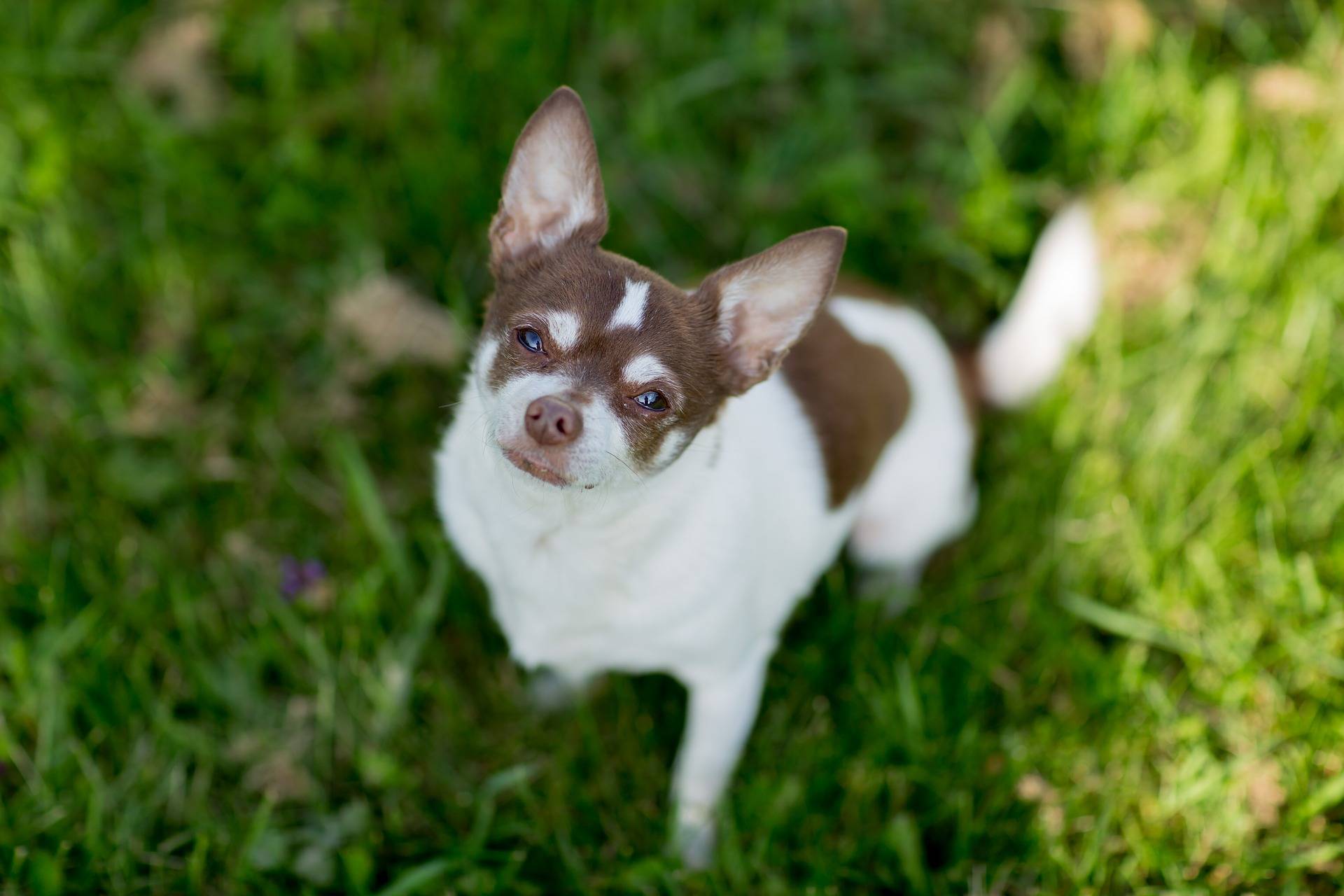 How Big Do Chihuahuas Get?
The average height of Chihuahua from the ground to their shoulders is around 6 to 9 inches. It will usually take 8 to 12 months for a Chi pup to develop from a tiny bumbling, parcel of cuteness, to a fully-grown adult Chihuahua.
The height at which the Chihuahua stops growing is usually in line with their maximum weight gain. Therefore, a heavier adult Chihuahua is likely to be taller.
The Chihuahua Growth Chart
There are no specific growth charts available that reflect the proper growth rate for the height of Chihuahuas. However, we have put below the chart pertaining to the appropriate weight of a Chihuahua. By closely monitoring your Chihuahua's weight you can see whether they are staying within the appropriate limits.
Additionally, you should watch their figure to see if they are showing signs of being underweight or overweight as this could signify whether their body is growing proportionately to their weight gain.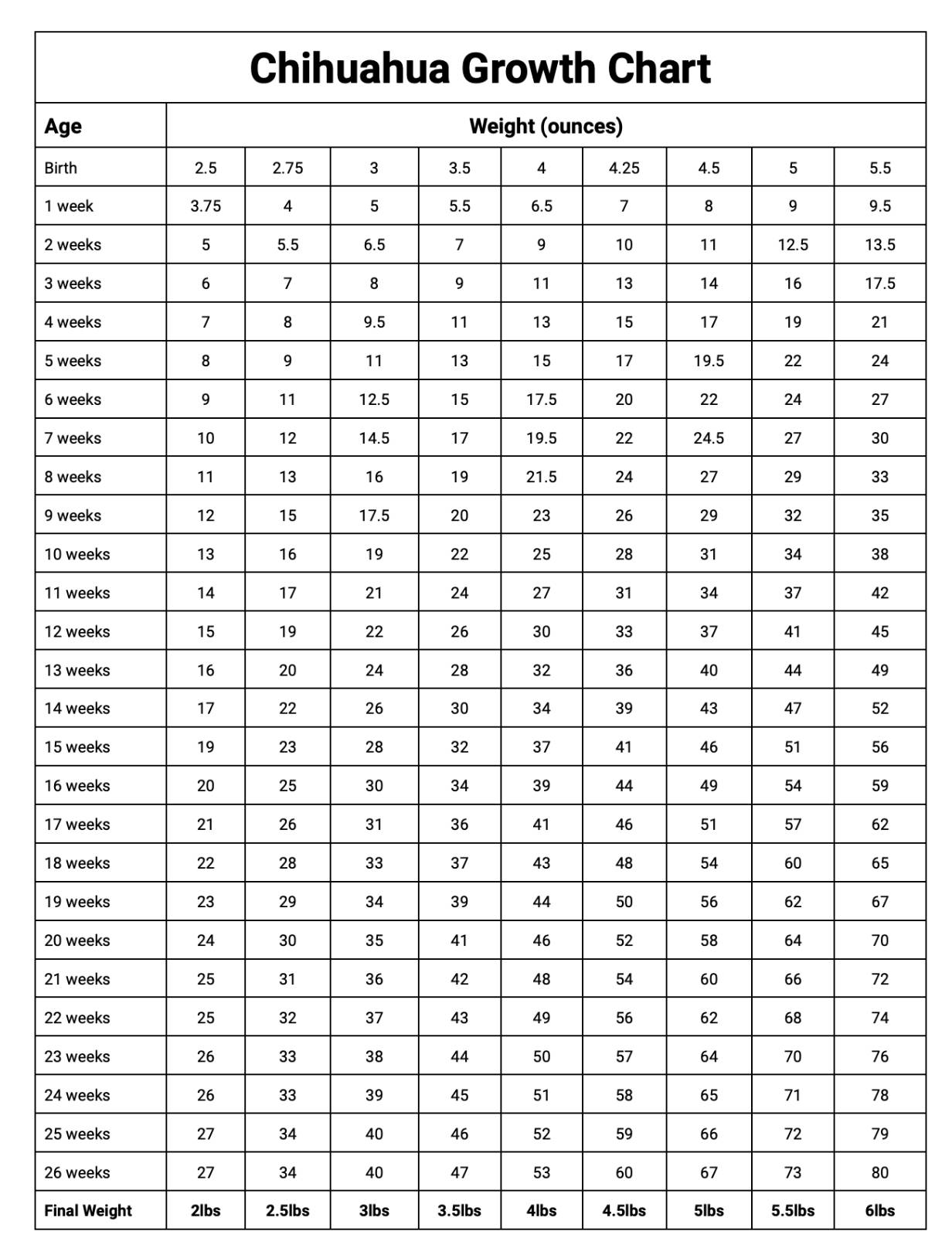 Don't Be Afraid to Contact the Vet
If you find yourself worrying about whether your Chihuahua is growing properly, you can always contact your vet for a professional opinion. Regular trips to the vet during their first year of life should be maintained anyway to ensure that they are developing properly,
Chihuahua Growth According to Sex
Most of the Chihuahua's development and growth will happen before they reach the age of eight months. After this, they will still be developing, but the ways in which they develop will vary according to the dog's sex.
Male Chihuahuas. As a male Chihuahua grows into adulthood, it will develop muscle mass and the torso will broaden out. Male Chihuahua is typically grown to be slightly larger than females at full size, with males growing to an average of 7 to 9 inches.
Female Chihuahuas. In female Chihuahuas, the development of muscle mass will also continue as they grow. However, their hips will broaden out until they are slightly wider than the hips of male Chihuahuas. Additionally, females are slightly shorter than males sitting at around 6 to 8 inches in height.
Chihuahua Growth with Sexual Maturity
There is a strong color correlation between the Chihuahua's typically smaller size and when it reaches sexual maturity. In larger dog breeds, it may take more than a year for females to reach sexual maturity. With the average being somewhere between 8 and 12 months.
Chihuahuas reach sexual maturity after as little as four months. This is typical of smaller dog breeds. For this reason, you will need to be paying close attention to your puppy's development.
If you intend to have your Chihuahua spayed or neutered once they reach sexual maturity but before they have grown to their full height, you need to keep in mind that spaying and neutering can cause hormonal changes that can stunt their growth.
Nutritional Impacts on a Chihuahua's Growth
Nutrition plays a significant role in ensuring that your baby Chihuahua grows up to be a big, strong, bold, and beautiful adult. An effective nutrition plan for your Chihuahua is vitally important throughout all stages of their life to ensure that they grow strong and able to take on the world.
A Chihuahua puppy will typically need additional nutrients to support development where a senior Chihuahua may need additional digestive and joint support.
Chihuahua Puppy Nutritional Requirements
Puppy foods usually have more calories and protein than adult dog food. These foods provide the nutrients for good bone and muscle growth in ways that are easily absorbed by the puppy's system. If a Chihuahua puppy isn't receiving the correct amount of nutrients in its diet it can cause skeletal deformations that will have a major impact in later life.
A condition known as knuckling can cause the tendons to pull on the joints resulting in the Chihuahua walking on the tops of its feet and constantly falling down. Additionally, a Chihuahua suffering from malnutrition can fail to reach its full height, as bad nutrition can stunt growth.
Adult and Senior Chihuahua Nutritional Requirements
As your puppy grows up and becomes an adult, you will need to adjust its diet accordingly. But as you do this, you need to ensure that the changes you make to the diet are undertaken slowly. An adult Chihuahua will require additional protein to support muscle mass and maintain an active lifestyle.
Senior Chihuahuas are typically less active and tend to require additional help with digesting the food and overall mobility. In old age a Chihuahua's joints can stiffen, though this can be aided with the appropriate diet and exercise regime.
For those wondering "when is a Chihuahua fully grown?" We hope that we have been able to answer your question. We also hope that the additional information provided in this article has helped you to plan how you will monitor and maintain your Chihuahua's growth to ensure that they are healthy, happy, and strong.
Q: When do Chihuahua puppies stop growing?
The Chihuahua puppy to adult growth period takes between 8-12 months of age. During this time, they will reach sexual maturity, however, it is not advised to breed a female until after she has finished growing to prevent any gestational complications.
Q: When do Chihuahuas stop growing in height?
A full-grown Chihuahua will have reached its maximum height before it reaches a year old. The typical growth time for a Chihuahua is around 27 weeks (about 6 months). Once they suppress this age, they tend to be at their maximum weight and height.
Q: When is an Apple Head Chihuahua full grown?
Apple Head Chihuahuas have a growth cycle that typically matches that of other Chihuahua breeds, meaning they will reach their full size by around 9-12 months. Generally speaking, they will be at their full adult height at the lower end of that age range, however some do grow slightly larger, which can take a little bit longer to account for proper development.
Q: How fast do Chihuahuas grow?
Chihuahuas grow about as quickly as any other breed (relative to their size). Though many people believe that Chihuahuas grow faster than other breeds because their growth period is not as long as that of a husky for example. Small dog breeds tend to take less than a year to reach their full size, whereas large breeds may take up to 2.
Q: What age does Chihuahua stop growing?
A Chihuahua will typically stop growing at around 8 to 12 months of age. Some may reach their full height earlier and some may take a little bit longer, however the 8 to 12 months' time frame tends to fit the growth cycle of most Chihuahuas.