Why is My Chihuahua so Skinny? (+ When to see a Vet)
Last updated on April 5, 2023 | 10 min read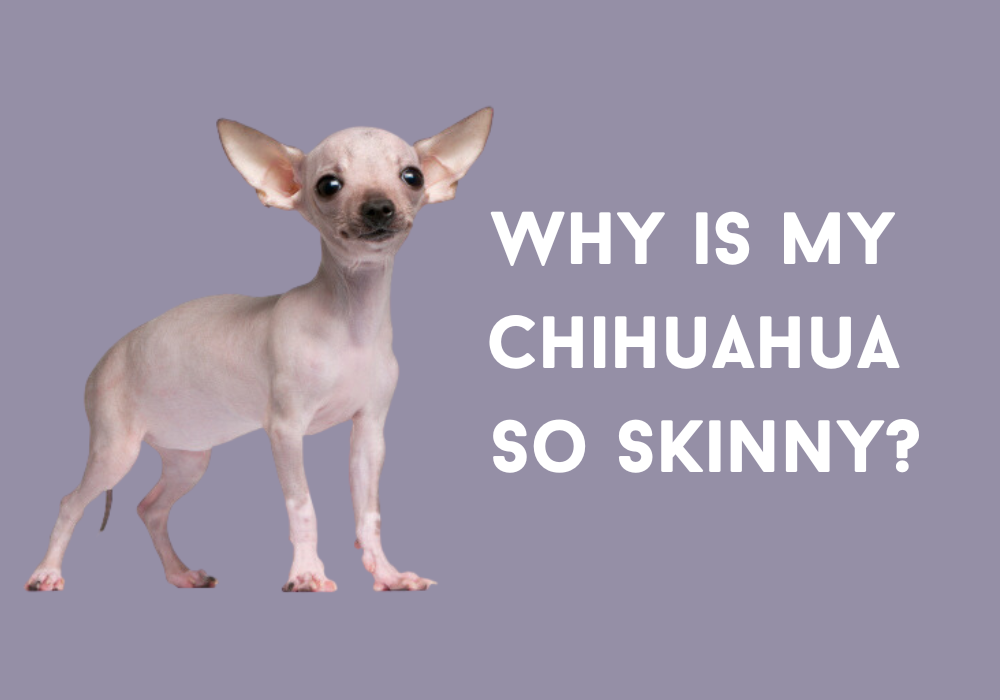 If you're Chihuahua parent, then you know how small and delicate they can be. But when your Chi takes "small and delicate" to an unhealthy level, it may be cause for concern.
Chihuahua Nothing is more unsettling than noticing that your once plump Chihuahua has become too thin or appears gaunt – so why exactly is your Chihuahua looking skinny? In this blog post, we'll discuss the potential causes of being underweight in Chihuahuas, as well as some tips on knowing when to consult with your veterinarian.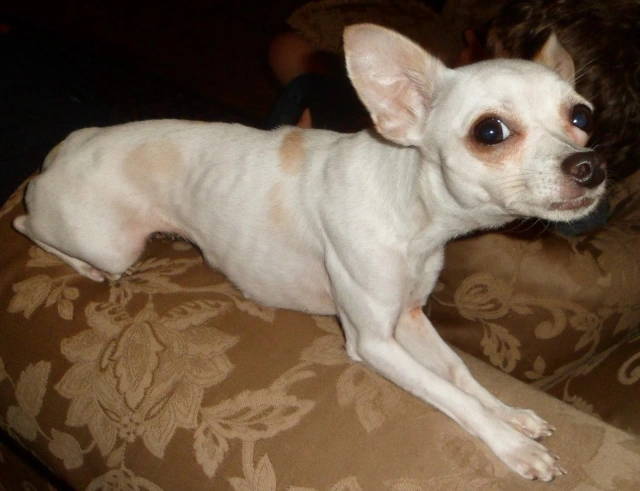 How to tell if my Chihuahua is too skinny?
Knowing the weight of your Chihuahua is important, sure – but the all-important visual assessment is the true test for poor body condition. If your pup falls into that 2 to 6-pound range, don't just assume they are A-OK. Ponder whether their height-to-weight ratio makes sense; if your Chihuahua stands 9 inches tall and is only 2 or 3 pounds in weight - chances are they're a bit too skinny!
If you're struggling to decide if your Chihuahua is too skinny, obviously the easiest way to tell is by how prominently their ribs and pelvic bones appear. Picture a cuddly cushion of fat over their shoulder blades, but with an underweight Chihuahua, there'll be nothing more than prominent definitions of bones. The base of the tail should yield pressure that's met with a soft cushion, not a bony handshake.
A noticeable dip or curve between the ribs and hips is usually the tell-tale sign of an underweight Chihuahua. With this said, it's important to pay attention to these signs, as they can point to underlying issues or potential health problems if not addressed in time.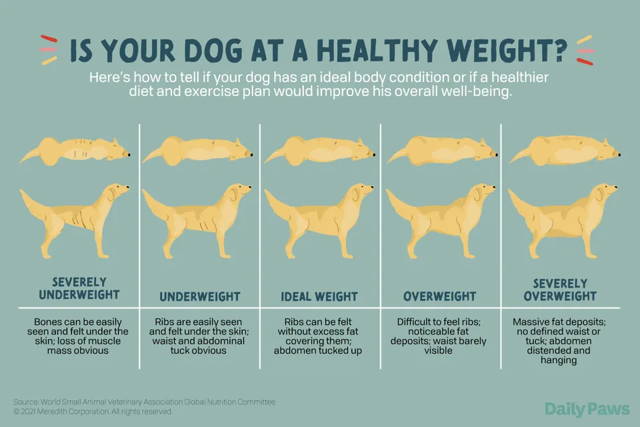 Reasons Why Chihuahuas get skinny
1- They are not eating enough
An underweight Chihuahua could be facing nutrition deficiency. If they don't get regular, wholesome meals designed specifically for their four-legged friends, then their tiny frames are going to miss out on all the tasty and important ingredients that can make them both healthier and happier. So give your Chihuahua the best by providing steady meals of whole dog food or other foods that will promote optimal health and satisfaction!
Also read: When do Chihuahuas stop Growing?
2- They suffer from an illness
If you have an underweight Chihuahua, it may be suffering from more than being hungry--certain medical conditions can leave your pup looking much skinnier than it should be. Parasites, diabetes, infections, and even dental issues can lead to an alarming poor nutriment absorption, while hyperthyroidism--which is a form of cancer--can be at play if their diet increases but fails to make them gain weight.
If you own a Chihuahua, then you must brace yourself as they are prone to gut parasites. Tapeworms, roundworms, hookworms, whipworms, coccidia, and giardia are just some of the common parasites that can affect them. If not treated on time, these minor issues can turn out to be fatal.
Make sure to keep an eye out for the telltale signs like passing worms in the stools or underweight ness—both of which should ring alarm bells for owners. Moreover, watch out for their behavior such as excessive scratching and bloated belly.
If you have an underweight Chihuahua, it may be suffering from hyperthyroidism. The condition results in the over-production of thyroid hormones and leads to an increase in metabolism and subsequent weight loss.
So if your skinny pup isn't able to hold down food no matter how much you give them – hyperthyroidism is most likely the cause! Fortunately, it's easily treatable but make sure your vet prescribes the right medication for your Chihuahua.
Ever felt helpless seeing yourChihuahua turning too skinny? It's quite possible that they are experiencing anxiety and stress. According to the Animal Kennel Club, there could be three contributing factors to anxiety in dogs- fear, separation, and aging.
If these feelings continue for a long time, it can take a toll on their health resulting in an underweight and weak Chihuahua. As responsible pet owners, we should watch out for tell-tale signs like drooling, restlessness, aggression, and destructive behavior indicating their anxiousness.
One could say that dogs act as mirrors of our contemporary society with common environmental stressors such as new environments, meet-ups with new humans, loud noises, or mating seasons playing part in their lives just like us!
Nothing good ever comes from having your dog suffer from Exocrine Pancreatic Insufficiency -- just ask every owner of an underweight Chihuahua! Maldigestion, malabsorption, and diarrhea are all unwelcome side effects that are tough to stomach.
Not only is this a difficult issue to tackle but to make matters worse, the Chihuahua's body cannot fully absorb what it needs so it can't even get the right nutrition. And before you know it, you've got an emaciated Chihuahua who has trouble putting on a few pounds.
If your Chihuahua is struggling with low appetite, you might want to start worrying! It's no secret that being underweight is a challenge for this breed, so if your Chihuahua begins to lose their appetite, it won't take long before it'll be as light and skinny as a toothpick.
Of course, this could be an indication of a health complication and should be investigated by your vet, so don't wait too long to let them know something may be off with the appetite of your beloved pooch.
How to help my skinny Chihuahua gain weight?
1- Give more nutritious foods
If you have a skinny Chihuahua, you may need to reevaluate their current diet and if you're looking to get them back up to the ideal weight. Dog food with rich, substantial ingredients like healthy oils and fats can do wonders for an underweight Chihuahua's diet.
Treats like peanut butter or plain chicken might make all the difference as they work on getting their health back. And never forget that picky eaters need extra love too! Sometimes it can be hard to identify which foods are most appealing at first, so experimentation is key – maybe even throw in a few different flavors of 'dogcicles' in the summertime just for fun!
2- Increase food portions
Chihuahuas are energizer bunnies in disguise! If your adorable Chi loves to spend extra time outdoors and runs around like there's no tomorrow, it's important to make sure they don't become a skinny Chihuahua.
With their ultra-high metabolism, these little furballs can run through calories in the blink of an eye. Make sure you pick up their food rations and give your Chihuahua enough for their activity; all that exercise is bound to burn them out eventually. No one wants an underweight Chihuahua, so keep them healthy and give them the nutrition they need!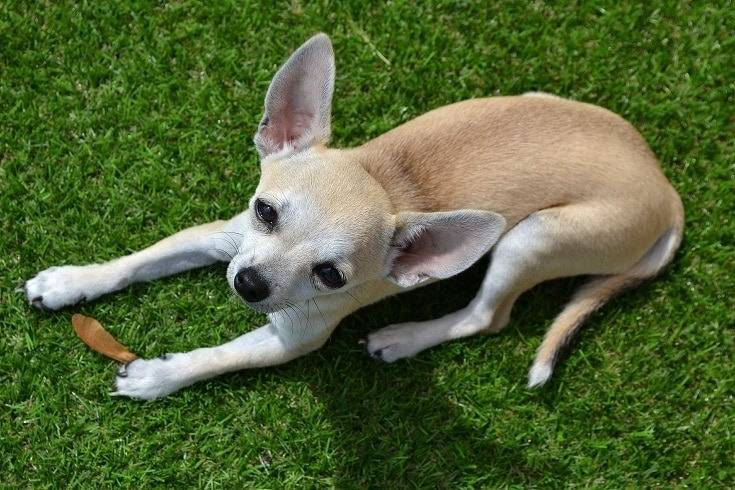 Even if you've faithfully been increasing their food portions, providing your them with the best nutrition and even indulge in some extra treats here and there, and your Chihuahua is still not gaining any weight, it's time to book an appointment with the vet. Don't delay, take charge of your little one's health and get that underweight Chihuahua back on track!
Why is my Chihuahua so skinny?
There can be a few reasons why your Chihuahua is skinny. It could be because they are not getting enough nutrition, have an illness or infection that's causing them to lose weight, or simply because their metabolism is higher than most and they burn through calories faster than other breeds.
Are Chihuahuas supposed to be skinny?
No, Chihuahuas should not be skinny. Ideally, they should have a healthy weight that is consistent with their size. If your chihuahua looks too thin or has lost weight recently, it could be time to take them to the vet for a check-up.
How to tell if a Chihuahua is underweight?
It's easy to tell if your chihuahua is underweight, as their ribs should not be easily visible and they should have a slight layer of fat on their body. If you can feel the outline of every rib or they look overly thin, this could indicate an underlying health issue.
Are Chihuahuas naturally skinny?
No, Chihuahuas are not naturally skinny. They should have a healthy weight that is consistent with their size and any sudden or dramatic changes in bodyweight could indicate an underlying medical issue that needs to be addressed by your vet.