Short-Hair Chihuahua: Things to Know Before Getting One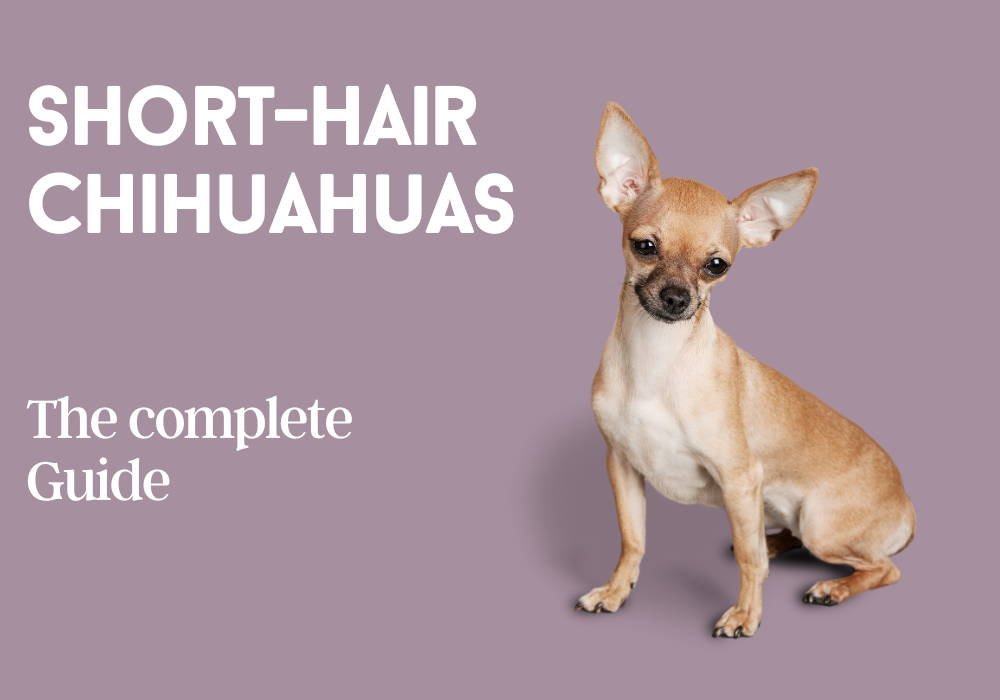 The Short-Haired Chihuahua is the most popular type of Chihuahua —a symbol of friendship, loyalty and intelligence in today's society. Popularized by television Cartoons and advertisements, this breed has become one of the most recognized pups around!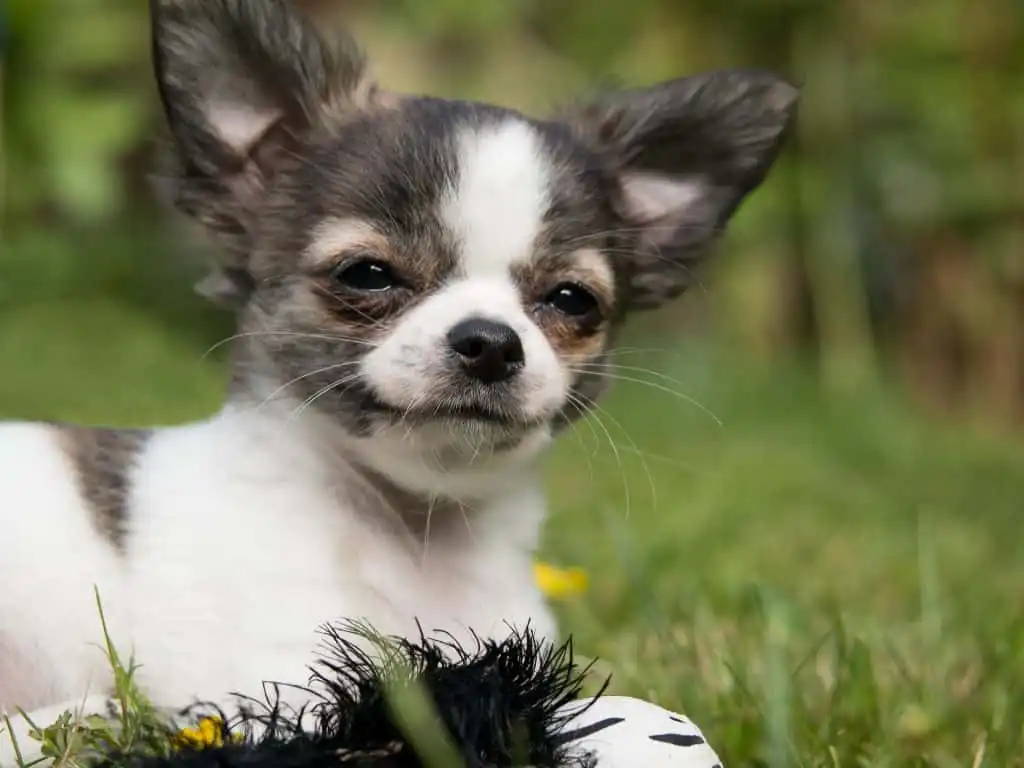 Short-Hair Chihuahua Characteristics
Short-Hair Chiuaua characteristics include appearance, coat color, coat length, personality, lifespan, and health issues.
Short-Hair Chihuahuas are known for their adorable and unique appearance. These pint-sized pups typically weigh only a few pounds, making them perfect for those who prefer a compact pet.
One trait that sets the Short-Haired Chihuahua apart from their long-haired counterpart is their distinctive deer head shape. This gives them a more angular and lean appearance, adding to their overall charm.
With their big expressive eyes and sweet expressions, no wonder that this breed has captured the hearts of so many dog lovers.
From dark chocolate to snow white, these short-coat Chihuahuas can sport just about any shade under the sun. Some even have unique patterns like spots or stripes!
Whether you prefer a solid-colored pup or a multi-colored one, Short-Hair Chihuahuas are sure to steal your heart with their tiny size and big personalities.
If you've ever considered getting a Chihuahua, you might be wondering about shedding. While all dogs shed to some extent, Short-Hair Chihuahuas are known for shedding less than their long-haired counterparts.
However, it's important to note that no dog is truly hypoallergenic, so if you have allergies, it's always best to spend time with the specific dog you're considering before making a final decision.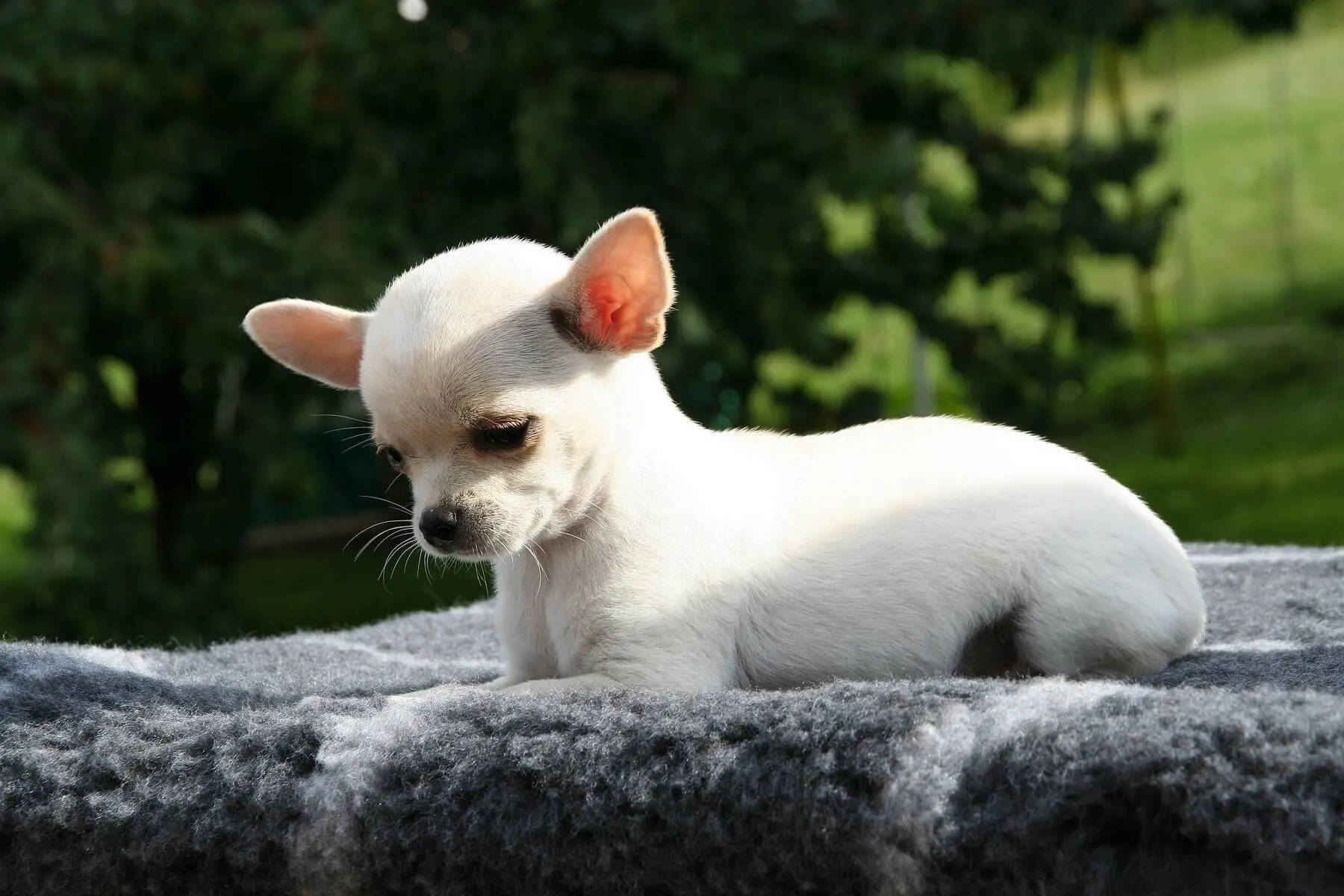 Short-Hair Chihuahuas may be small in size, but they are big in personality. These little dogs are known for their spunk, courage, and feisty attitudes. Despite their small stature, they are full of energy and love to play.
They are loyal companions and make great watchdogs, always alert and ready to protect their owners. Short-Hair Chihuahuas can have a stubborn streak and require firm training, but with patience and consistency, they can be well-behaved and obedient.
They are also known for their affectionate nature, often snuggling up with their human companions for a cozy nap. Overall, Short-Hair Chihuahuas may be pint-sized, but they pack a larger-than-life personality that makes them a beloved pet for many.
On average, with good care, Short-Hair Chihuahuas can live to between 12 to 20 years old. Of course, this lifespan also depends on several factors, including diet, exercise, genetics, and overall health care.
Short-Hair Chihuahuas are prone to certain problems such as dental issues, heart problems, and seizures.
Their small size and delicate features make them vulnerable to dental problems, which can lead to severe health complications if left unaddressed.
Due to their bulbous eyes, Short-Hair Chihuahuas are prone to developing conditions such as dry eye, cataracts, and glaucoma. Left untreated, these problems can lead to discomfort, vision loss, and even blindness.
Short-Hair Chihuahuas are prone to gum disease, tooth decay, and tooth loss. As a result, it's crucial for owners to closely monitor their Chihuahua's dental health by regularly brushing their teeth and bringing them to the vet for routine check-ups.
Heart disease is unfortunately common among Chihuahuas, and Short-Hair Chihuahuas are particularly susceptible.
These tiny dogs have hearts that are already working overtime due to their size, so it's crucial to keep an eye out for any signs of heart disease such as coughing, fatigue, and difficulty breathing.
This condition affects the kneecap, which can cause lameness and discomfort for your beloved pet. Even the Short-Hair Chihuahua, known for their robustness and playful spirit, can fall prey to patellar luxation.
This condition arises when the cartilage rings in the trachea become weakened, leading to a narrowing of the airway and consequent breathing difficulties for the dog.
Short-Hair Chihuahuas with collapsed tracheas may experience coughing, wheezing, and even fainting.
How to Care for a Short-Hair Chihuahua?
Caring for a Short-Hair Chihuahua involves much more than just spoiling them with cuddles and love! Your furry friend's overall health and happiness cry out for your attention.
It is crucial to feed Short-Hair Chihuahuas a diet that might be high in protein, with minimal carbohydrates, and free from fillers and artificial ingredients that could harm their delicate digestive system.
A balanced diet of lean meats such as boiled chicken or fish, along with some fruits and vegetables, would keep your Short-Hair Chihuahua healthy and happy.
Even though these Short-Hair Chihuahuas don't require a lot of space, exercise is crucial to their well-being. They are relatively energetic, so you should be ready to keep up with their active lifestyle.
They love running around and playing with their owners. Regular exercise will not only prevent boredom, but it will also provide your Short-Hair Chihuahua with the necessary physical and mental stimulation.
Short-Hair Chihuahuas are quick learners and eager to please, making them a great candidate for training. It's important to remember that like all dogs, consistency and patience are key when it comes to teaching your Short-Hair Chihuahua new things.
Positive reinforcement techniques, such as treats and praise, can also be helpful in the training process. With some dedication and plenty of love, your Short-Hair Chihuahua will become a well-behaved and obedient companion in no time.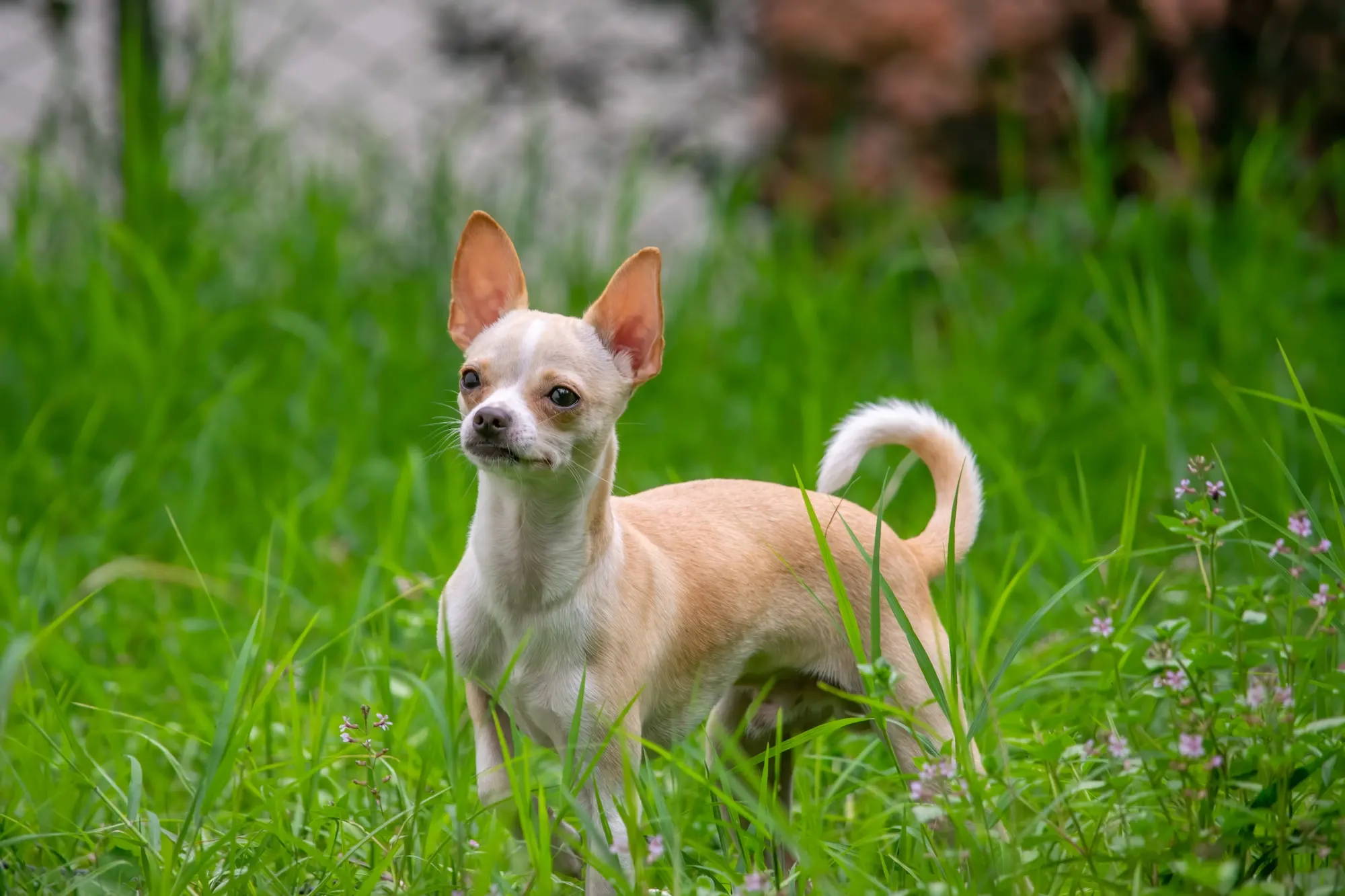 As adorable and charming as Short-Hair Chihuahuas are, they can still be shy and timid when it comes to socializing with other dogs and people. It's important to introduce your Short-Hair Chihuahua to different environments and situations early on to ensure they become well-adjusted and confident adults.
Socialization should be a gradual process, starting with familiar family members and pets before branching out to new environments and other animals.
With patience and consistency, your Short-Hair Chihuahua can grow into a happy and well-socialized companion who loves nothing more than spending time with their loved ones.
A key part of caring for your Short-Hair Chihuahua is proper grooming. Short-Hair Chihuahuas have coats that require minimal upkeep, making them ideal for owners who want a low-maintenance dog.
They only need to be brushed once a week and given a bath every few months. Regular brushing will help distribute natural oils throughout the coat and remove loose hair.
How to find a Short-Hair Chihuahua?
If you're looking for an Short-Hair Chihuahua, it's important to do your research.
If you have your heart set on owning a Short-Hair Chihuahua, then finding a reputable breeder is crucial. Breeding healthy Chihuahuas is no easy feat, which is why a reliable breeder can offer you not only a puppy but also valuable information and guidance on dog care.
With a bit of research, you can easily find a breeder who specializes in this particular breed and is dedicated to breeding healthy dogs. However, just like with any purchase, you should exercise caution and thoroughly vet any potential breeders before making a final decision.
With a bit of patience and diligence, you'll soon be welcoming your new furry family member into your home!
Why not consider adopting a Short-Hair Chihuahua? While it can be tempting to rush out and buy a puppy from a breeder, there are plenty of benefits to rescuing or adopting instead.
Not only do you get to provide a loving home for a dog in need, but you also have the added bonus of knowing that you've helped reduce the number of animals in shelters.
With a little patience and persistence, you're sure to find the perfect Short-Hair Chihuahua to bring into your life.
Here are the most well-known Chihuahua rescues in the USA:
Chihuahua Rescue & Transport
https://www.chihuahua-rescue.com/
Texas Chihuahua Rescue – helping small dogs live big dreams
https://texaschihuahuarescue.org/
Arizona Chihuahua Rescue – Big Hearts for Little Dogs
Short-Hair Chihuahuas, the FAQs
Do Short-Hair Chihuahuas shed?
Apple-Head Chihuahuas usually live between 12 and 20 years, depending on their size and general health. The smaller Apple-Heads tend to have a shorter life expectancy than the larger ones.
Are Short-Hair Chihuahuas hypoallergenic?
Unfortunately, no dog breed is completely hypoallergenic. However, Short-Hair Chihuahuas do have minimal shedding, making them a great choice for people with allergies. Regular brushing and grooming can also help to reduce the amount of dander in your home.
Can two Short-Hair Chihuahuas have long-haired puppies?
It is possible for two Short-Hair Chihuahuas to have long-haired puppies! While it is uncommon, it's important to note that genetics significantly influence the appearance and traits of your pup. Remember, even with purebred short-haired parents, a litter of mixed-coat puppies can be produced.
Can you shave a Short-Haired Chihuahua?
It's not recommended to shave a Short-Hair Chihuahua, as it can cause them discomfort and lead to skin irritations. If you feel that your pup needs a trim, then consult with a professional groomer who is experienced in handling small breeds. They will be able to provide the best advice on the safest way to groom your furry friend.
Do Short-Haired Chihuahuas need grooming?
Short-Hair Chihuahuas require minimal grooming, but regular brushing is still recommended. This will help to keep their coat clean and healthy and reduce the amount of shedding in your home. Of course, it's also important to remember that all dogs need a bath from time to time!
How long do Short-Haired Chihuahuas live?
Short-Hair Chihuahuas usually have a lifespan of between 12 and 15 years, depending on diet and lifestyle. By providing your pup with proper nutrition, plenty of exercise, regular vet checkups, and lots of love and affection, you can help ensure that they live a long and healthy life.