Why is my Chihuahua Scared of Everything?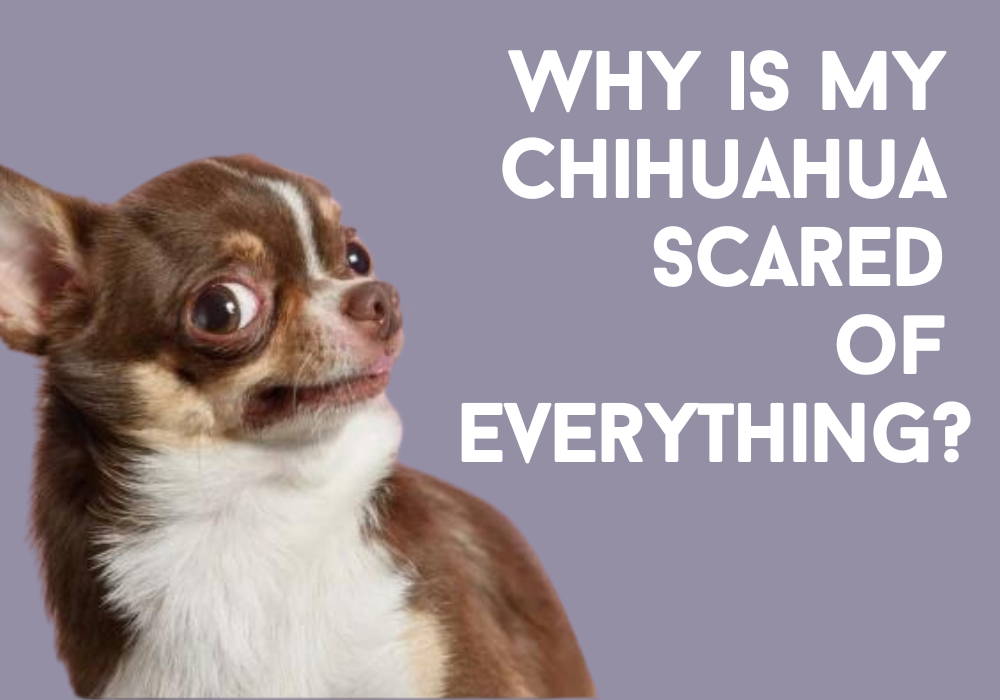 Has your Chihuahua been feeling a little extra skittish lately? Are they constantly barking at the vacuum cleaner and hiding under furniture every time thunder rolls through town?
Chihuahuas can be very sensitive puppies and their tiny stature doesn't give them much room to hide away when they're scared. But don't worry, you can help your Chihuahua overcome their fears using some simple methods that will have them bravely facing life in no time!
So grab a cup of coffee (and maybe an extra blanket for cuddling) because we're about to dive into how to help soothe your scared Chihuahua's anxieties.
Signs that your Chihuahua is scared
As tiny as they may be, cute Chihuahuas can still convey their emotions loud and clear. Of course, it's easy to recognize when they're frightened - but did you know that sometimes their nerves can masquerade as something else entirely? Keep an eye out for the subtleties, lest you miss crucial communication from your little four-legged friend.
Obvious signs that your Chihuahua is scared:
- Trembling or shivering
- Hunched body with head down
- Ears back
- Tail tucked
- Hair standing up on the neck and back
- Growling
- Showing teeth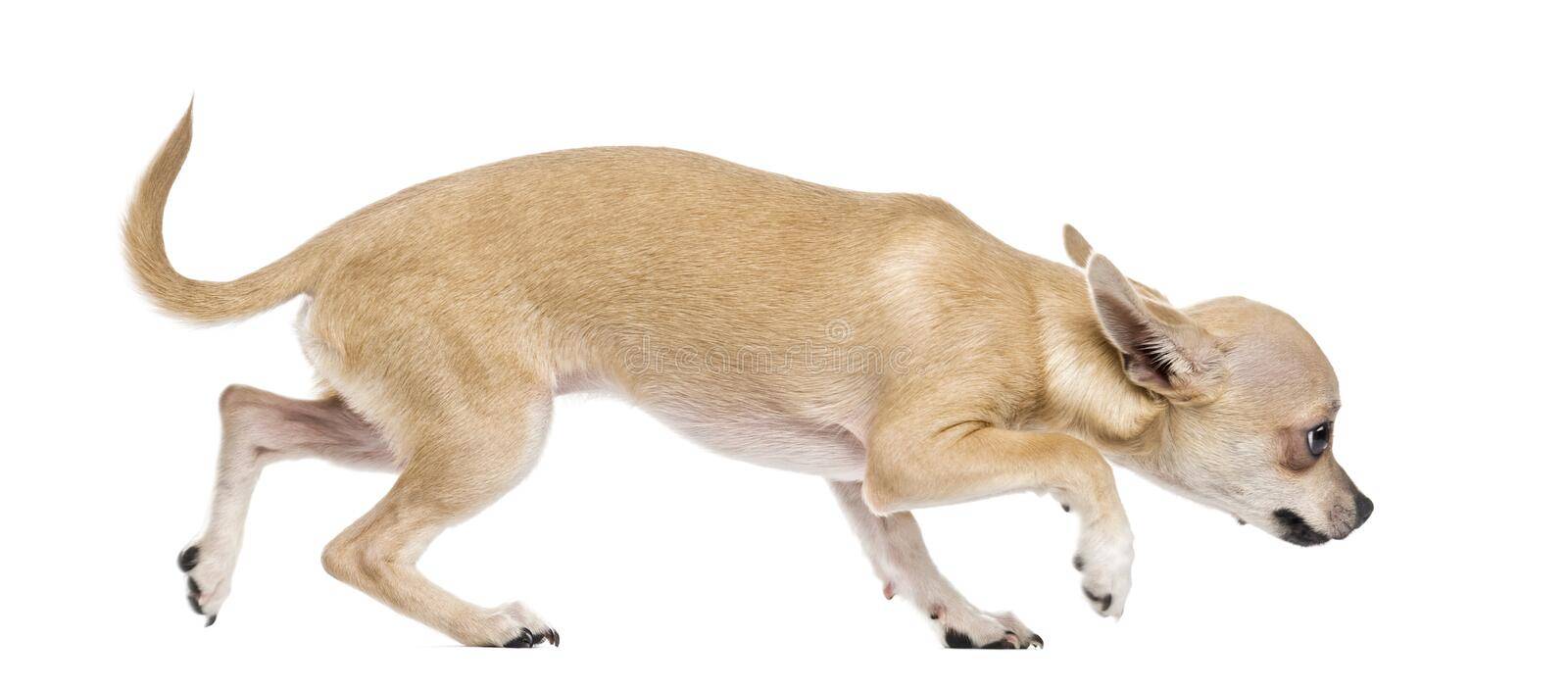 Chihuahuas' most common fears
Sound phobia (fireworks, thunderstorms, cars)
When it comes to startling loud noises, even the bravest of Chihuahuas may jump at the sound of a dropped pan.
However, for those Chihuahuas who tend to be more easily
frightened, the reaction can be far more dramatic. A simple noise can send them running for cover, and even when the coast is clear, they may still refuse to come out of hiding.
Help your Chihuahua conquer its fear of loud noises with behavioral modification. Identify the specific triggers and use a recording of the noise to gradually desensitize your Chihuahua - this is a treat for them! Slowly increase the volume and monitor your Chihuahua's body language for signs of discomfort.
If there are constant noises you can't control, a white noise machine may come in handy. Give your Chihuahua the confidence it needs to enjoy the world around them with these helpful tips.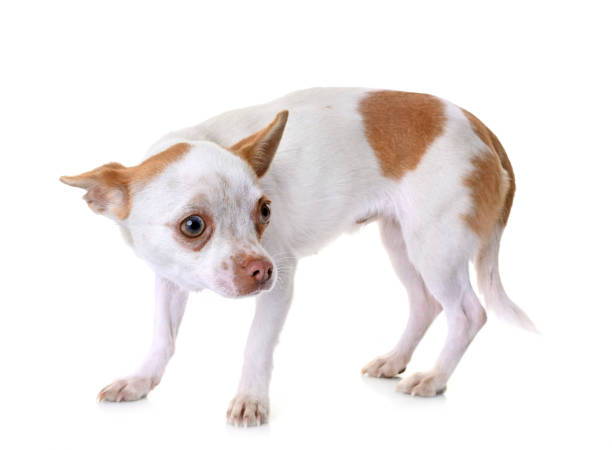 With their speedy movements and lively energy, kids can present quite the challenge for Chihuahuas - especially those with a tendency towards nervousness.
In particular, children may struggle to understand the body language of a frightened Chihuahua, making it difficult for them to recognize when it's time to give their furry friend some space.
When it comes to owning a Chihuahua without kids, it's essential to be mindful of their behavior around little visitors. A simple solution? Keeping them in a peaceful, secure area during these times can help manage their behavior. But what if your kids make them nervous?
Don't panic, and don't give up on your Chihuahua just yet. Setting up a "safe space" where they can spend time apart from children is a good start. Next, bring in a professional dog trainer who specializes in positive reinforcement techniques to find a solution that benefits everyone involved.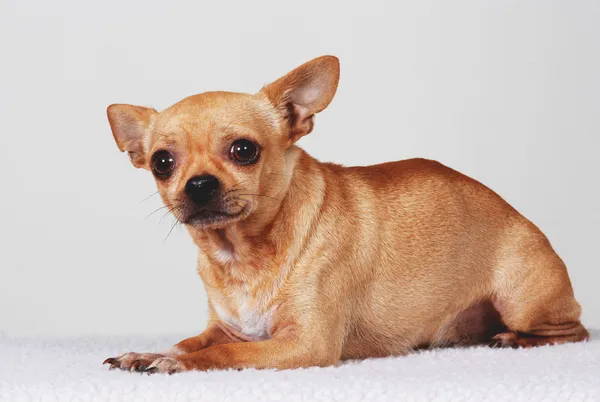 Sad but true, even Chihuahuas can struggle with making canine connections, especially those who are shy. Without proper socialization and language skills, Chihuahuas may find themselves feeling intimidated and unsure when encountering their furry counterparts.
Bringing out confidence in your timid Chihuahua around other dogs is a delicate process that requires patience and understanding.
To ensure your Chihuahua's comfort, slowly ease them into encounters with other dogs by pairing them with a calm and experienced companion. Once a safe distance is established, gradually decrease the space between them and observe their behavior closely.
Always cut introductions short and end on a positive note to avoid overwhelming your Chihuahua.

Chihuahuas can be quite particular when it comes to socializing with people who look different from their families.
This can include men with beards, individuals sporting bulky jackets, or even those wearing hats. However, when Chihuahuas become fearful of anyone outside their family, it can turn simple public outings or hosting guests into a traumatic experience.
If your Chihuahua is afraid of strangers, there's hope. The key is desensitization and counter-conditioning. Start by finding your Chihuahua's "buffer zone" and have the stranger enter that space from afar.
While the stranger is within sight, feed your Chihuahua some amazing treats. Slowly increase the time the stranger is present and decrease the buffer zone.
Keep a close eye on your Chihuahua's body language throughout the process to make sure they stay calm and confident. With time and patience, your Chihuahua can become a social butterfly!

Why is my Chihuahua so scared?
Chihuahuas are cute little pups, but they can also be quite fearful if they don't get enough positive experiences during the crucial puppy socialization period. This stage occurs between 8-16 weeks old and requires plenty of happy interactions with the world around them.
Unfortunately, Chihuahuas who miss out on this crucial stage may become scared of all sorts of things, like people with hats or even someone cruising by on a skateboard. So if you want your Chihuahua to be confident and brave, be sure to expose them to plenty of new, positive experiences during their formative months.
2- Genetic Predispositions
Did you know that some Chihuahuas may be naturally nervous and shy? And it's not just their personality - scientific studies have shown that their genetics and even their mother's anxiety can play a role in their fearful behavior.
So if you're considering adopting a Chihuahua, it's important to understand their potential predisposition to fearfulness and provide them with the patience and love they need to overcome it.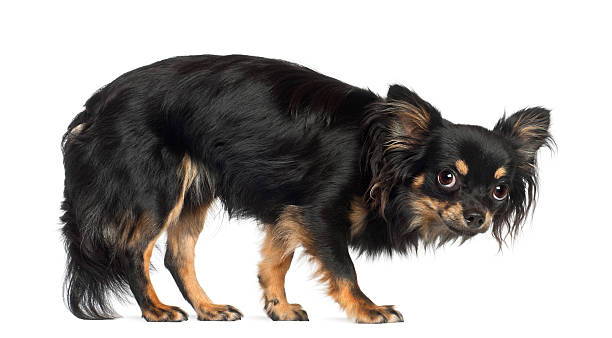 The tiny Chihuahua may seem fearless, but for some, a traumatic experience can leave a lasting impact. One loud firecracker during a casual stroll can trigger a fear response that extends far beyond just the initial scare.
Chihuahuas may become wary of any loud noise, like a car door slamming, and refuse to walk near the location of the incident. The fragile psyche of these pups highlights the importance of keeping them safe and comfortable in all situations.
Peeking into the world of Chihuahuas, a curious discovery reveals that not all fear-related behaviors stem from being timid. Your Chihuahua might be trying to hide an undiagnosed medical issue by avoiding physical touch. But fear not! Your trusted veterinarian can provide some answers and help determine whether your little Chi is in pain or facing fear-based problems.
5- Different life stages, different fears
Chihuahua puppies have a knack for making even the bravest of hearts melt. But did you know that their fearlessness during infancy can quickly shift to skittishness? It's true! When they're just a few weeks old, Chihuahuas aren't fully aware of the world around them.
You can pick them up or introduce them to new people without any issues. However, as they get a bit older (around three to four months old), they start to truly understand what's going on. Suddenly, everything can seem like too much to handle. The same car that didn't faze them before now sends them running for cover. It's a fascinating and sometimes comical transformation to witness!
As our Chihuahua ages, we often expect them to become wiser and more relaxed. After all, they've been around the block a few times, right? Well, not necessarily. While some senior Chihuahuas may indeed be laid back, others can experience a range of issues that make them feel more timid or nervous.
These can include hearing loss, vision problems, or cognitive dysfunction, as well as simply having less patience for noisy or chaotic situations. So next time you meet an elderly Chihuahua who seems a bit nervous or skittish, remember that there may be more to their behavior than meets the eye.
How to help my Chihuahua overcome their fears?
1- Expose your Chihuahua to their triggers
Exposing your Chihuahua to its triggers can be nerve-wracking. But fear not, the key is to take it slow and ease them into it.
By letting them observe from a distance, they can build up their confidence and curiosity without feeling overwhelmed. As they become more comfortable, you can gradually bring them closer and show them that there's nothing to be afraid of. It's all about making the introduction a positive and low-pressure experience for your Chihuahua.
2- Work on their fears every day
Help your Chihuahua conquer their fears and become a confident pup by spending quality time with them every day.
Whether it's a calming walk or a playful game, make sure to engage with your Chi at least three times a week to see real progress. With patience and persistence, your Chihuahua will overcome their anxieties and thrive in all areas of their life.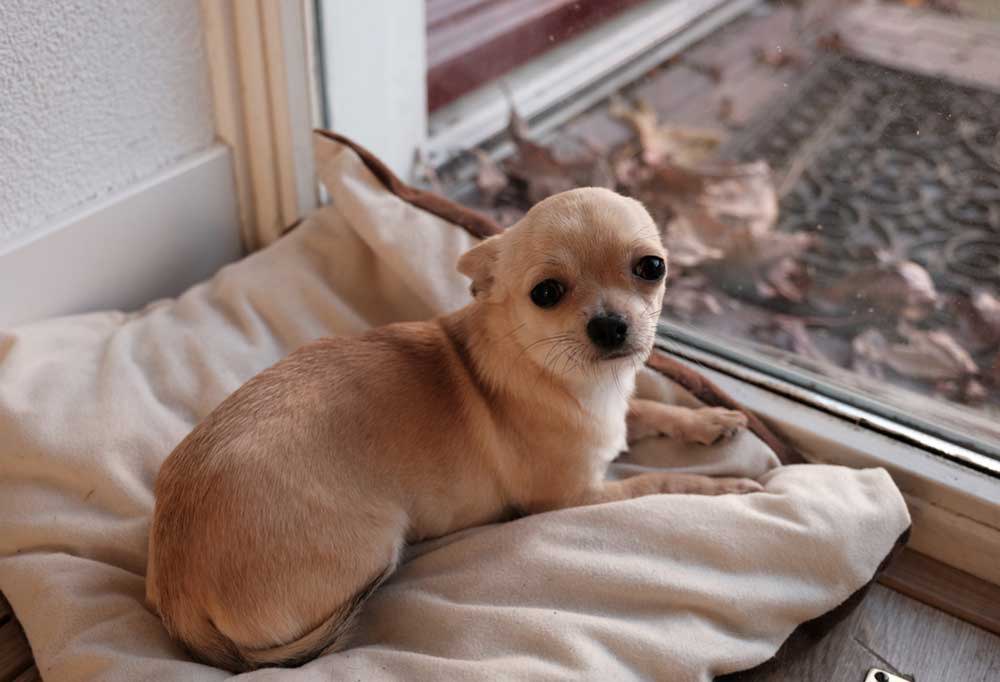 3- Start with short sessions
Helping your nervous Chihuahua conquer their fears can be a daunting task, but it's important to start small. Don't expect to see changes after lengthy, exhausting sessions - initial ones should only last a few minutes. Gradually build up, tacking on another 5 minutes each week, until your Chihuahua can face their fears with confidence.
4- Start with low-intensity exposure
To help your little Chihuahua deal with their fears, it's important to start slow and work your way up. If they're scared of traffic, don't try to conquer a bustling highway right off the bat.
Begin on a more placid road with minimal automobiles passing by, and work your way up to slightly busier streets. Once they've mastered one level of traffic intensity for a week, it's safe to move on to the next. It's all about patience, practice, and gradually building up their confidence!
5- Reward, reward, reward
Boost your Chihuahua's confidence by rewarding them when they handle their fears well. Don't fumble around for treats - have them on hand in a convenient, sealed bag for immediate gratification. Show your Chihuahua that bravery comes with delicious rewards!
When helping your tiny Chihuahua overcome their fears, you must show them that there's nothing to be afraid of. They're experts at picking up on their owner's emotions, so if you're nervous or anxious about something, they'll sense it in your body language and facial expressions.
During your training sessions, the key is to act calm and collected and to not react to any fear-based actions or sounds that your Chihuahua might make. If you exude confidence and demonstrate through your actions that everything is under control, your Chihuahua will follow your lead and learn to conquer their fears.
Also read:
Why are Chihuahuas so mean?
How to potty train a Chihuahua?
Why is my Chihuahua eating their poop?
Why is my Chihuahua squinting?
Why are some Chihuahuas timid?
Timidness can be caused by several factors, including genetic predispositions, traumatic experiences, pain or illness, and different life stages. It's important to understand the source of your Chihuahua's fear to best help them through it.
Is shyness normal in Chihuahuas?
Some shyness is normal in Chihuahuas, as they are naturally a timid breed. However, if your Chihuahua is showing excessive fear or anxiety, it's important to get them checked out by a veterinarian and take steps to help them overcome its fears.
Can Chihuahuas become more confident?
Yes! With patience, time, and the right approach, your Chihuahua can become a more confident pup. Help them face their fears with short, low-intensity exposure sessions, reward positive behavior, and don't forget to demonstrate confidence throughout the process.
How to help a scared Chihuahua?
Helping a scared Chihuahua means spending quality time with them every day, starting with short sessions, exposing them to low-intensity experiences at first, rewarding their bravery and positive behavior, and showing confidence throughout the process.