Rottweiler Chihuahua Mix (Chiweiler) Breed information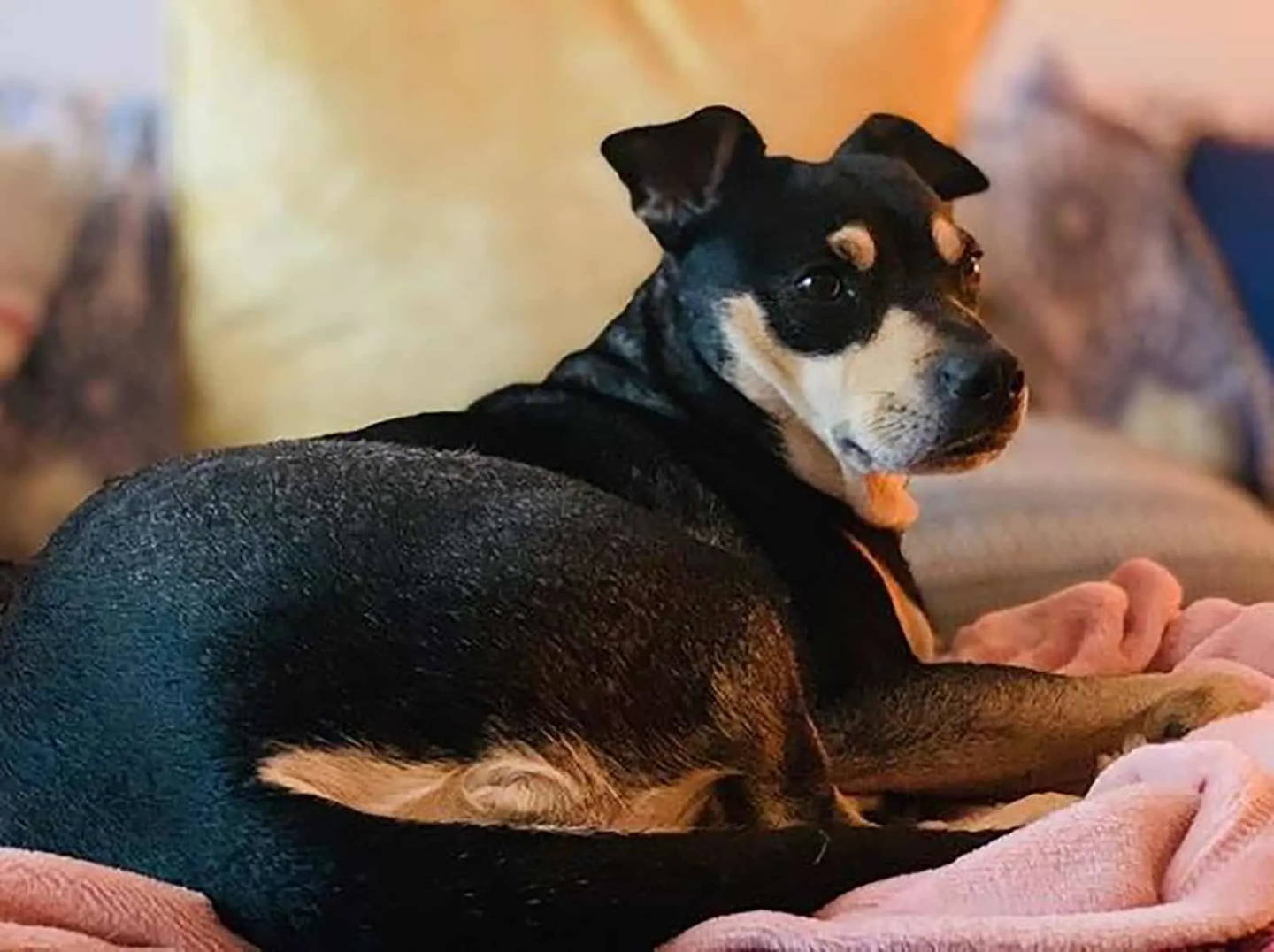 When you see the Rottweiler Chihuahua Mix, the first thing that will likely cross your mind is "how did this happen?!" After all, when you consider the two breeds, there's a world between them!
Because of the size difference between Chihuahuas and Rottweilers, they can't mate naturally -- not without a little help, anyway. In fact, the only way to breed these two dogs together would be through artificial insemination.
Chiweiler, Chi-Weiler, Rott-chi
black and rust, combination of different colors
experienced dog owners, people with older children
affectionate, loyal, protective, courageous
The Chiuaua is one of the most well known dog breeds in the world, but their history is surprisingly shrouded in mystery. It is believed that the breed originated in faraway Mexico, and its exact ancestry is unknown.
Many believe that this mystical looking little furball can trace its lineage all the way back to ancient Aztecs who kept them as house pets and named them after their divine heroes "techichi".
Whether they are true descendants of a great hero or not, we know one thing for sure: Chihuahuas have been providing delightful companionship to humans for centuries.
The Rottweiler is an iconic dog and it's no surprise that its history is quite fascinating! Popular theories suggest that the predecessor of the modern Rottweiler was a variety of Roman drover dogs, which were used to herd livestock.
In fact, the Rottweiler likely even served as a guard dog for soldiers in Ancient Rome. Fast forward a few centuries later and you'll find evidence of these strong canines being used for herding cattle, working farms and protecting their owners in Germany.
They even went so far as to become tax collectors because they were so reliable—talk about resourcefulness! If you ask any proud Rottweiler owner today they'll tell you that their noble canine is just as reliable as ever; even if they can be a little mischievous at times.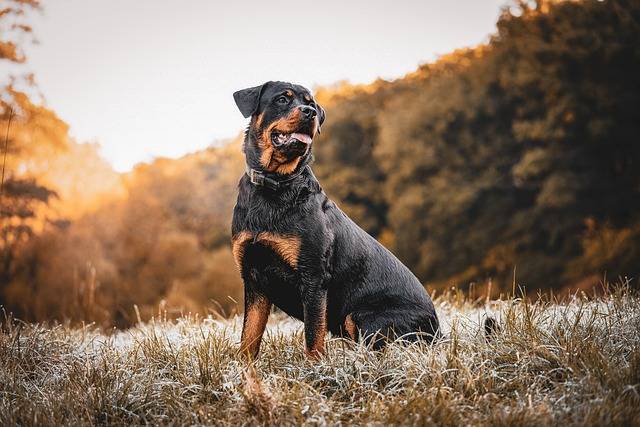 Breeding large dogs like Rottweilers with small ones like Chihuahuas is a dangerous process that should be avoided at all costs due to the health risks it poses to the mother's life.
For this reason, reputable breeders are not open to such breedings and creating a Chiweiler has become something of an impossible challenge. Despite this, there have been some exceptional cases where daring breeders have successfully managed to make this difficult venture work through artificial insemination, showing that miracles can happen.
While some might be tempted by the seemingly desirable cross-breed they would obtain, they must understand that these processes involve considerable risk and take their safety into consideration before attempting anything too ambitious.
In any case, the Rottweiler Chihuahua mix is not recognized by the A.K.C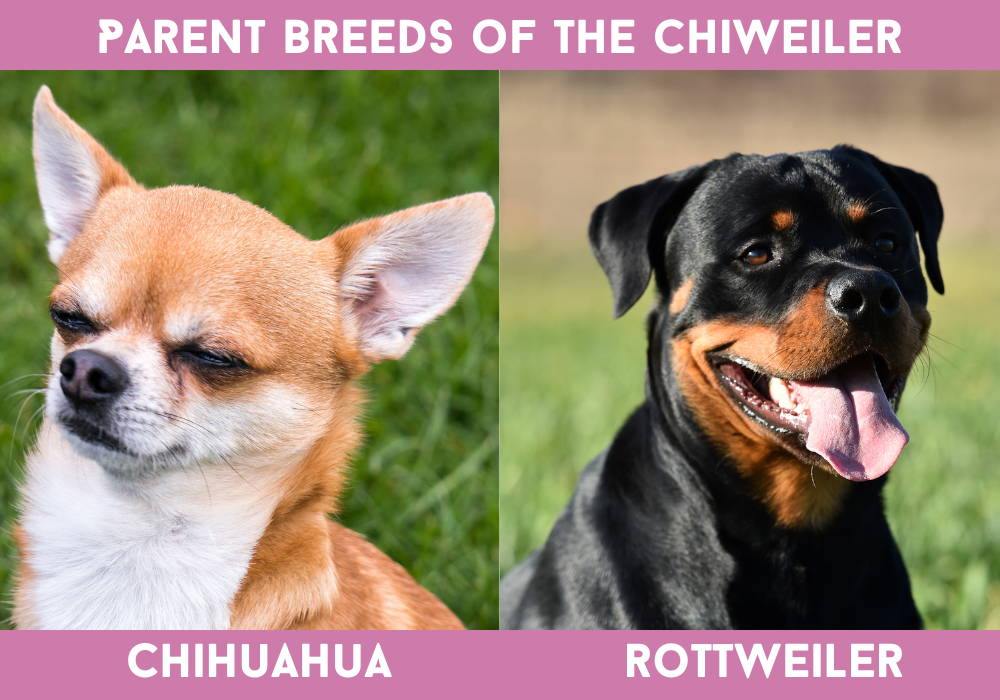 Chihuahuas are known for being the smallest of all dog breeds and usually measure only 6 to 9 inches at their shoulder with a weight of 3.5 to 7.5 lbs.
On the other hand, Rottweilers boast much larger frames with a range between 22 and 27 inches high at thee shoulder and 77 to 130 lbs in weight — making them one of the biggest canine breeds out there.
With both sides of the family being rather different in size, the offspring tends to be small to medium-sized dogs.
Generally speaking, Rottweiler Chihuahua mixes are medium sized-dogs that tend to range somewhere in between their parents when it comes to height and weight. Most full-grown Chihuahua Rottweiler mixes typically fall within the 12 to 18 inch range in terms of height and 40 to 70 pounds for bodyweight.
A Chihuahua Rottweiler mix has a unique look, with a long or short-hair coat and either one solid color or various rust color combinations.
Chihuahua Rottweiler mixes are fun, loving, and loyal companions. They combine the loyalty of a Rottweiler with the lovingness of a Chihuahua, making them an ideal dog for someone looking for both an affectionate and dependable pet.
Temperamentally they're very lively yet can be quite sensitive; they're responding quickly to changes in energy levels around them and need gentle handling to ensure that they're aware of their boundaries without being overwhelmed by it.
It is possible for Chihuahua Rottweiler mixes to make good companions to other animals in the household provided they are socialised properly.
While some struggle more than others when introduced to new situations or people, a consistent approach of positive reinforcement will help them become comfortable with other animals.
They may start off quite dominant in the presence of other pets, but proper guidance and behaviour training will ensure they eventually learn to play nicely.
Your Rottweiler Chihuahua Mix pup might act like they're two tough breeds mixed together, but when it comes to shedding, things no longer seem so fierce. Chiweilers either have a super fluffy coat like the Chihuahua or a smooth short coat like the Rottweiler, depending on the dominating genes of their parents – and conquering the hair-do is the least of your worries.
Luckily, thanks to neither Rottweilers nor Chihuahuas being big shedders, you can expect minimal hair around your house. So don't fret about some dog sheds taking over your couch - this pup won't be as furry as it seems!
Rottweiler Chihuahua Mixes are not hypoallergenic.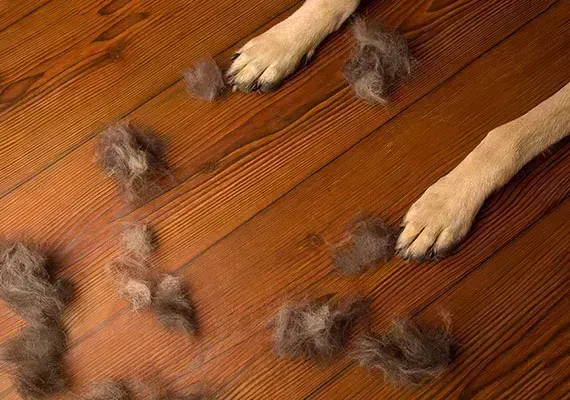 Rottweiler Chihuahua Mixes typically have a lifespan of between 10 and 15 years.
While Chiweilers may inherit some of their physical and behavioral traits from their parent breeds, they also inherit the same health issues.
Chihuahua Rottweiler mixes are no strangers to Luxating Patella, commonly known as a "trick knee". This painful condition usually occurs when the patella (kneecap) shifts out of its normal position, causing the animal severe discomfort and lameness.
While the cause of this condition is unknown, it can range from an underlying genetic defect to especially active dogs whose joints are put under strain. Symptoms may include reluctance to move or jump, sudden lameness accompanied by a hopping gait or high stepping posture, limping in one or both legs and occasional yelping.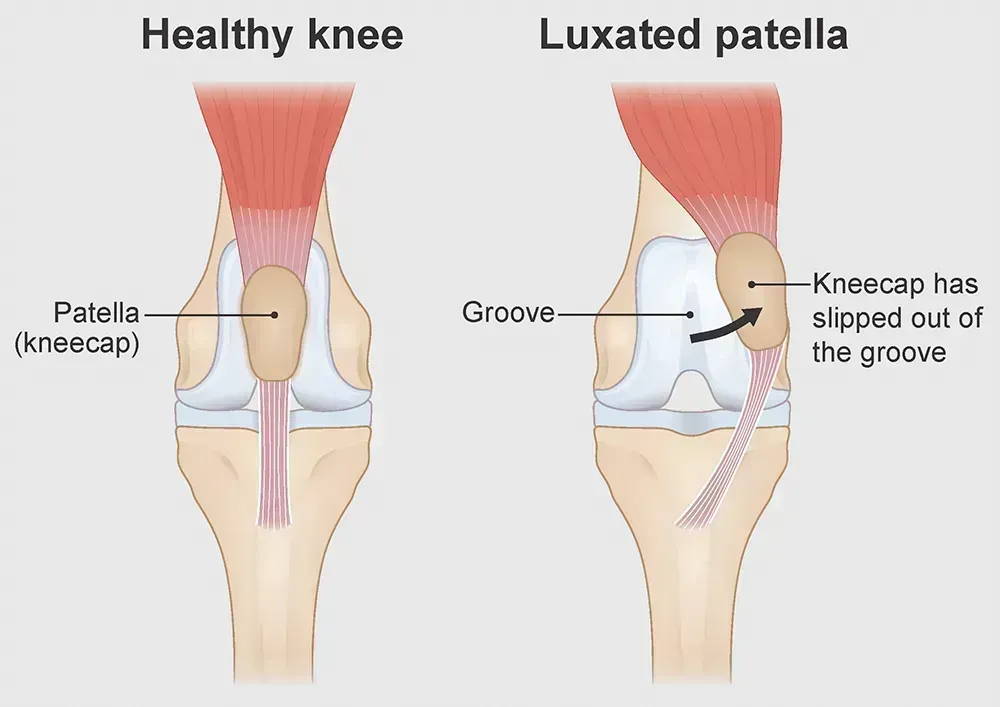 Hip Dysplasia is a disease common among Rottweiler Chihuahua mixes due to their
heavy-set bodies and small legs
.
It's an actually quite serious condition that can cause pain in the joints and impede your pup's mobility. Fortunately, at the first sign of distress, hip dysplasia can be diagnosed with the help of X-ray imaging and can be managed with the help of a veterinarian.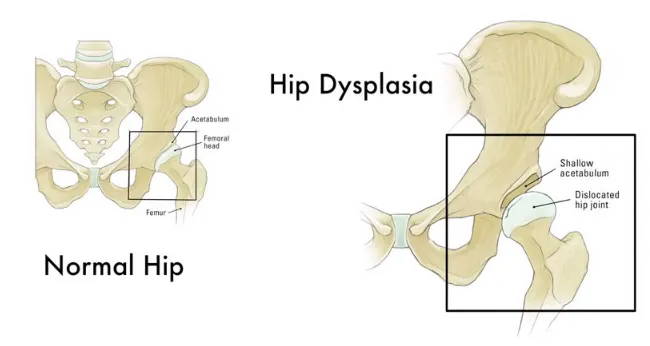 Approximately one third of Chihuahua Rottweiler mixes are carriers of Von Willebrand's Disease, a genetic condition that affects their blood-clotting abilities and can cause them to bleed more than they should.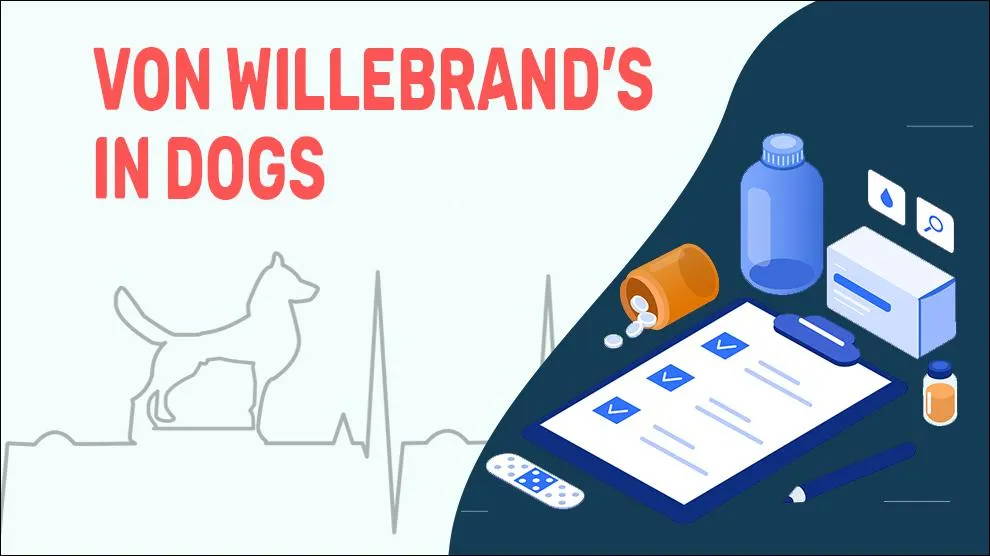 When caring for a Chihuahua Rottweiler mix, you must consider grooming, exercising, training, and feeding.
Rottweiler Chihuahua mixes tend to require more grooming than others, but with regular brushing and occasional bathing, their short coats can remain shiny and free of mats.
Make sure to use a bristle brush that's designed for short coats, and be gentle when brushing around the ears, neck, tail, and other delicate areas.
Once in a while, you may need to take your pup in for professional clipping and trimming if their hair starts to get too long. To reduce skin irritation from bathing, use only mild shampoos specifically designed for dogs.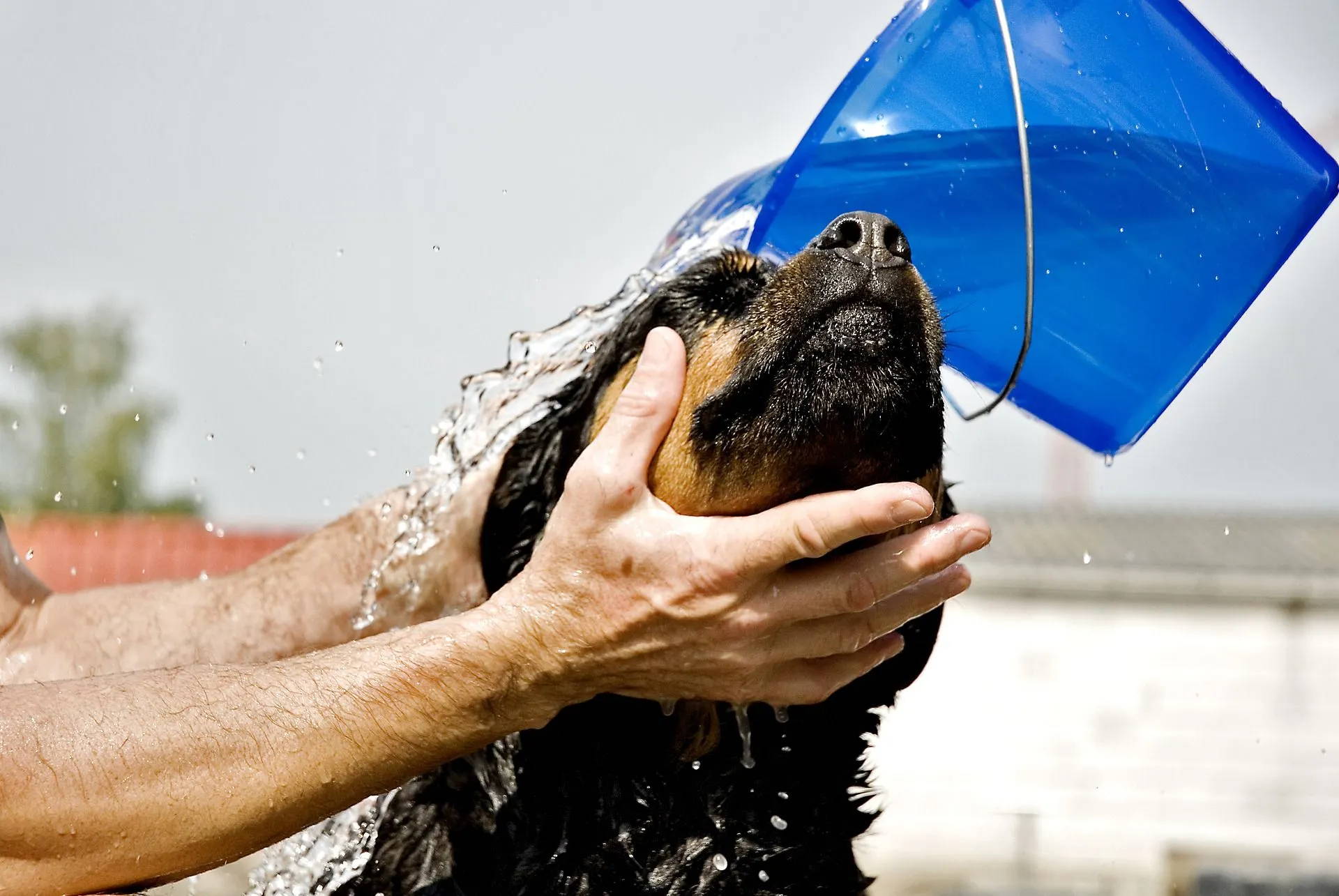 Training a Chihuahua Rottweiler mix is no easy task.
Even the most experienced dog trainers can find training these dogs to be very difficult, as they tend to be quite stubborn and will usually put up quite a fight in challenging your authority.
It is important to begin training at an early age when the puppy Chiweiler is more receptive, but even then it's essential that you remain consistent and firm when teaching commands or correcting bad behavior.
Rewards-based systems tend to work best with this breed, so don't forget to give lots of praise and treats when good behavior is exhibited! All in all, training a Rottweiler Chihuahua mix can be difficult but ultimately rewarding - just keep at it and you'll get there in the end!
Feeding your adult Rottweiler Chihuahua Mix can be a daunting task, especially if you're not sure how much food is required! It's easy to fall into the "more is better" trap, but two to three meals a day should suffice.
The daily food intake should ideally make up 2-3% of the Chiweiler's bodymass, which usually works out to somewhere between two and three cups of food. That's not too bad! So don't be afraid to show off your skills as an expert doggy chef—your pup will thank you for it.
Rottweilers Chihuahua mixes are an active breed, so it's important to ensure that they get plenty of exercise every day.
Taking them for a long walk, running around in a big fenced-in backyard, or even playing fetch can all provide the level of physical activity these dogs crave and need to stay healthy.
Without enoughphysical exertion, Chihuuahua Rottweiler mixes can become destructive or aggressive out of pent up energy. Plus, ample exercise can ward off negative behaviors like boredom and restlessness since their bodies have released some of that excess energy!
Male and female Chihuahua Rottweiler mixes have some distinct differences. First, male Chiweilers tend to be larger, with an average weight for an adult male being about four pounds heavier than adult females.
Their physical builds also differ slightly; male Rottweiler Chihuahua mixes are more slender and lanky, while females have a fluffier and stockier feel to them.
In terms of temperament, males are generally more laid back; they prefer to observe their surroundings before getting involved. On the other hand, female Chiweilers are more outgoing and eager to play or explore than their male counterparts.
Is it the Chiweiler right for you?
Although many view Rottweiler Chihuahua Mix puppies as yappy and demanding due to their size, they can be just as menacing as the larger parent breed. In fact, these dogs possess an agitated bravado that one wouldn't expect from such a petite form.
The Rottweiler side of the family contributes to this aggression; however, it is magnified further by a mix of protective-like qualities associated with Chihuahuas such as fearlessness and territorial behavior. As a result, owning Chihuahua Rottweiler mixes requires appropriate socializing for them to become obedient and submissive.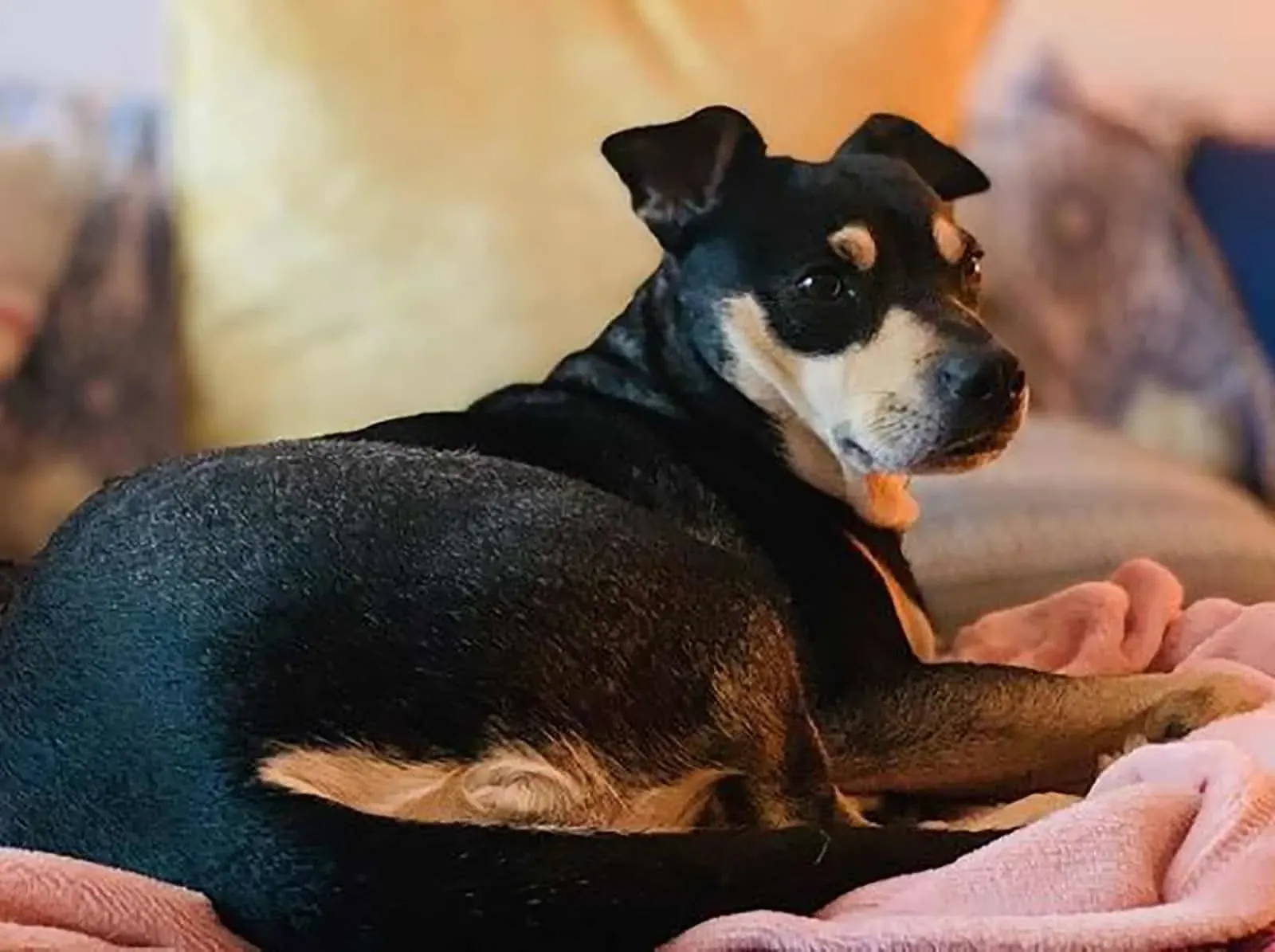 Despite their fun personalities, Rottweiler Chihuahua mixes typically aren't the best choice if you have young children in the home.
This breed is naturally protective and defensive due to their genes - while they can certainly be trained to tolerate kids, they tend to be overly cautious and on guard around unsuspecting youngsters who may not understand their behavior.
For this reason, it's important that any Chihuahua Rottweiler mix owner supervise all interactions with your kids and teach them how to respectfully interact with your pup. With enough patience and training these wonderful dogs can make an amazing addition to any family – just don't forget the little ones!
You are an experienced dog owner

You don't have any other pets
You don't have time to train a dog

You don't want a territorial dog
What is a Rottweiler Chihuahua Mix called?
The nickname for a Rottweiler Chihuahua mix is typically either "Chiweiler" or "Rott-chi."
What does a Rottweiler Chihuahua Mix look like?
A Rottweiler Chihuahua mix can have many different physical characteristics, depending on the genetic makeup of their parent breeds. Common features include large ears, fluffy coats, and muscular builds.
How long do Rottweiler Chihuahua Mixes live?
A Rottweiler Chihuahua mix typically has a lifespan between 10 and 15 years.