My Chihuahua has red eyes (Or Bloodshot Eyes). What should I do?
Last updated on May 1, 2023 | 10 min read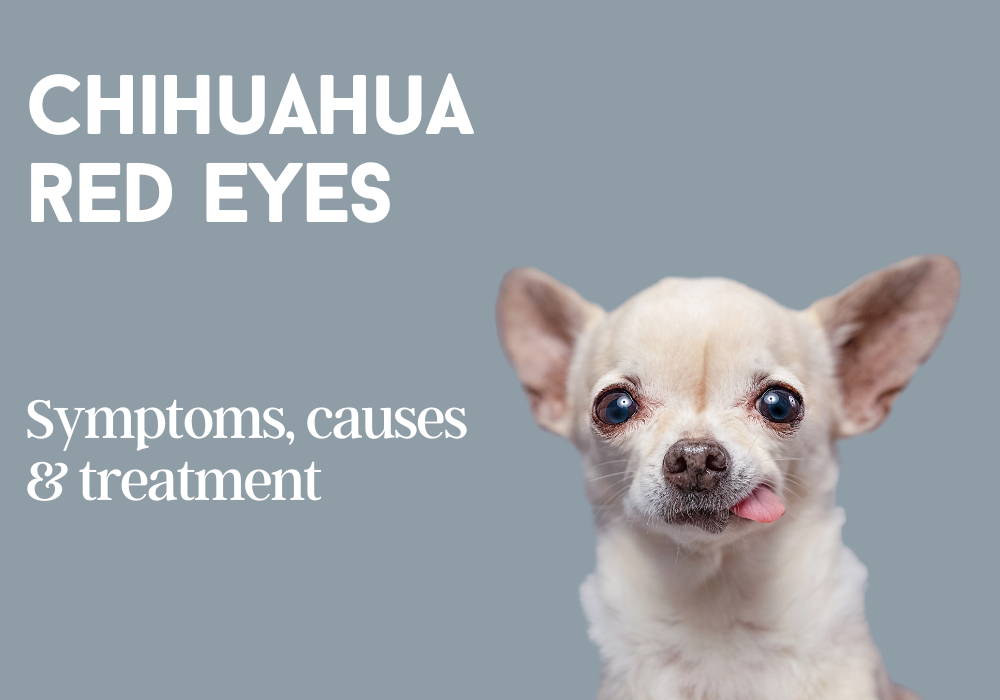 Do you closely inspect your Chihuahua's eyes every day? As with any pet, changes to your beloved Chihuahua's good health should be addressed immediately. Red eyes in particular can be indicative of many potential issues that need to be dealt with promptly.
Understanding the causes and symptoms of red eye in your Chihuahua is essential for ensuring their well-being and comfort. In this blog post, we'll discuss what is causing those red eyes in your Chihuahua so that you can address any potential medical issues as soon as possible!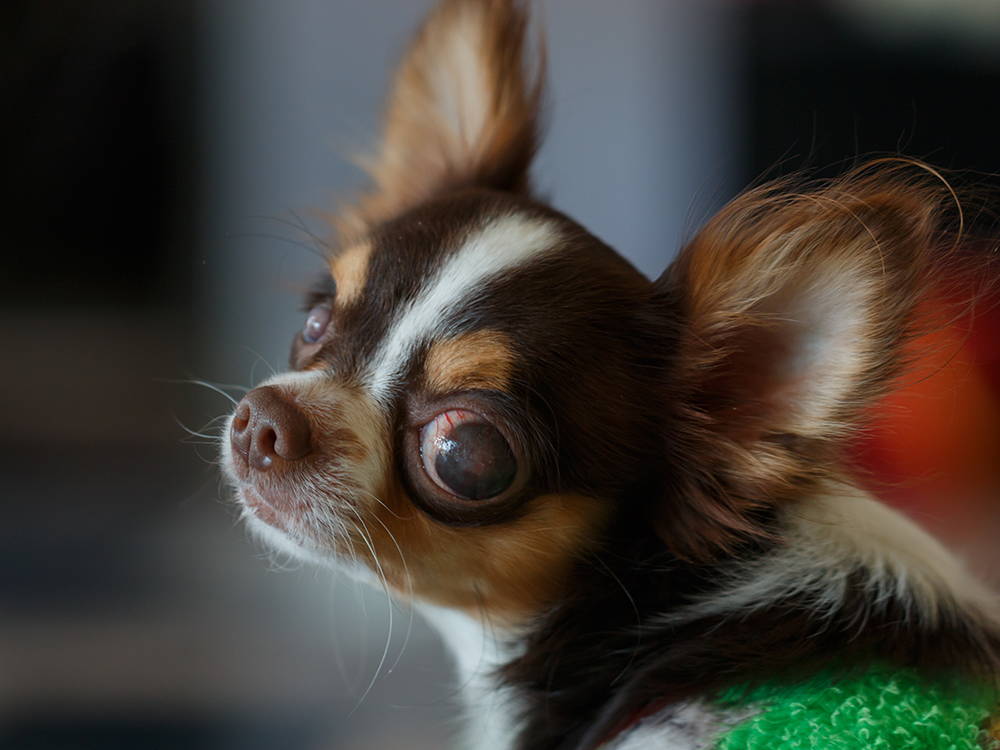 What are the causes of red eye in Chihuahuas?
Red eyes in Chihuahuas can result from various causes:
- Eye irritation: that can be caused by allergens like pollen, dust, weeds, and fiber.
- Inflammation of the conjunctiva: the thin, transparent tissue that covers the outer surface of the eye gets inflamed. This condition can be caused by irritants, allergies, or by an infection.
- Keratoconjunctivitis sicca (KCS): commonly called dry-eye syndrome, this is a condition where the eyes have insufficient tear production, causing redness.
- Entropion: when the eyelid turns inward, it leads to irritation as the eyelashes and eyelid rub against the Chihuahua's eye's surface.
- Cherry eye: also called everted nictitans, this is a condition in which a gland located inside the third eyelid becomes swollen and protrudes out from behind the eyelid. This appears as a small red bump protruding from below the eye.
- Hyphema: that condition occurs when blood accumulates in the front part of the eye due to an injury.
- Foreign body in the eye: when a material or small particle becomes trapped in the eyelid or on the eye surface, it can cause irritation and discomfort.
- Corneal ulcer: this is an exposed sore on the cornea's outer layer.
- Glaucoma: this is a condition characterized by heightened pressure within the eye.
- Uveitis: this is an inflammation of the iris or ciliary body. This condition can be caused by injury, infection, or by cancer.
- Blepharitis: this is an inflammation of the eyelid caused by infection, irritation, or allergy.
- A tumor: a mass that can either be benign or malignant, growing either behind or within the eye.
What do I do if my Chihuahua has red eyes?
If your Chihuahua's eyes appear red, it's important to act quickly but not try to diagnose or treat the problem on your own.
Instead, contact your veterinarian to schedule an appointment the same day, providing them with a brief history of the issue and any other symptoms you've noticed.
Waiting too long to seek help can result in the problem progressing and potentially causing pain for your Chihuahua.
Your veterinarian has the expertise and equipment needed to properly examine your Chihuahua's eyes and determine the root cause of the redness.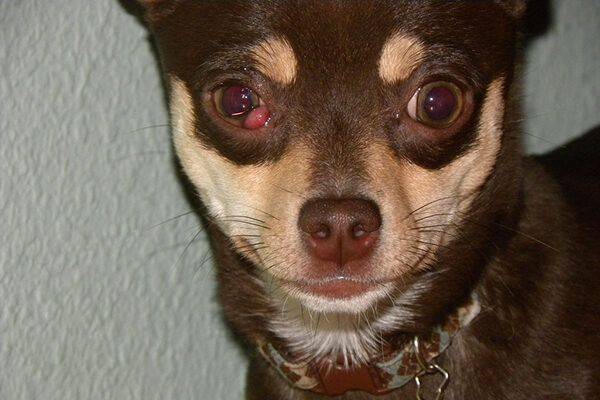 How is red eye in Chihuahuas diagnosed?
While red eyes in Chihuahua may not always be a cause for concern, it's important to recognize the signs of eye injury or disease.
Any new or unusual characteristic in the eyes, such as scratching, swelling, discharge, or excessive squinting, should prompt a visit to the vet.
Your veterinarian may conduct one or more tests during the eye exam to determine the cause of the red eyes.
Swift action is key to preventing the rapid progression of any underlying conditions. Remember, when it comes to your Chihuahua's health, it's always better to be safe than sorry.
During an ophthalmologic exam, your veterinarian examines your Chihuahua's eye structure using an ophthalmoscope to look inside the eye. This procedure allows for a thorough examination of your Chihuahua's sight and eye health.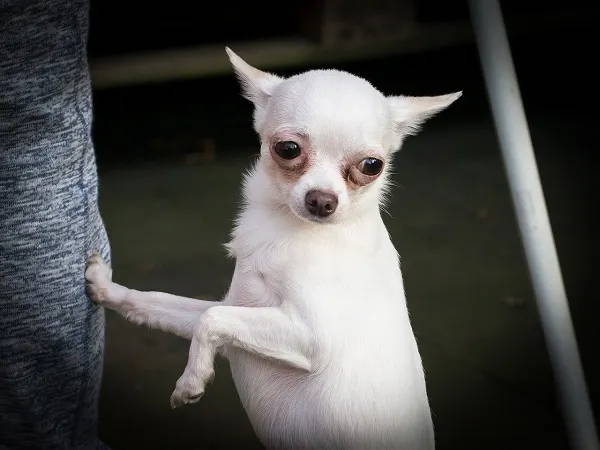 The vet will discover if your Chihuahua's eyes are lubricating properly with the Schirmer Tear Test. This painless exam involves placing small strips of paper in the lower eyelid.
Conducting pressure tests internally with a tonometer tool.
During this procedure, a harmless dye is utilized to assist your veterinary surgeon in detecting any unnoticed wounds.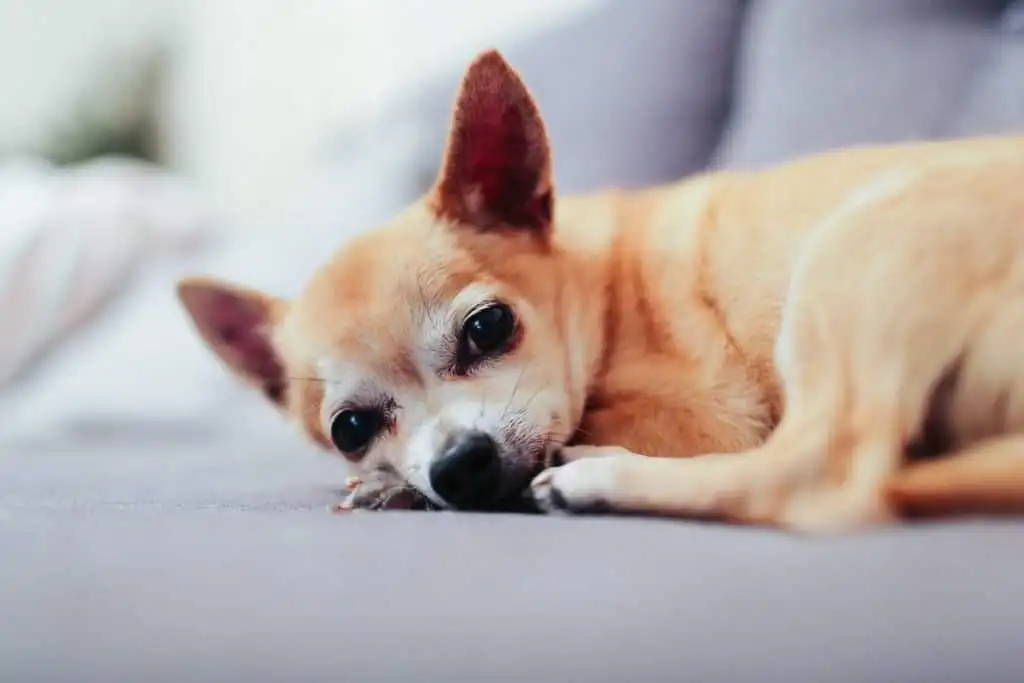 Blood tests can detect medical issues and illnesses that may be the root cause of eye problems.
How is red eye in Chihuahuas treated?
Different treatments are available based on the diagnosis:
Topical medications come in two forms: ointments or drops. They need to be applied up to three times a day for a week or two until the signs subside.
These medications include antibiotics, steroids, pain relievers, dilators, and artificial tears. Trust these effective and convenient treatments for your eye condition.
When a Chihuahua suffers from an eye infection or trauma, immediate action is necessary. The treatment usually includes oral antibiotics and anti-inflammatories.
If the redness is a symptom of an underlying disease, the prescribed medication will aim to address the disease specifically. This course of action guarantees successful treatment for your beloved Chihuahua.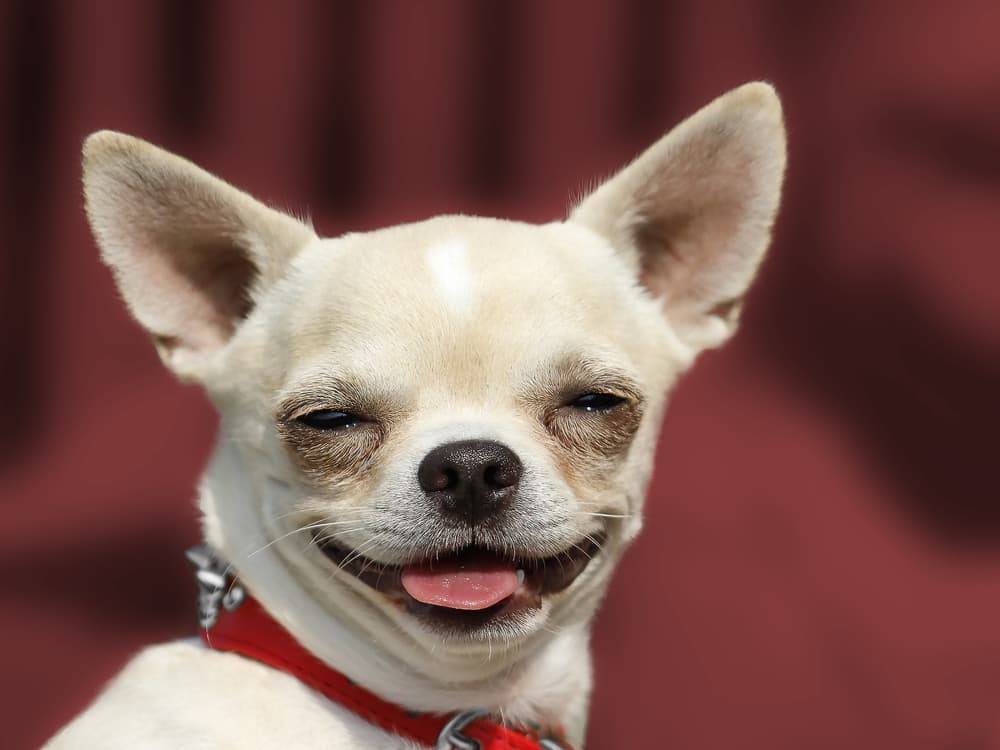 Chihuahuas with red eye may require surgery for different reasons. If the diagnosis is cherry-eye, the veterinarian may first try to reset the gland with medication.
However, if the gland reoccurs after treatment, surgery is often necessary to address the issue permanently. Entropion, which can cause the eyelid to rub on the cornea of the eye, may also require surgery to reform the eyelid.
In some cases, red eye may be caused by an untreatable problem, necessitating removal of the eye through enucleation surgery.
This procedure does not usually cause any negative side effects other than a slight decrease in depth perception.
Why are my Chihuahua eyes red all of a sudden?
There are a number of reasons why your Chihuahua eyes may suddenly become red. Irritation, allergies, trauma, infection, or an underlying medical condition may all be causes. It is best to see a vet as soon as possible to determine the exact cause and get it treated appropriately.
Can I treat my Chihuahua's red eye at home?
It is not recommended to treat your Chihuahua's red eye at home as this may worsen the condition. The best way to ensure proper treatment is by consulting an experienced veterinarian.
When should I see a vet about my Chihuahua's red eyes?
You should seek veterinary advice as soon as possible if you notice your Chihuahua's eyes have become red. Red eye can be caused by a range of problems, some of which may require immediate care. Following the vet's instructions will help to ensure that your Chihuahua is treated promptly and effectively.