Expectant Chihuahuas: Get The Expert Guide to a Safe & Healthy Pregnancy
If you own a Chihuaha, chances are you've already thought about your pet's reproductive health. While there is much more to this than meets the eye, learning how to tell if your Chihuahua is pregnant and what to do for their care can help ensure that both they and the pups stay healthy throughout the pregnancy.
Today we will look at everything you need to know about Chihuahua pregnancy so that you can make sure mother and puppies have all that they require during this unique experience.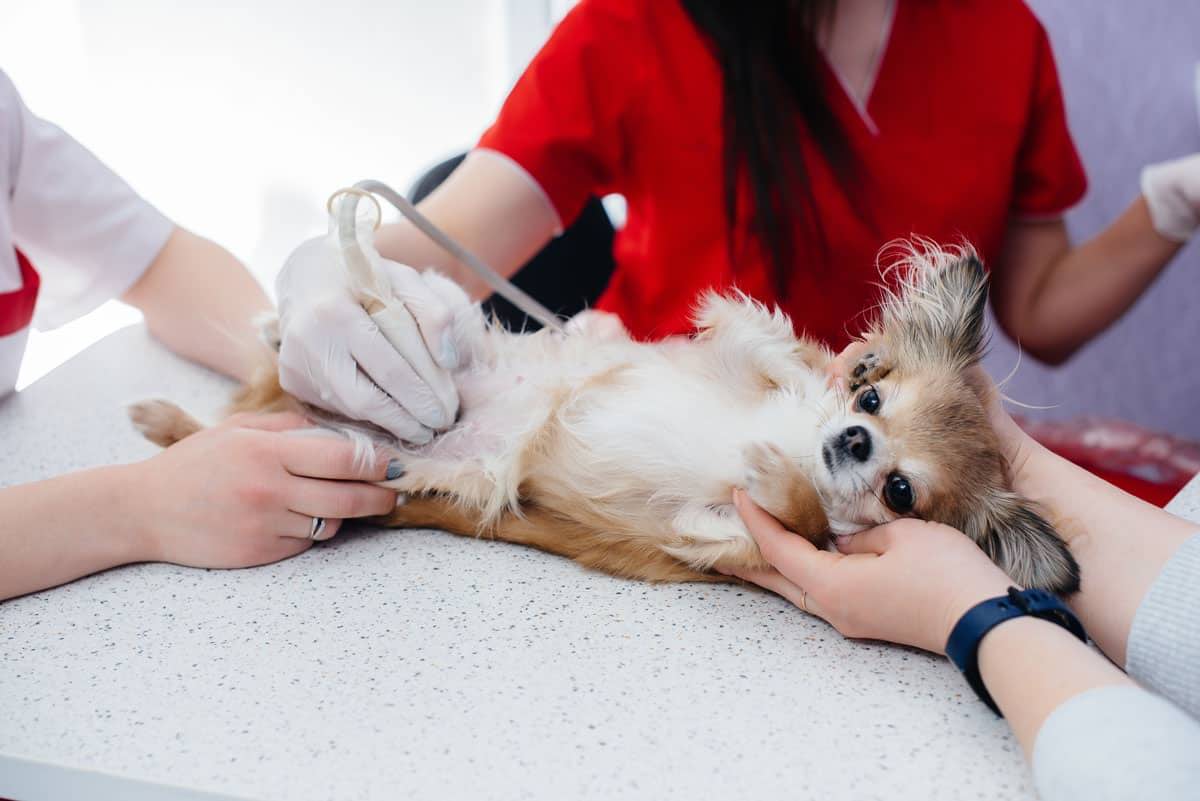 Facts about Chihuahua pregnancy
1) Females Chihuahuas can become pregnant during their first heat cycle
Female Chihuahuas can conceive once they experience their first heat cycle, which typically occurs during puberty.
Chihuahuas can reach maturity as early as 4 to 7 months old. During the estrus phase, which can last for 5 days to 3 weeks, female Chihuahuas are typically open to mating with males.
During a specific timeframe, usually between days 10 to 15 since the start of discharge, eggs are released and the female Chihuahua can conceive.
Although it is recommended for breeders to wait until the second heat cycle to breed Chihuahuas, a Chihuahua can still get pregnant during the first heat cycle, even with minimal discharge.
2) Pregnancy in Chihuahuas can happen even if mating does not seem to be successful
Chihuahuas can get pregnant even if it seems like the two dogs break apart early during mating. So, owners who think they prevented any activity might be mistaken. Timing is key when it comes to these matters.
3) A Chihuahua can get pregnant from two different dogs
This is called a multi-sired litter. It happens because female Chihuahuas can have multiple eggs available for fertilization over several days.
For example, if a female Chihuahua is mounted by a male on day 1 and one egg is fertilized, she can still be mounted by a different male on day 3 and another egg could be fertilized.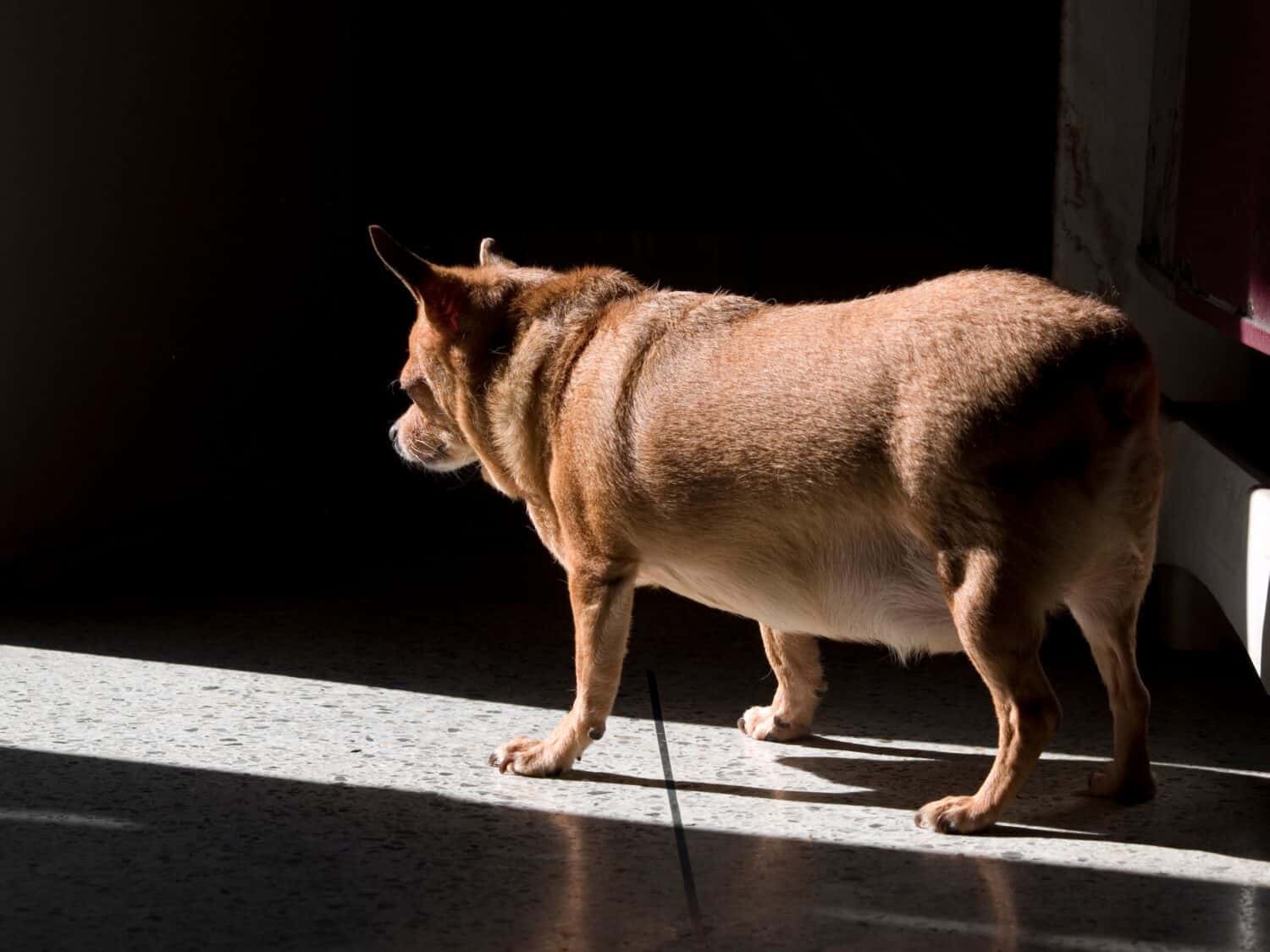 4) A Chihuahua can get pregnant with a bigger dog
Chihuahuas are not picky when it comes to mating and can get easily impregnated by a bigger-sized breed.
Although the size difference might cause some complications during birth, Chihuahua litters from bigger dogs have been reported in many cases.
5) The typical litter size for Chihuahuas ranges from 1 to 3 pups
Chihuahuas typically have litters of 1 to 3 pups, but occasionally have litters of 5 or 6.
Signs that you have a pregnant Chihuahua
If you suspect an accidental or intentional mating with your Chihuahua, it is crucial to watch for signs and symptoms of pregnancy in order to provide appropriate care and makes sure your Chihuahua stays healthy.
Owners may find this time to be nerve-racking due to unexpected connections. For instance, if your female Chihuahua happened to escape while in heat and encountered a male dog.
It's a situation that often causes panic for Chihuahua owners. You might find yourself anxiously waiting to find out if your Chihuahua is pregnant, each minute feeling like an eternity.
Consider getting an x-ray for your Chihuahua to determine if she's pregnant, and the number of puppies, although it can be costly. It's wise to save that money for when you actually need to count the puppies. Ultrasounds are rarely used in such cases.
These are the initial signs that your Chihuahua is pregnant:
- She will display lethargy, fatigue, and a lack of usual energy.
- Your Chihuahua may experience an upset stomach, similar to human morning sickness. This may cause a decreased appetite and occasional vomiting.
- Your Chihuahua's stomach will expand rapidly, much faster than a human's, and faster than most other breeds.
- Her stomach will become toned and firm.
- Her nipples will enlarge significantly, revealing previously hidden teats.
- She will clean herself extra well and show signs of "nesting".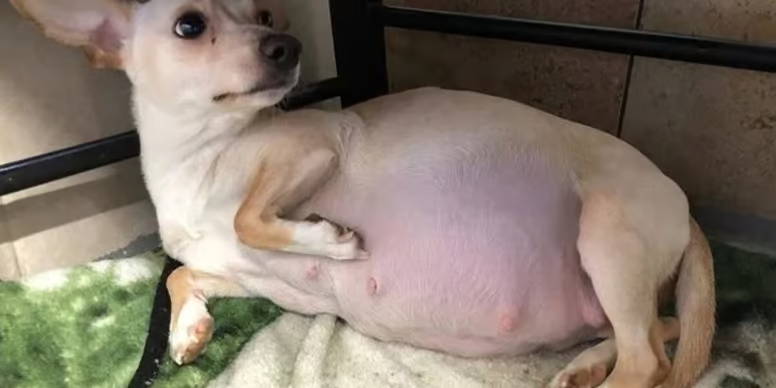 The Chihuahua ultrasound, performed 25 days after mating
Get quick confirmation on the success of your planned mating or artificial insemination with a Chihuahua ultrasound scan. Veterinarians suggest taking this pregnancy test as early as 21 days after the procedure, but waiting at least 25 days will provide more accurate results.
Chihuahua ultrasounds are a non-invasive and painless procedure, but they can be intimidating for timid Chihuahuas. The veterinarian will need to shave a small area of your Chihuahua's belly, which may cause some stress due to the noise. The cost of a Chihuahua ultrasound can reach up to $500. Considering the expense, you may want to explore alternative methods before deciding.
A blood test, performed 5 weeks after mating
If you attempted to breed your Chihuahua over 5 weeks ago, you have the option to opt for a blood test. This test checks for pregnancy hormones and is more cost-effective than an ultrasound.
Please note that it's crucial to wait at least 5 weeks after mating before taking this test. Otherwise, even a Chihuahua in the early stages of pregnancy may yield a false negative result.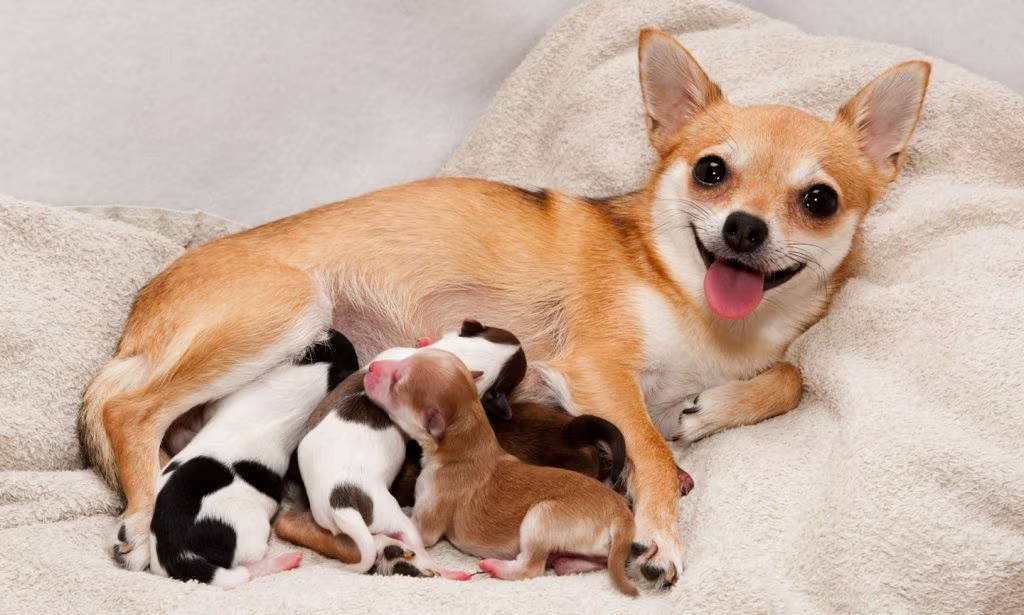 Chihuahua pregnancy timeline
Chihuahuas can become pregnant at six months old, but they shouldn't give birth until they are 18 months old. The average Chihuahua pregnancy lasts about 58 to 68 days and results in a litter of one to six puppies. These puppies are incredibly small, typically weighing between three and six ounces.
Chihuahua moms care for their puppies for eight weeks before they are independent. Once they are ready, the puppies can be adopted and start their own journey, maybe even becoming moms in the future! Let's dive into what occurs during a Chihuahua's gestation period.
In the first week hormonal changes, although not physically apparent, start to occur. During this stage, it is recommended to continue with your Chihuahua's regular diet and exercise routine.
In the second week, the fertilized egg will move to the Chihuahua's uterus. This may cause hormonal changes, leading to moodiness or increased affection in your Chihuahua. No major changes in care are needed at this stage.
During the third week of pregnancy, Chihuahua fetuses experience rapid growth. This will cause your Chihuahua to have a significantly increased appetite, and you will observe your Chi eating more than usual.
Although no major physical changes occur at this time, you might observe some breast tissue development as your Chihuahua prepares for motherhood. It is recommended to increase the size of your Chihuahua's meals to satisfy her growing appetite.
At the four-week mark, consult a veterinarian to confirm your Chihuahua's pregnancy. You may also begin to feel the puppies moving in the Chihuahua's belly, signaling a noticeable change in your Chihuahua's physical appearance: her body will get bigger and her stomach will feel harder. She will also feel more tired and hungry because the puppies inside her need more nutrients.
In the fifth week of a Chihuahua's pregnancy, the puppies begin developing organs, toes, and nails. During this time, you'll be able to see physical signs that your Chihuahua is pregnant, such as a rounded stomach and noticeable breast tissue.
As the puppies continue to grow, your Chihuahua's appetite may decrease. To ensure she gets the necessary nutrients, it's important to feed her smaller meals throughout the day and consider a special formula for pregnant dogs.
In the sixth week of a Chihuahua's pregnancy, there aren't any big changes. However, her belly will keep getting bigger and rounder.
The puppies are developing pigmentation and eyelids. As they grow, the mother Chihuahua might feel more nauseous. This could make her vomit more often, but it's not a big problem. It's important to watch her appetite and give her smaller, more frequent meals if necessary.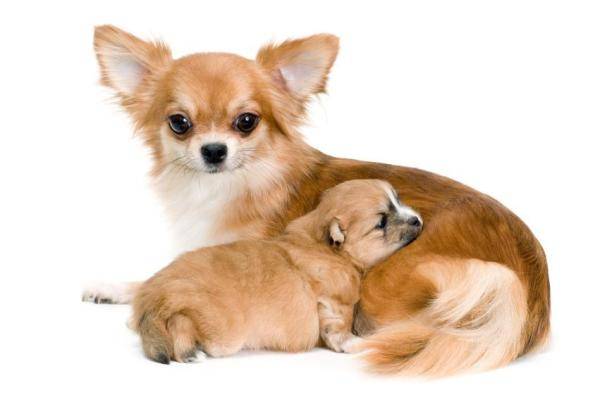 By week seven, your Chihuahua's pregnancy is almost over. The puppies are now fully developed. The mother Chihuahua's breasts will also fully develop and may produce some milk.
At this point, your Chihuahua will begin searching for a place to give birth. It is important to set up a whelping box and let your dog investigate it. This will help your Chihuahua become acquainted with the birthing area and minimize her anxiety.
By week eight, the puppies in your Chihuahua's stomach are fully developed. During this time, your Chihuahua will spend more time in the whelping box, preparing herself for birth.
You may notice her stomach moving frequently, indicating that the puppies are ready to be born. It's crucial to closely monitor your Chihuahua during this stage, as she could start going into labor.
The final week of the Chihuahua's gestation period is here. Your Chihuahua could give birth at any moment, so it's crucial to stay by her side. Keep an eye on her temperature as it usually rises to 100 degrees Fahrenheit 24 hours before labor starts. Monitoring her temperature will help you anticipate the beginning of labor.
If you notice your Chihuahua being less active or more anxious as the birth gets closer, it's normal. However, if you notice any particularly unusual behavior, it's important to let your veterinarian know.
The birthing process consists of three stages that last anywhere from six to 18 hours in total. Typically, puppies are born about 10 to 30 minutes apart. If an hour goes by without any new arrivals, it's a good idea to contact a veterinarian.
Need to know if your Chihuahua is about to give birth? Keep an eye on her temperature. A drop in temperature signals that labor is on the way. To get accurate results, use a rectal thermometer.
Ensure your Chihuahua is relaxed in a calm environment and lubricate the thermometer before leaving it in for three minutes. Normal dog temperature ranges from 101 to 102.5 degrees Fahrenheit (38.3 to 39.17 degrees Celsius).
If your Chihuahua's temperature drops below 100 F (37.77 C), she will deliver her puppies within 24 hours. At this stage of labor, she may vomit and cry. While it can be difficult to see your Chihuahua in distress, it is crucial to remain resilient and offer comforting words to help her through.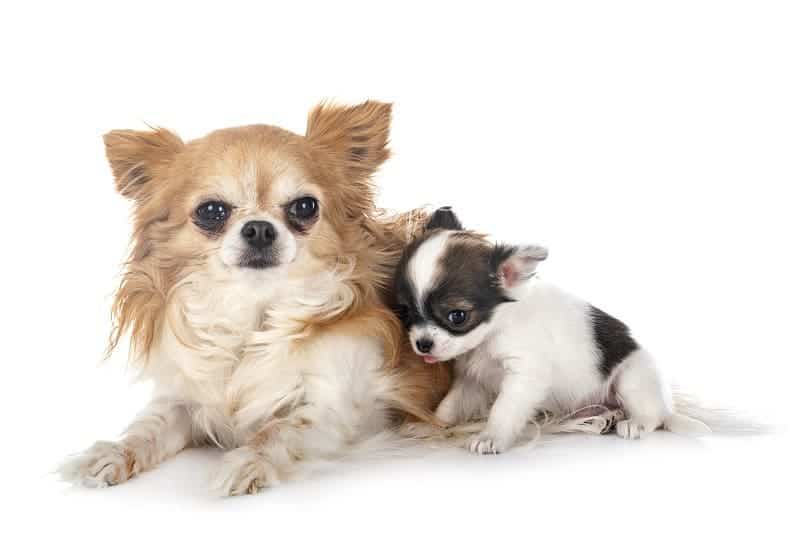 In the absence of a Cesarean, the birth process for Chihuahua puppies is as follows:
- Each puppy is delivered in its own amniotic sac.
- The Chihuahua's natural instinct prompts her to lick the sac off the puppy, and occasionally, she may even consume it.
- This behavior is a natural occurrence in nature.
To ensure the Chihuahua puppy's health, it is crucial to promptly remove the sac after birth. Here's the step-by-step process: gently tear the sac near the chest, then pull it off and over the head. It is important to handle this process with extra care. The sac may appear dark purplish or more transparent. Each puppy's arrival can be consecutive or have up to a 2-hour gap between births.
When a Chihuahua gives birth, the mother dog naturally licks the puppy to clean it and may also chew off and possibly consume the umbilical cord. This licking not only cleans the pup, but also helps stimulate its breathing.
To assist in the process, you can utilize an infant suction bulb to delicately remove fluids from the puppy's mouth and nose. Additionally, a quick wrapping of the newborn in a clean, soft towel enables the wiping away of fluids without disrupting the mother's innate licking behavior.
After childbirth, the placenta is naturally expelled, similar to how it happens in humans. Typically, it is released after the last puppy. It is common for the mother Chihuahua to consume the placenta, as this instinct is strong and should not be disrupted. If the mother doesn't sever the umbilical cord herself, you can use sterilized scissors to cut it about 1 inch away from the stomach and tie it off with sterilized thread in case of bleeding.
Signs you should take your pregnant Chihuahua to the vet
Keep an eye out for these warning signs and act quickly if you notice them in your pregnant Chihuahua. It's important to bring your Chihuahua to the vet as soon as possible if:
- The pregnancy has surpassed 70 days.
- It's been a full day since her temperature dropped, and she's now vomiting and/or crying. However, there are still no signs of puppies.
- Only one puppy has been born so far, but it has been over 2 hours and there haven't been any additional ones yet. However, we know for certain that there are still more to come.
- She is clearly suffering a great deal.
Chihuahua pregnancy, the FAQs
How long is a Chihuahua pregnant?
Female Chihuahuas are typically pregnant for approximately 58 to 68 days, similar to other dog breeds. On average, it takes about 63 days, or 2 months and 3 days, from conception to the birth of Chihuahua puppies.
Can Chihuahuas have false pregnancies?
Yes, Chihuahuas can experience what is known as a false pregnancy. This happens if the dog does not conceive but her body still goes through the motions of a pregnancy due to hormonal imbalances. Symptoms may include increased appetite, lactation, and nest-building behavior.
How many puppies can a Chihuahua have?
The typical litter size for a Chihuahua is between 1 and 4 puppies. However, it's not uncommon to see larger litters ranging from 5 to 10 puppies. It all depends on the health of the mother and her overall reproductive history.
Can pregnant Chihuahuas give birth on their own?
For the most part, a Chihuahua is capable of giving birth without any help. However, it's still important to keep an eye on her and take her to the vet if you notice any signs that may indicate a problem. For example, if she is in labor for more than 24 hours or more than two hours between each puppy delivery.