Pomeranian Chihuahua Mix (Pomchi) Breed information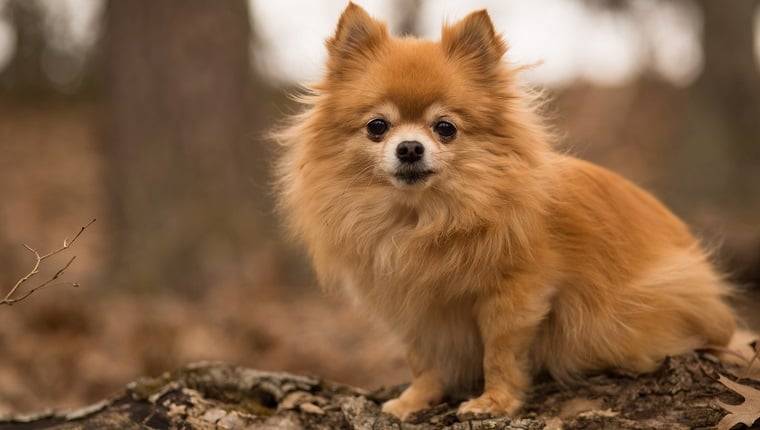 The Pomeranian Chihuahua mix, otherwise known as the Pomchi, is a popular breed that is known for being small and cute. These dogs are considered to be perfect for urban dwellers who live in small spaces.
Pomchis are also considered to be very easy to take care of in terms of exercise and training, which makes them perfect for people who are not very active.
Pomchi, Pomahuahua, Chimeranian, Chi-Pom, Pom-Chi
brown, tan, black and tan, or cream
people living in apartments with older kids/no kids
outgoing, playful, yappy, needy
The exact origins of the Chihuahua dogare unknown, but there are many theories about where the breed originated. One popular theory is that the Chihuahua is a descendant of the Techichi, a small dog that was revered by the ancient Toltec people of Mexico.
The first recorded appearance of the Chihuahua in the United States was in 1850, when a pair of the dogs was brought to New Orleans by a sailor.
The breed became increasingly popular in the United Statesduring the early 20th century, and it is now one of the most popular breeds in the country.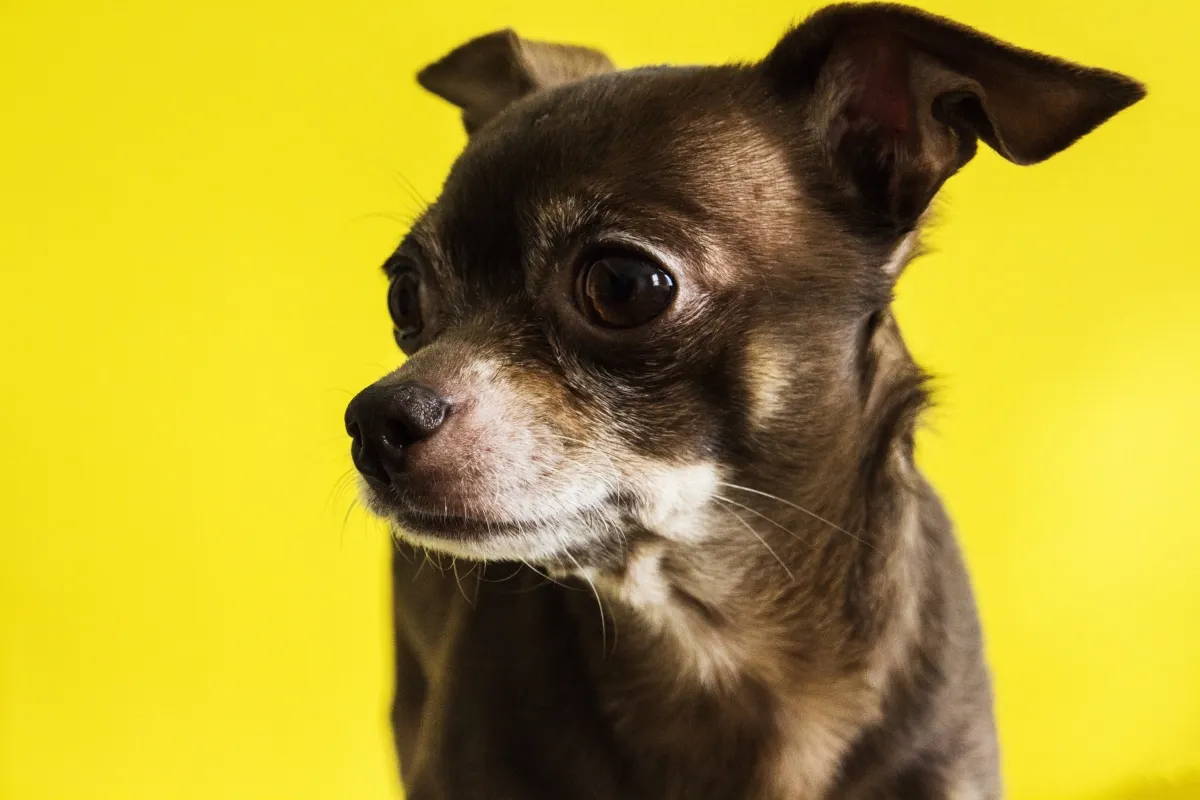 The Pomeranian is a small Spitz dog. The name derives from the historical region of Pomerania (today part of northern Poland and Germany), and it is the smallest member of the Spitz family.
Pomeranians are known for being active and friendly, and they make good companions. Although they are small, they are also fairly sturdy dogs, and they have relatively long lifespans. Pomeranians were first bred in Germany in the late 1800s.
They were first introduced to the United States in the early 1900s, and their popularity has steadily grown since then.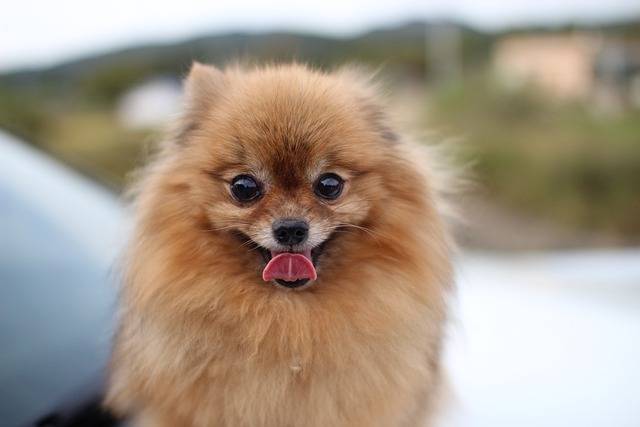 The Pomchi is a hybrid dog that is created by crossing a Pomeranian and a Chihuahua. Pomchis inherit the best features of both breeds, including their small size, playful personality, and alert nature.
Pomeranian Chihuahua mixes are relatively new dogs, first appearing in the United States in the 1990s. However, they have quickly become popular pets due to their affectionate nature and low-maintenance care requirements.
Pomeranian Chihuahua mixes are not recognized by the American Kennel Club.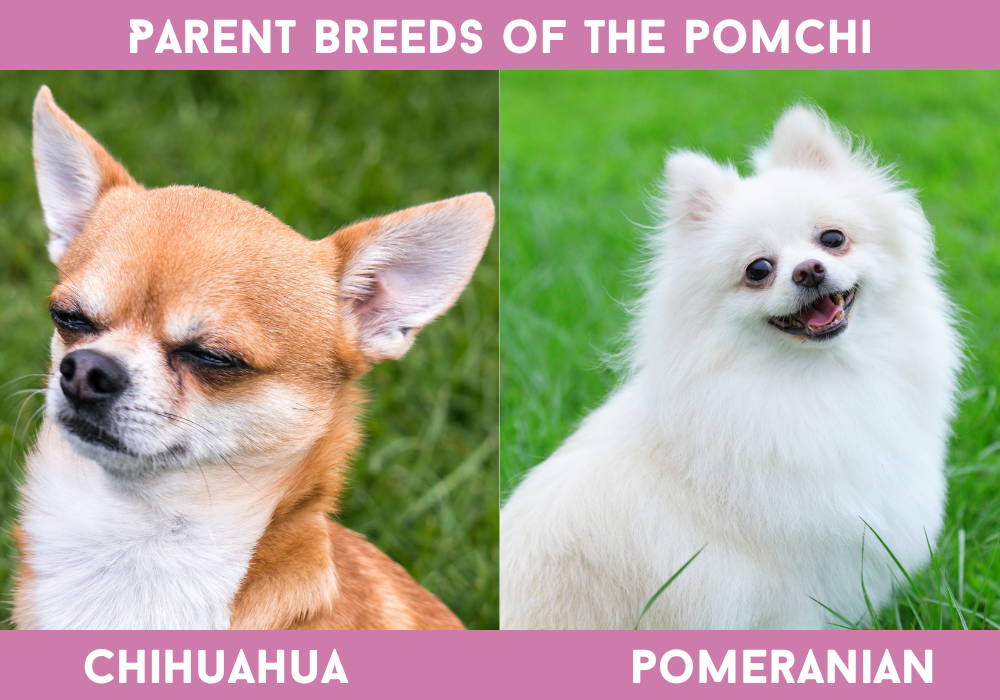 Pomeranians and Chihuahuas are two very different breeds, so it's hard to predict exactly what a Pomeranian Chihuahua mix will look like.
However, most Pomchis inherit the Pomeranian's thick coat, which can be either straight or curly. They also tend to have the Chihuahua's pronounced cheekbones and large ears.
Pomeranian Chihuahua mixes come in a wide range of colors, including black, white, brown, and tan.
Pomeranian Chihuahua mixes are small in size, and they typically weigh between 6 and 10 pounds.
Their height can range from 6 to 9 inches.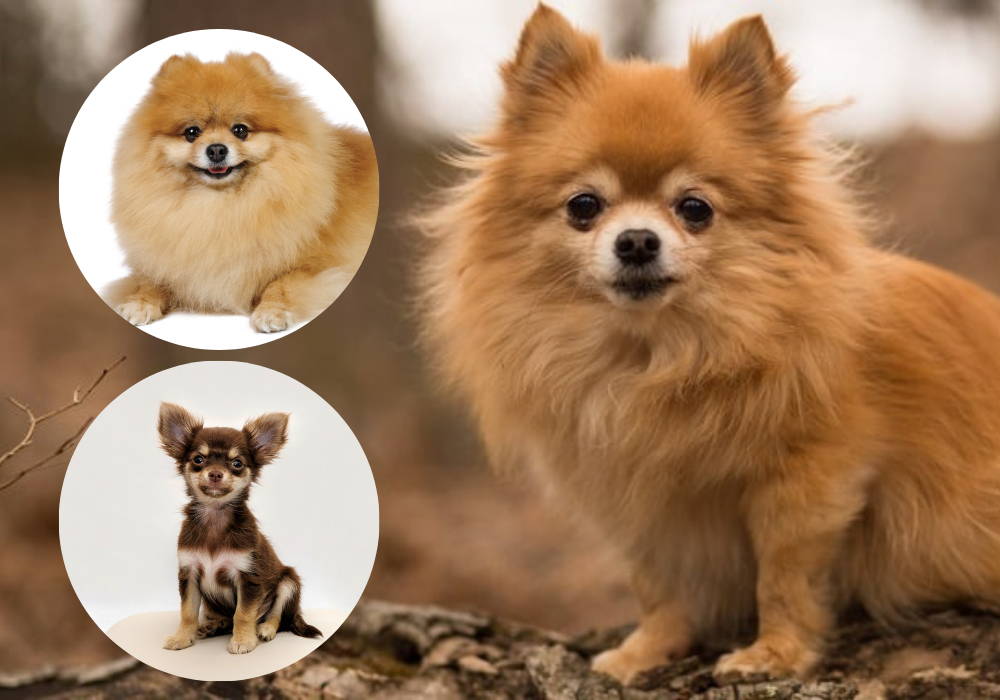 Pomchis are known for their lively personality and their ability to get along well with older children and other pets. They are typically very affectionate and loyal dogs, and they make excellent companions.
However, the Chihuahua Pomeranian mixes also inherits some of the less desirable traits of its parent breeds, including a tendency to bark excessively and difficulty in training.
For this reason, Pomeranian Chihuahua mixes are not recommended for first-time dog owners or those who are looking for a quiet, obedient companion.
Pomeranians are generally friendly dogs, but they can be possessive of their toys and food. Chihuahuas, on the other hand, are often wary of strangers and may not do well with other animals.
Pomeranian Chihuahua mixes typically inherit the best qualities of both breeds, meaning that they are usually good-natured and sociable dogs. With proper socialization, Pomchis can learn to get along with both other dogs and cats.
It is important to note, however, that Pomchis still have the potential to be aggressive, so it is key to socialize them from an early age.
The answer to this question depends on the Pomeranian Chihuahua mix's coat type.
- If your Pomchi has a long, thick coat, then it is more likely to shed.
- If your Pomchi has a short, smooth coat, then it is less likely to shed.

Either way, it is important to brush their coat regularly to help reduce shedding.
Chihuahua Pomeranian mixes are not considered to be hypoallergenic dogs.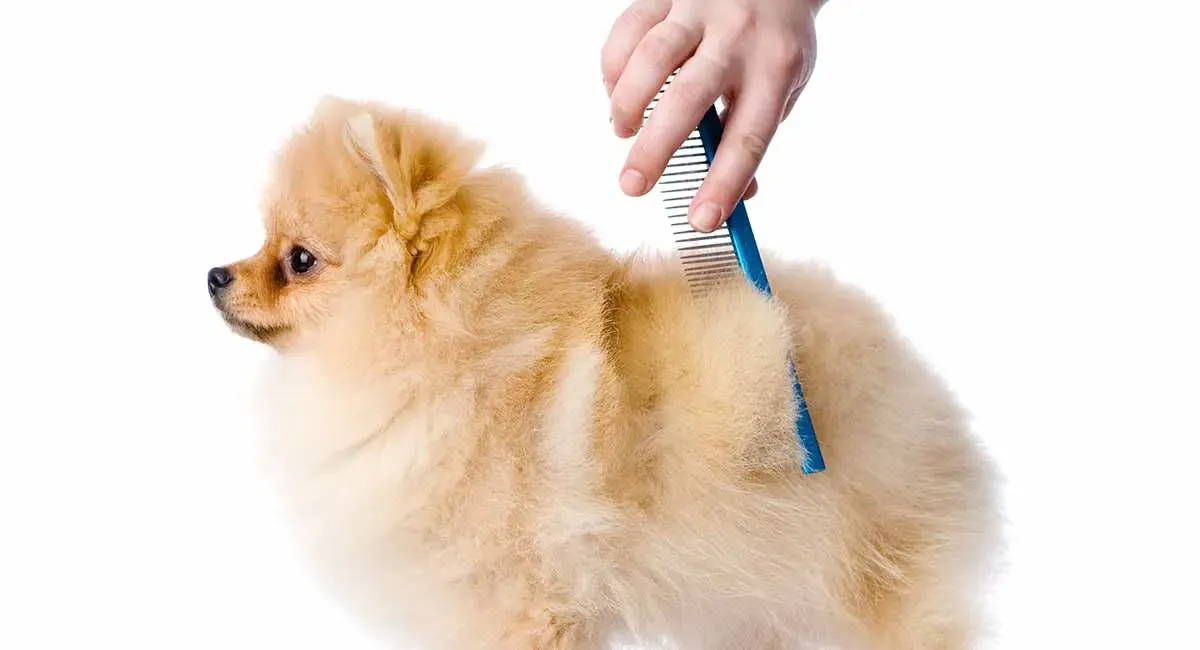 Pomeranian Chihuahua mixes typically have a lifespan of between 12 and 15 years.
While Pomchis may inherit some of their physical and behavioral traits from their parent breeds, they also inherit the same health issues.
This happens when the kneecap (patella) slides out of place, causing the leg to lock up. Chihuahua Pomeranian mixes are especially prone to this condition because of their small size and short legs.
The most common symptom of patellar luxation is lameness in the affected leg. The Pomeranian Chihuahua mix may also hold the leg up or swing it out to the side when walking. If left untreated, patellar luxation can cause arthritis and joint damage.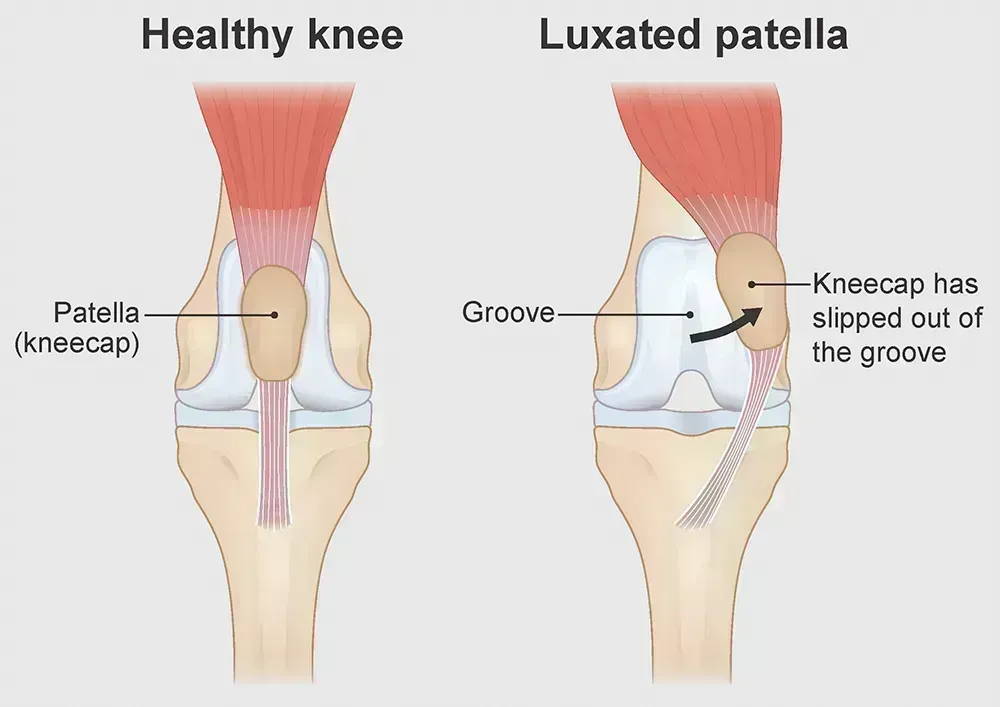 Periodontal disease is a condition that
affects the gums and bones that support the teeth.
If left untreated, it can lead to
tooth loss and other serious health problems.
Early diagnosis and treatment is essential for preventing the progression of the disease. Pomeranian Chihuahua mixes are especially susceptible to periodontal disease due to their small head and crowded teeth.
Regular brushing and dental checkups are essential for keeping pomchis healthy and preventing periodontal disease.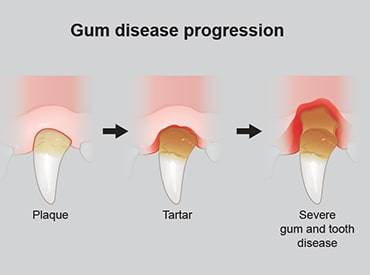 The trachea is the tube that carries air from the nose and mouth to the lungs, and in dogs with tracheal collapse, the trachea collapses or flattens when the dog inhales. This can cause difficulty breathing, coughing, and even fainting.
In severe cases, tracheal collapse can be life-threatening. Pomeranian Chihuahua mixes are particularly prone to this condition because of their small size and short necks.
Treatment typically involves weight loss and avoidance of strenuous activity, but in severe cases, surgery may be necessary to repair the trachea.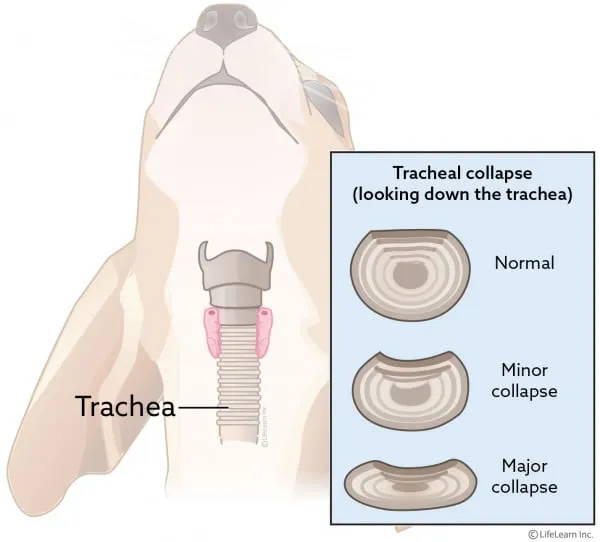 How to Find a Pomchi Puppy?
When it comes to adopting a pomchi, whether through a rescue or a breeder, conducting thorough research is essential. This ensures that you find a reliable source and enables you to discover the perfect pomchi that aligns with your specific needs and lifestyle. By exploring both options, you can make an informed decision and provide a loving home for your new furry friend.
Are you looking for a cute little Pomchi to add to your family? While this mixed breed may not be as common in rescue shelters, there are still plenty of options.
Consider checking out Pomeranian and Chihuahua specific rescues in your area - you may just find a Pomchi mix waiting to be adopted! With so many pups in need of loving homes, it's always a great feeling to rescue a furry friend in need. So don't give up on finding your perfect Pomchi - keep searching and you're sure to find the right match for your family.
Peace Love and Poms Rescue
https://peacelovepoms.rescuegroups.org/
Southern California Pomeranian Rescue
https://southerncaliforniapomeranianrescue.org/
Pomeranian Rescue
One great tip for finding an ethical Pomchi breeder is to search for breeders who prioritize the well-being of their dogs over profit. Responsible breeders will also be transparent about their breeding practices, such as genetic testing and proper care for the puppies.
Another great way to find an ethical breeder is to ask for recommendations from trusted friends, family members, or your local veterinarian.
To keep your Pomeranian Chihuahua mix healthy and happy, it's important to consider grooming, exercise, training and feeding.
The Pomeranian Chihuahua mix is known to have a thick, luxurious coat. While they do not require as much grooming as some other breeds, it is important to brush their coat regularly to prevent tangles and mats.
In addition, the Pomeranian Chihuahua mix's coat should be trimmed every few months to keep it looking neat and tidy.
To groom your Chihuahua Pomeranian mix at home, you will need a good quality dog brush, scissors, and clippers.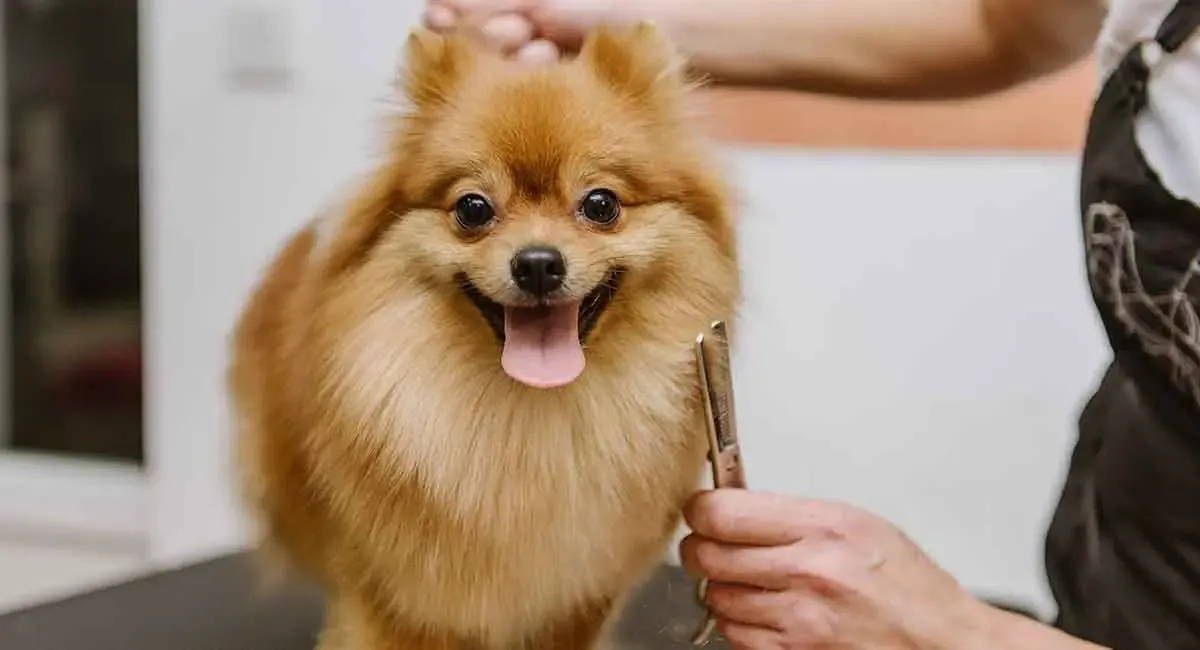 There are a few things to keep in mind when training a Chihuahua Pomeranian Mix.
First, Pomchis are very devoted to their owners and can be prone to separation anxiety. It is important to provide plenty of love and attention, and to crate train Chihuahua Pomeranian mixes if they will be left alone for extended periods of time.
Second, Pomchis are bred from two breeds that were originally used for hunting. As a result, these dogs have a strong prey drive and may try to chase small animals. It is important to socialize Chihuahua Pomeranian mixes from an early age so that they learn how to interact with other animals in a non-threatening way.
Finally, Pomeranian Chihuahua mixes are known for being vocal dogs. This trait can be cute when the dog is young, but it can become annoying as the dog gets older. It is important to train Pomchis not to bark excessively. With patience and consistency, Pomeranian Chihuahua mixes can be trained to be well-behaved dogs that are a joy to live with.
Because of their small size, Pomchis are prone to hypoglycemia, which can be life-threatening if not properly managed.
As such, Pomeranian Chihuahua mixes should be fed multiple small meals throughout the day instead of one large meal.
In addition, Chihuahua Pomeranian Mixes should always have access to fresh water and should not be allowed to become dehydrated.
When choosing a food for a Chihuahua Pomeranian mix, it is important to select a high-quality product that is designed for small breeds.
Like both of its parent breeds, the Chihuahua Pomeranian mix has a low energy level and doesn't need a lot of exercise.
A Pomchi still needs at least 30 minutes of exercise every day, and ideally an hour or more. A Pomchi who doesn't get enough exercise is likely to become frustrated and destructive.
In addition to daily walks, Chihuahua Pomeranian mixes need opportunities to run and play. A backyard is ideal, but if you live in an apartment, you'll need to take your Pomchi to the park or doggy daycare on a regular basis.
There are some physical differences between male and female Pomeranian Chihuahua mixes. Male Pomchis tend to be slightly larger than females, with an average weight of 4 to 9 pounds. Females usually weigh 3 to 7 pounds.
Males also have longer snouts than females. In terms of personality, male Pomeranian Chihuahua mixes are often more independent than females. Females tend to be more affectionate and clingy.
Is it the Pomchi right for you?
Thanks to their small size, Chihuahua Pomeranian mixes don't need a lot of space to run around, and they're content to snuggle up on the couch with their owner. Pomchis are an ideal choice for apartments dwellers and people who do not have access to a lot of outdoor space.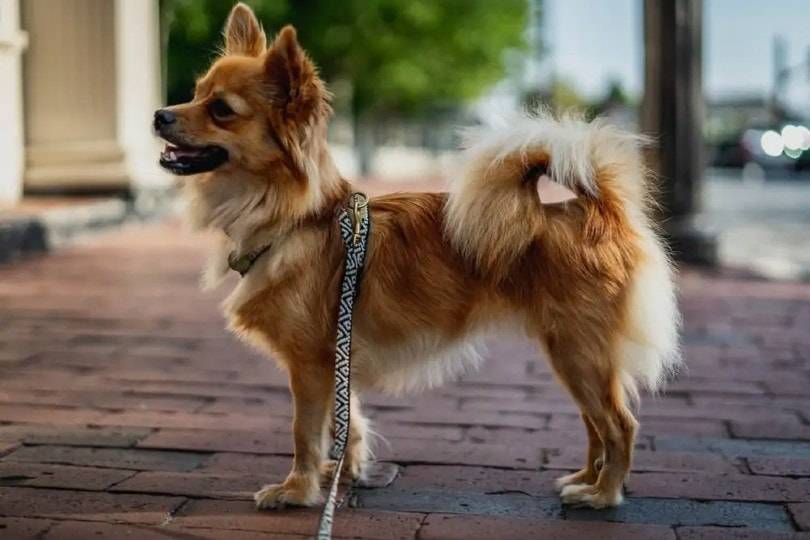 Pomeranian Chihuahua mixes are not ideal pets for families with young children or toddlers.
These dogs can be very high-strung and excitable, and their small size makes them vulnerable to being accidentally injured by a child.
Additionally, Pomchis tend to be barkers and can become yappy and annoying if not properly trained. If you're looking for a pet that will do well with young kids in the home, consider another breed altogether.
You have plenty of time to take care of a dog

You don't have any other pet
You have young children or toddlers

You wan't a dog the doesn't bark

You are away from home most of the day
What is a Chihuahua Pomeranian Mix called?
A Chihuahua Pomeranian Mix is most commonly called a Pomchi, a Pomahuahua, a Chimeranian, a Chi-Pom, or a Pom-Chi.
What does a Chihuahua Pomeranian Mix look like?
Chihuahua Pomeranian Mixes can vary in appearance, but they typically have the small stature of a Chihuahua with the thick fur and fox-like face of a Pomeranian.
How long do Chihuahua Pomeranian Mixes live?
Chihuahua Pomeranian Mixes typically live for 12-15 years.