Pekingese Chihuahua Mix (Cheeks) Breed information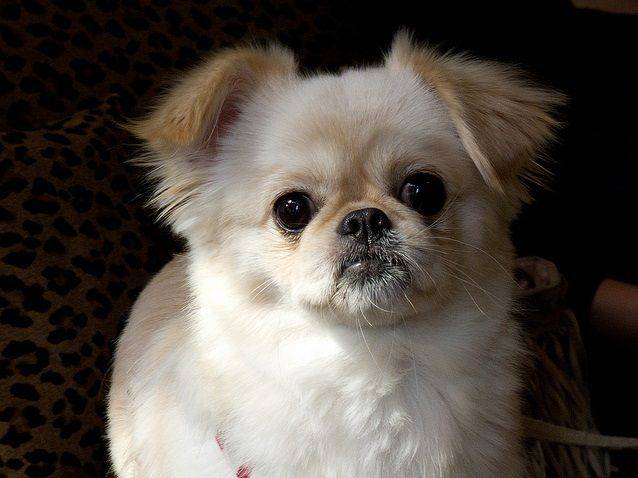 If you're looking for a small dog with a lot of personality, the Pekingese Chihuahua mix (aka Cheeks Dog) may be the perfect choice for you.
This spunky little Chihuahua crossbreed is known for being outgoing and affectionate and is sure to keep you entertained with his funny antics. Though they don't require a lot of exercise, Cheeks Dogs do need regular mental stimulation or they can become destructive.
So if you're prepared to provide him with plenty of love and playtime, the Cheeks dog could be the perfect addition to your household!
Cheeks, Pek-A-Chi, Pekachi
white, black, cream, red, blue
older couples, people living in apartments
yappy, clingy, intelligent, territorial
The Chihuahua is one of the most beloved dog breeds in the world, and it has a long and fascinating history. Originating in Mexico, this adorable dog likely developed as a small version of the larger native dogs that once roamed the region.
As one theory goes, the Chihuahua may have been selectively bred during the pre-Columbian era or perhaps even earlier by natives seeking an effective guardian for their homes and villages.
The Pekingese is one of the oldest and most storied breeds in history. These majestic animals have been a favorite of rulers throughout China for almost 2000 years, with ancient artifacts depicting Pekingeses that date back to the sixth century BC.
Because they were so highly valued as pets, only the most elite members of society were allowed to own these regal dogs, and their lofty status was reflected in their name: 'peki' means noble lion, while '-anese' refers to those from China.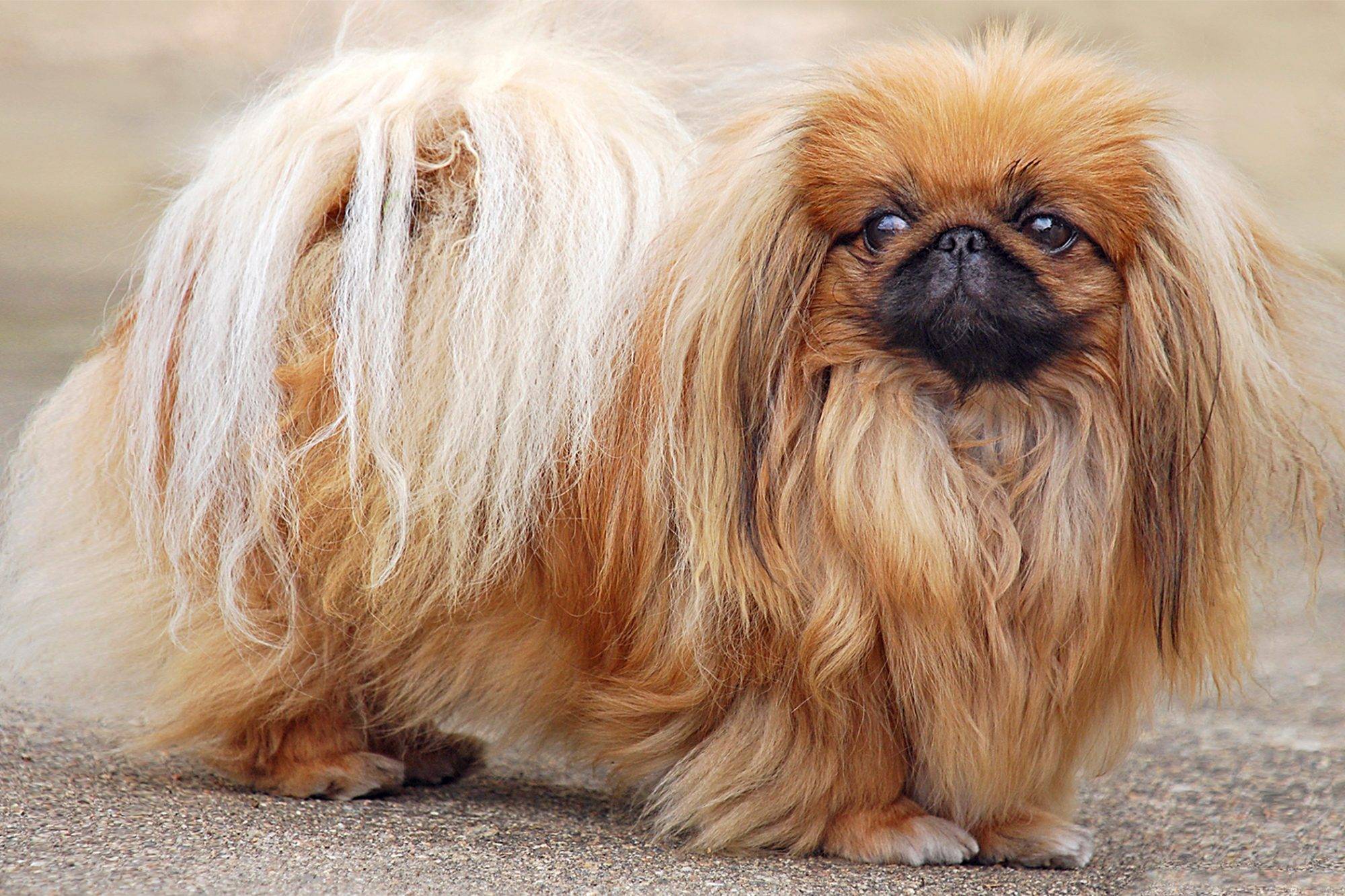 The Cheeks dog was created by combining the protective and loyal Pekingese with the cuddly and loving Chihuahua, resulting in a charming and friendly pet that can easily adapt to a smaller living space.
While crossed breeds may bring out some beneficial traits, they can also worsen health concerns specific to the parent breeds. Pekingese chihuahua mixes have a tendency to inherit many of the less exciting aspects - namely brachycephaly (that's fancy speak for 'flat faces'), which add extra difficulty to their already insufficient snorting abilities.
Although its origins are somewhat mysterious, the Pekingese Chihuahua mix was likely first bred in the United States in the 1990s.
The Cheeks dog is not recognized by the A.K.C.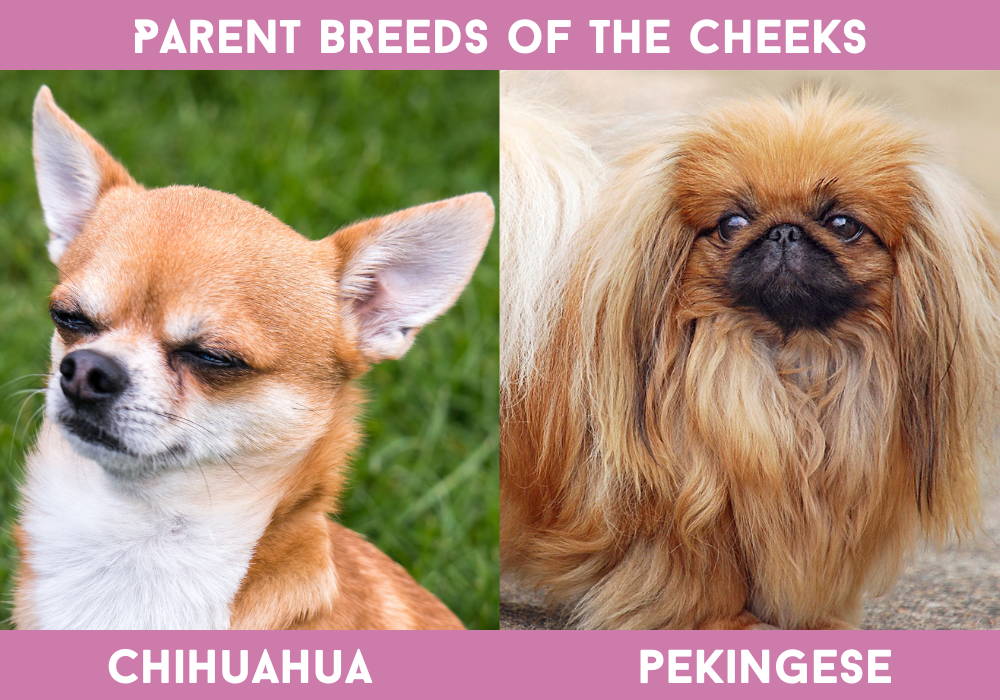 With its compact size and cute perky ears, the Cheeks dog definitely exudes that distinct "puppy dog" charm. But what exactly does it look like?
Depending on which parent breed the pup takes after most, the Pekingese Chihuahua mix might have long straight hair or short curly fur. Its eyes might be round, almond-shaped, or even slightly slanted. And its nose can range in color from black to brown to cream.
Not only does this pint-sized pup stand at an average height of just 14 inches at the shoulder, but it also typically weighs between 3 to 9 pounds.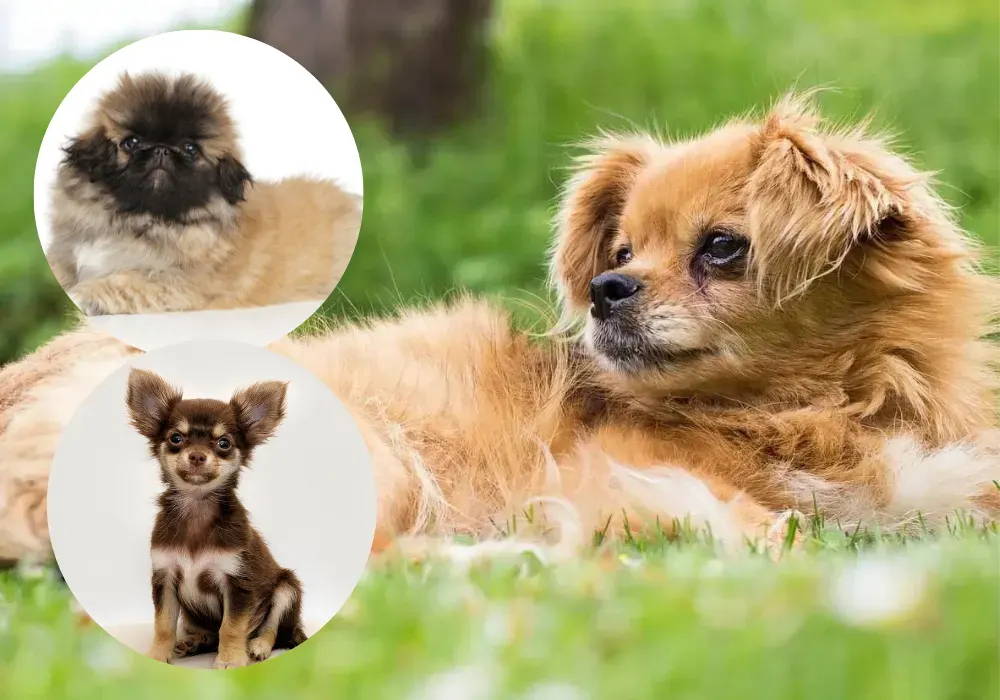 Given its small, compact size and winsome personality, it should come as no surprise that the Chihuahua Pekingese Mix is known for being the ultimate lap dog.
Whether cuddling up on the sofa or snuggling under the covers at night, the Cheeks dog loves nothing more than to spend time in close contact with his humans. Not only does he love affection and attention, but he is also an excitable and energetic animal who thrives on positive reinforcement and playtime with his favorite people.
One of the biggest drawbacks is that the Chihuahua Pekingese mix can sometimes be shy around strangers. And because this mix is a small breed, it can become fearful and defensive if it feels threatened or overwhelmed by a larger or more assertive animal.
While the Chihuahua Pekingese mix dog may strike many as a seemingly harmless, tiny pet, it is important to remember that this breed can be slightly territorial and mistrusting of other animals. Due to their inherent wariness, Cheeks dogs can be somewhat aggressive with other dogs.
Not only will they be unlikely to take kindly to anyone else's dog encroaching on their space, but they may also show signs of aggression towards strange dogs in an attempt to deter them from bothering them.
Additionally, while a Chihuahua Pekingese mix might display indifference or even friendliness towards cats and other small animals at first glance, they are still likely to display some level of aggression if pushed too far.
The answer to this question depends on several factors, including the individual Cheeks dog's genes and the amount of grooming they receive.
Some Pekingese Chihuahua mixes are notorious for their incessant shedding, while others can be fairly low-maintenance when it comes to shedding. In general, dogs with thick coats tend to shed more than those with short or thin coats.
And regardless of your Cheeks dog's coat type, regular brushing will help reduce overgrown fur and minimize loose hair in your home.
Chihuahua Pekingese mixes are not hypoallergenic.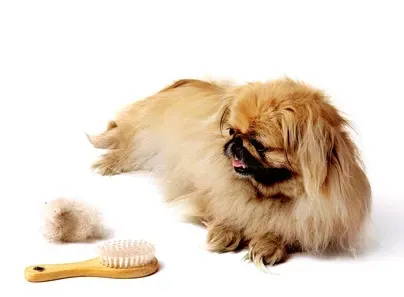 Cheeks dogs typically have a lifespan of between 10 and 14 years.
While these dogs may inherit some of their physical and behavioral traits from their parent breeds, they also inherit the same health issues.
Chihuahua Pekingese mixes suffer from an unfortunate health condition called patellar luxation. Essentially, this condition involves the dislocation of the kneecap, which can cause swelling, pain, and instability in the legs. Luckily, there are treatments available to help manage this issue.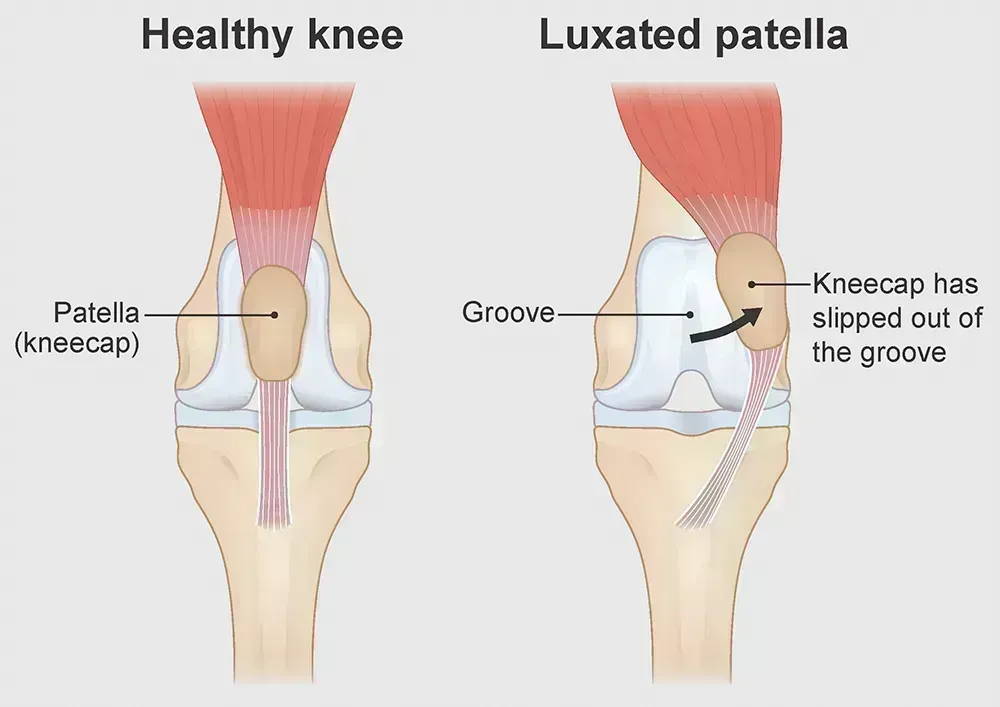 This condition occurs when the flaps of the heart's mitral valves become damaged, causing them to vibrate irregularly with each heartbeat. The results are often devastating: symptoms can include chronic coughing, labored breathing, fainting spells, and fluid buildup in the lungs.
Hydrocephalus is a condition in which the brain accumulates excess fluid within its chambers. Over time, this can cause significant damage to the brain and affect everything from movement and coordination to cognitive function.
Because little is known about the causes or treatments for hydrocephalus in Chihuahua Pekingese mixes, these dogs often suffer needlessly without receiving proper care.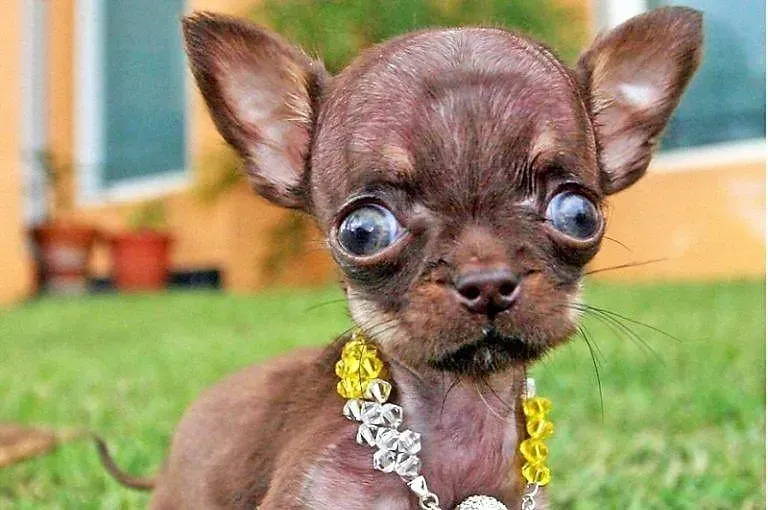 When caring for a Pekingese Chihuahua mix, you must consider grooming, exercising, training, and feeding.
The coat of a Pekingese Chihuahua mix dog requires special care and attention in order to stay looking healthy and soft. Some key tips to keep in mind include:
1. Brush your Chihuahua Pekingese mix daily, or even several times per week, to help remove excess shed hair and distribute natural oils throughout the coat. This will also help to prevent tangles and knots from forming.
2. Use quality shampoo specifically designed for dogs when bathing your Cheeks dog, and be sure to rinse thoroughly to avoid drying out the skin or irritating sensitive areas like the ears or facial fur.
3. Invest in high-quality grooming tools like combs, brushes, and trimmers as needed, and be sure to replace them regularly so that they stay sharp and effective.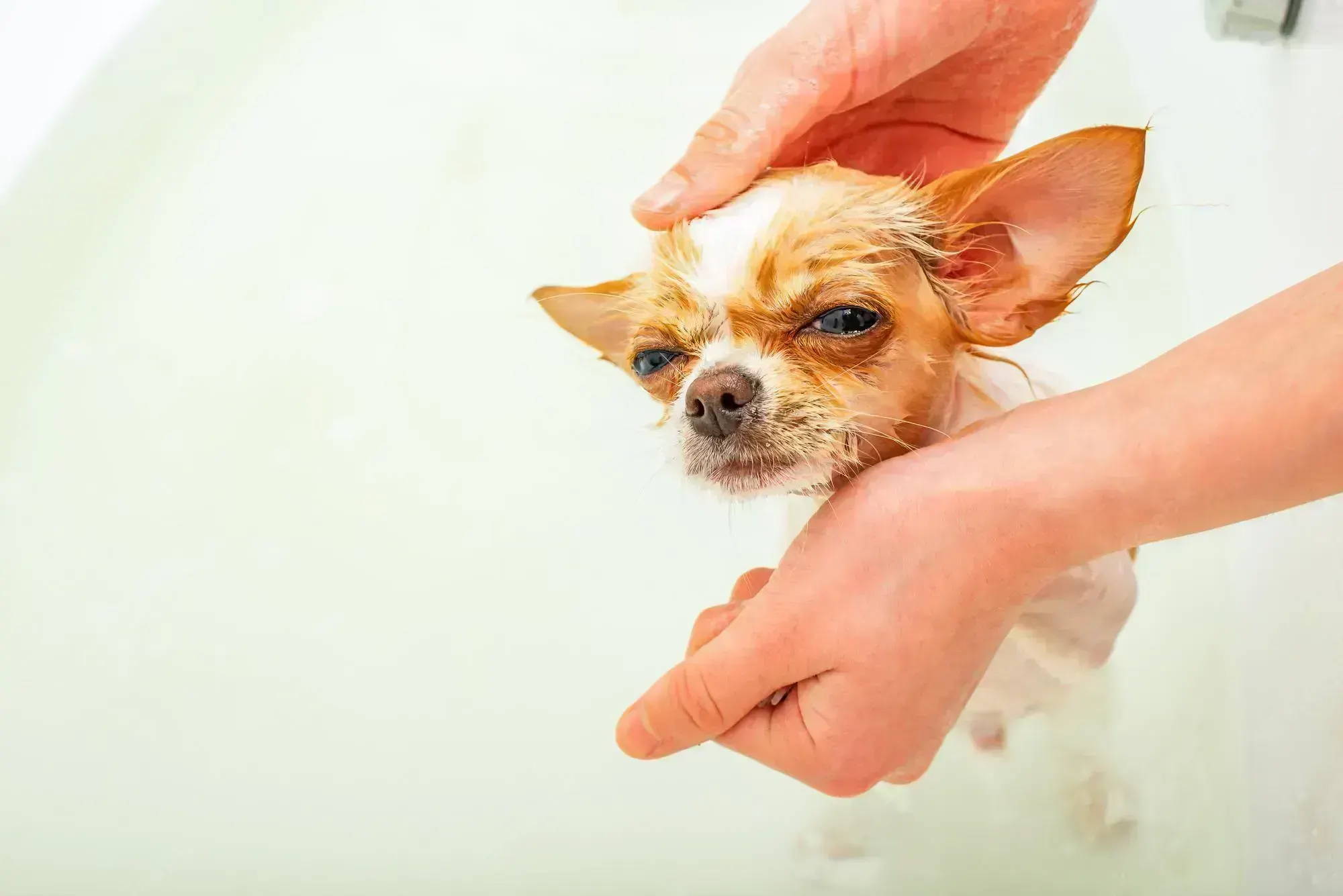 For one, both parent breeds of the Chihuahua Pekingese mix can suffer from small dog syndrome, meaning they can become irritable or aggressive when dealing with larger dogs and people.
What's more, Cheeks dogs can be prone to yappiness and may nip if they feel threatened or startled while sleeping. So when adopting a Pekingese Chihuahua mix, it is important to set appropriate boundaries from the get-go and work on socialization and training to avoid potential behavioral issues down the road.
With a combination of low energy output and small size, Chihuahua Pekingese mixes have minimal daily food requirements, clocking in at just 1 cup of food per day. Though some owners might assume that this means they can load their Cheeks up with as many treats and table scraps as they want, this is actually not the case.
The Pekingese Chihuahua mix still needs a balanced diet comprised of high-quality protein, carbohydrates, fats, and other essential nutrients to thrive and stay healthy.
Those who are looking for a pet that is relatively low-key and low-maintenance may find the Pekingese Chihuahua mix to be a perfect choice. Cheeks dogs often have a lazy temperament, spending much of their time relaxing on the couch or snoozing in a cozy dog bed.
While they do require some regular exercise and outdoor playtime, this can usually be easily satisfied with just a quick walk or game of fetch. However, it is important not to assume that Chihuahua Pekingese mixes don't need any stimulation or mental activity; in fact, because of their alert nature and intelligence, they can quickly become bored if ignored for too long.
When it comes to size, male Pekingese Chihuahua mix dogs tend to be slightly larger than their female counterparts, with males typically weighing between 5-8 pounds and females averaging 4-6 pounds.
However, this difference in size does not mean that males are necessarily better than females; rather, each gender has its own unique set of strengths and weaknesses.
While males are generally more outgoing and independent, females tend to be more prone to anxiety and snappiness
Is it the Cheeks right for you?
Not great with small kids
Chihuahua Pekingese mixes are not typically a great choice for families with young children.
Known for their feisty personalities and small size, Chihuahuas can be highly protective of their owners and territorial over certain spaces.
The independent nature of the Pekingese can also make them less than ideal companions for kids, who often need constant stimulation and attention to thrive.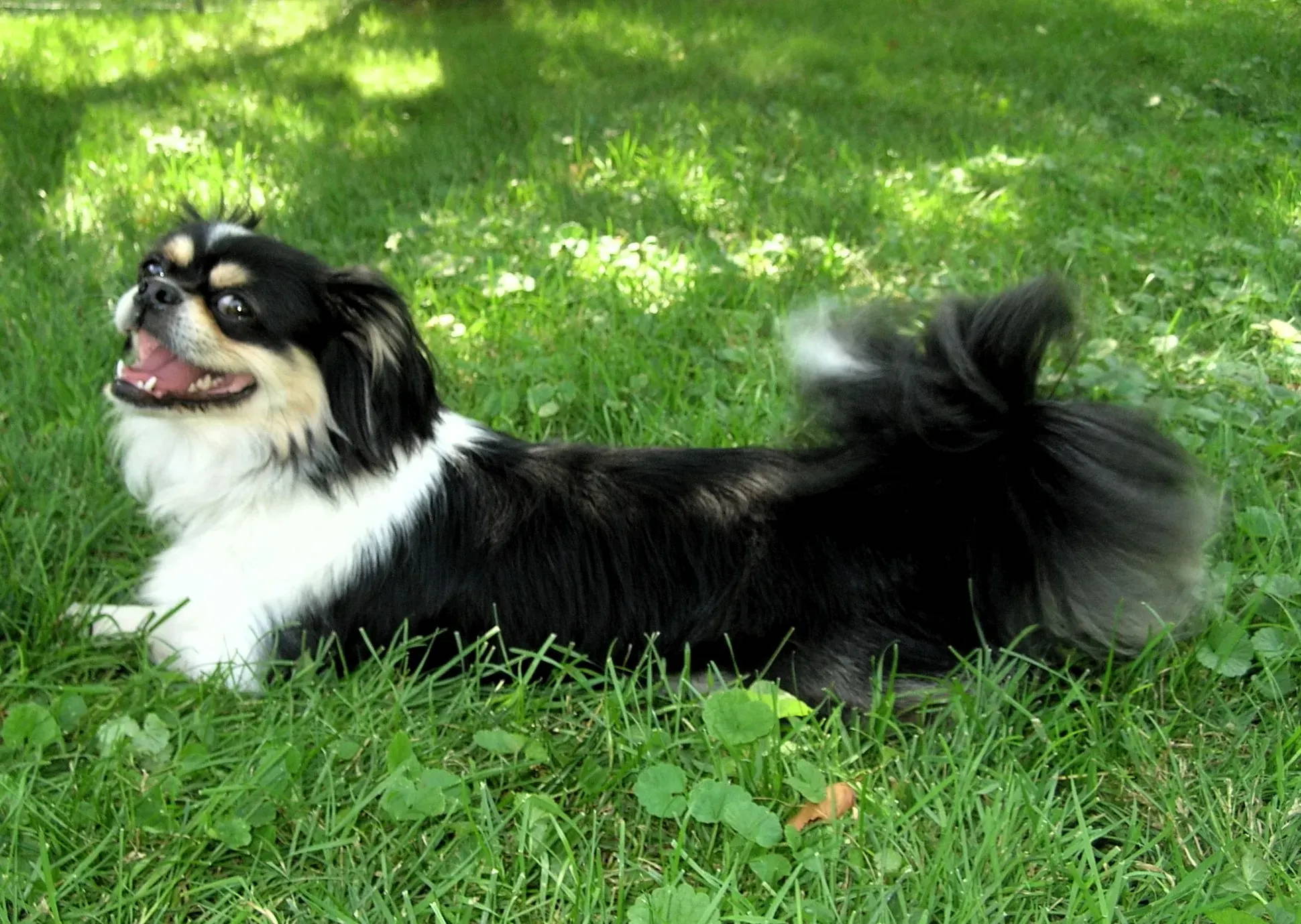 Great for apartment living
When it comes to choosing the perfect companion for life in an apartment, the Chihuahua Pekingese mix is a clear winner.
These adorable little dogs are known for their adaptability and easygoing nature, which makes them ideal for anyone looking for a pet that can thrive in a small space.
In addition, due to their low energy level and lack of need for frequent exercise, Cheeks dogs are also perfect companions for seniors who may not have as much free time or mobility as they used to.
So whether you're a busy professional living in the city or simply looking for something snuggly to cuddle up with on cold days, the Chihuahua Pekingese mix is the breed for you!
You don't have an active lifestyle

You want a small sized dog
You don't want a lot of vet bills

You don't want a yappy dog
What is a Pekingese Chihuahua Mix called?
A Pekingese Chihuahua mix is often referred to as a Cheeks Dog.
What does a Pekingese Chihuahua Mix look like?
Pekingese Chihuahua Mixes are small dogs with long, flowing coats. They often inherit the characteristic "pushed-in" face of the Pekingese, and their coat may be either black, brown, or white.
How long do Pekingese Chihuahua Mixes live?
Pekingese Chihuahua Mixes typically live for 10-14 years.