Pear-Head Chihuahua: Things to Know Before Getting One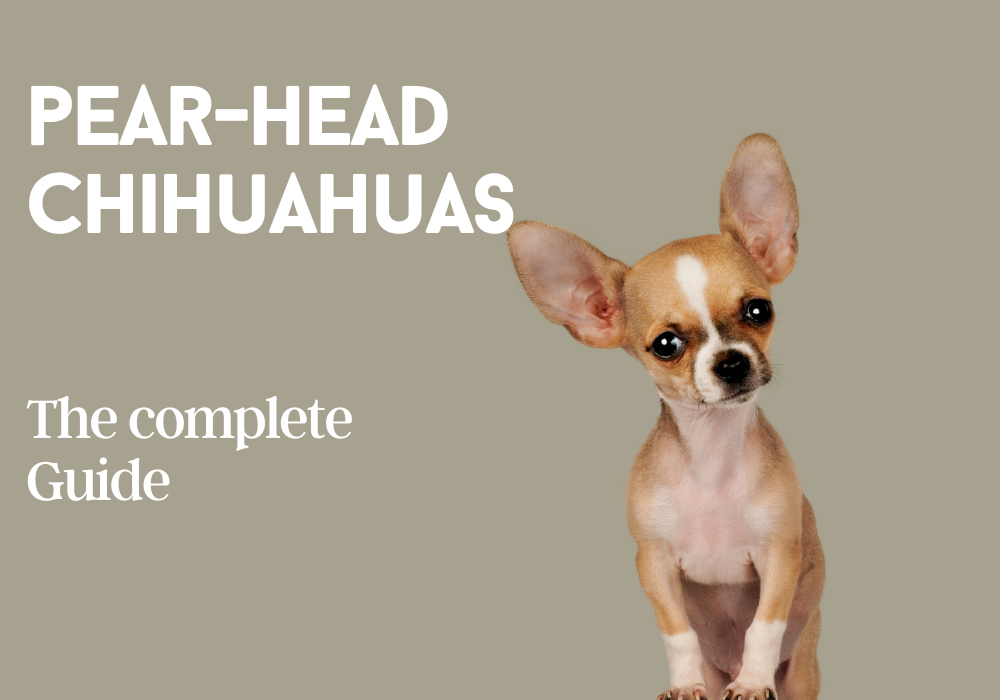 The Pear-Headed Chihuahua is a rare variety of Chihuahua. It has distinct features like a round head, a smooth forehead, and a prominent muzzle.
This guide covers everything about Pear-Headed Chihuahuas, including their appearance, temperament, and where to find them.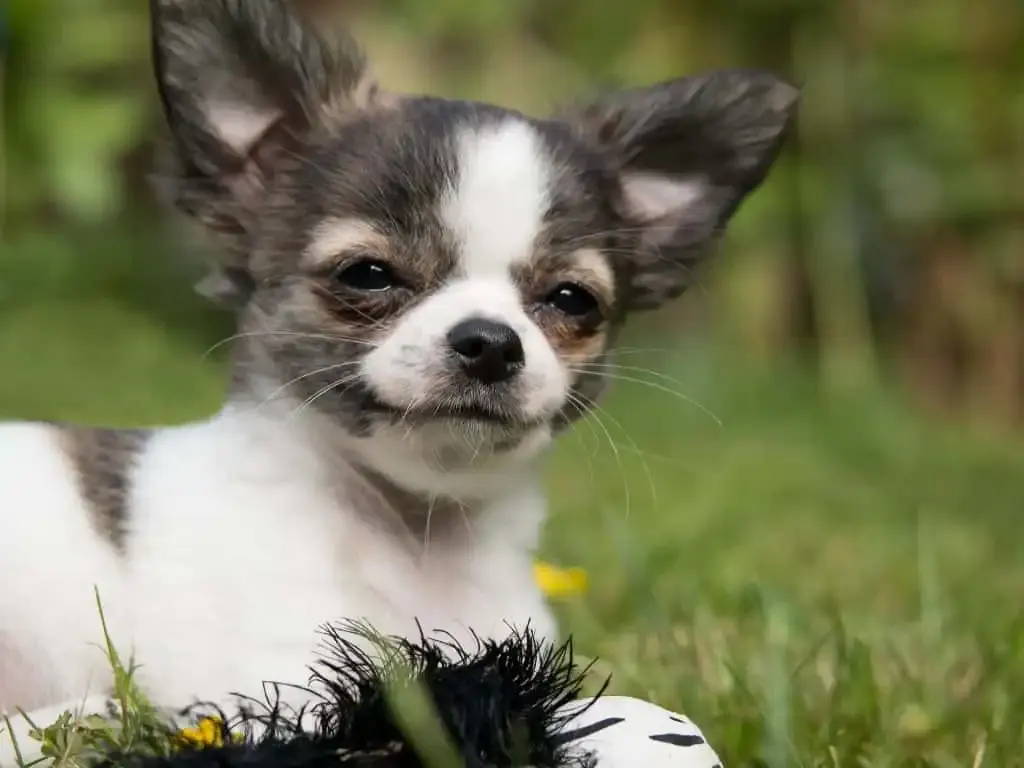 What is a Pear-Head Chihuahua?
Pear-Head Chiuahuas are a unique type of the popular Chihuahua breed. They have a flatter skull shaped like a pear and a wider muzzle, which makes them stand out.
However, they are not recognized by the AKC because they don't meet the breed requirements. This means they can't participate in AKC show rings, along with Deer-Head Chihuahuas.
Despite this, Pear-Head Chihuahuas are known for being healthy, friendly, and loyal. If you're considering getting a Pear-Head Chihuahua, you'll find a loving and devoted companion.
Pear-Head Chihuahua versus Apple-Head Chihuahuas
Distinguishing between a Chihuahua with a pear-shaped head and an apple-shaped head can be challenging for an untrained observer.
This is especially true because Pear-Head Chihuahuas are quite rare. It is crucial to understand the difference between these two types if you are considering adopting a Chihuahua and have a preference.
The primary distinction lies in their skull shape. Chihuahuas with apple heads have round, oblong skulls resembling apples, while Pear-Head Chihuahuas have flat tops and a shape resembling a pear.
In terms of physical attributes, pear head Chihuahuas tend to be taller and heavier than their apple head counterparts. In fact, it is not uncommon for Pear-Head Chihuahuas to surpass the standard size of the breed.
Additionally, a notable characteristic of Apple-Head Chihuahuas is that approximately 80-90% of them are born with a small opening in their skulls known as a molera.
This occurrence is less likely in pear head Chihuahuas, as it is more commonly observed in dogs with rounder heads.
Pear-Head Chihuahua Characteristics
Pear-Head Chihuahua characteristics include appearance, coat color, coat length, personality, lifespan, and health issues.
The Pear-Head Chihuahua is a unique and adorable breed that catches the eye of anyone who sees it. With a rounded head that tapers to a small snout, this breed's signature "pear" shape is a charming and distinctive feature.
The Pear-Head Chihuahua is small in size, averaging only 6 to 9 inches in height and weighing between 2 to 6 pounds.
The Pear-Head Chihuahua is known for its unique physical features, and that includes their coat color. While Chihuahua, in general, can come in a variety of colors such as black, brown, fawn, and white, the Pear-Head Chihuahua specifically is typically bred for a certain coat color.
This breed is known for having brown or dark tan fur that's evenly spread throughout their body and often has white markings on their chest, stomach, and paws. The pear-head Chihuahua coat color is not only beautiful but also helps them stand out from other Chihuahua types.
While Chihuahuas are known for their soft and luxurious fur, the length of their coat can vary greatly depending on each dog.
A Pear-Head Chihuahua can have a short-haired coat, a long-haired coat, or something in between.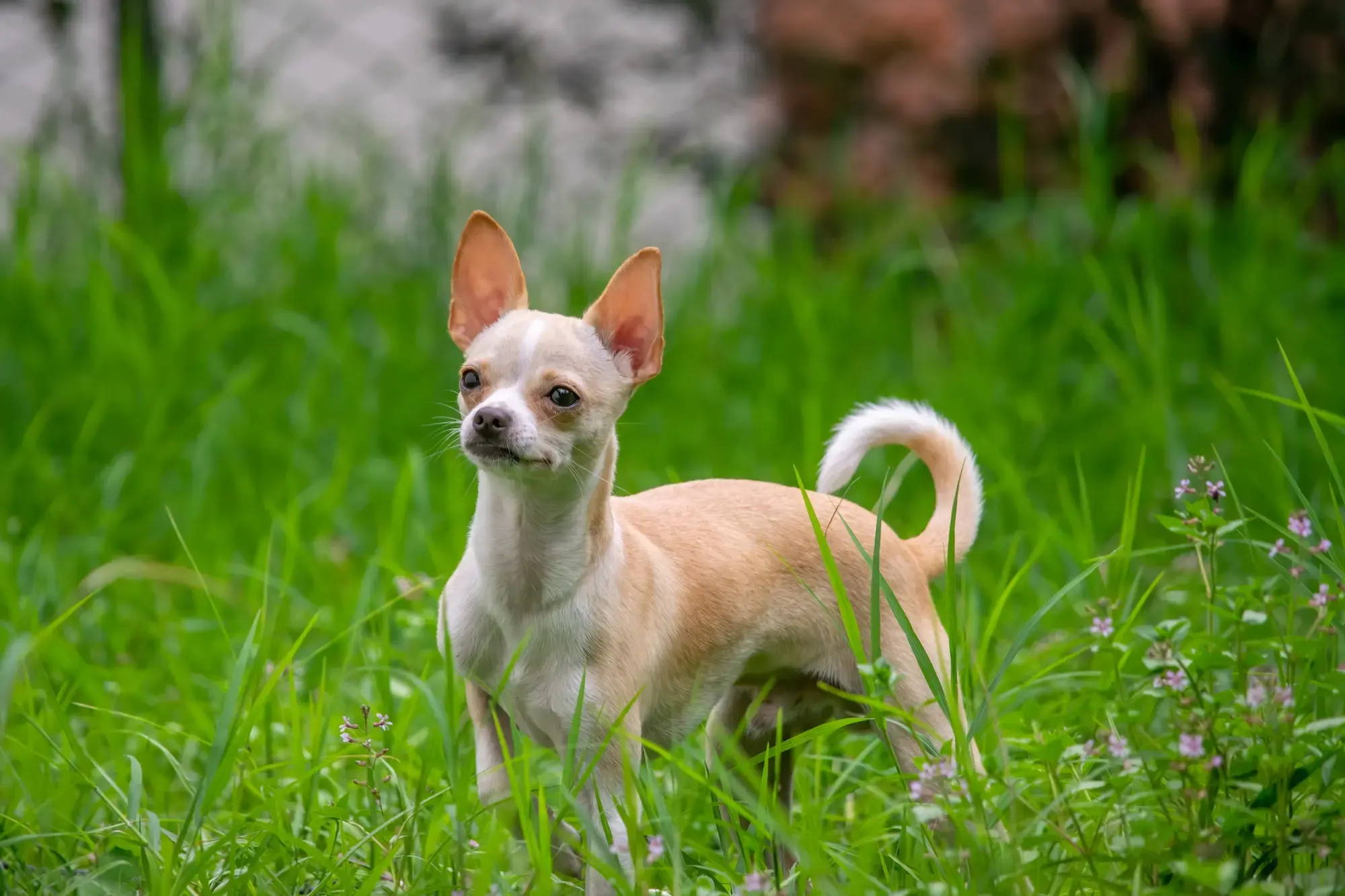 Pear-Head Chihuahuas have a distinct personality that sets them apart from their fellow Chihuahuas. While Chihuahuas are typically known for being yappy and high-strung, Pear-Head Chihuahuas tend to be calmer.
That's not to say they're any less playful, as they love spending time with their owners and are always up for a good game of fetch. One of the most endearing features of a Pear-Head Chihuahua is their loyalty- they'll follow you around all day, and love nothing more than to cuddle up on your lap at night.
On average, these Pear-Head Chihuahuas can live anywhere from 12-20 years, with some even reaching their mid-twenties with proper care and attention.
While this may seem like a long time, it's important to remember that Chihuahuas are prone to certain health issues, such as hypoglycemia, dental problems, and heart disease.
It is important to note that Pear-Head Chihuahuas can be prone to a range of health issues that are specific to their breed. If you're considering adding a Pear-Head Chihuahua to your family, it's essential to be aware of their health concerns.
Common eye issues in Pear-Head Chihuahuas include corneal ulcers, cataracts, and progressive retinal atrophy. It is crucial to keep an eye on your furry friend's eyes and bring them to the vet if they show any signs of redness, discharge, or cloudiness.
Dental issues in dogs are often overlooked, but they can lead to severe health problems if left untreated. Pear-Head Chihuahuas have a relatively small mouth, which means they are more prone to dental problems than other breeds.
This makes it necessary for you as a pet owner to take extra care of your Pear-Head Chihuahua's dental hygiene to ensure they have healthy teeth and gums.
Regular brushing and dental check-ups at the vet can make a significant difference in preventing dental problems.
While Pear-Head Chihuahuas may steal their owner's hearts with their spunk, they unfortunately have a predisposition to heart disease. This can manifest in a variety of ways, from heart murmurs to congestive heart failure.
It's important for owners to be aware of this potential health issue and take steps to maintain their Chihuahua's heart health.
Regular vet check-ups, a heart-healthy diet, and exercise can all help mitigate the risk of heart disease in these adorable pups.
The Pear-Head Chihuahua is beloved for its cute and distinctive appearance, but unfortunately, the breed is prone to a painful joint condition known as patellar luxation.
This occurs when the kneecap slips out of place, causing discomfort and difficulty walking. While there are surgical options available to treat patellar luxation, prevention is the best approach.
If you own a Pear-Head Chihuahua, you may already know about the common health condition known as a collapsed trachea.
This is a serious issue that can lead to discomfort, coughing, and difficulty breathing for your pup. While it may be a difficult diagnosis to hear, it's important to stay vigilant and take appropriate action to manage symptoms and prevent further damage.
How to Care for a Pear-Head Chihuahua?
Caring for a Pear-Head Chihuahua is not only about cuddling with a petite cutie but also ensuring its well-being.
When it comes to Pear-Head Chihuahuas, it's essential to feed them a balanced diet that will keep them healthy and strong.
These tiny dogs are prone to dental problems and can easily gain weight, so it's crucial to choose the right type of food and portions.
Consult with a veterinarian to determine the nutritional needs of your Pear-Head Chihuahua, and consider incorporating high-quality ingredients such as protein, fiber, and healthy fats into their diet.
Pear-Head Chihuahuas require exercise just like any other fur baby. It's important to keep them active to maintain their health and well-being. Some great ways to exercise your Pear-Head Chihuahua include walks, playing fetch, and even agility training.
Chihuahuas are known for being energetic and playful, so incorporating exercise into their daily routine will not only benefit their physical health but also their mental health.
It's important to remember that although they are small, they still need regular exercise just like any larger breed. So get outside and enjoy some active, quality time with your furry friend!
As with any dog, training is essential to ensure your Pear-Head Chihuahua is well-behaved and happy. A few tips for effective training include starting early, being consistent with commands, and using positive reinforcement.
With patience and dedication, your Pear-Head Chihuahua will be a well-behaved and loyal companion for years to come.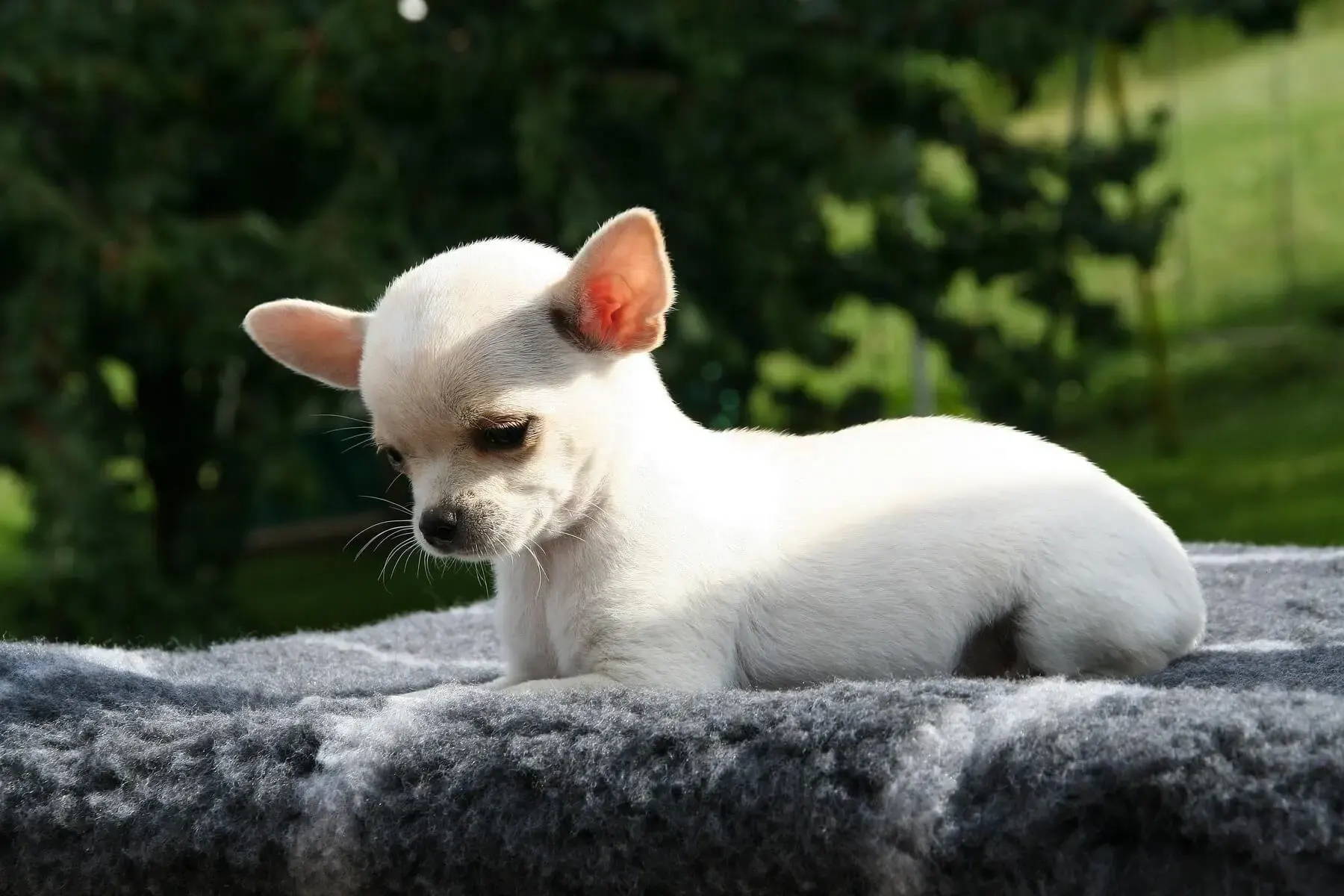 Pear-head Chihuahuas can be quite shy and hesitant around strangers if they haven't been socialized properly. It's important to start socializing your pear-head Chihuahua as early as possible to ensure they grow up to be friendly and confident pets.
The key is to expose your dog to a variety of people, places, and situations in a positive and controlled way. Remember to always offer plenty of treats and positive reinforcement to reward good behavior.
With patience and consistency, your pear-head Chihuahua can become a social butterfly and enjoy the company of both humans and other dogs for years to come.
Grooming a Pear-Head Chihuahua requires special attention as its coat is short, thin, and sheds moderately.
To keep their coat shiny and healthy, these little beauties require a weekly brushing to remove dirt and dead hair.
Additionally, bathing them every six to eight weeks can help maintain their hygiene and keep their coat soft.
How to find a Pear-Head Chihuahua?
If you have your heart set on a Pear-Head Chihuahua, you might be wondering where to find one. Luckily, these adorable pups can be obtained through both breeders and rescue organizations.
If you're looking for a purebred Pear-Head Chihuahua, your best option is to search for a reputable breeder. Doing your research and asking the right questions is key!
Make sure the breeder provides health guarantees and documents that prove their puppies were born from healthy parents. Additionally, ask about any genetic tests that have been done to screen for potential health issues.
Pear-Head Chihuahuas can also be adopted from rescue organizations. Animal shelters and rescues often have a variety of purebred and mixed-breed dogs available for adoption.
Adopting a pet is an incredibly rewarding way to give a pup the second chance they deserve!
Pear-Head Chihuahuas, the FAQs
How big do Pear-Head Chihuahuas get?
Pear-Head Chihuahuas usually grow to between 4 and 6 pounds, which makes them one of the smallest breeds in the world. They have short legs and a compact body, making them perfect for those who are looking for a lapdog!
Are Pear-Head Chihuahuas good with kids?
Yes! Pear-Head Chihuahuas are great with kids, especially if they're socialized properly from a young age. They're friendly and gentle with children, and their small size makes them the perfect playmate for pint-sized pals.
What does a Pear-Head Chihuahua look like?
Pear-Head Chihuahuas have a unique, rounded head shape that sets them apart from other Chihuahuas. They have short legs, a compact body, and medium-length fur that usually comes in colors like black, white, and fawn. Their eyes are typically large and round, giving them an adorable expression!
Is it easy to groom a Pear-Head Chihuahua?
Yes, grooming a Pear-Head Chihuahua is relatively easy. Since their coats are short and thin, they only require brushing once a week. Additionally, bathing them every six to eight weeks can help keep their fur soft and prevent any skin problems.
Are Pear-Head Chihuahuas easy to train?
Yes, Pear-Head Chihuahuas are very intelligent and can be trained relatively easily. With patience and consistency, they will quickly learn the commands and behaviors you want them to know. Be sure to offer plenty of treats and praise during training sessions to keep your pup motivated!