Old Chihuahua: facts, checklist, and care tips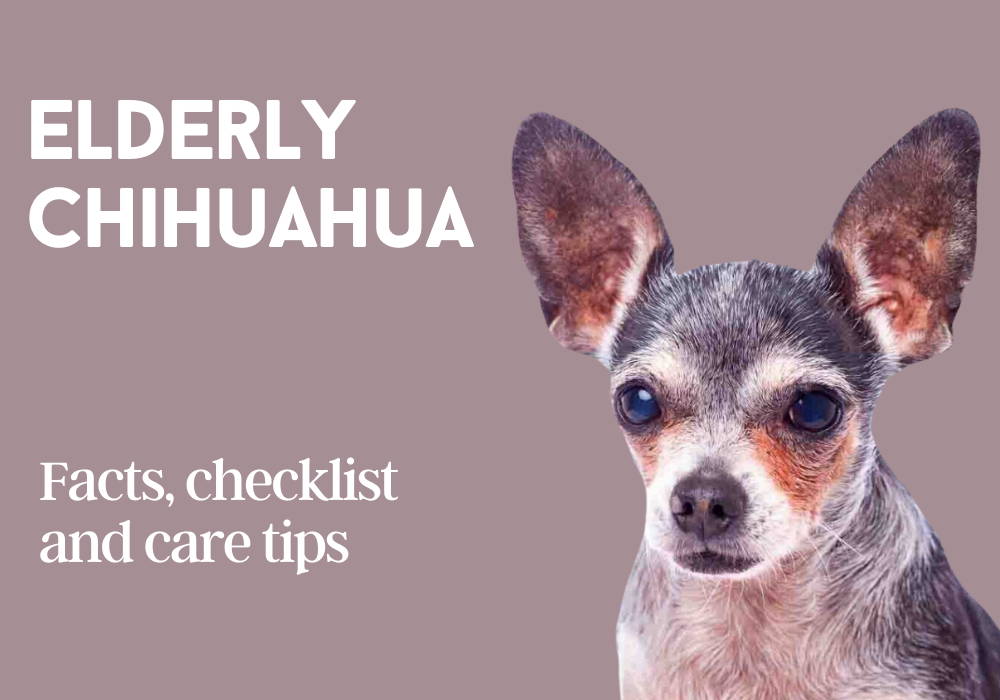 As a Chihuahua owner, there comes a time when you may be faced with the challenge of caring for an elderly dog. It can be difficult to know exactly how to provide the best care for your senior Chihuahua while still keeping them healthy and happy.
Fortunately, this guide will give you all the information you need about caring for your beloved senior Chihuahua! From what foods should they eat to tips on training and more—we've got it all covered. Keep reading to get started on providing essential care to your aging Chihuahua.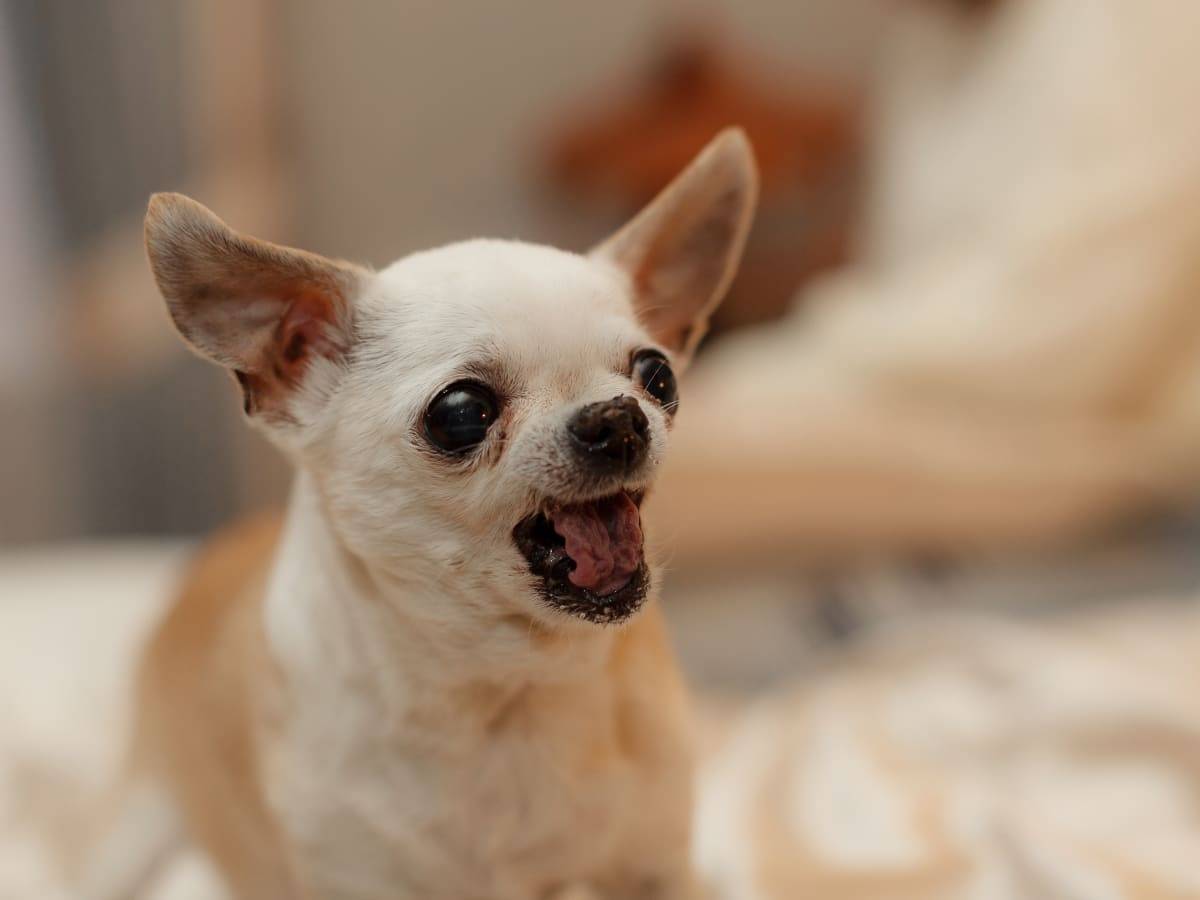 Top changes to expect in your senior Chihuahua
To ensure the well-being of cute Chihuahuas, it is important to be aware of the common challenges they may face. These changes can occur gradually over time or within a year.
To stay ahead of any issues, reassess the situation every few months and take steps to keep your Chihuahua happy, comfortable, and healthy as they age.
Senior Chihuahuas require biannual check-ups, unlike adult Chihuahuas who only need yearly visits. Even if a Chihuahua appears lively and youthful, their bodies undergo changes that necessitate regular screenings for common issues. It is crucial to prioritize the well-being of older Chihuahuas by scheduling these critical appointments.
Your veterinarian will perform tests to detect health problems including liver and kidney disease, heart issues, prostate disease in male Chihuahuas, testicular cancer in unneutered males, breast and uterus cancer in unspayed Chihuahua females, canine diabetes, arthritis, and cognitive problems.
For the best results, it's important to catch problems early. Veterinarians typically suggest starting these screenings twice a year once the Chihuahua turns 8 years old.
Senior Chihuahuas naturally have less energy and mobility as they age. They may take longer to get up, move slower, and tire more easily.
As Chihuahuas age, their muscle-building ability declines, causing them to lose muscle mass and strength. They also produce less glucosamine and chondroitin, which can lead to stiff joints and potential problems like osteoarthritis. Additionally, the decline in organ function, including the heart, means that older Chihuahuas reach their exercise limit more quickly than younger ones.
How to help your senior Chihuahua
The goal is to engage your elder Chihuahua's energy levels while taking into consideration their limitations:
- Regular exercise is important for your senior Chihuahua. Taking them for at least two daily walks has numerous benefits. It helps maintain muscle mass, relieves stiffness caused by arthritis, strengthens the immune system, and lowers the risk of diseases like diabetes, heart disease, and certain cancers. Adjust the pace according to your Chihuahua's ability, but make sure to prioritize their daily walks.
- For full-day outings, it's important to make adjustments. If you're planning to take your senior Chihuahua out for the day, remember to take breaks for rest and provide opportunities for rehydration. If there will be a significant amount of walking involved, consider using a canine stroller or a carry bag. If you're visiting someone's home for the entire day with your senior Chihuahua, don't forget to bring their bed or cot along and create a designated area for them to take naps.
- To assist your senior Chihuahua with accessing their favorite resting spots, such as the sofa or your bed, it is recommended to set up pet steps or ramps. This can prevent strain on their ligaments and muscles, as climbing and jumping can be challenging for seniors.
- Seniors Chihuahuas often struggle with slipping on floors and outdoor surfaces. To address this issue, seniors can apply a paw wax every two weeks. This not only improves traction but also moisturizes the paw pad skin and repels allergens and irritants.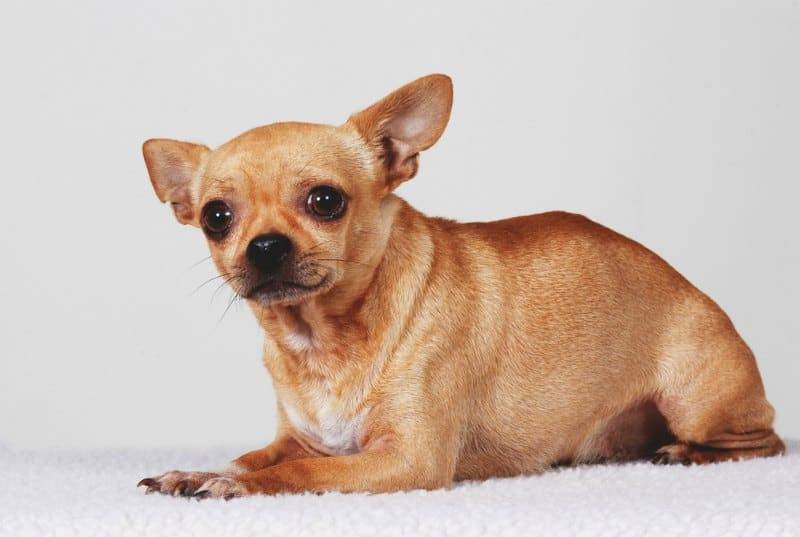 Arthritis affects many senior Chihuahuas. In fact, 80% of Chihuahuas will develop osteoarthritis by the time they reach 8 years old.
Several factors can lead to the development of arthritis in older Chihuahuas. Chihuahuas who have previously had issues with luxating patella or other joint problems are at a higher risk of developing arthritis, particularly in areas like the knees or hips. Additionally, weight also plays a role in arthritis development. While Chihuahuas are not typically prone to being overweight, older adults and seniors may carry a few extra pounds. The amount of weight a joint has to bear directly affects the level of stress it experiences and its likelihood of being damaged.
Common symptoms of this condition include decreased mobility, stiffness in the joints, weakness in one or more limbs, and visible signs of discomfort.
Cartilage serves as a cushion between bones, enabling smooth and pain-free movement. However, as Chihuahuas age, the body produces less glucosamine and chondroitin, which are vital for maintaining healthy cartilage. As a result, cartilage becomes thinner and worn down, leading to bones rubbing against each other. This results in joint pain, stiffness, and inflammation. In severe cases, bones can suffer structural damage.
How to help your senior Chihuahua
- Screen your senior Chihuahua for this condition. Treatment options include NSAIDs, steroids (such as prednisone), injections (like Adequan), and alternative therapies like acupuncture and massage.
- Enhance mobility with pet steps near furniture.
- Give your senior Chihuahua the ultimate comfort with an orthopedic memory foam bed. Not only does it provide the perfect support for their bones and joints, but it also offers warmth to alleviate stiffness.
- Keep your older Chihuahua active and help maintain healthy joints by taking them on at least two walks per day. This low to moderate exercise will not only keep their joints loose but also reduce inflammation. Make sure to choose a pace that is comfortable for your senior Chihuahua.
- Start giving your elder Chihuahua daily supplements from the age of 6 to prevent knee issues and promote healthy joints. Even if you start later, there will still be benefits.
When it comes to a senior Chihuahua's diet, there are multiple factors to take into account.
Chihuahuas can benefit from switching to senior dog food at age ten, but it is not mandatory. Senior formula dog foods are primarily designed to reduce calorie intake and prevent obesity in older Chihuahuas, which is less common in toy breeds. These formulas also contain more fiber to aid digestion and include additional nutrients like omegas, glucosamine, and chondroitin.
How to help your senior Chihuahua
If your elder Chihuahua enjoys their food and is thriving, you may hesitate to switch it up, and that's perfectly fine in most situations.
If your elder Chihuahua is maintaining their weight and you already provide senior supplements, and you are confident in the quality of their kibble, it may not be necessary to make any changes.
To help with constipation in older Chihuahuas, you can add small pieces of apple or pumpkin to their meals or give them as snacks. Make sure to remove the apple core, seeds, and peel, and use real pumpkin, not pumpkin pie filling.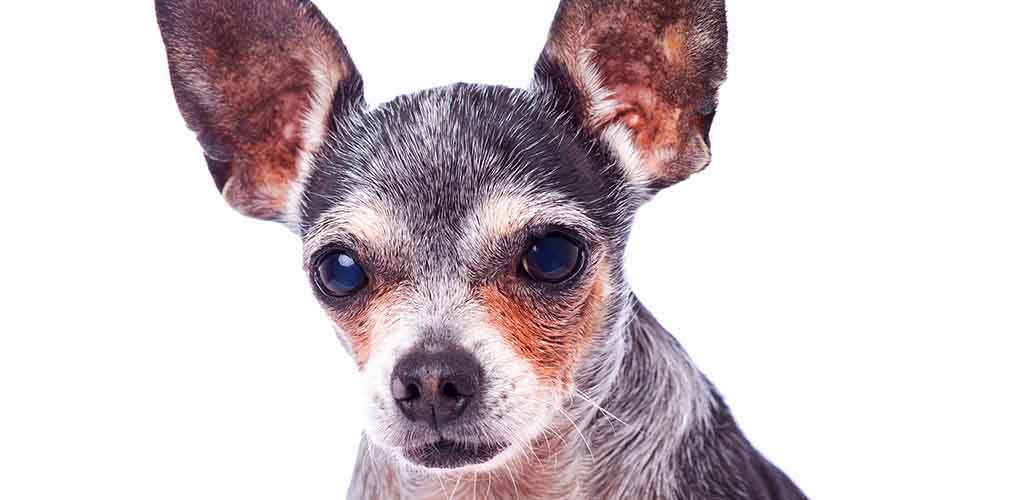 Some senior Chihuahuas adjust their food intake to account for a slower metabolism, while others continue to eat as much as they did when younger. Additionally, being less active as one gets older can contribute to weight gain, even for small toy breeds.
How to help your senior Chihuahua
- Senior Chihuahuas experience changes in their body composition, which can make them appear out-of-shape. However, this doesn't necessarily indicate a weight issue. To be certain, have your Chihuahua examined by a veterinarian.
- To ensure accurate diagnosis, the veterinarian should rule out all potential health problems, as certain conditions, such as diabetes, can contribute to weight gain.
- To boost your Chihuahua's health, simply increase their exercise routine gradually, taking into account any pre-existing health issues. All dogs, regardless of age, can enjoy the benefits of two daily walks. For older Chihuahuas who have been missing out on outdoor time, it's high time to start incorporating more walks into their schedule.
- If you already walk your senior Chihuahua regularly, try extending each session by 5 or 10 minutes.
- Enhance their diet by swapping out some kibble for low-calorie veggies such as green beans, cucumbers, kale, and spinach. You can also try weight-loss-focused kibble options labeled as 'healthy weight', 'reduced fat', or 'light'. Provide your Chihuahua with the optimal nutrition for a leaner physique!
Adult Chihuahuas typically sleep for about 12 to 14 hours a day, including both nighttime rest and naps. As they age, they may gradually require more sleep to rejuvenate both their bodies and minds. This can often be observed through longer or more frequent napping habits.
As Chihuahuas age, their natural production of melatonin, which regulates sleep patterns, decreases, resulting in disrupted sleep at night and increased daytime napping. More sleep is necessary to address this issue.
Arthritis can cause aches and pains in most senior Chihuahuas, affecting their sleep.
Older Chihuahuas are more prone to feeling cold and struggle to get as comfortable as younger dogs, making it harder for them to fall into a deep sleep.
How to help your senior Chihuahua
- To accommodate your older Chihuahua, it's important to have a designated quiet area where they can relax. While younger Chihuahuas can sleep through anything and enjoy being in the middle of the action, older Chihuahuas prefer a peaceful retreat away from noise and commotion. However, it's crucial to note that senior Chihuahuas still value social interaction and shouldn't feel isolated.
- To create a harmonious environment for your Chi, place their resting area in a family-used room. Opt for a quiet corner away from foot traffic and distractions like the TV.
- Introducing a high-quality orthopedic bed to ensure the comfort and well-being of senior Chihuahuas. Regardless of whether they appear content resting on the floor, it is essential to provide them with a memory foam mattress or bed. This will offer the necessary support for their joints and create the ideal surface for them to rest and revitalize their bodies after a day of activity.
Clouding of the eye lens can occur for two distinct reasons:
- Nuclear sclerosis, also called lenticular sclerosis, is a common age-related condition in Chihuahuas. It typically starts around age 7 and gets worse as they get older. Owners usually notice it around age 10 or 11. This clouding of the lens doesn't usually affect a Chihuahua's eyesight and may give their eyes a bluish hue.
- Cataracts, commonly found in Chihuahuas over 8 years old, are a progressive eye condition that can affect vision and potentially cause blindness. Symptoms typically include a cloudy or white appearance in the eyes.
- Older Chihuahuas may have difficulty seeing clearlydue to cataracts or age-related changes. Look out for signs of vision impairment such as clumsiness, easily getting startled, anxious behavior, struggling to find toys, or hesitating to go outside at night.
How to help your senior Chihuahua
- It is crucial to have your Chihuahua seen by a veterinarian if you observe any cloudiness in their eyes or vision problems.
- Refrain from rearranging furniture in the home.
- Stick to your usual walking routes.
- To avoid startling your senior Chihuahua, approach him from the side and at his eye level.
- Ensure the safety of your home by installing gates on staircases to prevent potential fall accidents.
Senior Chihuahuas often experience a decline in hearing ability, which can pose challenges for Chihuahuas who heavily rely on this sense.
Key signs to watch out for include not responding when called and appearing startled when approached or awakened.
It's important to note that other issues, such as excessive wax or foreign objects in the ear, can mimic age-related hearing loss.
How to help your senior Chihuahua
Age-related hearing loss is irreversible, but there are steps you can take to assist senior Chihuahuas in managing it:
- Remember to turn on the lights as you enter the room.
- To wake your senior Chihuahua, follow these simple steps: hold your hand in front of their nose and gently touch their back.
- Provide physical praise, such as petting, instead of relying solely on verbal praise.
- Integrate hand signals for everyday commands.
Loss of bladder or bowel control
Incontinence, or loss of bladder or bowel control, is frequently observed in older Chihuahuas aged 11 and above.
While it is often a normal part of aging, it can also be caused by health concerns like urinary tract infections, bladder infections, or hip issues.
How to help your senior Chihuahua
- To rule out any potential health problems, it is important to have this condition diagnosed by a veterinarian.
- Take your elder Chihuahua to the designated bathroom area more frequently.
- You should allocate additional time for bowel movements.
- To address late-night issues with older Chihuahuas, feed them their last evening meal earlier.
- To prevent frequent accidents, it's recommended to confine your elder Chihuahua to a designated area that is easy to clean.
- Doggie diapers can preserve the self-esteem of older Chihuahuas who are aware of their accidents. Though it may seem like dogs would be embarrassed to wear these, it can be a helpful solution.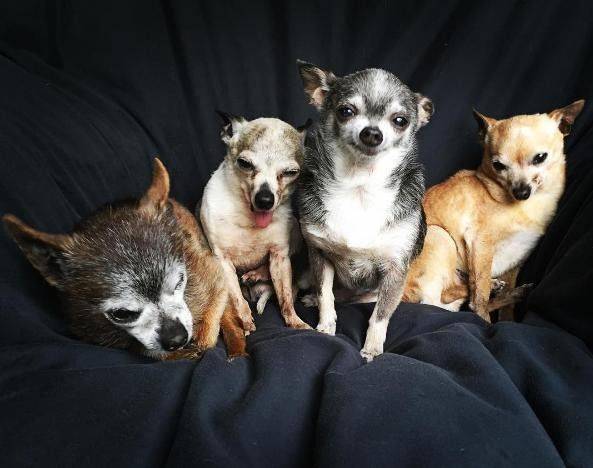 As Chihuahuas get older, their skin becomes even more sensitive. This is especially true for this breed, which is already prone to skin issues. The surface layer of their skin called the epidermis, becomes thinner with age. This makes their skin more fragile and increases the likelihood of dryness, irritation, rashes, and itching.
Dealing with dry paws and noses can be uncomfortable and can result in peeling or cracking. Moreover, skin problems can affect the coat too, causing dullness or texture issues.
How to help your senior Chihuahua
- For those with sensitive skin, consider using high-quality coatproducts specifically designed to combat dryness and itching. Prioritize protection and correction for better results.
- Good paw protection is crucial for older Chihuahuas all year round. Invest in quality paw wax to ensure your Chihuahua can handle any walking surface, whether it's scorching hot or freezing cold. Not only will this repel small sand and debris, but it will also protect against allergens and irritants. Additionally, it'll provide better traction and keep their paw skin moisturized and healthy. Don't compromise on paw care - get the right wax today.
- Protect your elder Chihuahua's nose with soothing nose butter to keep it in good shape and prevent chapping, drying, peeling, and other common issues.
- An omega-3 EPA and DHA supplement, recommended for joint issues, can also improve skin and coat health.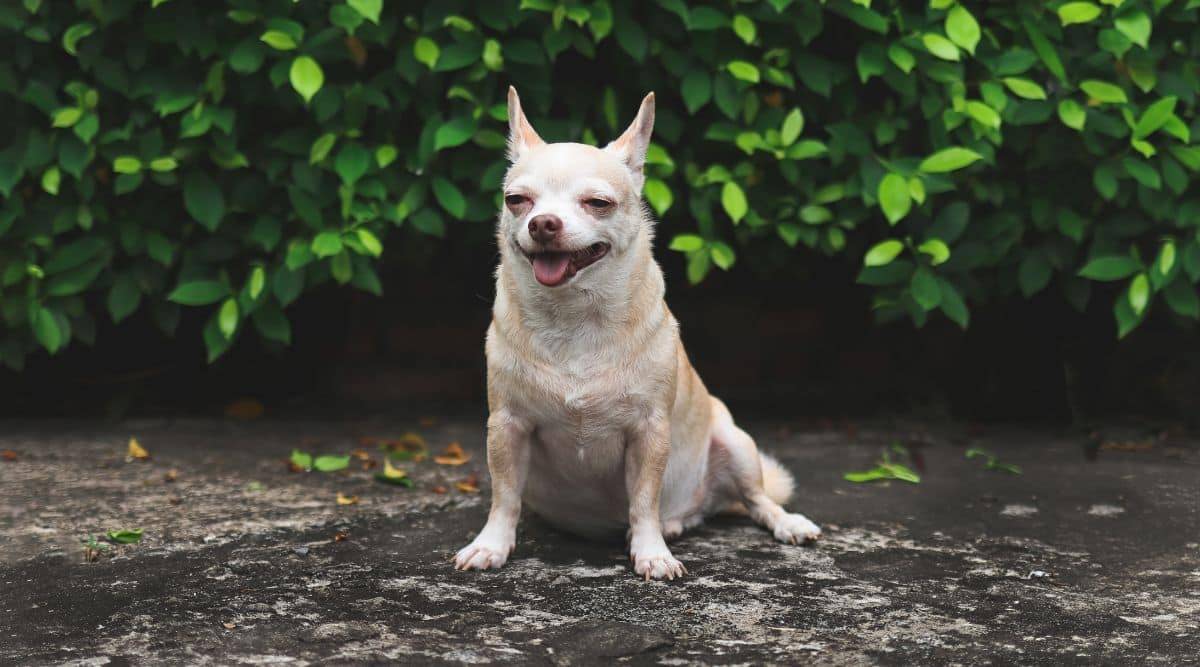 Elderly Chihuahuas, the FAQs
A Chihuahua is considered a senior at what age?
Chihuahuas are classified as seniors at the age of 10, which is relatively older compared to other breeds. Most breeds attain senior citizen status at around 7 or 8, while giant breeds reach this stage between 5 to 6 years old.
Should my older Chihuahua wear clothes?
Chihuahuas are generally prone to feeling cold. Just as people tend to feel the cold more as they age, Chihuahuas are no exception. It's a good idea to have some cozy sweaters and blankets on hand for your dog.
Will my Chihuahua's personality change when they get old?
As dogs age, their activity levels typically decrease. Chihuahuas may become more irritable and less able to handle stress as they reach their senior years. They may develop new fears or sensitivities, like being scared of thunderstorms, that didn't affect them when they were younger.