Luxating Patella In Chihuahuas: How To Treat It? How To Prevent It?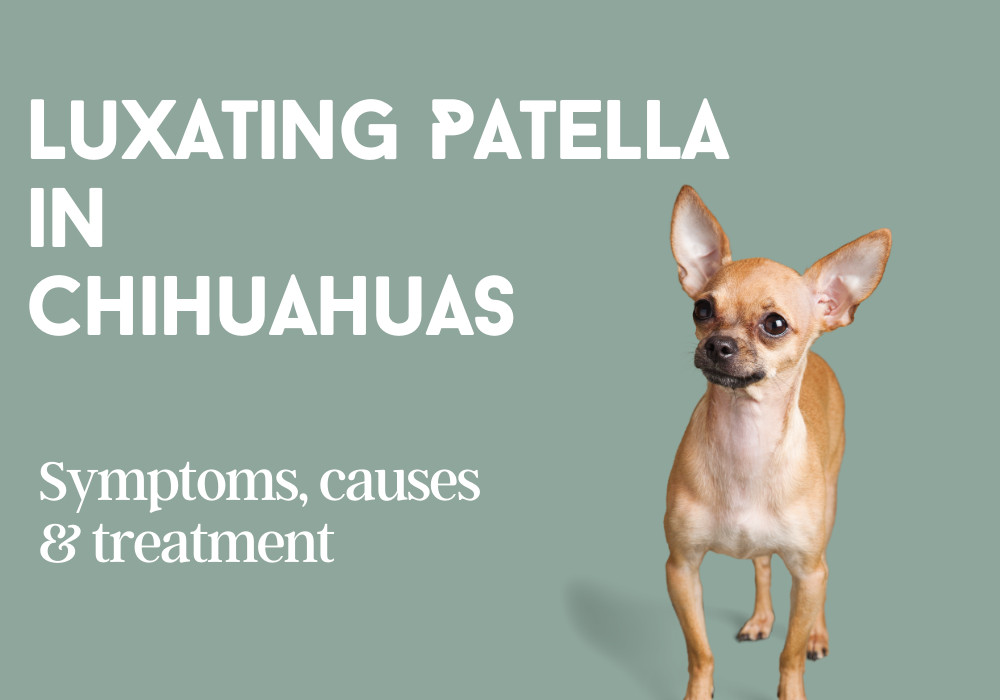 Is your cute Chihuahua limping or favoring one leg while walking? It's possible they have Patella Luxation, or a floating kneecap. This condition can worsen over time, requiring the attention of a veterinarian.
The patella is a small bone in the thigh's quadriceps tendon and should sit in a groove within the knee's thighbone.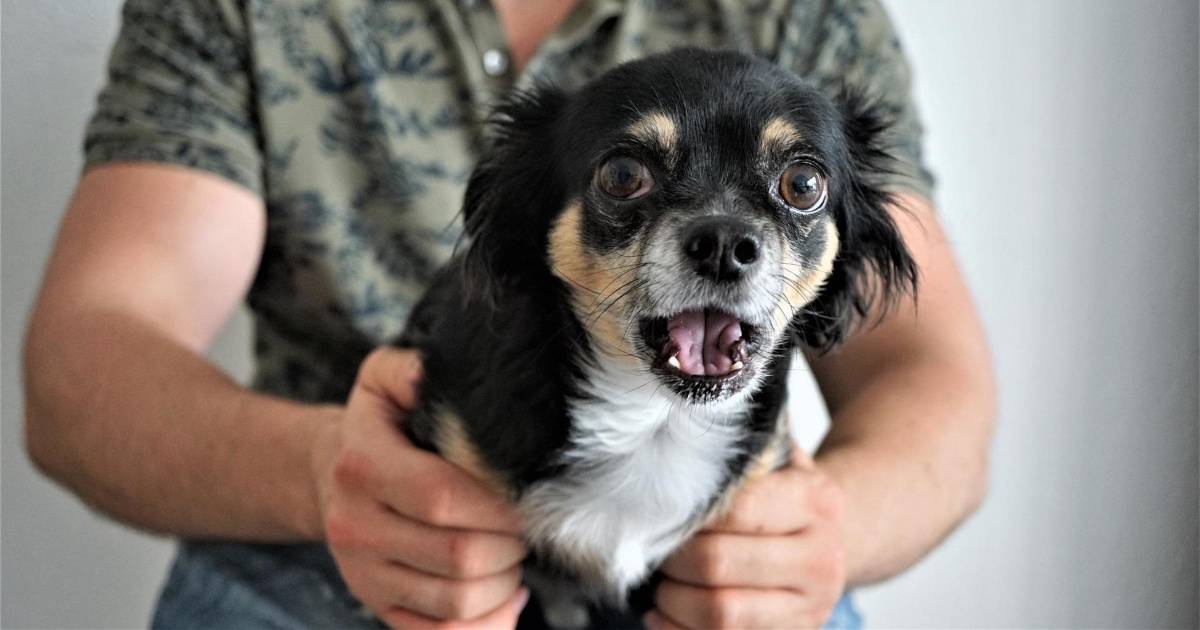 What is patellar luxation in Chihuahuas?
Patellar luxation in a health problem in Chihuahuas that occurs when the kneecap shifts outside of the femoral groove and is a prevalent issue in the knee joints.
This condition is particularly common among Chihuahuas and other toy and miniature breeds like Yorkshire Terriers, Pomeranians, Pekingese, and Boston Terriers.
What are the signs of patellar luxation in Chihuahuas?
Signs of patella luxation will vary in severity and may be influenced by concurrent degenerative arthritis.
Your Chihuahua could display the following symptoms:
- Abnormal hind limb movement that continues for an extended period of time

- Skip happens occasionally
- Hind leg limping
- Abrupt loss of mobility
- Your Chihuahua is raising their hind leg
This condition has varying levels of severity, ranging from Grade 1 to Grade 4. Grade 1 may not even be noticeable in your Chihuahua, but as the grade number increases, so does the severity of the condition.
What are the causes of patellar luxation in Chihuahuas?
Patellar luxation can happen due to an injury or genetic malformation of the knee joint. When soft tissues are damaged, the patella could forcefully move out of its place, causing a lot of pain for your Chihuahua while walking on that leg.
However, with early correction, your Chihuahua's prognosis is good. Congenital or developmental patellar luxation could affect the hip and stifle joint, as well as leg bones, resulting in various degrees of deformities.
How is patellar luxation in Chihuahuas diagnosed?
Your vet may run different tests on your Chihuahua, including:
- Performing knee palpation while awake or under sedation.
- X-ray images of the back leg.
- Examining the joint lubricant: analysis of synovial fluid.
- To receive medication or undergo surgery, a blood test is necessary.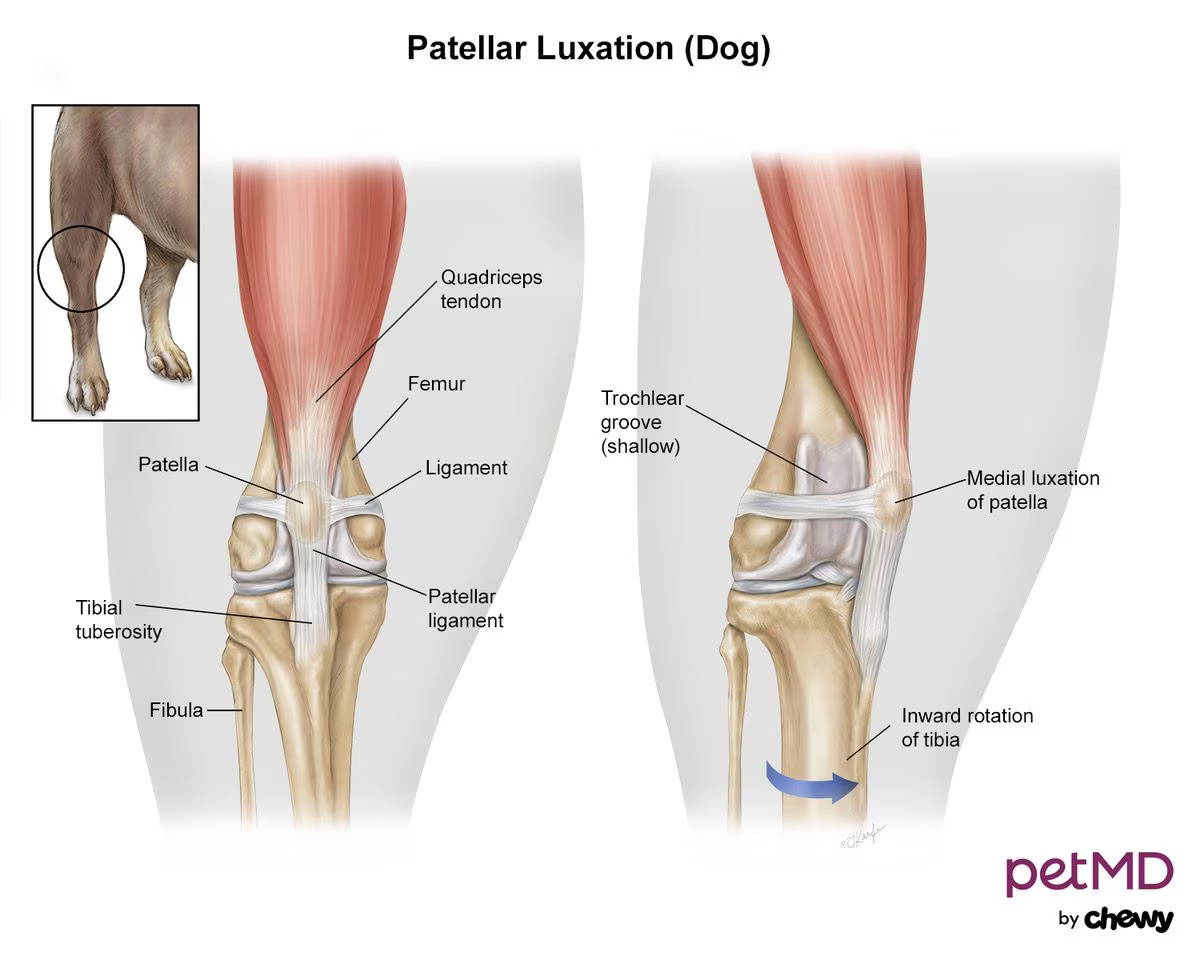 The different grades of patellar luxation in Chihuahuas
To diagnose a Chihuahua's luxating patella, a veterinarian assesses it through a physical examination and grades it based on its severity (I-IV).
The assigned grade takes into account any discomfort symptoms observed by the Chihuahua owner.
The kneecap can be easily pushed out of place and then returns to its normal position on its own. This is called Grade I dislocation, which is often discovered during a vet examination without any visible symptoms.
The kneecap can easily be moved out of place with pressure and stays that way until it's moved back into position. Lameness is sporadic when this happens, and it can cause pain if the cartilage is damaged from frequent displacement.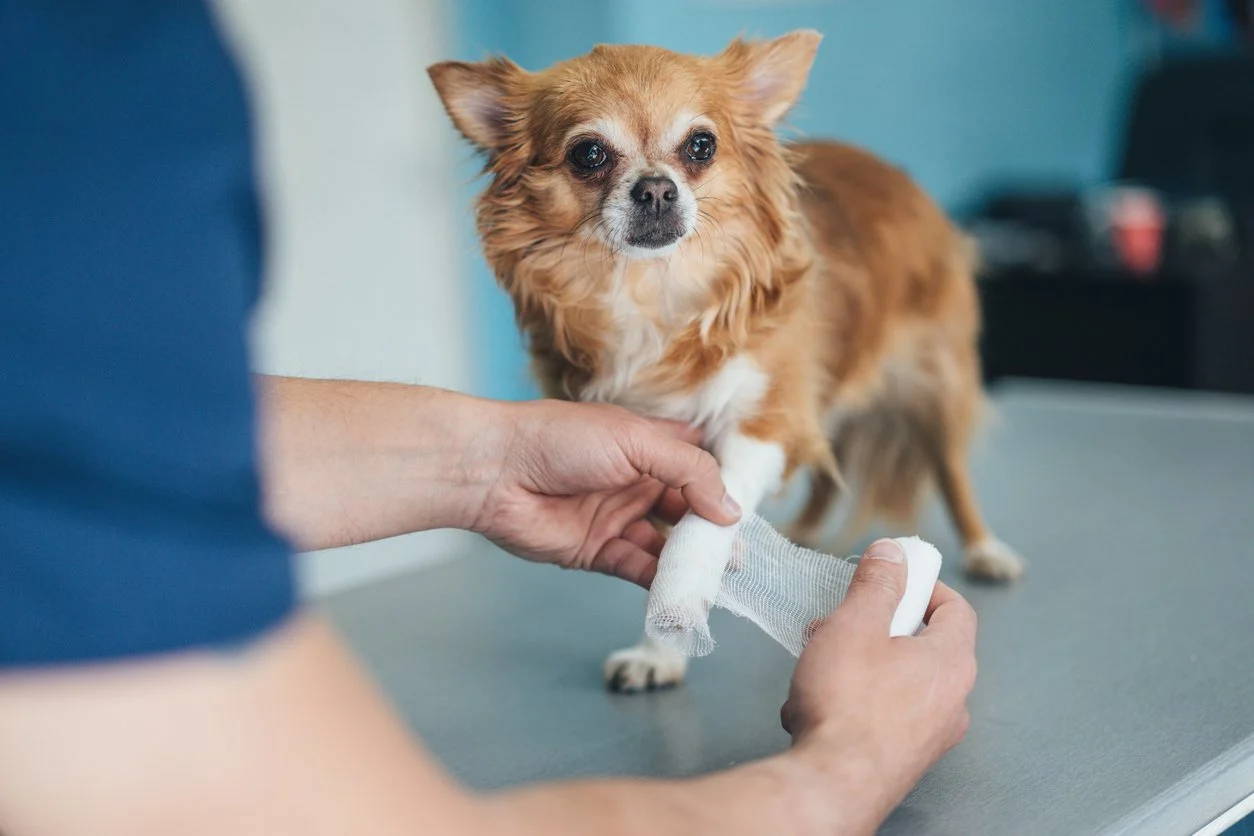 Frequent kneecap dislocations are typical in Chihuahuas with this condition. The kneecap can be manually put back in place, but it will dislocate again on its own. This can cause the Chihuahua more pain and limping due to changes in limb structure or cartilage damage from repeated dislocations.
The kneecap is dislocated and cannot be reset without medical intervention. This often causes limb structure abnormality and can result in decreased mobility and impaired limb function.
How is patellar luxation in Chihuahuas treated?
Treating a luxating patella in Chihuahuas involves various methods, from conservative medical management to surgery, depending on the severity of the disease.
For grade I and grade II instances, treatment typically involves using pain and anti-inflammatory medications, restricting exercise, and managing weight. Physical rehabilitation can also be effective in helping your Chihuahua recover muscle strength and resume normal activity levels.
Chihuahuas with severe pain and cartilage damage from grade II may benefit from surgery. Surgery is also required for grade III and grade IV patellar luxation as they can cause a lot of pain and lameness.
Chihuahua patella luxation surgeries aim to realign knee joint supporting structures for normal kneecap movement. Surgeries are categorized as those correcting either bony or soft tissue structures.
Common procedures include:
- Discovering effective ways to enhance the femur's groove for the kneecap's optimal placement.
- Shifting the knee joint to connect the kneecap and shinbone at a wider angle.
- Strengthening the soft tissue structures in your knee joint.
When a Chihuahua's hind legs are both affected, surgery is typically done in stages. The knee that is most affected is the one that receives the initial operation.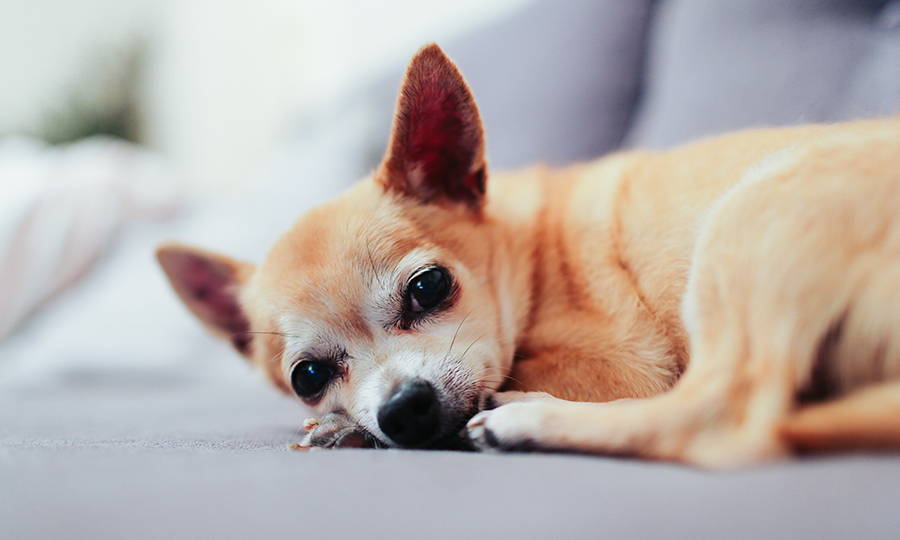 Recovery from luxating patella surgery in Chihuahuas
After surgery, your Chihuahua will usually spend the night in the hospital and receive personalized recovery instructions. The whole process can last up to three months.
During the healing process, your Chihuahua may need to wear a soft bandage or brace for up to five days. Exercise should be restricted for about 4-8 weeks following surgery.
Short, on-leash trips will suffice for bathroom breaks during this period, and your Chihuahua may need to be crated or confined to a small room. Physical rehabilitation can be helpful to reduce muscle loss and promote quicker recovery.
For the first two weeks, limit your Chihuahua's activity. Keep him in a crate or enclosed area without access to stairs or steps. Potty breaks should be on-leash only and without any running, jumping, or playing.
Around days 10-14, it's time to take your Chihuahua to the vet to have their stitches or staples removed.
Your Chihuahua should refrain from activities such as running, jumping, playing, or using stairs for now. Nevertheless, they may still engage in minor activities while on a leash, including practicing sit, heel, or down. Be cognizant of the treats used during these exercises to maintain your Chihuahua's weight.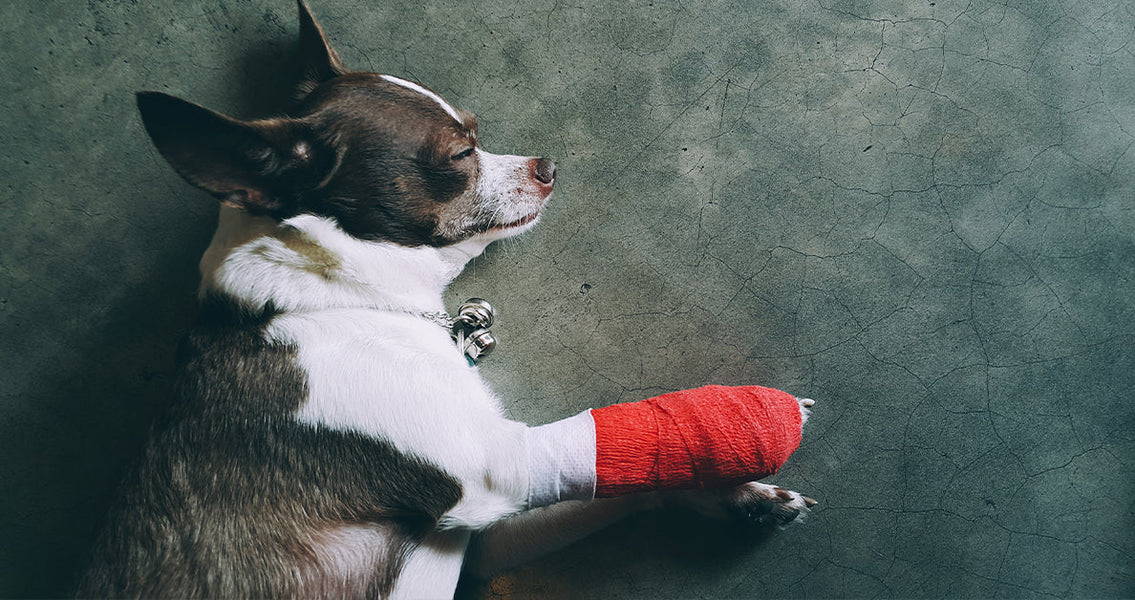 During weeks 6-8 of your Chihuahua's recovery, a recheck exam will be conducted by most vets. This may include new X-rays to track your Chihuahua's progress. If your Chihuahua is healing satisfactorily, you will proceed to the next stage.
During weeks 7-12, your Chihuahua can enjoy more freedom with longer walks. However, they must refrain from jumping onto or off of couches or in and out of cars, as well as running or playing vigorously. Keep in mind that this phase may vary based on the vet's evaluation during the follow-up exam.
The prognosis for a Chihuahua with a luxating patella
Luxations graded at Level 1 are often unexpectedly discovered and have little to no observable symptoms. However, Grades 2 and 3 can still typically be successfully treated and result in the return of normal function.
Unfortunately, such positive results are less likely for Grade 4 and chronic luxations in older Chihuahuas. Furthermore, untreated patellar luxation in Chihuahuas can cause hindlimb weakness over time.
Chihuahuas luxating patella FAQs
Can a luxated patella in Chihuahua be corrected?
Yes, a luxated patella can be corrected in Chihuahuas with medical management or surgery depending on the severity of the condition.
Is it painful for Chihuahuas to have luxating patella?
Yes, luxating patella can be painful for Chihuahuas depending on the severity of the condition. Grade I and II dislocations typically cause sporadic pain while grade III and IV often cause consistent pain due to cartilage damage caused by frequent displacement.
Is patellar luxation in Chihuahuas serious?
Yes, patellar luxation in Chihuahuas can be serious depending on the severity of the condition. Grade III and IV often require surgical intervention to reduce pain and restore mobility.
Is there a way to prevent Chihuahua luxating patella?
Regular exercise, maintaining appropriate body weight, and avoiding trauma to the knee joint can help reduce the risk of Chihuahuas developing patellar luxation. Additionally, regularly checking your Chihuahua's stifles for any signs of instability or pain can help catch it early on and make sure your Chihuahua receives the best possible treatment.
Can a luxating patella in Chihuahuas cause long-term problems?
Yes, a luxating patella in Chihuahuas can cause long-term problems if not caught and treated early on. Repeated dislocations over time can lead to joint instability, weakened muscles, and cartilage damage which can all result in decreased mobility and impaired limb function.
What's the cost of luxating patella chirurgy for Chihuahuas?
The cost of luxating patella surgery for Chihuahuas can vary depending on the severity of the condition. Generally, the cost ranges from between $1000 to $2500 USD.