How to Care for a Long-Haired Chihuahua?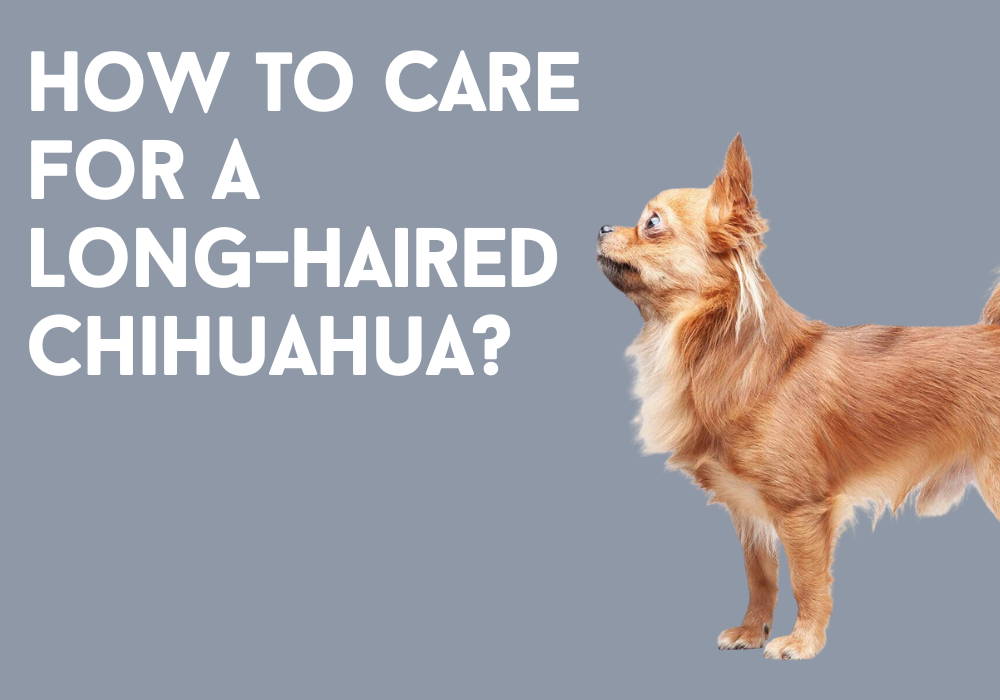 Long-hair Chiwawas and short hair Chihuahuas are essentially the exact same breed, distinguished only by their coat length. Long-haired Chihuahuas are a Chihuahua type with more voluminous and fluffy appearance than their short-haired counterparts.
Despite this difference, both long hair and short hair Chihuahuas possess the same traits in terms of size and temperament. If you want to delve into the distinct characteristics and grooming requirements of long hair Chihuahuas, this article has all the information you need!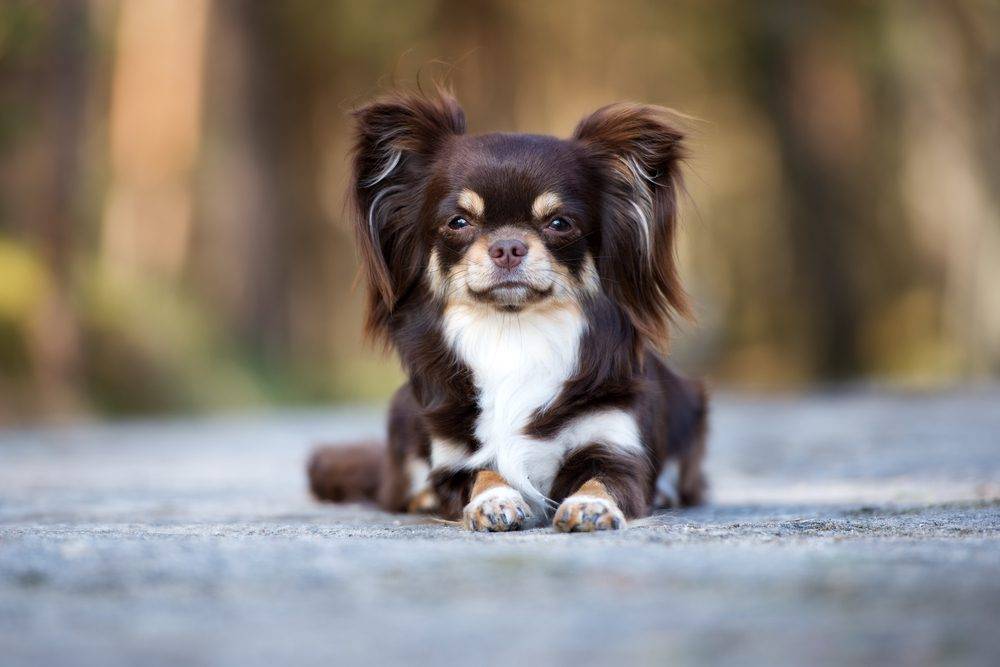 Short-coat versus long-coat Chihuahuas
The Chihuahua breed is recognized by the AKC in the U.S., the Kennel Club in the UK, the Canadian Kennel Club in Canada, and many other countries worldwide.
This breed has two varieties: the short coat, also known as the smooth long-haired Chihuahua, and the long coat, also known as the long-haired Chihuahua.
The only distinction between these two types is the length of their fur. Both varieties share the same characteristics in terms of coat color, size, and body structure.
Origins of the long-haired Chihuahua
The Chihuahua is commonly associated with its short coat, but long-coated Chihuahuas are also highly sought after. The short coat actually came first, originating from the ancient Techichi breed that dates back to Mayan times.
After making its way to Mexico, the Chihuahua quickly gained popularity in the US, Canada, and eventually Europe. Once the short coat became well-established, breeding programs were started to create a new variation: the long-haired Chihuahua. This was achieved by breeding Chihuahuas with other toy-sized dogs that had longer coats.
The Chihuahua's longer coat is believed to have come from breeds such as the Papillon, Pekingese, Yorkshire Terrier, and Pomeranian. It's important to note that people often mistake a long-coated Chihuahua for a Pomeranian if they're not familiar with both breeds.
Once the gene for longer hair was introduced into the Chihuahua bloodline, there was no need for further breeding with other breeds. Genetics now determined the possibility of a longhaired Chihuahua, and breeding within the Chihuahua breed continued.
Over time, the longer coat became popular, and both varieties are now considered to be the same breed genetically.
Long-haired Chihuahua coat growth
Long-coated Chihuahuas develop their coats fully between 14 to 24 months. These coats can range from soft with a flat or slightly curly texture, and may or may not have an undercoat.
In terms of appearance, male Chihuahuas typically have more hair and a larger neck ruff compared to females. They may have trouble keeping their ears upright, causing them to flop over at the tips. However, they still retain the ability to hold their ears up, and the heavier ear can remain upright all the time.
Conversely, some Chihuahuas have naturally upright ears without any issues. In the show ring, it's considered a disqualification if one of the ears isn't upright at a 45-degree angle.
Long-haired Chihuahuas have smoother and fluffier fur than short-haired Chihuahuas. Their fur is soft and fluffy because of their soft guard hairs and downy undercoat.
It's important to note that shedding can vary among dogs, so not all long-coated Chihuahuas shed more than short-haired ones.
If you have a puppy, it may take up to two or more years for them to fully develop their long-haired coat.
Long-haired Chihuahua characteristics
The Long-haired Chihuahua is a unique breed known for its luxurious locks and spunky personality. This petite pup is full of energy, making it perfect for apartment living. With high intelligence and unwavering loyalty, it makes a devoted companion.
Training can be challenging, but with patience and consistency, your Long-haired Chihuahua will quickly become a well-behaved family member. Overall, it's a delightful breed that brings joy and companionship to your life.
The long-haired Chihuahua is a small dog breed that boasts a unique look with its triangular ears, round eyes, and distinctive snout which forms an 'L' shape meeting the face at an almost 90-degree angle.
Their coats come in a variety of colors, ranging from black, brown, cream, fawn, and red, with a mixture of these colors possible. Their fur can range from medium to very long, either straight or wavy, giving them a fluffy and cute appearance.
However, do not let their appearance deceive you, as they are known for being feisty and lively. These little pups know how to make an impression and steal the hearts of everyone around them.
Long-haired Chihuahuas do not have a distinct difference in behavior, temperament, or personality compared to their short-coated counterparts.
It is a common myth that the length of a Chihuahua's coat is associated with their demeanor. However, this is not the case. The behavior of each individual dog is based on their own unique personality traits, rather than their fur length.
Various factors can influence a Chihuahua's behavior. These include early socialization during the crucial weeks after birth, the environment they are exposed to, and how they are raised. Noise levels at home, training methods used, interaction with other dogs and people, and more can all play a role in shaping a dog's behavior.
Many people may underestimate the intelligence of long-haired Chihuahuas, but these little dogs are actually quite smart. They have the ability to feel the emotions of their owners and can be trained to achieve basic tasks, including being housebroken.
However, with intelligence sometimes comes stubbornness, which is a common trait in Chihuahuas. While their stubbornness can be mistaken for unintelligence or resistance to training, it's important to remember that your Chihuahua is simply following their own wants and needs.
With patience and consistent training, your long-haired Chihuahua can be an obedient and well-behaved companion.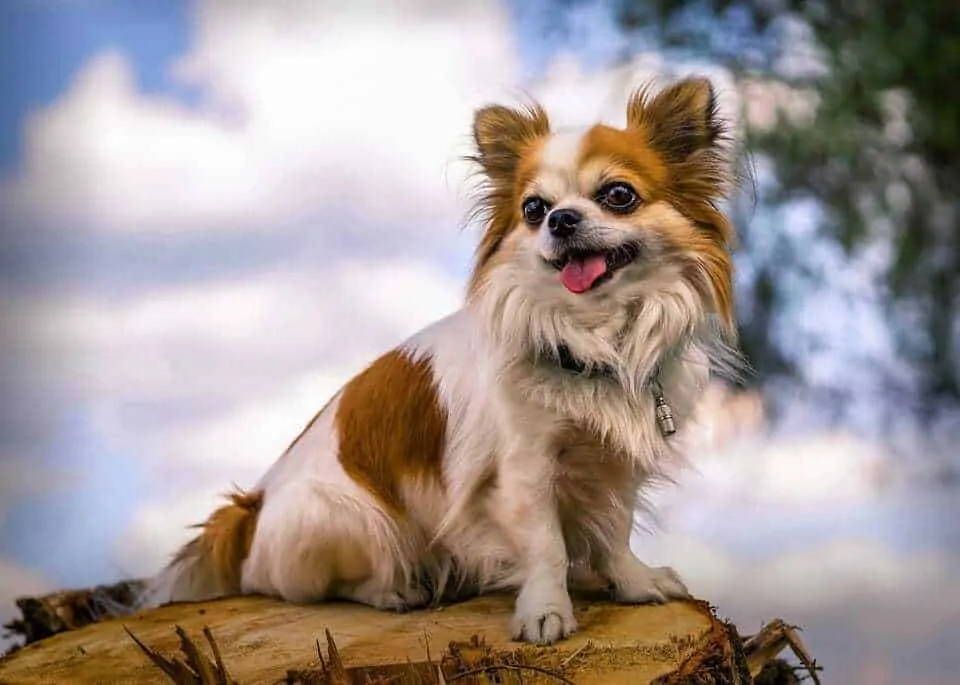 Training a long-haired Chihuahua can be a rewarding but sometimes frustrating experience. While this breed is generally easy to train, they do have their moments of stubbornness, particularly when they would rather be on their own than follow your commands.
Another hurdle for Chihuahua owners can be house training, as they are so small, can sometimes make it difficult to catch them in the act. However, with patience and consistency, your furry friend will soon be responding to basic commands like a pro.
Don't get discouraged – training a long-haired Chihuahua is ultimately a labor of love that will lead to a stronger bond between you and your beloved pet.
How to find a long-haired Chihuahua?
You can obtain a long-haired Chihuahua in a couple of ways. Some prefer going through a breeder for a puppy with specific requirements, albeit at a higher cost.
Alternatively, consider adopting from a rescue shelter and making a difference in a deserving Chihuahua's life.
When searching for a long-haired Chihuahua puppy, it's important to research and choose a reputable breeder. With numerous options available in person and online, it can be overwhelming.
However, taking the time to thoroughly assess the breeder and their facilities will be beneficial in the future. This ensures that you're buying a happy, healthy puppy while also avoiding unethical breeding practices such as puppy mills.
With some effort, you can find a trustworthy breeder and welcome the perfect long-haired Chihuahua into your family.

Rather than buying from a breeder, adopting is a great way to provide a loving home to a Long-Haired Chihuahua who needs it.
Take a look at your local animal shelters or search for rescue organizations that specialize in this breed. You might just find your new best friend!
Here are the biggest Chihuahua rescues in the USA:
Chihuahua Rescue & Transport
https://www.chihuahua-rescue.com/
Texas Chihuahua Rescue – helping small dogs live big dreams
https://texaschihuahuarescue.org/
Arizona Chihuahua Rescue – Big Hearts for Little Dogs
https://azchihuahuarescue.org/
Chihuahua Rescue Indiana
https://www.chihuahuarescuein.org/
Chihuahua Rescue of San Diego County: Home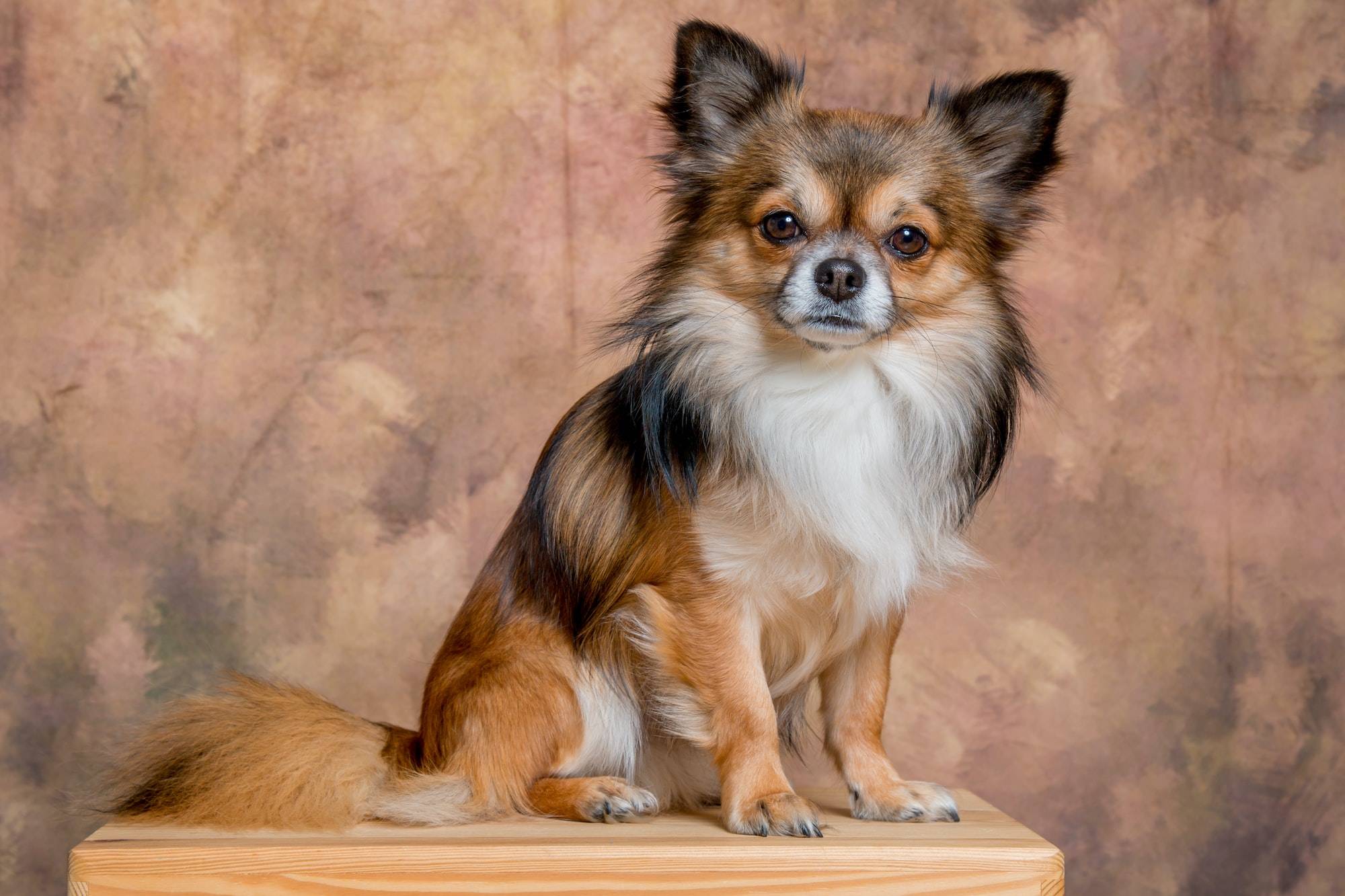 How to care for a long-haired Chihuahua?
Long-haired Chihuahuas are adorable little creatures that require special attention when it comes to their grooming needs.
Long-haired Chihuahuas are strictly indoor dogs. Despite their longer coats, they should only be outside under supervision for play, walks, and exercise. Their slightly longer fur offers minimal protection against the cold, so they should not be exposed to winter weather for extended periods.
These Chihuahuas prefer warm environments and often seek out cozy spots to sleep, often enjoying the sunlight that comes through windows. Be cautious as they are small and may choose to nap under pillows or blankets.
The longer coat of a long-haired Chihuahua does not make it overheat faster than a smooth-coated Chihuahua. Therefore, there is no need to trim their hair during warmer months.
Regardless of coat type, it is important to be cautious on hot and humid days. Limit outdoor walks to mornings and evenings when the sun is lowest.
Remember to bring water and a travel bowl for walks lasting more than 20 minutes. During longer outings, take breaks in the shade to give your Chihuahua a chance to rest and cool down before continuing.
They require a lot of brushing
Chihuahuas with long coats need more brushing compared to those with short coats, but they still require moderate grooming. It is essential to brush and comb their long coat once a week.
Remember to regularly check for mats, as they can become a major issue and may need to be trimmed off. By searching for mats at least once a week, you can identify them early and gently remove them using conditioner on your hands.
Additionally, the bib or ruff of the long coats may need extra washing, as food can easily get stuck in that area.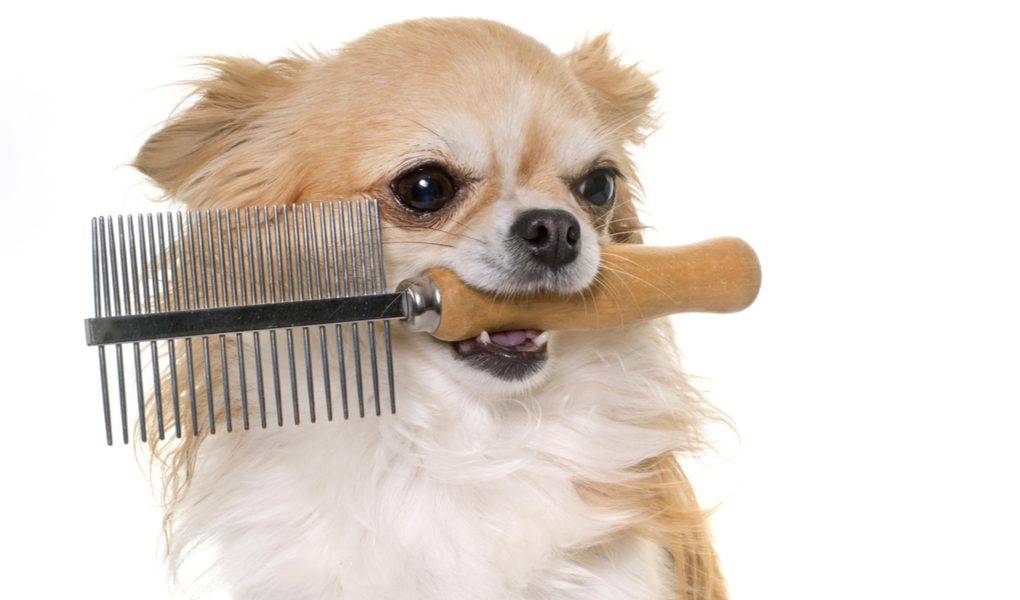 Top 3 Long-haired Chihuahua Haircuts
Discover the ultimate hairstyles for your long-haired Chihuahua. Get ready for some serious shine!
Chihuahuas, known for their affinity for warm weather, thrive in southern climates. One way to keep your long-haired Chihuahua cool is by giving them a lion cut.
This involves trimming the hair on their body while still maintaining a stylish look around their head. Experts recommend leaving at least an inch of fur to protect them from sunburn.
For the complete lion cut, make sure to leave the hair around the head full and luxurious. Pay extra attention to the hair on their ears.

The lion cut is especially suited for long-haired Chihuahuas with an apple-shaped head, as it emphasizes their shorter snout, resembling a lion. It's a perfect way to showcase the lion-like spirit that Chihuahuas possess.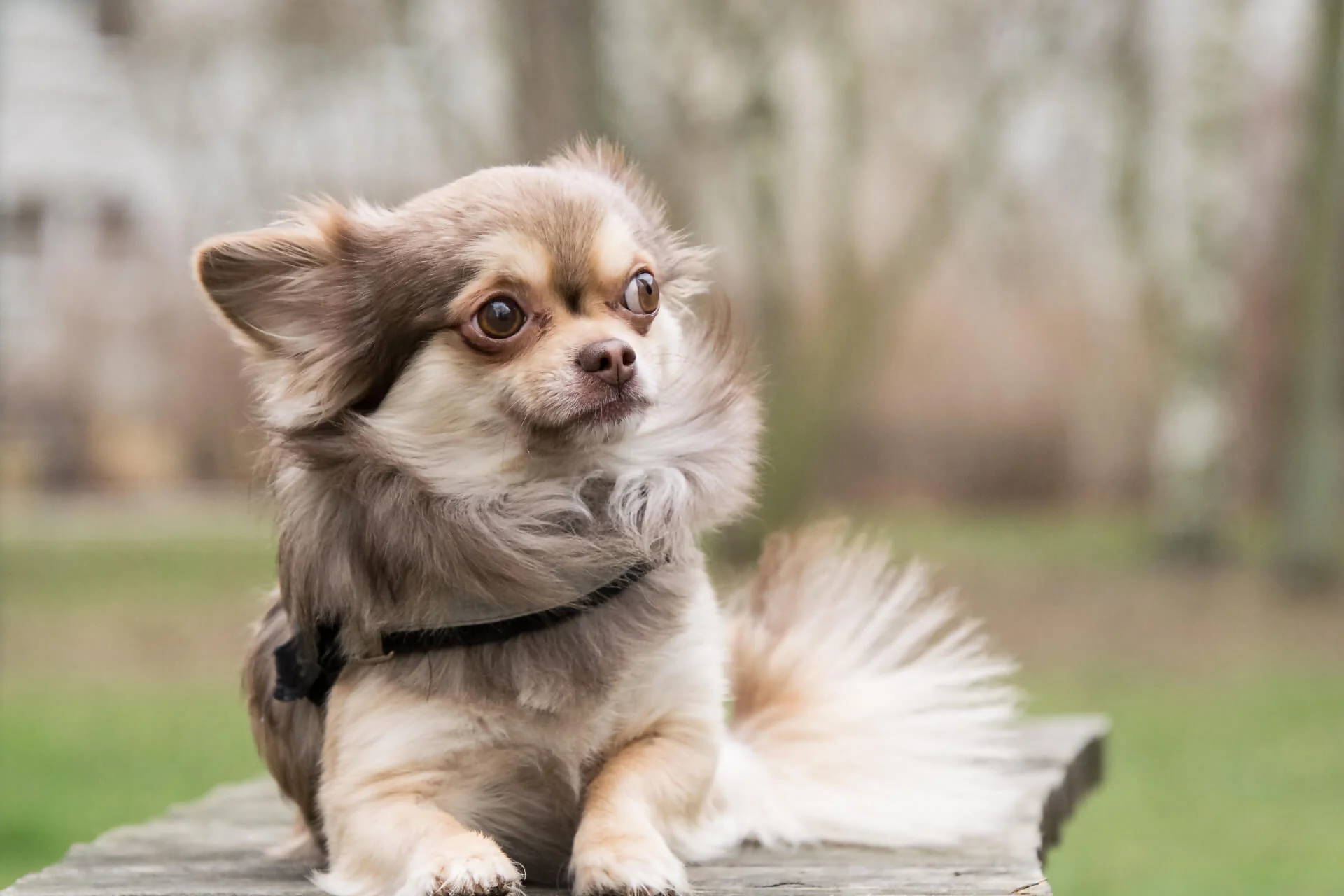 The long-haired Chihuahua is a stylish dog that's ready for the runway. The show cut accentuates their key traits and showcases their bold personalities. With a fluffy tail and expertly shaped front and hindquarters, they always look stunning.
In fact, a brown and white long-haired Chihuahua even won the top prize in the toy group at the 2015 Manchester Dog Show, proving just how impressive this cut can be.
Whether you decide to have your long-haired Chihuahua professionally groomed or do it yourself, remember that the haircut is not the only important aspect. It's crucial to check their ears for wax build-up or signs of infection. Trimming their nails is also essential to prevent paw damage.
Most importantly, regularly check your long-haired Chihuahua's eyes for signs of infection, as they are prone to a condition called keratoconjunctivitis sicca (KCS), which reduces tear fluid production.
But one thing is for certain, their seal-like eyes will always be watching your every move. You are constantly under the watchful gaze of this mini-emperor.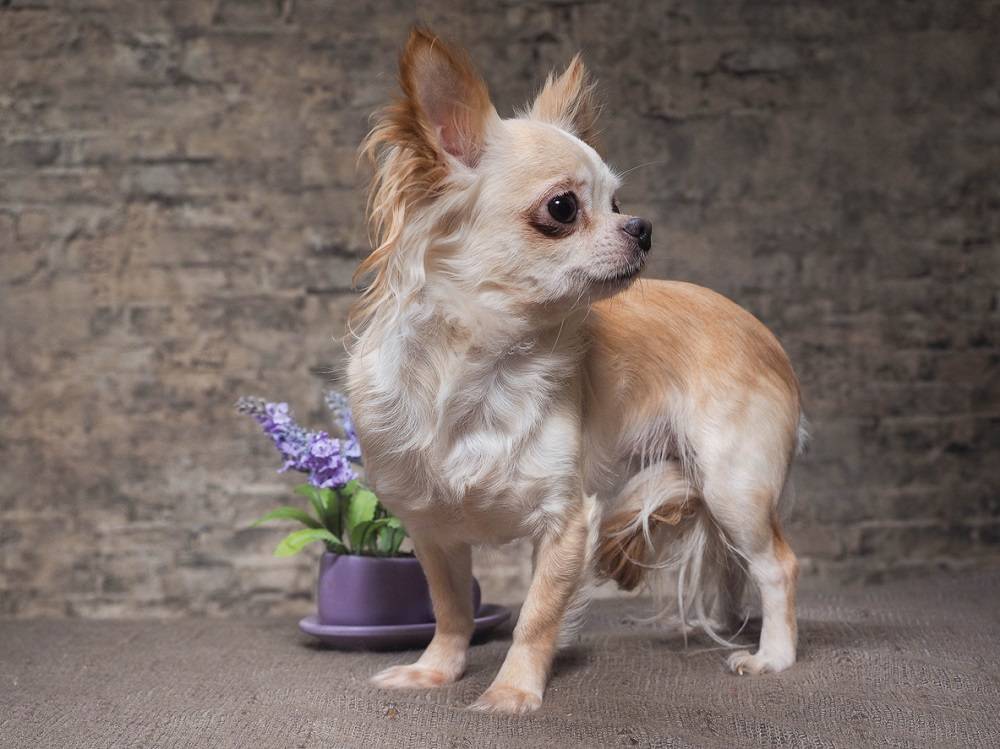 Long-haired Chihuahuas have a small size, making even a little trim highly effective. One particular annoyance for these dogs is the excess fur on their paws.
To address this issue, both groomers and dog owners carefully trim the fur around their legs and paws.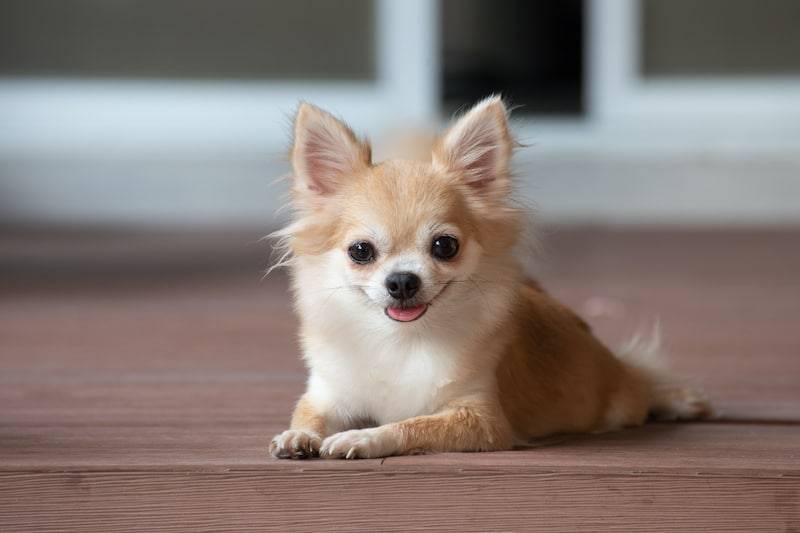 Long-haired Chihuahuas, the FAQs
Do long-haired Chihuahuas shed?
Long-haired Chihuahuas are prone to shedding their coats in the spring and fall. During these seasons, they will often require additional grooming to help remove old fur and prevent mats from forming. Regular brushing is essential for long-haired Chihuahuas as it helps distribute natural oils throughout the coat, keeping it healthy and shiny.
How long do long-haired Chihuahuas live?
Long-haired Chihuahuas typically live for 11-13 years, depending on diet and lifestyle. They are often considered to be a robust breed that is able to withstand the elements better than their shorter-coat counterparts. With proper care and attention, these dogs can be expected to live long lives filled with love and loyalty.
How much is a long-haired Chihuahua?
The cost of a long-haired Chihuahua may vary depending on the breeder and other factors. Generally, you can expect to pay anywhere from $500-$1500 for one of these dogs. Prices can be higher if the Chihuahua comes with show-quality breeding or is rare in color or coat. Regardless, it is important to research breeders before purchasing and to ask for proof of health testing for the parents.
How to groom a long-haired Chihuahua?
Grooming a long-haired Chihuahua is an important task that helps keep them looking their best. Regular brushing and combing are essential, as it helps remove dead fur while evenly distributing natural oils throughout the coat. Regular nail trimmings are also important for keeping your pup's feet healthy and comfortable. Finally, checking their ears regularly for any signs of infection is a must. All of these steps can be done at home and will help keep your long-haired Chihuahua looking their best!
Do long-haired Chihuahuas bark?
Yes, long-haired Chihuahuas bark just like any other dog. But, with the right training and care, they can be taught when it is appropriate to bark and when it is not. Teaching commands such as "quiet" or "speak" can help reinforce good barking behavior while teaching them when it is not acceptable to make noise.
Are long-haired Chihuahuas hypoallergenic?
Long-haired Chihuahuas are not hypoallergenic, as all dogs shed dead skin cells and hair. This shedding can trigger allergies in sensitive individuals. However, long-haired Chihuahuas may cause fewer allergic reactions due to their infrequent shedding and smaller size. If you're unsure about allergies, it's recommended to consult a medical professional.
How tall do long-haired Chihuahuas get?
While all Chihuahuas tend to be on the smaller side, long-haired Chihuahuas can actually be slightly taller than their shorthaired counterparts. On average, long-haired Chihuahuas grow to be about 6 to 9 inches tall and weigh anywhere from 3 to 6 pounds.
Are long-haired Chihuahuas good with children?
Long-haired Chihuahuas are generally friendly and loving pets, but they may not be the best choice for a home with young children. Chihuahuas can be sensitive to loud noises and sudden movements, so keeping a close eye on them around small kids is important. Additionally, they require patience and consistency from their owners in order for them to learn and obey commands. With the correct training, long-haired Chihuahuas can make great family pets.