How to Potty Train a Chihuahua?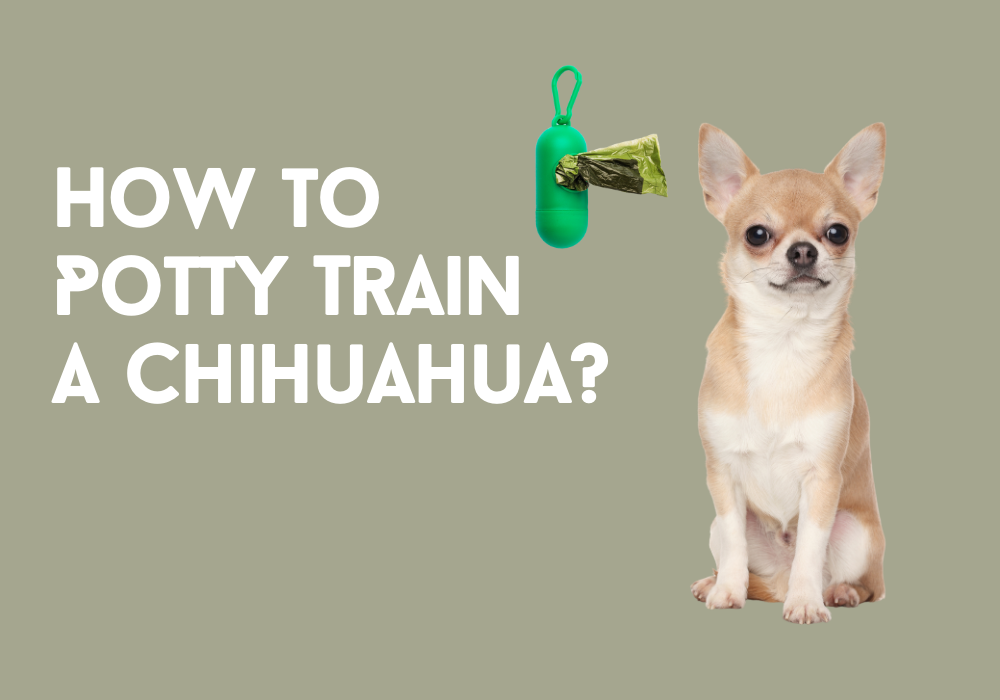 Are you the proud owner of a Chiuaua? Congratulations! You may be excited by their cuteness, but if this is your first foray into dog ownership you may also be feeling a little overwhelmed. Don't worry – we've all been there and potty training is one of the common training concerns among Chihuahua owners.
While these pint-size pooches can present uniquely challenging issues when it comes to potty training, don't get discouraged; with patience and consistency, teaching your brave little explorer how to pee where it counts will ultimately become second nature (as well as second nature—ewww!) in no time at all. Keep reading to learn our top strategies for potty training your Chihuahua!
Why Are Chihuahuas So Hard to Potty Train?
House-training a Chihuahua is no easy feat. From their diminutive size to their finicky bathroom habits, these little pups can present a challenge to even the most seasoned dog owners.
Raising a Chihuahua can prove challenging due to their pint-sized physique. It's not uncommon for these tiny pups to sneak away and handle their business under the radar, a habit seldom seen in their larger counterparts.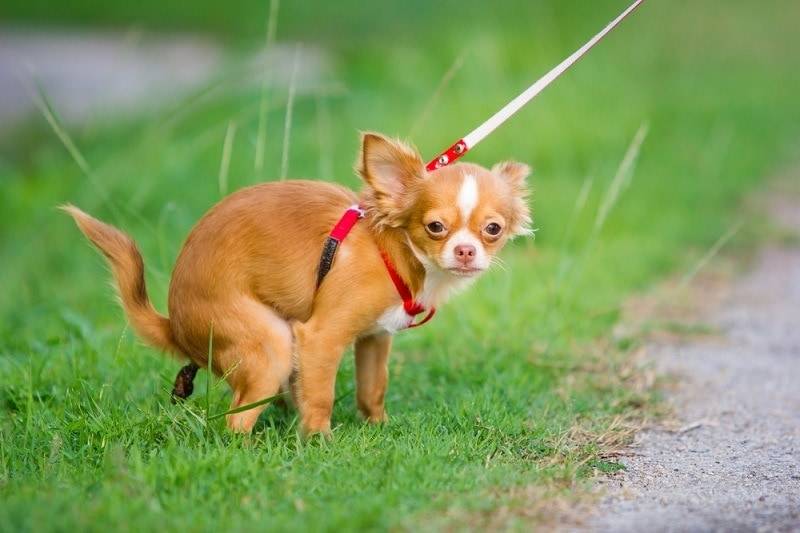 They have trouble transitioning from puppy pads
Transitioning your Chihuahua from peeing on a pad to going outside can be tricky. Some Chihuahuas struggle because they've been conditioned to go whenever the urge strikes, regardless of location.
It takes a bit of effort to help them understand that nature calls should be directed toward signaling their pet parent for an outdoor trek.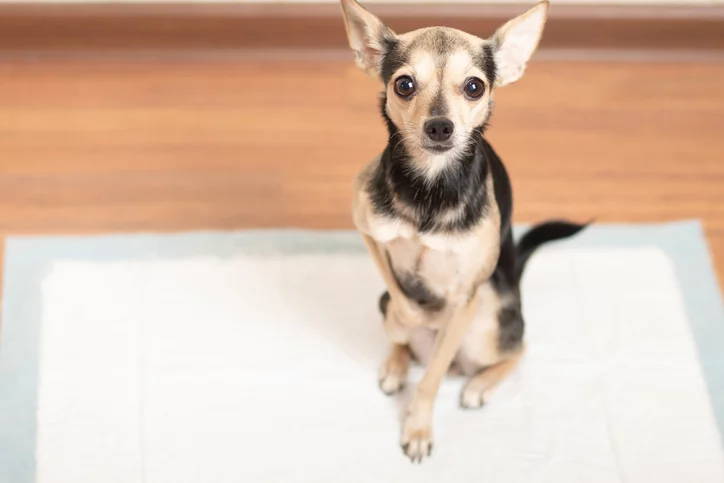 They don't like when it's cold outside
The tiny Chihuahua was born and bred in sunny Mexico, so it's not surprising that they're not big fans of the chilly outdoors. Rain, cold, wind, and snow? No thank you! And when it comes to "doing their business," these pups prefer the comfort of indoor facilities.
When it comes to housebreaking your furry little Chihuahua, catching them in the act of an indoor pee-pee is key. But these little guys are sneaky and can vanish in a snap, leaving you without the chance to redirect them to their loo.
And if you don't act quickly to clean up, your Chihuahua might just think that same spot is a perfectly acceptable pee-place. Don't miss out on those teachable moments - stay vigilant and stay on top of those tiny tinkle troubles!
So, how to potty train a Chihuahua?
Potty training any dog can be a challenging task, but when it comes to Chihuahuas, patience is absolutely essential. It can be frustrating at times, but it's important to maintain a positive attitude and stay motivated.
Supervise your Chihuahua at all times
If you're raising a Chihuahua puppy, you know the importance of constant supervision. These little pups are like babies, eliminating frequently and often with little warning.
It's important to keep a watchful eye on your Chihuahua at all times, especially during the housebreaking process. You can't let them roam around unsupervised - even just for a few minutes - or you run the risk of an accident happening indoors.
Crate your Chihuahua when you can't supervise
As much as we wish we could keep our Chihuahuas by our side 24/7, there are times when we have to leave them alone. When this happens, it's important to make sure they are safe and comfortable.
One option is to confine them in an exercise pen or crate, but how can we make sure they don't make a mess while we're away? Fear not, Chihuahua owners, because these tiny pups have a natural instinct not to soil where they sleep.
By providing a bed at one end and a pee pad or newspaper at the other, your Chihuahua will have a designated spot to do their business without making a mess.
Create a potty schedule for your Chihuahua
Chihuahuas may be a tiny breed, but they need structure and routine just like any other dog. One of the most important things you can do to potty train your Chihuahua is to establish a regular schedule.
This means setting specific times for meals, playtime, and potty breaks. By doing this, you'll help your Chihuahua understand what's expected of them and when. Plus, it'll make housebreaking a lot easier!
By getting your Chihuahua on a consistent schedule, you'll be able to predict when they'll need to do their business and take them outside accordingly.
According to AKC experts, you'll need to be on high alert for potty time first thing in the morning, last thing at night, after playtime indoors, after crate time, upon awakening from a nap, after a good chew session, after meals, and after drinks.
Take a deep breath and keep calm when your Chihuahua has a little accident during the housebreaking process. Remember to interrupt the behavior with an "oops" and quickly take them outside to the designated potty spot.
If they finish their business outside, shower them with praise and treats. Consistency is key, so continue to reward good behavior every time they go outside. If you find a mess inside, resist the urge to scold or punish your pup. Cleaning the area thoroughly and moving on will help them feel safe and comfortable around you during these learning moments.
Different Methods for potty training a Chihuahua
Potty training your Chihuahua can be a bit of a challenge, but with dedication and patience, it's definitely doable! There are different methods to choose from, depending on what works best for you and your Chi.
Keeping up with the needs of a Chihuahua can be a challenge when you have a busy schedule. That's why many people turn to puppy pad training to provide a convenient and safe solution for their furry friends.
With a designated pad for your Chihuahua to use, you can avoid any unwanted accidents around your home - even if you miss a cue that they need to go outside. While this method has its benefits and drawbacks, it can certainly make life easier for both you and your Chihuahua.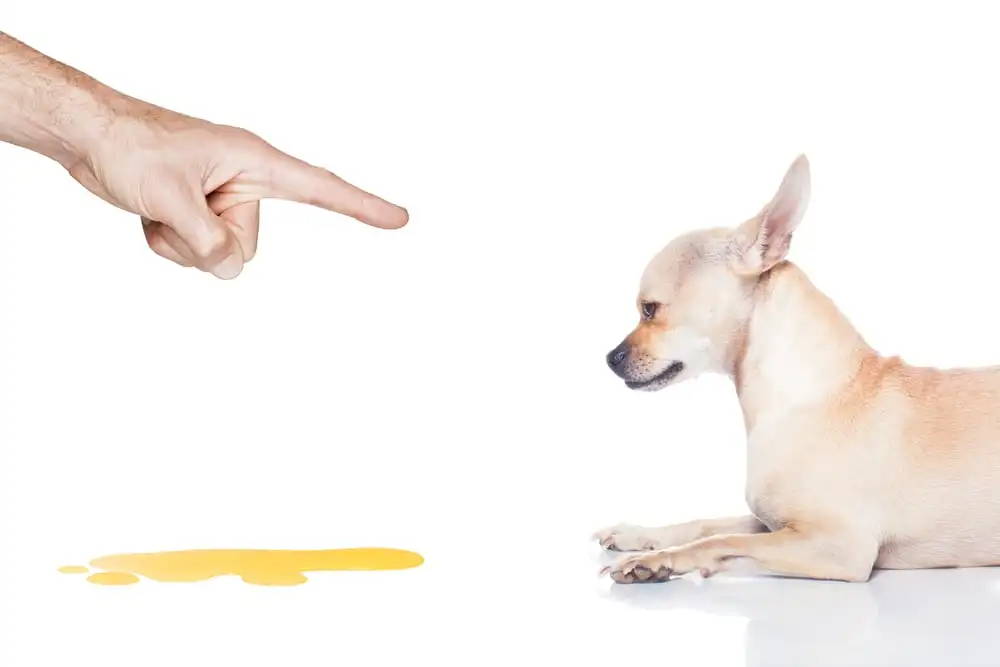 If you thought only cats were litter box trained, think again! Chihuahuas can be trained to use a litter box too! No more messes around the house, this is a real solution to your potty training woes.
Don't turn your nose up just yet, litter boxes for toy breeds have become all the rage. Start by adding your Chihuahua's scent to the box and keep praising and encouraging them until they get the hang of it. A designated potty spot for your little Chihuahua, what could be better?
Providing your Chihuahua with the freedom to roam outdoors could be possible by installing a doggie door, as long as you have the right environment.
Given their small size and occasional potty accidents, letting your Chihuahua outside as needed could make a big difference. But don't forget to set up a safe and enclosed backyard, and maybe even a jingle bell for the perfect potty break signal.
It's important to understand that your Chihuahua won't be able to follow a strict potty training schedule right away, especially when they are left alone for long periods. This is where a crate can be a lifesaver.
By keeping your Chihuahua in a crate when you cannot watch them, you're helping to prevent accidents in the house, and also turning their crate into a cozy den where they can feel safe and secure.
Why did my Chihuahua forgot about house training?
Owning a Chihuahua can be both rewarding and challenging. With their small size and adorable appearance, it's easy to forget that they require plenty of attention and discipline, especially when it comes to potty training.
Unfortunately, even the most well-behaved Chihuahuas can forget their training. This can happen due to a lack of reinforcement, too much independence, and/or improper cleaning of accidents. All three elements need to be addressed in order to get your Chihuahua back on track.
Housebreaking a Chihuahua can be a challenging task for any pet owner, but one of the biggest obstacles is maintaining consistency once the lessons have been taught.
Unfortunately, Chihuahuas can quickly forget their training if they aren't provided with proper reinforcement. This doesn't mean that your Chihuahua is stubborn or untrainable - it simply means that they need a little extra guidance and attention.
Remember, potty training your Chihuahua is an ongoing process, and the more consistent you are with rewards and praise, the more likely they are to make progress.
As a pet owner, it's important to remember that certain dogs require more guidance and support than others - even when it comes to bathroom habits.
For example, Chihuahuas are notorious for forgetting their housebreaking lessons if they're given too much independence. It's easy to assume that once your Chihuahua has mastered potty training, your job is done. But just like a child needs ongoing support with homework, your Chihuahua needs ongoing reinforcement to ensure they stay on the right track.
Whether it's a reminder to go outside or a little bit of extra attention during the training process, keeping a close eye on your Chihuahua's behavior can make all the difference in maintaining good habits.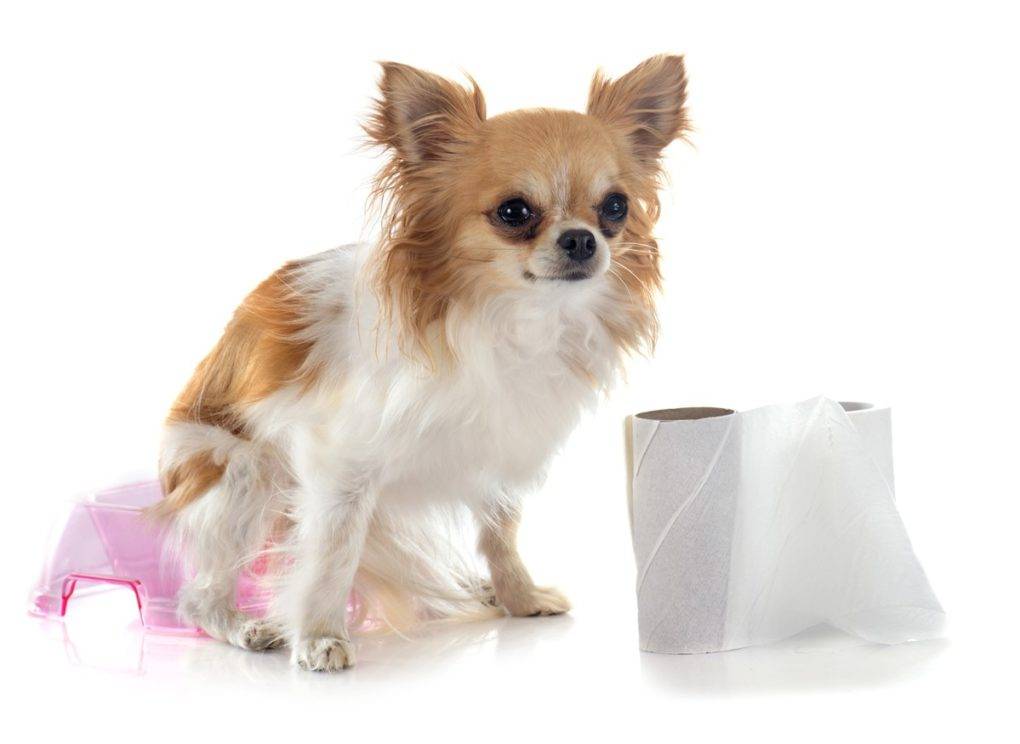 Improper Cleaning of Accidents
When it comes to housebreaking a Chihuahua, one of the most crucial factors is proper cleaning of accidents. But what does that really mean? Unfortunately, just wiping the spot with soap and water won't cut it.
You see, Chihuahuas rely heavily on their sense of smell to understand the world around them. And while we might not be able to detect any trace of an accident, a Chihuahua's nose can detect even the tiniest bit of enzyme left behind.
Without proper cleaning, your Chihuahua may misinterpret the message and think that it's perfectly alright to do their business indoors. So when it comes to accidents, make sure you're taking the right steps to keep your Chihuahua on track.
House train a Chihuahua, FAQs
How to potty train a Chihuahua Puppy?
Potty training a Chihuahua puppy can be a bit of a challenge, but with patience and consistency, it is possible. Start by setting up a regular potty schedule and sticking to it.
How to potty train an adult Chihuahua?
Housebreaking an adult Chihuahua may seem intimidating, but with a little patience and persistence, it can be done. Create a potty routine and stick to it - this will help your pup learn the proper habits.
How to potty train an older Chihuahua?
Older Chihuahuas may need a bit more patience and repetition when it comes to potty training. Start by setting up a regular routine and providing extra reminders throughout the day.
How long will it take to housebreak my Chihuahua?
The amount of time it will take to potty train your Chihuahua depends on their age, breed, and individual personality. With patience and consistency, most dogs can be housebroken in a few weeks.
Is indoor potty better than outdoor for my Chihuahua?
Indoor potty training is not recommended for Chihuahuas. While it may seem easier to house train indoors, this can lead to confusion and potential accidents in the future. Outdoor potty training will help ensure that your pup learns the proper habits.
Why does my Chihuahua go to the bathroom in his crate?
Going to the bathroom in their crate is a common problem for Chihuahuas. This can be due to improper training, fear or anxiety, or boredom. Make sure you're rewarding positive behavior and providing your pup with plenty of exercise and enrichment activities to keep them mentally stimulated.