One of the most common questions that come to mind about Chihuahuas is, "How much should a Chihuahua eat?" The smallest breed among dogs, the Chihuahuas have tiny stomachs.
They have specific requirements quite different from larger breeds. Chihuahuas have a faster metabolic rate and therefore should have a specific regime for feeding.
One of the important things to keep in mind is to keep the blood sugar levels normal.
This is best done by feeding the dog small amounts at short intervals. Avoid giving the dog-cheap brands of food as this can lead to various diseases like coat color fading, tooth decay, slow growth, or weakened immunity. It is best to consult a vet if you are not sure about the food you should give to your pet.
What to Feed a Chihuahua?
In choosing the right type of food do not select brands that have food dyes, corn as fillers, preservatives, animal fat, or corn and wheat gluten. An ideal food should contain meat as the main ingredient.
This could be lamb, chicken, or beef. This ensures the dog will get the proper nourishment for proper and healthy growth.
Vegetable content in the food is also an important factor so that it gets the right amount of minerals and vitamins. Vegetables like peas, carrots, potatoes, and broccoli make the food wholesome.
After having determined the right food brand, it is to be decided how much to feed a Chihuahua.
This will depend on its age, metabolic rate, and the amount of activity the dog gets. Chihuahua puppies need more protein than adults for the development of their skin, muscles, hair, and tendons.
An adequate amount of protein will prevent skin diseases and hair problems. Another issue to keep in mind is to give the puppy wet food as it makes it easier for their small mouths to chew the food. Wet foods enable the dog to remain hydrated.
Puppies are very active and therefore susceptible to dehydration, especially in summer.
How Often to Feed a CHIHUAHUA?
The recommended number of times to feed a Chihuahua puppy is four so that the puppy gets the optimal amount of nutrition it requires for the day. As the rate of growth gradually decreases and the dog reaches adulthood the number of feeds it requires can be reduced to two or three feeds a day.
Chihuahuas are sensitive to the kind of food they are fed, how frequently food is given to them, and how it is given. The kind of food given affects the dog's health in its current status and the future. Therefore it is best to try and see what the dog likes to eat and enjoys using the trial and error method, keeping in mind to give it the right balance of proteins, fats, and carbohydrates.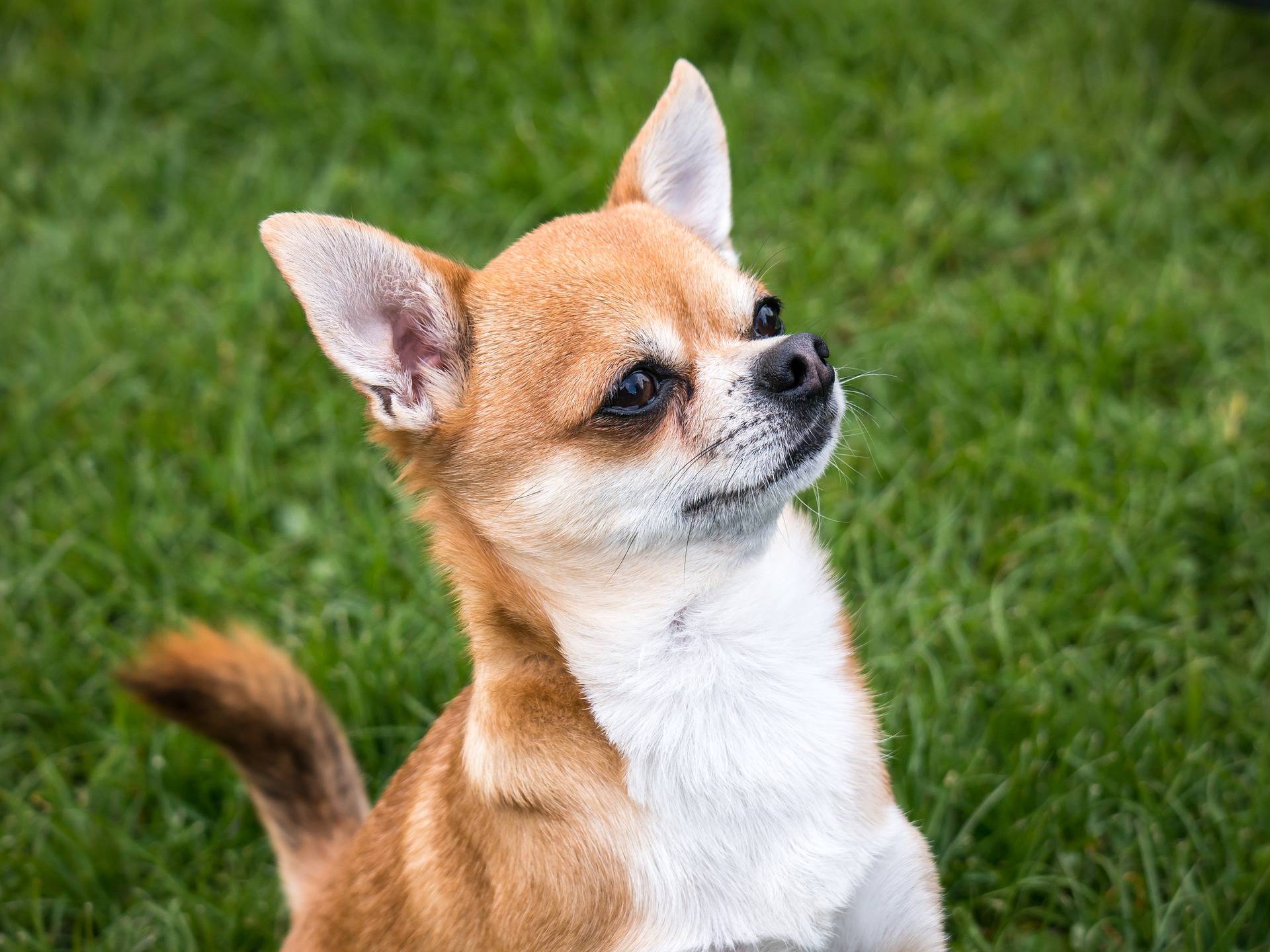 How Much to Feed a Chihuahua?
Chihuahuas have delicate digestive systems and should be fed correctly and cautiously, maintaining the right quantities.
When a Chihuahua puppy has reached six months of age the number of feeds can be reduced to twice or thrice a day. Maintaining a feeding routine will help to train the dog in developing healthy eating habits.
Once the Chihuahua has reached adulthood it should be fed twice a day, once in the morning and again in the evening. This regime should be kept to and only broken if absolutely necessary. The Chihuahua should also be allowed to eat at his or her own pace, perhaps for 30 minutes, and not be disturbed while it is eating.
When feeding your Chihuahua, keep in mind not to overfeed your fur baby. Giving it too much food may lead to your dog putting on extra weight. This will harm your dog.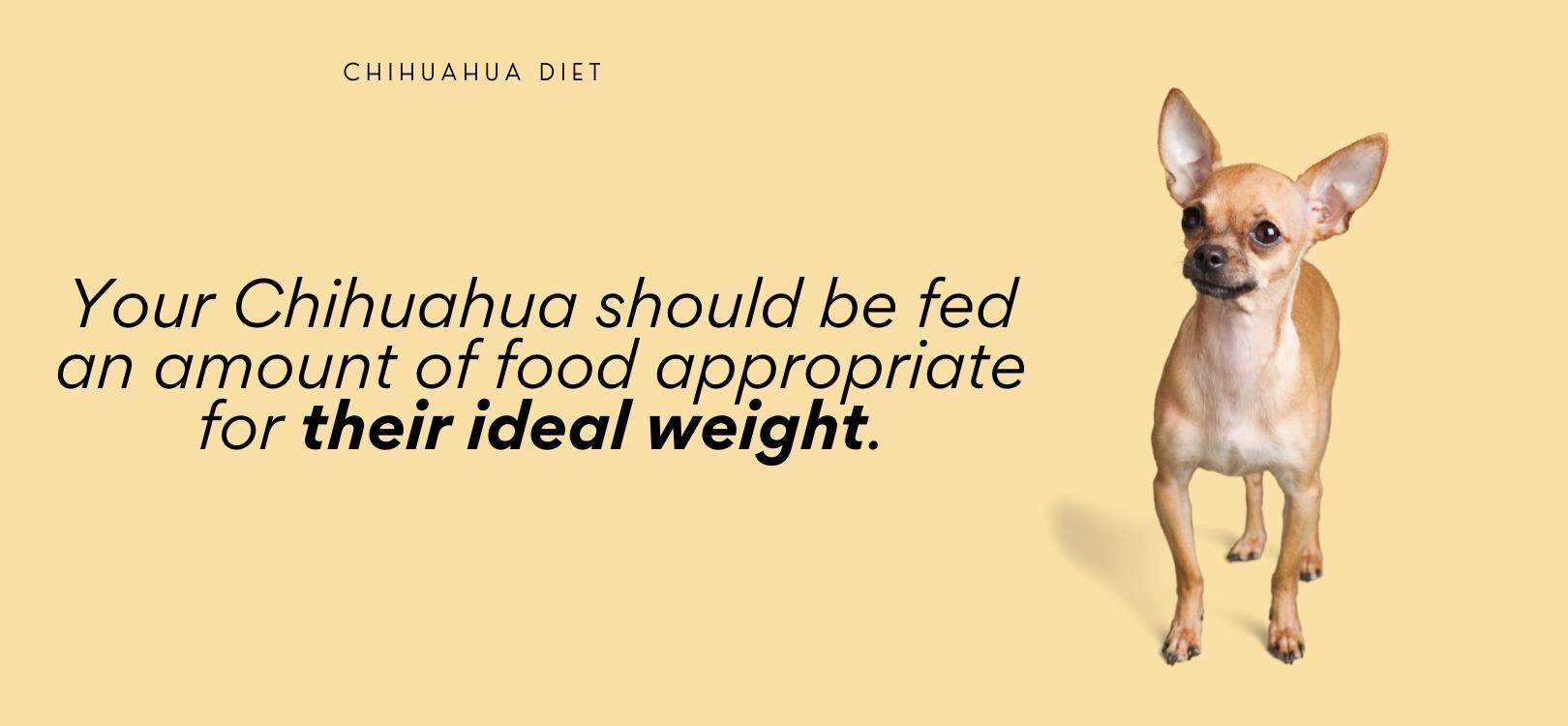 Feeding Factors for a chihuahua
Chihuahua will eat till they are fully satisfied which may result in them over-eating. They don't know when "how much is too much" because their instinct is to eat to survive. Therefore the onus is on the caregiver, how much to feed the Chihuahua, for it to have a healthy life and not grow obese.
Another factor to keep in mind is whether your Chihuahua is neutered or spayed. This will affect the Chihuahua's energy levels, whether it will be more or less. In cold climates, the Chihuahua will require more energy to keep warm. These factors determine the number of calories a Chihuahua will require. Older Chihuahua need fewer calories than younger ones and this should reflect in the kind of food being given.
How Much Should a Chihuahua Eat?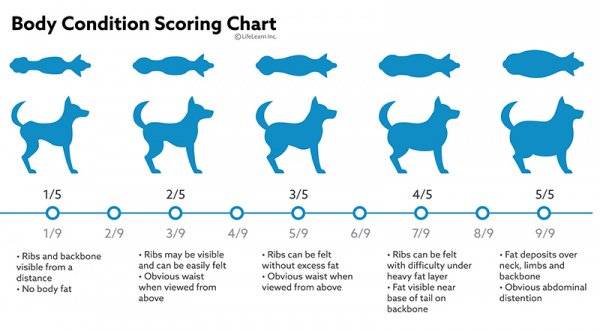 To know the right amount of food to be fed to your Chihuahua it has to be determined how fat or lean the Chihuahua is. One does not have to be a mathematician to do this.
By looking at the dog standing above it, it can be noted whether the Chihuahua has an hourglass shape or its torso looks the same from shoulder to hip with no dip at the waist. If the Chihuahua has long hair then feeling it will tell if it is obese or not.
A sausage shaped Chihuahua means that the Chihuahua has put on too much weight. If the ribs of the Chihuahua can't be felt, then it has become overweight. If a Chihuahua's ribs can be felt like the knuckles on the back of the hand then it is underweight. The ribs area should feel like the back of the fingers when it is loosely closed. This indicates that the Chihuahua has an ideal weight.
To reduce the weight of an overweight Chihuahua, feed your Chihuahua fewer portions or make it do physical exercise by taking it for walks daily. Giving the Chihuahua physical activity also helps to build its strength and immunity.
In the summer season, your Chihuahua can burn some fat by running around in the yard. In winter the Chihuahua will lie around and not expend too much energy. If your Chihuahua is active during the summer season then an increase in the intake of calories is needed for a short period.
If your Chihuahua is always hungry this may be an indication of a health issue. Chihuahua are by nature pre-dispositioned to be hungry and eat every meal as though it were their last. It is not advisable to 'free feed' the Chihuahua by setting a large bowl of food down and leaving it that way all day. Take the dog outside 15 or 20 minutes after it has had its meal. It is not advisable to give it water later than 7 in the evening.
Keeping in mind all that has been said, your Chihuahua should be able to lead a healthy life and remain a fond pet for a good number of years.