How Much Should a Chihuahua Eat? (+ Feeding Chart)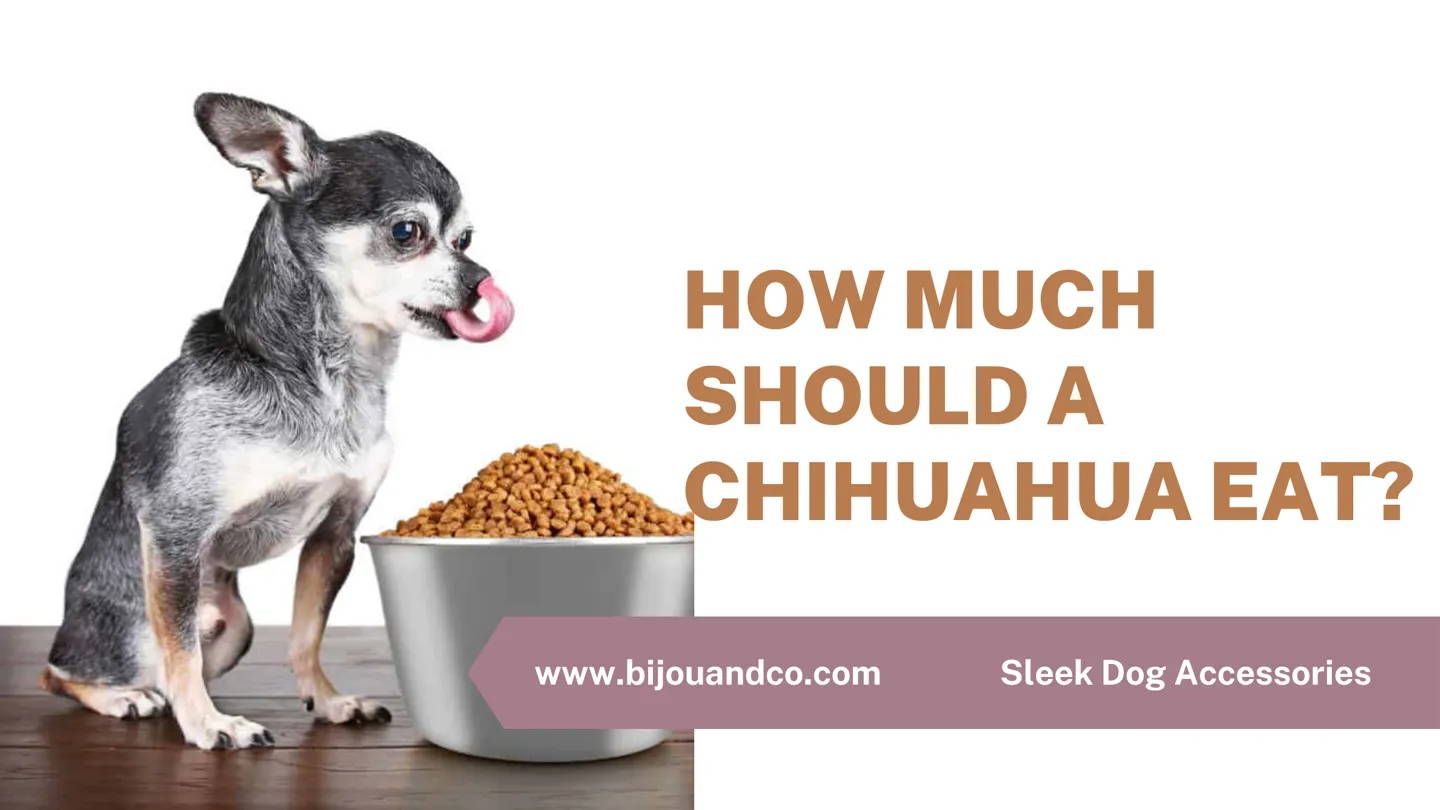 One of the most frequently asked questions about Chihuahuas is, "How much should a Chihuahua dog eat?" Being the smallest breed among dogs, Chihuahuas have tiny stomachs. As a result, they have specific dietary requirements quite different from larger breeds.
Chihuahuas have a significantly faster metabolic rate and therefore should have a specific dietary regime to compensate. If you have adopted one a Chihuahua and worry about feeding it correctly, then you've come to the right place.
With this Chihuahua feeding guide, we're going to run through how often you should feed a Chihuahua and how much they can handle to put your mind at ease.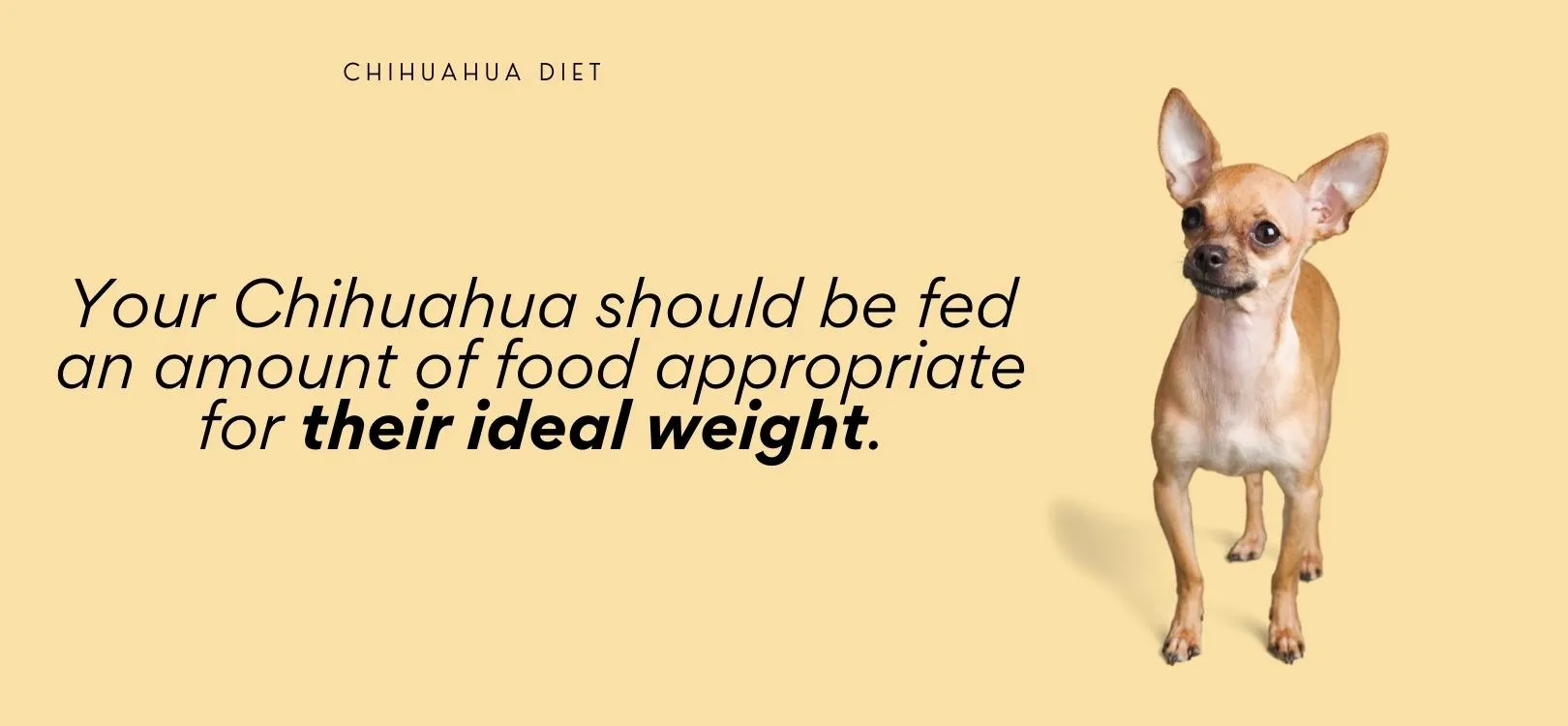 The Chihuahua's special dietary needs
When choosing the food you would like to give to your Chihuahua you should take into consideration the dietary needs that your particular Chihuahua might have. Each Chihuahua is slightly different and so you may find that your particular Chi could need additional help with joint support, whereas another may need better support for its immune system or digestion.
What foods to avoid for a Chihuahua
There are certain ingredients that don't necessarily agree with a Chihuahua's digestion. The following ingredients are not necessarily a problem for your Chihuahua, but some owners are happier being safe than sorry. Therefore, when selecting your Chihuahua's food, you should try to avoid selecting food that contains any of the following:
❌ Artificial food colorings or preservatives
❌ Corn as fillers

❌ Animal fat, corn gluten

❌ Excessive amounts of potato or rice as fillers

❌ Wheat gluten

❌ Soy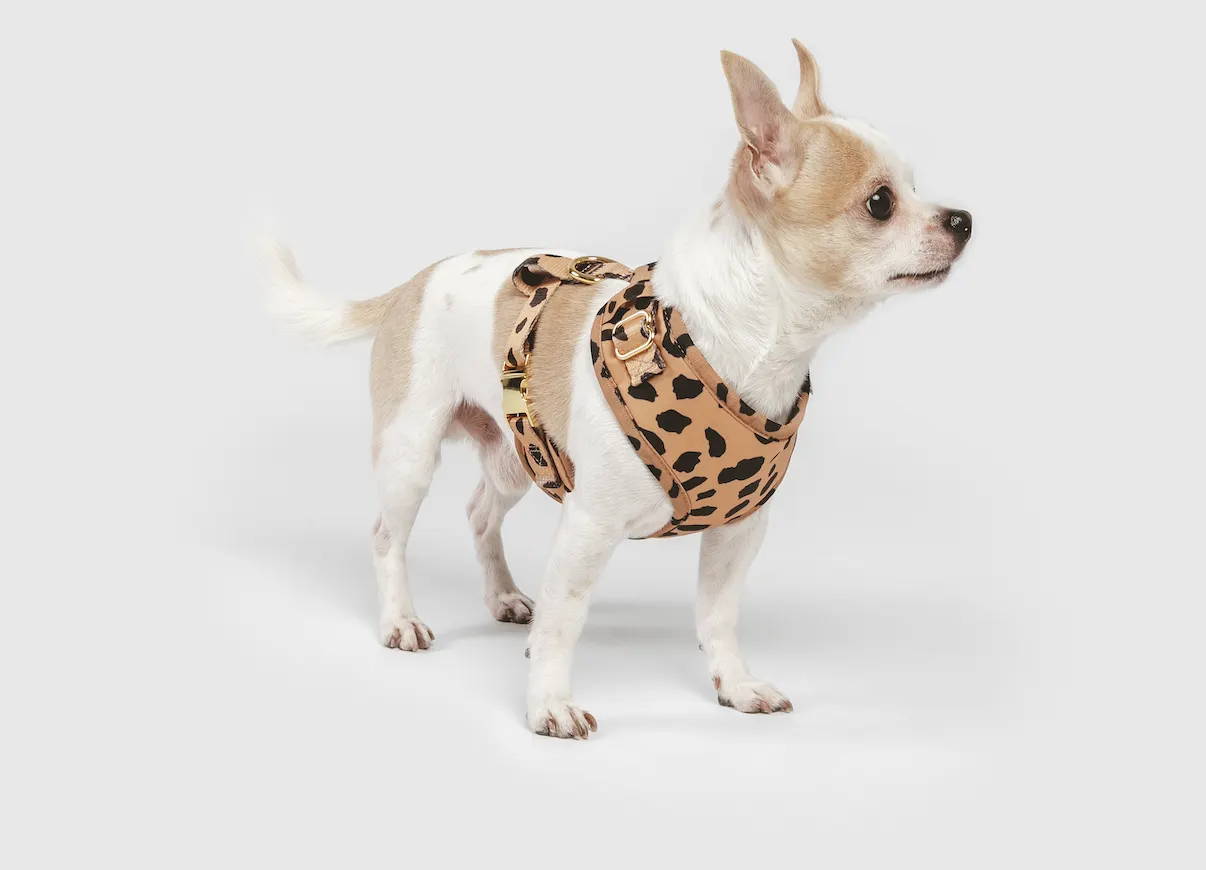 The importance of protein for your Chihuahua
Like all animals, Chihuahuas need protein in their diet to maintain a healthy weight and energy levels. Protein is essential for the growth and repair of tissues, and it helps to produce enzymes and hormones.
Chihuahuas require a higher level of protein than other breeds of dog, due to their small size and high metabolism. A Chihuahua's diet should consist of 20-30% protein, from sources such as meat, fish, poultry, or eggs.
Too much protein can lead to obesity, while too little can cause muscle loss and weakness. Therefore, it is important to consult with a veterinarian to ensure that your chihuahua is getting the right amount of protein in their diet.
Chihuahuas need vegetables, vitamins, and minerals
A Chihuahua's diet should be rich in vegetables, vitamins and minerals in order to maintain a healthy weight, proper digestion and a strong immune system. Vegetables are an excellent source of fiber, which helps keep the digestive system running smoothly.
They are also low in calories and fat, making them a good choice for Chihuahuas who are trying to lose weight. Vitamins and minerals are essential for overall health, and they can be found in abundance in fresh fruits and vegetables.
Vitamin A is important for eye health, while vitamin C helps to boost the immune system. Minerals such as calcium and phosphorus are essential for strong bones and teeth. Including plenty of fresh produce in your Chihuahua's diet will ensure that they stay happy and healthy for years to come.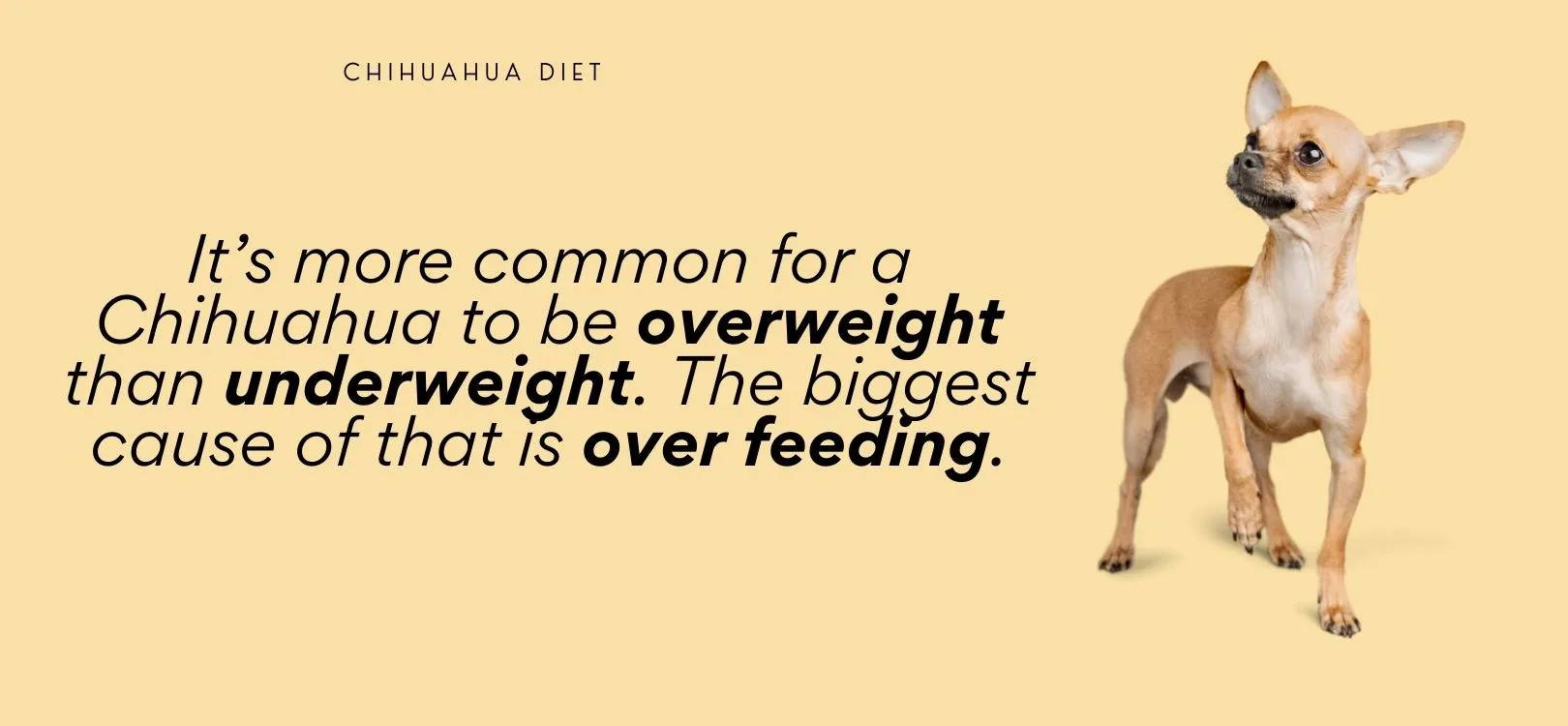 How much should a Chihuahua eat?
So, how many times a day do you feed a Chihuahua? That depends on the age of the Chi. The recommended number of times to feed a puppy Chihuahua is four smaller meals spread out throughout the day as they will burn off the calories a lot faster than an adult due to their rapid rate of growth.
As the rate of growth gradually decreases and the Chihuahua reaches adulthood the number of feeds it requires can be reduced to two or three feeds a day. A Chihuahua feeding schedule is essential to ensuring that your little furry friend is getting everything that they need without being under or over-fed.
How much to feed Chihuahua puppy?
Chihuahua puppies specifically need a lot of energy as they are growing and developing, so it is important to make sure that they are getting enough to eat. As a general rule of thumb, Chihuahua puppies should be fed three to four times per day.
Each meal should be small, since Chihuahuas have a tendency to overeat if given too much food at once. It is also important to choose a high-quality puppy food that is tailored to their nutritional needs.
Chihuahua puppies need between ¼ and ½ cups of food per day, divided into three to four meals. This may seem like a lot for such a tiny dog, but chihuahuas have high metabolisms and need the extra energy to grow and develop properly.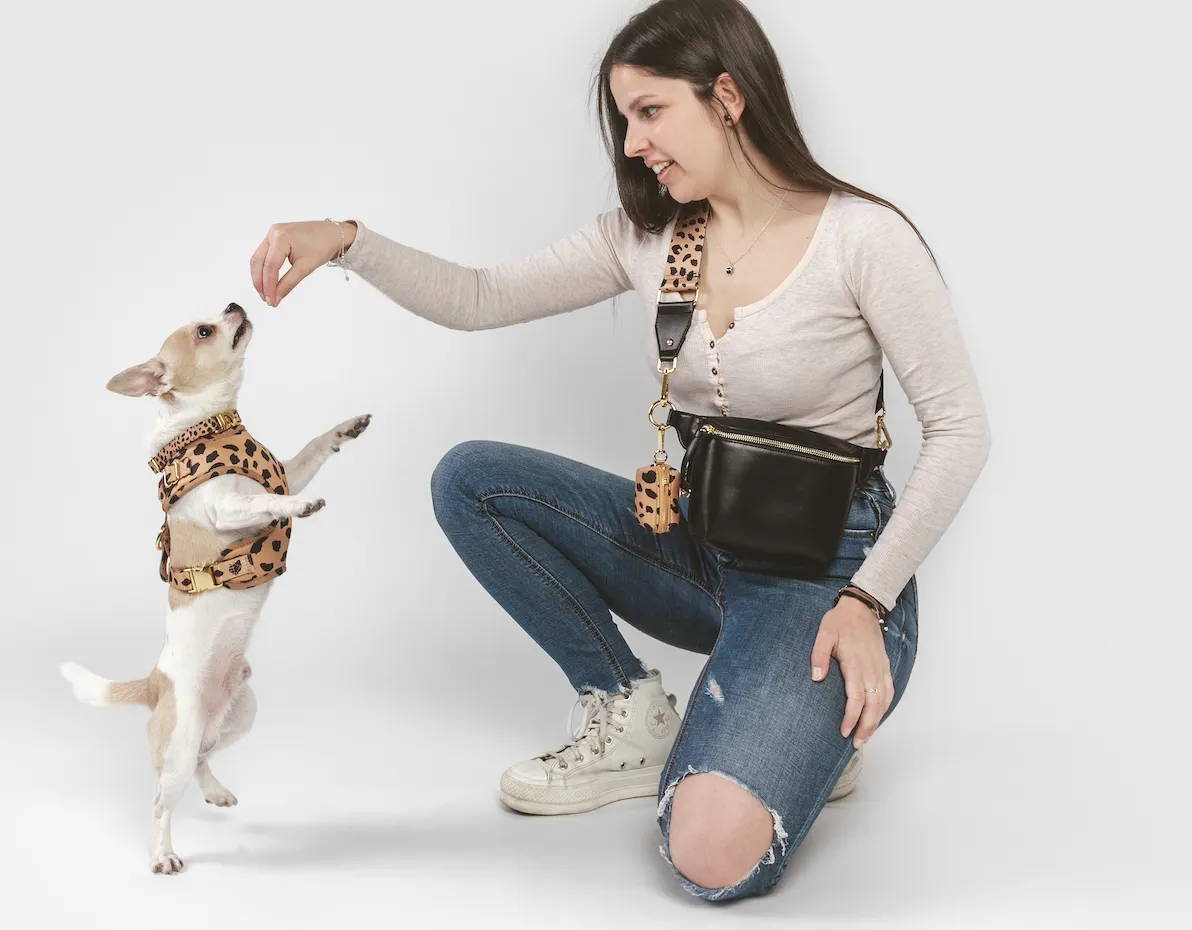 How much to feed an adult Chihuahua
Adult Chihuahuas should be fed two to three times per day. Each meal should be small, approximately ¼ to ½ cups of food. In addition, adult Chihuahuas need high-quality foods that are rich in proteins and fats.
This will help them to maintain their energy levels and prevent weight gain. Overfeeding Chihuahuas can lead to obesity, which can cause a variety of health problems. For this reason, it is important to follow the recommended feeding schedule and avoid giving your Chihuahua too much food.
How much to feed a senior Chihuahua
As Chihuahuas age, it's important to adjust their diets accordingly. They generally require fewer calories and less protein than when they were younger, and their digestive systems may not be as efficient at breaking down food. As a result, senior Chihuahuas may benefit from smaller, more frequent meals.
Senior Chihuahuas should be fed three to four times per day. Each meal should be small, approximately ¼ cup of food.
For an easy reference as the average amount of dry food recommended for a Chihuahua, it is suggested that you stick with the following calorie intakes depending on their age and weight:

Tips for feeding your Chihuahua
Determine how much food your Chihuahua needs
A Chihuahua's ideal body condition is somewhere between a 3 and a 5 on the Body Condition Score chart. This means that they should have some definition to their ribs but shouldn't be bony, and there should only be a slight fat layer covering their body.
If your Chihuahua falls below a 3 on the BCS chart, this means they are underweightand you will need to increase their food intake. If they fall above a 5, this means they are overweight and you will need to reduce their food intake. You can use the BCS chart as a guideline when determining how much food to give your Chihuahua each day.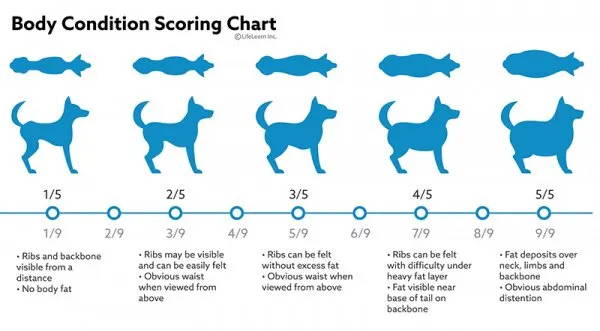 4 tips for feeding your Chihuahua
Many people wonder "how much food should a Chihuahua eat?" But they fail to consider the other elements of putting together a Chihuahua's diet. So, when you have your Chi's diet figured out and have your Chihuahua eating well, remember to consider the following additional advice.
Food amounts should be consistent
Your Chihuahua's food amount should always remain consistent. Chihuahuas have delicate systems and should be fed correctly and cautiously, maintaining the right quantities at all times. Maintaining a feeding routine will help to train the dog in developing healthy eating habits.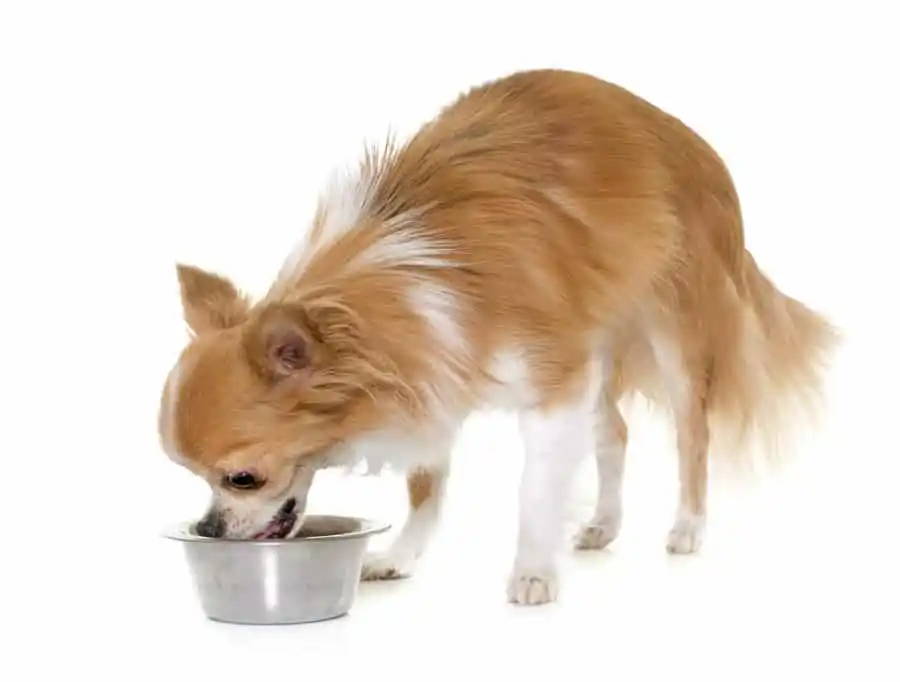 Your Chihuahua must eat at their down pace
A Chihuahua should also be allowed to eat at his or her own pace, for 30 minutes, and not be disturbed while it is eating.
Keep in mind not to overfeed your Chihuahua. Giving it too much food may lead to excess weight gain or bloating which can have significant consequences.
Your Chihuahua needs more food in Summer
In the Summer season, your Chihuahua can burn some fat by running around in the yard.
In the winter, your Chihuahua will be more inclined to lie around and not expend too much energy. If they are especially active during the summer season, an increase in calories may be needed for a brief period to compensate.
What to do if your Chihuahua is always hungry
If your Chihuahua is always hungry this may be an indication of underlying health issues. Though keep in mind, all dogs are naturally pre-dispositioned to be hungry and eat every meal as though it is their last.
Therefore, it's not advisable to 'free feed' your Chihuahua by setting a large bowl of food down and leaving it that way all day. Take them outside 15 or 20 minutes after they have had their meal to help it settle.
How much should I feed my Chihuahua?
A Chihuahua puppy should be fed around 50kcal for every 1lb of weight, an adult should have 35-40kcal per pound, and a senior (aged 8+) should have around 20kcal per pound.
How much should a 5-pound Chihuahua eat?
A general rule of thumb is that a five-pound Chihuahua should eat about one cup of food per day. Puppies and senior Chihuahuas may need more or less food than adult chihuahuas, and Chihuahuas who are very active may also require more calories.
How much dry food should I feed my Chihuahua?
Generally, we would advise sticking to the recommended calorie range for Chihuahuas of 50kcal per pound for a puppy, 40kcal per pound for an adult, and 20kcal per pound for a senior to avoid confusion.
What is the best diet for a Chihuahua?
The best diet for a Chihuahua will be high in protein and fat, and low in carbohydrates. In addition, Chihuahuas need a small amount of calcium and phosphorus to maintain strong bones and teeth. While there are many commercially-available Chihuahua diets on the market, it is always best to consult with your veterinarian to find the food that is right for your dog.