How Much does a Chihuahua Weigh? (+ Chihuahua Weight Chart)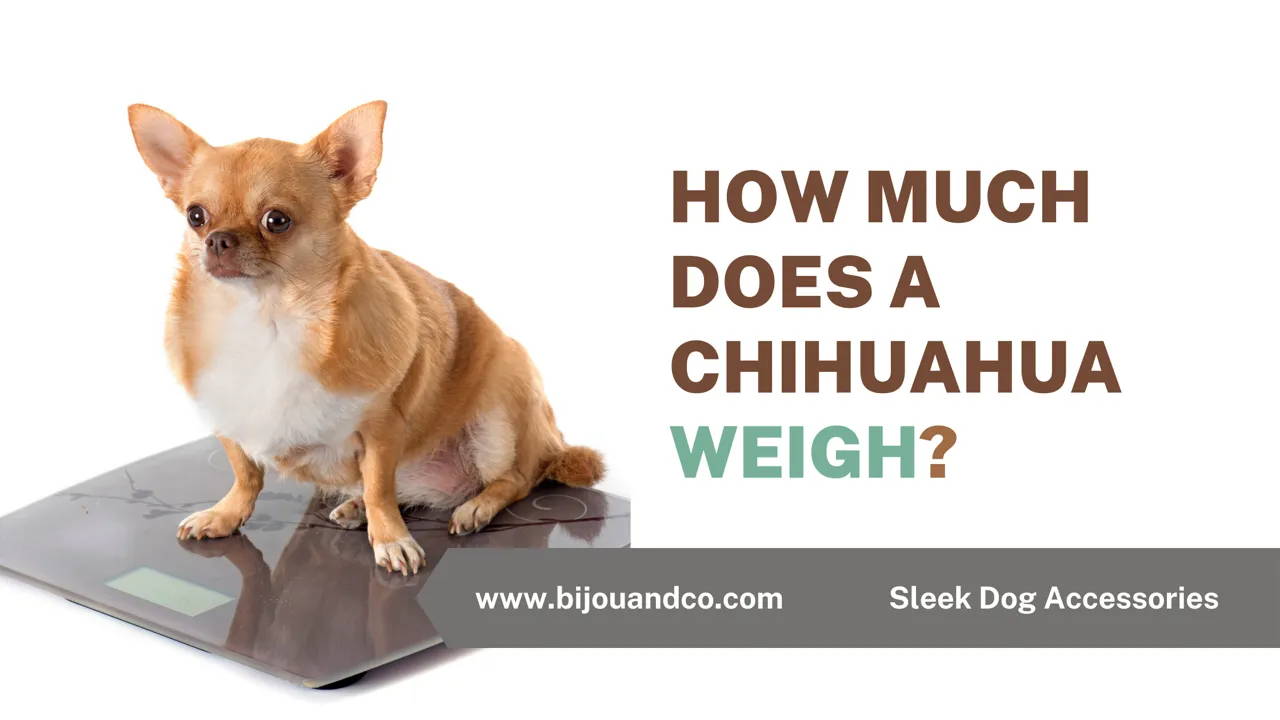 It is a well-known fact that Chihuahuas are the world's smallest breed of dog. And like any dog breed, there are certain size guidelines set out by the American Kennel Club and other kennel associations denoting how much an average-sized and healthy Chihuahua should weigh. So how much does a Chihuahua weigh?
In this article, we will examine the weights that are considered to be optimum for your Chiuaua. This will help give you an understanding of the ideal weight for a healthy Chihuahua and how to ensure that their diet and exercise regimes keep them in tip-top shape.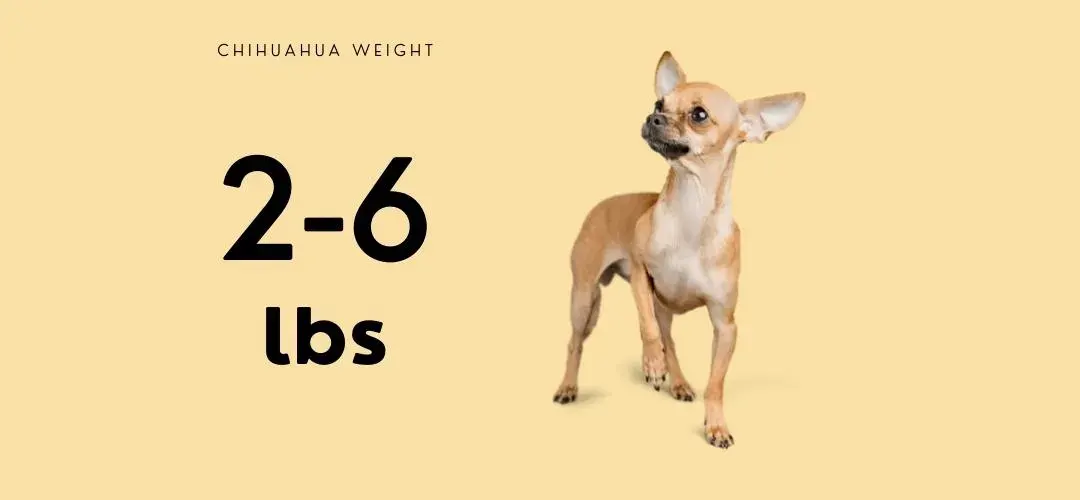 How much does a full grown Chihuahua weigh?
The normal Chihuahua weight range is set down by most major kennel clubs as part of the breed standards.
These are the standards for various kennel clubs from around the world, specifically addressing the question of "how much does a Chihuahua weigh in pounds?"
Though we have also provided kg for those that may need it. Each varies slightly as the location of the Chihuahua can affect its growth owing to a combination of the local diet, and the history and lineage of the breed in that particular country.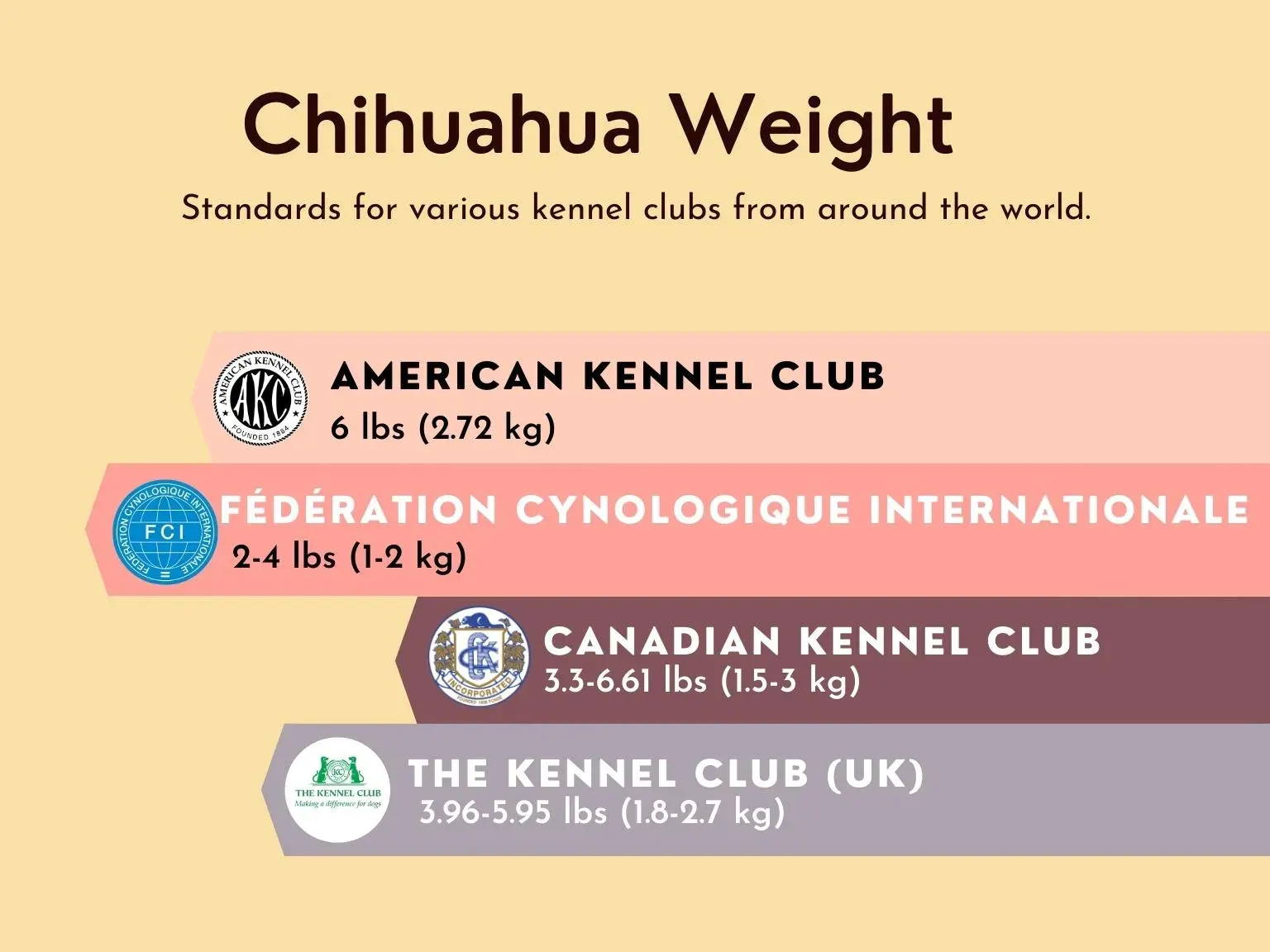 American Kennel Club (AKC)
The American Kennel Club advises that a Chihuahua should not exceed 6 lbs (2.72 kg) in weight.
Fédération Cynologique Internationale
Fédération Cynologique Internationale is recognized as the world's largest organization for overseeing canine pedigrees states that thecorrect weight for a Chihuahua is 3.3-6.61 lbs (1.5-3 kg).
The maximum weight for a Chihuahua is 6 lbs (2.72 kg) with 2-4 lbs (1-2 kg) being the optimum weight according to the Canadian Kennel Club.
The UK-based Kennel Club explains that Chihuahuas must weigh between 3.96 and 5.95 lbs(1.8-2.7 kg) to be recognized as pedigree dogs.
Generally speaking, a 4lb Chihuahua is the average weight you will come across.
However, the healthy Chihuahua weight can vary quite a bit depending on the parent, as you can see from the specifications listed above!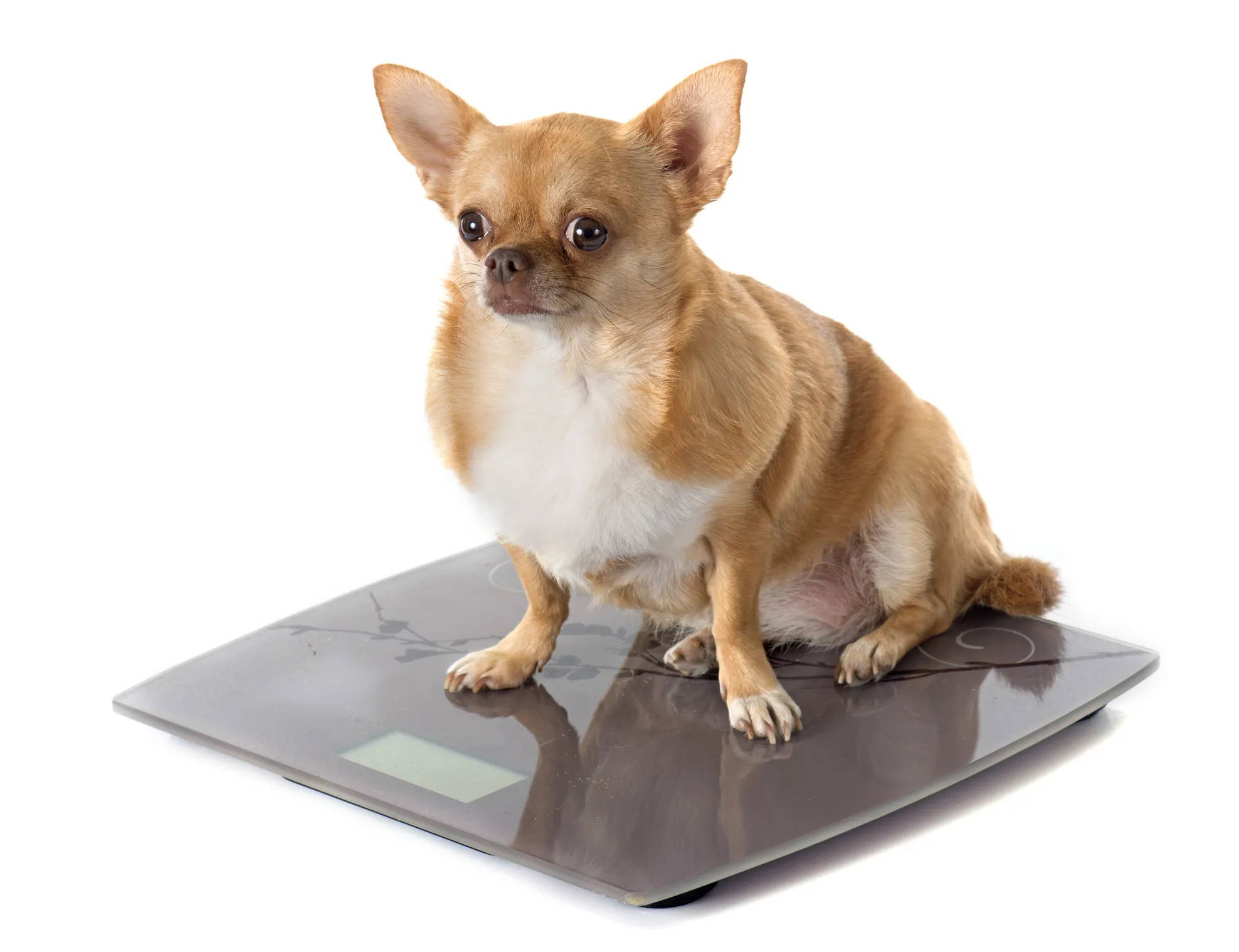 Chihuahua weight from birth to adulthood
Having some idea about your Chihuahua's final weight will help you to make accurate decisions when it comes to buying Chihuahua accessories such as dog beds, crates, collars, harnesses, and leashes.
The breeder who supplies your Chihuahua puppy will be able to answer a lot of the questions you might have about Chihuahua ideal weight. Alternatively, we have listed below some general information regarding Chihuahua weight at different stages, along with a comprehensive Chihuahua weight chart.
As a general overview, let's take a look at some of the average weights that you can expect of your Chihuahua during the first year of its life.
Chihuahua weight - Birth to 2 weeks old
Newborn Chihuahua puppies typically weigh between 2 1/2 to 5 1/2 ounces. They also grow quite rapidly once they are out of the womb and will have doubled in size within their first couple of weeks.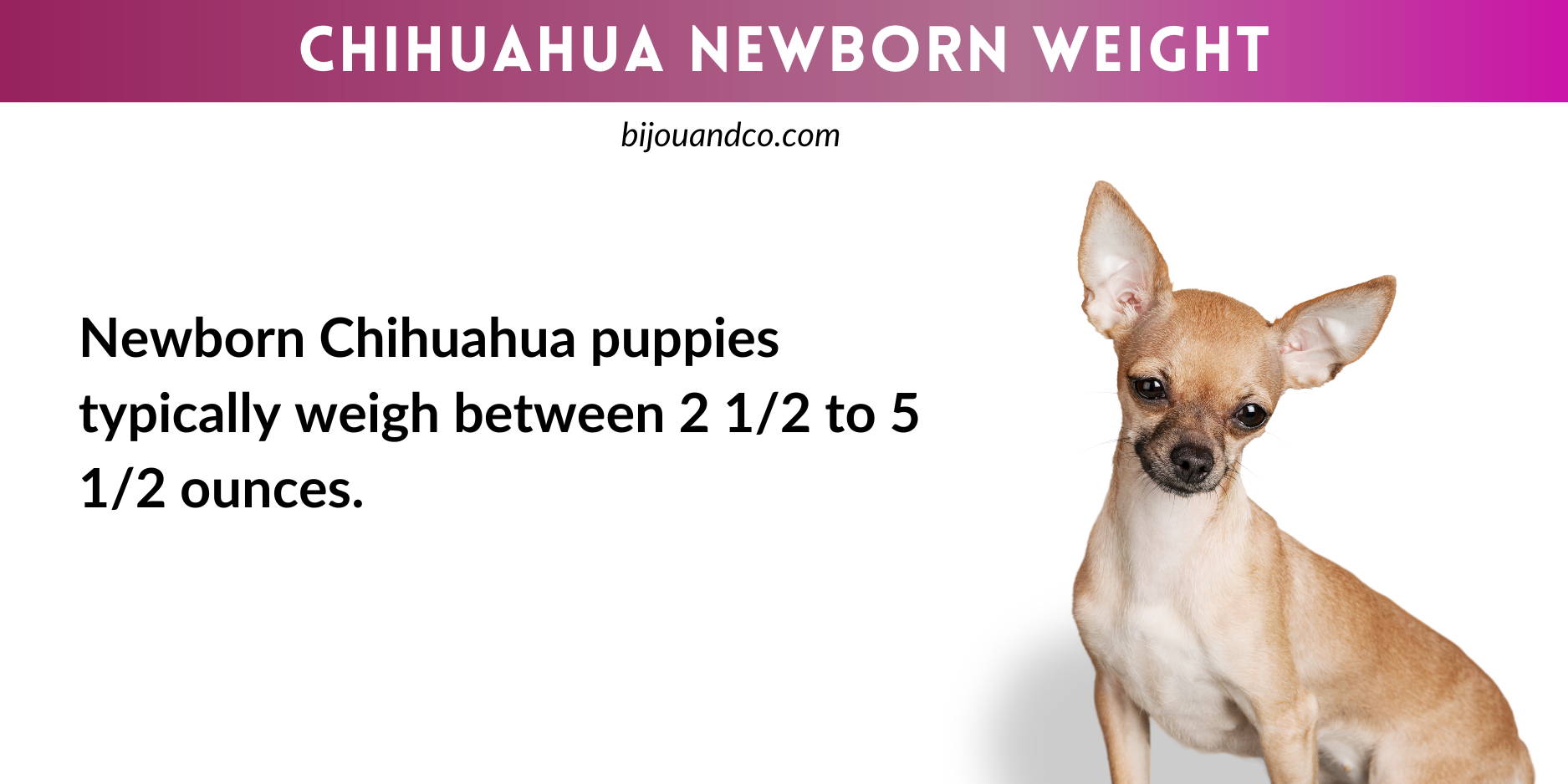 Chihuahua weight - 11 to 15 weeks old
A Chihuahua puppy will start to grow exponentially through its first 15 weeks. Much like a teenager going through puberty, they will gain a considerable amount of weight and significantly develop their personality.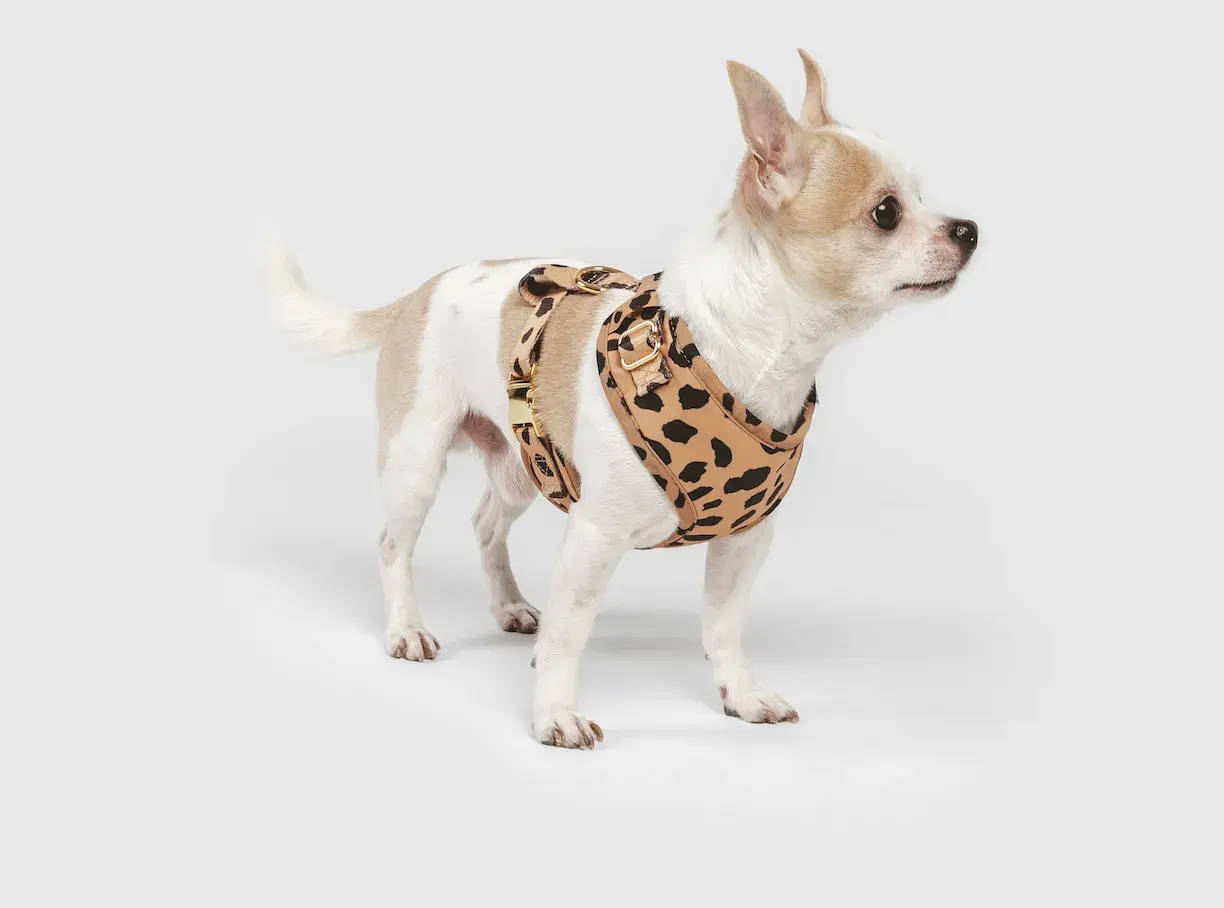 Chihuahua weight - 6 to 9 months old
Chihuahuas will grow more slowly and steadily during these few months as they begin to settle into their full size. This slower growth rate will enable them to come to terms with their own size and reduce clumsy behavior.
By nine months the majority of Chihuahuas are at their full height, sitting between 5.9-9.1 inches. They may appear quite lean at the stage, as they will still have some weight to gain.
Chihuahua weight - 10 to 12 months
By 12 months your Chihuahua should be fully grown and filled out as much as they're going to be. This is the perfect time to weigh them and see what they come in at. Hopefully, they're within the ideal range, giving you the perfect baseline to keep to.
Chihuahua weight - After 12 months
After a Chihuahua stops growing, his ideal weight is contingent on a several factors. For example, a Chihuahua's weight may be affected by his activity level, whether he is neutered or not, and his overall health.
However, on average, an adult Chihuahua should weigh between 3 and 6 pounds. This range is considered ideal because it allows the chihuahua to maintain a healthy bodyweight without being overweight or underweight.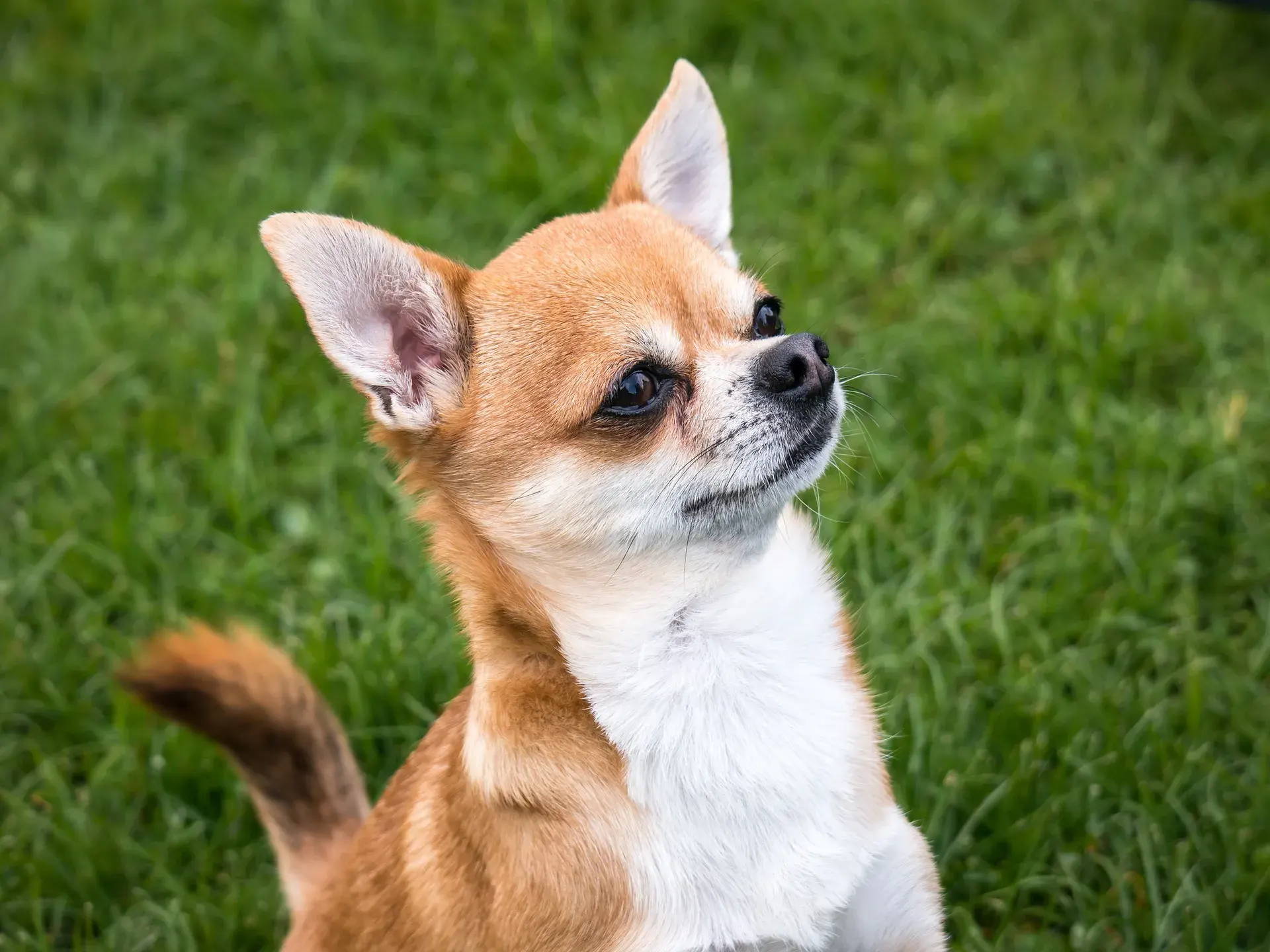 Chihuahua weight charts are an excellent way to keep track of your Chihuahua's weight. They enable you to understand what is a healthy growth rate and whether or not your Chihuahua is underweight or overweight for its age when compared to its previous rate of growth.
The following chart shows the age of the Chihuahua, and their weight in ounces. You need to check the birth weight of your Chihuahua first of all to provide a baseline. If you can't get their birth weight, then make sure you're checking their weight against the correct age to keep the readings accurate.
The aim is for the Chihuahua's weight to remain consistent as they grow, meaning each week their weight should stay within the same column (e.g a 3oz newborn Chihuahua should weigh 28oz at 15 weeks and be 3lbs when fully grown).
See the chart below if you're wanting to work out where your Chihuahua sits on it, keeping in mind that no matter where they sit on the chart, they are within the expected average weight of a Chihuahua. If they exceed the chart then there is a chance they could be under or overweight.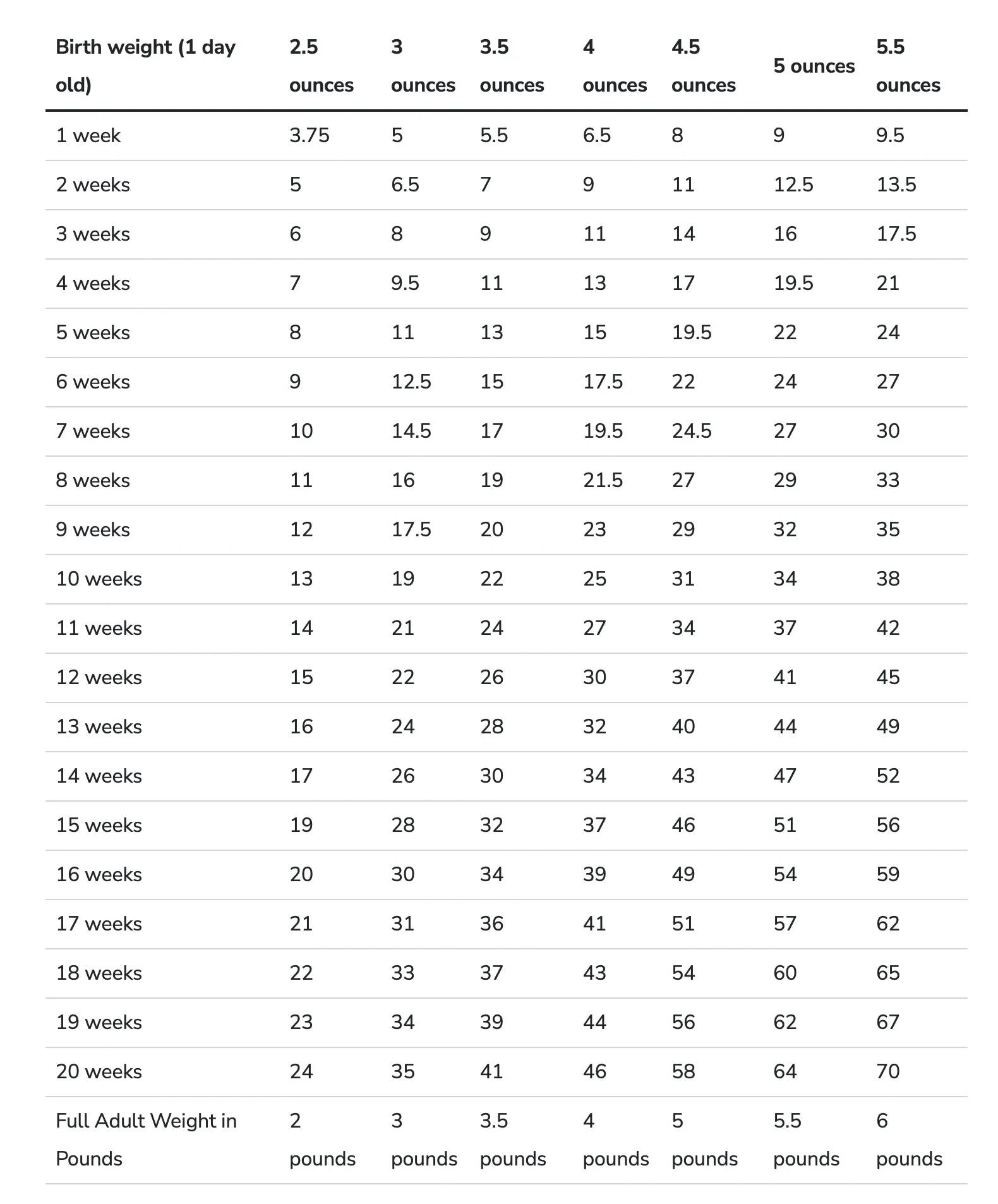 Is a 10lb Chihuahua too big?
If it is a purebred Chihuahua then there is a chance that they are obese and might require a careful diet plan to help get them down to a healthier weight. A 4-5lb Chihuahua is the average healthy weight for this breed, meaning they could have quite a bit to lose before being considered healthy.
Alternatively, it could be that the Chihuahua has been mixed with another breed at some point in its bloodline. If you're worried at all by your Chihuahua's weight, do not hesitate to contact your vet for advice.
Why do Chihuahuas range in weight?
Pedigree dogs fit into particular breed standards. These are used to establish reliable bloodlines which consistently produce the desired size and other physical attributes of the breed. It predominantly depends on the breeder to decide to go with as to the final weight of your Chihuahua once fully grown.
The best pups from a litter, with ideal confirmation including size, may often be kept for future breeding to enable certainty to be retained in the breeding program when it comes to size.
If a breeder considers introducing a Chihuahua from outside their gene pool into their breeding program, they will do a lot of research to ensure that physical traits, including weight, have been recorded for three to five previous generations.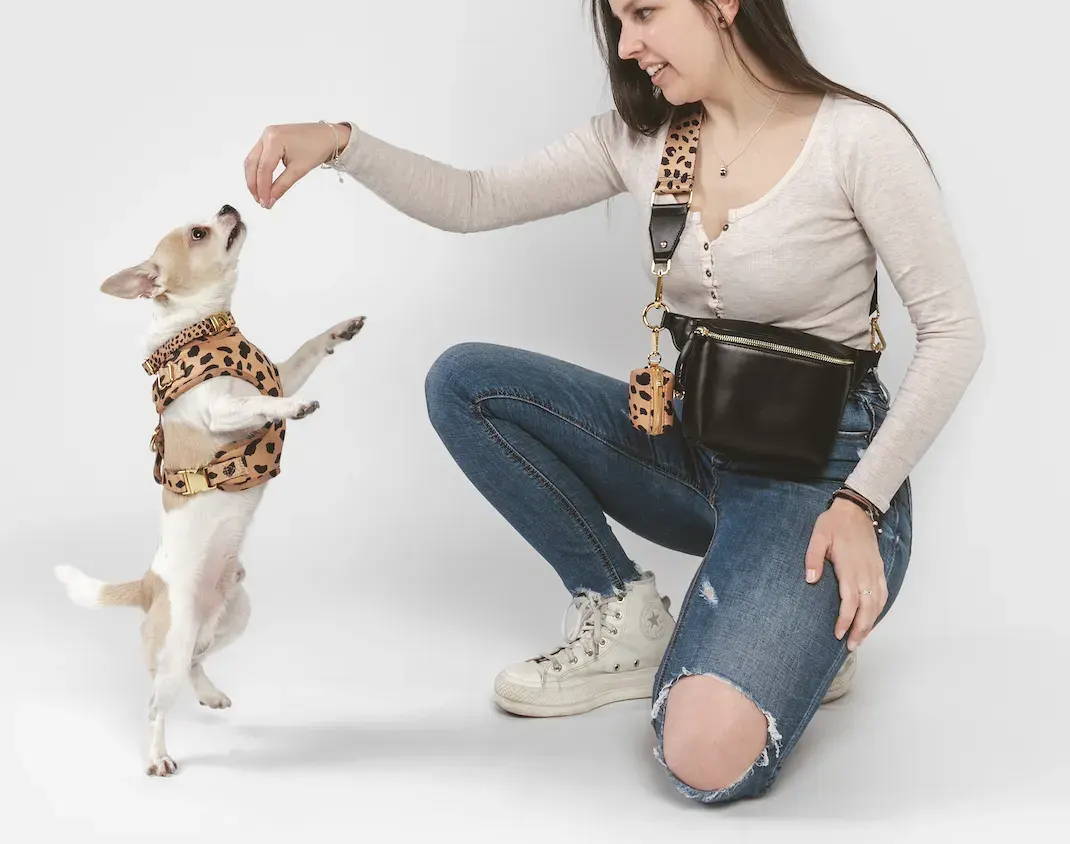 Private or hobby breeders
Private breeders, on the other hand, may have litters that are not so meticulously planned. An oversized dam or an undersized sire can be responsible for many generations of Chihuahuas that do not conform to the breed standard for weight.
Some hobby breeders may also select bloodlines that are taller and heavier to avoid some of the problems (bone weakness, delicate health, being stepped on) associated with lighter Chihuahuas.
Is my Chihuahua overweight?
All breeds of dogs are susceptible to obesity and the health issues that accompany this. The same goes for an underweight Chihuahua.
If your Chihuahua exceeds the 6lb recommended weight limit, then there is a chance that it could be overweight and you should begin to consider "why is my Chihuahua fat?".
It is extremely important to pay close attention to your Chihuahua's diet and nutritional input and make sure that they get plenty of exercise.
An overweight Chihuahua will begin to suffer from mobility issues as more strain is placed on the joints as well as possibly developing such canine conditions as diabetes, knee or hip dysplasia, or arthritis.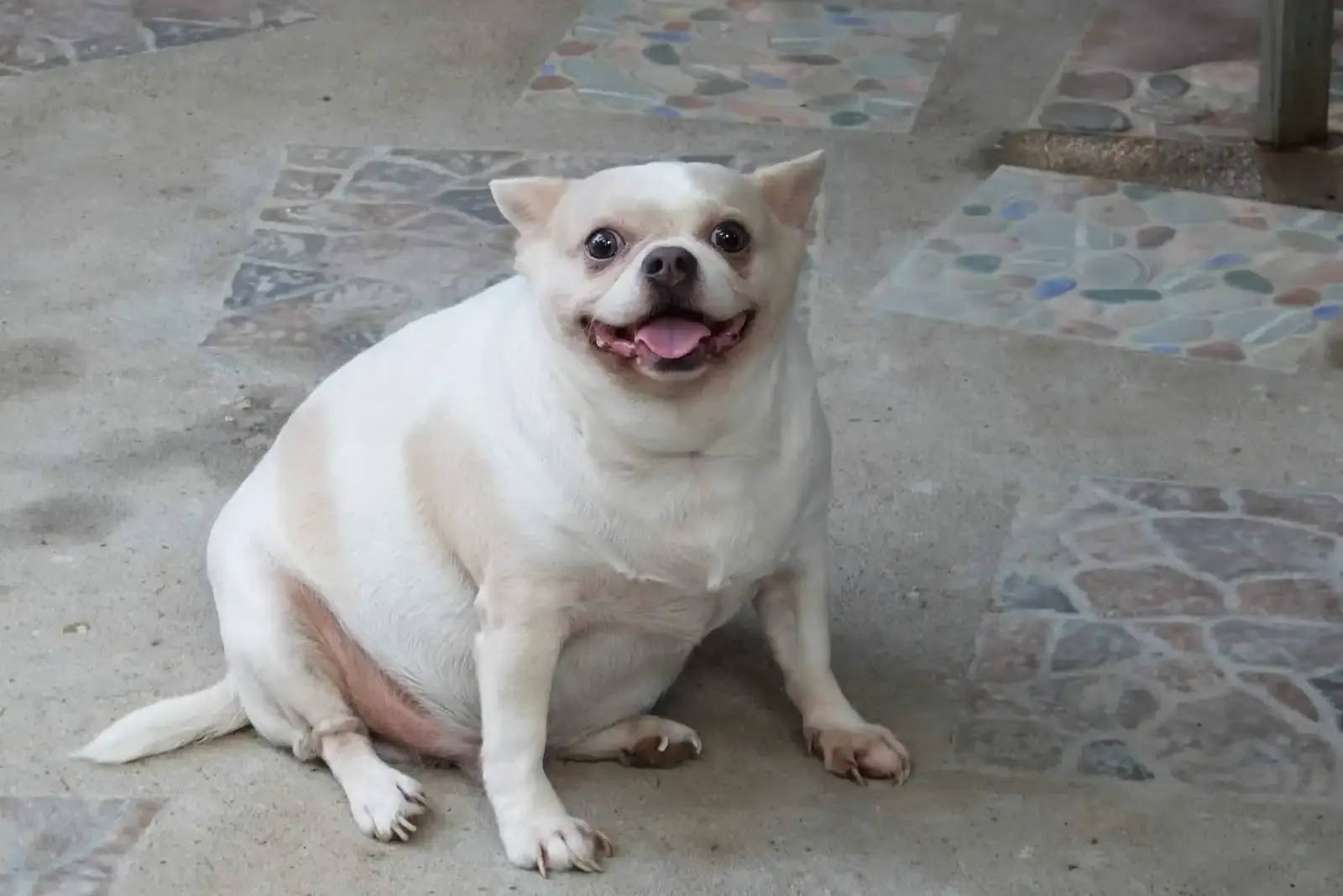 Why is my Chihuahua so skinny?
If your Chihuahua falls below the suggested 2lb minimum weight, there is a chance it could be underweight.
An underweight Chihuahua could be the result of calory deficiency, high metabolism, excessive exercise, or even a medical problem that could be preventing them from eating or gaining weight.
If you're at all worried that your Chihuahua might be skinny, get in touch with your vet.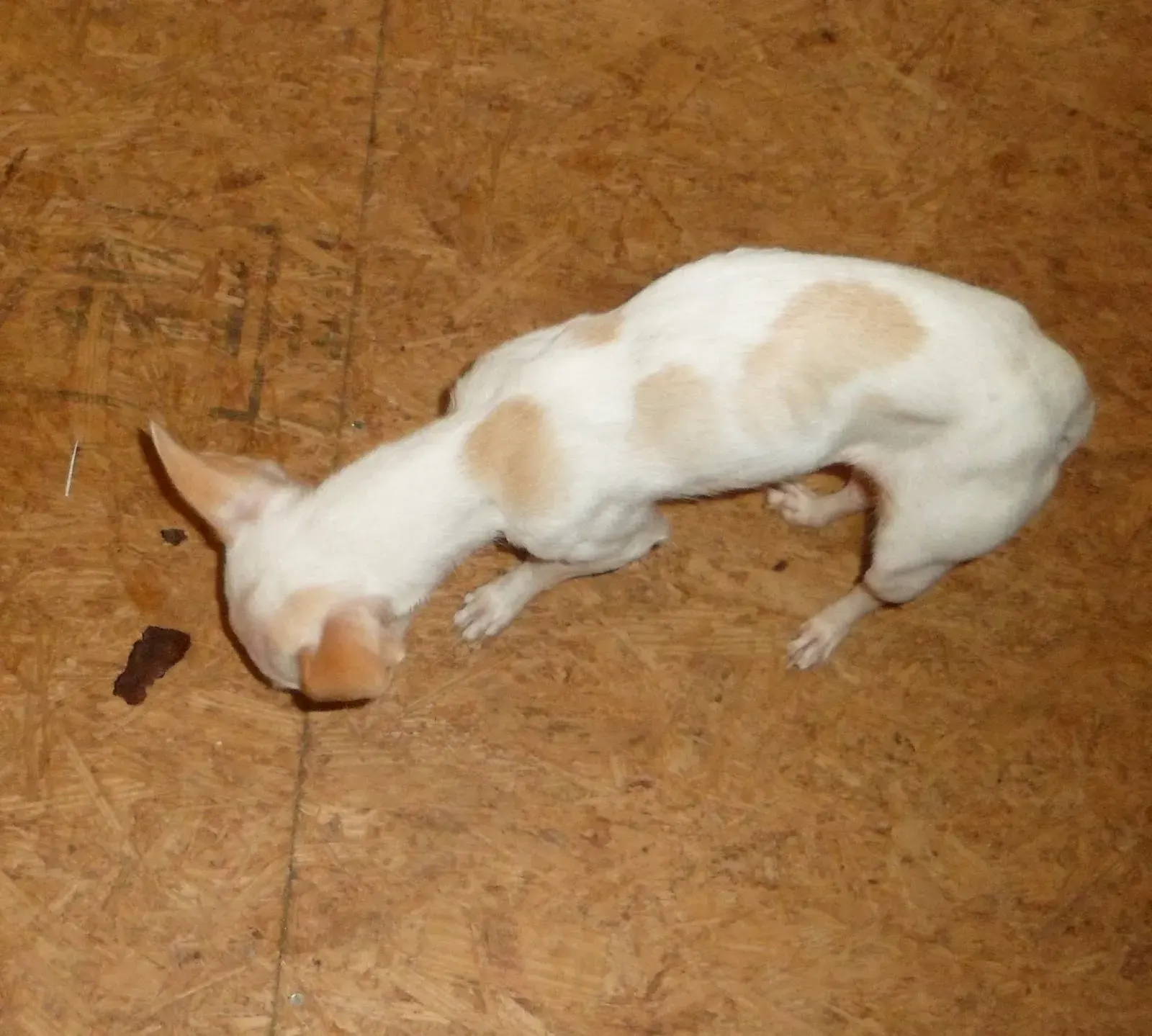 How much does a teacup Chihuahua weigh?
While we're on the subject of Chihuahua weight, Teacup Chihuahuas really is the world's smallest dog. They may weigh less than 5 lb as an adult. Sadly, this diminutive size can give rise to some serious health issues, including heart disease, bone fracturing, and hydrocephalus (fluid on the brain).
A standard-sized Chihuahua will generally have a long lifespan. But the health problems suffered by Teacup Chihuahuas mean that they may live much shorter lives.
While it places an upper limit on weight for Chihuahuas, organizations such as the American Kennel Club do not have a lower limit when it comes to size. So a teacup Chihuahua is still considered to be a purebred example of the breed.
So, what's the average weight of a Chihuahua?
Just like people, if your Chihuahua has got a bit chubby, fewer calories and a bit more activity will soon get your little buddy back to the correct weight allowing them to stay fit, healthy, and active.
If you have yourself a healthy pure-bred Chihuahua, try to keep them within the standard 2-6lb rangeto ensure that they remain healthy.
When all is said and done, every Chihuahua has its own quirks and fluctuations.
So your Chi might be a little bigger or a little smaller than the next Chihuahua, but so long as you're confident in their health and willing to take steps to maintain your Chi's weight and keep them within the breed standards, they will grow up happy!
How much does a newborn Chihuahua weigh?
The average weight of a newborn Chihuahua is an absolutely adorable 2.5-5.5 ounces depending on the size of it's parents. You could easily fit a newborn Chihuahua in the palm of your hand as their tiny delicate frames only measure around 3-4 inches.
How much are Chihuahuas supposed to weigh?
A healthy, full-grown Chihuahua should weigh between 2-6 pounds. They are extremely small, dainty dogs, with slight frames and not a lot of muscle mass. This means they are even lighter than some similar-sized dogs that are more muscular. If you're ever unsure of your Chihuahua's weight, there is no harm in consulting your vet for a professional opinion.
What is the largest breed of Chihuahua?
The largest breed weighs around 10-12 pounds and is known as the deer head Chihuahua.
How heavy was the world's biggest Chihuahua?
Ever thought you'd hear about an over 25-pound Chihuahua? Now you have. Milo is a pure-bred Chihuahua that measures over a foot long and weighs in at 28-pounds. When the large chihuahua weight sits around 6 lbs, Milo weighs almost five times that.
Another factor that is important when considering your Chihuahua's optimum weight is how tall they are. Although no listed height is registered with any major kennel club breed standards, a six-pound Chihuahua should generally be 6 to 9 inches tall. A chihuahua's height is measured from its withers (the top of the shoulders) to the floor. As you would expect, a smaller Chihuahua will have a lower optimum weight, and, of course, taller specimens will be heavier.