Chihuahuas are the world's smallest species of dogs, but they are equipped with wonderful personalities that make them loveable to their owners in unique and interesting ways, with every Chihuahua having a distinct personality.
Their fun-loving nature and longing to be close to their human parents lead them to form strong bonds with their human companions. This love fuels the desire for a human to want to do everything they can to keep their four-legged friends around for as long as possible. But how long do Chihuahuas live for? Let's explore together the average lifespan for a Chihuahua and how to make your Chihuahua live longer.
How Long Do Chihuahuas Live For?
How long your Chihuahua lives will pretty much depends on its breed and health. A completely healthy Chihuahua can live up to 20 years (with standard-sized breeds) so long as you are willing to care for him properly and give them everything he needs to stay healthy.
Bringing a Chihuahua into the family requires commitment over the long term. Regular visits to the vet, 30 minutes of running and playing, and nutritious food should see the Chihuahua living a good healthy life for 15 years or more. Before a Chihuahua is brought into a home you must ask the question if one is ready to be committed to doing what is necessary to keep your Chihuahua healthy and give them a long and happy life. Will a Chihuahua be suitable for the family? If the answer is yes, then go ahead and adopt the Chihuahua which will give all in the family many years of joy and companionship.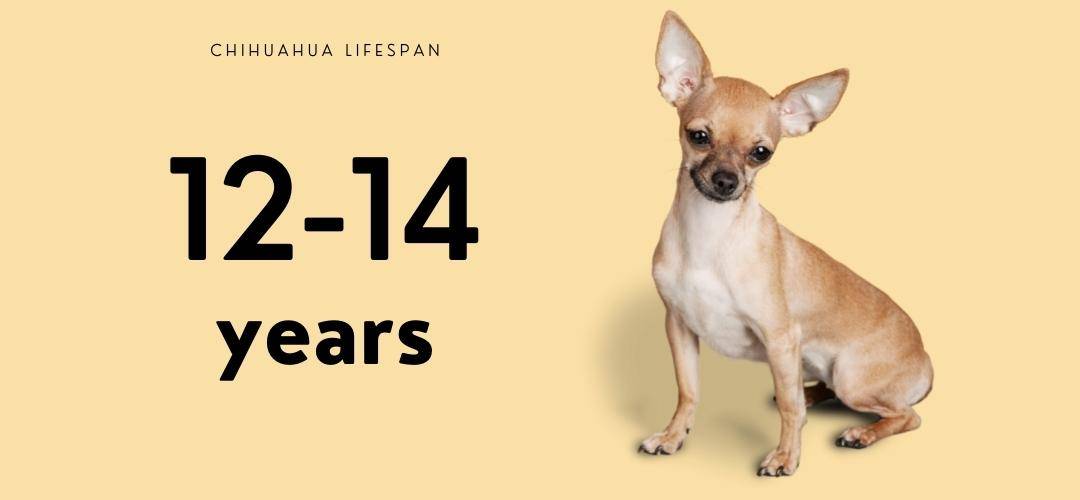 what is chihuahua lifespan in human years?
The general rule is that 1 human years equal 7 Chihuahua years. Chihuahuas are smaller dogs, and therefore they age slower than big dogs. This Chihuahua lifespan in iman years chart to determine how old your Chihuahua actually is: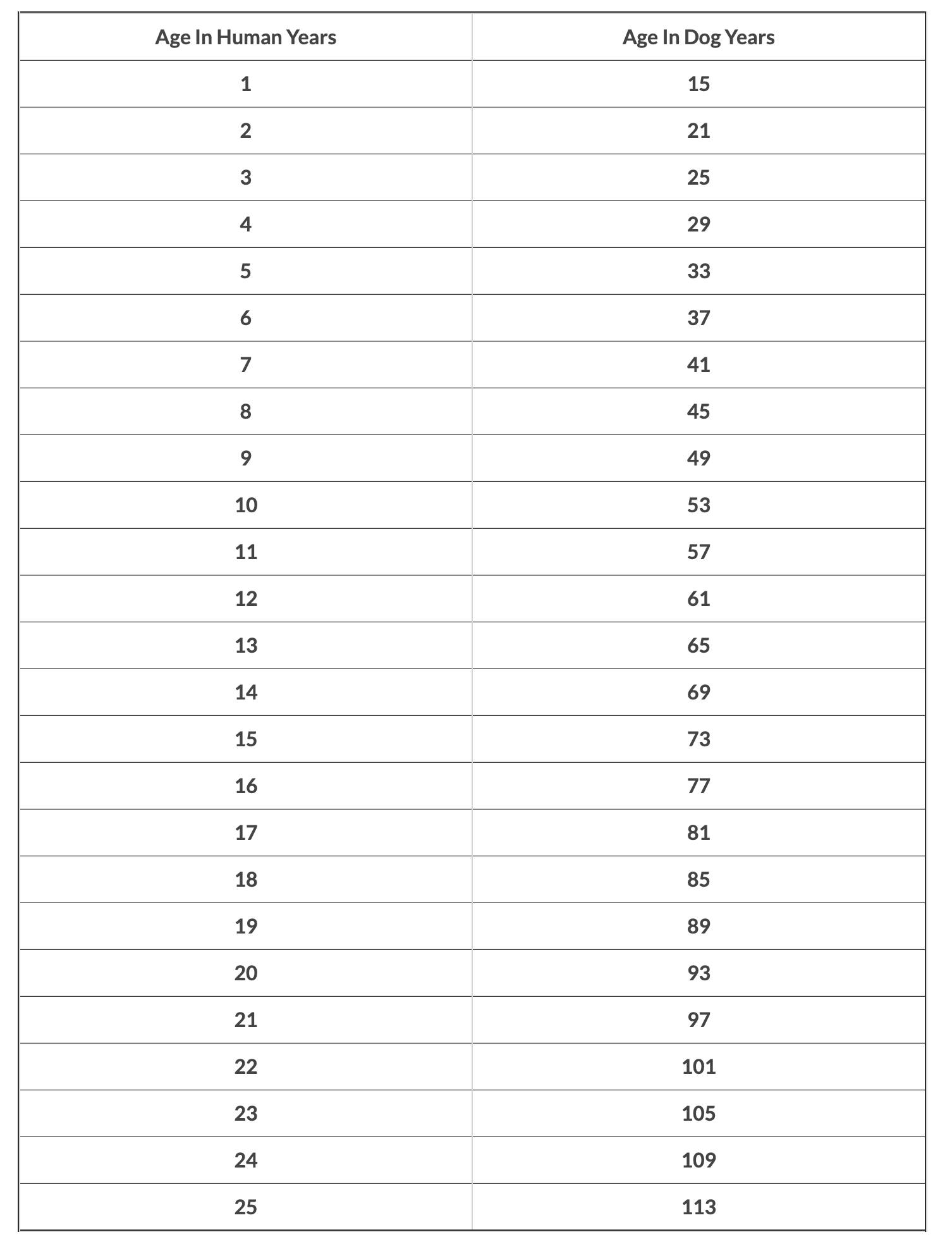 who is the oldest chihuahua in the world?
Officially, Megabyte was the oldest Chihuahua in the world. Born on April 11th, 1993, Megabyte sadly passed away on January 1, 2014, at the tender age of 20,5 years old.(according to the Guinness World Records).

If Megabyte was officially the oldest Chihuahua to ever live, there have been many reports of Chihuahuas living to 22 years old. These were never verified, it's not "on record" which means the paperwork or evidence that prove the dates is lacking. (that's not always possible to provide these things with rescue Chihuahua).
One of them is Maverick, a Chihuahua owned by actor Dermot Mulroney, who is believed to have lived to 22 years old.
If you scroll the internet, you will find few reports of 30-year-old Chihuahuas, but it's difficult to believe these without any proof.
The bottom line is that many Chihuahuas reach 20 years of age, and some of them may live longer than that. It's just hard to prove!
what affects chihuahuas lifespan ?
The lifespan of a Chihuahua typically falls between 10-20 years, but can vary dramatically depending on a wide range of factors including:
- Chihuahua's Breed type
- Chihuahua's Health
- Chihuahua's Lifestyle
- Chihuahua's Parentage and predispositions
- Chihuahua's Previous experiences (specifically with rescue Chihuahuas)
If you're wanting to get a better understanding of the Chihuahua lifespan to better prepare yourself for what lies ahead, you've come to the right place. Here we are going to take a look at some of the key ways in which a Chihuahua's lifespan can be lengthened or shortened depending on the factors listed above.
Breed Type affects Chihuahua lifespan
There are different breed types of Chihuahua such as:
- Mini / Teacup Chihuahuas
- Long-Haired Chihuahuas
- Short-Haired Chihuahuas
- Apple Head Chihauhuas
- Deer Head Chihuahuas
- Pear Head Chihuahuas
- Fawn Chihuahuas
How long do teacup Chihuahuas live? The Teacup Chihuahua breed is estimated to have the shortest lifespan of about 10 to 13 years as compared to the other breeds on the list that have an average lifespan of around 15 to 20 years. Compared to many other dog species this is quite a long life span, with Chihuahuas living longer than many other larger dogs.
How long do Chihuahua mixes live? Chihuahua mixes have a lifespan of about 13 to 16 years.
How long do long-haired Chihuahuas live? On average, long-haired Chihuahuas lifespan is about 14 to 20 years.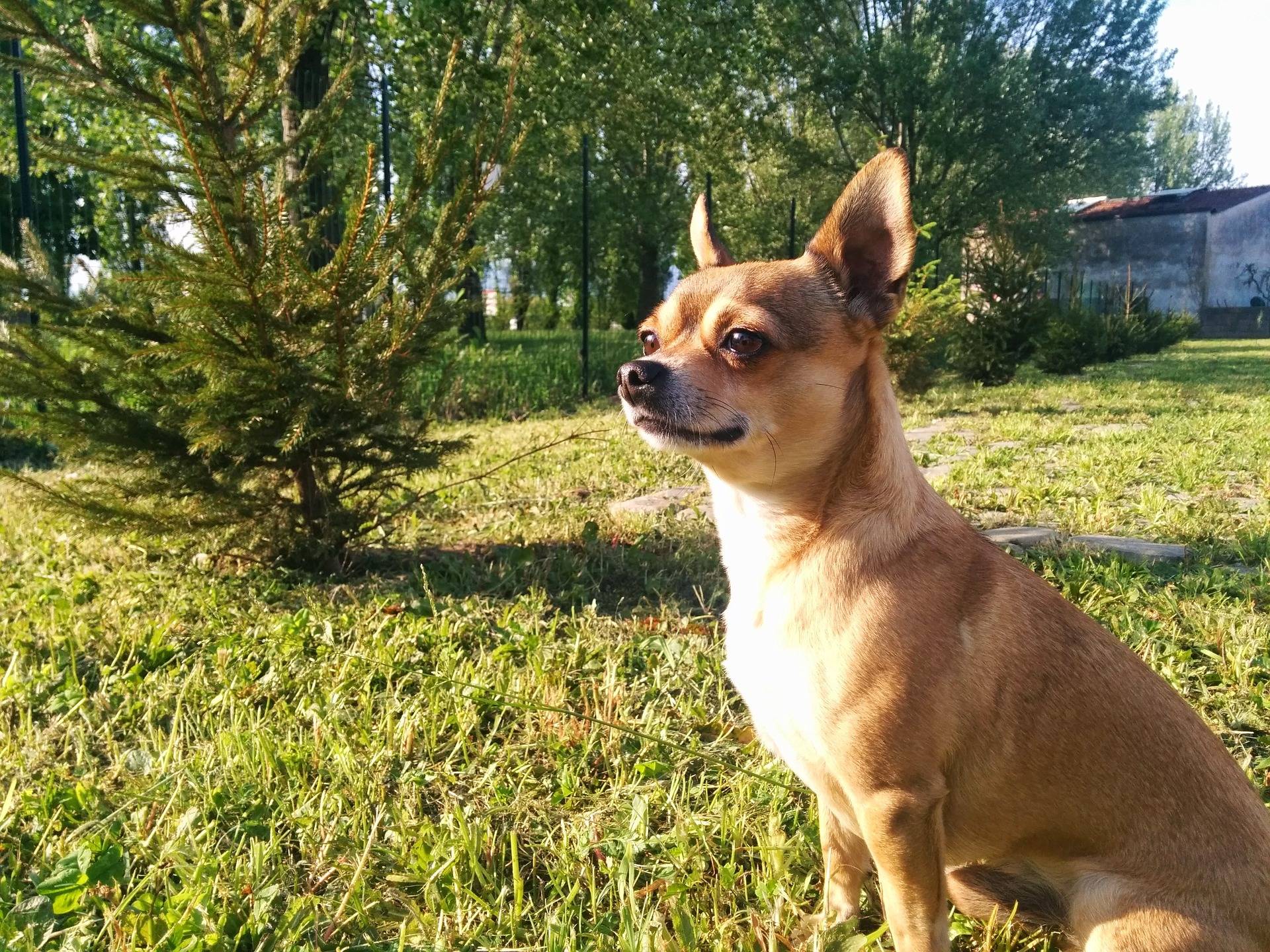 Health problems AFFECT CHIHUAHUAS LIFESPAN
Chihuahuas suffer from Cataracts
At any stage of life, cataracts can form, causing mild to severe sight reduction due to misting of the lens. This could put the Chihuahua in danger of injury if they are unable to see their surroundings properly.
Chihuahuas suffer from Patella
This condition causes severe joint problems which in the worst long-term cases may mean the Chihuahua having to be put to sleep if they lose their quality of life.
Chihuahuas suffer from Worms
Chihuahua puppies are more likely to be affected by worms due to environmental exploration which could result in the spread of unwanted bacteria. Worms can be easily treated with medication but should be avoided by careful monitoring if your Chihuahua has a habit of wandering into high-risk areas.
Chihuahuas are Delicate
Their delicate immune systems if not properly cared for can also make them susceptible to eye infections such as hypoglycemia and lung infections such as bronchitis. However, it is possible to bolster the immune system with the proper diet and exercise routine.
Chihuahuas suffer from Molera
Chihuahuas also have issues with the development of their skulls that fail to form fully resulting in a condition called molera or 'soft spot' at the top. This condition seems to be common in Chihuahuas. Chihuahuas with heads shaped like an apple are the ones with a greater chance of the molera condition.
When the bones of the skull do not fuse together, the dog can suffer from brain trauma due to inadvertent eternal pressure being put on the head at that spot when the Chihuahua is playing with its companions or children or jumping down from the couch rod the arms of the pet owner. These spots on the head need to be protected.
Chihuahuas suffer from Dental Problems
Chihuahuas are very likely to develop dental problems as they age, because of the long lives that they live. Though dental problems may not be life-threatening, they can wreak havoc on a Chihuahua's quality of life as it hampers their ability to eat properly. This in turn may cause serious health issues. This illustrates the need for good dental hygiene for your Chihuahua.
Chihuahuas suffer from Obesity
Obesity in Chihuahuas can lead to health problems where the heart, the liver, or the kidneys get affected. These conditions can lead to a shortened life. It is advisable to watch the waistline of your Chihuahua and to make sure that they stay fit. Feeding your Chihuahua a controlled diet and giving it plenty of exercise will make sure it remains within the ideal weight range. Chihuahuas may have a tendency to fuss over food but they can also eat too much if left to their own devices.
Chihuahuas suffer from Diabetes
This affects the Chihuahua's ability to properly process its food and may also have an impact on their energy levels which, in turn, can lead to obesity and joint problems. Some Chihuahuas are born diabetic, while others can develop it over time. It can be treated with medication or even a precise diet. But severe diabetes does stand a chance of shortening your Chihuahua's life if it's not properly monitored and managed.
Chihuahuas suffer from Arthritis
As the Chihuahua ages, it may develop arthritis. The cartilage in the joints wears down and the Chihuahua experiences extreme pain. The Chihuahua's quality of life is reduced and it may go into depression. Exercise is difficult with this condition and eventually, other complications can set in shortening the life span of your Chihuahua.
Chihuahuas suffer from Hypoglycemia
Hypoglycemia is another condition that if left untreated can be fatal. However, if treated promptly this condition isn't problematic and the Chihuahua can go on to live a long life.
Chihuahuas suffer from Hydrocephalus
Some Chihuahuas are born with a condition known as hydrocephalus, which means spinal fluid has built up in the brain. The condition is recognized with the dog having a swollen head. Chihuahuas born with hydrocephalus don't live beyond four months of age. If the Chihuahua has a mild case of hydrocephalus, then it can be treated with steroids.
Chihuahuas suffer from Heart Conditions
Chihuahuas are vulnerable to heart conditions that can shorten their lifespan. Heart murmurs can be treated with medication and may not necessarily be a problem. Other heart problems will require the dog to be less active and this will limit the amount it can exercise thus affecting the quality of its life and perhaps the number of years it can live. Heart conditions can be made worse by constant exposure to cold environments and excessive stress on the body so be mindful of your Chihuahua's environment at all times.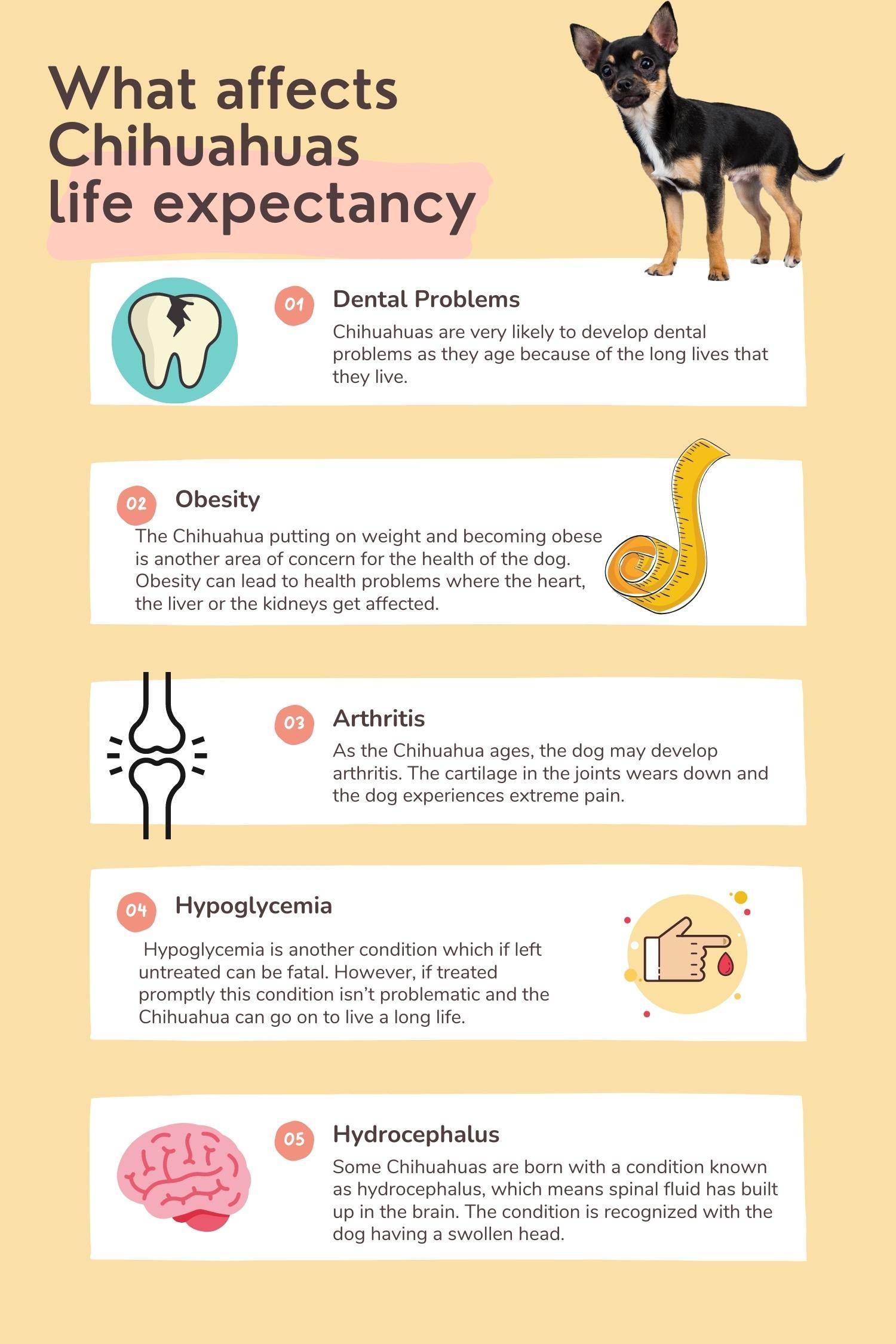 Lifestyle AFFECTs CHIHUAHUAS LIFESPAN
The lifestyle of your Chihuahua is a crucial element to ensuring their health and wellbeing long-term. "Lifestyle" encompasses multiple areas of a Chihuahua's upbringing from food to exercise and is one of the biggest influencers on a Chihuahua's life expectancy. Each aspect of a Chihuahua's lifestyle has its own benefits:
Food & Diet Make Chihuahuas live longer
The best dog food for Chihuahuas will provide them with adequate protein to ensure full muscular recovery after an active day, as well as provide the correct level of protein for proper muscle development. The food will also contain fiber to encourage healthy digestion and a plethora of vitamins and minerals to boost various areas of your Chihuahua's body such as the immune system, sight, hearing, joints, digestion, cognitive function, and much more.
Without the proper diet, a Chihuahua's life expectancy can be significantly reduced as it can result in the onset of various conditions that can affect their ability to move freely. This will have a knock-on effect on their exercise regime. Additionally, a lack of vitamin and mineral content in a Chihuahua's diet can stunt their growth and potentially cause permanent damage.
Exercise Makes Chihuahuas live longer
Fitness is key to encouraging healthy digestion which in turn has an impact on your Chihuahua's overall health as a healthy digestive system enables them to absorb the nutrients they are getting from their food. Furthermore, a steady and repetitive exercise regime will ensure your Chihuahua stays fit and strong, as well as provide them with a much-needed release for their energy which results in lifted spirits and better mental health.
Rest Makes Chihuahuas live longer
You need to make sure your Chihuahua is getting adequate rest between exercise sessions to allow its body to fully recover before they head back out. Without the right kind of rest, your Chihuahua is not only more likely to crash and burn after repeated exercise, but the lack of rest can begin to wreak havoc on their mental state.
Home Amenities Make Chihuahuas live longer
A happy Chihuahua is made not only by the love of its owners but by the care they put into giving them a comfortable life. Home amenities don't need to be elaborate, but they do need to be considerate. To keep your Chihuahua living a good life, you should ensure they have a comfortable and supportive place to sleep, and that they feel safe and secure when it comes to resting periods.
If they feel exposed, your Chihuahua is more likely to become stressed, which will put a long-term strain on their mental health and physical wellbeing. Something that can shorten your Chihuahua's lifespan in the long run.
Chihuahua Parentage & Predispositions AFFECT CHIHUAHUAS LIFESPAN
It could be that your Chihuahua has inherited a condition or genetic defect from one of their parents which causes them to be predisposed to developing certain complications in their life. This could be one of the parents being blind, deaf, or perhaps severely affected by a physical deformity or ailment that is likely to be genetically inherited.
Past Experiences AFFECT CHIHUAHUAS LIFESPAN
This is more specifically aimed at rescuing Chihuahuas. When you rescue a Chihuahua, there's no guarantee that you're going to know exactly how old they are - especially if they have lost their teeth and are incapable of being aged via examination. Therefore you're left to figure out how old your Chihuahua is based on their behavior and overall look. However, if they've been through a lot in their life they may look or act a lot older than they are.
Additionally, rescue Chihuahuas often struggle with behavioral problems as a result of their past life. These behavioral problems are ordinarily the result of emotional distress and scarring that they have accumulated after prolonged abuse. That same prolonged abuse can result in permanent injuries not only physically, but mentally. It is possible for a rescue Chihuahua to live a long and happy life in its new home, but you should keep in mind that a rescue pup might not live as long as their purchased-as-puppies counterparts.
Tips to Make Your Chihuahua Live Longer
It is not possible for the owners of Chihuahuas to protect them from every kind of ailment, but many can be prevented or their severity limited thus ensuring your beloved Chihuahua leads a fairly healthy and long life.
A good way to protect your Chihuahua from potential ailments is to get them vaccinated as advised by the veterinary doctor and keep the vaccines up to date with yearly boosters where needed. Disease caused by the parvovirus is very contagious and can be fatal, so be sure to have your Chihuahua puppy vaccinated as soon as possible to avoid disaster. Distemper is another fatal contagious virus that affects respiration, the intestines, and the nervous system.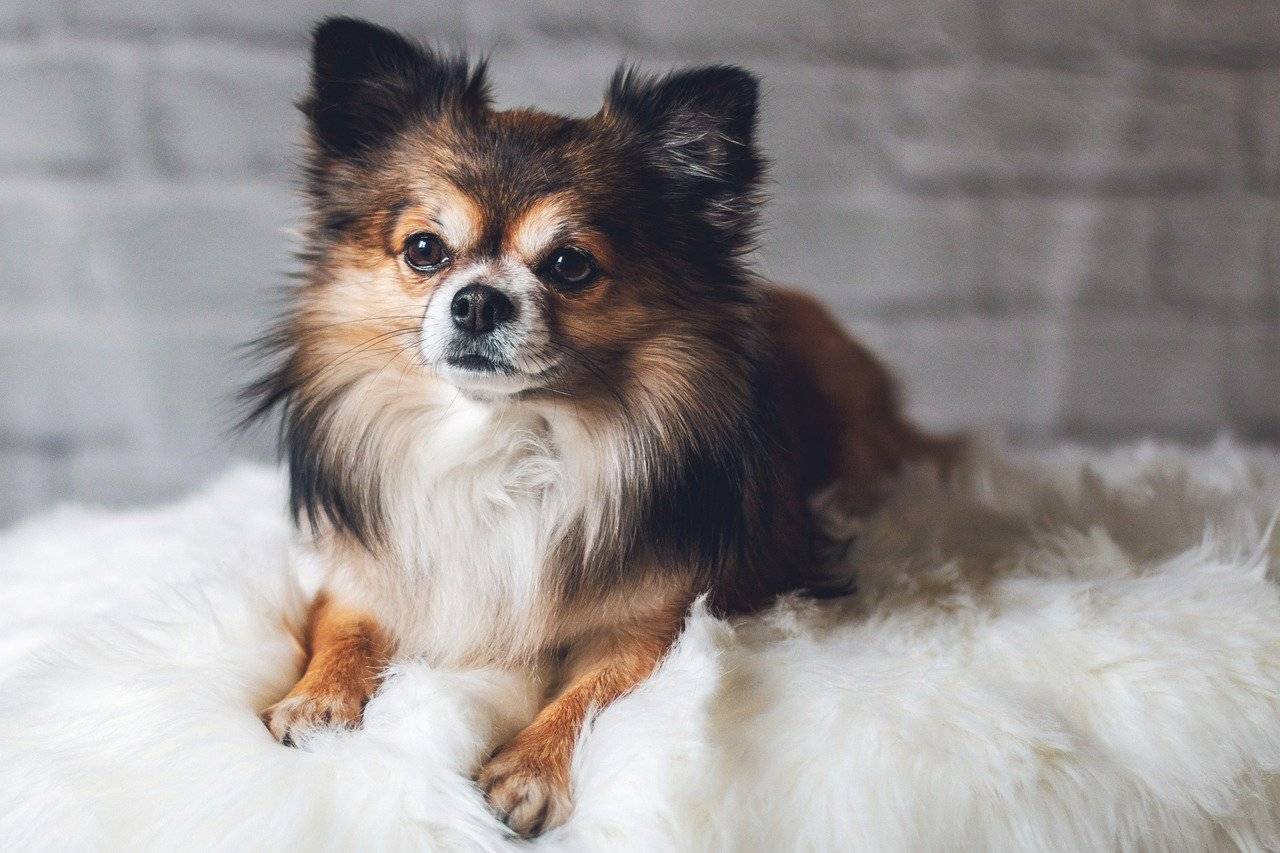 Fitting your Chihuahua with a tagged dog collar is also important as they may run off chasing another dog or small animal such as a squirrel whilst you have your back turned if they have a particularly unruly personality streak. For similar reasons, it would be advisable to keep them on a leash. Chihuahuas can get distracted or excited easily by many things while being walked and there could be a chance of it being run over.
Chihuahuas don't need to be walked as vigorously as the larger breed of dogs, but they still need to be taken out for a walk every day. Exercise for them is important so they can live to the full term of their lives.
In the winter months, cladding them with a winter coat will prevent them from catching a cold and falling ill. Give them a warm bed, preferably with anxiety-reducing properties to keep them feeling safe and secure. Try and avoid letting them climb on furniture and up or down stairs to keep the pressure off their joints.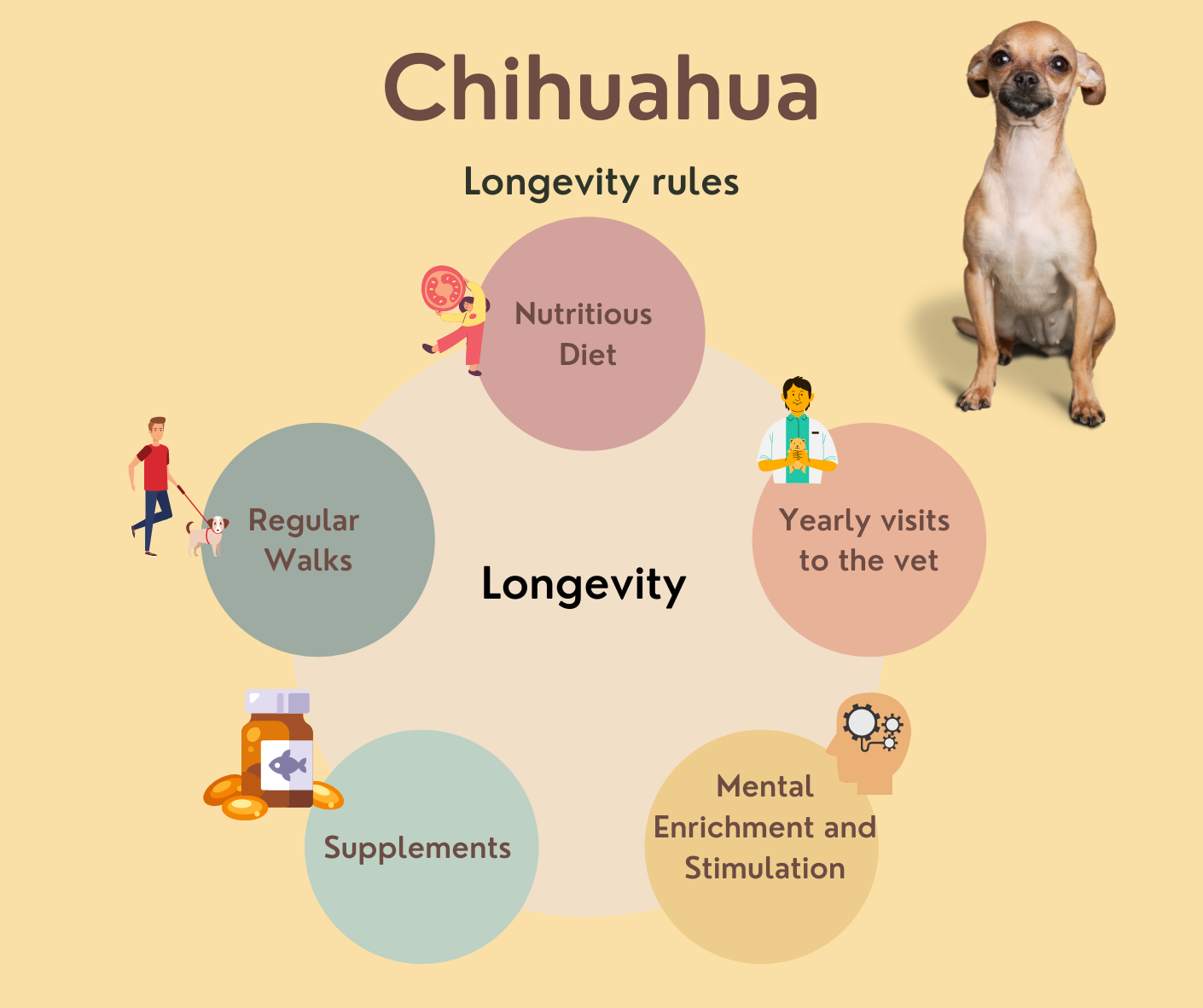 Q: How long do chihuahuas usually live?
A: Chihuahuas can live anywhere between 10 and 20 years depending on their specific breed, health, and lifestyle. In this article, we have gone into better detail about the various ways in which a Chihuahua's lifespan might be affected.
Q: Why do chihuahuas live so long?
A: Though they may have an unusual appearance and look deceptively frail, Chihuahuas are a resilient breed originally bred, not only as companions but as rodent hunters. As a result, they know how to be quick on their feet, avoid danger, and seek safety in areas that are otherwise unavailable to larger predators. Their natural instinct for self-preservation can be a big help in keeping them alive for longer. That and the fact that they are generally much healthier than you might think.
Q: How long do apple head chihuahuas live?
A: Applehead Chihuahuas are relatively long-lived with a life expectancy of around 14-16 years.With some healthy adult Appleheads living closer to 20 years!
Q: how long do chihuahuas live in human years?
We are often asked how long do Chihuahuas live for in human years. If Chihuahuas were humans, they would have a life expectancy of about 69-96 years.