How Fast Can Chihuahuas Run? (Faster Than You Think)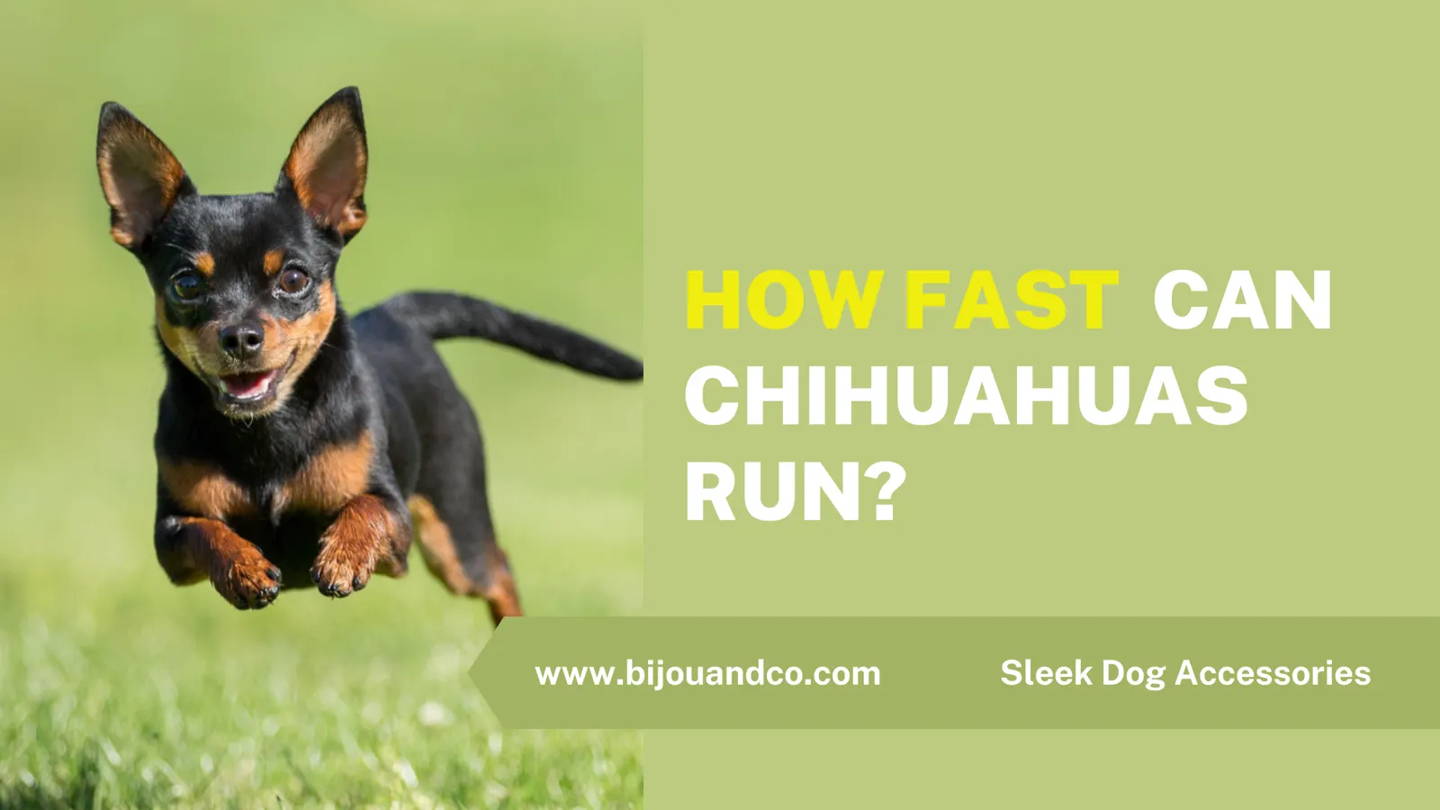 Dog running speeds have been timed by humans for many years. The main focus of which has been on larger, sportier breeds such as Greyhounds or German Shepherds. But how fast can a Chihuahua run? With such tiny legs and delicate things, one might be led to believe that Chihuahuas are not very quick at all.
However, these playful pups are far faster, relative to their size, than one might be led to believe. Here were going to take a look at the physiology of Chihuahuas and how it might assist them in becoming such speedy little pooches.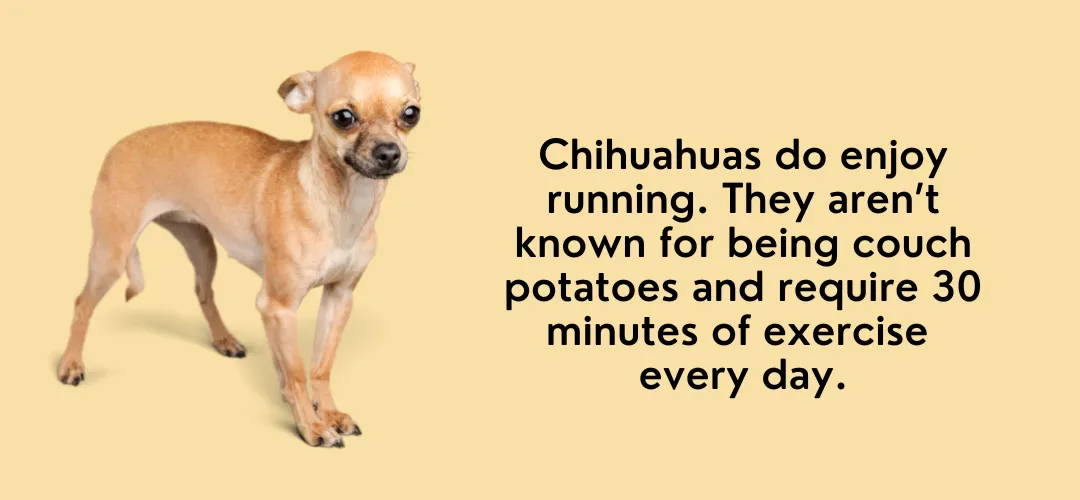 Do Chihuahuas like running?
Chihuahuas are often thought of as small, quiet dogs that are content to lounge around the house all day.
However, this breed is actually quite energetic and needs plenty of exercise to stay healthy and happy. Like all dogs, Chihuahuas love to run and play. However, due to their small size, they need a bit less exercise than larger breeds.
A good rule of thumb is to provide your Chihuahua with at least 30 minutes of exercise per day. This can be in the form of a brisk walk, a game of fetch, or even just some running around in the backyard.
With regular exercise, chihuahuas will stay fit and healthy, and they will be less likely to become bored or destructive. So if you're thinking of getting a Chihuahua, be prepared to give them the exercise they need.
What is the real Chihuahua speed?
A running Chihuahua has an average top speed of around 8-10 mph. Even though they may not run as fast as some of the other breeds, they still have a natural running ability that comes with the benefits of being quadrupedal creatures.
Once their bones and muscles have fully developed Chihuahuas are highly capable, agile, and light-footed runners. Chihuahuas can even be trained to run alongside you as part of their daily exercise regime. Running is an excellent physical form of exercise which also helps keep Chihuahuas fit, lean, healthy, and happy.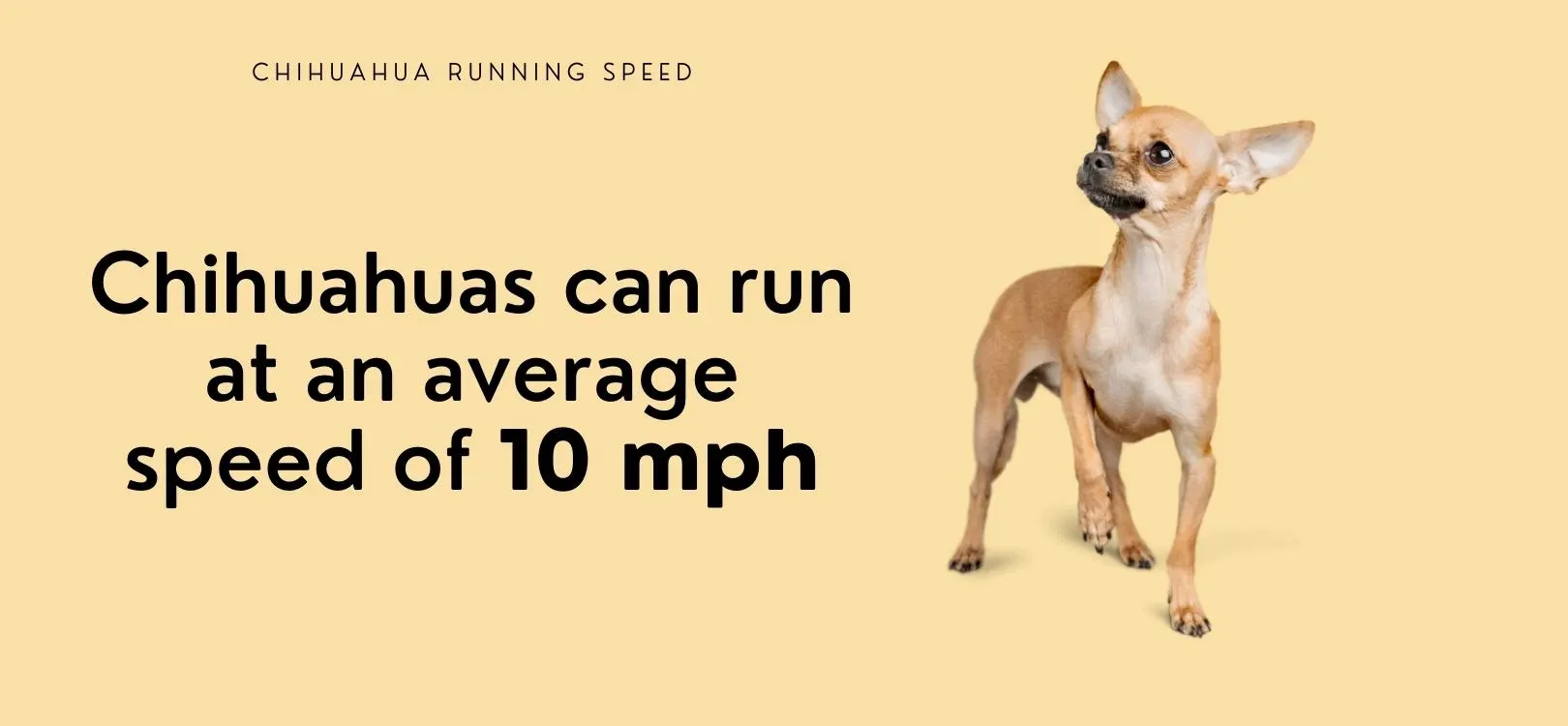 Can Chihuahua be trained to run faster?
Researchers have found that many dogs can be trained to run faster. However, an important thing to do before you consider starting to train your Chihuahua to run faster is get them evaluated by a veterinarian.
Chihuahuas can be trained to do many different things, including running faster with agility training. Agility training is a type of training that helps dogs to improve their speed, coordination, and endurance. It is a great way to exercise your Chihuahua and help them to stay fit and healthy.
There are many benefits to agility training for Chihuahuas, including helping them to become more confident and socialized. If you are interested in training your Chihuahua to run faster, consider enrolling them in an agility class.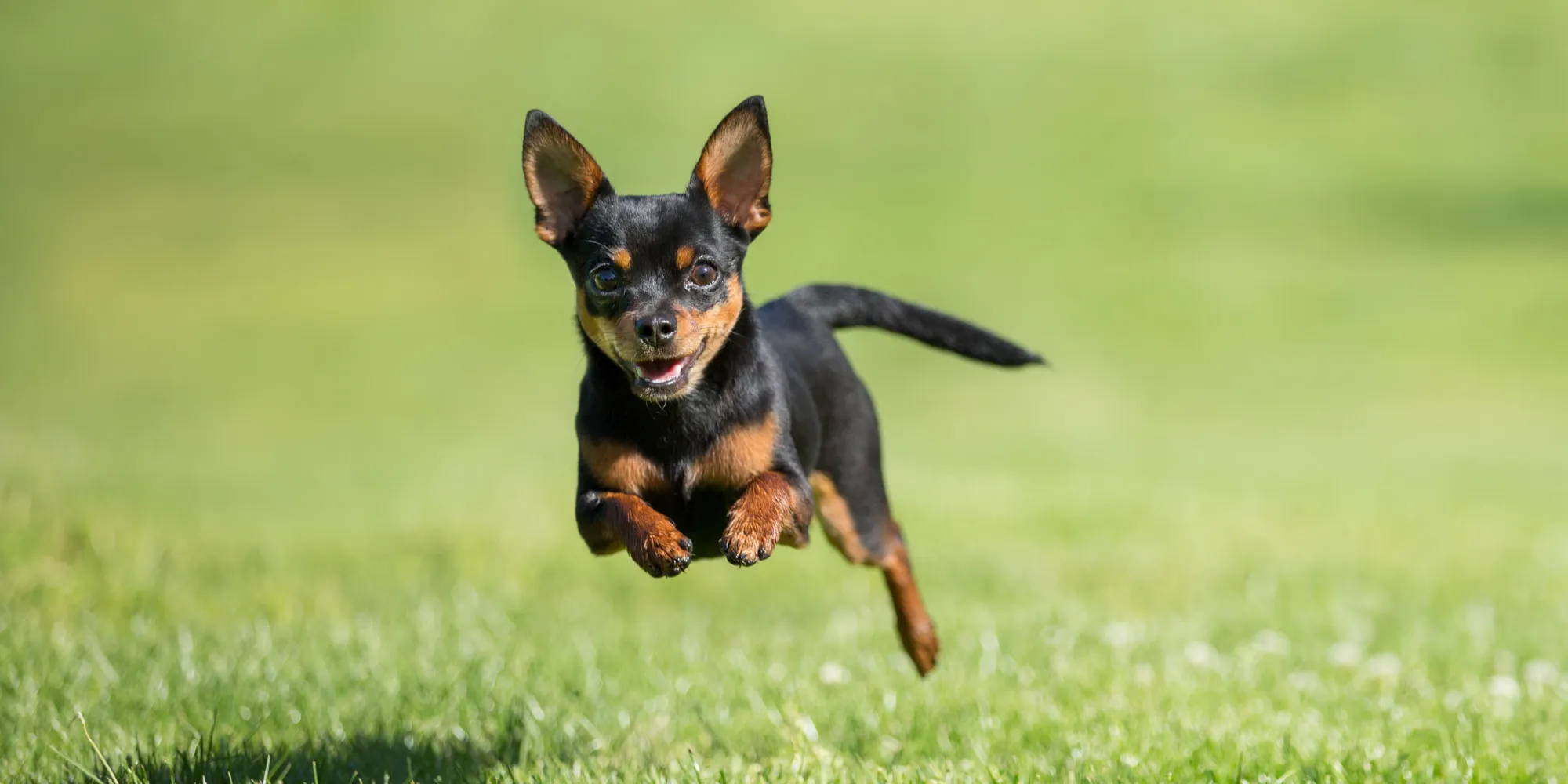 Tips for training a Chihuahua to run faster
Make sure when your Chihuahua goes for a run, you choose a natural surface such as grass or dirt instead of concrete since natural surfaces have less impact and are much easier on their joints.

Choose a time of the day when it is cooler such as early mornings or evenings to take them for a run since a Chihuahua's tiny feet could be injured if they run on hot concrete or asphalt surfaces. Cooler temperatures could also help them run over longer distances as they're less likely to experience heat exhaustion.

Alternate your training sessions between walks and short running sessions. Once they start getting used to these sessions, they gradually increase the running distance and speed.
How fast can a Chihuahua go after agility training?
While all Chihuahuas are fast runners on short distances, those that have undergone agility training can reach particularly high speeds. In general, Chihuahuas can run up to 15 miles per hour.
However, with proper training, they can reach speeds of up to 30 miles per hour.
This makes them one of the fastest breeds of dog in the world. When it comes to agility trials, Chihuahuas typically compete in the "small dog" category. However, their speed and agility often belie their size, and they often outperform larger breeds.
In fact, Chihuahuas have won the majority of agility trials held in the United States since 2000. This just goes to show that when it comes to speed and agility, size doesn't always matter.
Running tips for Chihuahua owners
It's one thing to want to speed up your Chihuahua's top running speed, but before you can start looking to do that you need to establish their physical capabilities.
Therefore, we have put below are a few tips that can help you establish a good exercise routine and better understand what your Chihuahua is able to do. By following these tips to establish a simple routine first, you can avoid any potential complications in the future when it comes to agility training.
Use a harness for your Chihuahua
It is always better to use a harness than a leash for Chihuahuas when they are running, since they are prone to tracheal collapse. This occurs when their windpipe gets obstructed because the cartilage around the neck becomes weak and collapses.
So long as your Chihuahua is comfortable, they will be able to focus on understanding their bodies, how they can move, and general dexterity practice that is integral to them learning new agility skills.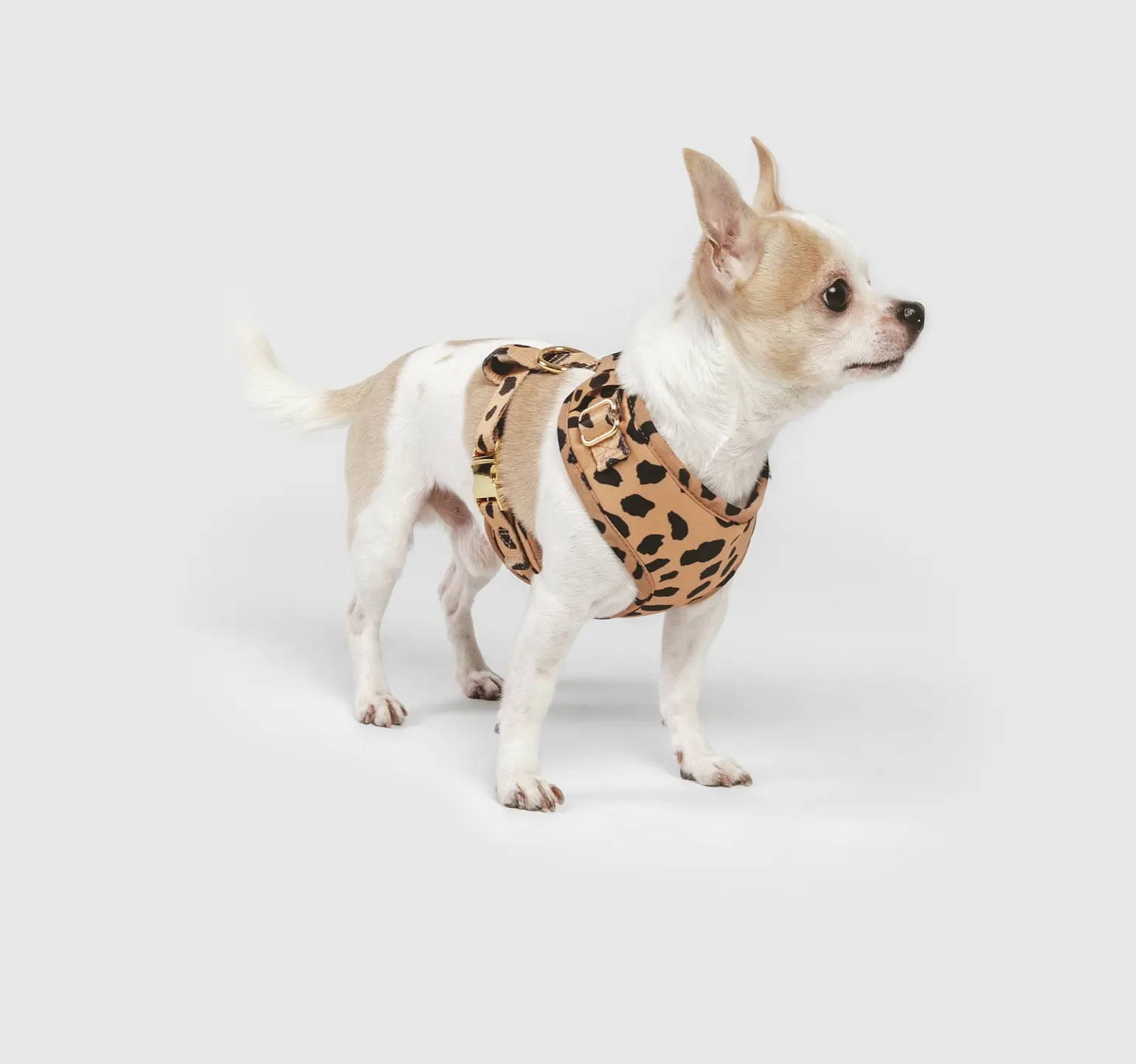 Let your Chihuahua run at the dog park
Chihuahuas should be given the opportunity to meet dogs of all sizes regularly throughout their lives - particularly in the early socialization stages. By taking your Chihuahua to the dog park you not only allow them to socialize, but they may find themselves running around and playing with other dogs.
A good run around the dog park will encourage a playful competitiveness in your Chihuahua that can be tapped into during agility training. Not only that, but if your Chihuahua runs quickly with larger dogs, it may encourage their initial top running speed to be faster than the typical average.
Train your Chihuahua on recall
Chihuahuas are much bolder characters than many people realize. As a result, it's a good idea to train your Chihuahua on recall as early as possible. If you can refine their recall skills and get them to respond to you quickly and easily, it will make any new training that they undertake far simpler for the both of you.
Agility training relies heavily on them responding to every command that they are given. If your Chihuahua is unwilling to listen to you, then you don't stand much chance of getting them to respond well to their new training regime.
How far can a Chihuahua walk?
There is no set distance that a Chihuahua can walk. This depends on their physical health and fitness level. However, the recommended amount of time to exercise a Chihuahua by walking is around 20 to 30 minutes. At an average walking speed that is around 1.5 to 2 miles.
Can Chihuahuas walk long distances?
It depends on what you would consider to be long-distance. The general recommendation Daily Chihuahua walking exercise is around half an hour which averages roughly 2 miles. It is possible for some Chihuahuas to walk longer than this depending on their fitness and physical ability. However, you must be mindful not to overwork your little pup.
Can a Chihuahua outrun a human?
The answer, unfortunately, is not as simple as a yes or no. While Chihuahuas are certainly fast dogs, they are not necessarily built for long-distance running. Their legs are relatively short, which means they have to work harder to maintain their speed over long periods of time.
In addition, Chihuahuas are prone to dehydration and heatstroke, so they need to be careful not to over-exert themselves in warm conditions. However, if a Chihuahua is in good health and has plenty of motivation, it is certainly possible for them to outrun a human over short distances. So if you're ever being chased by a chihuahua, make sure to give them a head start!
Chihuahuas are small dogs, and as such, they are not built for long hikes. Their short legs and bodies are not designed for long-distance walking, and their small feet can easily get sore on rocky terrain.
Additionally, Chihuahuas are prone to heat stroke, so it is important to keep them hydrated and cooled down if they are going to be hiking in warm weather. However, Chihuahuas can still enjoy a short hike on gentle terrain. Just be sure to take it slow and watch for signs of fatigue or discomfort.