Do Hairless Chihuahuas Exist? Separating Facts From Fiction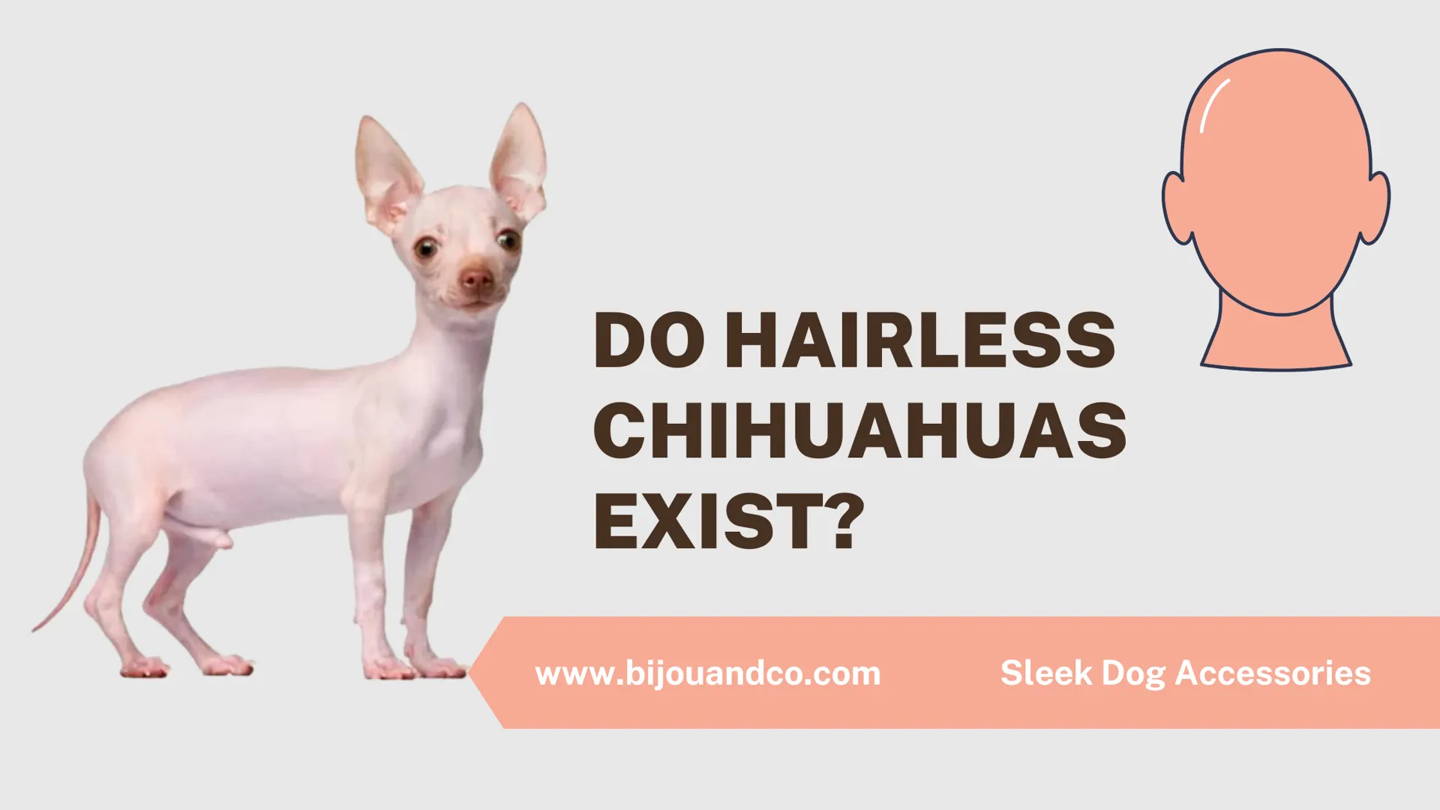 By definition, the hairless Chihuahua is a type of Chihuahua that does not have any hair. That bald Chihuahua is a result of a genetic defect that causes the Chihuahua to be born without hair. This hairlessness of the Chihuahua can be either partial or complete, and it can affect both the body and the head of the pup.
The hairless Chihuaha is not a new breed, and it is not currently recognized by any major kennel club. Despite its lack of hair, the hairless Chihuahua is just as active and playful as any other Chihuahua.
However, it is important to note that hairless Chihuahua are more susceptible to cold weather and sunburn, which means they require special care and attention.
Hairless Chihuahuas don't shed
One of the advantages of Hairless Chihuahuas is that they don't shed. This is due to the fact that they have no hair, which means that they can't lose hair as other dogs can. This also means that they don't have to be groomed as often, which can save time and money.
Additionally, hairless Chihuahuas are less likely to trigger allergies in people who are allergic to dogs. They are also less likely to carry fleas, mites, and other parasites. If you're looking for a low-maintenance dog, a hairless chihuahua may be the right choice for you.
Hairless Chihuahuas are always cold
A hairless Chihuahua's lack of hair means they are always cold.
While this may not seem like a big deal, it can actually be quite dangerous for them. Without hair to provide insulation, hairless Chihuahuas are susceptible to hypothermia. This can be a hassle for owners who have to constantly put clothes on and take them off their bald Chihuahua.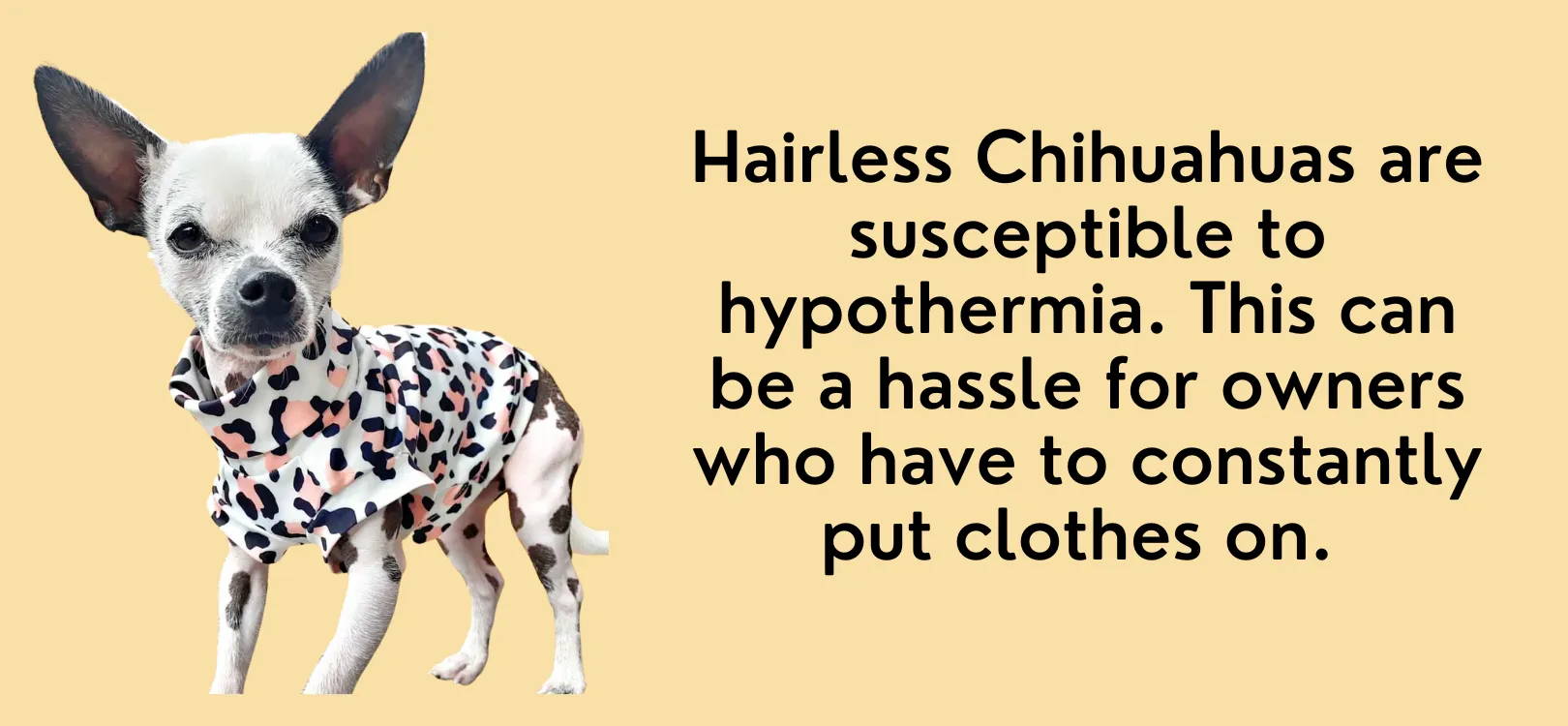 Hairless Chihuahuas get burnt easily
Hairless Chihuahuas are a type of Chihuahua that does not have any hair. This can be a disadvantage because they can get sunburns more easily than dogs with hair. Dogs with hair have a layer of protection from the sun, but hairless Chihuahuas do not.
This means that bald Chihuahuas are more likely to get sunburned if they are exposed to direct sunlight for too long.
Sunburns can be painful for Chihuahuas and can cause their skin to peel. If you have a hairless Chihuahua, it is important to be careful about exposing them to the sun and to put sunscreen on them if they will be in the sun for an extended period of time.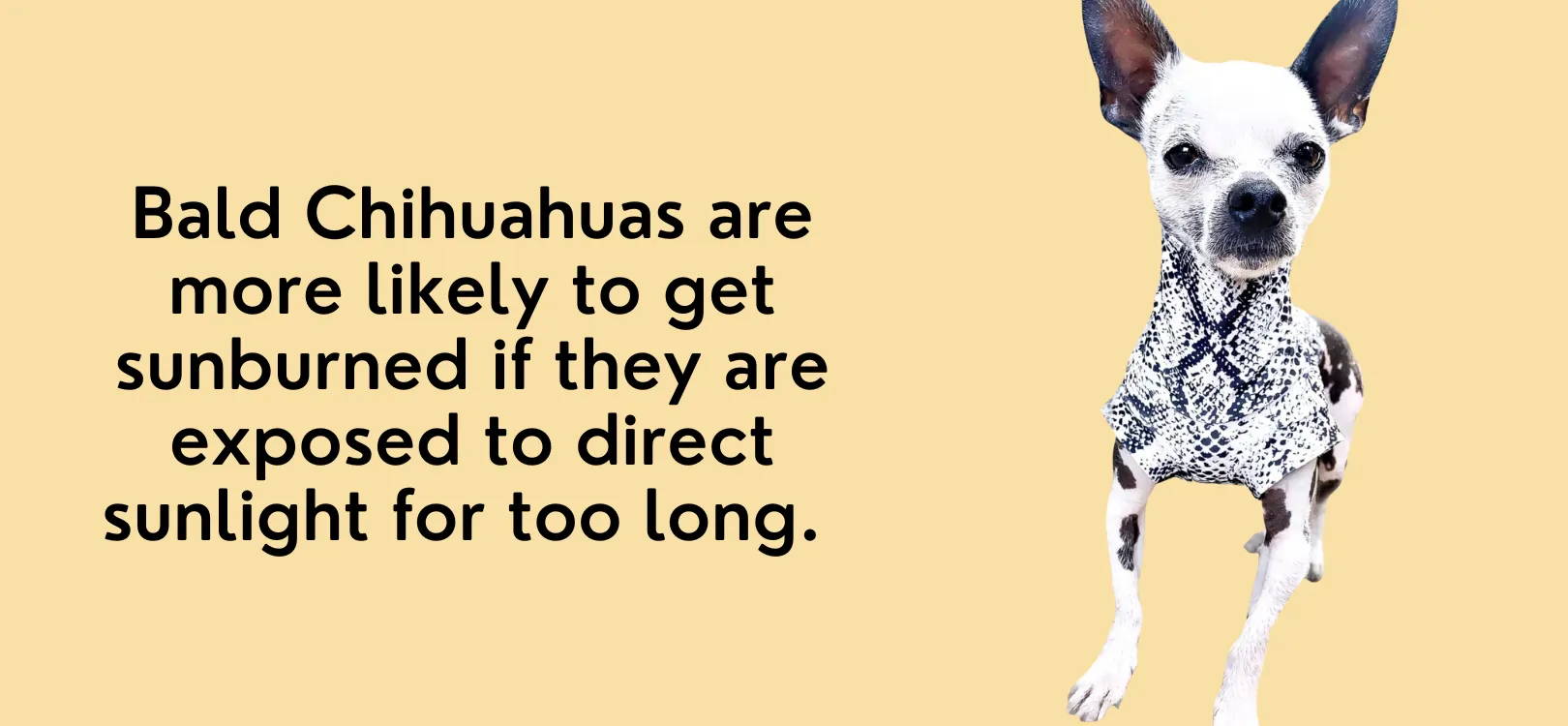 Hairless Chihuahuas get skin cancer
Hairless chihuahuas are at a higher risk for developing skin cancer than their furry counterparts. This is because they don't have the same level of protection from the sun's harmful UV rays.
Without hair to cover their skin, hairless Chihuahuas are more likely to sunburn, which can lead to skin cancer. If you have a hairless Chihuahua, be sure to use sunscreen on them when they're outside, and keep them out of the sun during the hottest hours of the day.
You should also check your hairless Chihuahuas skin regularly for any changes or new growths that could be cancerous.
By taking these precautions, you can help reduce your hairless Chihuahua's risk of developing skin cancer.
Hairless Chihuahuas need to be bathed
Unlike other dogs, hairless Chihuahuas lack a coat of fur that helps to protect their skin from the elements. As a result, they are much more susceptible to dirt and grime build-up.
For this reason, hairless Chihuahuas require more baths than their furry counterparts. In addition, it is important to use a mild shampoo on hairless Chihuahuas, as their skin is much more sensitive than that of other dogs.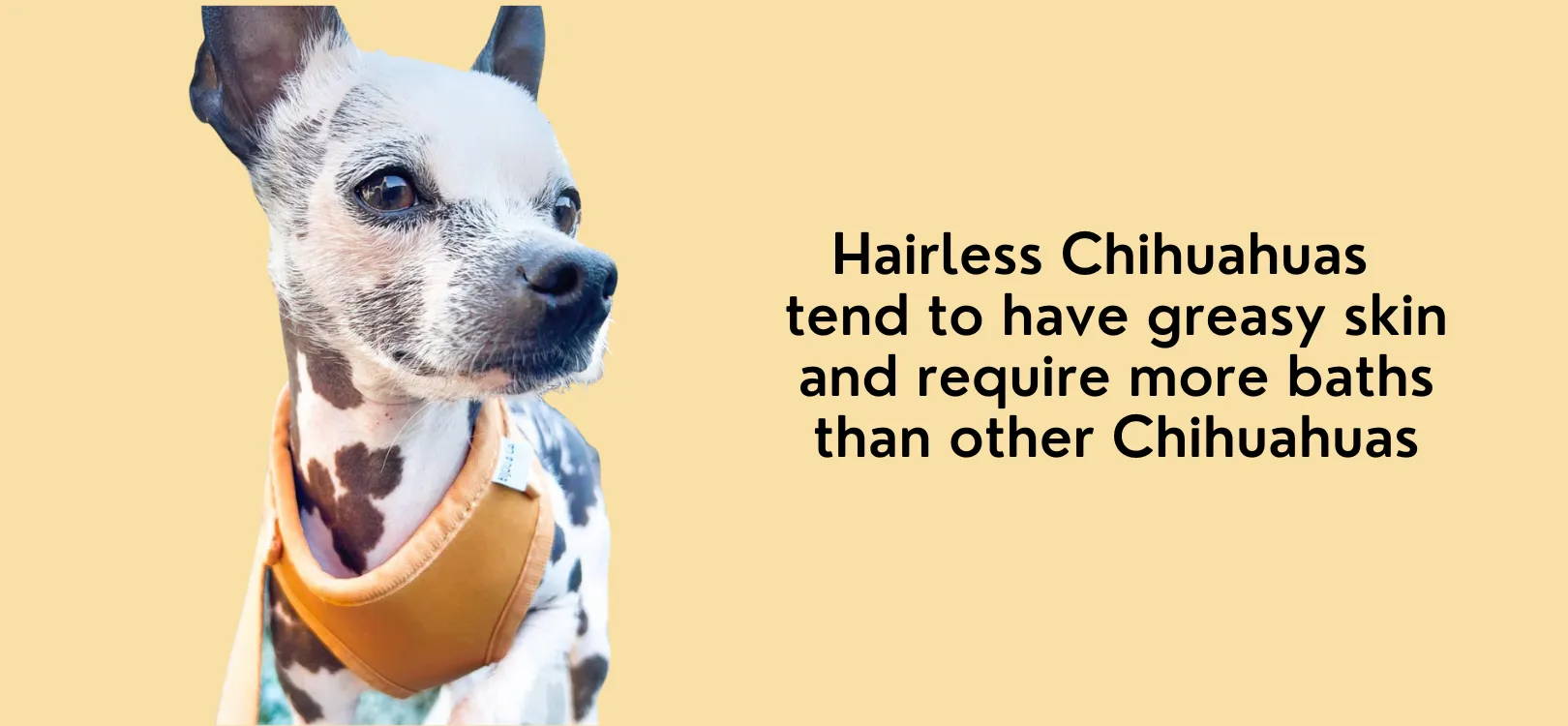 Meet 3 adorable hairless Chihuahuas
Are you tired of facts and genetics? We are too. Let's shift our focus to real-life dogs!
This is Noche, a charming hairless Chihuahua mix. Resembling a miniature, hairless Dalmatian, Noche's appearance is striking. Despite his mischievous nature, Noche's cuteness makes up for any trouble he may cause.
Hermine and Alma are hairless Chihuahua mix sisters who live in Norway. They were "happy accidents" and have a mix of Chihuahua, Chinese Crested, and Maltese. These adorable love bugs enjoy going on adventures.
Cricket is a cute Chihuahua Xolo mix living in Washington with her mom and siblings. She loves fashion, always wearing the latest styles, and takes everything seriously.
Why are some Chihuahuas bald?
Chihuahuas can be prone to baldness, usually in the form of patchy hair loss. This type of alopecia is often caused by a condition called hypothyroidism. Hypothyroidism occurs when the thyroid gland does not produce enough hormones, causing a number of symptoms including hair loss.
Are hairless Chihuahuas the same as Xolo dogs?
The answer is not as simple as it may seem.
Hairless Chihuahuas are a variation of the breed that lack fur. This trait is caused by recessive genes. While there are no standard colours for hairless Chihuahuas, they often have pink or black skin. Xolos, on the other hand, are an ancient Mexican breed that has been around for centuries. They are also naturally hairless and come in a variety of shades including black, bronze and red.
One key difference between these two breeds is their size – while Chihuahuas are usually small in size, Xolos can range from very small to medium-large.
Are hairless Chihuahuas hypoallergenic?
There is no definitive answer to this question. Some people believe that all Chihuahuas, including the hairless variety, may be hypoallergenic because they have less fur and therefore produce fewer allergens. Other people dispute this idea and point out that when a pet produces any kind of dander or saliva, it can still cause an allergic reaction in some people
Why does my Chihuahua have bald spots
If your Chihuahua has bald spots, it could be caused by a variety of illnesses or skin conditions. Some possible causes include allergies, fleas, mites, mange, bacterial infections, and yeast infections. If you notice any unusual hair loss on your Chihuahua's body or head, take it to the vet immediately in order to identify what's causing it and get proper treatment.
How much does a hairless Chihuahua cost?
On average you can expect to spend around $1,500 to $2,500 for a hairless Chihuahua.