Great Dane Chihuahua Mix (Chi Dane Dane) Breed information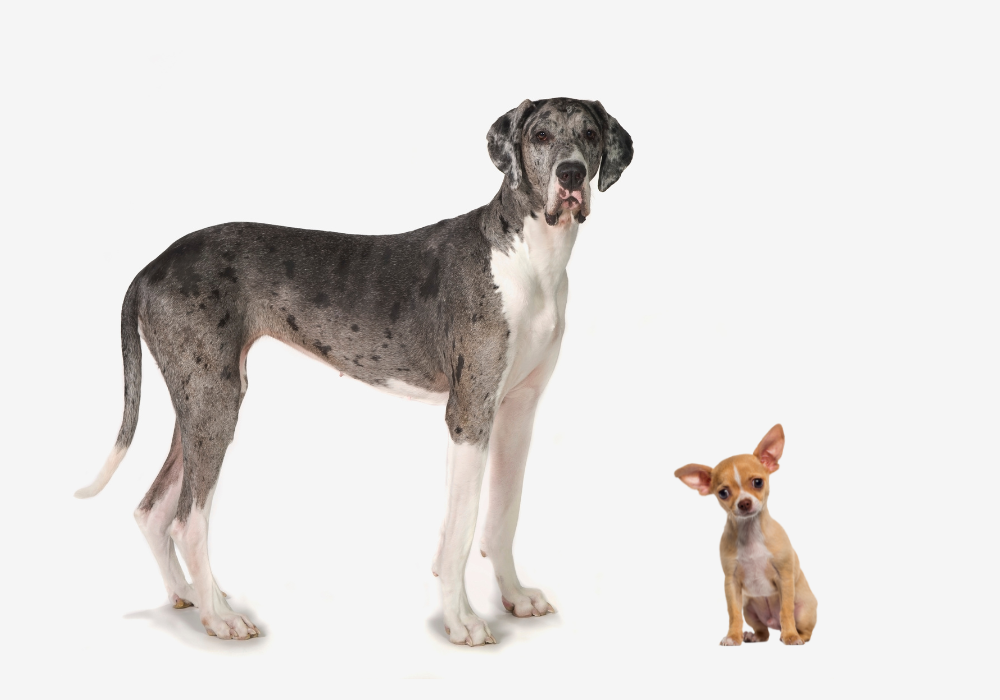 Great Dane Chihuahua mixes are extremely rare, for two reasons. First, these two breeds are among the most unlikely to be bred together, due to their sizes.
Second, even if a Chihuahua carried a Great Dane's puppies, the offspring would likely be too fragile to survive. However it has been done, and some breeders have successfully bred Great Dane Chihuahua mixes, or Chi-Dane-Danes.
Chihuahuas are the smallest breed of dog in the world, with an average weight of just 3.5 to 7.5 pounds.
Despite their small size, cute Chihuahuas have a reputation for being extremely loyal to their owners as well as very protective. In fact, many Chihuahuas think of themselves as big dogs, and they often behave accordingly. This bold behavior can sometimes get them into trouble, as they are not always aware of their own limits. However, it is also what makes them such unique and lovable companions.
Chihuahuas typically stand around 6 to 10 inches (15 to 25 cm) at the shoulder.
Few dog breeds can match the size of a Great Dane. On average, adult males stand about 30 inches tall at the shoulder, with females being slightly smaller.
However, some individuals can be even taller, with some males exceeding 36 inches in height. Not surprisingly, Great Danes are one of the heaviest dog breeds, with males typically weighing between 150 and 200 pounds.
Despite their massive size, Great Danes are gentle giants, known for their loyalty and affection. Unfortunately, their large size also comes with some medical risks. They are prone to certain health issues like hip dysplasia and bloat, so proper diet and nutrition are important throughout their lives.
Great Danes typically live 6-8 years.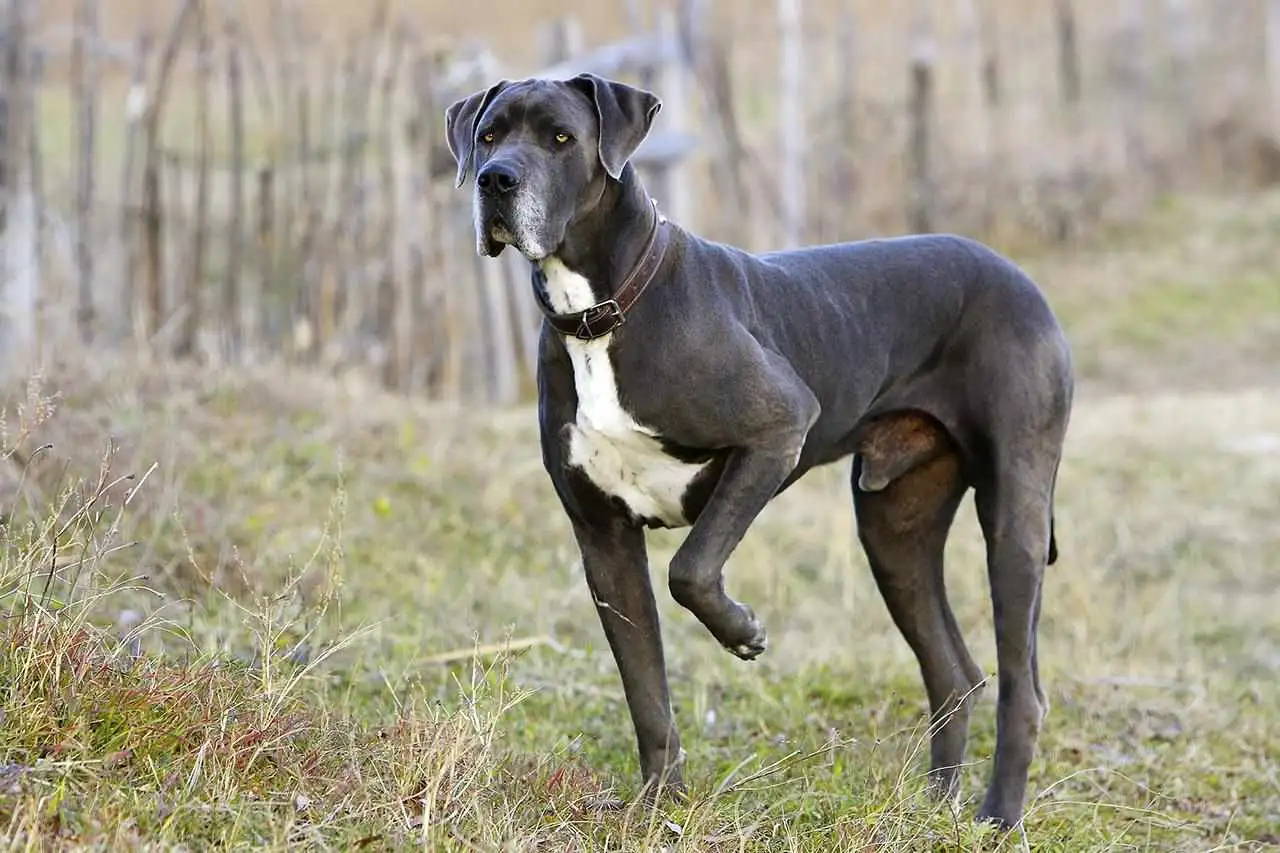 Yes, but not naturally.
Because of the size difference between the Great Dane and the Chihuahua, there are so many obstacles for breeders trying to create that hybrid. And even if they succeed, the offspring would likely not live for very long.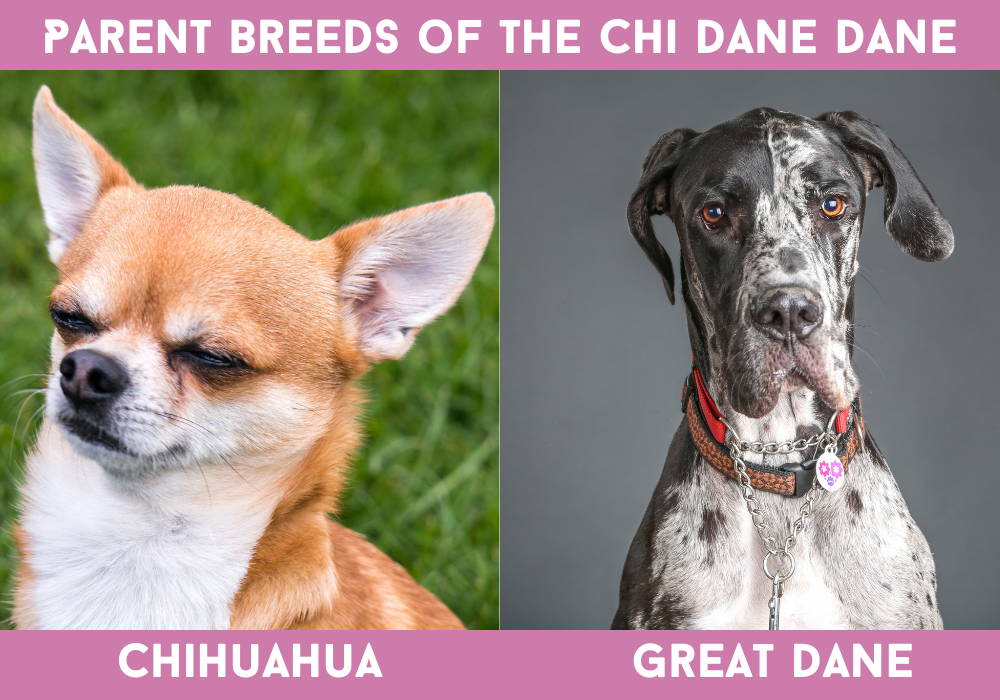 Using the natural breeding process is out of the question, and in fact, trying to mate a Chihuahua and a Great Dane would be considered animal abuse.
The size difference between these two breeds is too great, and attempts at mating typically result in injuries or even death for the smaller Chihuahua. In addition, the pelvises of these two breeds are shaped differently, making successful intercourse impossible.
Artificial Insemination (AI)
Artificial insemination
is a method of reproduction that
bypasses the natural process
. This medical procedure involves
placing sperm inside the female reproductive tract
using a syringe.
Artificial insemination is most commonly used when the male is unable to reproduce naturally, or when the female's mate is of a different species. For example, artificial insemination is often used to breed dogs of different sizes.
The process can also be used to ensure that only healthy sperm are used to fertilize the eggs. Artificial insemination is a safe and effective way to reproduce, and it can offer many benefits to both the parent animals and their offspring.
In theory, AI could be used to impregnate a Chihuahua with Great Dane's sperm. However, this is very difficult to achieve in practice. The size difference between the two breeds means that the sperm would have to be placed very precisely in order for fertilization to occur.
Furthermore, the success rate of AI is generally quite low, so it is unlikely that this procedure would result in a healthy pregnancy.
For these reasons, artificial insemination is not typically used to breed dogs of different sizes.
Even if she gets pregnant with a male Great Dane, it will be extremely difficult and painful for a female Chihuahua to carry such large puppies to term. That can cause her death and the death of the unborn puppies.
Some breeders were successful in breeding Great Dane Chihuahua mix with artificial insemination.
But most of the time, and even with a C-section, the mother and her puppies would die during the process.
For the rare occasions where they succeeded, the mother Chihuahua had trouble nursing her puppies and therefore breeders had to hand-feed the pups.
The only solution: having a female Great Dane carrying a male Chihuahua's puppies
Now you'll say, the solution is to have a female Great Dane carry the puppies of a male Chihuahua.
Yes indeed, that is possible. (but present tremendous challenges as well.)
In theory, the female Great Dane has enough room to carry male Chihuahua puppies and give birth to them.
The challenge for her would be to nurse and take care of her puppies. Because of the tiny size of her offspring, it will be impossible for them to feed off their mother's tits. They would have to be fed by hand.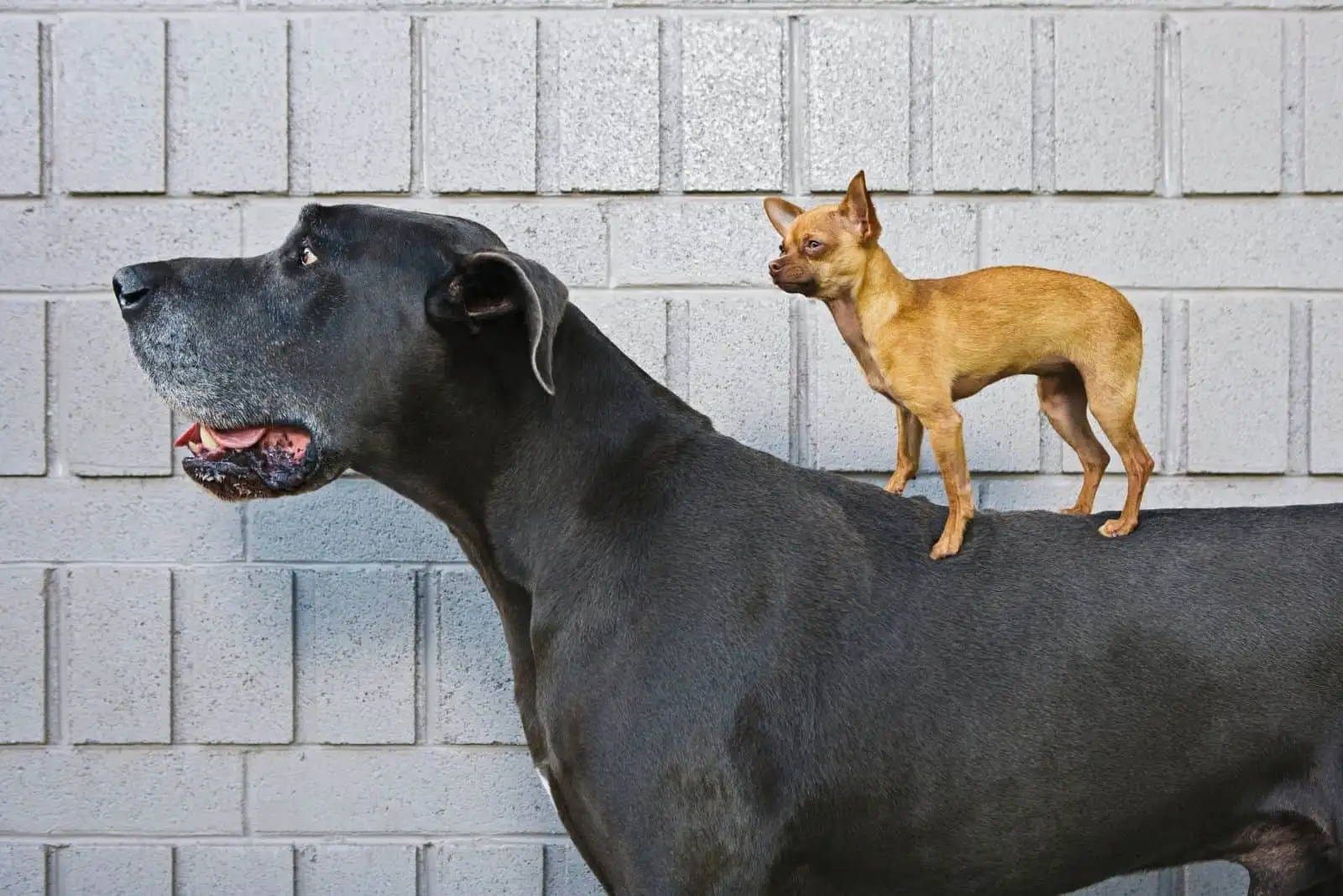 Is that ethical to breed Chihuahua Great Dane mixes?
Breeding Chihuahuas and Great Danes together is biologically possible but definitely non-ethical.
Unscrupulous dog breeders go to great extends to make more profits, and these practices should be considered illegal.
Is that possible to get a Chi Dane Dane?
Before considering getting a Great Dane Chihuahua mix, it's crucial to conduct thorough research. Take the time to learn about breeding practices and what qualities to look for in a new crossbreed.
Finding a reputable breeder is of utmost importance, as some prioritize profit over the well-being of the puppies. These breeders may sell dogs with genetic issues that can shorten their lifespan and result in increased veterinary expenses.
Fortunately, the internet can be a valuable tool in finding qualified breeders from around the world. With patience and careful financial planning, you can connect with a breeder who is dedicated to creating healthy Great Dane Chihuahua crossbreeds for you.
Can a Great Dane impregnate a Chihuahua?
No, attempting to mate a Great Dane and a Chihuahua is not recommended due to the size difference between the breeds. Any attempt at mating typically results in injury or even death for the Chihuahua.
Do Great Dane Chihuahua mixes exist?
Yes, but since these dogs are so difficult to produce, there are only a couple of these in the world.
How big is a full-grown Great Dane Chihuahua mix?
The height and weight of these dogs would range widely, depending on which parent they take after more. Generally speaking, the Great Dane parent is going to contribute more to the height, while the Chihuahua will add to the overall weight.
What do you call a Chihuahua Great Dane Mix?
A Chihuahua Great Dane mix is also known as a Chi-Dane-Dane.
How big will a Chi-Dane-Dane get?
A Chi-Dane-Dane would reach heights of up to 30 inches and weights of up to 80 pounds. They would tend to be taller and longer than Chihuahuas but smaller and slighter in build than Great Danes.