Golden Retriever Chihuahua Mix (Golden-Chi) Breed information
The Golden Retriever Chihuahua mix is the perfect combo for those looking for a truly unique pup. You get all the cuddly goodness of the Golden Retriever, combined with the spunky attitude of a Chihuahua — what more could you want?
Whether you're looking into their history, or interested in traits like their unique personalities and health needs, we've got the necessary information to make an informed decision about adding a Chihuahua Golden Retriever Mix to your family.
Golden Retriever Chihuahua mix
families with older kids, first-time dog owners
loyal, social, territorial, loving, gentle
Chiuahuas are among the tiniest of breeds, but what they lack in size, they more than make up for in temperament. This loyal companion is zealous, fearless and always down for an adventure.
Chihuahuas' tiny size also means they are easy to carry and transport if need be. Even though these dogs can be clingy and bark at seemingly random intervals, these pups consistently strive to please their owners,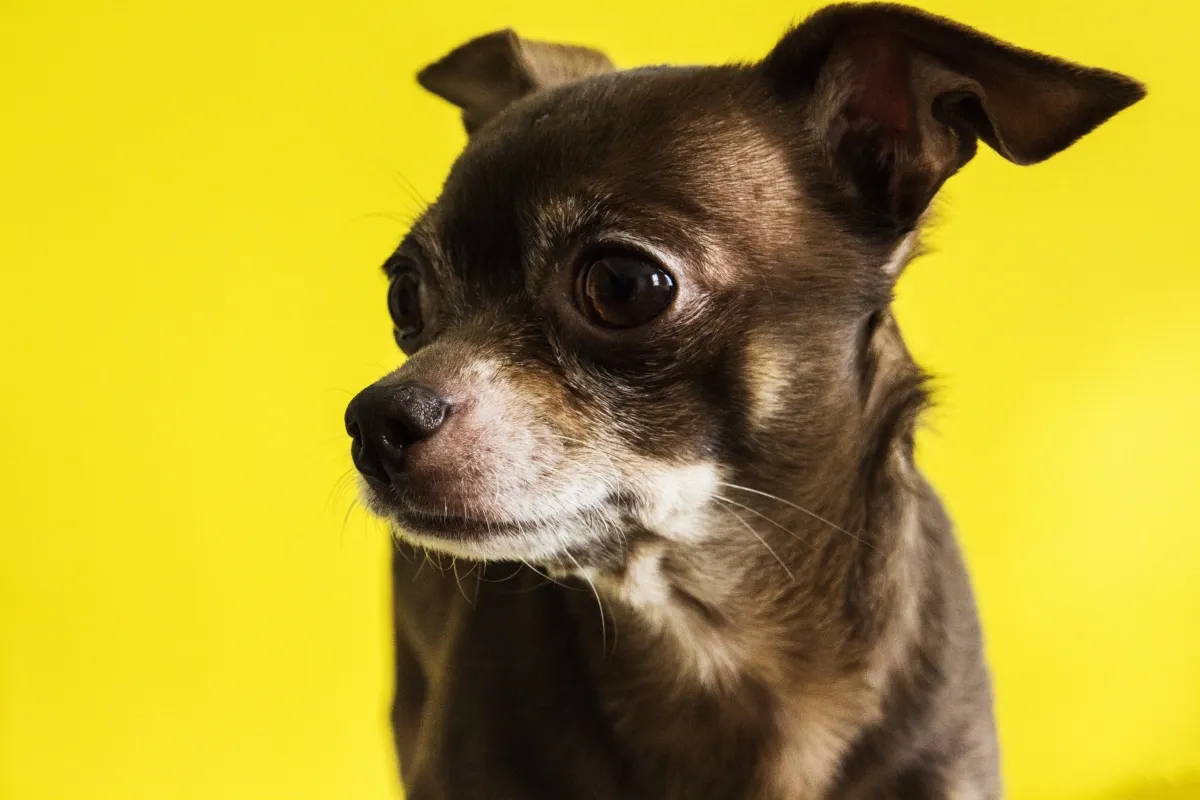 The Golden Retriever is by far one of the most delightful breeds you will ever come across! They are loyal, friendly and easy to train, making them an ideal addition to any family.
With a striking golden coat and an eager-to-please attitude, there's no mistaking this breed for any other. As such, they make popular choices in many households.
Not only do they get along easily with people, but also with other dogs, cats and children too. Highly intelligent and incredibly sociable, these dogs require regular exercise and human interaction.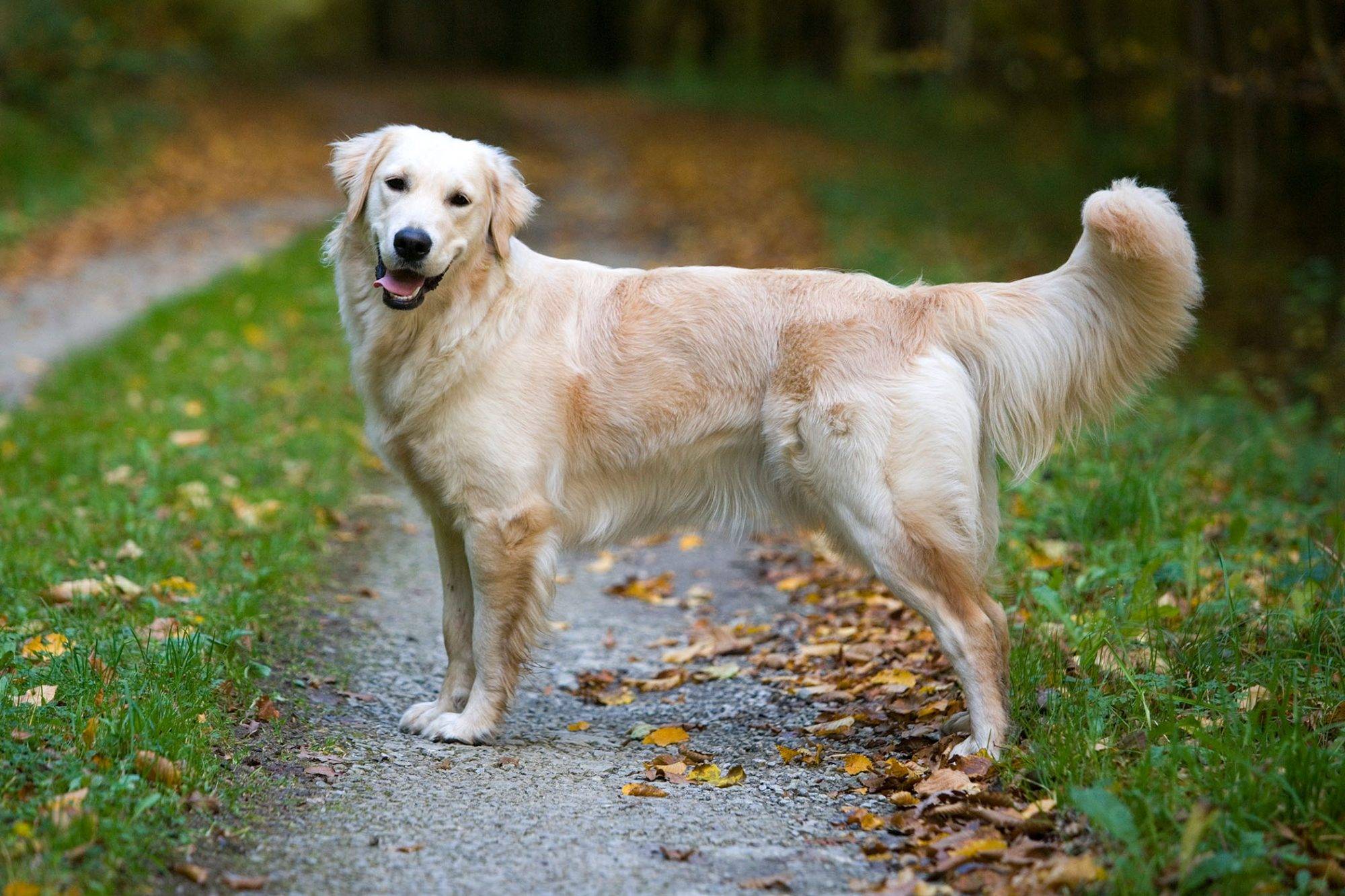 The Golden Retriever Chihuahua mix is one of the strangest combinations of two completely different breeds out there. Even though the origin of this mix remains a mystery, both purebreds that the pup came from are fairly popular and it's easy to understand why!
Because of their significant size difference, Chihuahuas and Golden Retrievers can't mate naturally - instead, it requires highly controlled artificial insemination for a successful result.
The Golden Chi is not recognized by the A.K.C.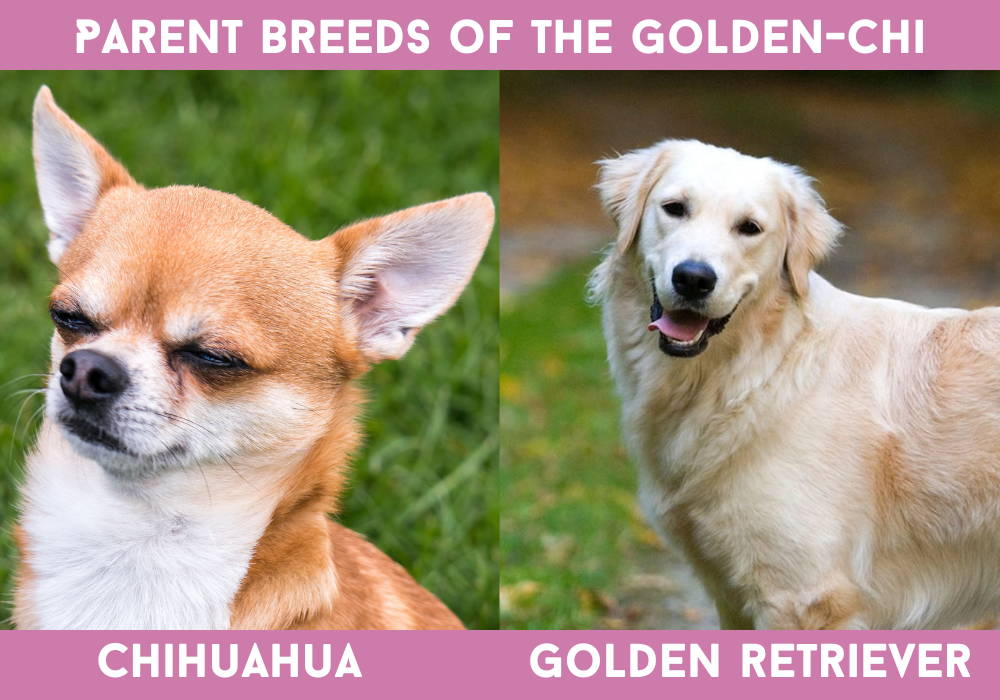 Golden Retrievers and Chihuahuas offer a stark contrast in size, weight, and appearance, with the former being one of the largest and the latter being one of the smallest pedigree dogs.
While Golden Retrievers can weigh up to 75 pounds and reach heights of 25 inches when fully grown, Chihuahuas usually stay within a 3-6 pound range and max out at about 9 inches tall.
These differences place them on opposite ends of the canine spectrum, yet both are incredibly affectionate animals who thrive when given human interaction and attention.
A Golden Retriever Chihuahua mix is any dog owner's dream come true. The pup has a unique look, since it combines two different breeds that have vastly different characteristics. Though the look can't be predicted with 100% certainty, you can expect it to weigh between 15 and 30 pounds and have a thick, wavy coat. Generally speaking, the ears tend to be downturned like a Golden Retriever's but much smaller in size.
On top of that, their facial structure will mimic a Chihuahua's with the added softness of a Golden Retriever making for an adorable pup all around!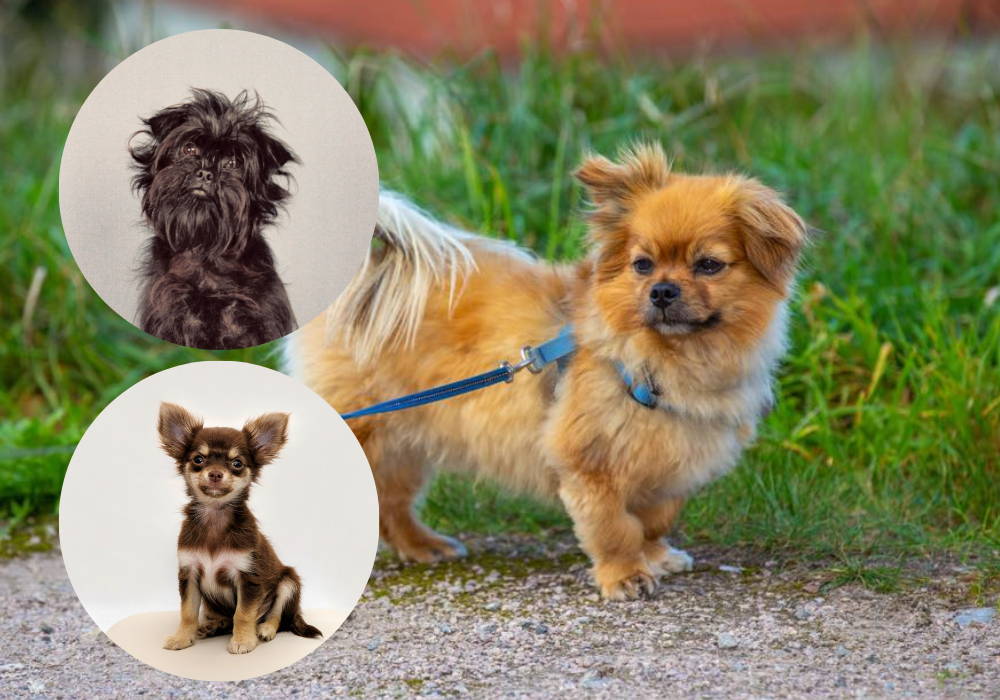 If you're the kind of person who loves variety, the Chihuahua Golden Retriever mix is sure to keep you on your toes!
This delightful breed may have a range of physical characteristics due to the two distinct parent breeds combining DNA, from short and long coats to a wide range of colors and shades, but their personalities can be almost as unpredictable.
With one side being known for its excitable nature and loyalty, and the other being fiercely independent and strong willed, it's impossible to guess what type of personality the mix will bring.
Owning one of these animals could end up being a very unique experience that nobody else in your area has had yet!
Golden Chi and other pets
The answer is yes! Golden Retriever Chihuahua mixes have inherited the loyal nature of both parent breeds, so they tend to develop close friendships with other animals quickly and easily.
However, some caution should be taken when introducing them to a new pet, as smaller animals may view the Golden Chi as too energetic or intimidating.
With proper socialization though, these loving pups will be fast friends with any animal you bring into your home.
If you're looking for a low-shedding breed, then a Chihuahua Golden Retriever mix is not the one for you!
As double-coated breeds, both Chihuahuas and Golden Retrievers require regular maintenance to keep their coats healthy and looking their best. During the spring and fall months, each breed's coat can become thick and luxurious – but they will also shed heavily during these times of the year in order to rid themselves of old fur. For those accustomed to pet grooming, it's not difficult to tackle light shedding on a daily basis.
Chihuahua Golden Retriever mixes are not hypoallergenic.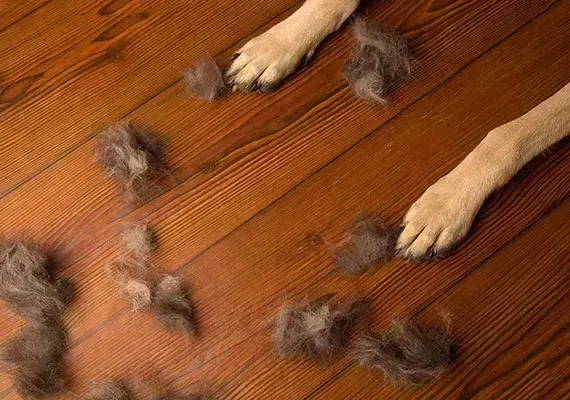 Golden Retriever Chihuahua mixes typically have a lifespan of between 10 and 13 years.
While Chihuahua Golden Retriever mixes may inherit some of their physical and behavioral traits from their parent breeds, they also inherit the same health issues.
Unfortunately, Golden Chis often suffer from dental issues due to genetics and their somewhat unfavorable size ratio. The larger teeth may not fit properly in the tiny mouth, making the teeth more susceptible to overcrowding and misalignment.
While veterinary care at an early age is essential for providing preventative treatments for certain dental problems, owners should also be mindful of daily teeth-brushing instructions and feeding routine in order to ensure that their pup remains healthy.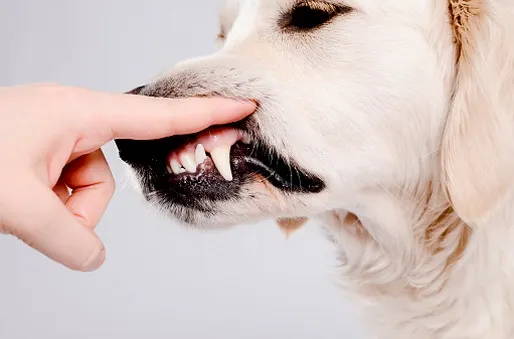 Golden Retriever Chihuahuas mixes are known to suffer from an
aggressive form of bone cancer
called osteosarcoma that has the
potential to spread to other organs
and drastically reduce life expectancy.
It's an incredibly heartbreaking illness for any pet, and can occur at any age so it's important for owners of Golden Chis to be aware of the risk. However, with regular trips to the vet and proactive care, it's possible to identify and manage any issues early on.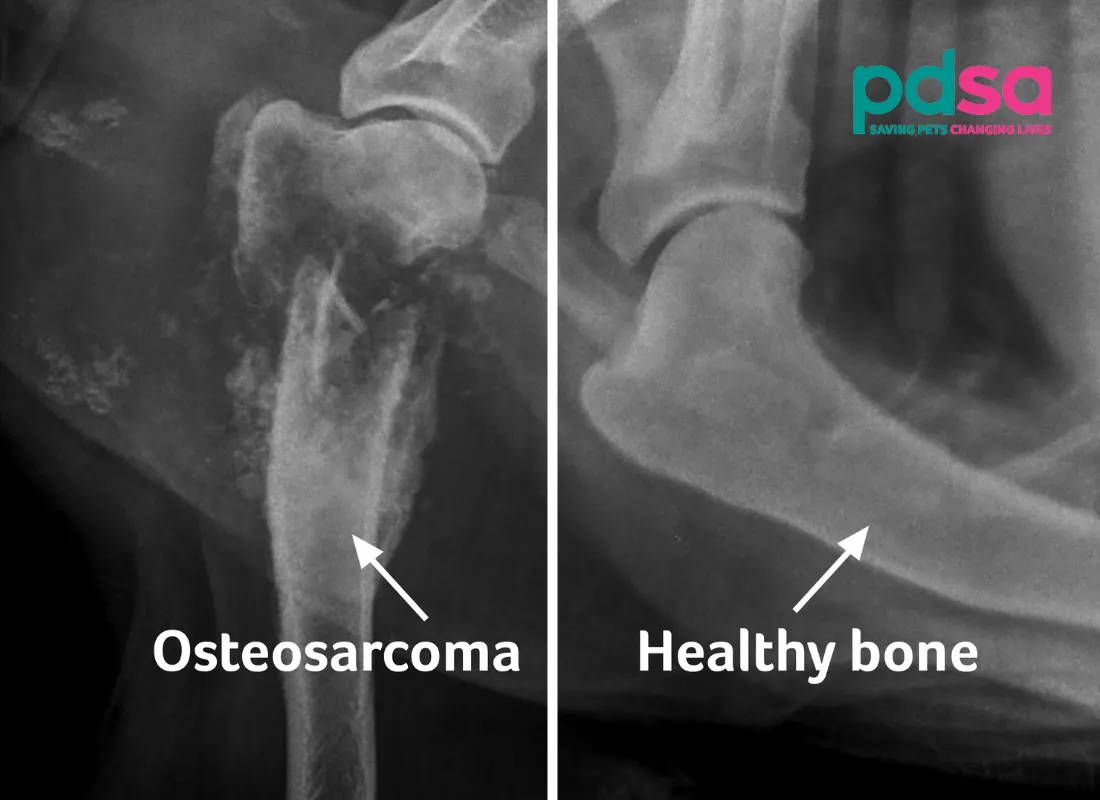 The condition is actually quite common in larger dogs, but also affects small breeds too, like the Chihuahua Golden Retriever mix. It occurs when the hip joint is malformed, making it difficult for them to move around or even walk.
Unfortunately, there's no single thing that can prevent it from happening, so all owners must keep an eye out for symptoms such as stiffness after exercise or difficulty getting up to their feet.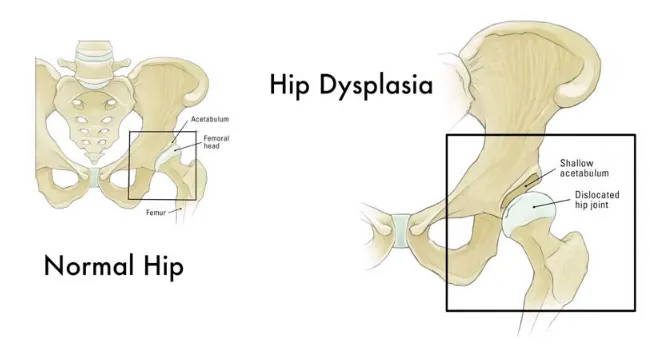 When caring for a Chihuahua Golden Retriever Mix, you must consider grooming, exercising, training, and feeding.
As a unique combination of two beloved breeds, the Golden Retriever Chihuahua mix comes with some very special grooming needs. To keep your Golden Chi's coat looking shiny, it is important to brush them at least once a week, including their legs and other areas that might be harder to reach.
Bathing should also occur no more than once a month using a shampoo specifically designed for dogs. Additionally, regular checks for fleas and ticks are necessary as these pesky parasites love to set up shop on this double-coated pup!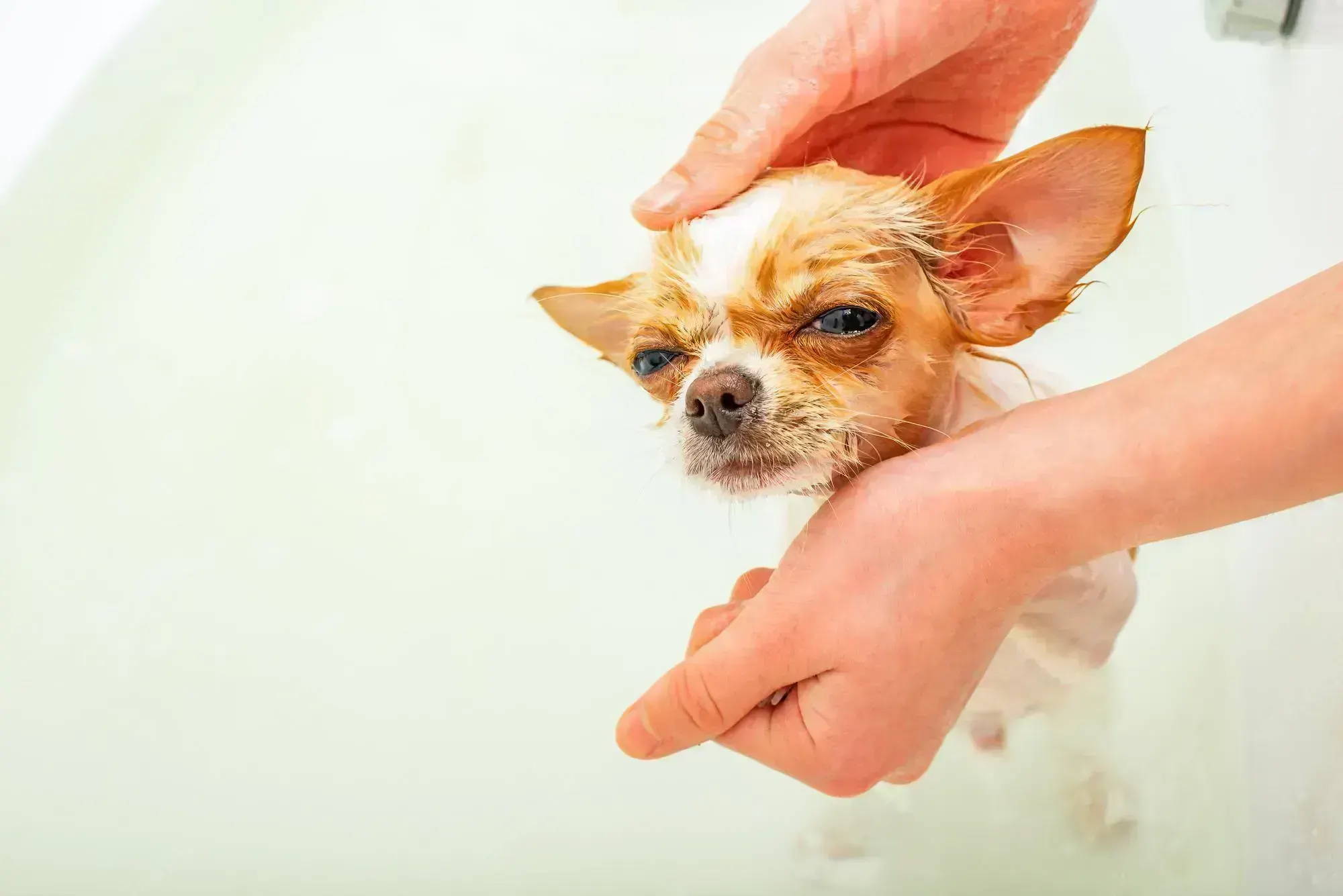 While the Golden Retriever Chihuahua mix provides loyalty and affection, unfortunately, it also includes some unwanted tendencies from the latter breed, such as being difficult to train.
Despite their intelligence, proving stubbornness in this area tends to be a common problem. And while there are ways to work around this, it will take patience and consistency during training sessions for owners to get the desired results from their Golden-Chi.
Feeding the perfect amount of food to a Golden Chihuahua mix can feel like a balancing act. Variables such as age, size and activity can throw off the ideal diet for your pup. Plus, even for purebred dogs, there is no cut-and-dry formula.
However, you can achieve a good baseline with 1-2 cups of dry food per day. Depending on your Golden Chi's physical characteristics, you may want to tweak this amount slightly—a bit more if they routinely run and play or a little less if they're mostly sedentary.
Exercise is important for any pet, even more so for certain breeds. If you have a Golden Retriever Chihuahua mix, you'll need to determine which parent breed they most closely resemble when it comes to exercise requirements.
Purebred Goldens usually need at least two hours of exercise per day while the tiny yet feisty Chihuahua requires just 20-30 minutes.
Male vs Female Golden Chi
The differences between male and female Golden Retriever Chihuahua mixes may include the male being more aggressive and dominant.
Also, depending on their parents' temperaments, female mixes can end up being aloof or overly clingy, while males tend to bond better with their humans. On the other hand, females can exhibit stronger loyalty and protectiveness for their humans than males.
Is it the Golden Chi right for you?
Not great with small kids
Chihuahua Golden Retriever Mixes are sweet and loyal, but they can have some difficulty with young children. Generally, these mixes can be quite energetic, which can cause them to jump on little ones or knock them over accidentally while they're playing.
They may also be more likely to bark around children than with other adults, which can be loud and intimidating for young kids.
Therefore, if you are thinking of getting a Chihuahua Golden Retriever Mix and you have very young children, it would be best to consider another breed or wait until your kids are older before bringing the pup home.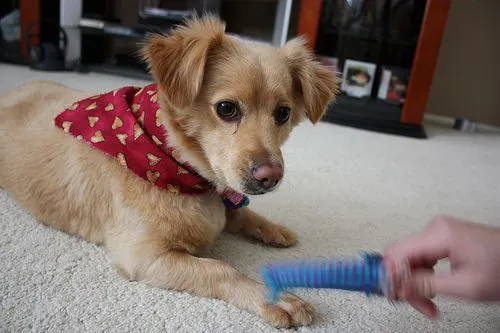 Chihuahua Golden Retriever mixes are active, loyal and loving dogs that need to have owners who can keep up with them. With their fun-loving and eager personalities, they need an owner willing to give them plenty of exercise in order to stay happy and well-behaved.
Without regular activity, Golden Chis can become destructive since they will be searching for ways to get the energy out if not properly taken care of. If you're a go-getter looking for an "adventure buddy", then the Chihuahua Golden Retriever mix might be perfect for you!
You have a very active lifestyle

You want a very affectionate dog
You have very young children or toddlers

You don't have a lot of time to walk your dog

You don't want a dog that sheds a lot
What is a Golden Retriever Chihuahua mix called?
The name for a Golden Retriever Chihuahua mix is typically just referred to as a "Golden Chi".
What does a Golden Retriever Chihuahua mix look like?
The appearance of a Golden Retriever Chihuahua mix can vary, but they typically have characteristics from both parent breeds. They may be small and lap-sized, or larger with longer legs and a more athletic build, depending on their mix. Their coat may be short or long, and can come in many different colors and shades.
How long do Golden Retriever Chihuahua mixes live?
Golden Retriever Chihuahua mixes typically live between 10 and 13 years.