Why is My Chihuahua so Fat? (+ Weight Loss Tips)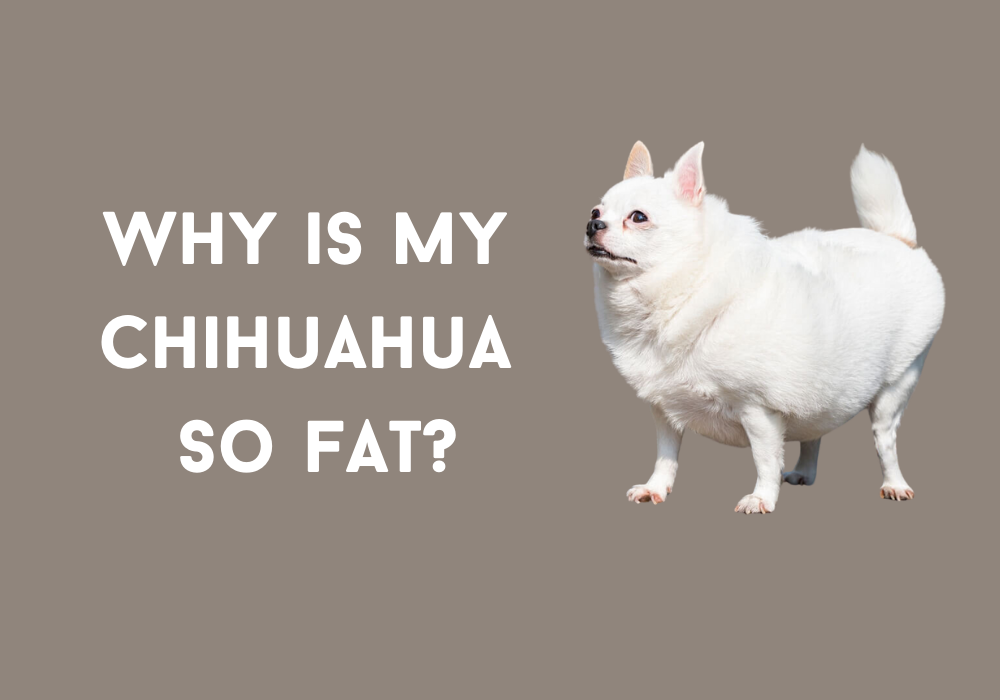 Is your Chihuahua overweight and you're worried it might start affecting his health? You've come to the right place; this article will provide you with all the information you need regarding how to keep your Chi healthy and in perfect shape.
The weight of your cute Chihuahua plays an important role in its life expectancy, so please pay close attention to remain aware of what needs to be done. Let's dive in and lay out a plan so your Chihuahua can return to a healthy weight as soon as possible.
How to tell if my Chihuahua is too fat?
A fat Chihuahua may look cute, but having an overweight pup isn't doing them any favors. There are a few signs to watch out for that indicate when a Chihuahua might be too tubby.
If Chi's belly is dragging on the floor or they seem to tire easily while running or playing, it could mean they are carrying some extra pounds.
2- They can't groom themselves
If your Chihuahua is struggling to do basic grooming activities like cleaning its face or a paw, then it might be time for an intervention. A diet and exercise plan might be in order for your poor, overweight Chihuahua - no obese chihuahuas allowed here!
3- You can't feel their ribs
You can also use the "rib-chin" test; run your fingers along your Chihuahua's ribcage and see if you can feel their ribs without having to press down too hard, and compare with seeing if you can just barely touch your Chihuahua's chin when looking at them from above.
If the ribs are too hard to find and the chin is easy to reach, then chances are your Chihuahua is too plump for his own good!
4- There is no definition on their body
A correctly proportioned Chihuahua should have a rounded chest and rib cage that stick out slightly. They should also have an ayst or waist to show they are at their optimal weight.
If your Chihuahua have a somewhat shapeless waistline, then he may be on his way to being what most people refer to as a "fat little dog."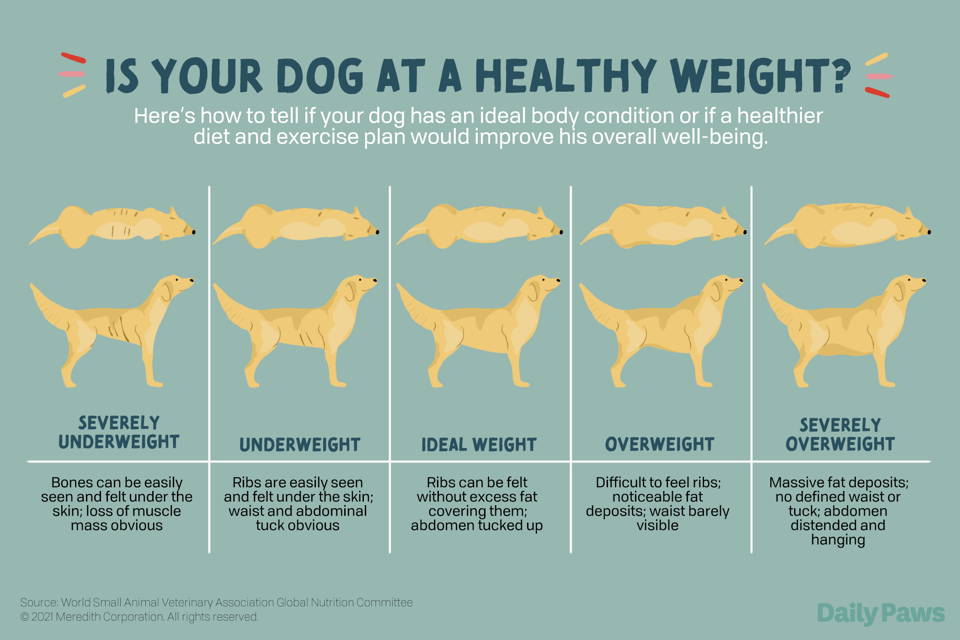 Reasons why Chihuahuas get fat
Chihuahuas may be small, but their appetite for food isn't - especially if the owners don't realize that when the pup is all grown up, it's time to adjust how much they get.
After all, what may have been appropriate for a growing Chihuahua puppy is no longer necessary for an adult Chihuahua. Sadly, this lack of knowledge leads to way too many fat chihuahuas waddling around; even worse, it usually tips them into the realms of overweight or obese.
So before your Chihuahua grows out of their puppy size, you'd better make sure you know exactly how much they need - not just everyday, but weekly and monthly too. As little as possible at each time will help keep your pup trim and healthy!
2- They eat table scraps or treats
Chihuahuas might seem too cute to resist spoiling with treats, but beware. All it takes is a few doggy snacks here and there to turn your furry friend into a fat Chihuahua, or worse yet: an obese Chihuahua.
If you insist on being the designated pack mule and carry treats around everywhere, your pampered Chi might be onto the fast track towards becoming an obese Chihuahua! The moral of the story?
Be aware of the eating habits of your Chihuahua – those little treats could quickly add up!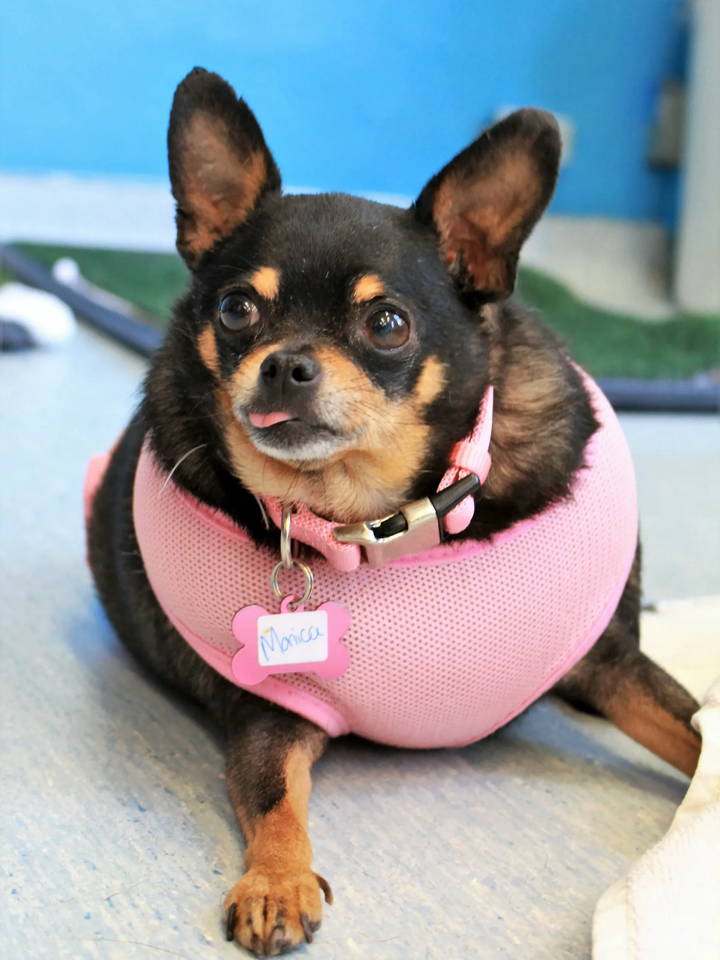 3- They don't exercise enough
Unfortunately, overfeeding and lack of exercise are a deadly combination for our tiny companions! Even if you've got your Chihuahua's meal portioning under control, an overweight or obese Chihuahua could still be the reality if your pup does not get enough activity every day.
To combat this, try to fit in at least 1-2 everyday walks that last a decent amount of time - it'll give them the opportunity to strengthen their muscles, burn off energy and explore their surroundings while getting some fresh air and having a bit of fun!
Health issues linked to obesity in Chihuahuas
In fact, an overweight Chihuahua can open a whole new world of numerous health issues that put their well-being at risk. Excessive weight in your pet puts extra stress on its joints and bones, potentially leading to arthritis at an early age. Not only this, but being obese also significantly increases the risk of developing Type II Diabetes (mellitus).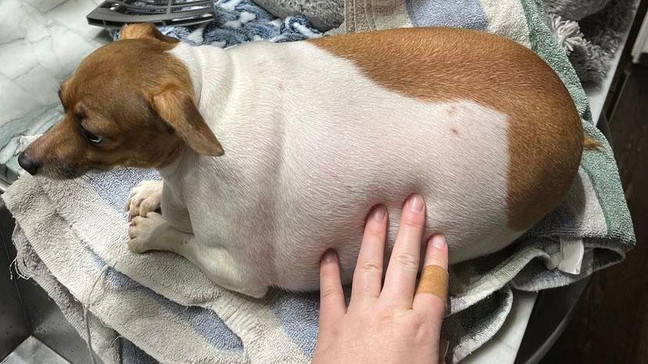 1- High blood pressure and heart disease
If you're the proud owner of an overweight Chihuahua, you might want to take extra special care of them - because it turns out, fat isn't so fabulous for these tiny creatures!
Extra weight can damage their organs and put them at risk of high blood pressure, which is definitely something not to bark about. This heightened pressure forces their hearts to pump extra hard, and while they may look mighty fluffy and cute, they may be hiding a dangerous secret that could make it doggone difficult to live a healthy life.
2- Joint and back problems
Think of it this way: when you add on an extra pound, your body has to work harder to carry it around all day - what happens when a little Chihuahua needs to lug around those extra pounds? It wears out their tiny legs and joints quickly, increasing their risks of injury, spinal issues and even osteoarthritis.
Obesity in chihuahuas can lead them to develop diabetes-- much like their overweight counterparts of the human world. However, unlike humans, these mini pups don't have the ability to resist that bowl of kibble, so it is up to us to be extra vigilant and make sure they are fed healthy meals at the right portions.
How to help my fat Chihuahua lose weight?
Helping your chubby Chihuahua slim down doesn't have to be a daunting task. While it will require time and effort to meet your pup's weight-loss goals, it is not impossible.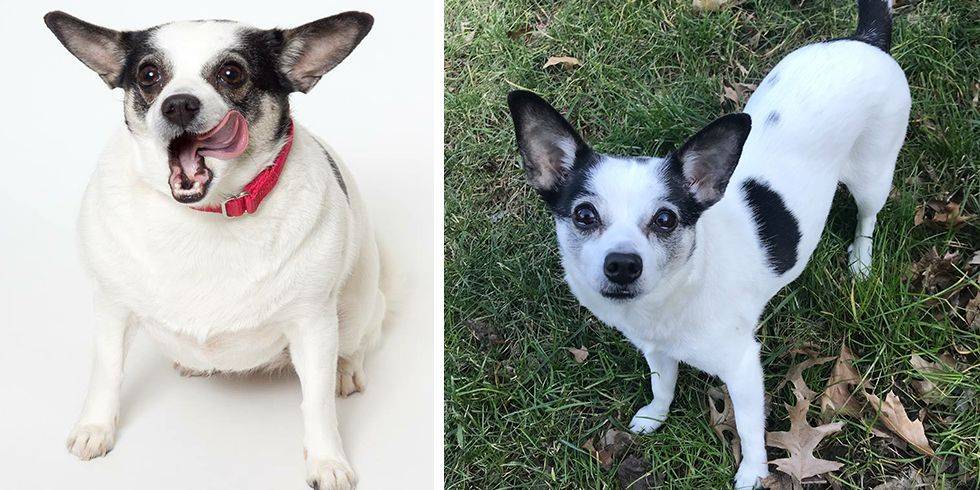 The first step is simply to cut out all treats - those biscuit rewards add up quickly and result in an overweight Chihuahua! As an alternative, consider swapping out training treats for healthier alternatives such as turkey bacon or chicken breast. Both are high in protein and contain very little fat, making them the perfect snack for helping your furry friend shed those extra pounds.
2- Exercise your Chihuahua
It's understandable to be panicked when you discover your Chihuahua is a little too plump for their breed standard, but don't throw Fido into an intense fitness program just yet!
Start off slow with short little jaunts on the sidewalks and gradually increase the length of time. Until eventually, you won't be able to believe how many calories he has burned. Don't forget about some fun in the backyard which can help, after all even playing with a tug toy will make those calories melt away.
Get your chubby Chihuahua on an exercise program and you'll see amazing results soon enough—such as less anxiety and depression and improved health overall.
3- Feed the right portions for their age
Reducing the amount of food at each meal is a crucial part of their weight loss success. But reducing quantities too quickly will result in their body going into survival mode and holding onto fat!
No bueno.
The ultimate goal should be to boost your Chihuahua's metabolism by gradually decreasing portions over time, so that their stomach shrinks, and *presto* — bye-bye fat Chihuahua anf hello skinny Chihuahua!
Weigh your Chihuahua regularly to monitor progress and adjust accordingly - if they don't reach their desired weight the first time around, just keep minimizing meal sizes until they do.
4- Check for thyroid issues, diabetes and Cushing's
Overweight Chihuahuas are increasingly common, and while obesity can be caused by an excess of fur-factor carbs, it is important to be aware that there are medical conditions that could be making your Chi plumper.
Hypothyroidism (underactive thyroid), diabetes and Cushing's disease (overactive adrenal gland)can all cause your Chihuahua to pile on the pounds; look out for other symptoms such as excessive thirst, frequent urination, thinning fur, and lethargy.
If you notice any signs of ill health in your fat Chihuahua then visit the vet ASAP – don't worry though, these diseases can usually be managed with medication!
Why do Chihuahuas get so fat?
Chihuahuas are genetically predisposed to become overweight, especially when they consume more calories than they burn. This is often due to overfeeding and/or a lack of exercise due to their small size.
Why do Chihuahuas have fat necks?
Chihuahuas have a tendency to store fat in the neck area, resulting in what many call 'a double chin'.
Could Chihuahuas be really fat?
Yes, Chihuahuas can become overweight if they consume more calories than they burn and/or don't get enough exercise.
How much should I feed my overweight Chihuahua?
You should feed your Chihuahua small, frequent meals and stick to a high-protein/low-fat diet. The amount of food you give your chubby Chihuahua depends on their size, age and activity level - consult with your vet for advice tailored to your pup's individual needs.
Are Chihuahuas prone to obesity?
Yes, Chihuahuas are more prone to obesity than other breeds due to their small size and genetically predisposed metabolism.