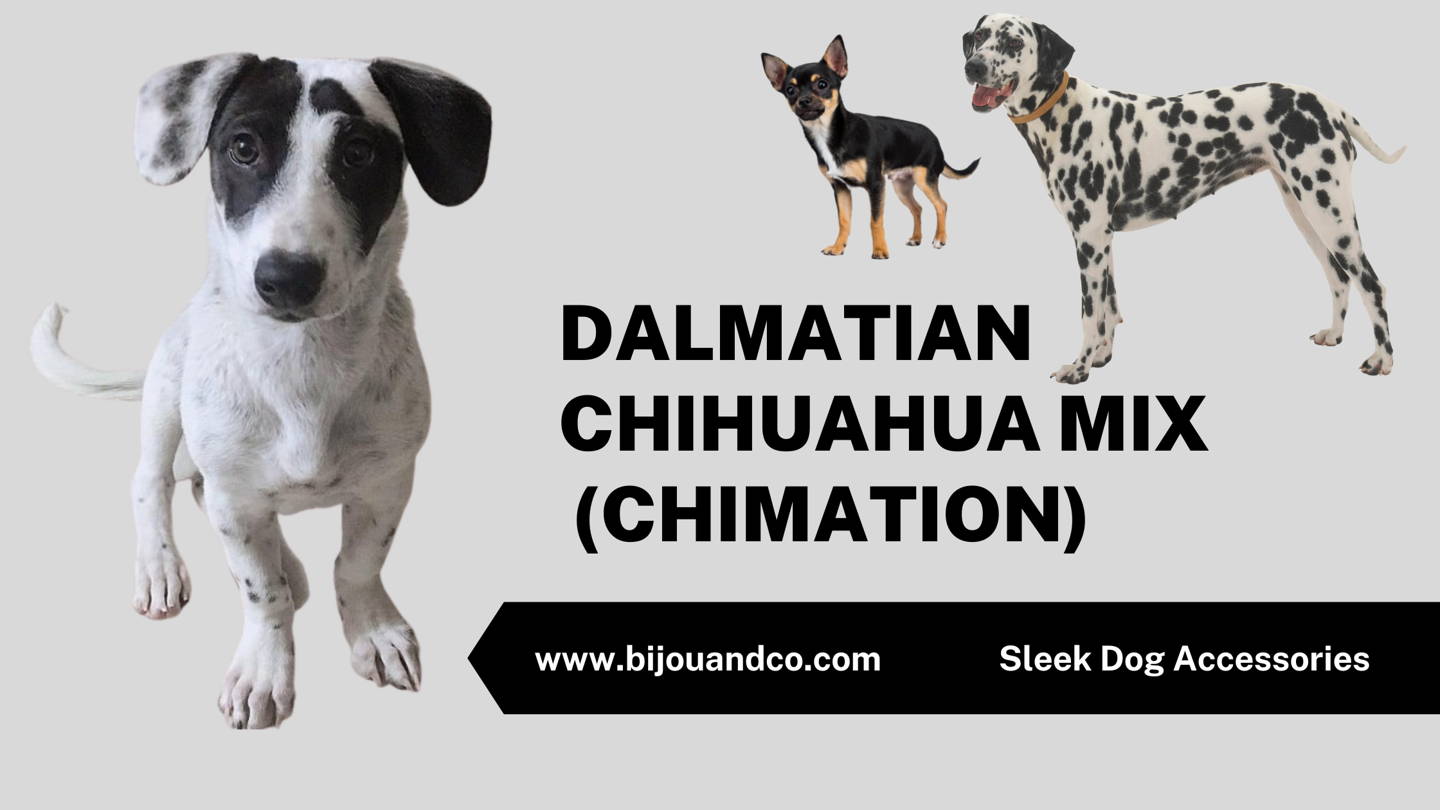 For experienced dog owners, the Chihuahua Dalmatian mix is a great breed to consider! With its spotted patterns and bright eyes, it is sure to catch your eye.
Despite the breed's small size and adorably cute looks, however, they tend to be quite strong-willed and high on energy. This means they need regular exercise and someone committed to assertive training.
If you are ready for a canine companion that will require lots of love, activity, and your full attention, then this mixed Chihuahua may just be the right pick for you!
Dalmatian Chihuahua mix (Chimation Dog) quick facts:
Name: Dalmatian Chihuahua mix

Dog breed group: mixed Breed

Colors: black, white, cream, brown

Suitable for: experienced dog owners

Temperament: protective, intelligent, energetic, loving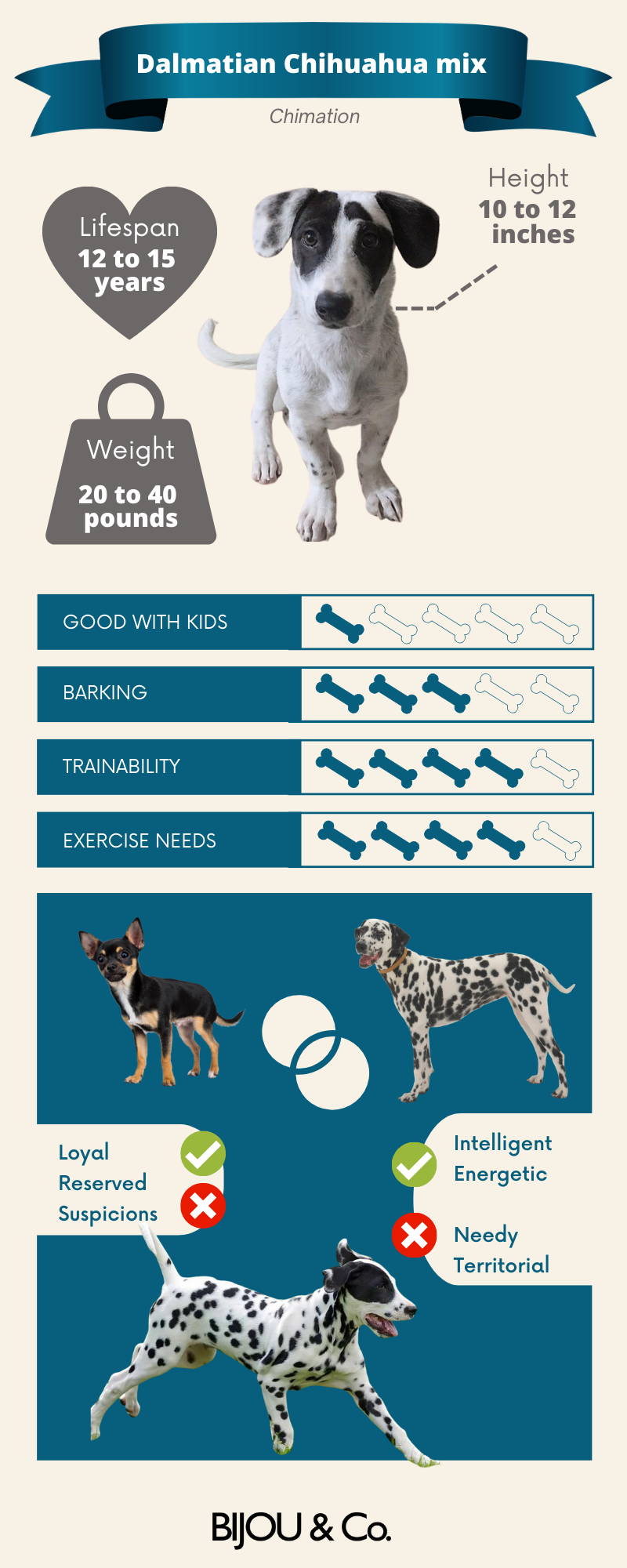 The origins of the Dalmatian Chihuahua mix
The Chihuahua, with its comical personality and tiny stature, is a beloved companion to many. From where did this gentle little creature originate?
It may come as a surprise, but the Chihuahua actually has an ancient past! The breed first came onto the scene in the early 1800s in Mexico and Central America where it was used by natives as a source of medicine and food.
Today, Chihuahuas come in all different colors and sizes and have been featured prominently in movies such as Beverly Hills Chihuahua and Legally Blonde 2. Although their origins are ancient, it's clear this petite pooch is here for good!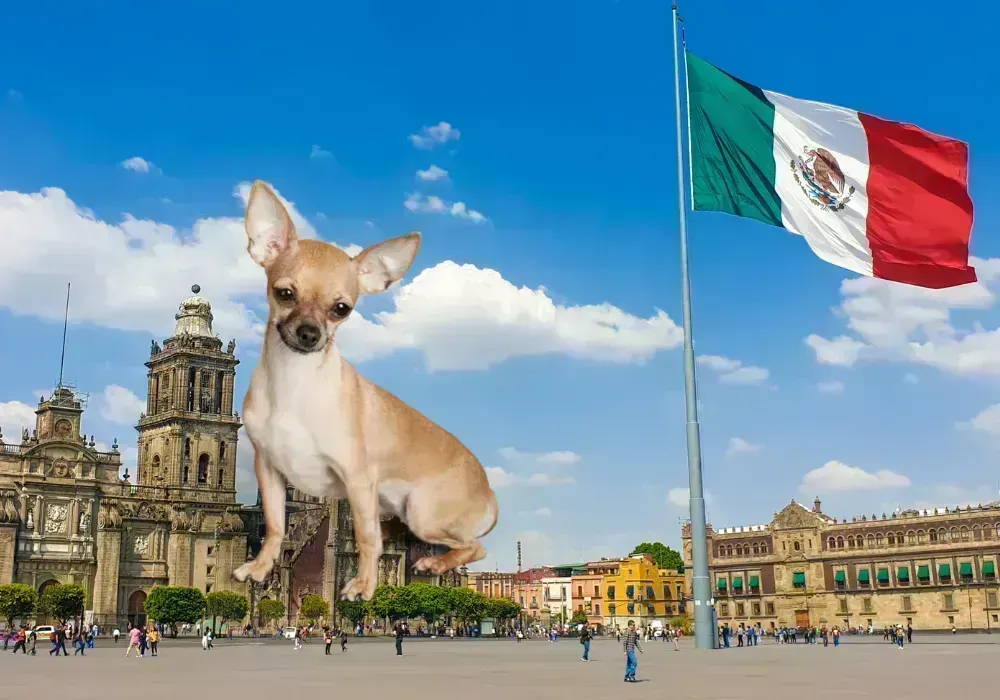 Dalmatian dogs have been around for centuries - historians believe the breed originated in Croatia, which was once called Dalmatia. The breed has become a favorite of many over the years, not only because of its adorable spotted coat but also because of its intelligence and outgoing personality.
Rumor has it that a group of gypsies first brought the dalmatian to Britain in the 18th century and then made their way across Europe with them. They were most famously used as carriage dogs, running alongside horses to protect the horses from evil spirits!
Though these days their purpose is mainly as loyal family pets who love nothing more than cuddles and attention, this remarkable breed still holds a bit of mystery in its very spotty history.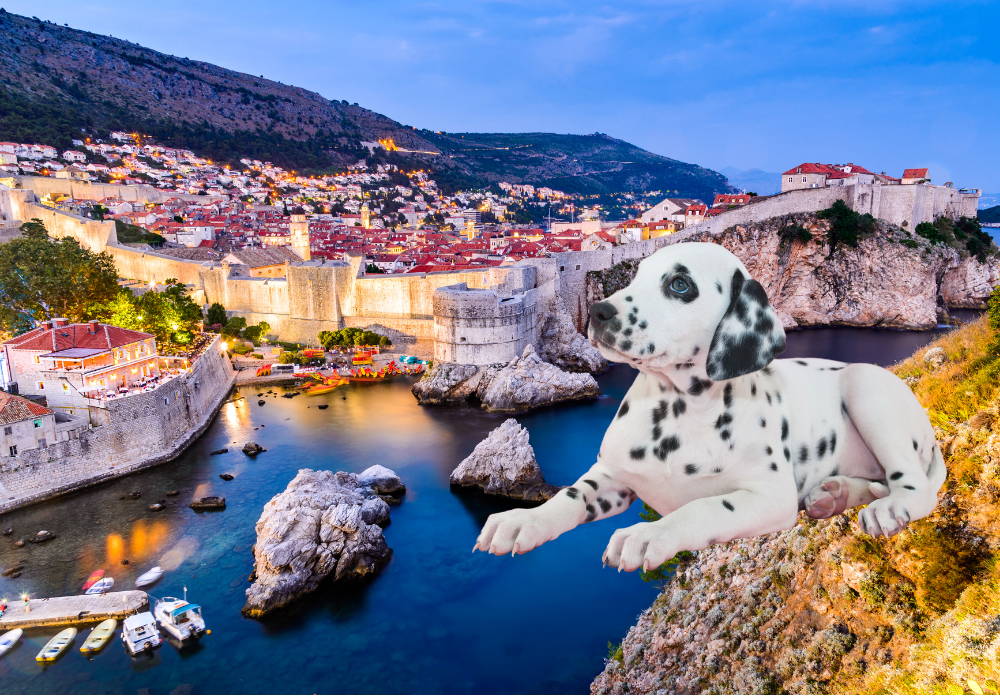 The Chimation (Dalmatian Chihuahua mix)
The Dalmatian Chihuahua mix is a breed that has both dog experts and novice owners intrigued. With the size of a Chihuahua and the sleek white and black spotted coat of a Dalmatian, it's difficult to ignore this energetic pup's charm.
As with any hybrid breed, there are some interesting quirks that come with owning one - from exercise needs to shedding patterns - but one thing is for certain; you get double the love with this iconic combination. It's certainly a pet pairing like no other, packed in with tons of personality.
The Dalmatian Chihuahua mix is not recognized by the A.K.C.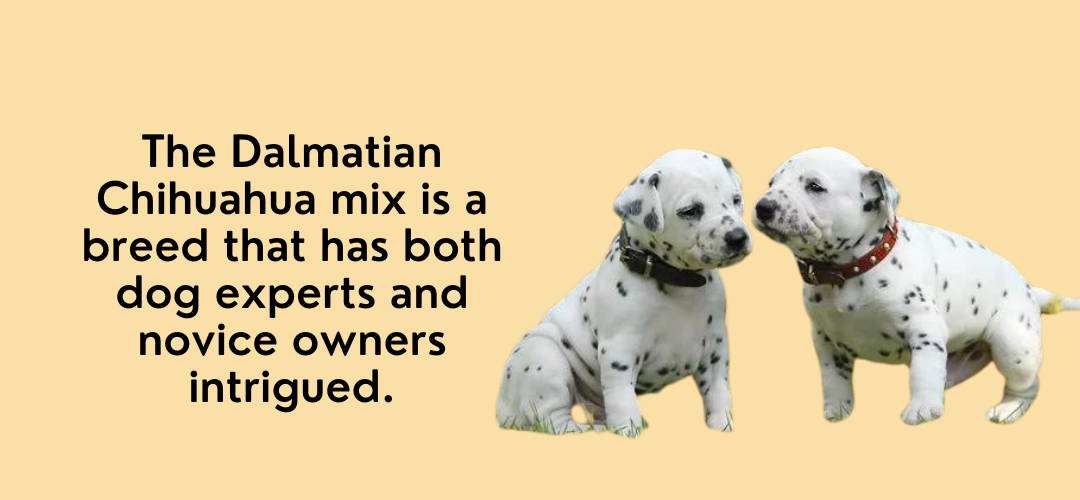 What Does the Dalmatian Chihuahua mix look like?
The Chihuahua Dalmatian mix is an extraordinarily unique, gorgeous dog.
These medium-sized pups typically weigh between 20-40 pounds and stand 12 inches tall, though some can grow slightly larger than that.
Their head is round or apple-shaped like a Chihuahua with their ears usually flopping down naturally. They possess bright, brown, or black eyes which adds to the alertness this breed often feels. The coat of a Chihuahua Dalmatian mix is distinctive - smooth, soft fur white with black spots or cream with dark brown ones in large patches.
If the parent Chihuahua is a long-hair one then the coat will be slightly longer in length. With so many markings and traits taken from both parents, it's unsurprising that Chimations are so incredibly lovable!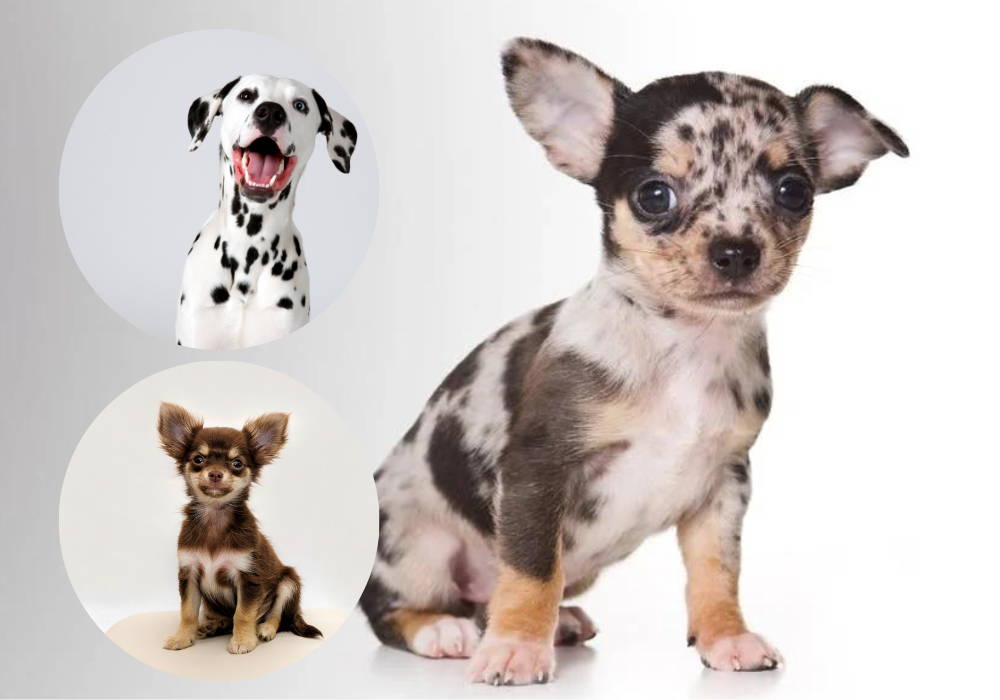 What is the temperament of a Chihuahua Dalmatian Mix dog?
Chihuahua Dalmatian mixes are quite the dynamic doggos - they sure know how to loyally protect their family and alertly watch any new unwelcomed guests.
This level of heightened protection should be respected, but not taken too far: make sure they don't attack people just because they're a bit unfamiliar!
Other than that, you'll find Chimations love a good cuddle session and playing with the family - if these activities are done in moderation, there's no need to worry about them being overly lively.
That said, Chihuahua Dalmatian mixes hate to feel excluded and can get easily distressed when left alone for long periods of time, so do keep that in mind when considering getting one!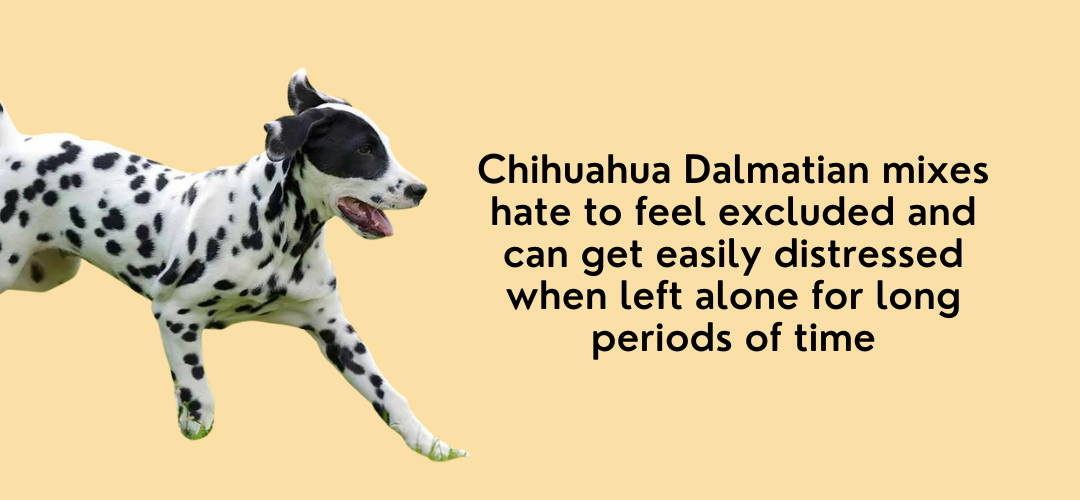 Do Chihuahua Dalmatian Mixes Get Along with Other Pets?
Generally speaking, Chimations show great compatibility with animals of all shapes and sizes.
After all, both parent breeds are incredibly social and loyal, a combination that makes them perfect to have around other pets.
Although it may take a bit of time for new pets to warm up to one another, a Chihuahua-Dalmatian mix will make an excellent addition to any home full of furry friends!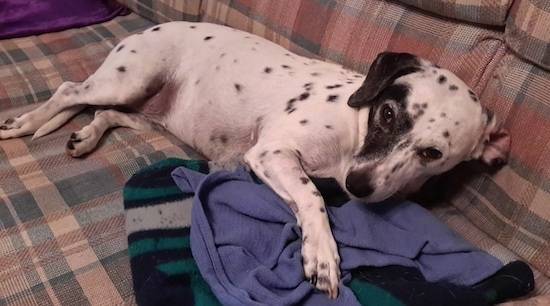 Do Dalmatian Chihuahua mixes Shed?
Although the Dalmatian has a short coat, it's actually a heavy shedder, whereas the Chihuahua sheds very lightly in comparison.
When it comes to the Dalmatian Chihuahua mix, you can expect moderate shedding.
Fortunately, with some weekly brushing using a rubber mitt or natural bristle brush, it won't take too much effort to keep their lovely coats clean and healthy-looking!
The Chihuahua Dalmatian mix is not hypoallergenic.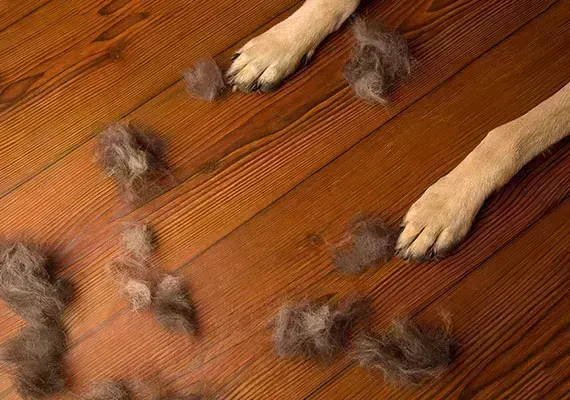 Health concerns for a Dalmatian Chihuahua mix
Chihuahua Dalmatian Mixes typically have a lifespan of between 12 and 15 years.
While Chimations may inherit some of their physical and behavioral traits from their parent breeds, they also inherit the same health issues.
Chimations suffer from patellar luxation
This condition involves the dislocation of kneecaps due to a structural abnormality in the Chimation's legs, which can vary in severity and cause discomfort.
Unfortunately, because this occurs in the developmental phase there isn't much pet owners can do to prevent it beforehand. In mild cases, adjusting diet and providing joint supplements for pain may be enough to treat it but if surgery becomes necessary, then that's an option too.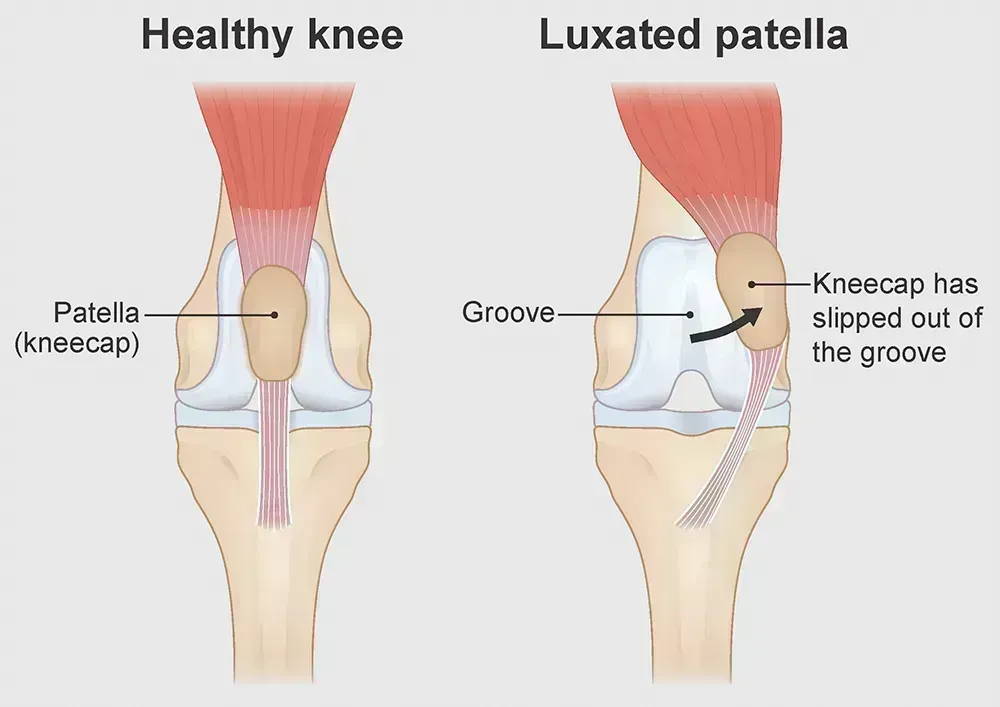 Chimations suffer from hip dysplasia
Hip dysplasia is actually a genetic disorder that puts the joint at an increased risk of dislocating. This means that owners should be extra vigilant in monitoring their Chihuahua Dalmatian Mix's activity, as exercise and jumping can exacerbate the symptoms.
Especially if they're running around on hard surfaces like concrete or wood, owners should try to make sure they have ample time to rest up after some playtime so they don't irritate their hip joints any further.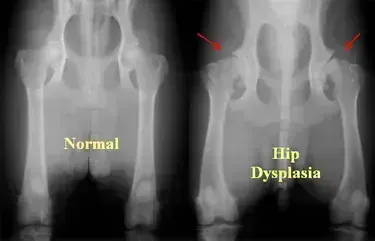 Chimations suffer from collapsed trachea
Unfortunately, one of the possible health issues owners may have to consider with these mixes is collapsed trachea. Collapsed trachea is an issue caused by faulty cartilage rings in the trachea weakening and causing the airways to become obstructed.
This can be painful for affected Chihuahua Dalmatian mix and cause them to cough or wheeze when exercising or excited.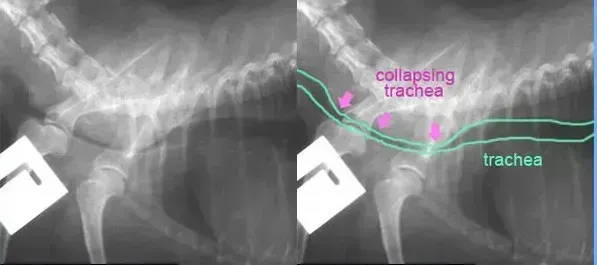 How to care for a Dalmatian Chihuahua mix?
When caring for a Chihuahua Dalmatian Mix, you must consider grooming, exercising, training, and feeding.
A Dalmatian Chihuahua mix is a unique pup not just because of their distinctive spots; they also have a super soft coat!
When it comes to grooming these dogs, make sure to brush them up twice each week. A slicker brush will help to get all the loose and dead hair coming off their back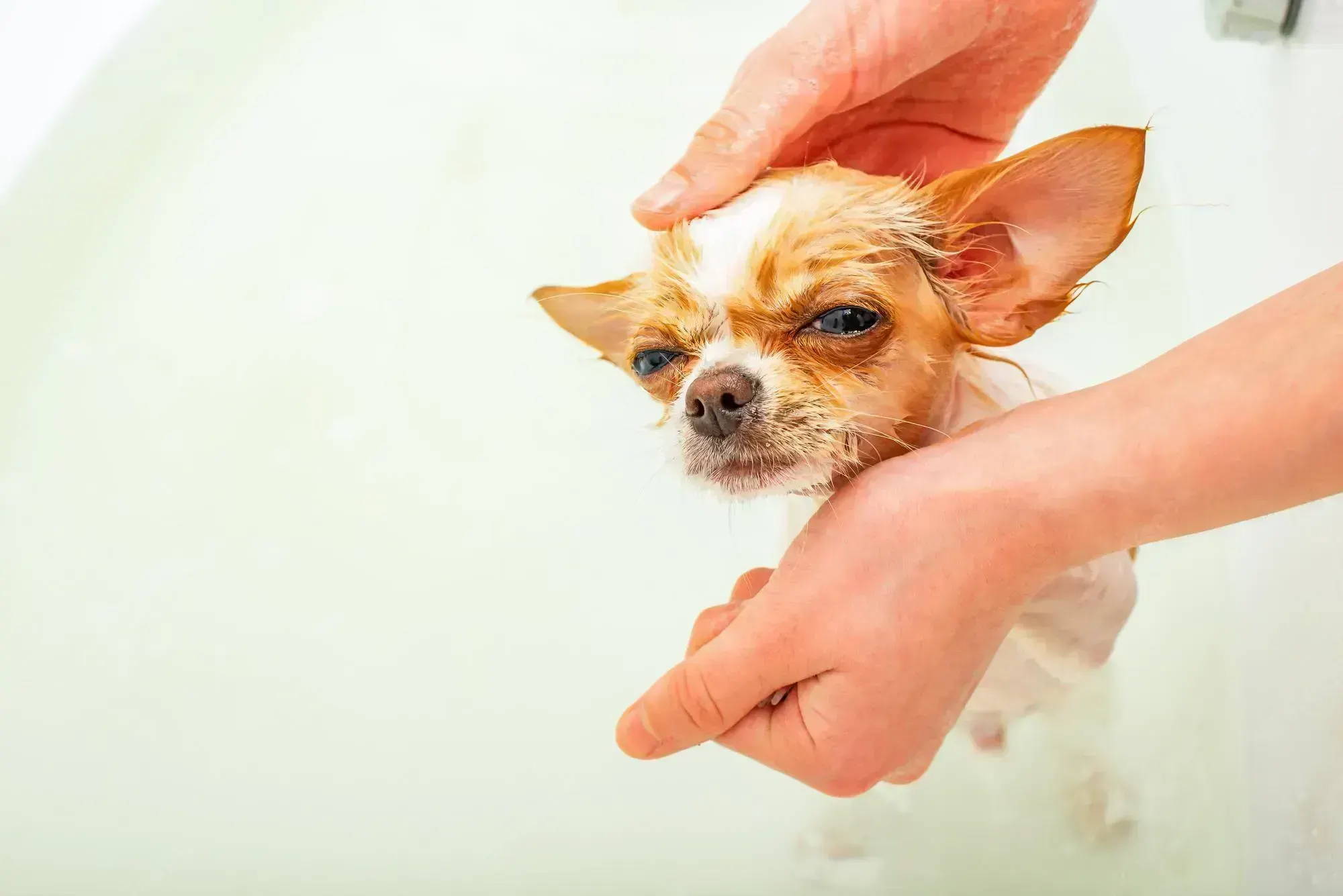 If you have a Chihuahua Dalmatian Mix, it's important to pay extra attention to their ears since these special cross-breeds have long and fluffy ear flaps that can trap moisture and bacteria easily.
The best thing you can do for the health of your Chimation's ears is to clean them once a week. A damp cloth can be used to gently wipe away any dirt or debris, followed by a soft-bristled dog brush with which you can lightly brush away any remaining particles.
You should also make sure that the ear flaps are dried completely afterward as excess moisture can cause infections.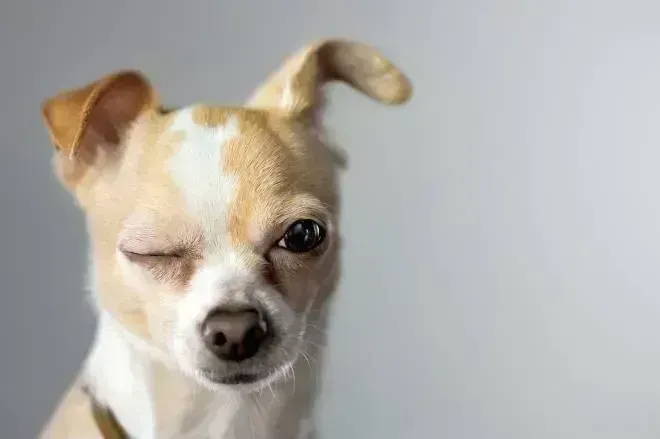 Taking good care of your Chihuahua Dalmatian Mix's teeth is very important for their overall health. To keep their choppers in tip-top shape, it's important to brush their teeth regularly with dental-grade dog toothpaste and a specialized toothbrush made specifically for dogs.
It's also a good idea to bring them in for regular dental checkups with your vet and opt for professional teeth cleanings if needed.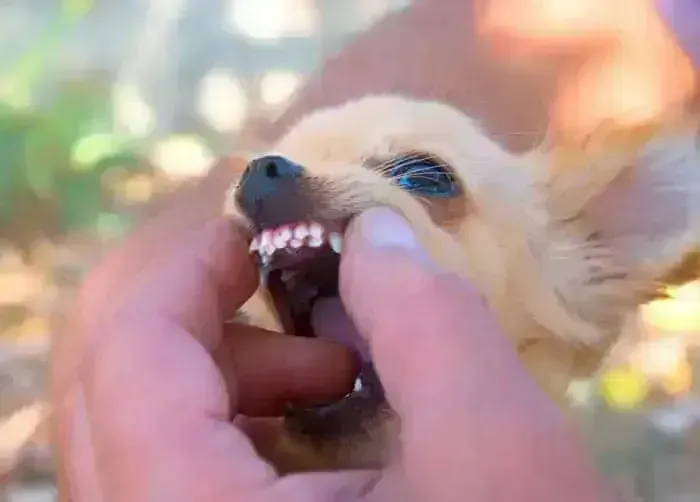 Start by inspecting your Chihuahua Dalmatian's nails regularly to ensure they are at a good length. If the nails become too long, it can be uncomfortable and even painful.
Thankfully, caring for your Chihuahua Dalmatian Mix's nails is simple and can be done with just a pair of nail trimmers and some treats. While many puppies will rest calmly during this activity, you might need to take it slow if they're scared or anxious.
Begin with very brief nail trimming sessions and reward plenty of treats after each one in order to help keep their stress levels low.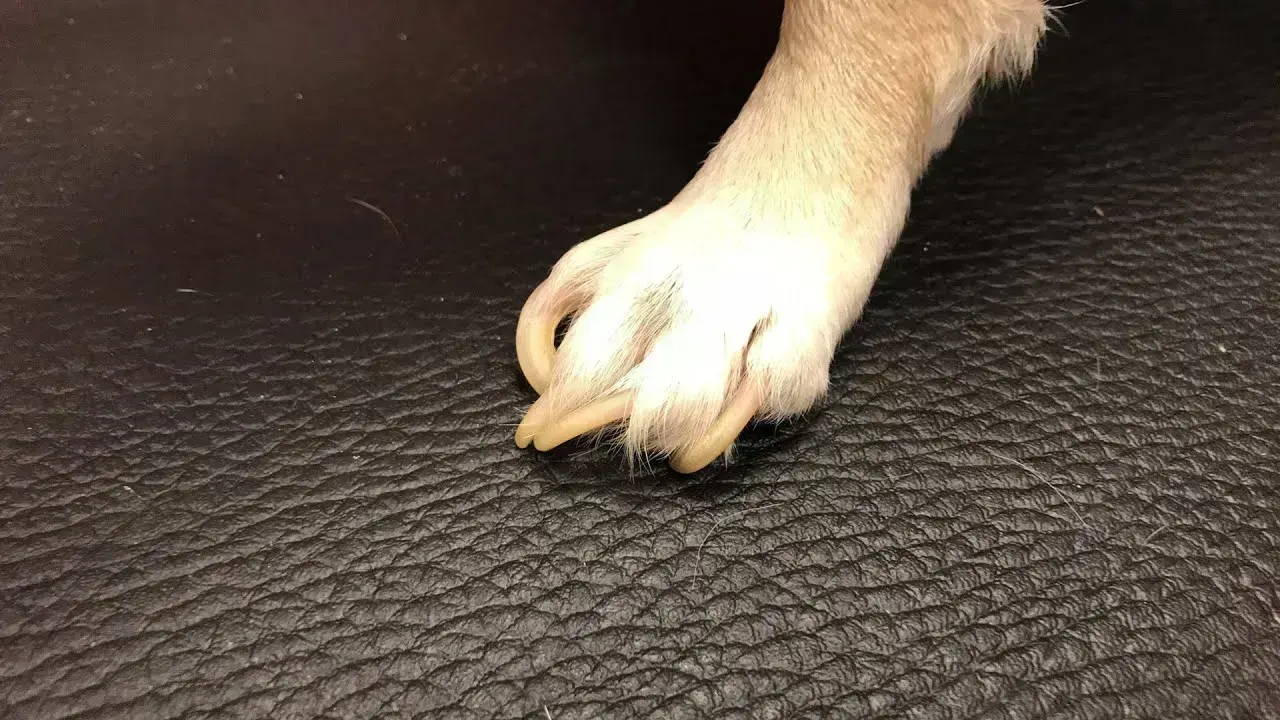 The Dalmatian Chihuahua mix is highly intelligent and eager to learn. Unfortunately, if his training sessions are lax or inconsistent, he may start to show signs of misbehavior.
This little pup won't be satisfied with just feeling like the alpha of the house – he'll try to make it official. With firm and consistent training from his owner, however, the Chimation can turn into a perfect pooch -- learning new tricks without breaking a sweat and responding positively to commands.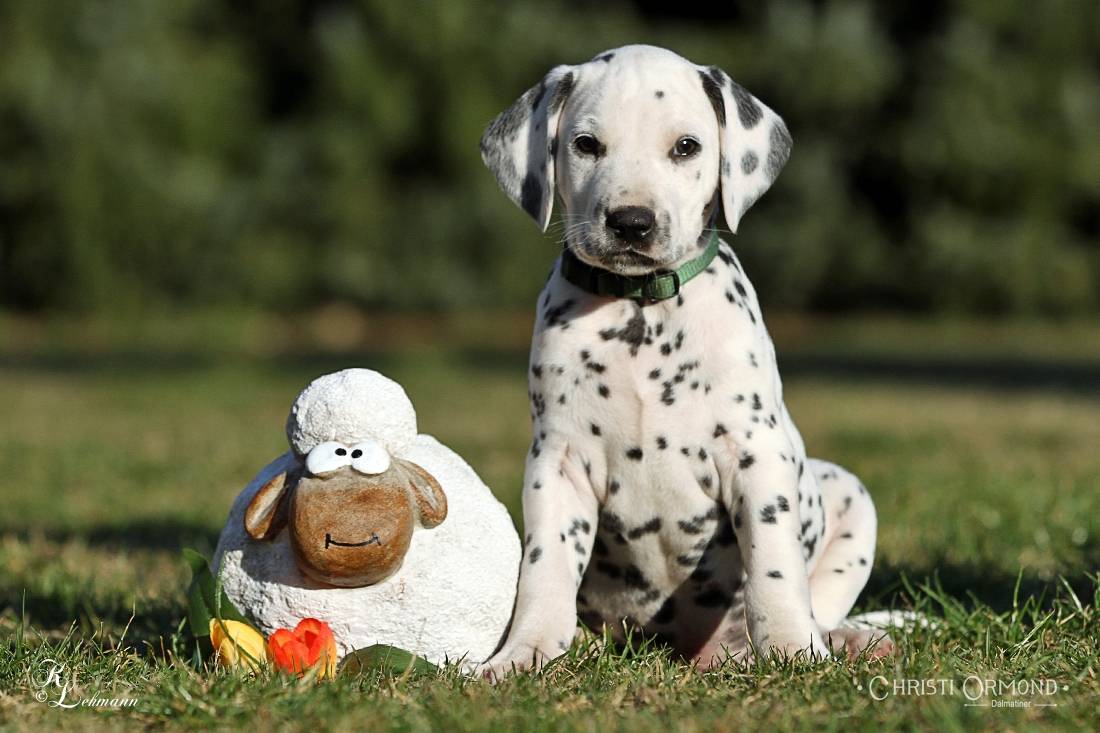 Taking care of a Chihuahua Dalmatian Mix requires a bit of careful research, as many aspects of their diet must be considered. Although these pups are small and adorable, it's important to respect their dietary needs for a long and healthy life.
Depending on their age, size, and activity level, the amount and type of food you should feed them differs. Generally speaking, however, it's best to give them high-quality dry kibble formulated for small dog breeds.
Feeding your Chimation twice daily is also recommended, with appropriate portion sizes that account for their size.
Exercising your Chimation
The Dalmatian Chihuahua mix is an energetic breed with a playful spirit. If you're looking for an outgoing pup to join your family, this mix might be perfect for you!
However, his level of enthusiasm and need for physical activity could make him difficult to live in an apartment. This adventurous pooch needs tons of space to explore and expend his unlimited amounts of energy.
If you are able to provide him with the physical and mental stimulation he requires, then he is sure to be a loyal and loving companion.
In order to keep your Chihuahua Dalmatian mix happy, it's important to give him at least an hour of exercise each day—aim to walk them roughly 11 miles per week.
Is the Dalmatian Chihuahua mix right for you?
Dalmatian Chihuahua mixes are not great with young children
Dalmatian Chihuahua mixes are known to be energetic and headstrong, qualities that may not make them the best choice for families with children.
If a family is looking at breeds of dogs that are likely to get along well with their youngsters, they should probably look elsewhere. These mixes can become quite territorial and may not take to any sudden movement or loud noises young children might make.
Given the right amount of care, attention, and socialization though, these pooches can still end up being great companions for anyone who gives them love and support!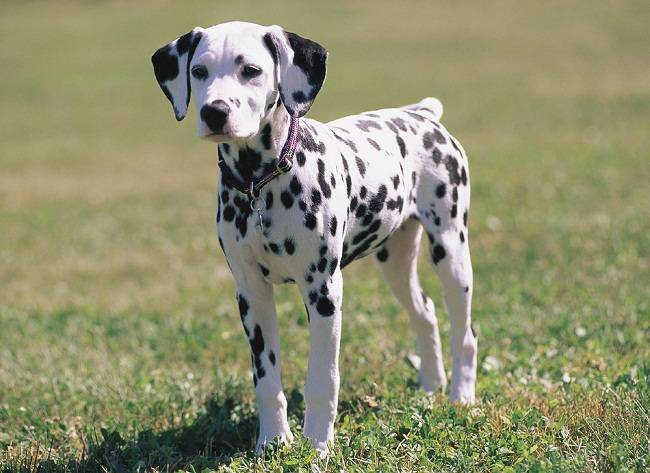 Dalmatian Chihuahua mixes are better for experienced dog owners
The Chihuahua Dalmatian Mix isn't the ideal pet for those getting a dog for the first time.
The mix of these two popular dog breeds needs consistency and firm training from owners to show them how they should act around other dogs and strangers.
It's an important part of bonding with your Chimation and it will help them become more social around people. This breed is also known as a high-energy pooch that requires plenty of exercise if you want to avoid any bad behavior due to boredom.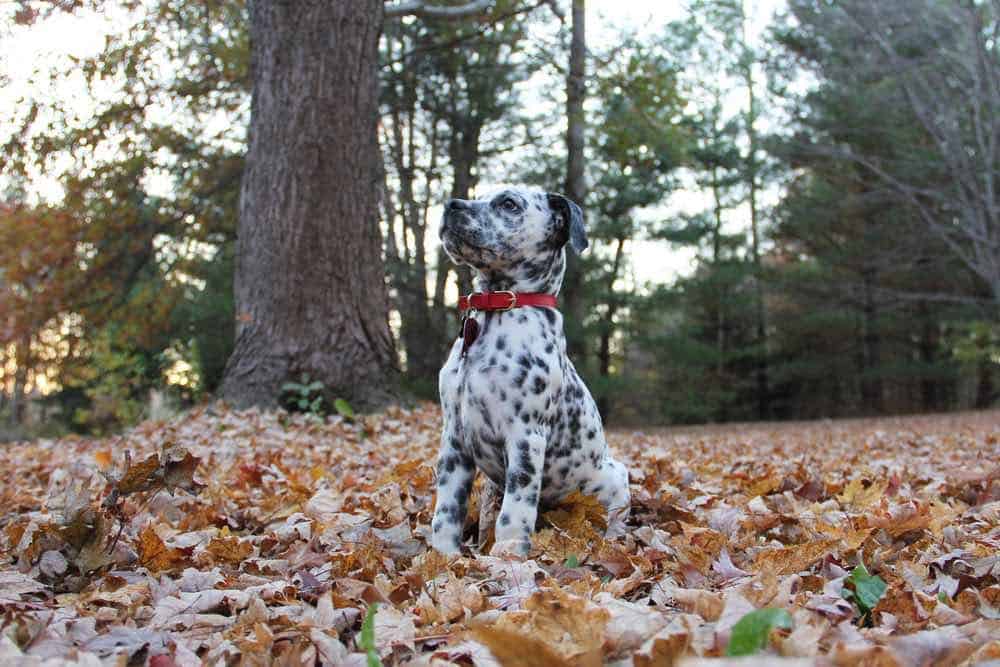 Male versus female Chihuahua Dalmatian Mix
When it comes to the Chihuahua-Dalmatian mix, the choice between a male or female pup can be tough. Each gender offers its own unique and lovable qualities that may be perfect for some pet owners and less than ideal for others.
Male Chimations tend to have higher energy levels, while female tend to be more relaxed. Depending on one's home life and lifestyle, either gender could make an excellent companion.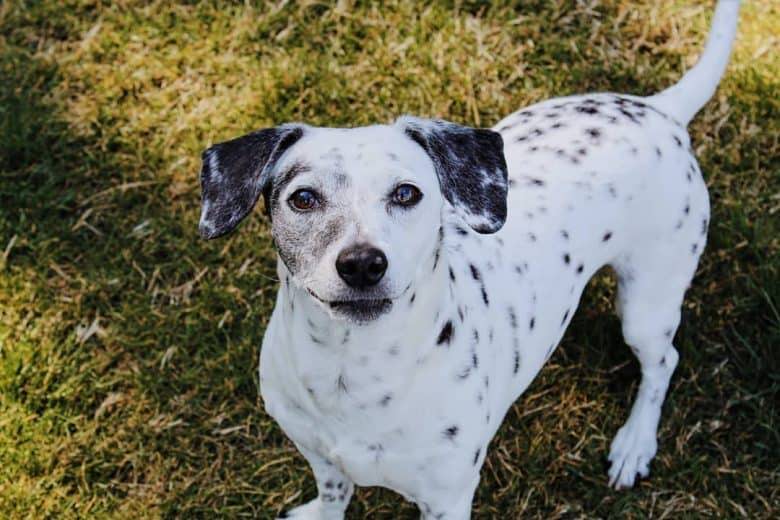 The Chimation is the right dog for you if:
You are experienced with dogs

You have an active lifestyle

You want a low-shedding dog
The Chimation is NOT the right dog for you if:
You don't want a very energetic dog

You don't have time to train a dog
Dalmatian Chihuahua mix FAQs
What is a Chihuahua Dalmatian Mix called?
The Chihuahua Dalmatian mix is often referred to as a "Chimation".
What does a Chihuahua Dalmatian Mix look like?
The Chimation typically has a dalmatian-like coat, with occasional lighter and darker spots. They also have black masks around their eyes and ears, which is more common in dalmatians than chihuahuas. Other than that, they usually look like a combination of the two breeds - they will be small with long fur and a dalmatian's trademark spots.
How long do Chihuahua Dalmatian Mixes live?
Like other small dogs, the Chihuahua Dalmatian Mix typically lives for 12-15 years with proper care.