Conjunctivitis in Chihuahuas (Pink Eye): Symptoms, Treatment & Prevention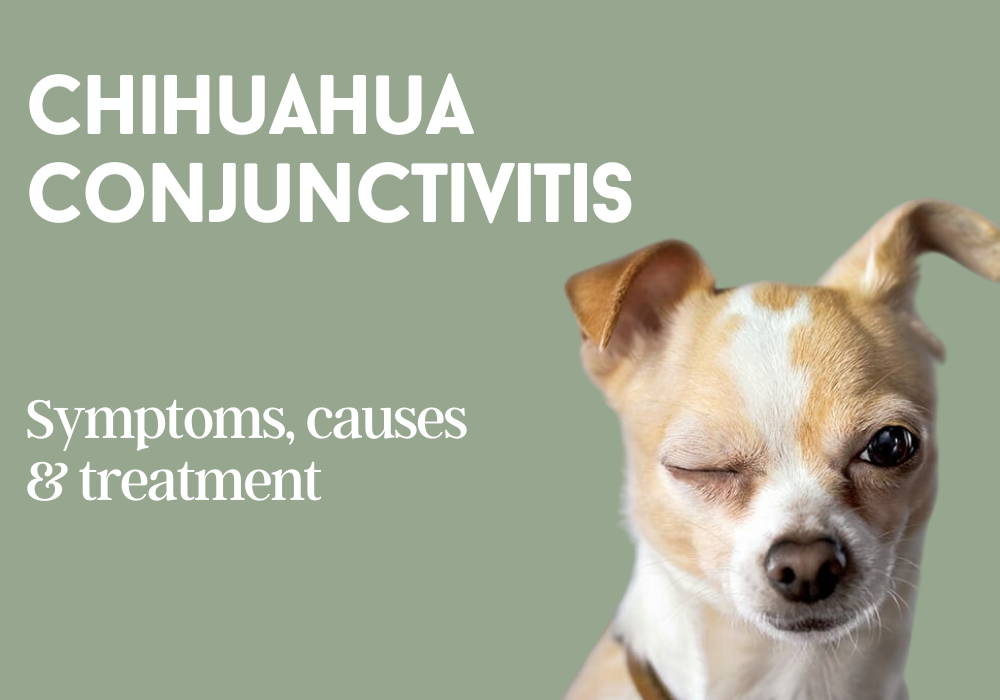 If you have a Chihuahua, then you already know that they are particularly prone to contracting eye issues like conjunctivitis. This highly contagious eye condition often leads to redness, itching, and general discomfort for your Chihuahua.
Read on as we explore the causes of this pesky ailment in Chihuahuas along with hints on how to manage this uncomfortable situation– including how to identify symptoms early, ways of preventing its onset altogether and effective forms of treatment should preventive efforts fail.
What is conjunctivitis in Chihuahuas?
Conjunctivitis in Chihuahuas is a severe condition that can cause discomfort and irritation to your Chi.
Also known as pink eye, this ailment occurs when the conjunctiva, the thin layer of tissue that covers the eyeball and lines the eyelids, becomes inflamed.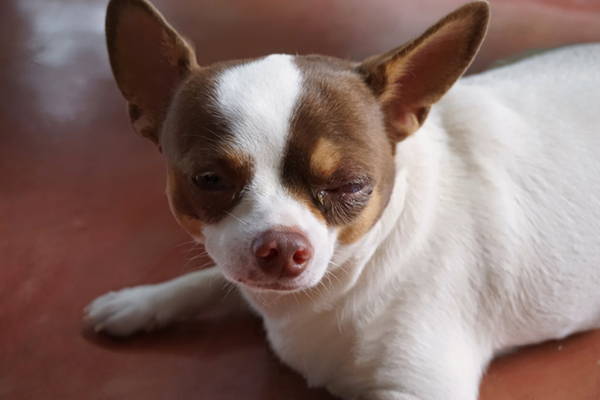 Different types of conjunctivitis in Chihuahuas
Chihuahuas can get conjunctivitis, and there are three types to be aware of.
Allergic conjunctivitis can affect any Chihuahua, but it's more likely in Chihuahuas that are prone to atopic dermatitis. This condition usually affects young adults but can happen at any age.
Common triggers include environmental allergens like dust, pollen, mold, food allergens such as specific proteins, and genetics that increase allergy susceptibility.
Chihuahuas can get viral conjunctivitis if they come in contact with viruses that cause eye membrane inflammation. These viruses are highly contagious and can take several weeks to clear up.
Some of the viruses that can cause this condition in Chihuahuas are canine distemper virus and canine herpesvirus.
Chihuahuas rarely experience primary bacterial conjunctivitis. Age, gender, and breed don't appear to affect its incidence.
Rather, underlying medical issues like chronic dry eyes, eyelid abnormalities, and corneal ulceration often lead to secondary bacterial infections in the eyes.
Both Staphylococcus and Streptococcus - highly contagious types of bacteria - are responsible for most cases of bacterial conjunctivitis in these Chihuahuas.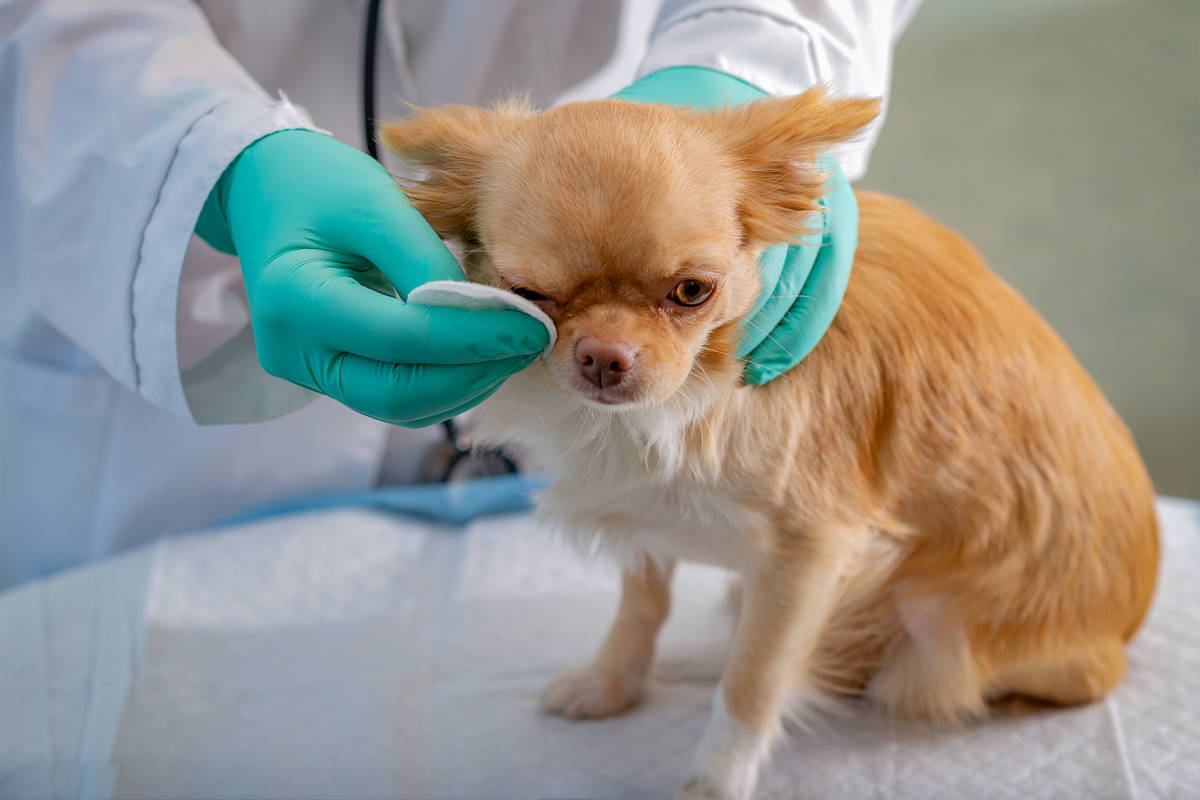 What are the causes of conjunctivitis in Chihuahuas?
When it comes to conjunctivitis, it's important to understand that there can be a variety of different causes. It could be as simple as an allergic reaction or as serious as a cancerous growth.
Regardless of the cause, the clinical signs often appear similar, making it difficult to determine the root of the problem without a proper examination.
That's why it's crucial to consult with your veterinarian and undergo routine exams to investigate the cause of the inflammation. Conjunctivitis is not something to take lightly, and a serious tone is necessary when discussing this potentially harmful condition.
What are the symptoms of conjunctivitis in Chihuahuas?
Conjunctivitis usually presents itself with red or bloodshot eyes. Severity determines the other symptoms, which can vary and include:
- Blinking or squinting more than normal
- Eye discharge has increased and may appear clear, white, yellow, or green.
- Eyelid swelling/puffiness
- Eyelids fused shut.
- The eyes are producing excessive tears.
- Your Chihuahua is rubbing its eyes, using either its paws or rubbing against the floor or furniture.
How is conjunctivitis in Chihuahuas diagnosed?
To properly diagnose conjunctivitis, your vet will conduct a comprehensive physical exam, including an in-depth assessment of your Chihuahua's eyes. The objective is twofold: determine the root cause of the condition and assess any detrimental impact on your Chihuahua's eyesight.
The ophthalmic exam includes:
- Examination of the eye areaincluding the eyelids, surrounding fur, eyelashes, tear ducts, and third eyelid.
- Schirmer tear testing evaluates tear production without any discomfort involved. This non-invasive test swiftly and accurately measures the tear volume for both eyes.
- Fluorescein stain testing, also known as corneal stain testing, is a simple and painless examination that assesses the health of the cornea. By using a yellowish dye and a specialized light, any potential damage to the outer layer of the eye, such as cuts or scrapes, can be easily detected in a dark room.
- Testing eye pressure is crucial for detecting glaucoma and uveitis in both eyes.
Veterinarians may conduct a range of evaluations and methods, including bacterial culture, allergy testing, viral testing, conjunctival scraping or biopsy, and ultrasound of the eyeball, as needed. Additionally, tear duct flushing can be performed upon request.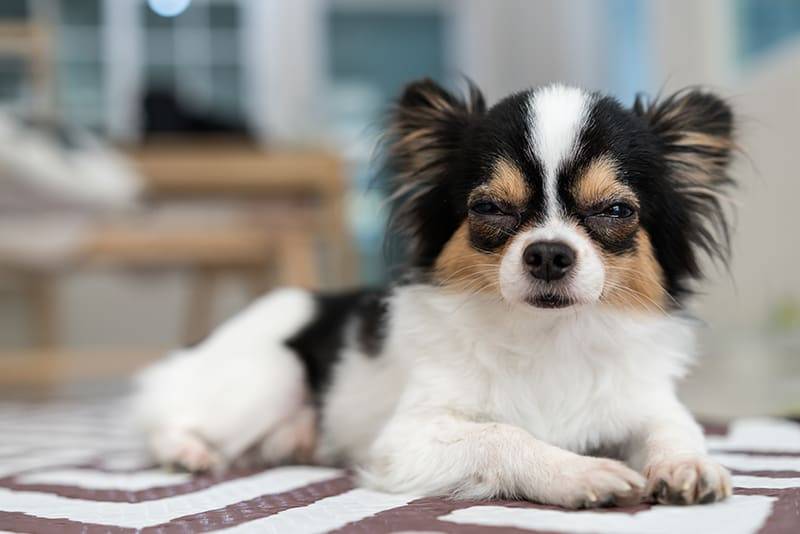 How is conjunctivitis in Chihuahuas treated?
It's important to consult a veterinarian before treating an undiagnosed eye condition in your Chihuahua. Avoid using human eye drops or medicationsas they can worsen the issue or cause permanent damage.
Treatment plans for your Chihuahua's conjunctivitis will depend on the underlying cause.
Common recommendations may include:
Allergy-Related Conjunctivitis
- Application of Cold Compresses
- Using Steroid Eye Drops
- Use of artificial tears
- Use of antihistamines, either in pill form or as eye drops.
- Use of medicine to decrease inflammation.
- Application of Cold Compresses
- Using Steroid Eye Drops
- Use of artificial tears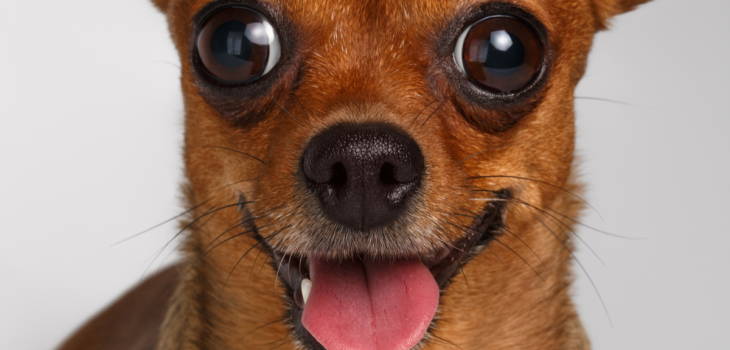 - Use of antibiotic drops/ointment
- Application of Cold Compresses
- Use of artificial tears
- Using Steroid Eye Drops
Injury-Related Conjunctivitis
- Use of medication
- Surgery (if medication is not an option or has not been successful)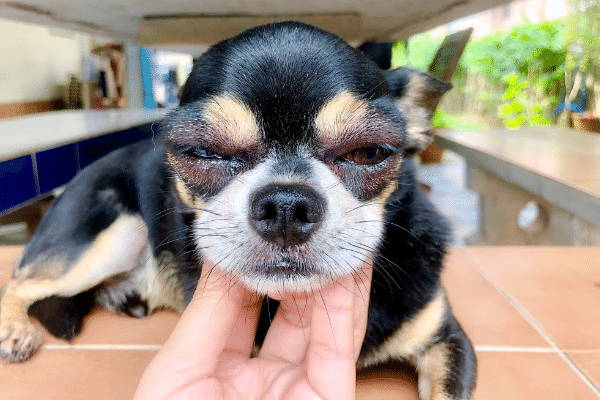 How to prevent conjunctivitis in Chihuahuas?
There are ways to avoid certain causes of conjunctivitis in your Chihuahua. To reduce allergy-related conjunctivitis, it's recommended to minimize exposure to airborne irritants such as smoke, perfumes, and dust.
Additionally, keeping an eye on dogs playing together can lower the chances of eye trauma. It's also important to keep your Chihuahua's vaccinations up to date, as diseases such as canine distemper can also contribute to conjunctivitis.
To halt the transmission of conjunctivitis, quarantine your infected Chihuahua from other animals until they receive a clean bill of health.
To maintain your Chihuahua's health and prevent infections, it's important to establish some good habits. If your Chihuahua spends time around other animals frequently, make sure to wipe down their paws and face after coming home.
Additionally, be sure to wash your hands after handling their toys, bowls, or touching their face. Practicing good overall hygiene can make all the difference!
Conjunctivitis in Chihuahuas FAQs
Is conjunctivitis in Chihuahua contagious?
Yes, conjunctivitis in Chihuahuas is contagious. In many cases, the disease can spread through contact with other animals or contaminated surfaces. To avoid the spreading of the infection, it's important to keep your Chihuahua away from other animals until they get a clean bill of health and practice good hygiene habits.
Will my Chihuahua completely recover from conjunctivitis?
With proper treatment, most cases of conjunctivitis in Chihuahuas will resolve without further complications. Depending on the underlying cause, some cases may require more complex treatments including surgeries or long-term medication regimens. In any case, it's best to consult a veterinarian for advice and timely diagnosis.
What is the cost of treating conjunctivitis in Chihuahuas?
The cost of treating conjunctivitis in Chihuahuas may vary depending on the type and severity of the condition. Common treatments such as antibiotics or steroid eye drops can range from $20 to $100, while more complex treatments such as surgery or long-term medications can be upwards of several hundred dollars.
What happens if conjunctivitis in Chihuahuas is left untreated?
If left untreated, conjunctivitis in Chihuahuas can lead to serious complications including glaucoma, vision loss, corneal ulcers, and even permanent blindness.
How long does conjunctivitis in Chihuahuas last?
The duration of conjunctivitis in Chihuahuas may vary depending on the underlying cause. Generally, mild cases can last from two to four weeks while more serious cases can persist for up to several months.