Congestive Heart Failure in Chihuahuas: How To Treat It? How To Prevent It?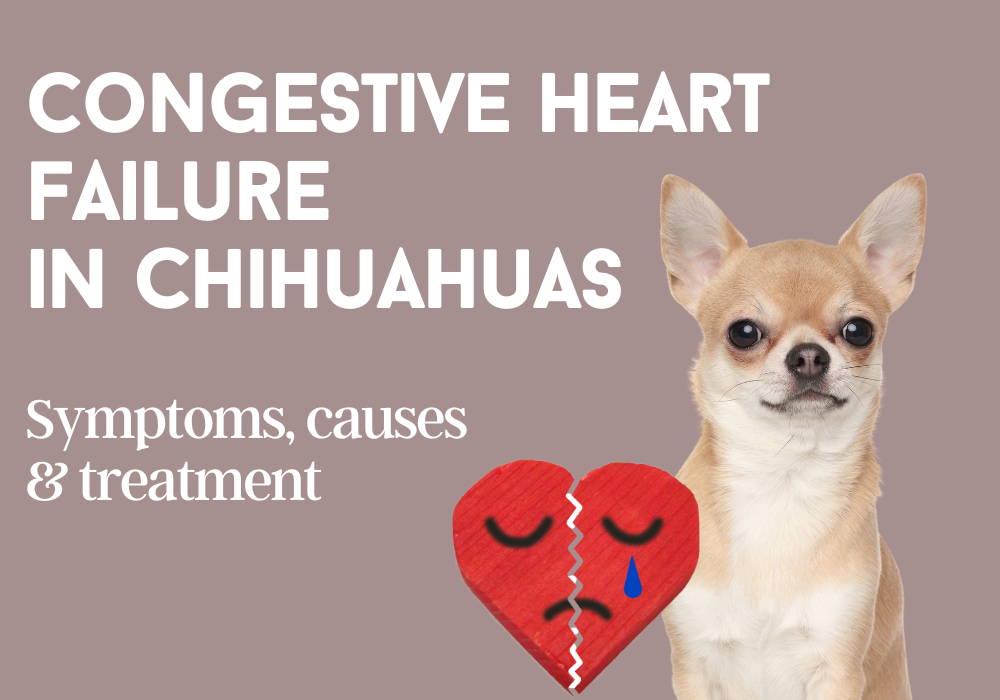 Dealing with your Chihuahua's heart condition can be daunting, but to prolong their life after a Congestive Heart Failure diagnosis, top-notch care is a must.
This article arms you with the vital information you need about the condition to steer your Chihuahua's vet care and treatment with confidence.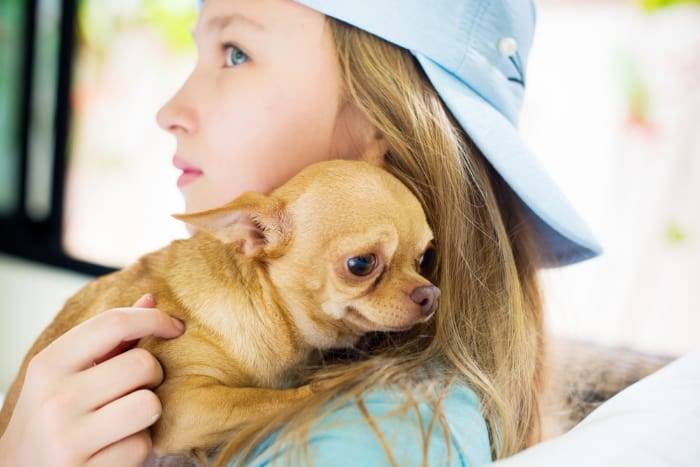 What is congestive heart failure in Chihuahuas?
When a Chiwawa dog's heart can't pump enough blood to its body, it's called Congestive Heart Failure (CHF).
Veterinarians frequently use the term CHF because Chihuahuas may suffer various illnesses that lead to them becoming CHF patients.
This illness comes in two main forms: Right Side Congestive Heart Failure (RS CHF) and Left Side Congestive Heart Failure (LS CHF).
CHF causes blood congestion in Chihuahuas' lungs, abdomen, or limbs when the heart can't pump and circulate blood as needed.
Right-sided congestive heart failure (RS-CHF)
RS-CHF disrupts blood flow to the heart. Instead of sending blood for oxygenation, some blood leaks back into the right atrium.
This causes the systemic circulation to congest, leading to fluid buildup in the abdomen and interfering with organ function.
Left-sided congestive heart failure (LS-CHF)
Left-sided congestive heart failure (LS-CHF) occurs when the heart pumps blood, but instead of reaching the rest of the body, some of it leaks back into the left atrium and then backs up into the lungs.
This causes pulmonary edema, difficulty breathing and coughing. LS-CHF is the most prevalent type of congestive heart failure in Chihuahuas and is commonly associated with the classic symptoms of heart failure, such as coughing and fluid in the chest.
What are the signs of congestive heart failure in Chihuahuas?
Regular veterinary exams are crucial for your Chihuahua's health, as congestive heart failure (CHF) can often have no initial symptoms. Your Chihuahua's veterinarian may be able to detect CHF before it presents symptoms, allowing for early intervention and treatment.
As the disease advances, these symptoms may surface:
- Persistent Cough that won't go away
- Lethargy
- Loss of interest in their favorite activities
- General weakness
- Breathing is strained
- Fainting or collapsing
- Pale gums
- Swollen belly
CHF typically starts with persistent coughing and breathing problems due to fluid buildup in a Chihuahua's lungs or an enlarged heart putting pressure on their trachea. These are the primary signs to watch out for.
It's easy to mistake CHF symptoms for normal aging. Don't take any symptoms your Chihuahua shows for granted -- tell your vet about every single one, even if it seems small to you. Your vet could identify something you missed.
The four stages of CHF in Chihuahuas
There are four stages of CHF in Chihuahuas. Unfortunately, stages one and two exhibit few symptoms, which can make it challenging for owners to detect until the condition has grown more severe.
The Chihuahua's heart is deteriorating in Stage 1, but no visible signs or symptoms have appeared yet.
Symptoms such as panting, shortness of breath, and exhaustion become noticeable during Stage 2, particularly after physical activity.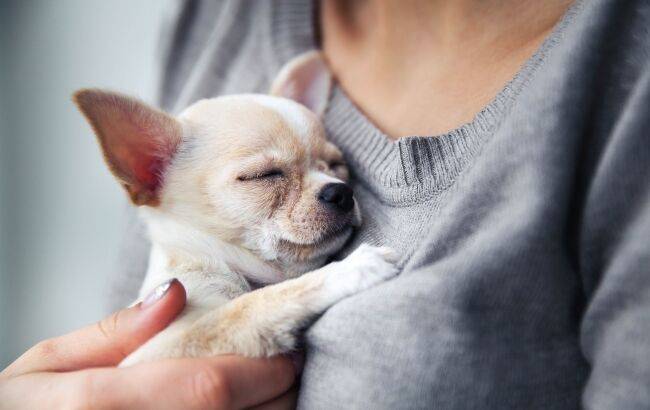 During Stage 3, your Chihuahua may experience frequent fatigue, shortness of breath, coughing, and wheezing even on short walks.
These symptoms occur due to inefficient pumping of the heart, leading to a build-up of fluid in the chest that makes breathing difficult.
At Stage 4, CHF reaches its final phase. Even resting becomes a struggle for your Chihuahua, due to breathing difficulties.
Fluid buildup can lead to swelling in different areas of the body, making it hard to walk. In severe cases, vomiting may occur.
What are the causes of congestive heart failure in Chihuahuas?
Chihuahuas can develop congestive heart failure due to various reasons, but the most prevalent cause is myxomatous mitral valve disease (MMVD).
This condition is also known as chronic or degenerative mitral valve disease, mitral insufficiency, or endocardiosis.
Valvular disease is a key factor in congestive heart failure, accounting for around 80% of cases in Chihuahuas. The most frequent form of valvular disease in Chihuahuas is mitral valve disease, where the valve leaks.
This valve is situated between the left ventricle and the left atrium. It's necessary for the mitral valve to function correctly for the heart to pump blood effectively.
One cause of congestive heart failure in Chihuahuas is dilated cardiomyopathy (DCM), which happens when the heart muscle is diseased and loses its ability to contract effectively.
This reduces blood flow and can lead to lower blood pressure. Biventricular failure occurs when both the left and right ventricles aren't working correctly, often due to DCM or poisoning. Symptoms of both left and right-sided heart failure may be present with this type of CHF.
In addition to valvular disease and dilated cardiomyopathy, there are other reasons why CHF may occur:
- The heart walls have defects.
- Congenital heart defects.
- Tumors or cancer
- Narrowing of major blood vessels Infection (endocarditis)
- Heartworms
- Accumulation of fluid in the pericardium (sack around the heart)
- Arrhythmias
How is congestive heart failure in Chihuahuas diagnosed?
The top five methods for diagnosing CHF are:
To diagnose heart disease in Chihuahuas, the first step is using a stethoscope to listen to the heart. The vet can detect heart murmurs this way, and the location and intensity of the murmur can help understand its significance.
He also assesses the heart rhythm and may simultaneously feel the pulse to determine its strength and rhythm. Lastly, he checks the lungs for any changes that may be associated with heart failure.
The vet will take chest X-rays of your Chihuahua's chest to assess heart size and shape as well as detect signs of fluid in the lungs.
Blood and urine tests are used to detect ongoing health complications, such as impaired liver and kidney function, which are frequently linked to heart disease.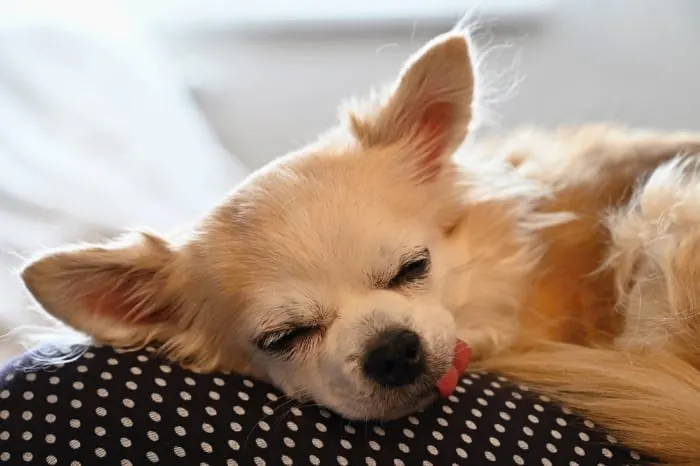 An ECG measures the heart's electric activity and offers precise heart rate and rhythm readings. It also detects and assesses any irregular rhythms (arrhythmias or dysrhythmias).
Ultrasound examination assesses the heart's size, thickness of each chamber, and contraction effectiveness, through the use of ultrasound waves.
It allows for direct observation of the heart's contractions and facilitates taking measurements to assess pumping efficiency.
How is congestive heart failure in Chihuahuas treated?
There are treatments available for Chihuahuas with CHF to maintain their quality of life, but unfortunately, there is no cure for this disease.
Chihuahuas with congestive heart failure will need ongoing special care that includes medication, prescribed diet, exercise, and stress management for their entire lives.
Heart medication for congestive heart failure:
Furosemide and other diuretics get rid of extra body fluid in the lungs and abdomen with medication.
Inodilators are drugs that boost heart muscle strength and dilate narrowed blood vessels, lessening the strain on a Chihuahua's weakened heart. Pimobendan (VETMEDIN) is presently the sole option.
ACE inhibitors are medications that dilate narrowed blood vessels.
Can you prevent congestive heart failure in Chihuahuas?
While congestive heart failure in Chihuahuas is unavoidable, taking proactive measures like detecting heart disease early, offering nutritious meals, and regular exercise can help to promote good heart health while reducing the likelihood of CHF development.
Chihuahua Congestive Heart Failure FAQs
Can you cure congestive heart failure in Chihuahuas?
No, there is no cure for congestive heart failure in Chihuahuas. However, it can be managed with medications and life-long lifestyle changes that keep the heart functioning at its best.
Is congestive heart failure in Chihuahuas deadly?
Congestive heart failure can be life-threatening for Chihuahuas if left untreated. However, with regular veterinary checkups and proper care, you can ensure your Chihuahua's wellbeing for many years to come.
Is congestive heart failure in Chihuahuas painful?
Unfortunately, yes. Some of the symptoms can be painful for your Chihuahua and could worsen if not treated properly. Be sure to visit the vet on a regular basis so they can monitor your Chihuahua's condition and provide them with appropriate treatments.
What is the life expectancy for a Chihuahua with congestive heart failure?
The life expectancy for a Chihuahua with congestive heart failure depends on the severity of the condition. They could live anywhere between 1 to 2 years, with proper care and treatment.
Is there a vaccine for congestive heart failure in Chihuahuas?
No, there is no vaccine available for congestive heart failure in Chihuahuas. The best way to ensure your Chihuahua's well-being is to keep them healthy by providing them with good nutrition and regular vet checkups.
How can I help my Chihuahua with congestive heart failure?
If you suspect that your Chihuahua is experiencing congestive heart failure or respiratory distress, it is vital to seek urgent care from a local emergency vet right away.