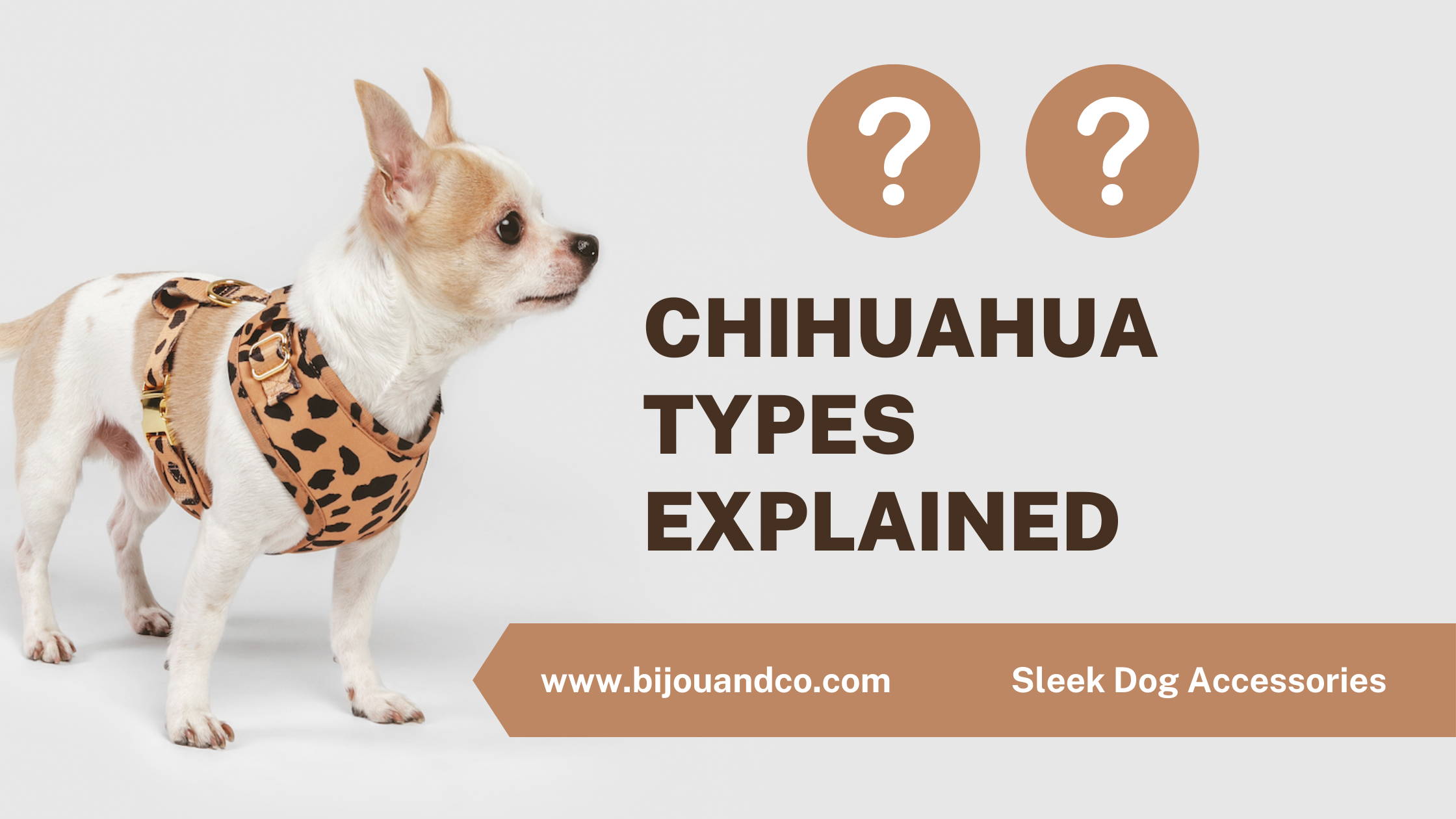 The American Kennel Club (AKC) states that they only recognize two types of Chihuahuas – the long-haired and the short-haired. Any other type of Chihuahua, including those with a mix of hair types and those with specific body types, will not be able to compete in AKC shows.
All other kinds of Chihuahua you have heard of are regarded as variants of the same breed, as determined by the breed standard. While they all belong to the same breed, each type has its own physical characteristics that sets it apart from others such as head shape, coat color, and coat markings.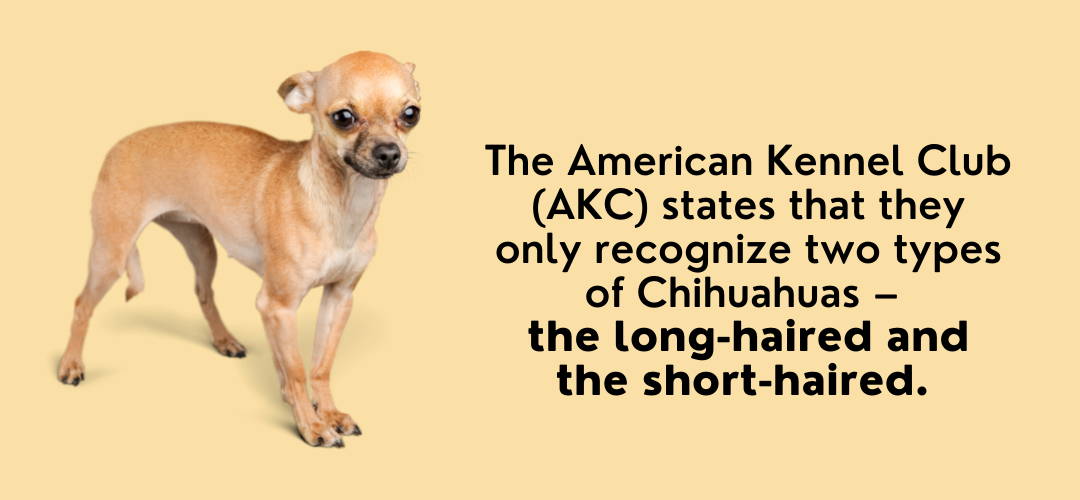 Chihuahuas, like many other dog breeds, have two distinct types:
Short-Haired and Long-Haired Chihuahuas.
These 2 standard Chihuahuas are different from one another, and all other sorts of Chihuahua are regarded by the AKC as subspecies of the same breed.
TYPE 1: Short-Hair Chihuahuas
Short-Haired Chihuahuas are known as Smooth-Coat Chihuahuas. They have a short, glossy coat that lies close to their body.
Short-haired Chihuahuas typically have softer, less dense coats than their Long-Haired counterparts. This can make them more comfortable in warmer climates and easier to groom. However, Short-Haired Chihuahuas may be more prone to skin problems, such as allergies and dryness.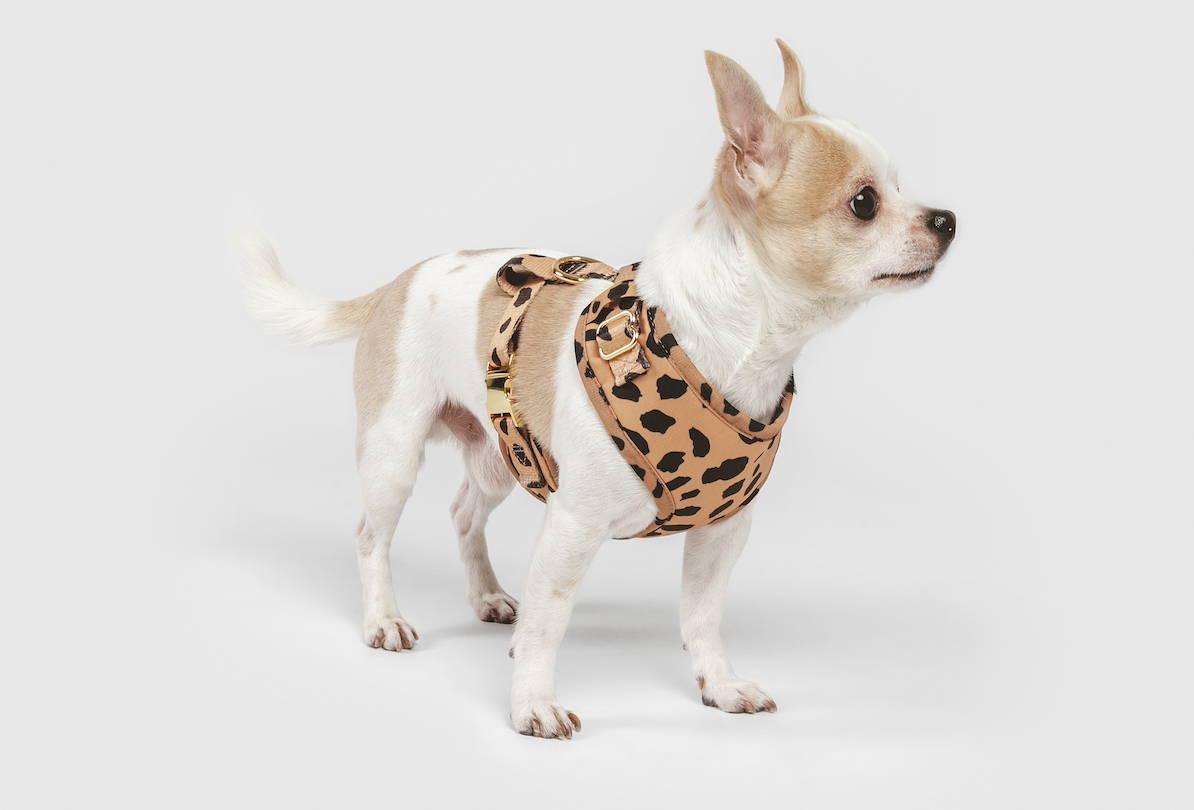 TYPE 2: Long-Hair Chihuahuas (rough coat)
Long-Haired Chihuahuas are beautiful dogs, but they require significantly more grooming than their Short-Haired counterparts. The long coat can become mats and tangles if it is not brushed regularly, and it is also more susceptible to dirt and debris.
As a result, Long-Haired Chihuahuas need to be brushed daily, and they may also require occasional baths. In addition, the long coat can make it difficult to see the dog's skin, so owners should be vigilant for any signs of irritation or infection. While Long-Haired Chihuahuas may require more work, their gorgeous coats are well worth the effort.
We'll now look at the many other sorts of Chihuahuas that differ from each other without obtaining official approval.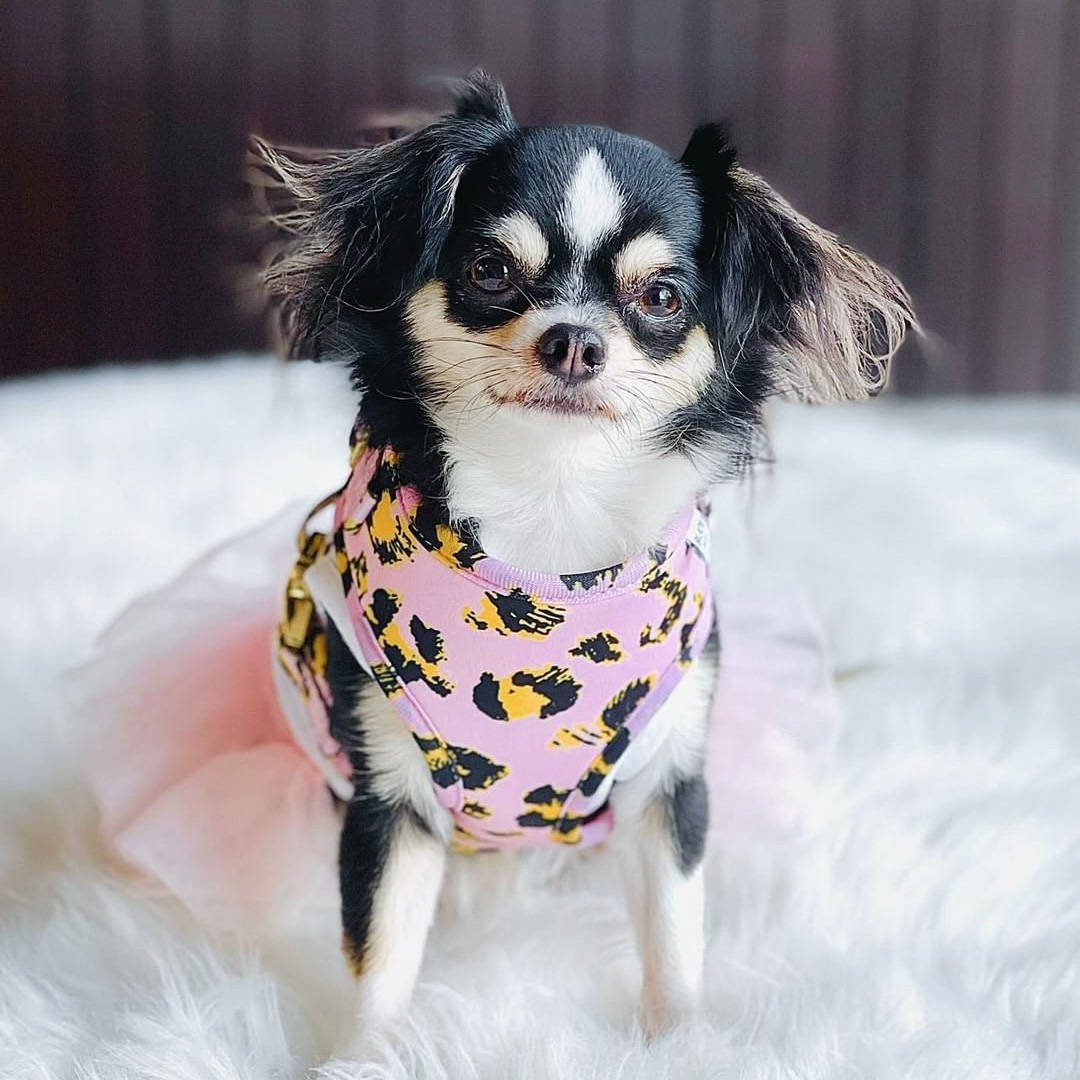 Unofficial Chihuahua types
Contrary to popular belief, only two types of Chihuahuas recognized by the breed standard and therefore allowed to compte to dog shows. Several Chihuahuas varieties aren't recognized as official types of the breed. Because of their unique features, these Chihuahuas stand out from the 2 official types.
TYPE 1: Apple-Head Chihuahuas
As the most popular Chihuahua type, Apple Head Chihuahuas are a small breed of dog, typically weighing between 3 and 6 pounds. They have a distinctively round head, large eyes, and a short nose. Apple Head Chihuahuas are known for being lively and energetic, and they are often very attached to their owners.
Apple-Headed Chihuahuas can be either Long-Haired or Short-Haired, and they come in a variety of colors. Apple-Head Chihuahuas are generally healthy dogs, but they are susceptible to certain health conditions such as dental problems, heart disease, and Luxating patella. Apple-Head Chihuahuas typically live for 10-18 years.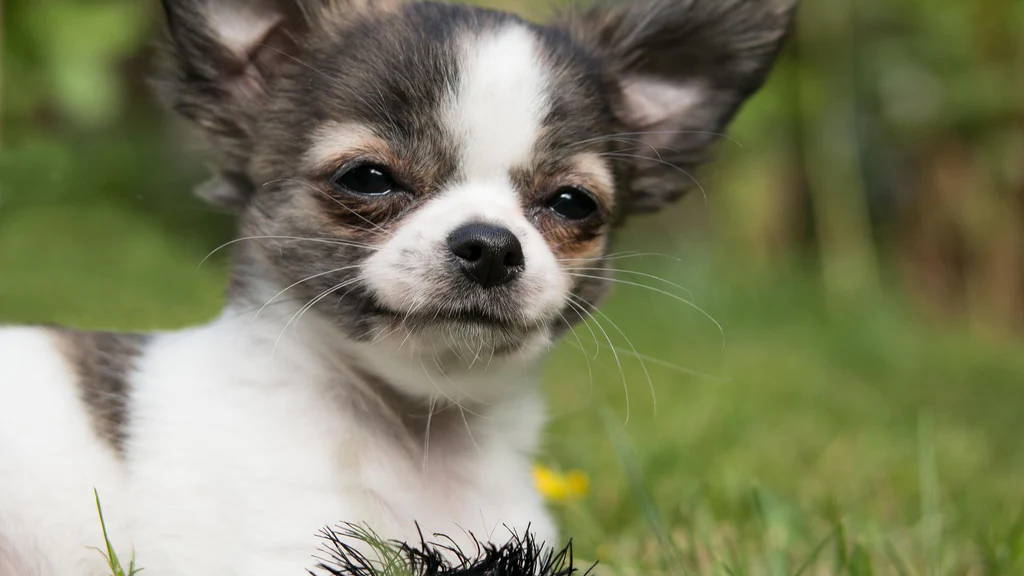 TYPE 2: Deer-Head Chihuahuas
Deer-Head Chihuahuas are a specific variety of Chihuahua characterized by their deer-like head shape.
Deer Head Chihuahuas also have longer legs than Apple-Headed Chihuahuas. This contributes to the deerlike appearance. The fact that they can't compete at show dogs can be seen as a plus since their head shape is more natural.
Deer Head Chihuahua puppies tend to have fewer health issues than other sorts of Chihuahuas. According to various Deer-Head Chihuahua owners, this variant is more confident than other types of Chihuahuas. That Chihuahua type is less hesitant to approach large dogs or even people.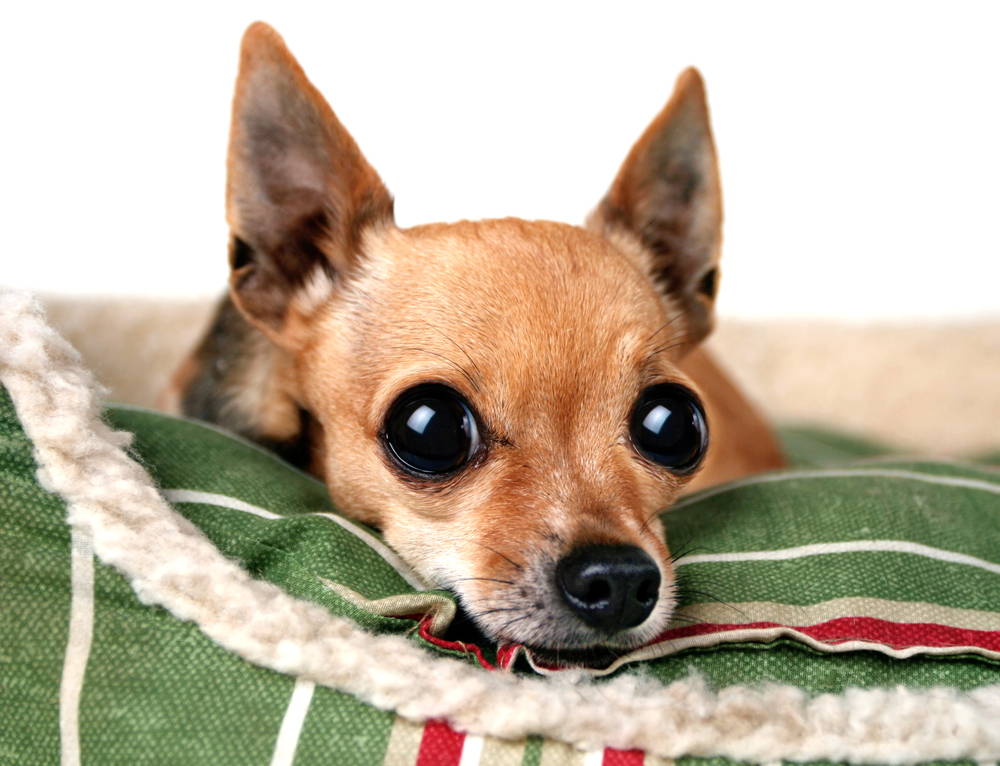 TYPE 3: Teacup Chihuahuas
The Teacup Chihuahua is the tiniest of all Chihuahuas, standing six inches tall and weighing only three pounds. The average Chihuahua weighs around four pounds but seldom exceeds six pounds.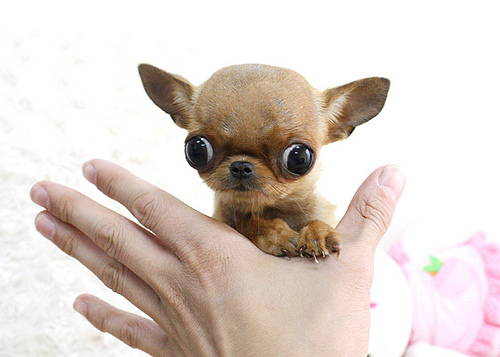 TYPE 4: Pear-Headed Chihuahuas
The Pear-Headed Chihuahua is a rare variant of the Chihuahua breed. The Pear-Headed Chihuahua is comparable to a Deer-Head Chihuahua. The difference between this dog and the Deer Head or Fawn Chihuahuas is that it has a flatter skull and a larger snout.
When it comes to health and behavior, there isn't much of a difference between a Pear-Headed Chihuahua and an Apple-Head Chihuahua. Pear Headed Chihuahuas aren't great show dogs. Because of their head and nose form, they are frequently disqualified from the contest due to their so called bad characteristics.
Chihuahua colors and markings
Chihuahuas are said to have a wide range of colors and patterns, according to the AKC.
The Chihuahua is a tiny, short-haired dog breed with a wide range of hues. The most frequent colors for Chihuahuas are red, fawn, chocolate, cream, white, black, and brown. The FCI recognizes all possible coat colors and tones as long as they fall within the bounds of acceptability.
Here are the Chihuahua colors accepted by the AKC (S being the standard color, and A an alternate color but still accepted)
* Black (S 007)
* Black & Tan (S 018)
* Blue & Tan (S 044)
* Chocolate (S 071)
* Chocolate & Tan (S 072)
* Cream (S 076)
* Fawn (S 082)
* Fawn & White (S 086)
* Red (S 140)
* Black & Red (A 014)
* Black & Silver (A 016)
* Black & White (A 019)
* Black Sabled Fawn (A 354)
* Black Sabled Silver (A 353)
* Blue (A 037)
* Blue & White (A 045)
* Blue Brindled Fawn (A 356)
* Blue Fawn (A 036)
* Chocolate & White (A 271)
* Chocolate Blue (A 359)
* Chocolate Brindled Fawn (A 355)
* Chocolate Sabled Fawn (A 358)
* Cream & White (A 077)
* Fawn Brindled Black (A 357)
* Gold (A 091)
* Gold & White (A 092)
* Red & White (A 146)
* Silver (A 176)
* Silver & White (A 182)
* White (A 199)
The Chihuahua comes in a variety of coat colors, as well as distinctive patterns. In addition to the different coat colors, the American Kennel Club also covers the various designs that may be developed. Just like with color, there are distinct and standard coats patterns, as well as alternative coats variations.
The "S" stands for "traditional markings." The other markings on the right side are still acceptable, and your Chihuahua won't be prevented from competing in dog shows or being registered because of them.
* Black Brindling (S 073)
* Black Mask (S 004)
* Black Sabling (S 072)
* Merle Markings (S 035)
* Spotted On White (S 071)
* White Markings (S 014)
* Black Mask, White Markings (A 005)
* Blue Mask (A 006)
* Cream Markings (A 044)
* Fawn Markings (A 008)
* Red Markings (A 023)
How many types of Chihuahuas are there?
There are two types of Chihuahuas: the Short-Hair Chihuahua and the Long-Hair Chihuahua.
How do I know what type of Chihuahua I have?
If you're not sure what type of Chihuahua you have, ask your breeder or veterinarian.
What is the difference between an apple head and a dear head Chihuahua?
The main difference between an apple head and a deer head Chihuahua is the shape of their heads. Apple head Chihuahuas have rounder, fuller heads, while deer head Chihuahuas have longer, narrower heads.