Chihuahua Seizures: How to Treat Them? How to Prevent them?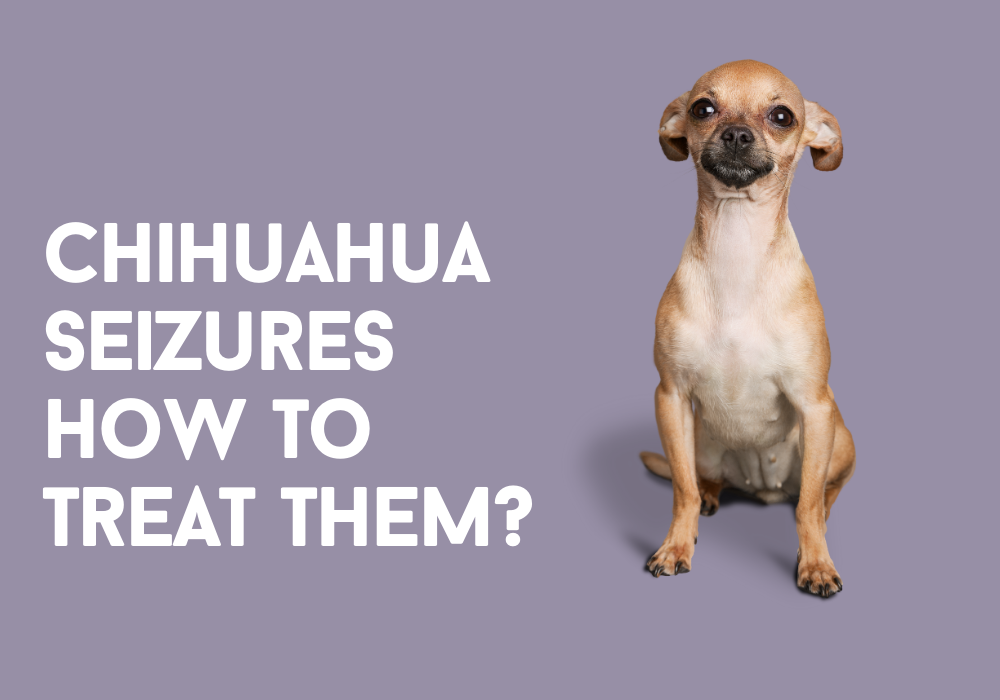 Chihuahuas are known for their health issues, particularly recurring seizures.
A health survey conducted by the Chihuahua Club of America in 2009 found that 45% of the participants have either bred or owned a Chihuahua with seizures of uncertain cause. This worrisome fact has raised concerns about the future of the breed among its enthusiasts.
What are seizures in Chihuahuas?
A Chihuahua's seizure is similar to a seizure in humans, with sudden and uncontrollable nerve activity in their brains.
This causes involuntary muscle contractions and can result in abnormal behaviors such as staring into the distance or repetitive movements, as well as full-body convulsions.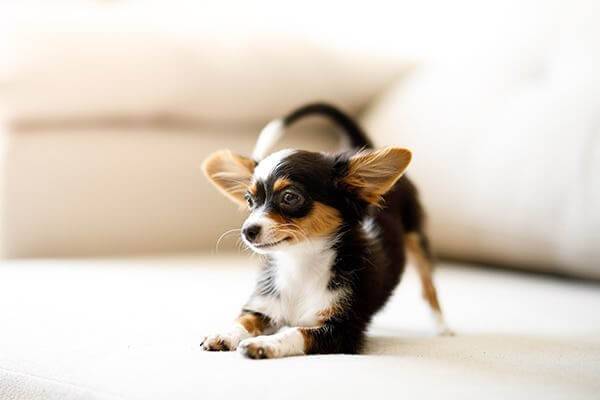 What do seizures in Chihuahuas look like?
Seizures in Chihuahuas can manifest in various ways, including collapsing, jerking, muscle twitching, and loss of consciousness. Other symptoms may include drooling, tongue chewing, or foaming at the mouth.
During a seizure, Chihuahuas may fall to the side and paddle their legs, and some may even experience bowel or bladder incontinence. Before the event, Chihuahua may appear confused or stare into space, while afterward, they may exhibit disorientation, temporary blindness, or a wobbly gait.
Excessive drool is also common. Stay tuned for any potential seizure-causing triggers and consult with a vet for further assistance.
What to do if my Chihuahua is having a seizure?
Discover effective strategies to address your chihuahua's seizure:
- Staying composed is crucial for your Chihuahua's well-being during a seizure. Though it may be trying, focus is key.
- It's important to keep track of the time when your Chihuahua has a seizure. This will help your veterinarian understand your Chihuahua's symptoms. If possible, ask someone to film the seizure with their phone so you can show it to the vet later.
- Rest assured that your Chihuahua is not experiencing consciousness or pain, despite any behaviors or sounds that may indicate otherwise.
- Contrary to popular belief, Chihuahuas (and people) do not swallow their tongues when having a seizure. It's important to avoid trying to grab their tongue as this could result in a painful bite.
- To protect your Chihuahua during a seizure, avoid stairs, cushion his head, and offer gentle support until he wakes up.
- It's common for Chihuahuas to urinate or defecate during a seizure, but this doesn't affect the severity of the seizure in any way.
- Seizures lasting over 2-3 minutes can expose Chihuahuas to overheating. To help, apply cold water or wet towels to your Chihuahua's groin, neck, paws, and head but seek veterinary assistance immediately.
- It's crucial to contact your vet or emergency vet after your Chihuahua has a seizure, even if they appear fine.
- Keep a seizure log for your Chihuahua by starting a journal or using your phone. Include the date, time, and duration of each seizure. This will aid your vet in identifying any patterns with your Chihuahua's seizures.
- If your Chihuahua has multiple seizures within 24 hours, it's classified as "cluster" seizures. This requires urgent attention from a vet, and you should bring your Chihuahua to a veterinarian for immediate examination.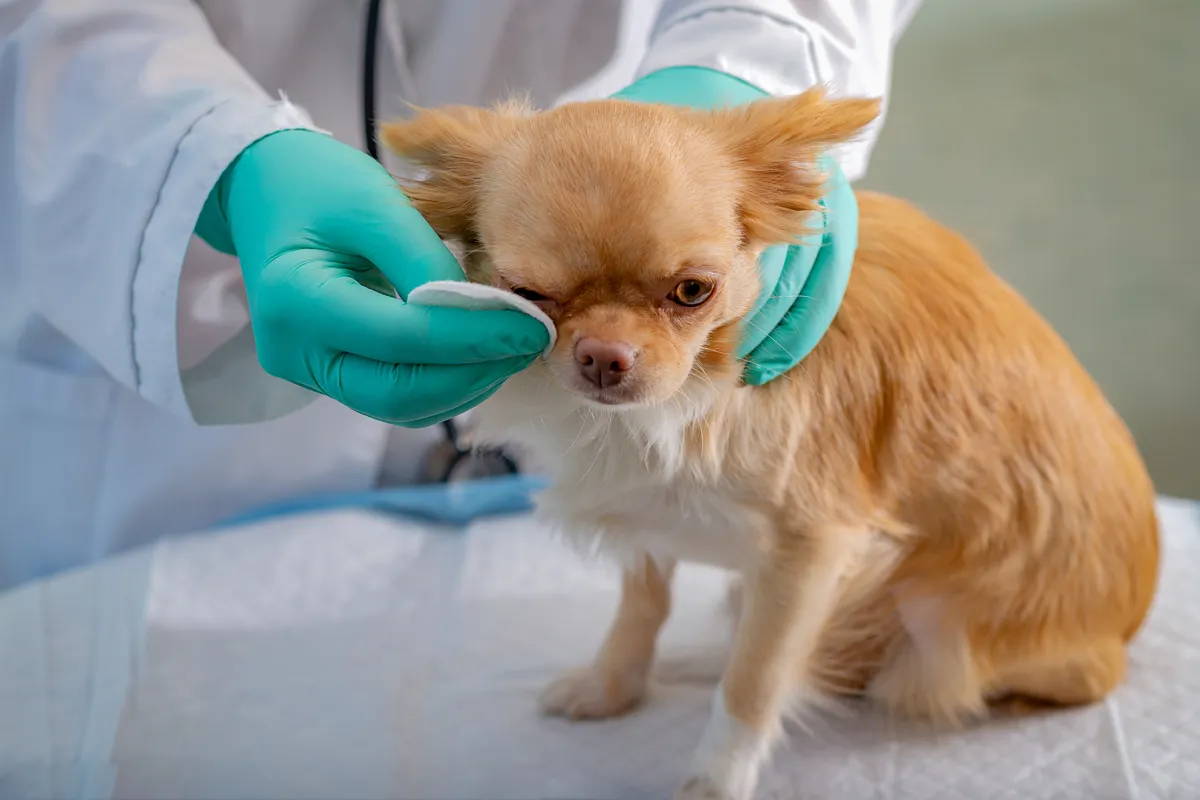 The three parts of seizure activity in Chihuahuas
Seizures generally happen in three phases and progress through all of them, with no set time frame for each phase. It's important to recognize that each phase is unique and the seizure concludes once phase three is reached.
In the initial stage, also known as the 'aura' stage, Chihuahuas may exhibit signs indicating an upcoming seizure. These signs include restlessness, anxiety, clinginess, whining, trembling, and hiding.
The second stage is the ictal stage, where the seizure actually happens. Your Chihuahua may make noise, bite down, or lose control of their bladder or bowel movements depending on the type of seizure.
After a seizure, your Chihuahua may experience the post-ictal stage, where they can appear confused, tired, or less responsive to you. This can last for a few minutes or up to a few days.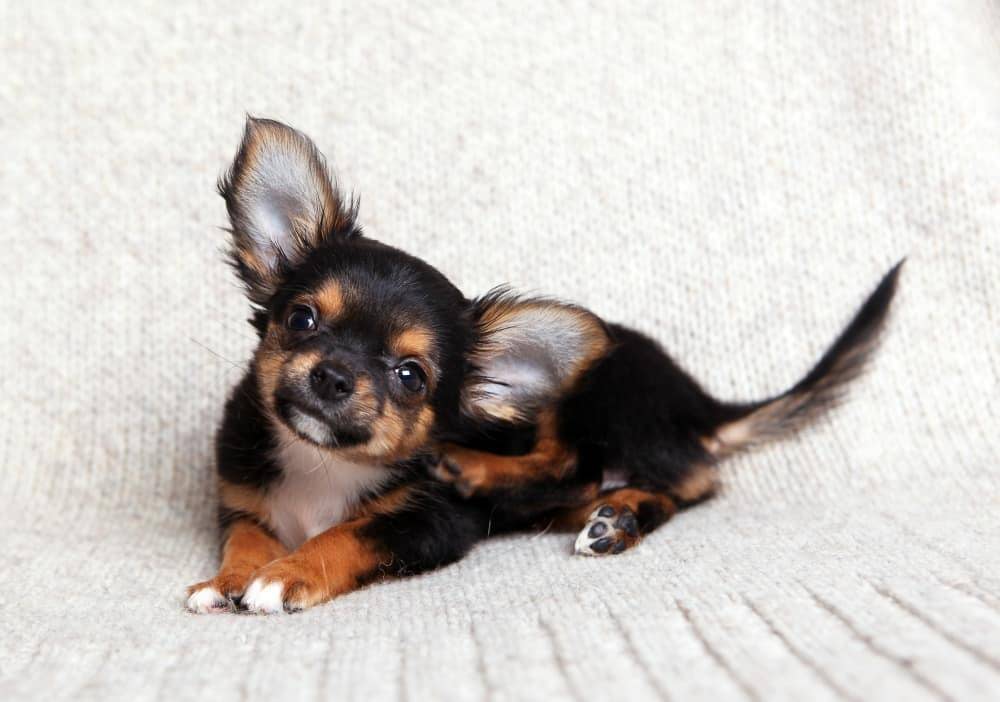 Causes of Chihuahua seizures
Chihuahua seizures have multiple underlying causes.
Young Chihuahuas are at risk for hypoglycemia, which occurs when blood sugar levels drop too low due to infrequent eating. This is due to their smaller number of fat cells which limits their energy reserves.
Hydrocephalus, or 'water on the brain,' is a condition that affects many toy breeds such as Chihuahuas.
It results from an abnormal buildup of cerebrospinal fluid within the brain cavity, which can lead to poor growth, lethargy, stumbling, and seizures due to increased pressure on the brain.
Liver Shunt, also known as Portosystemic Shunt, is a common condition in toy breeds such as Chihuahuas.
It involves a blood vessel that bypasses the liver and can prevent the organ from removing harmful toxins from the bloodstream. This defect is usually present from birth and can limit a Chihuahua's energy levels.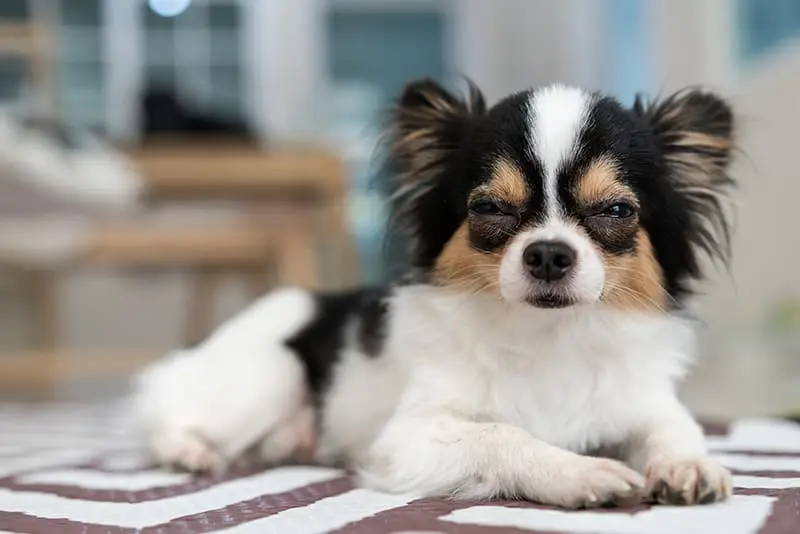 Chihuahuas with hereditary epilepsy may experience seizures without any underlying health issues. Certain breeds are particularly susceptible to this condition.
How are Chihuahua seizures diagnosed?
To determine the cause of your Chihuahua's seizures, the veterinarian will gather information about recent events and evaluate the risks of exposure to toxins or head trauma.
Tests such as electrocardiograms, urine tests, and blood chemistry may be performed to rule out organ disorders and assess overall health. A heartworm test may also be used as a symptomatic tool. Additional tests may be ordered depending on the severity and frequency of the seizures.
To ensure an accurate diagnosis for your Chihuahua's convulsions, provide your veterinarian with as many details as possible on their frequency and impact.
Treatment for Chihuahua seizures
To effectively treat your Chihuahua's seizures, share their seizure history with your vet. Keep a record of the seizures and store it with their medical records, dated and organized. Treatment typically requires a history that includes:
- Seizures that occur frequently, more than once every four to six weeks.
- Several seizures in 24 hours, which are known as cluster seizures.
- Severe and extended grand mal seizures.
Your vet will prescribe anticonvulsant medication, like phenobarbital or levetiracetam to treat your Chihuahua's seizures. Once your Chihuahua starts taking these medications, they must continue taking them for the rest of their life.
Discontinuing the medication can increase your Chihuahua's risk of seizures. Consult with your vet about your options and ensure you understand all instructions if you need to switch to another medication.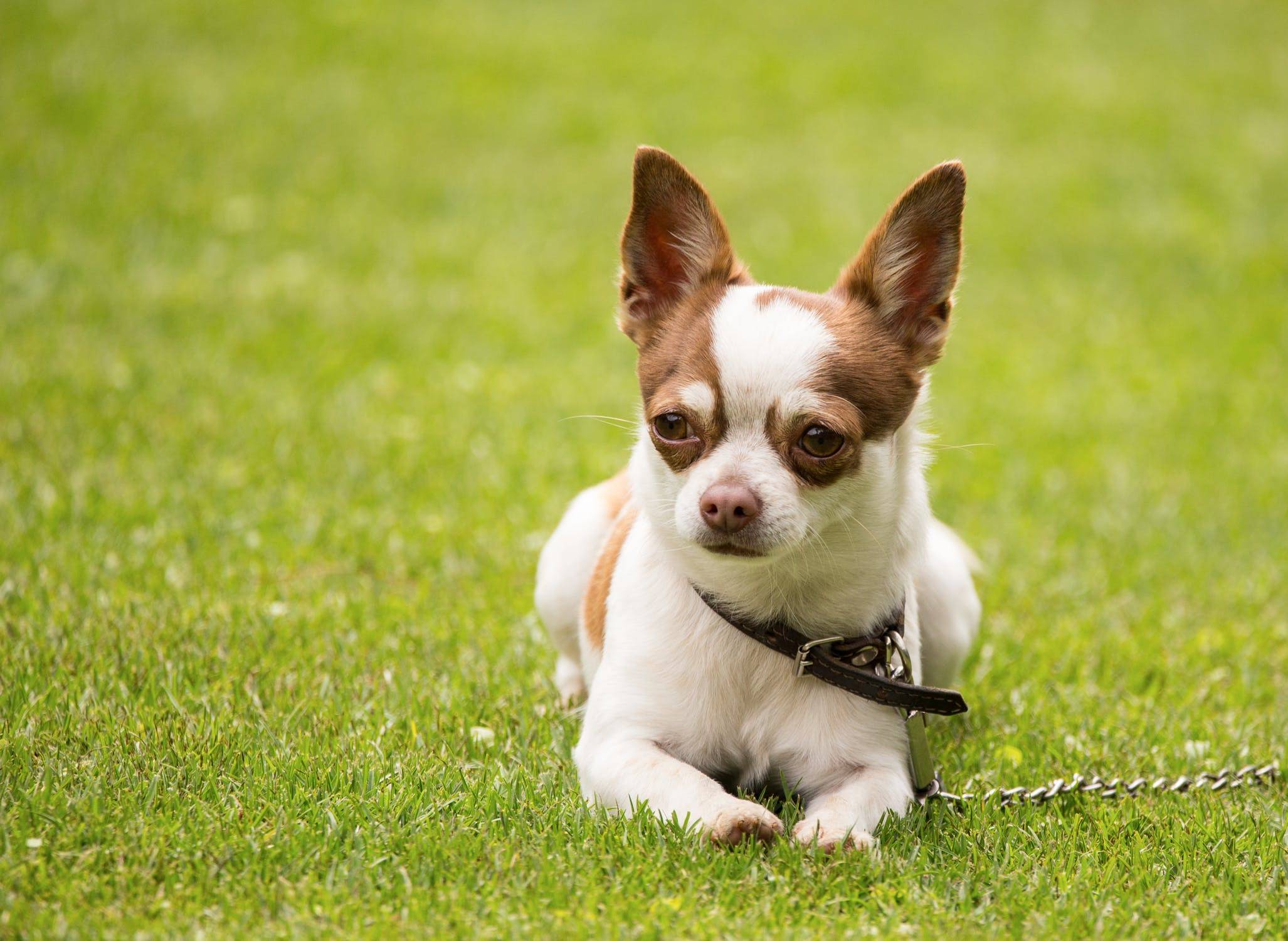 When to take your Chihuahua to the emergency vet
If you notice any of the following signs in your Chihuahua, it could indicate dangerous seizure activity and immediate emergency veterinary care is necessary:
- Seizures lasting beyond a few minutes.
- Seizures that occur multiple times within 24 hours.
- Your Chihuahua has a seizure before fully recovering from the last one
Is it normal for Chihuahuas to have seizures?
More than 5% of Chihuahuas, across 30 different breeds, experience seizures of unknown origin, according to a recent survey. Specifically, 45% of respondents said their Chihuahua had suffered from this common issue.
My Chihuahua is having a seizure: what do I do?
If your Chihuahua experiences a seizure, stay calm and cool their paws with cold water. Refrain from touching them to prevent bites and contact your vet once the seizure ends. If the seizure persists for more than a few minutes, head to the nearest vet or animal emergency clinic without delay. Don't hesitate to seek veterinary attention immediately.
Can I prevent my Chihuahua from having seizures?
Your vet can prescribe medication to control your Chihuahua's seizures. Discuss treatment options with them to ensure the best solution for your Chihuahua's individual needs. Alternative therapies are worth considering too.
Can my Chihuahua die from a seizure?
If your Chihuahua's seizure lasts for over five minutes, it's considered status epilepticus. This is a serious, potentially life-threatening situation. To prevent death or irreversible brain damage, your Chihuahua will need intravenous anticonvulsants to stop the seizure activity.