Are you indecisive between a Pug or a Chihuahua? Then you should consider the Chug, also known as Chihuahua Pug Mix, Pughuahua, or Pugwawa. Read on and discover everything you need to know about this adorable and comical crossbreed.
Chihuahua Pug Mix (Chug) quick facts:
Nicknames: Chug, Pughuahua, Pugwawa

Dog breed group: Mixed Breed

Colors: black, tan, brown, cream, white

Suitable for: families looking for a small dog with a big personality

Temperament: Playful, affectionate, smart, often stubborn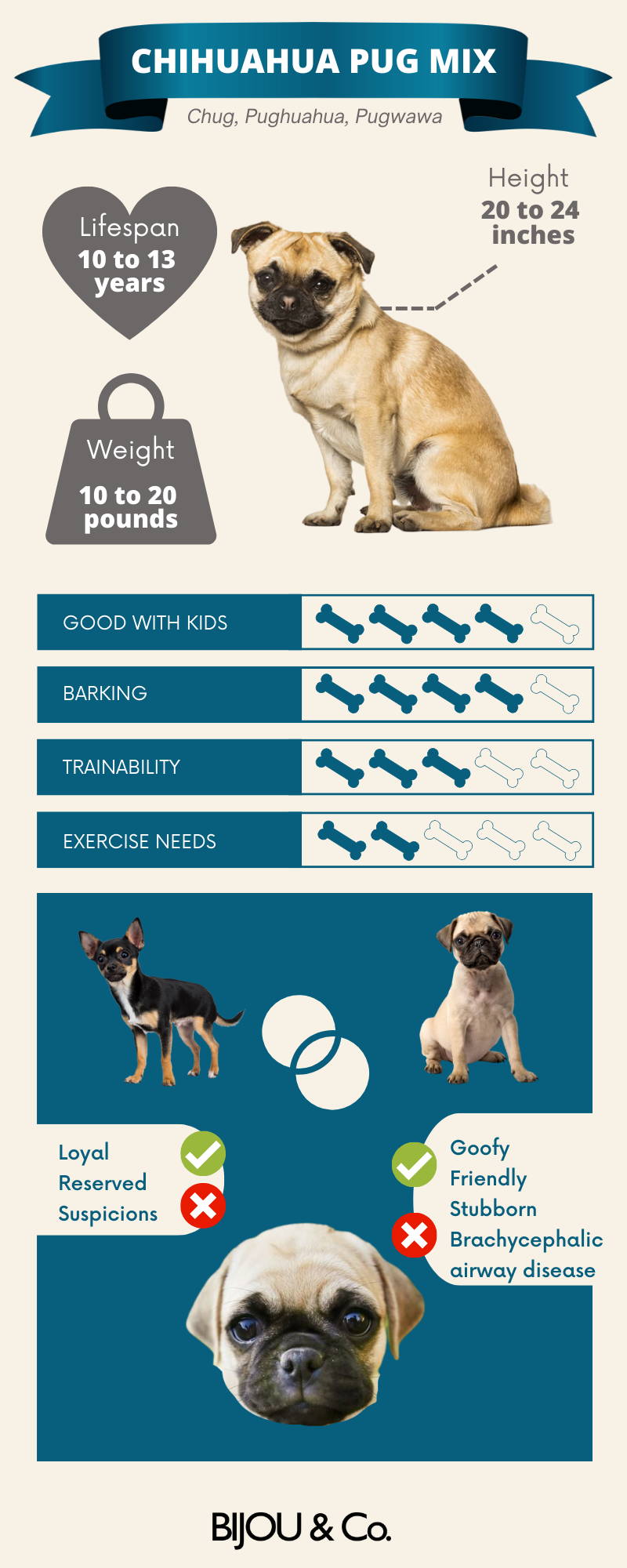 The Chug is a hybrid or designer dog breed, created by crossing a Pug and a Chihuahua. These two breeds were chosen because they share many similar physical traits, and are also known for their friendly and to have loving dispositions.
However, it is important to note that the Chug is not considered a purebred dog by any major kennel club. This is because breeding two different purebred dogs creates a mixed-breed dog, which cannot be registered as a purebred.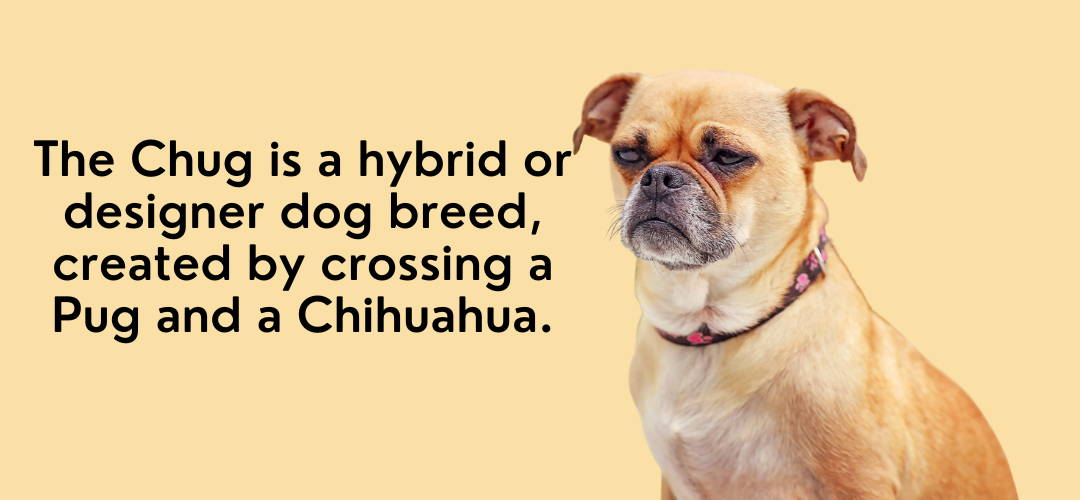 The Chihuahua is a small dog that originated in Mexico. The exact history of the Chihuahua is unknown, but it is thought to be a descendant of the Techichi, a small dog used by the Aztecs for hunting and as a companion.
The Chihuahua first came to the United States in the 1800s, and it quickly became popular as a pet. Today, Chihuahuas are one of the most popular breeds of dogs in the world.
Chihuahuas have climbed to 11th place among the 155 breeds and types recognized by the AKC.
Pugs were brought from China to Holland in the 16th century. Some think the phrase "multum in parvo" was created because of the pug's small size and big personality. In 1790, pugs were brought to England and became very popular there.
In 1885 Queen Victoria acquired her first Pug, which was an apricot Pug named Olga. Pugs were a symbol of royalty and were kept as indoor dogs.
The Chihuahua Pug Mix (Chug)
The Chug (Chihuahua Pug Mix) was created in the United States during the early 2000s. There's no particular breeder who claims responsibility for its creation, although it is thought to have been developed to remove certain unfavorable characteristics of the Pug, such as a short snout that causes various breathing problems.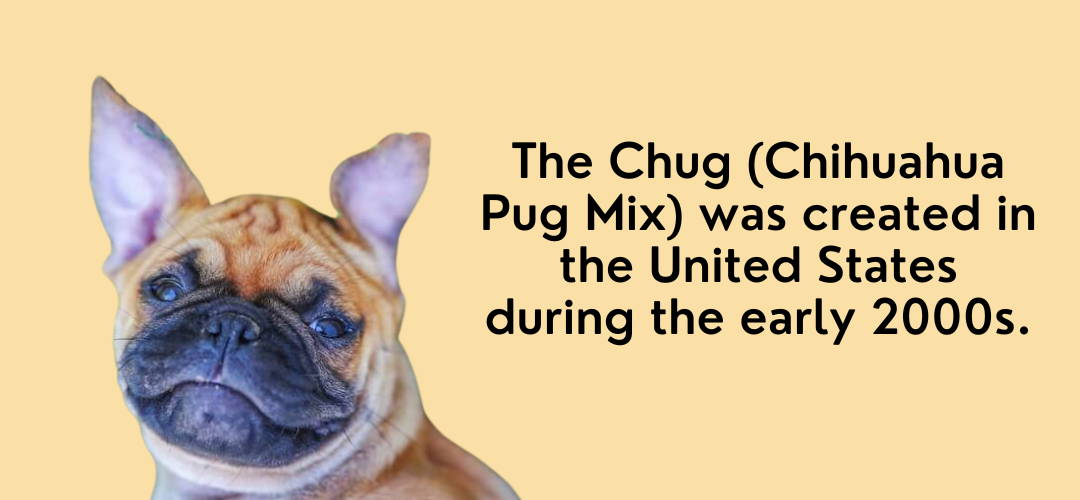 What Does A Pug and Chihuahua Mix Look Like?
The Chihuahua and the Pug are different in many ways, but their are both classified as toy breeds.
The Chug is a small dog that is generally sturdy and muscular. Chihuahua Pugs mixes have a rounded face with brown almond-shaped eyes.
The Chug's nose is short and dark, and it reminds a bit to the one of a miniature boxer.
The Chug's head is big in comparison to their body. They have erect ears which can be either floppy or pointy.
The Chug's neck is thick, and their chest is broad.
The Chug's tail can be either long or short, and it usually curls over their back.
The Chihuahua Pug Mix typically weighs between 10 and 20 pounds and stands 10 to 15 inches tall at the shoulder.
The main colors of Chugs are brown, black, fawn, cream, and white. There are many different coat patterns for Chugs including solid colors or a mix of colors.
What is the temperament of a Chug?
Chugs can inherit the Chihuahua's feisty personality, the Pug's goofy and playful attitude, or a mix of both. Some Chugs are known to be extra cuddly and playful, while others may have a Napoleon complex and be slightly more territorial. However, all Chugs make loyal and loving pets that are great for families or individuals looking for a small companion dog.
Both the Chihuahua and the Pug are somewhat prone to barking or being "yappy," which means that your Chug can be, too. If you are looking for a watch dog who will alert you any time someone is at the door, you can't do better than a Chug! With proper training, your Chug can learn how to curb their yappy tendencies.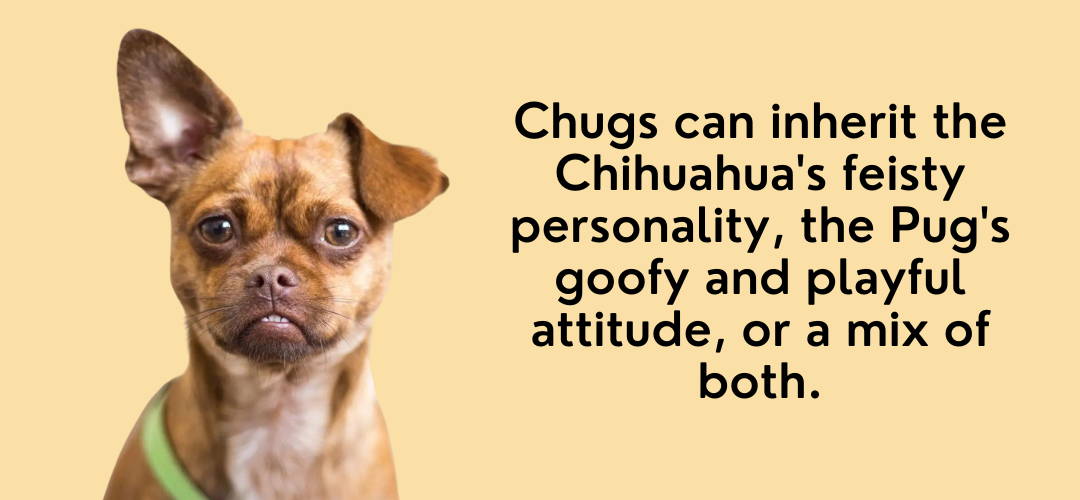 Do Chugs Get Along with Other Pets?
Chugs generally get along well with other dogs and animals, although they may be a bit possessive of their toys and food.
As long as you introduce your Chug to other pets at a young age, there should be no problem in having a multi-pet household.
Just be sure to keep an eye on your Chug around larger animals, as their small size makes them more susceptible to injury.
Chugs can have long or short hair and do shed. They shed about as much as their Pug parent, which has very dense fur. Brown, black, tan, cream, chocolate, dark brown, merle, fawn spotted or speckled are some of the colors available. The Chug won't have a brindle coat.
Chugs can be single or double coated dogs. If they have a second coat, they'll be shedding all year. Double coated Chugs shed more in the summer and winter. We recommend grooming your Chug twice a week during the spring and autumn seasons, as well as deshedding when needed. Their coats will generally be thinner in length.
Health concerns for a Chug
Chihuahua Pug Mixes have a lot of the same health concerns as their parent breeds. Therefore, Chugs are prone to brachycephaly, which means that their skulls are abnormally short. This can lead to a number of problems, including difficulty breathing and neurologic problems.
Chugs are also prone to dysplasia, which is a condition that affects the development of the bones and joints. This can cause pain and mobility problems.
Finally, Chugs are very sensitive to heat, and they can easily overheat if they are not properly cared for.
Chugs suffer from brachycephaly and dysplasia
Unfortunately, the Chug inherits many of the health problems of its parents, the Chihuahua and the Pug. One of the most common problems is brachycephaly, a condition that results in a short, flat skull. This can cause a host of issues, including difficulty breathing, eye problems, and neurological issues.
Another common problem for Chugs is dysplasia, a condition that affects the joints and connective tissues. This can lead to pain, lameness, and arthritis. If you're considering adopting a Chug, be sure to talk to your veterinarian about these potential health problems.
Chugs are sensitive to heat
The Chihuahua Pug Mix, or Chug, is a brachycephalic breed of dog, meaning it has a shortened snout. This can cause a number of respiratory issues, including difficulty breathing in cold temperatures and extreme heat.
As a result, Chugs are best suited for homes in moderate climates. However, if you live in an area with extreme temperatures, there are a few things you can do to help your Chug stay comfortable. In the winter, invest in a high-quality coat or sweater to help your Chug retain body heat. And in the summer, make sure to provide plenty of cool, fresh water and avoid strenuous activity during the hottest hours of the day. By taking these precautions, you can help your Chug enjoy a long and healthy life.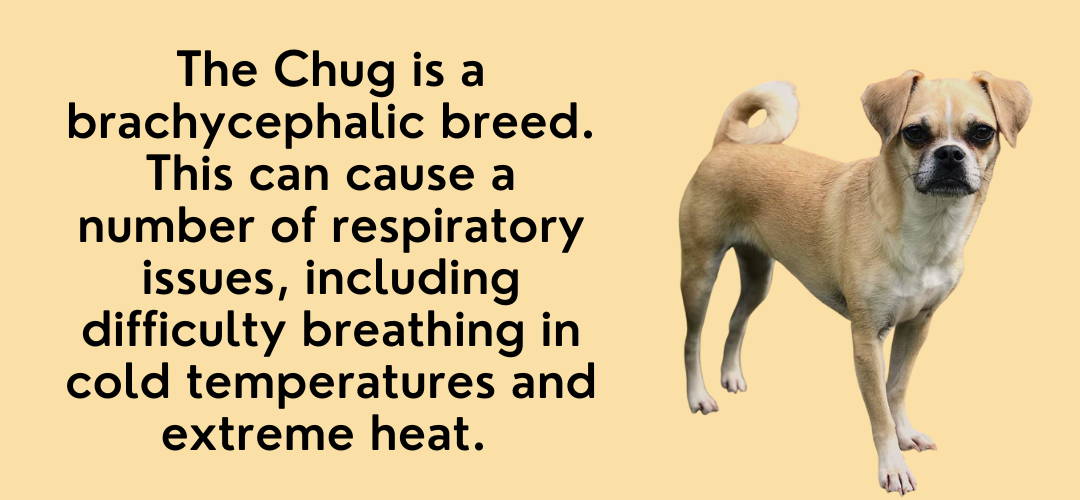 When it comes to Chugs, or Chihuahua Pug mixes, there are certain things you will need to do in order to keep them healthy and happy. First, you will need to take care of their coat. This means brushing them regularly and bathing them as needed. You will also need to pay attention to their ears, making sure to clean them out on a regular basis. Additionally, you will need to brush their teeth regularly and trim their nails as needed.
A Chihuahua Pug Mix's coat is determined by which parent breed's genes are dominant. As a result, you may get a Chug with short, rough, and dense hair like a Pug or one with a medium-length coat that is silky like a Chihuahua.
However, because both parent breeds are moderate shedders, it is likely that your Chug will shed at least moderately. To help reduce shedding and keep your chug's coat healthy and clean, be sure to brush them regularly with a soft-bristled brush. You should also bathe your Chug as needed, using a mild dog shampoo.
Because of their long, floppy ears, Chugs are prone to ear infections. To help prevent these infections, be sure to check your Chug's ears regularly and clean them with a cotton ball soaked in warm water if necessary. You should also bring your Chug to the vet for regular ear examinations and cleanings.
Chugs are also prone to dental problems, such as tartar buildup and gum disease. To help keep your Chug's teeth healthy, brush them regularly with a dog-specific toothbrush and toothpaste. You should also bring your Chug to the vet for regular dental checkups and cleanings.
Chugs' nails should be trimmed regularly to prevent overgrowth. If you're not comfortable doing this yourself, you can bring your Chug to a groomer or vet for a professional nail trim.
When you begin training your Chug, expect a little dip. But it isn't because the Chug is stupid or have a hard time learning.
Pugs and Chihuahuas both have a strong-willed temperament, which makes it difficult to teach them basic commands. They can also have limited attention spans, making training them easy tasks more difficult and lengthy.
Chugs can be prone to excessive weight gain if they are overfed. This is due to their unique physiology; Chugs have a higher percentage of body fat than other breeds, and they tend to gain weight more easily.
As a result, it is important to stick to an appropriate diet and feeding schedule for your Chug. Overfeeding can lead to obesity, which can contribute to a wide range of health problems, including joint problems, respiratory difficulties, and heart disease. By following a healthy diet and feeding schedule, you can help keep your Chug happy and healthy.
The Chug, like the Pug, does not require a lot of exercise every day. They will do well with individuals who don't have an active lifestyle.
Chugs shouldn't be overworked with any serious activity because of their limited snout, which might induce breathing difficulties. They don't like to run with people, but they do enjoy playing! Get a couple of dog-friendly toys and have some fun.
Male Chugs versus Females
After reading this article and determining if the Chug is the best dog for you, the only remaining question is whether to get a male or female Chug. Other than certain general distinctions between male and female canines, there aren't many differences between male and female Chugs. Males are usually somewhat larger and more lively than females.
If you don't intend to breed your Chug, the ideal option is to have them neutered or spayed. The cost of spaying a female Chug is generally greater than that of neutering a male Chug. If you choose not to have your female Chug spayed, be prepared to deal with her being in heat every six months.
If you don't intend to breed your Chug, the ideal option is to have them neutered or spayed. The cost of spaying a female Chug is generally greater than that of neutering a male Chug. If you choose not to have your female Chug spayed, be prepared to deal with her being in heat every six months.
Is the Chug right for you?
Chugs are good family dogs
The Chihuahua Pug Mix makes a wonderful family pet. It adore its owner and will do all it can to please him or her.
You, however, should be prepared to offer your Chug with a lot of love and attention. Children should also be taught how to properly handle your Chug. Families with young children should keep this in mind when adopting a Chug.
Chugs are perfect for apartment living
Chihuahua Pug Mixes, or Chugs, are perfect for apartment living. They are small dogs that don't need a lot of exercise, and they are quiet, making them ideal for people who live in close quarters.
The Chug is the right dog for you if:
You want a dog that doesn't bark

You live in an apartment or small house
The Chug is NOT the right dog for you if:
You live in a very cold or very hot place

You want to fly with your pet
What is a Chihuahua Pug Mix Called?
The most common name for this crossbreed is simply "Chug." However, other popular names include Pughuahua and Pugwawa.
What does a Pug and Chihuahua Mix look like?
The Chug is a small dog, typically weighing between 10 and 15 pounds. They have a short, compact body and a square-shaped head. The ears are long and floppy, and the eyes are round and dark. The coat is short and can be either straight or wavy.
How long do Pug Chihuahuas live?
On average, Chugs live to be between 12 and 15 years old.