Papillon Chihuahua Mix (Chion) Breed information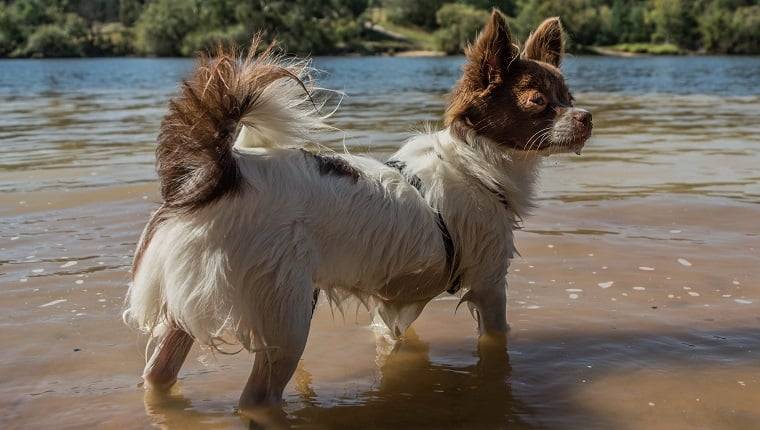 Is there anything better than a cuddly, playful little dog? If you're the owner of a Chihuahua Papillon mix (aka a Chion dog), the answer is probably no. These adorable dogs are a cross between two of the most popular small breeds, and they make great pets for people who have a lot of free time.
Chion dogs are active and playful but also love to curl up on your lap for a nap. If you're looking for an easy-to-care-for dog that's always up for a good time, check out the Chion!

Chion, Papihuahua, Pap-Chi, Chi-a-Pap
white, fawn, cream, golden dark brown, and black
small or single-person households
loyal, affectionate, yappy, stubborn, difficult to housetrain
The Chihuahua is a distinctly small dog breed that is native to Mexico. Although the true origins of the Chihuahua are not known, many experts believe that it developed as a result of natural selection among other small dogs already present in the region. Today, Chihuahuas are popular companions around the world, prized for their adaptability and endearing temperament.
The Papillon is a unique dog breed with an intricate history. Some believe that its origins can be traced back to the Middle Ages when small hunting dogs were bred to flush out pheasants. Over time, selective breeding led to smaller and smaller dogs, until eventually, the Papillon emerged as one of the most prized hunting companions in Europe.
However, many others believe that the entire papillon line can be traced back even further, all the way to ancient Egypt and Greece. Though we may never know for sure where or how the original Papillon came into existence, it remains clear that this intriguing breed holds a special place in history.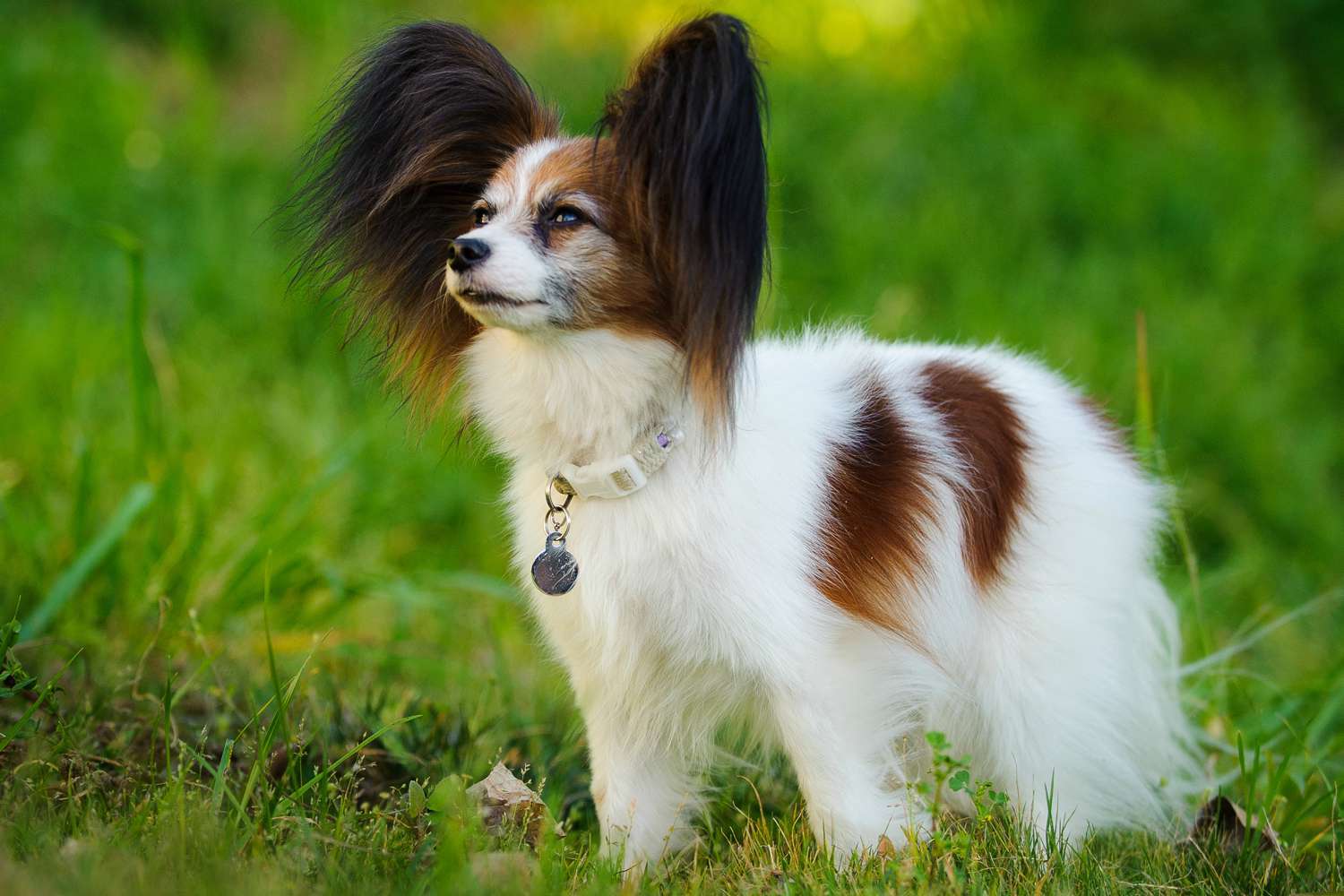 The Chion is a relatively unknown mix that was first bred in the United States in the 1990s. Chihuahuas and Papillons are two breeds that are very different in terms of size and appearance, so it is possible that this unusual mix was bred for a specific reason.
Some experts have suggested that these dogs were specifically designed to be pets for people with allergies, as both Papillon and Chihuahua tend to shed less than many other breeds. Whatever the origins may be, the Chion remains a beloved pet across the world today.
The Chihuahua Papillon Mix has not yet been recognized by the AKC.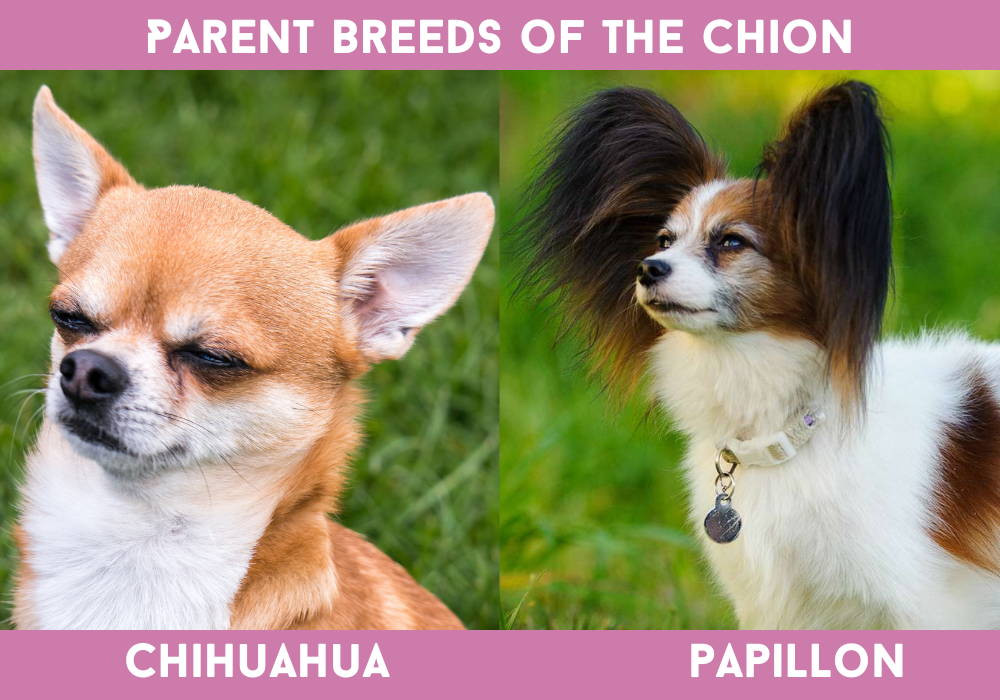 A Chihuahua Papillon mix is a unique and unusual-looking dog, combining the small size of a Chihuahua with the long, fluffy coat of a Papillon.
In general, this mix tends to have long, pointy ears and an agile, athletic physique, with brown or black fur covering most of their bodies. However, there are some distinct variations in appearance that can arise depending on which parent breed an individual Chion takes after more closely. Overall, though, the Chion has a striking and distinctive look that makes it stand out from other breeds.
The Chihuahua Papillon mix is a small-sized dog with an average height of 6-11 inches and an average weight of 4-10 pounds.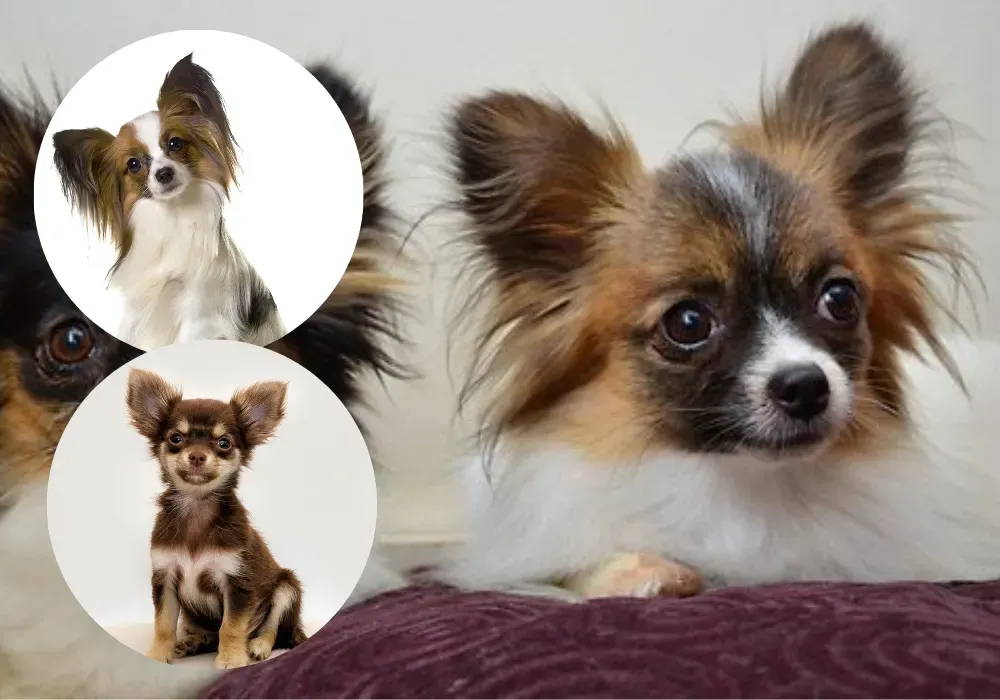 The temperament of a Papillon Chihuahua mix can vary quite significantly depending on the individual dog.
Chion dogs are usually very active and energetic, and they typically do well with both older children and adults alike.
However, some Chions may have more timid or skittish personalities, making them less suitable for households with young children or boisterous pets.
Additionally, as with most mixed breeds, Papillon Chihuahua mixes are prone to certain health issues that can affect their temperament. For example, they may be at greater risk for hip dysplasia or other skeletal problems which can cause pain and discomfort, leading to irritability or temperamental behavior.
At first glance, a Papillon Chihuahua mix may not seem like the ideal dog for households with other pets. These small and spunky dogs are known for their feisty personalities, therefore many people worry that their loud barking and high-strung energy will cause problems with more placid pets.
However, not only Chions are very adaptable and easygoing, but they also tend to get along well with other pets of all shapes and sizes. Their social nature means that even calm, docile pets are unlikely to feel threatened by a rambunctious Chihuahua Papillon mix, making them great companions for families with multiple dogs or cat lovers.
The short answer to this question is yes, Chihuahua Papillon mixes do tend to shed.
Both the Chihuahua and the Papillon are known for their low-shedding coats, but when crossed with one another, genetic variation can lead to a higher incidence of shedding. In most cases, owners of mixed-breed dogs are able to manage the shedding through regular brushing and occasional trips to the groomer.
While many people with allergies are sometimes told that Chihuahua Papillon mixes are hypoallergenic, from a medical perspective this is not necessarily the case. While Chions do typically have fine, long hair that does not shed much, the dander, or skin cells, can cause an allergic reaction for some people.
Chihuahua Papillon Mixes are not hypoallergenic.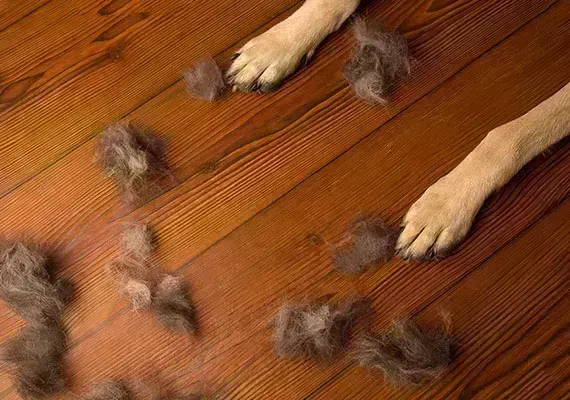 The life expectancy of a Papillon Chihuahua mix is generally 14 to 16 years.
While Chions are generally healthy dogs, they can be predisposed to some of the same conditions that their parent breeds face.
Many Chihuahua Papillon mixes are affected by a condition known as patellar luxation, or kneecap dislocation.
This often painful and debilitating condition occurs when the kneecap pops out of place, either on one or both legs. Patellar luxation can be caused by a number of factors, including genetics, improper muscular development in puppies, or an injury to the knee.
This condition frequently requires surgery to correct, which can involve removing parts of the joint or replacing the kneecap with a prosthetic device.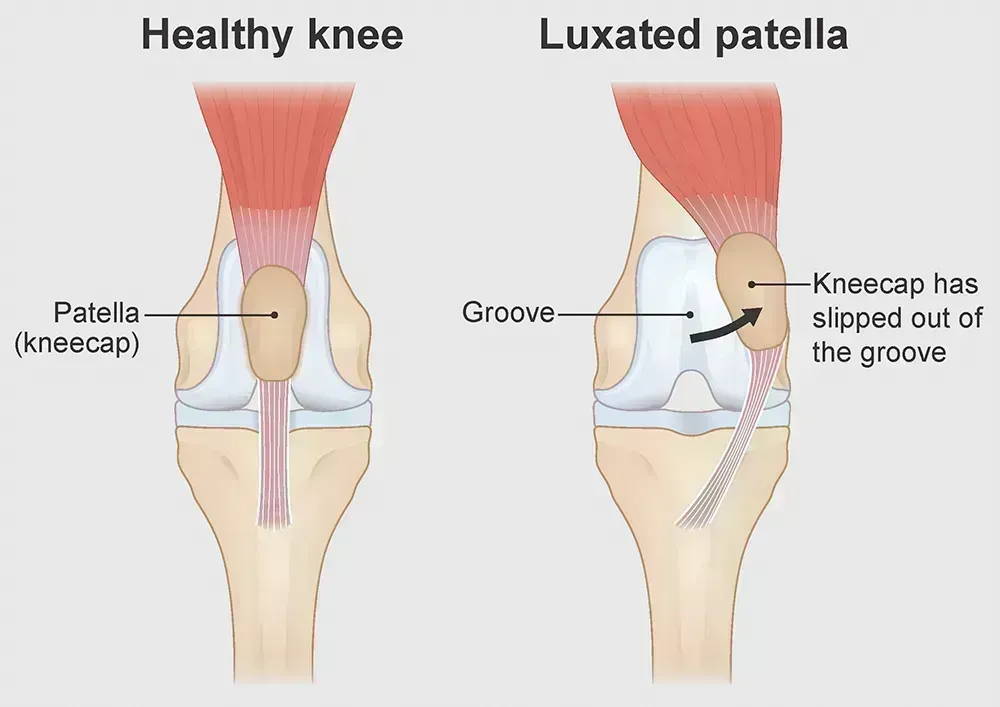 Chihuahua Papillon mixes are prone to dental problems due to the shortness of their snout and the lack of room for teeth in their small jaws. They are often afflicted with overcrowding and misalignment of teeth that can lead to incredibly painful gingivitis, tooth decay, and even tooth loss.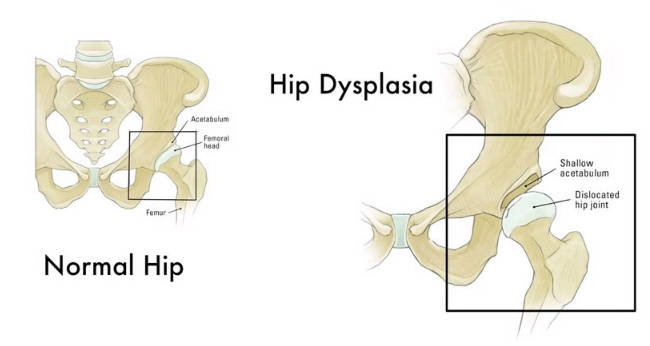 Collapsing trachea is a serious health condition that affects many Chihuahua and Papillon mix breeds. This disorder occurs when the trachea, or windpipe, loses its structural integrity. Over time, this leads to a weakening of the cartilage rings of the trachea, causing them to collapse and obstruct airflow.
Obviously, this can be quite dangerous for Chion dogs, as it can cause shortness of breath and even death if left untreated. Luckily, there are treatments available for collapsing trachea that can help to manage this condition and improve your Chihuahua Papillon mix's well-being.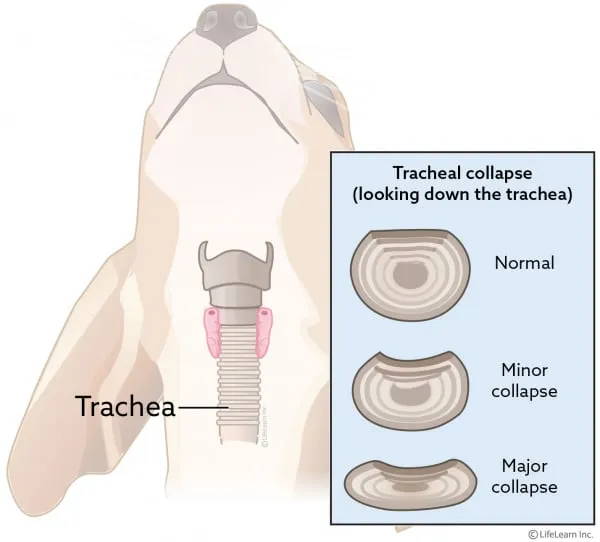 How to find a Chihuahua Papillon Mix Puppy?
You can get a Papillon Chihuahua Mix through a breeder or a rescue.
To find a Chion through a breeder, start by doing your research. Look for reputable breeders in your area who specialize in Chihuahuas or Papillons.
Once you've found a breeder that you feel comfortable with, ask to meet the parents of the puppies and get a sense of their temperament. Remember to always ask questions and request information about the dog's health history and any genetic testing that was done.
If you're interested in adopting a Chion dog through a rescue, there are a few steps you can take to find one. First, research local animal rescues and check if they have any Chion dogs available for adoption.
You can also reach out to breed-specific rescues or put out a call on social media to see if anyone knows of chion dogs in need of a loving home. With some patience and persistence, you'll be sure to find the perfect chion dog to join your family.
Here are the most well-known Chihuahua rescues in the USA:
Chihuahua Rescue & Transport
https://www.chihuahua-rescue.com/
Texas Chihuahua Rescue – helping small dogs live big dreams
https://texaschihuahuarescue.org/
Arizona Chihuahua Rescue – Big Hearts for Little Dogs
It is important to consider grooming, exercising, training, and feeding when taking care of a Papillon Chihuahua mix.
When it comes to maintaining a healthy coat for your Chihuahua Papillon Mix, there are two key tips that you should keep in mind:
- First, be sure to schedule regular grooming appointments with your vet or a professional groomer. These appointments will ensure that any mats or tangles are removed and that the coat is thoroughly brushed and conditioned.
- Secondly, make sure to give your Chihuahua Papillon mix regular baths using high-quality shampoo and conditioner. This will help keep the coat clean and shiny, while also helping to fight against skin conditions like dandruff, dryness, and irritation.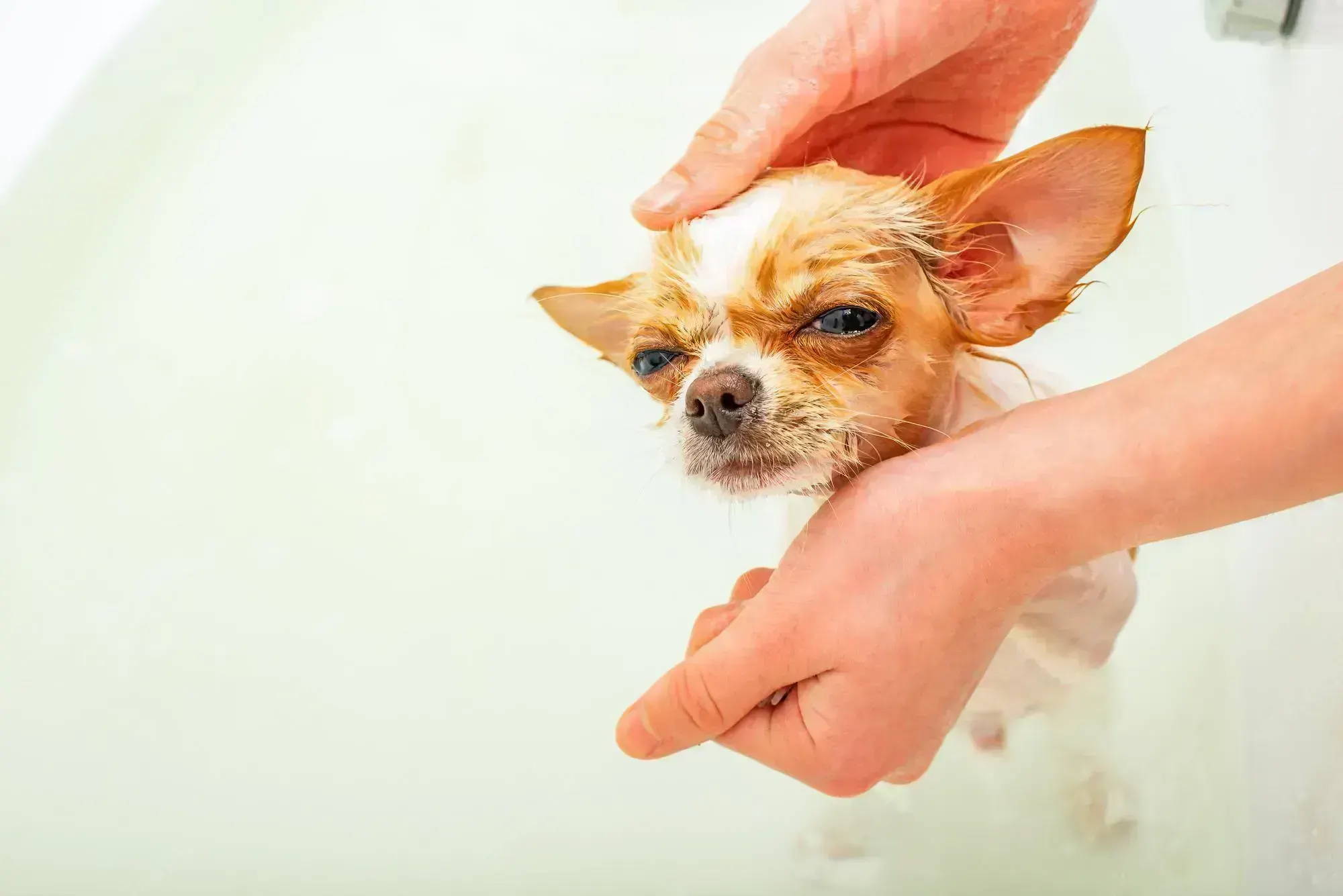 When training a Chihuahua Papillon mix, it is important to always use positive reinforcement techniques. This can include rewarding good behavior with treats or praise, and gently redirecting negative behaviors.
It is essential to start training your Chion early on, ideally when he or she is still very young. This will help to create good habits and establish boundaries right from the start.
Consistency is key when working with any type of animal, and this is especially true when it comes to training a Chihuahua Papillon mix. Be sure to stick to a schedule and set consistent rules for your dog so that he or she knows what to expect at all times.
Creating an environment that is conducive to learning can be helpful when training a Chihuahua Papillon mix. Make sure that you have plenty of space where your Chion can move around freely and explore, while also providing clear boundaries within the space. This could include puppy gates or other types of barriers in order to prevent distractions from getting in the way of your training sessions.
To successfully care for a Chihuahua Papillon mix, it is important to be mindful of their dietary needs. Generally, Chion dogs require a high-quality, protein-rich diet. It is also important to make sure that the diet contains enough essential vitamins and minerals, as well as healthy fats.
In addition, proper hydration should always be a priority since these dogs can easily become dehydrated in hot or dry weather. Adding small amounts of moisture-rich foods to their diets can help to keep them properly hydrated.
Given its small size and playful nature, a Chihuahua Papillon Mix may not seem like it needs much exercise. However, it is important for owners to keep in mind that Chion dogs still require regular physical activity in order to stay healthy. The exact amount of exercise will depend on the individual dog and its age, but most experts recommend around 30 minutes of moderate activity each day.
Activities like walks, playtime in the park, or even just romping around at home can help your Chion get the physical activity he needs to stay fit and avoid health problems like obesity and joint pain.
Male Chion dogs often tend to be larger and more muscular than their female counterparts. This can make them more suited towards active lifestyles and high-energy activities, such as running or hiking. Overall, neither gender is inherently better than the other; the key is to weigh the pros and cons of each gender and make an informed decision that best suits your unique situation.
Is it the Chion right for you?
Not great with small kids
While Chihuahua and Papillon mixes can be wonderful companions for adults and older children, they are not always the best choice for families with young children. This is due in large part to the fact that these small dogs can easily be injured or frightened by active toddlers and children who are new to handling animals.
For these reasons, it is generally recommended that families with young children consider alternatives when choosing a new pet.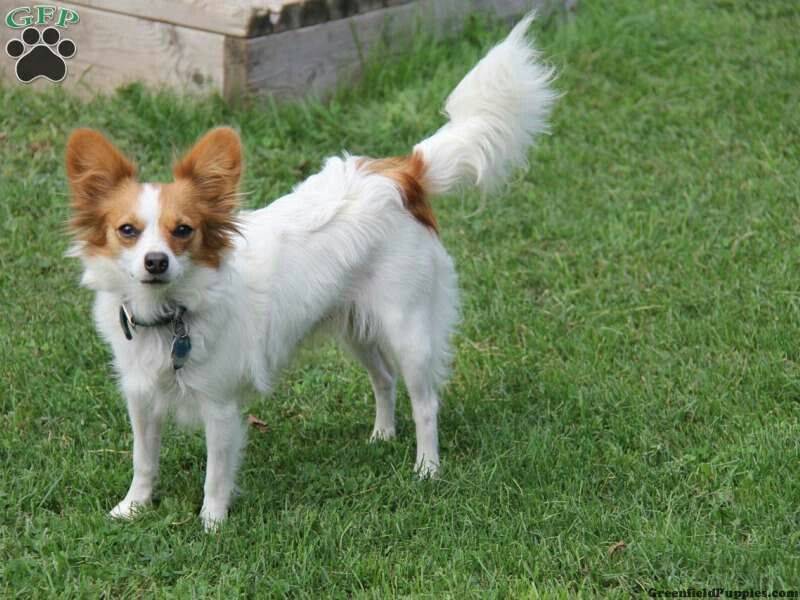 Great for apartment living
If you're looking for a dog that is perfect for an apartment lifestyle, look no further than the Chihuahua Papillon mix. These small but lively dogs are fun and playful, making them the perfect companion for anyone who stays in a small space.
Additionally, these mixes are famously easy to care for and require only minimal grooming, making them particularly well-suited to those who live in tight quarters.
You want a low maintenance dog

You what a dog that's easy to train
You don't want a dog that needs a lot of attention

You don't want a yappy dog
What is a Chihuahua Papillon Mix called?
A Chihuahua Papillon Mix is also commonly referred to as a Chion dog.
Are Chihuahua Papillon Mixes hypoallergenic?
No, Chihuahua Papillon Mixes are not considered to be hypoallergenic. They are known to shed, and their coat may cause allergies.
How long do Chihuahua Papillon Mixes live?
On average, a Chihuahua Papillon Mix will live between 14 and 16 years.