How Long Do Chihuahuas Stay In Heat? The Chihuahua Heat Cycle Explained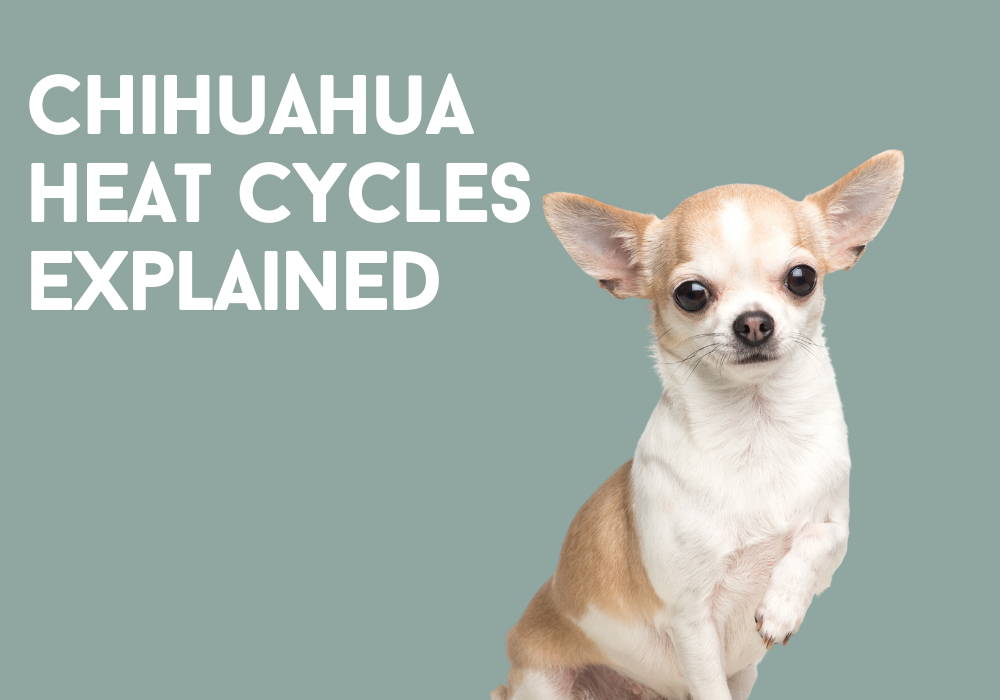 Female Chihuahuas are great family pets. They're preferred by many because they don't mark territory like males. But if you're raising a female, be aware of her heat cycle. This time requires special care and attention to avoid unwanted puppies.
Female Chihuahuas require meticulous care during their heat cycle like any other dog. It is their most fertile period, attracting attention from nearby males. Furthermore, bleeding during this time necessitates a strategy to prevent floor staining. Check out our detailed guide for valuable insights into managing a Chihuahua's heat cycle.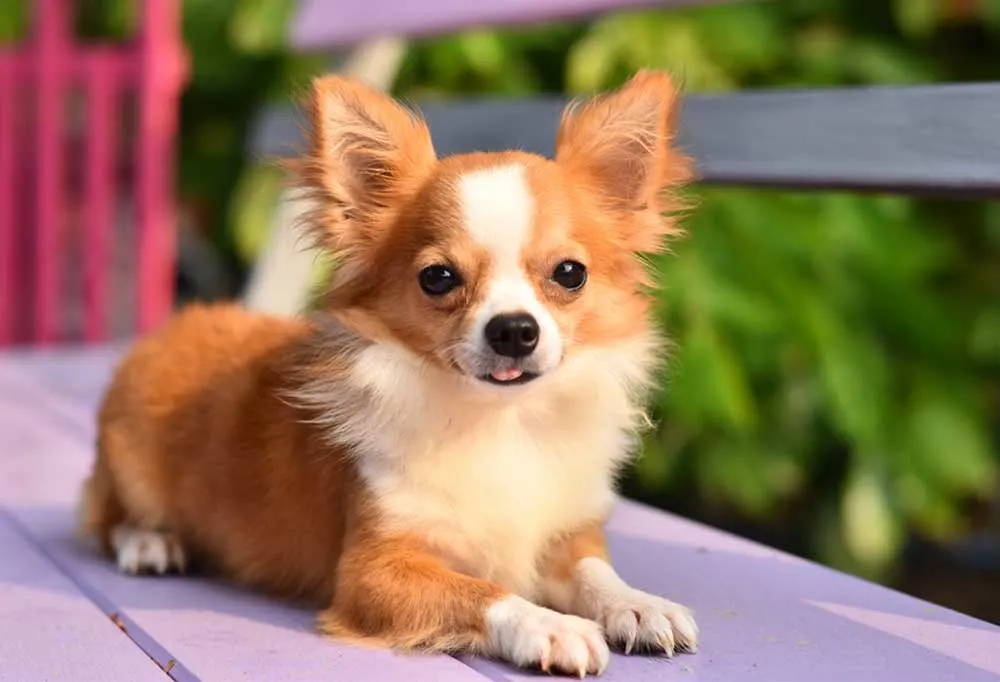 What does it mean when a Chihuahua goes in heat?
When we say "heat," we mean the point in a female Chihuaha's reproductive cycle when she is prepared for breeding.
To verify if your Chihuahua is in this stage, watch for various indications. These signs may not be noticeable or present in their entirety, but your Chihuahua will likely experience most of them.
Here are signs that indicate your Chihuahua is in heat:
- A vulva that appears enlarged or swollen.
- Other dogs may have behavior changes around your female
- Vaginal bloody discharge
- Behavioral Shifts: Friendlier or More Reactive/Aggressive Actions
- "Flagging" is when a Chihuahua female lifts its tail sideways
- More frequent urination
- Changes in appetite
When will my Chihuahua get her first heat cycle?
Not all Chihuahuas are the same and predicting when they will experience their first heat cycle isn't easy. While some may experience it early, others may take well over a year.
But most female Chihuahuas will have their first heat cycle between 6 months to one year. It may take several days or even a week to notice that the cycle has started. During this time, females aren't receptive to males.
If your Chihuahua hasn't experienced her first heat cycle by 18 months of age, consult your veterinarian to check for underlying health issues. It's possible for female Chihuahuas to experience their first heat cycle at age 2. To ensure your Chihuahua's well-being, it's essential to visit a vet and rule out any significant health problems.
It's crucial to never let your Chihuahua breed during her first heat cycle. This period is sensitive since her body is adapting to this natural process. Allowing her to become pregnant can lead to severe complications. If you're concerned about your Chihuahua's welfare, delaying until her second heat cycle is the least you can do.
How often do heat cycles happen in Chihuahuas?
Chihuahuas, like humans, are unique. However, they typically go through a heat cycle every six to nine months, lasting approximately 21 to 28 days.
First heat cycles can occur between six months to one and a half years old. You may be able to anticipate your Chihuahua's first heat cycle based on the timing of their relatives' cycles.
How long do Chihuahuas stay in heat?
The duration of a Chihuahua's heat cycle differs and occurs in multiple stages. Typically, the estrus phase (where bleeding occurs) lasts anywhere from 5 days to 3 weeks.
Detecting the start of the cycle may take several days, and during the entire cycle, a female won't be receptive to a male.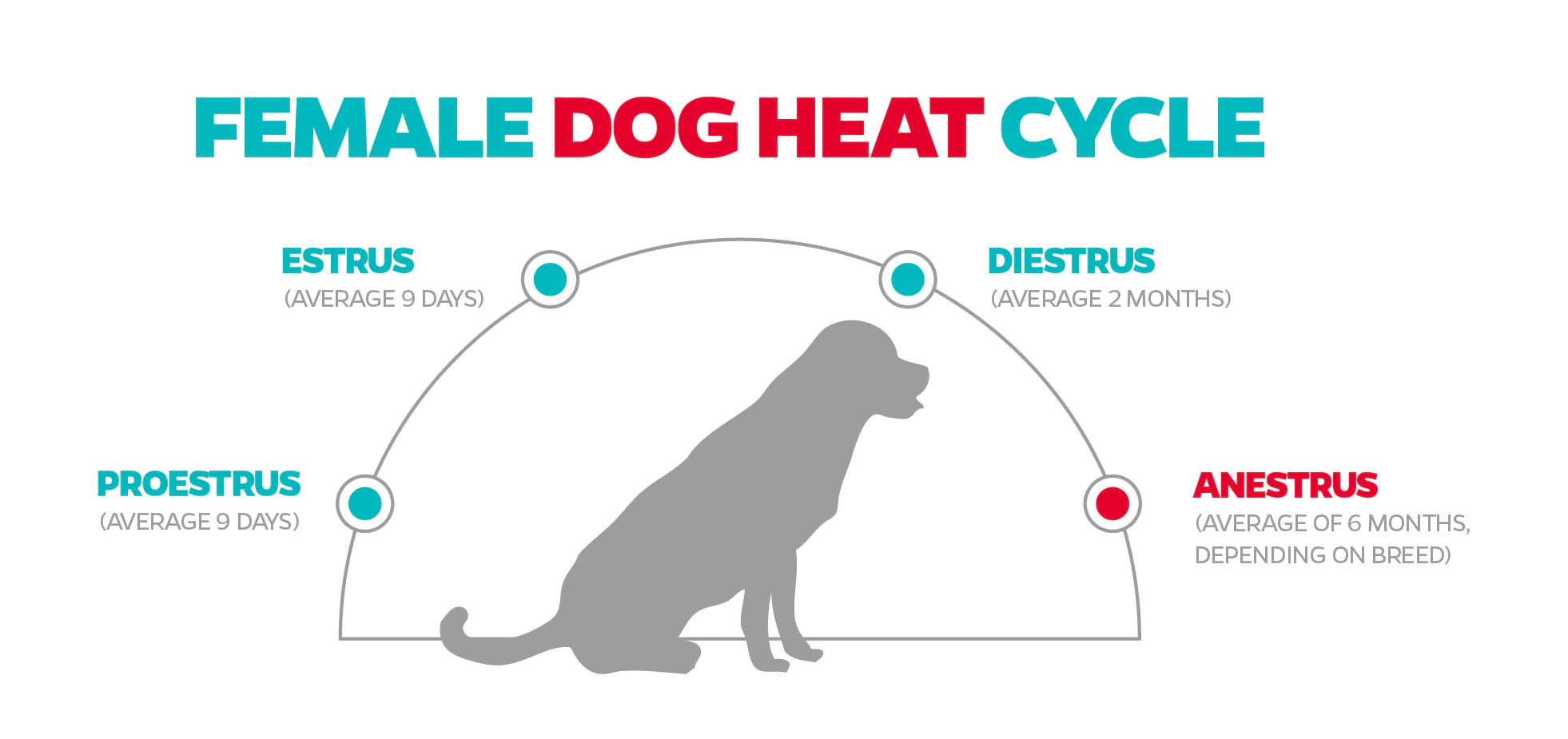 The Chihuahua heat cycle explained
Many people are unaware that a Chihuahua's heat cycle consists of 4 distinct stages, not just one. These stages each have their own unique characteristics, which may surprise some Chihuahua owners.
Female Chihuahuas experience heat cycles one to two times a year, typically lasting three weeks.
A typical female Chihuahua goes through the following stages during her heat cycle:
During the first stage of a Chihuahua's heat cycle, known as Proestrus, symptoms can vary. Some may experience clear signs such as bleeding, swollen nipples, excessive licking, and changes in behavior. However, other Chihuahuas may display minimal or no symptoms at all.
To identify if your Chihuahua is in the Proestrus stage, keep a watchful eye on their actions. During this phase of their heat cycle, Chihuahuas tend to playfully or even annoyingly pursue male dogs. Your female Chihuahua may persistently harass any nearby males, which is perfectly normal.
The Estrus stage comes about a week after Proestrus. During this time, Chihuahuas are fertile and receptive to breeding. Although males are typically rejected during Proestrus, females are more open to mating during Estrus.
Identifying a Chihuahua in heat is straightforward during the Estrus stage. Look for swollen, bleeding genitals and the desire to mate with male dogs. Males will be drawn to the female due to the scent of her discharge.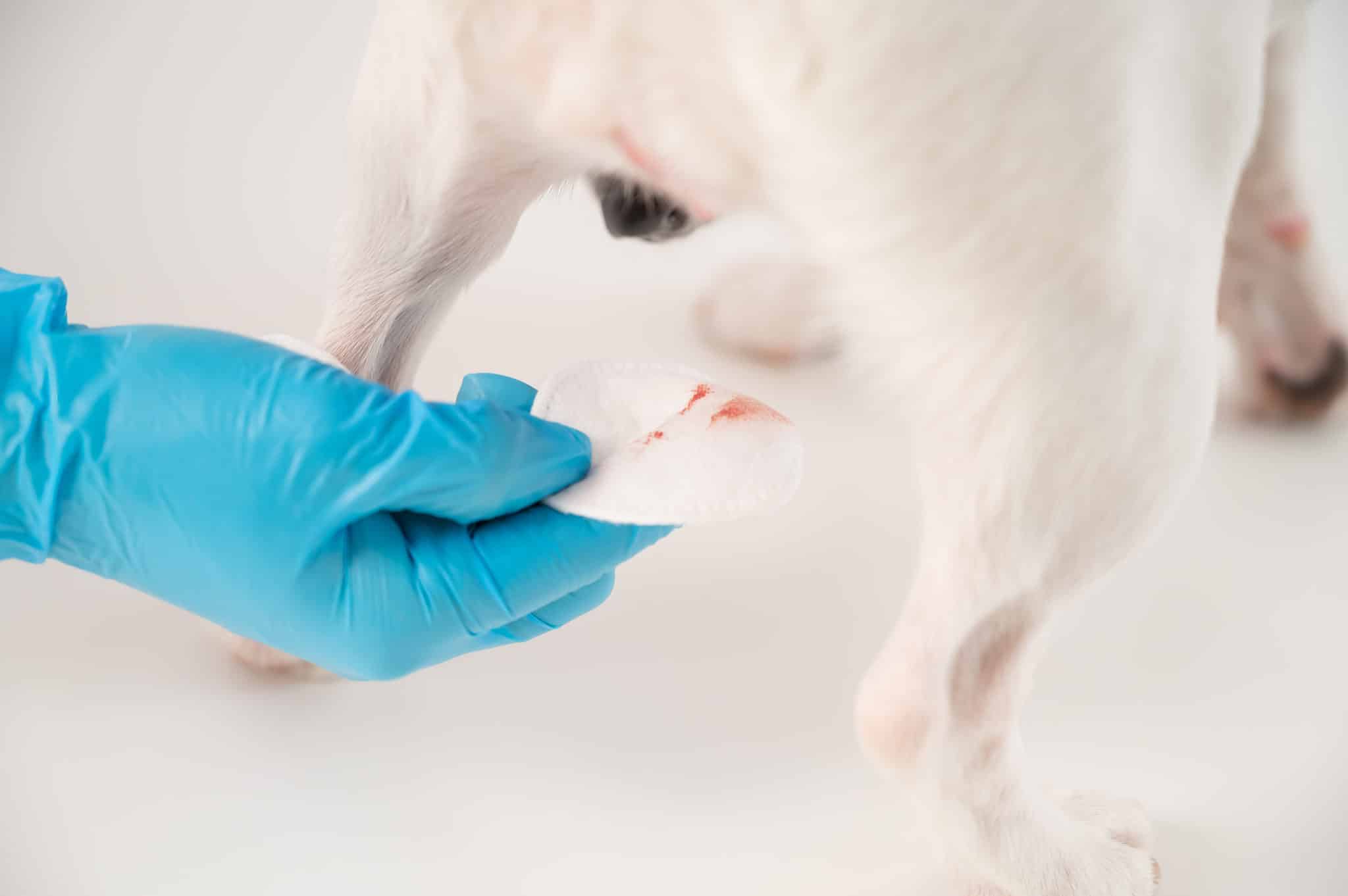 After Estrus, if a female Chihuahua has not become pregnant, she will enter Diestrus, a 30-90 day rest period. During this time, the Chihuahua's body recovers and returns to its normal size. She will no longer seek male attention.
When a female Chihuahua gets pregnant, she won't go through the Diestrus stage. Instead, she'll enter the early stages of pregnancy. Throughout her pregnancy, she'll have big, puffy nipples and swollen genitals.
The final phase of a Chihuahua's heat cycle is called Anestrus. During this period, the body and organs are returning to normal. There are no visible signs of a heat cycle for owners to observe. The Chihuahua's genitals are regular-sized, no bleeding or discharge, and their mood is normal.
During the Anestrus stage, Chihuahua will not experience heat for a period of 2-6 months. This cycle will then restart and repeat itself.
How to manage your Chihuahua's heat
To care for your Chihuahua during heat, consider the following essential tips:
- During your Chihuahua's heat cycle, it's best to keep her away from other dogs, especially males. Female aggression is common and there is a risk of being impregnated. Avoid leaving your Chihuahua unattended in a yard or taking her to dog parks as it can cause hormonal and behavioral issues in other dogs.
- Consider using doggie diapers to minimize the chance of a mess on your floors and furniture during your Chihuahua's heat cycle. We suggest using panty liners as inserts to increase absorbency and reduce clean-up. However, finding diapers that fit properly and stay on may be difficult, and your Chihuahua won't be able to clean herself or go potty while wearing them. If diapers aren't an option, covering your furniture with old blankets is a good alternative.
- To stimulate your Chihuahua's appetite, mix some chicken or baby food into her meals. This trick will urge her to eat without disturbing her calorie intake.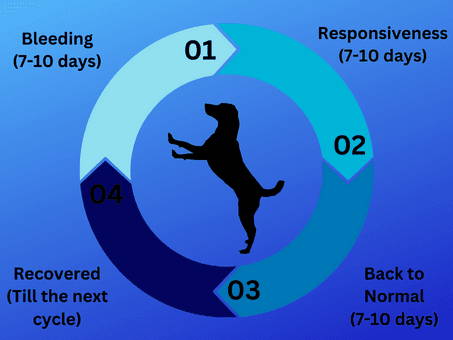 Chihuahua heat cycles FAQs
When do Chihuahua get their first heat?
Chihuahuas can start their first heat season at an early stage as a puppy. Chihuahuas, for instance, may enter their first heat between 4 to 7 months old which means they can get pregnant if not spayed.
How long do Chihuahuas stay in heat?
The average heat cycle for a Chihuahua can be between 14 to 21 days. They will enter the Estrus phase of their heat cycle, which is when they are most receptive to mating, usually around 8-10 days after Proestrus. Once in Diestrus, your female Chihuahua may stay in that stage for 30-90 days, depending on whether she's pregnant or not. Finally, Anestrus will last 2-6 months before the cycle begins again.
How often do Chihuahuas go into heat?
Chihuahuas normally have a heat cycle every 6 to 8 months, which is generally more frequent than larger breeds.
Can male Chihuahuas tell when a female is in heat?
Yes. Male Chihuahuas have an incredibly keen sense of smell and can detect the hormones released by female Chihuahuas in heat. This will draw them to the female and encourage them to mate.
What should I do if my Chihuahua is not spayed?
If your Chihuahua is not spayed, it's best to take extra precautions during her heat cycle. Keep her away from other dogs, use diapers or blankets to protect your furniture and floors, and monitor her activity closely. Most importantly, consider having her spayed if you don't plan on breeding.